This post has been sponsored by American Greetings . All thoughts and opinions are my own. This post contains affiliate links, which means that if you click on one of the product links, I'll receive a small commission. Thank you so much for clicking through and helping to support this little blog business of mine! Read more about our site, privacy, and disclosure policies here.
This holiday season, let family and friends near and far know you care by sending them a sweet greeting card and a stack of these DIY beaded friendship bracelets.
This year, the girls and I really wanted to find a way to spread and send a little love and joy to our family and friends to celebrate the holiday season. Now more than ever, finding little ways to let people know you're thinking of them is so important.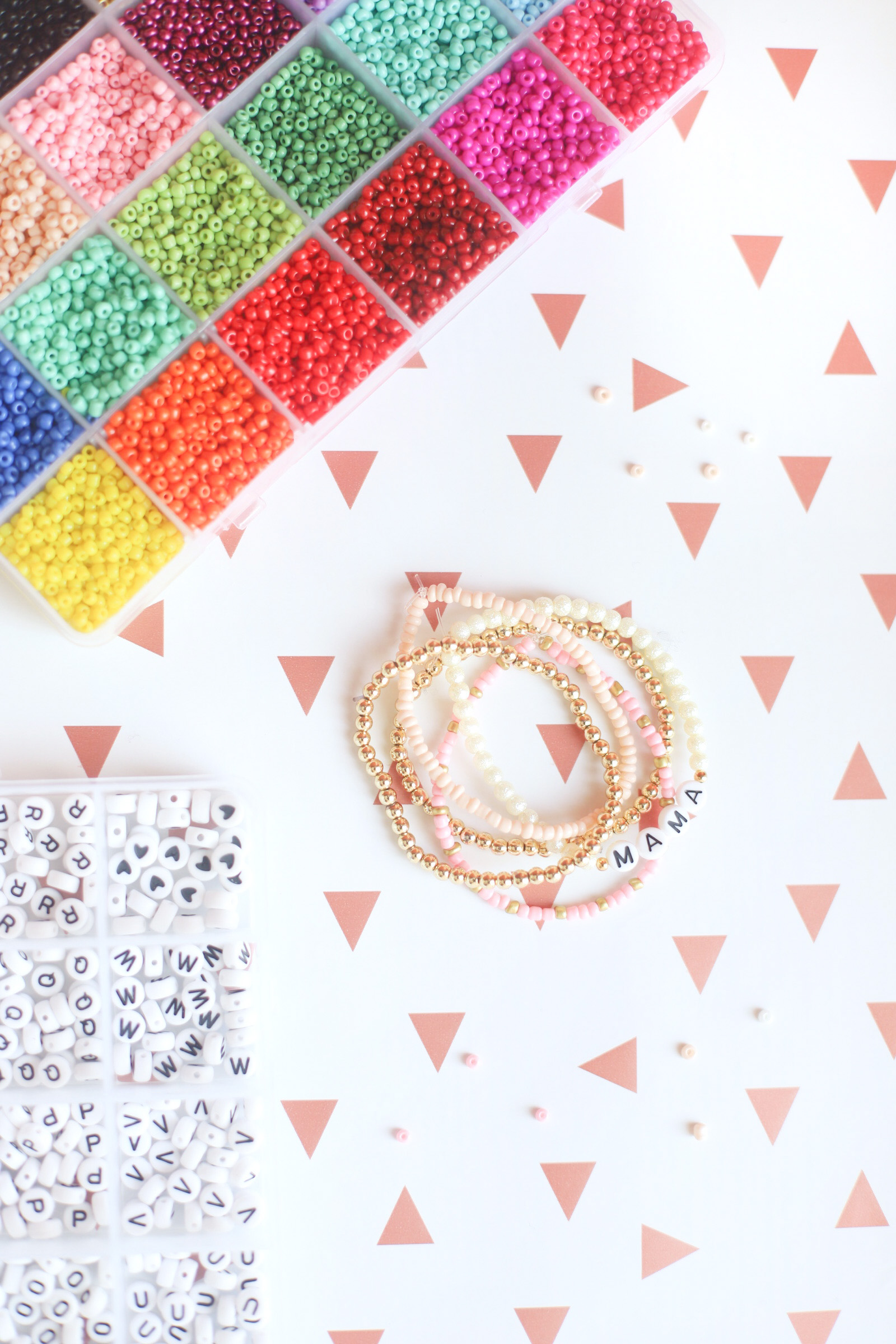 The Perfect Gift To Send Via Snail Mail
We decided on DIY beaded friendship bracelets to mail to everyone near and far. Seed bead bracelets, gold bead bracelets, letter bead bracelets; they're all so popular right now and they're also surprisingly easy to make and gift! Our simple craft was such a success, I wanted to share the result (and everything you'll need to make and send your own!) today on Glitter, Inc.
Every year, we reach for our favorite American Greetings® cards to send for all of the celebrations around the holidays; everything from Christmas, to Hanukkah, Kwanzaa, Birthdays, and so much more! This year more than ever, greeting cards are a great way to stay connected to the ones you love, regardless of the distance between you.
We're also huge fans of Wegmans; and since moving to Boston, we find ourselves there regularly. You can find the perfect greeting card at Wegmans to fit every occasion this season. The best part: right now at Wegmans if you buy 3 cards, you'll save $4.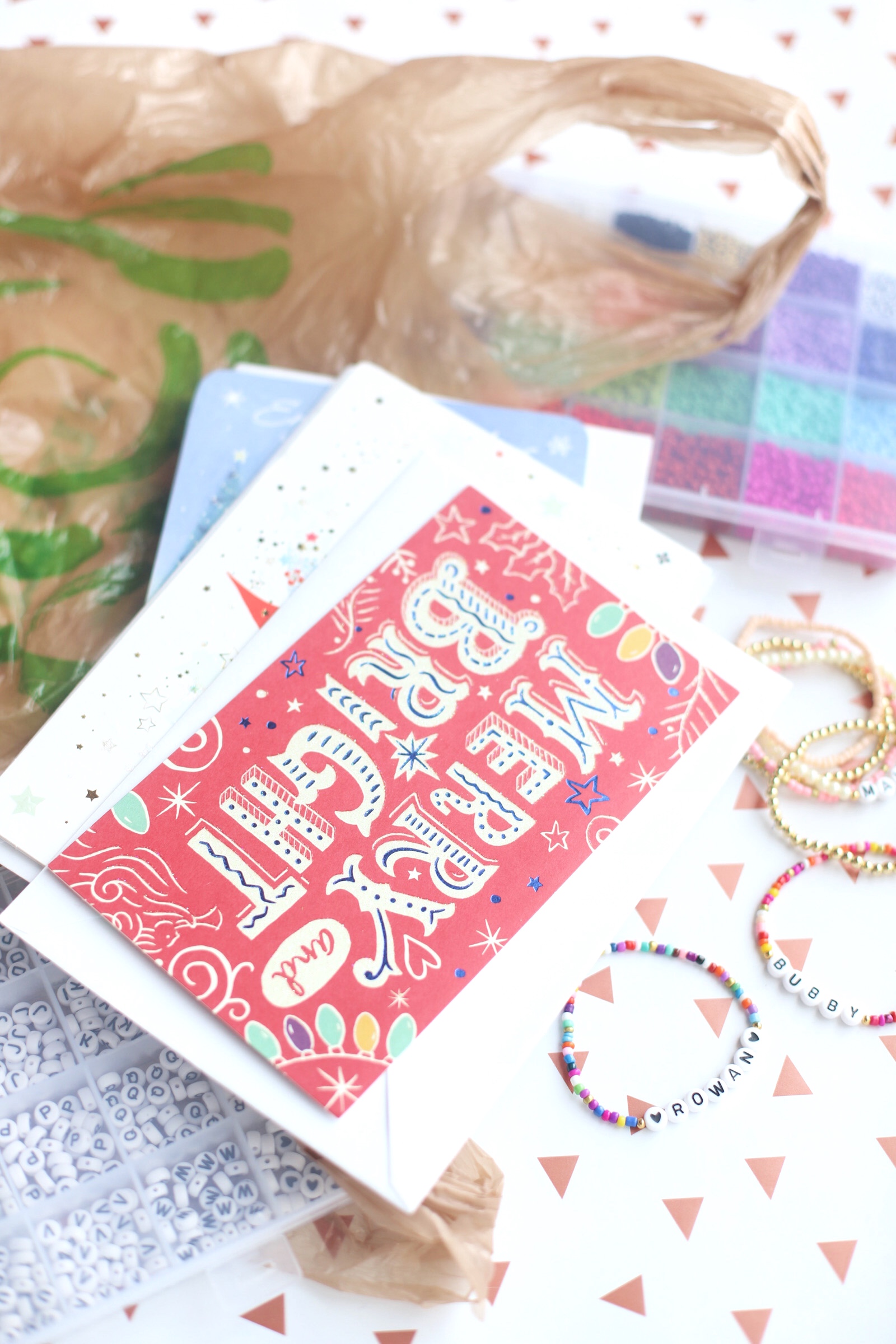 What makes these simple beaded bracelets so perfect for gifting and sending via snail mail is that they're small enough that a bracelet or two can easily be slipped inside a festive American Greetings card and mailed to friends and family near and far.
Not only did the girls and I love stringing and putting together the beaded letter bracelets — the craft took me right back to memories of summer camp as a kid 😍 — once our bracelets were made, the girls got to pick their favorite greeting card to go with the recipient's bracelet and write a special note to whoever they made the bracelet for. And now they're so excited to stuff everyone's mailboxes with just a little extra happy.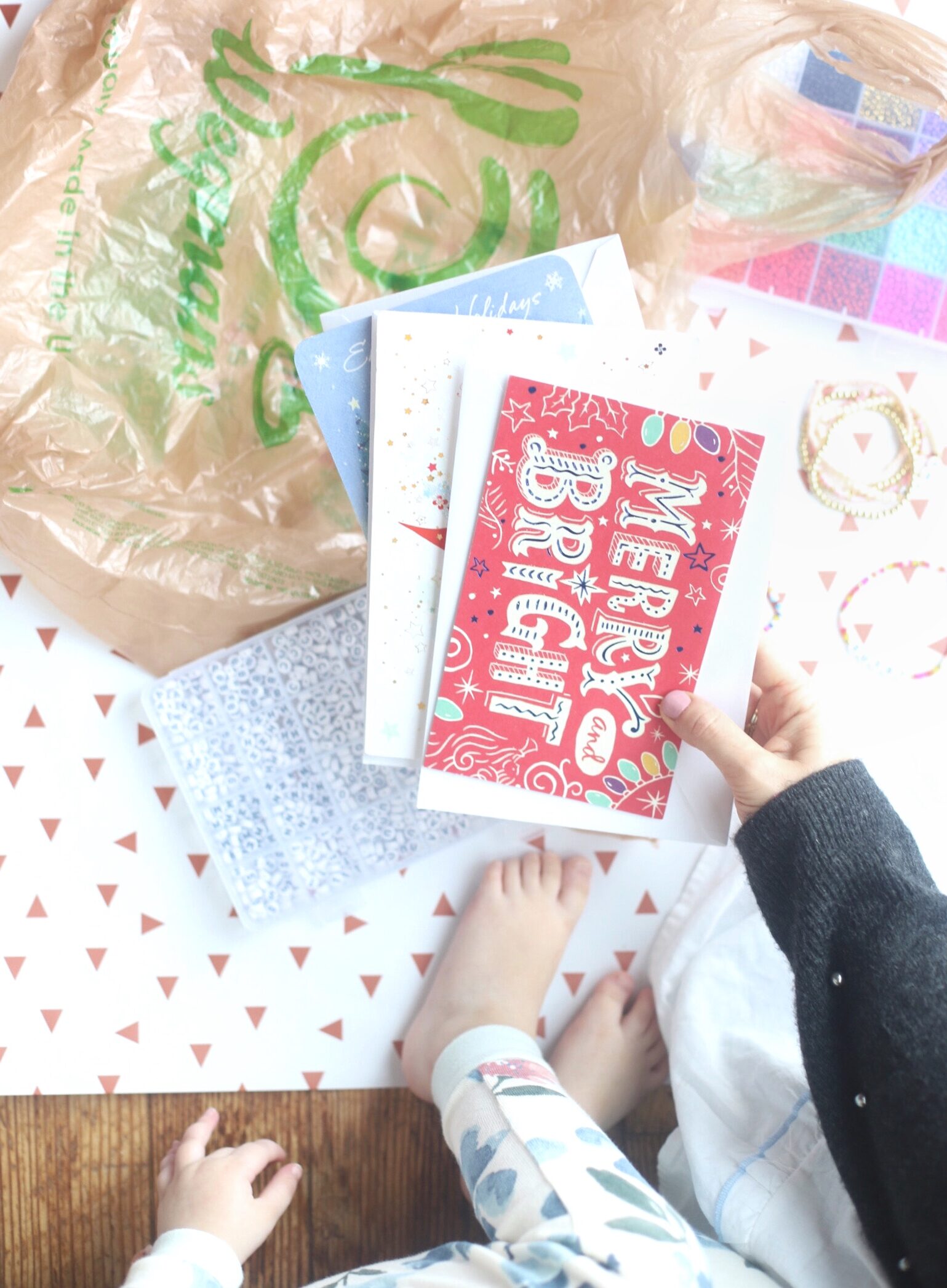 We're planning on making DIY bracelets for the next few weeks and then sending out everyone's holiday greetings at the start of December so everyone can enjoy their bracelets and wear them during the holidays even though we won't all be able to be together this year.
I love that each bracelet can be personalized with a name, favorite colors, or made extra special with sweet sayings and phrases.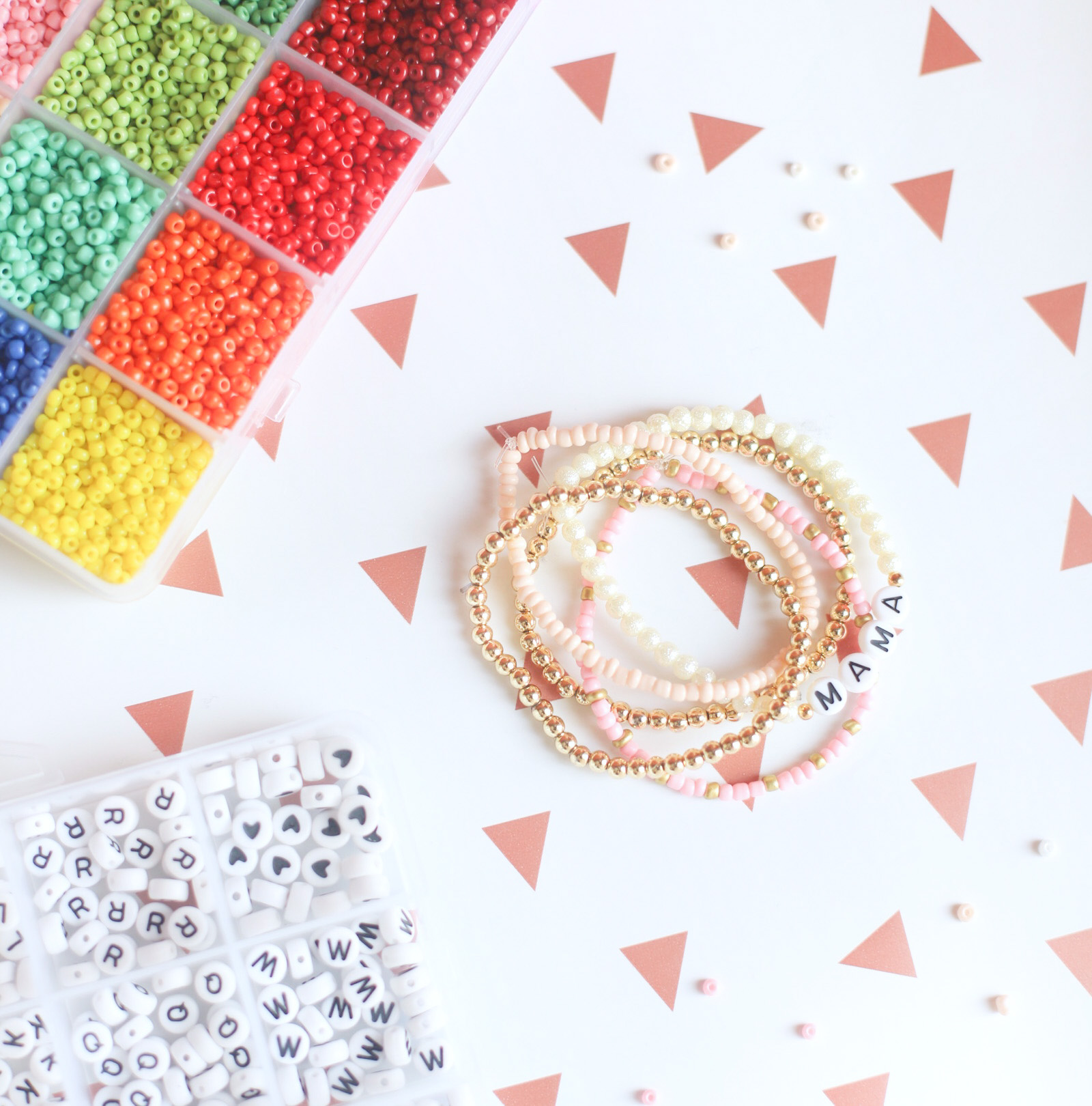 DIY Gold Bead Letter Bracelets
Make these DIY gold bead letter friendship bracelets to mail to friends near and far with a greeting card to let your favorite people know you're thinking of them for the holidays.
WHAT YOU'LL NEED
Seed Beads
Gold Beads (preferably gold fill or 14K so they won't tarnish)
Letter Beads
Clear Elastic String
Scissors
Clear Nail Polish (optional)
DIRECTIONS
Cut a piece of the clear elastic string to fit the length of your wrist plus a couple extra inches on each end to make tying knots easy. (For reference, the most common length of a women's bracelet is 7 inches, so if you cut about a 10 inch piece of elastic string – to allow for room at each end in order to tie the knots – you should be good!)
Tie a single knot tightly at the end of your string, leaving about 1.5 to 2 inches beyond the knot.
String your beads in whatever pattern you'd like. (Remember, the standard women's bracelet size is 7 inches long, so aim for that, and use your own wrist as a guide.) Have fun with colors, spelling out names and words, etc.
Tie a tight single knot when you're done stringing the beads and then tie the two ends together in a double knot. Use a dab of clear nail polish at the final double knot and allow to dry — this helps to secure the knot. (This step is optional but I do find that the clear polish really helps to seal and secure the knot.)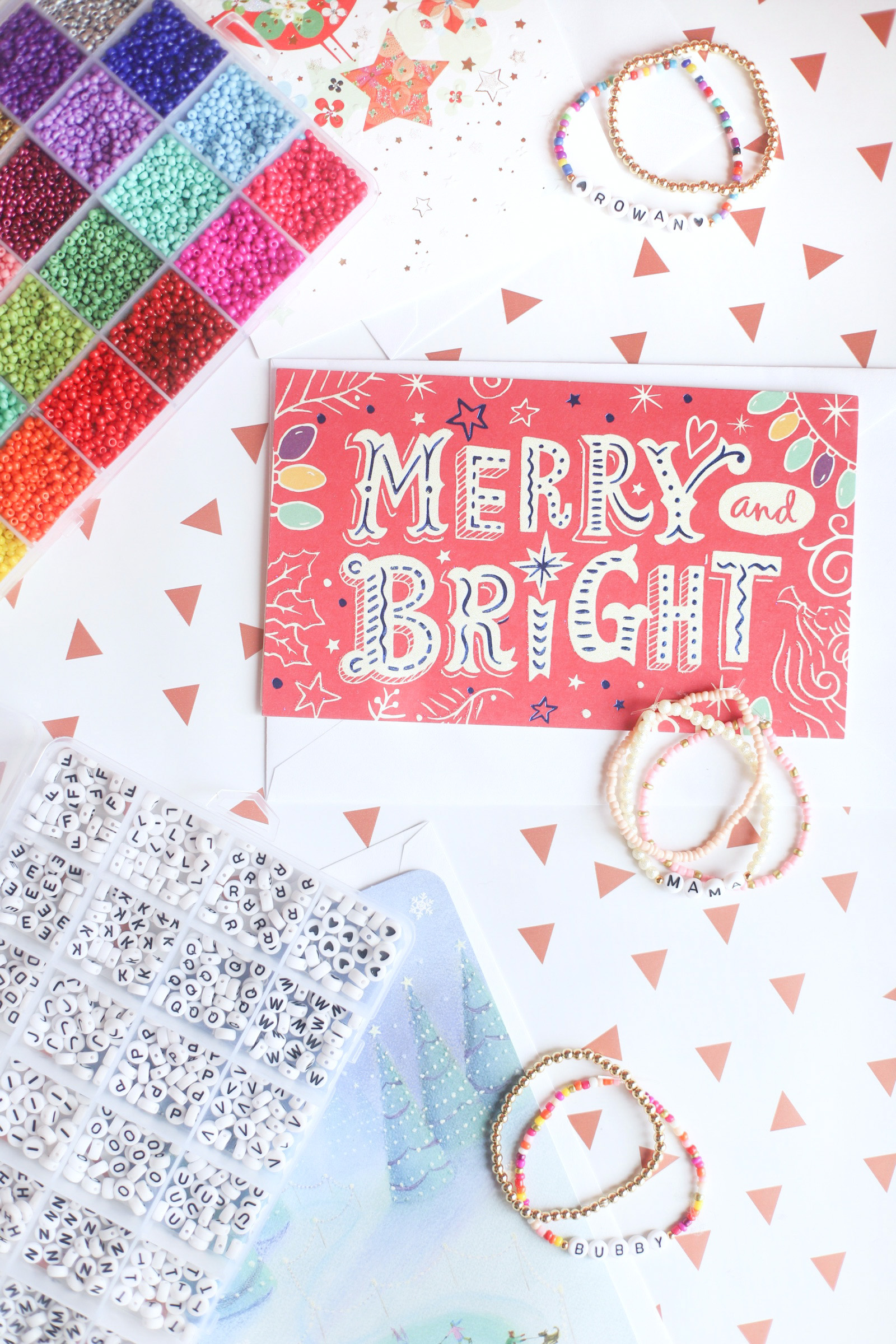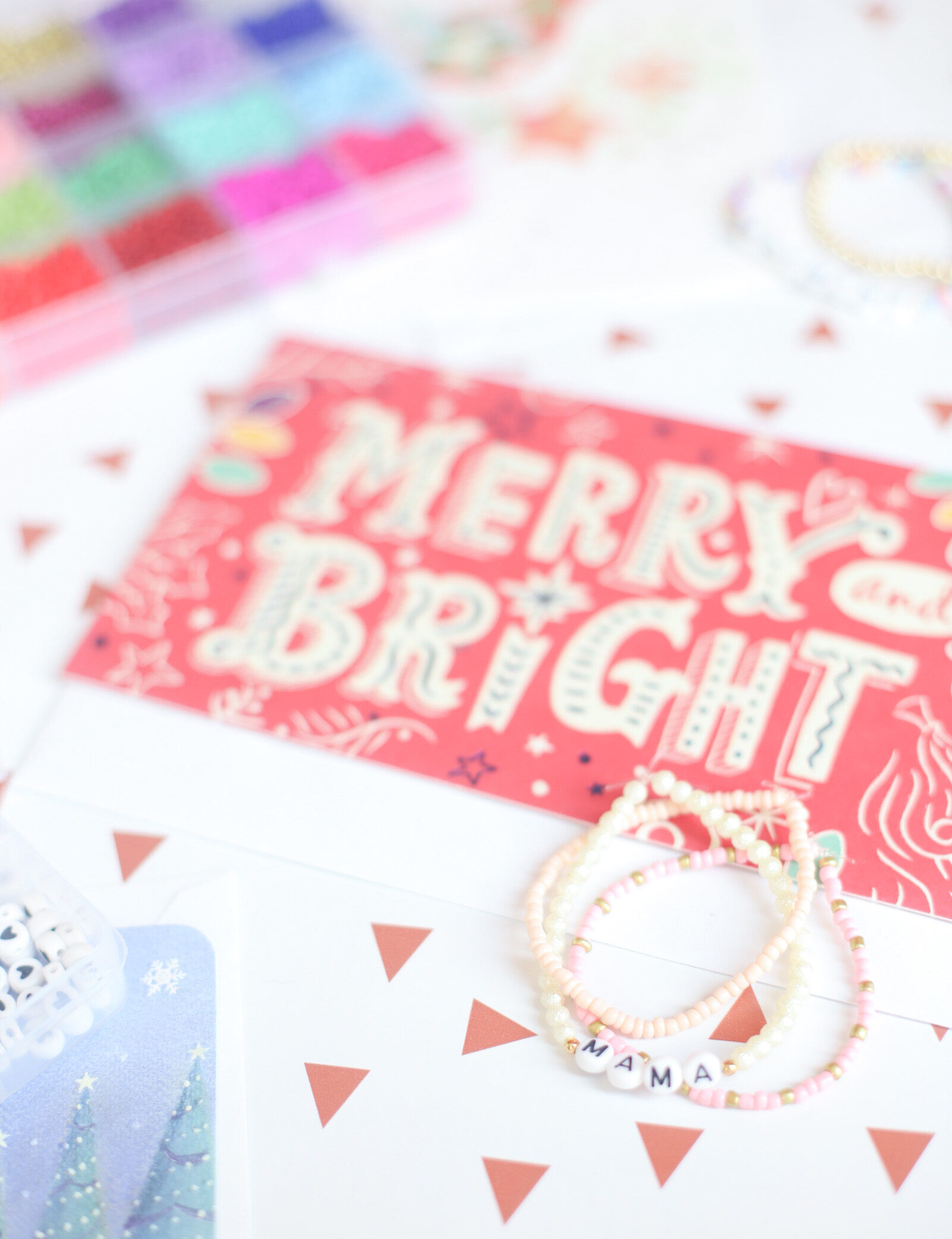 So this year, spread a little extra happiness, and get crafty while you're at it!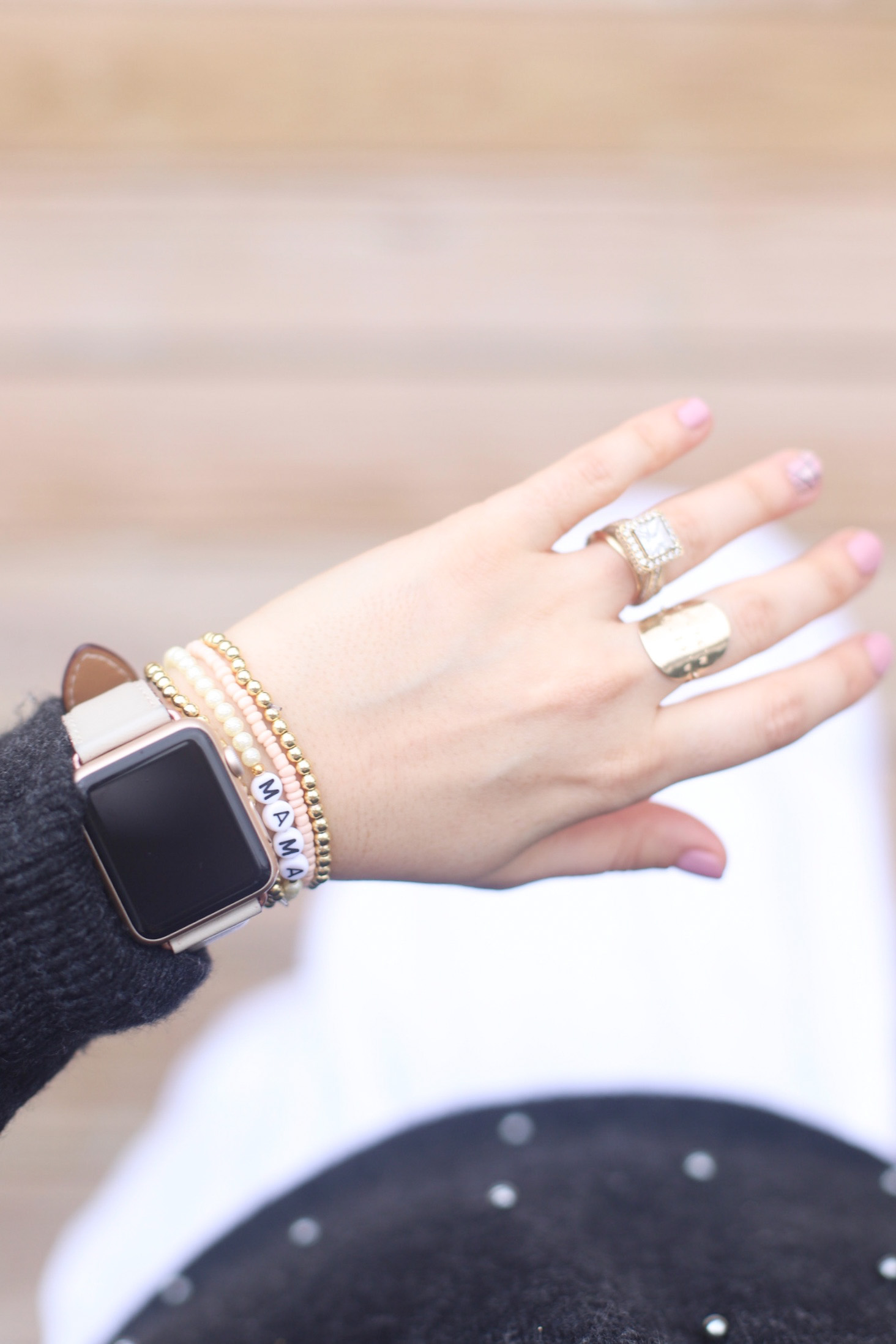 Are you sending gifts via snail mail this year? Would you make and send friendship bracelets? We've been loving the new, simple craft, and I'll admit, we've been making plenty of the beaded bracelets for ourselves too!
Any other fun craft ideas that are easy to make and send via snail mail? We're always looking for inspiration!
IF YOU LOVED THIS KID-FRIENDLY DIY, YOU CAN SEE MORE OF OUR LIFE WITH TWO LITTLE ONES HERE AND ALL OF OUR CRAFTS HERE.
SHOP THE POST | CLICK LEFT + RIGHT ARROWS TO EXPLORE