This post contains affiliate links, which means that if you click on one of the product links, I'll receive a small commission. Additionally, as an Amazon Associate I earn from qualifying purchases. Thank you so much for clicking through and helping to support this little blog business of mine! Read more about our site, privacy, and disclosure policies here.
On a tight budget this year, looking for a small gift for a coworker, or just need some budget-friendly stocking stuffers? This gift guide is for you! I've found the best gifts for kids, men, women, the home, coworkers, and more, all under $10 to make your holiday shopping just a little bit easier.
When you're shopping for multiple people, or just need something small to gift, it's easy to get overwhelmed by all of the options and price tags on items, which is why I created this under $10 gift guide, I know you'll love! Plus, since every item is budget-friendly, it's easy to stock up on a few things to pull from when you unexpectedly need a gift!
Want even more holiday content? Right this way!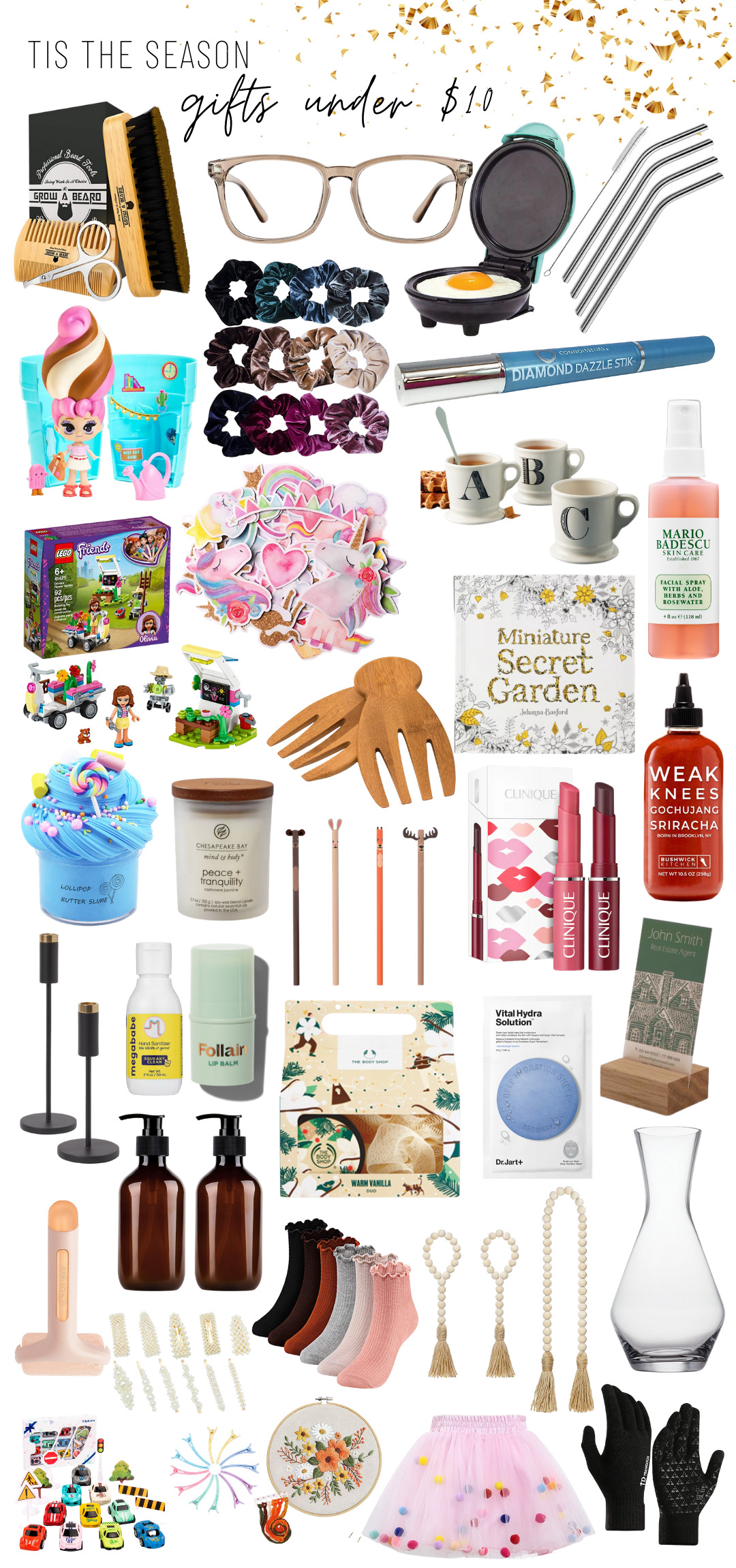 Holiday Gift Guide: Gifts Under $10
The best gift for the bearded men in your life! This beard grooming set is small and can easily be fit in a pocket, or suitcase, for every day and travel. The boar bristle brush keeps their beards shiny and smooth.
Have a coworker, friend, or family member that is constantly using technology and working on a computer? Give them a gift they'll be extra thankful for this year! These blue light blocking glasses help reduce eye strain and headaches from looking at computers, tablets, and cell phones.
Talk about the cutest, under $10 gift ever! Perfect for making quick and healthy snacks and breakfast, this mini griddle will take up minimal space in your cabinets and on your countertops and is perfect for on the go!
The best gifts are the ones that people don't necessarily want, but need and don't want to buy them themselves and that's exactly what reusable straws are. Help the environment and save turtles with this cute little set! The bonus? A straw cleaner!
Blume Dolls are such a fun activity for kids, especially in the winter months! Just water and see what blooms. Your little ones will be excited to see what prize they get – from mini friends and sticker sheets to fashion accessories.
Am I the only one that's constantly losing their hair ties and scrunchies? This 12-piece set has so many pretty scunchie colors, perfect for the winter and holiday season.
The perfect gift for the women in your life! It's now easier than ever to keep your jewelry clean and your diamonds sparkling with this cleaning stick. The brush tip makes it easy to clean diamonds, other precious stones, and their mountings.
LEGOs are known for being expensive, but they have some of the cutest sets that are under $10! This flower set is perfect for kids 6+ and has three different things to build!
If your kids love stickers as much as I do, you need these stickers! They're so darling, the colors are beautiful, and the unicorns are magical! Perfect for at home activities, decorating water bottles and lunchboxes, or placing all over your clothes.
Anthropologie is one of my go-to places for all of the monogrammed things and these mugs are no exception! This year's monogram mug makes a great gift for parents, in-laws, coworkers, and friends alike.
Spending so much time inside can make your skin dry, and I think at this point we all need a little skin refresh. With the Mario Badescu spray, your friends will instantly feel awake and have more hydrated skin.
Salad tongs are always such a quick and easy hostess gift, and for under $10 these are seriously the best! Since they're more like a hand, they don't have the long handle on them, making them easy to use and serve salad with. Plus, the scoop part is wider so you can get more salad in one scoop than with traditional salad tongs!
I think we can all agree that 2020 has been a little extra stressful and one of my favorite ways to unwind is with a coloring book! This miniature one is super cute and is a fun gift to give to yourself or gift to friends, family, coworkers, and even kids!
Everyone knows at least one person in their life that is obsessed with all things spicy and this gochujang sriracha is the perfect gift for them! A little sweet, a little spicy, but a whole lot of delicious and made in Brooklyn, NY!
I love making slime with the girls, but it's definitely an activity that requires parental supervision! With this ready-to-use slime, you don't have to worry about the cleanup of DIY slime and it isn't sticky! Perfect for independent play.
Candles are a great gift for everyone and with so many great scents out this time of year, it's easy to find the perfect one for your friends and loved ones! This cashmere jasmine scent is one of my favorites to gift – it's perfect for the holiday season without it being a holiday scent and it looks nice left out on a side table or on the counter.
How cute are these pencils?!? The girls love any woodland creature and I have to admit, I do too! These cute little pencils make the best stocking stuffer and can even be added to a prize box for any achievements your kiddos make.
Makeup products can be expensive and when you're looking for a gift for the beauty obsessed, the cost and the endless array of products to select from can be overwhelming. And that's exactly why I love taking advantage of duos! This one from Clinique features two really great colors – one more neutral and for everyday, and the other is perfect for the holiday season.
Have a friend that loves home decor as much as I do?! These short metal candle sticks are so luxe looking, for under $10! And with two different heights, they're easy to put together with some tapered candles as a little gift set on a budget.
The holiday season looks a little different this year, and that means gifts will look different, too! With hand sanitizer becoming more difficult to find, it makes a great gift, especially for coworkers and essential workers. This one is a great clean-ingredient option that won't leave your hands sticky!
The dry weather is here, making it so important to stay hydrated and use great products! This lip balm from Follain is always a crowd pleaser, especially this time of year and for under $10 it's a good gift to give alone, in a stocking, or with your other moisturizing favorites!
Anything warm vanilla scented gives me all the nostalgia, including this set! For just $9 it includes the warm vanilla body scrub and body butter, PLUS a pouf – can you say perfect gift?! It has everything you need in it for soft, glowing skin!
On the note of beauty products, I couldn't not include this product! It's a cellulose sheet mask that helps hydrate and moisture the skin. It's also free of 10 harmful ingredients, including fragrance! This is the perfect gift for any new mamas to help them get a little extra TLC this holiday season.
These block photo holders are great to showcase photos of friends and family at work and area also great for name tags at dinner parties! They're super simple, so they'll easily match anyones style. Plus, they're super budget friendly and you can buy them singularly so it's easy for the recipient to buy more as they need them!
If there's one gift you give this holiday season, make it this ice roller! When used consistently, it makes skin feel refreshed, dulls the appearance of pores, and can help achieve flawless skin. And come summer, it's an easy way to cool down!
These pump bottles are perfect to gift this holiday season, especially to those that like to choose their own soap or are looking to reduce plastic usage in their home! Plus, they look so chic on countertops. I'll definitely be gifting these refillable bottles with the stainless steel reusable straws for an eco-friendly gift.
If you know me, you know that I love anything feminine and if you add a ruffle, you know I'm going to buy it! Whether you're looking for a gift for someone that has everything, a feminine friend, or just a cozy gift, this 6-pack of cotton ruffle socks is perfect! And all of the colors are festive for the winter season.
The prettiest home decor set that is under $10 and makes a great gift! Perfect for a living space, nursery, or as holiday decor. Your loved ones will adore receiving this set as a gift to decorate and use around their home.
Wine accessories can be expensive but this wine decanter is under $10 and is such a great gift for your loved ones that like a glass of vino! Simply pair with their favorite bottle of wine (or two!).
Keep your kids entertained for hours with these mini pull back cars and accessories! I always love sets like this to split up into multiple gifts, or gift bags, for kiddos around the holidays.
We all have that one friend that has ALL. THE. HAIR. and these are the perfect gift for them! These clips are designed to keep hair out of the face, pulled back, and don't slip. Plus, there are 12 so if you misplace one, it's not an issue!
I ordered this for myself at the beginning of the pandemic and it was such a fun activity when we are relaxing at night and on the weekends. Plus now I have a new hobby! I'll definitely be purchasing this for a few of my friends this holiday season and picking out different patterns based on their personality. If you have a friend or two that are homebody and you don't know what to get them, make it this kit!
Can we talk about how darling this tutu is?! If your girls, or any small family members, love dressing up as much as mine, this pom pom tulle tutu is the perfect gift!
Since we moved to New England, I'm always looking for warm gloves for Mike to wear on his commute to work. I love that this pair also has anti-slip grips on them so he can confidently carry his phone and coffee without dropping them!
Raise your hand if you're all about the statement hair accessories this year! If you're obsessed as I am or know someone that is, this 18-piece set is the perfect gift.
SHOP THE UNDER $10 GIFT GUIDE POST | CLICK LEFT & RIGHT ARROWS TO EXPLORE