This post contains affiliate links, which means that if you click on one of the product links, I'll receive a small commission. Thank you so much for clicking through and helping to support this little blog business of mine! Read more about our site, privacy, and disclosure policies here.
When I found out that we were pregnant with Scarlett, I could barely hold in my nervous energy, and immediately spilled the beans to my husband. (We had lost our first pregnancy, and finding out we were pregnant again just wasn't something I could hold in. My husband was just as anxious and cautiously optimistic as I was, and I knew that the news would thrill him.)
Almost three years later, I held the secret – that I was pregnant with baby number two – for nearly a week! That may not seem like much, but when you're holding in that kind of secret from a partner or spouse, at times you can feel like you just might burst with the news. I almost did. Several times.
I was actually nervous for another baby, nervous for another pregnancy, terrified of another labor and delivery, and worried about surviving the first few months as a new parent without our family being nearby to support us. Reading the results on that pregnancy test, though, it changed everything. Nerves immediately dissipated into joy, and plenty of tears, sitting on our big comfy bed, soaking up the most amazing information.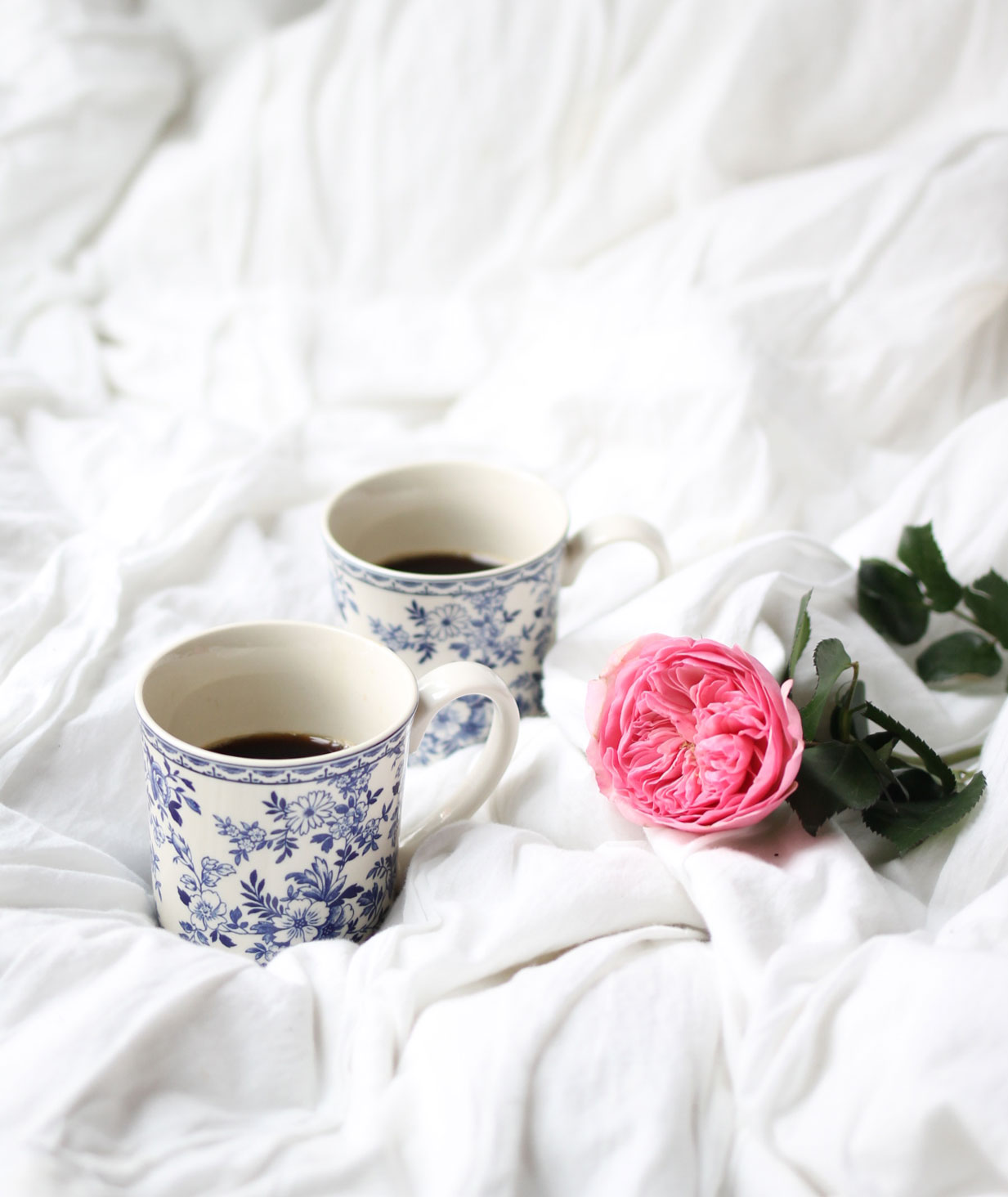 One of the biggest differences for me, with this new pregnancy, is the feeling of calm that's followed it. When we were pregnant with Scarlett, each movement I felt (or didn't feel), each doctor's visit, each stage of the planning process, felt terrifying. Having a baby; it was all so unknown. This time around, I know that the pot of gold at the end of the rainbow is worth every nauseous second of the first four months, every ache and pain, every nervously-awaited test and lab result.
I suppose it was with that calm that I was able to hold in such a monumental secret from my husband and prepare a cute pregnancy announcement. I'm sure he had an idea. We were "trying" and I've never been very good at keeping secrets or hiding my emotions. But he was also about to take his board exams, and I wanted him focused on that major hurdle before we tackled another biggie.
Cute Pregnancy Announcement: How I Told My Husband We Were Pregnant With Baby # 2
I wanted the "surprise" to be low-key, and very us. I searched Pinterest for a cute pregnancy announcement, but none of them truly fit. Breakfast in bed, plus a sweet announcement, that sounded like perfection to me. So just after his board exams (which he passed … yippee!), I came into the room with a surprise breakfast in bed; vegan cupcakes – so that Scarlett could celebrate with us – and coffee. Always coffee.*
*Except for the three-to-four months that you're totally nauseous and coffee sounds like the worst thing ever.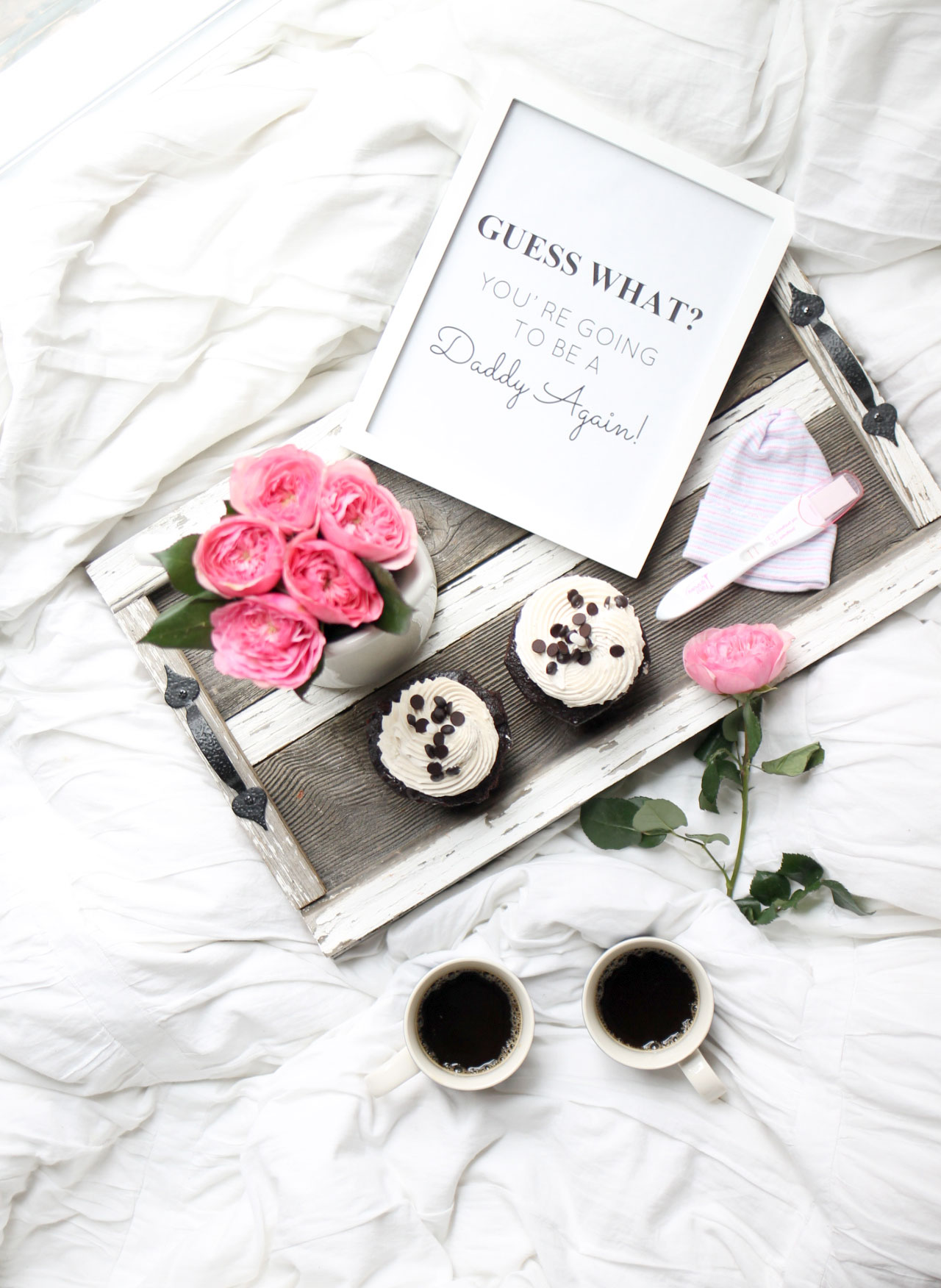 I also whipped together a quick "Guess What? You're going to be a Daddy again!" sign. We're talking … I typed the phrase in pretty fonts on a Microsoft Word doc, printed it, and slapped it into an Ikea frame. Fancy.
Download your own FREE printable Surprise Baby # 2 Announcement for your husband here (or click the image below.)

Then, by some miracle, I was able to find the baby hat Scarlett was sent home from the hospital in, threw everything on a tray, including the positive pregnancy test, because you know, hubby is a man of science and needs the evidence, and called it "breakfast in bed."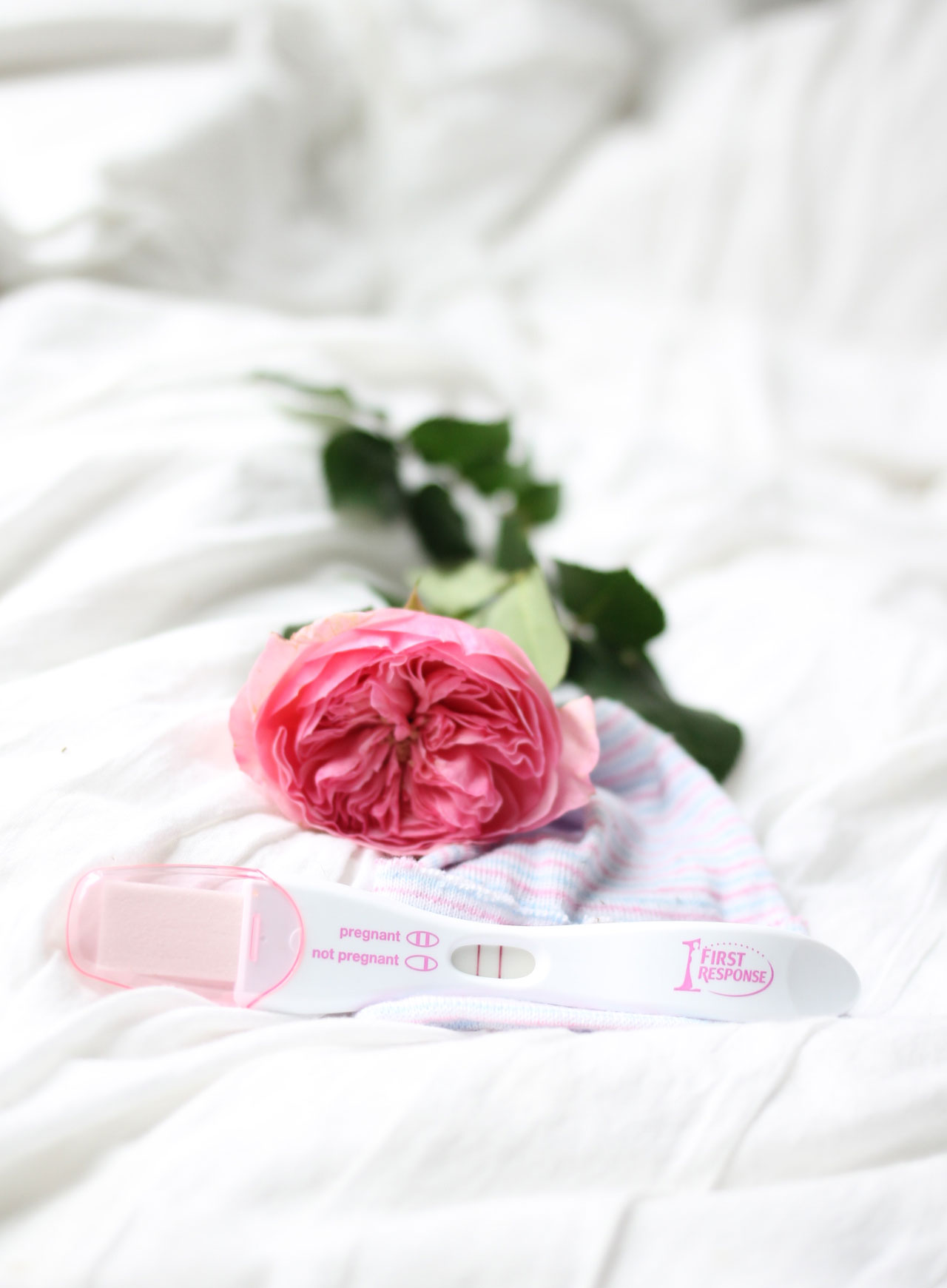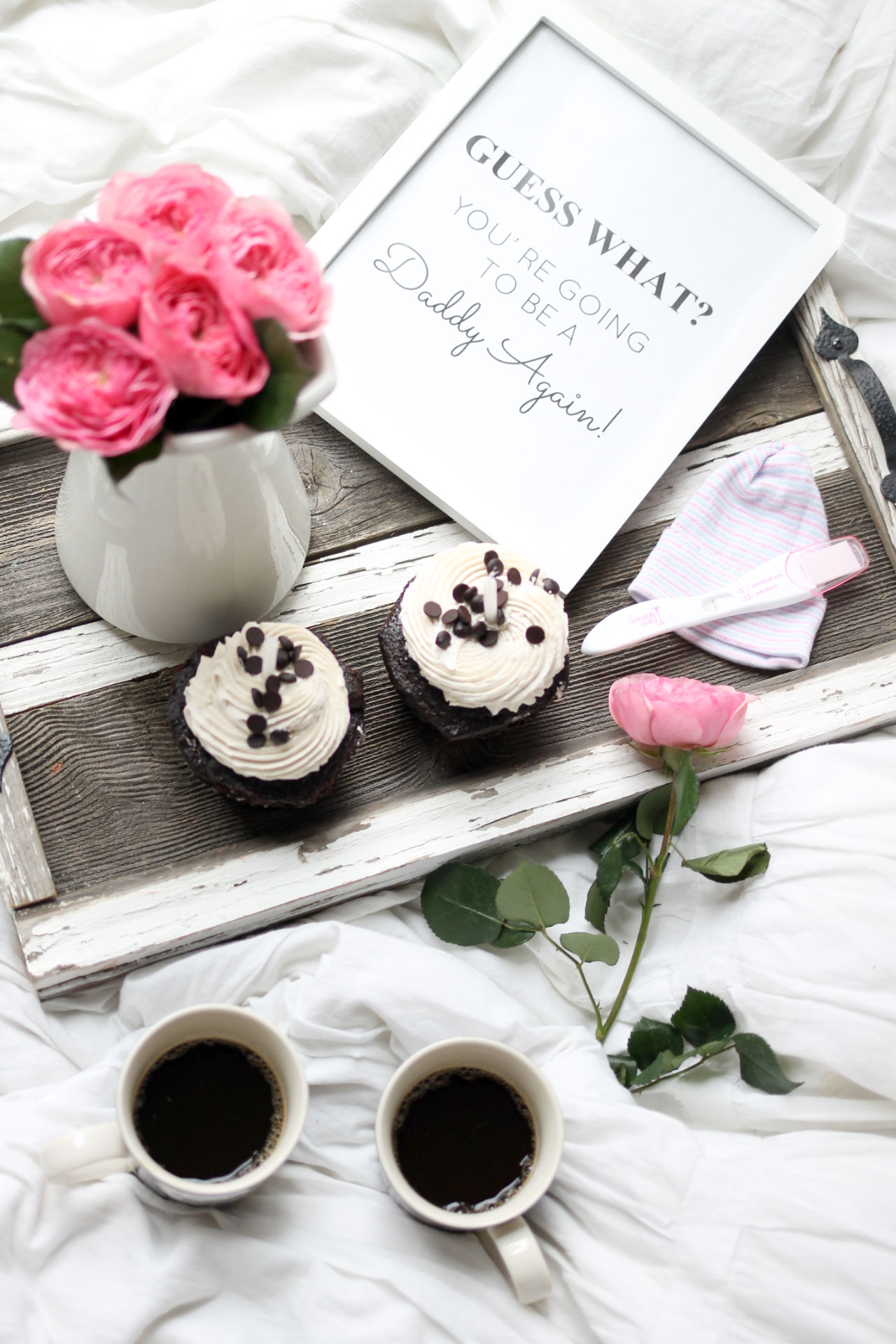 I brought the tray into the bedroom the morning after his boards and …
Hubby's immediate, and very loud, reaction was, "I knew it!"
That boy, he's full of romance I tell ya.
Then of course I wouldn't let him eat the cupcakes until I stood barefoot on the bed and took a bunch of pictures. You know, blog life, and all that.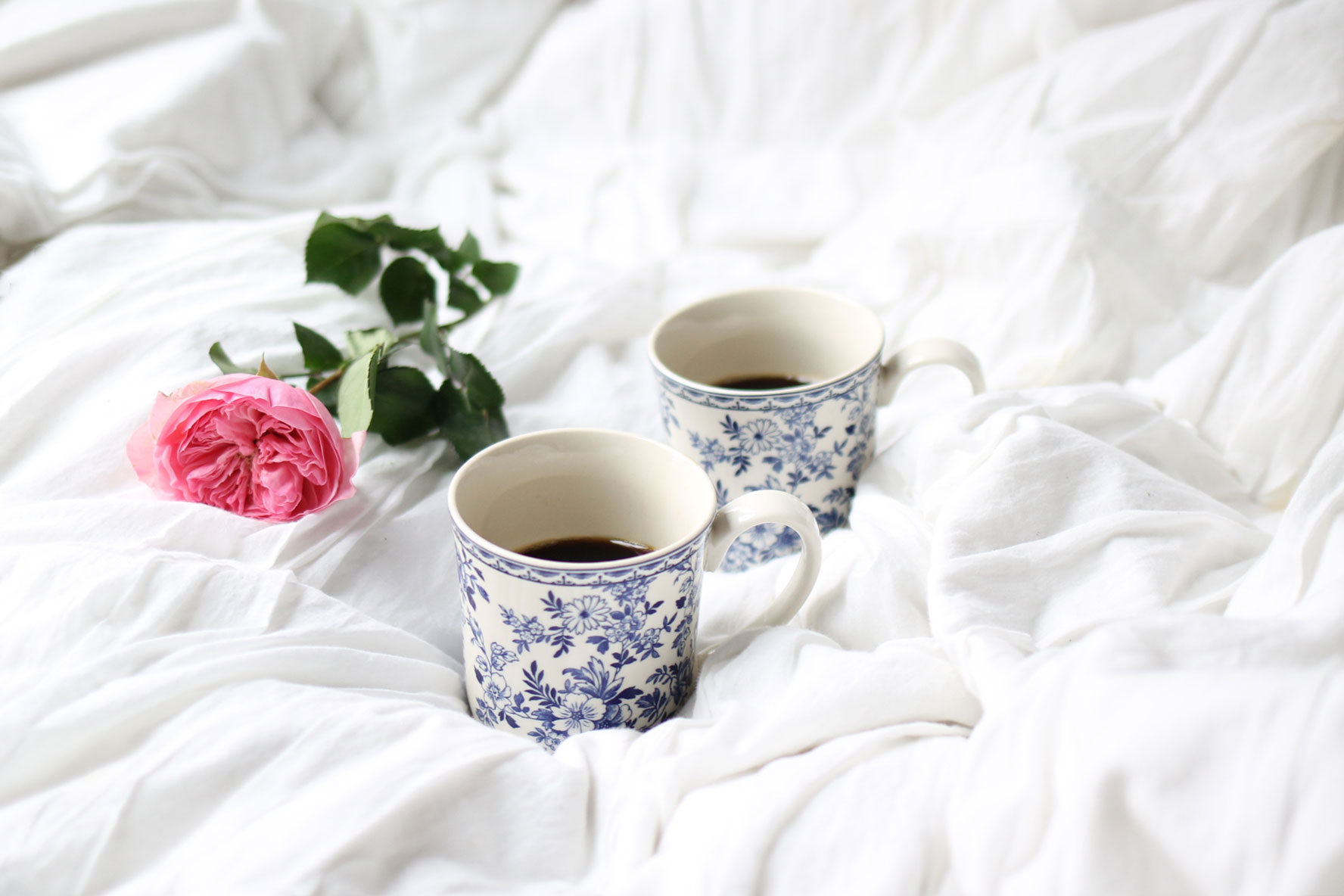 By the way, Scarlett licked the frosting off of both cupcakes so all we got were two soggy chocolate "muffins" and some cold coffee. I think she's the real winner here.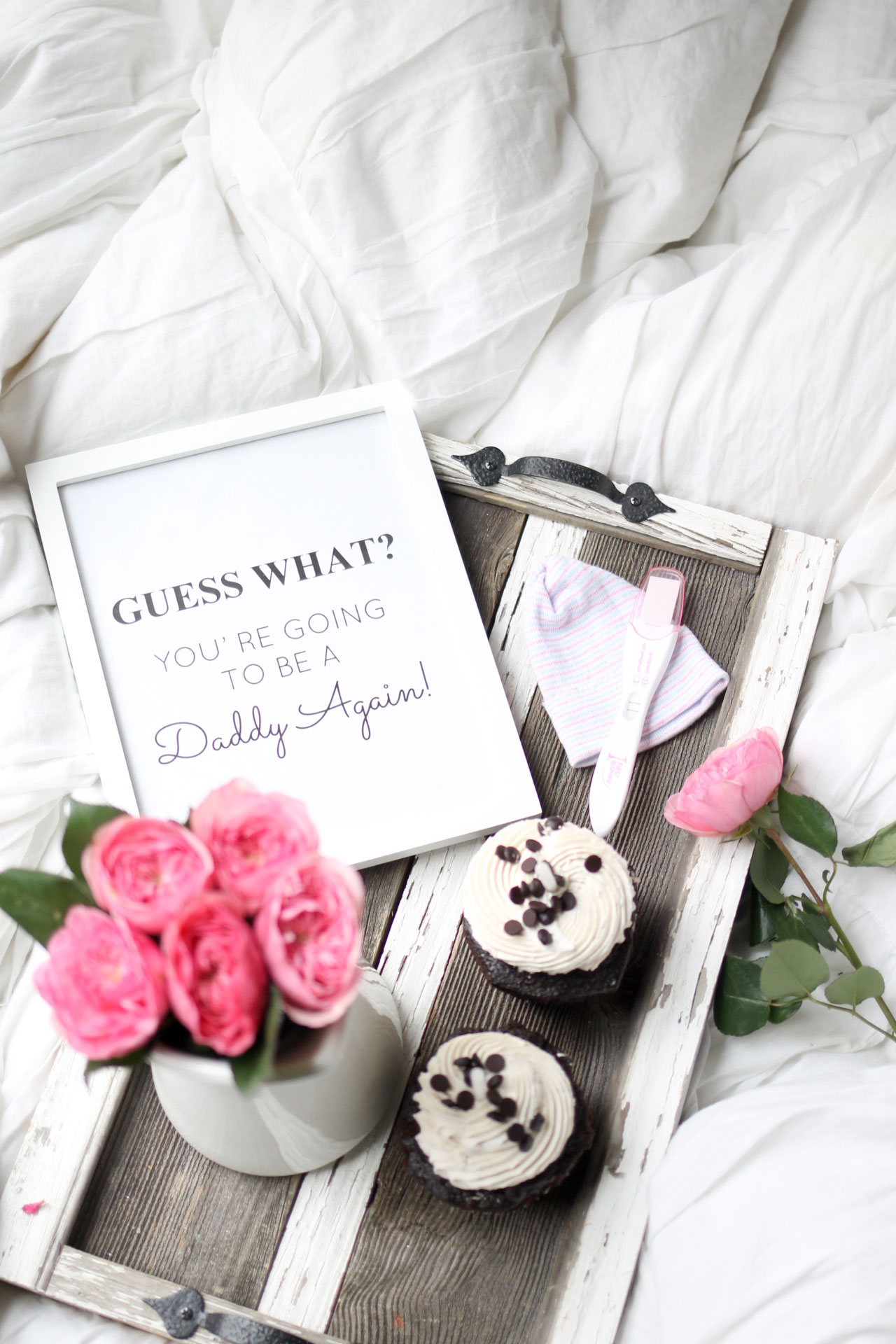 So there you have it: my cute pregnancy announcement to tell my husband we were pregnant with baby number two.
Don't forget to download your FREE printable Surprise Announcement here.
If you're expecting or have already had little ones of your own, what cute pregnancy announcement are you planning on doing? How did you tell your partner or spouse the big news?
SaveSave