Somehow, in the midst of a new year, a very active baby girl, and all of these big plans for our future (Oh yeah, Match Day is less than two weeks away! More on that soon.), I barely took the time to celebrate this little blog's five year anniversary this past weekend. Glitter, Inc. hit its five year birthday on March 7th. Five years, you guys. I have a few really exciting giveaways coming up to celebrate (including this $750 Amazon Gift Card up for grabs right now!), but until then, I thought I'd share a very awesome funfetti-inspired dessert full of sprinkles, plus another really fun announcement. Read on for all of the details …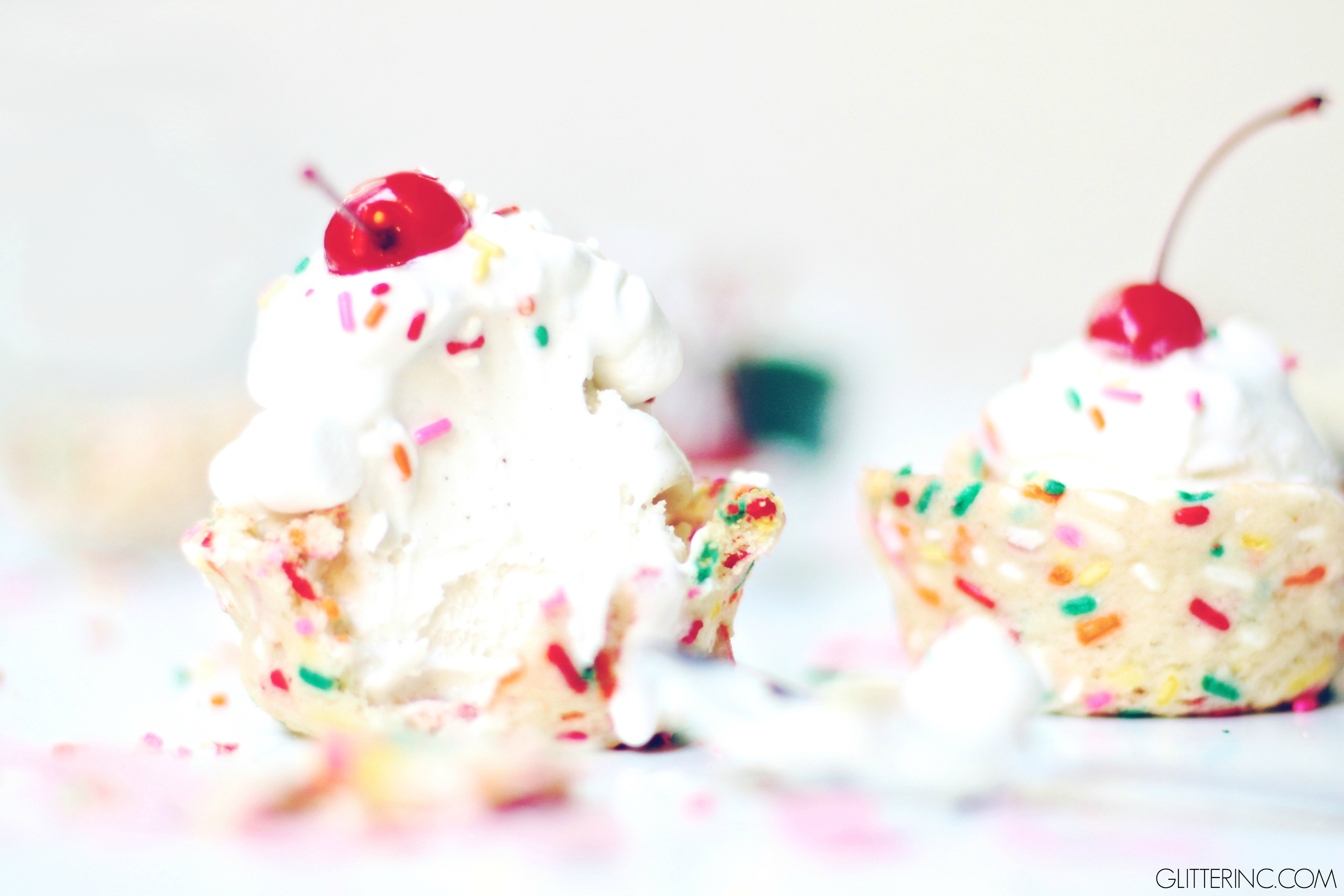 Let's talk Confetti Cookie Cup Ice Cream Sundaes. Occasions like this deserve celebrating. Which brings me to announcement number two (and one very awesome recipe): meet Glitter, Inc.'s first ever contributor, Rachel of Sugar Coated Inspiration. Rachel is a full-time student at UCLA's School of Theater, Film & Television, is an incredible baker, runs her own food blog, and will now be contributing more regularly to Glitter, Inc.
One of my resolutions this year was to work smarter, rather than harder. Not sure I'll ever master the art of working less hard (whatever that means!), but I am going to start to accept help where I can. Rachel is my knight in shining armor (err, sprinkles). She has already contributed a few amazing recipes to the site, but from here on out, she'll be around a little more often. I hope you love her (and her recipes, DIY's, etc.) as much as I do!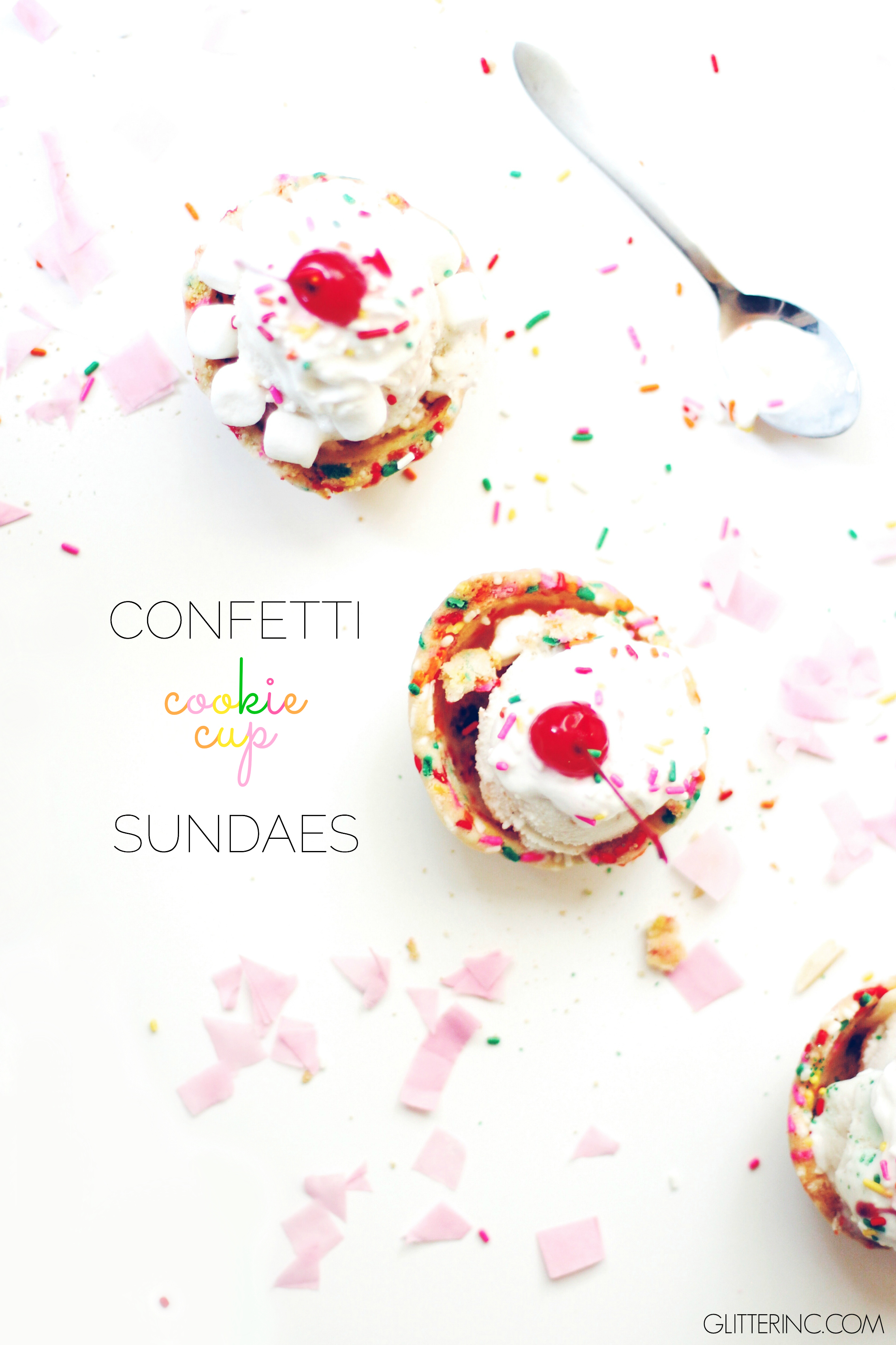 These confetti cookie cups are crisp, buttery, and so festive. But most importantly, they hold up to melty ice cream without getting soggy, which makes them the ideal edible dishes for your next ice cream sundae bar! To top it off, they can even be frozen ahead of time – with the ice cream pre-scooped into each cup – and brought out right before your guests arrive.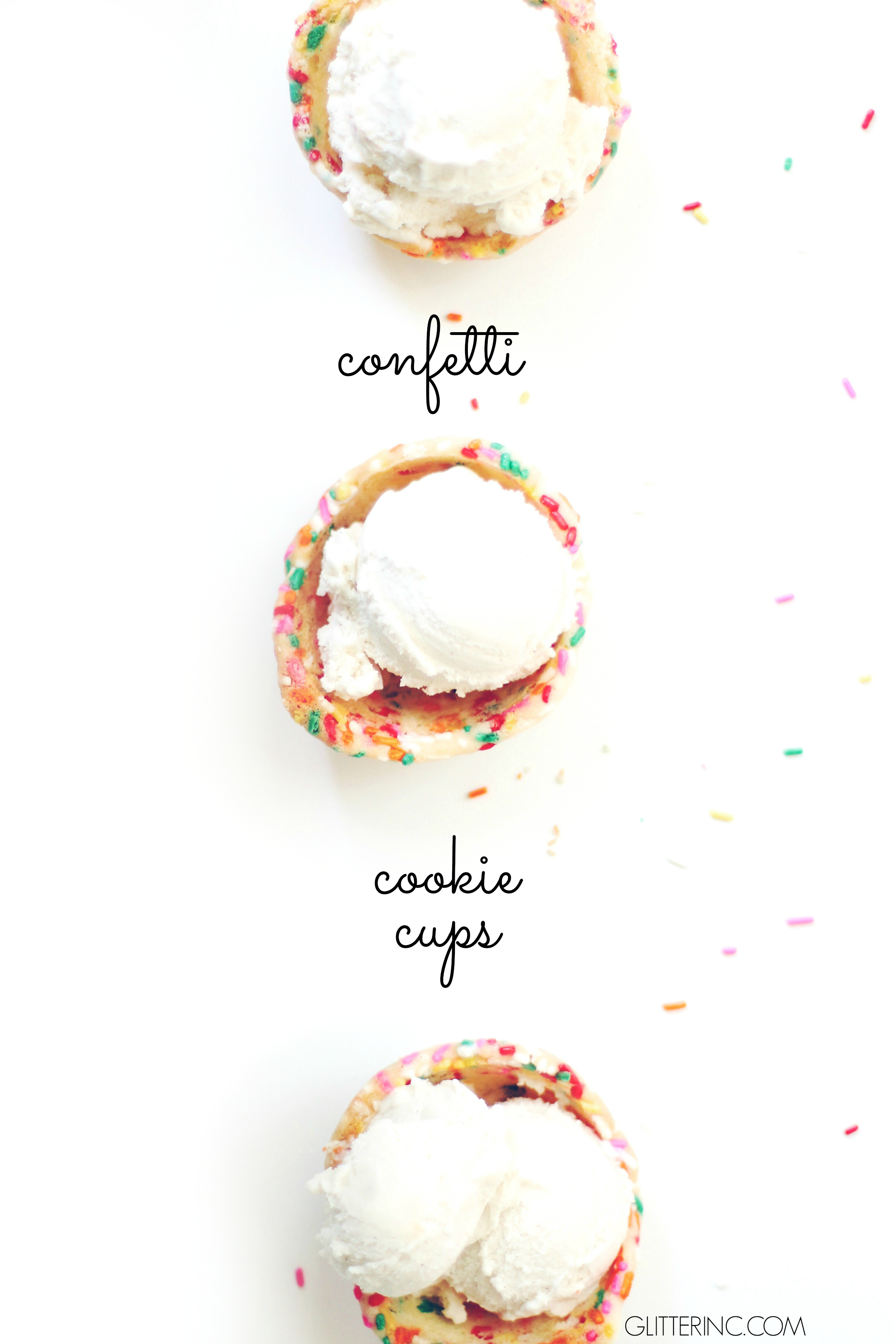 CONFETTI COOKIE CUP ICE CREAM SUNDAES 
Yields around 20 cookie cups
INGREDIENTS
For the confetti cookie cups…
1 ½ cups all-purpose flour
1 teaspoon baking powder
1 teaspoon cream of tartar
½ teaspoon baking soda
½ teaspoon salt
1 stick of softened butter
¾ cup granulated sugar
1 large egg
2 teaspoons vanilla extract
½ cup rainbow sprinkles
A muffin tin
For the ice cream sundae bar…
Vanilla bean ice cream (or your favorite flavor!)
Whipped cream
Maraschino cherries
An (optional) assortment of toppings:
Slivered almonds
Graham cracker crumbs
Candied pecans
Mini marshmallows
Cookie crumbs (from the few cookie cups that will inevitably crumble!)
Extra sprinkles
DIRECTIONS
Start by making the confetti cookie dough. In a bowl, combine the dry ingredients – flour, baking powder, cream of tartar, baking soda, and salt. In a larger bowl, cream together the softened butter and granulated sugar until light yellow and fluffy. Next, add in the egg and vanilla. Beat into the butter and sugar mixture until everything is combined. Then, slowly fold the dry into the wet until the dough forms – the dough should be fairly dry, yet still stick together! Lastly, add in ¼ cup of the rainbow sprinkles (the other ¼ cup is for rolling the dough in before baking.) Refrigerate the dough for at least two hours – if not overnight. (This prevents the dough from spreading too much!)
Once the dough is chilled, preheat your oven to 350 degrees. Grease the bottom side of a muffin tin with non-stick spray, and set aside a bowl with the remaining ¼ cup of sprinkles. Using a measuring spoon, scoop out two teaspoons of the dough into your hands, and roll into a ball. Then, roll the ball in the sprinkles to coat it completely.
Set the sprinkle-coated cookie dough ball onto the flat, bottom side of the muffin tin (refer to the photos if necessary.) With the palm of your hand, flatten the dough ball onto the back of the tin until it reaches the edges. **Be sure to wrap the dough around the edge of the muffin tin, just slightly, to help the cookie spread down the sides of the tin and form the cup shape.** Once you've covered the entire muffin tin, bake the cookie cups for 10 minutes, until they're golden brown and have spread down the sides of the tin. Remove from the oven and let them cool for 5 minutes (no longer, or they'll be difficult to remove from the pan.) Pop the cookie cups off of the pan and set them onto a cooling rack until they're solid and crisp.
When ready to serve, place two scoops of ice cream into each confetti cookie cup. Top with whatever your heart desires – but don't forget a cherry!
Confetti cookie dough recipe adapted via Joy The Baker
CLICK THROUGH THE SLIDESHOW FOR DETAILED INSTRUCTIONS: