It's time for another little round-up of my latest obsessions (a.k.a., the shopaholic confessions) … the early Fall Edition.  I think I online wishlist more in the Fall than any other season, because I LOVE FALL, and Fall fashion.  I also love updating my home in the Fall and Winter, so there are a few little home wishlisted items as well.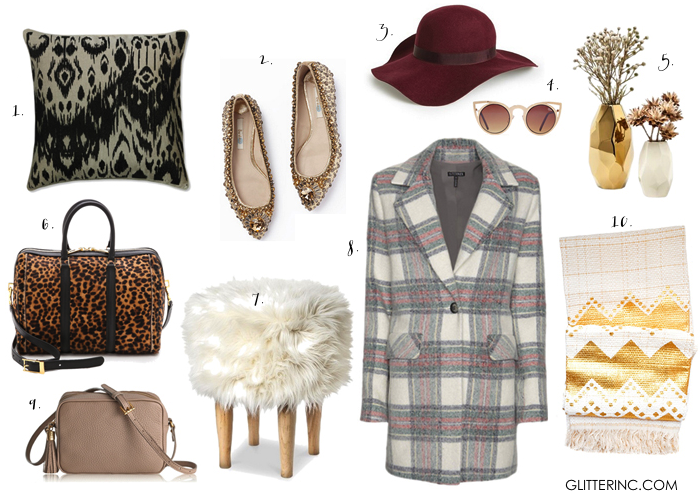 1. Williams-Sonoma Samarkand Ikat Embroidered Pillow Cover: I own far too many throw pillows, but this one is dark and gold and ikat printed … the perfect Fall addition to our overcrowded sofa.
2. Boden Jewelled Flats: Hello, jewelled flats. My finger is currently hovering over the "buy" button as we speak. I want.
3. Topshop Floppy Wool Felt Hat: I may not look amazing in hats, but every Fall, one or two cool girl hats catch my attention, and at under $40 and in such a pretty shade of wine, I think I may just need this one.
4. Quay Invader Shades: Super cool gold shades, and under $40. Fabulous.
5. Nate Berkus for Target Facet Vases: Affordable and adorable … I heart vases.
6. A.L.C. Lucas Satchel in Leopard Print: This bag is a major swoon/splurge, but oh how pretty it is.
7. Nate Berkus for Target Faux Fur Stool: Another Nate Berkus for Target pick, because the Fall collection is just that good.
8. Intermix Single Breasted Plaid Coat: I adore this coat because it is the perfect "subtle plaid" print. Not too loud, not too grunge, chic and and on-trend, I love it, a lot.
9. GiGi New York Madison Crossbody in Stone Pebble Grain Leather: This is the perfect small go-anywhere bag – perfect for our upcoming travels.
10. LEIF Glimmering Chevrons Throw: Oh my goodness, I love this pretty little gold throw.
Shop the Wishlist (Plus, a a few other loves):