It's time for another little round-up of my latest obsessions (a.k.a., the shopaholic confessions) … the early almost-Summer version that is (because no doubt, there will be more.)  I swear as a fashion blogger, I find myself wanting just about everything – so my shopaholic confessions are an attempt at reeling in (a.k.a., "curating") the wants.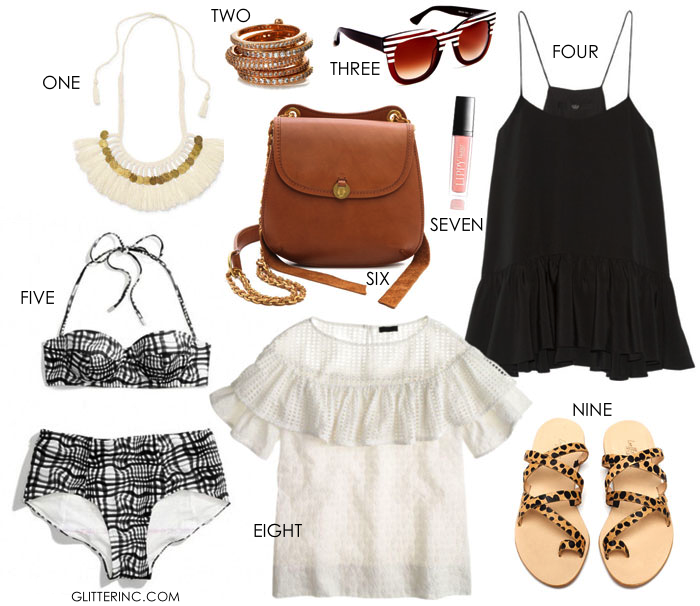 ONE.  Club Monaco Coin Necklace.  I absolutely love this little beauty.  It's so very bohemian and Summer, perfect to glitz up just about any simple tank or blouse.
TWO.  Henri Bendel Luxe Petite Hand Me Down Stack Ring. So dainty, so sweet, and I can't get enough of my ring stacks.
THREE.  Thierry Lasry X Henri Bendel Sunglasses. Summer is for sunglasses, and I want them all.  Retro-inspired sunglasses with stripes … oh yes.
FOUR.  Tibi Ruffled silk crepe de chine camisole.  Loose and delicate tank tops, that's my Summer staple (especially with this ever-growing baby bump of mine!)
FIVE.  Coach Wavy Gingham Retro Bikini.  After my round-up of retro-inspired bikinis and one-pieces, I've officially fallen hard for the high-waisted bikini bottom.
SIX.  Club Monaco JM Romy Bag.  I am on the hunt for a lightweight handbag this Summer, and this equestrienne-inspired handbag from Club Monaco is most definitely a contender.
SEVEN.  Butter London Lippy Tipple.  Sunglasses, lip gloss; Summer staples.
EIGHT.  J.Crew Collection Eyelet Flounce Top. Love at first sight.
NINE.  Loeffler Randall Sarie Strappy Sandal in Cheetah printed haircalf. Ever since making my first Loeffler Randall purchase, last seen here, I'm hooked.  LR makes beautiful, well-made sandals – perfect to get me through the Summer months.
See the rest of my confessions, here.