It's been a while since I shared some of my obsessions (a.k.a., the shopaholic confessions … maybe if I put them out there into the world, I'll stop pining.  ha.  Fat chance.)  Don't let that fool you into thinking I've straightened up my act – quite the contrary – now that I'm pregnant – I want doubly: one for me, one for baby girl.  This could get dangerous.  (And of course, as a blogger, I stumble upon about a millions things a day that I just have to have.  Hazards of the job.)  But for now, here's the grown-up stuff I really really really want.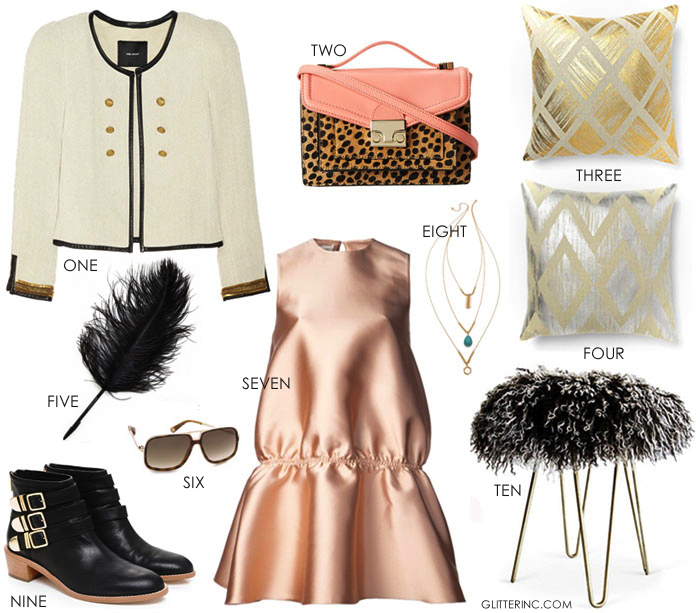 ONE. Isabel Marant Linen-Blend Bouclé Jacket:  This jacket is darling and sophisticated and I want it.
TWO. Loeffler Randall Mini Rider Bag in Cheetah/Flamingo:  With a baby on the way, my heavy purses have started to haunt my dreams (no joke, the more pregnant I guess, the less stuff I want to carry.)  So I'm making a conscious effort to travel light-er.  This adorable cheetah crossbody should fit the bill!
THREE. West Elm Metallic Diamond Pillow Cover:  I can't stop buying throw pillows.  It's a problem.  And now I want this one.
FOUR. West Elm Metallic Chevron Pillow Cover:  And this one.
FIVE. Maison Martin Margiela Stylo Ostrich Black Feather: I'll admit, I need an ostrich feather pen, well, not at all. But this certainly seems like a fabulous DIY must.
SIX. Marc Jacobs Keyhole Aviator Sunglasses:  These sunglasses are a total splurge, but they are just so darn cool.  Best take on the classic aviator style that I've seen, hands down.
SEVEN. STELLA MCCARTNEY Bubble Hem Dress: I've coveted this dress since the second I spotted it worn on the streets of Paris Fashion Week.  I adore the bubble hem and the silky pink champagne color.  Très chic.
EIGHT. Jules Smith Bahia Necklace: I have a serious thing for layered necklaces, and this dainty pile of Jules Smith necklaces takes the guesswork out of layering.  Love it.
NINE. Loeffler Randall Fenton Buckle Bootie. It's safe to say that I am a boot lover. And after finally snagging my first pair of Loeffler Randall sandals, on sale of course, I'm totally hooked. Their shoes are so well-made and chic. Want want want these boots like woah.
TEN. Curly Hairpin Vanity Brass Stool: I'm totally smitten with this furry little stool. It's quirky and adorable and totally out of character for my place, which is why I kind of really love it.
See the rest of my confessions, here.