I'm not sure why, but I kind of obsessed over choosing the perfect stroller all through my pregnancy.  It was our first baby, and as a fashion and lifestyle blogger, I'm a sucker for great style (something most strollers on the market are lacking).  Though I didn't want to go too crazy, I knew I was looking for a higher end stroller with a bit more attention to design and detail.  Along came the Stokke Crusi Stroller and I was sold.
By the way, we snapped these pictures over the weekend in the Keys; we snuck a short trip to Key Largo (one of the closer of the Florida Keys … so nice to be able to hop in the car and get to the Keys within an hour from Miami).  Scarlett was such a good girl, and actually ate at her very first restaurant, a.k.a., slept in her Stokke Crusi while the rest of us ate eggs and waffles (she'll get there soon enough).
Back to the stroller …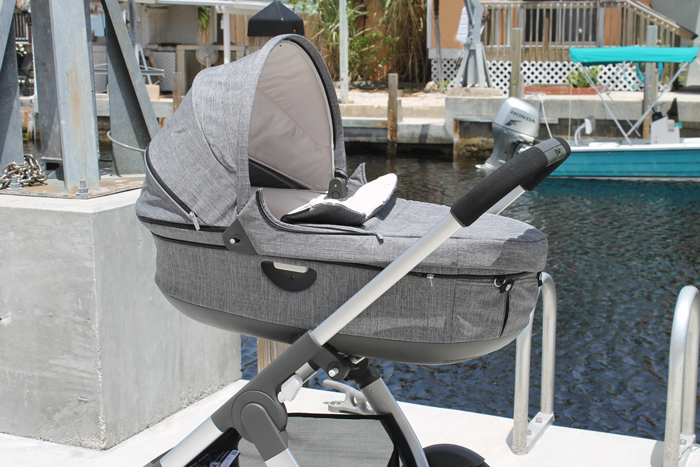 The highlights of the Stokke Crusi Stroller:
We get compliments galore on this beauty.  The design is eye-catching and modern and the fabric we chose – Black Melange (a lovely patterned grey) – is incredibly luxe.
If you plan on traveling with your newborn, the bassinet (a.k.a., the carry cot, shown here) is an amazing feature.  So far, Scarlett is too small to sit in the traditional stroller seat and the bassinet has been a lifesaver.  We use the bassinet when we stay at my parents, or the Keys, as her bed.  It transports really well on it's own, with two hidden handles.  I'm also not going to lie … the bassinet option transforms my stroller into a "pram", so very British and chic (Victoria Beckham would surely approve!)
Both the carry cot and the stroller seat are well-padded and plush, providing your little one a very-comfy ride.
The seat on the Stokke Crusi, which can face in or out, is much higher than any other brand.  This allows your baby to see the world and you can easily visit with your little one without having to bend down so low (my much-taller-than-me hubby loves this feature).  The push handlebar and footrest are also height adjustable.
The stroller rides really easy, is not at all complicated to open and close, and despite it's large size, is 100% manageable.  (We've already taken the stroller over rocks, sand, and outlet shopping, all with a smooth ride.)
The canopy is ample and really keeps our little one covered and protected from the elements.
The stroller comes with an infant seat insert, a rain cover, a mesh net, and a bumper bar and has a bunch of great accessories you can buy separately as well.
Once we switch over from the carry cot/bassinet to the stroller seat, the seat is configurable in three harness heights, including the ability to recline flat to accommodate a sleeping baby.  The Stokke Crusi stroller is also fitted with a removable seat insert for infants.
The stroller boasts so much storage in a hefty-sized basket underneath the seat.  Super helpful.  (I actually don't think I'll ever opt to shop without this stroller now that I have it … maximum shopping potential.)
If we're talking about future here (yikes!), the Stokke Crusi is the first stroller in the Stokke line to allow for a second child seat, transforming it seamlessly into a double stroller.  This is huge because most double strollers are double wide (rather than stacked), making them insanely difficult to maneuver around a big city.  The Stokke Crusi is the only double stroller for city living as far as I'm concerned.  (And side note: the added bonus of a second seat gives this stroller real staying power because I know I'll be using this stroller for years to come.)
By the way, just in case you've gone a little crazy building all of the new baby gadgets (because I know we have!), worry not: the Stokke Crusi strollers couldn't be simpler to put together straight out of the box.  All you need to do is pop on the wheels, install the stroller seat or carry cot/bassinet (which by the way, simply click in), foot rest, and canopy, and you're good to go.
Shop the Post:  Stokke Crusi Stroller with Carry Cot (c/o) // Heidi Merrick Dress // Free People Ribbed Up Cardigan // J.Crew Jeweled Sandals // Mansur Gavriel Bucket Bag // ASOS Retro Sunglasses
Disclosure:  A Stokke Crusi stroller was provided for purposes of this review; however, no payment was received and all views are entirely my own.  (I truly love this stroller!)