First things first, this amazing red velvet cupcake recipe comes from The Hummingbird Bakery Cookbook.  Now here's the story … I try to be diplomatic about recipes.  I know when something is good, I have a pretty good idea when something is great, and I can always tell when something is just a big fat flop.  These red velvet cupcakes are none of the above … they are phenomenal.
Phenomenal, I tell you.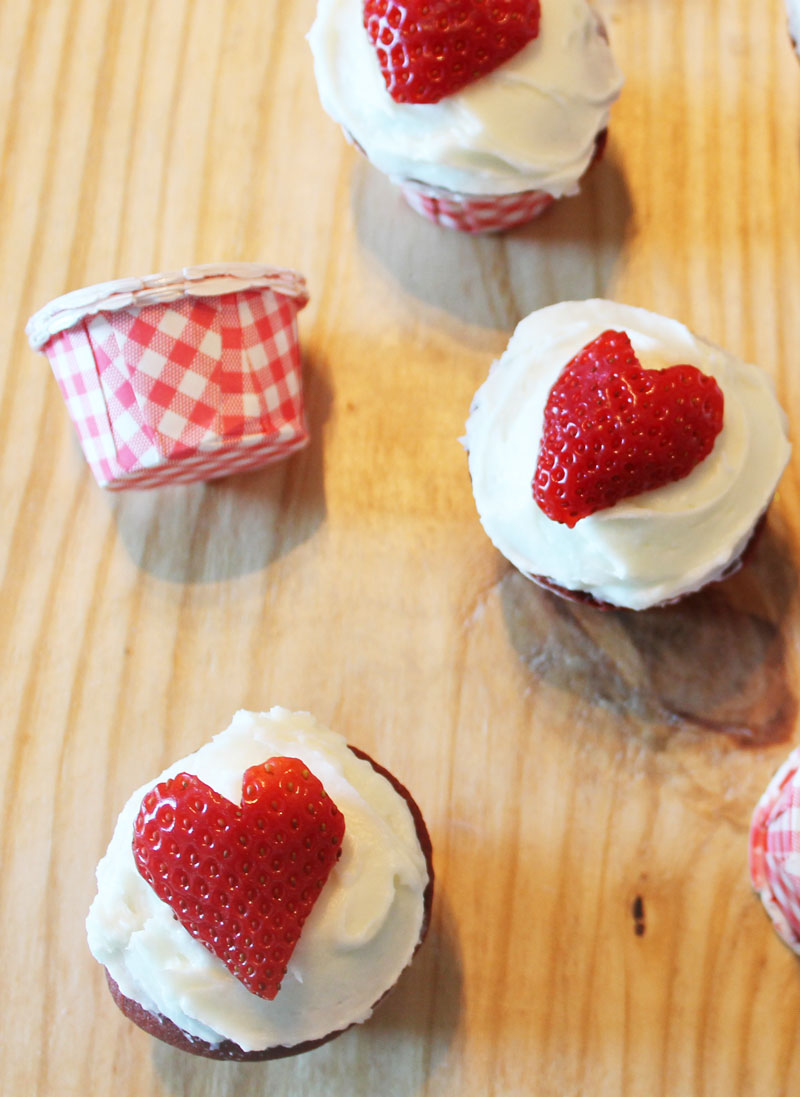 I should explain how we got to these ridiculously amazing red velvet cupcakes.  We went to London last summer, we shopped one of my favorite markets along Portobello Road, and we fell into Hummingbird Bakery.  Actually, we waited in a line that bordered on not-worth-the-wait; but you know, the bigger the line, the more worth the wait, and all that.  Besides, we were American tourists, and if the locals were lined up at this tiny little bakery (when the market is full of street vendors and pretty yummy quick food to go), we knew it had to be good.  It was amazing … like, hurt-your-face-it's-so-rich-and-sweet-and-delicate amazing.
We bought two cupcakes, much to my husband's dismay (I think he dreamed about tackling a dozen or so), sat on a curb, and ate the sticky sweet cupcakes with our fingers.  We had pigeons as an audience.  It was as if the sky opened up and proclaimed these the best cupcakes in all the land.  And we weren't the only ones who thought so … clusters of people were all sitting on said curb scarfing down on cupcakes, cookies, pie … which probably made my husband wish we had picked out at least ten other desserts.  Long story short (not that I'm good at that!), the trip came to an end way too fast and we never got that chance for a second swing by the bakery.
Fast forward to Chanukah and my husband spots the Hummingbird Bakery cookbook on Amazon, and to my front door it arrives!  He's fabulous, I tell ya.  I made minor alterations to the frosting, only because I like my cream cheese frosting with full cream cheese frosting impact, but other than that, I stayed very true to the very fabulous Hummingbird Bakery recipe.  A few secrets to these incredibly moist cupcakes: not too much cocoa (just the right amount!), buttermilk, and vinegar … plus the ever decadent classic cream cheese frosting.
THE BEST RED VELVET CUPCAKES, EVER.
Makes 12 cupcakes.
INGREDIENTS
For the Cupcakes:
4 tablespoons unsalted butter, at room temperature
¾ cup granulated sugar
1 egg
2½ tablespoons unsweetened cocoa powder
3 tablespoons red food coloring
½ teaspoon vanilla extract
½ cup buttermilk
1 cup + 2 tablespoons all-purpose flour
½ teaspoon salt
½ teaspoon baking soda
1½ teaspoons distilled white vinegar
For the Cream Cheese Frosting:
4 ounces butter, at room temperature
6 ounces cream cheese, at room temperature (Note:  The recipe calls for 4 ounces, but I'm a glutton!)
2½ cups powdered sugar, sifted
1 tablespoon vanilla extract
DIRECTIONS
1. Preheat your oven to 350°F. Line a standard muffin/cupcake pan with cupcake liners.
2. On medium-high speed, cream the butter and sugar until light and fluffy, about 3 minutes. Turn the mixer to high and add the egg. Scrape down the bowl and beat until well incorporated.
3. In a separate small bowl, mix together the cocoa powder, vanilla extract and red food coloring to make a thick paste. Add to the batter and mix on medium speed until completely combined. You may need to stop the mixer to scrape the bottom of the bowl, making sure that all of the batter gets color.
4. Reduce the mixer speed to low and slowly add half of the buttermilk. Add half of the flour and mix until combined. Scrape the bowl and repeat the process with the remaining milk and flour. Beat on high until smooth.
5. Again, reduce the mixer speed to low and add the salt, baking soda and vinegar.* Turn to high and beat for another couple of minutes until completely combined and smooth.
6. Divide the batter evenly between the cupcake liners and bake for about 20 minutes, or until a toothpick inserted into the center of the largest cupcake comes out clean.  (Be sure not to fill the cupcake liners with batter any more than about 2/3 of the way up – these babies rise.)
7. Cool for 10 minutes and then remove cupcakes from the pan and place them on a cooling rack to cool completely before frosting.
8. To make the frosting: Using the whisk attachment, beat the powdered sugar and butter together.  Mix on slow-medium speed until it comes together, being careful to keep the powdered sugar in the mixing bowl.  Add the cream cheese all at once and continue mixing, scraping the bowl down as necessary. Add the vanilla and mix to combine. Increase the speed to medium-high and whip for a few minutes until the frosting is light and fluffy, scraping the bowl as necessary. Do not over-beat as the frosting can quickly become runny.
*(Science time: the vinegar will bubble when poured over the baking soda; it's actually the combination used to create that chemical volcano effect you get in a science fair project – the reaction between baking soda and vinegar generates carbon dioxide gas … fun stuff.)
Note:  This recipe can be doubled to make an 8 or 9-inch layer cake (i.e., two layers) or to make 24 cupcakes.  (I made about a dozen mini cupcakes, and a dozen very large cupcakes by doubling the recipe.)
Note 2:  I sliced strawberries and cut out hearts to top each cupcake – very Valentine's Day appropriate, I think!
Recipe Adapted from The Hummingbird Bakery Cookbook by Tarek Malouf