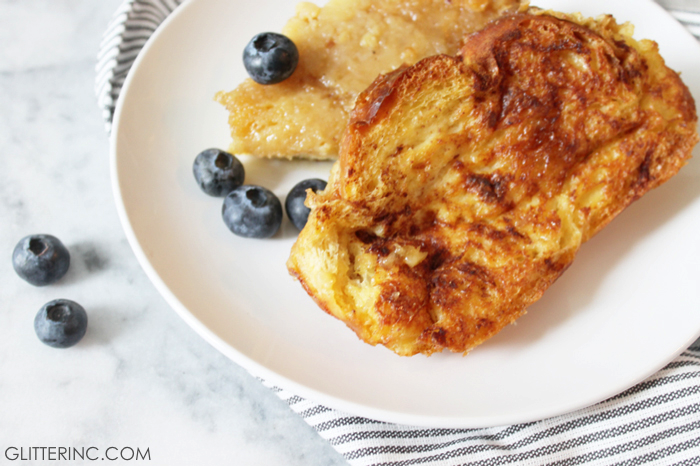 I can't take credit for finding this incredible recipe.  My mom (the most amazing cook I know) has been using this recipe for years … for as many family brunches as I can remember, my mom breaks out the well-worn photocopy of this Crème Brûlée french toast recipe and makes magic.  The recipe actually originated from the Inn at Sunrise Point in Camden, Maine, widely known for this decadent brunch dish. This Baked Crème Brûlée French Toast is also the perfect New Years morning brunch recipe, because it's the kind of thing you can make a huge tray of the night before, and have an amazing warm brunch come morning.
Crème Brûlée itself is a French dessert consisting of a rich custard base topped with a contrasting layer of hard caramel, mix that together with toasty buttery french toast made with thick and chewy baguette or challah (egg bread), and you have yourself one winning brunch recipe. The dish is put together in a casserole – the french toast soaks up the rich Crème Brûlée sauce (buttery, sugary, and warm) and the bottom of the french toast slices caramelize; the top toasts to just the right eggy crisp-ness. This is caramelized heaven in a casserole.
Baked Crème Brûlée French Toast
Serves 6.
INGREDIENTS
1 stick (½ cup) unsalted butter
1 cup packed brown sugar
3 tablespoons corn syrup
1 large challah, unsliced (bakery/store-bought works great) (can also use a 9-inch round loaf country style bread or French baguette, but we're partial to challah)
5 large eggs
1 ½ cups half-and-half or heavy cream
1 teaspoon vanilla
1 teaspoon Grand Marnier or Amaretto
¼ teaspoon salt
Cinnamon (to taste)
Nutmeg (to taste)
DIRECTIONS
In a small heavy saucepan melt the butter with the brown sugar and corn syrup over medium heat, stirring until smooth.  Once smooth, pour into a 13×9 casserole/baking dish.  Cut six one-inch thick slices from center of the bread (skip the ends as they're hard to place in the dish).  Arrange slices of bread in one layer at the bottom of the baking dish and in the butter/sugar sauce, squeezing the bread slightly to fit.
In a separate bowl, whisk together eggs, half-and-half or heavy cream, vanilla, Grand Marnier or Amaretto, and salt, until well-combined, and pour evenly over the bread.  Sprinkle cinnamon and nutmeg over the top.  Chill bread mixture, covered, for at least 8 hours and up to one day.  (This allows everything to get absorbed and really come together.)
When ready to bake, preheat oven to 350°F and bring bread mixture to room temperature.
Bake bread mixture, uncovered, in the middle of the oven until the dish looks puffed and the edges are pale golden, about 35 to 40 minutes.
Serve the dish warm.  Enjoy!