This post contains affiliate links, which means that if you click on one of the product links, I'll receive a small commission. Thank you so much for clicking through and helping to support this little blog business of mine! Read more about our site, privacy, and disclosure policies here.
Planning a birthday party for your kids while staying home and social distancing? We threw our 6 year old a social distance Frozen themed birthday party at home and she loved every second of it. Here are a few tips, plus a timeline of the big day, for making your little one's birthday at home extra special!
Our sweet girl, Scarlett Everly, turned 6 on Monday and we celebrated with her very own Frozen birthday bash, social distance style!
Being someone who LOVES to throw huge, over-the-top parties for all of the celebrations (seriously, I'll take any excuse to bake a cake and throw up some balloons!), social distancing and the state of the world these days has definitely limited what we can do.
For Scarlett's 6th birthday, I knew we'd be celebrating her birthday on a much smaller scale. Not only are we pretty much laying low and remaining home these days to keep on social distancing our family, but we move in just a few short weeks, so our current rental is basically a sea of boxes.
Scarlett's 6th Frozen Birthday Bash
Scarlett's only request: a Frozen themed birthday party. ❄️
Kids are so resilient, aren't they? I lamented the fact that we couldn't throw a great big party for our beautiful girl, but honestly, all she really wanted to do was to open presents, play with her sister, and eat frosting with a spoon. We did all of that and more and it was SUCH A GREAT DAY. Scratch that: it was such a great preceding weekend and day.
So how did we plan and throw an awesome social distance birthday party at home?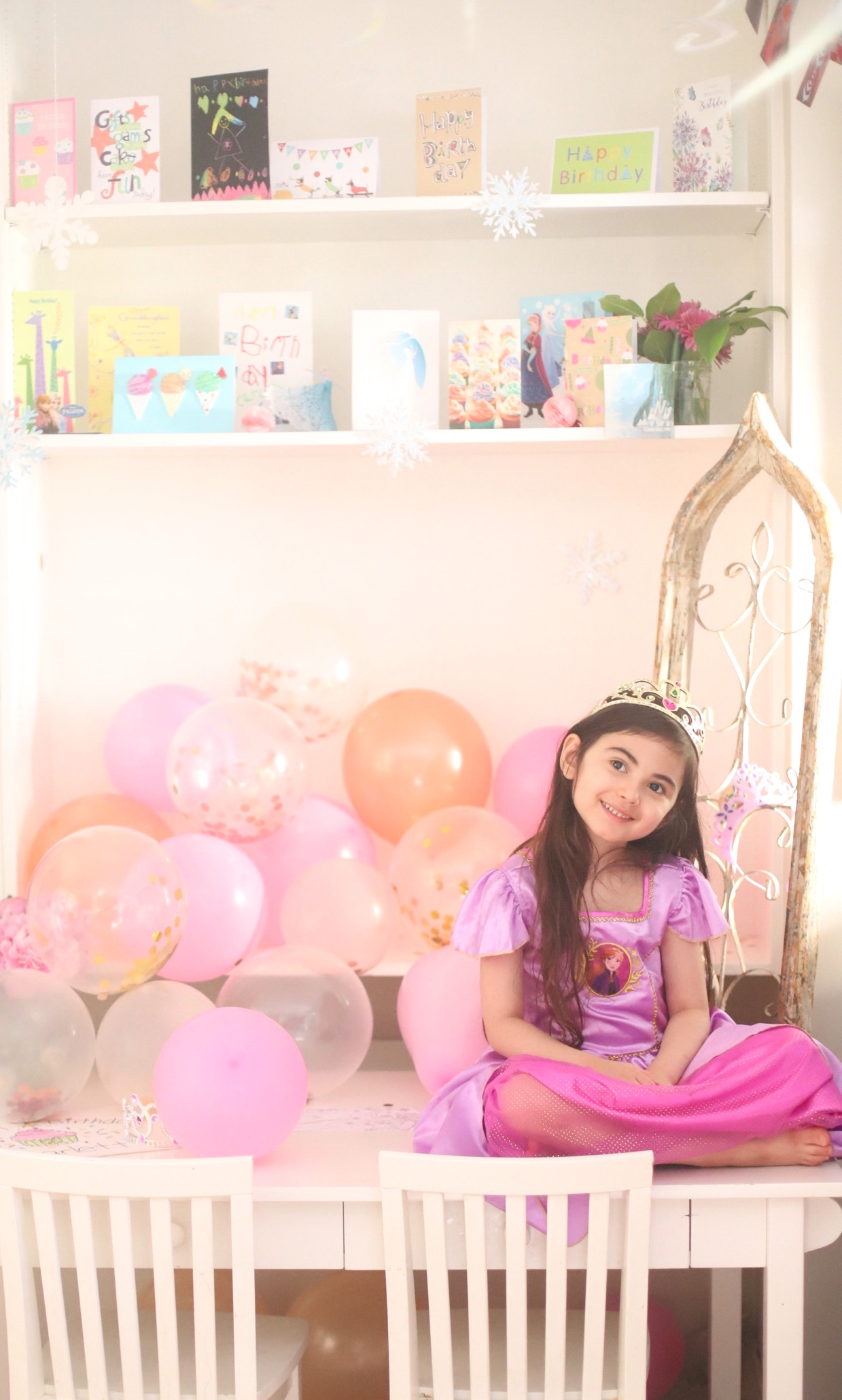 How to Throw a Social Distance Kids Birthday Party at Home
4 Weeks Before the Birthday:
I emailed family and friends and asked them if they might want to send Scarlett snail mail for her big day. It worked so well and Scarlett received SO much mail for her birthday! (More on that below!)
The email went a little something like this:
Hi everyone!! Our baby girl, Scarlett, is turning 6 on July 6th this year and since we are far from family and friends and social distancing on top of it all, we really want to try to make her big day special for her! That's where you all come in! If anyone has a chance, if you could send Scarlett a

birthday

card

or draw her a picture or write her a quick note for her 6th

birthday

this year, that would be so great!
Our address here is:
XXX
I think she would be SO incredibly excited to get a bunch of snail mail from all of her favorite people.
We appreciate and miss you all!!
Warmly,
Lexi
3 Weeks Before the Birthday Party:
I sent out an email inviting our family and closest friends to a Zoom birthday party to be held on the big day.
How to Create a Zoom Party Link
I had never actually hosted a zoom meeting before, so in case you're like me, to create a zoom link for a party, create a free Zoom account here.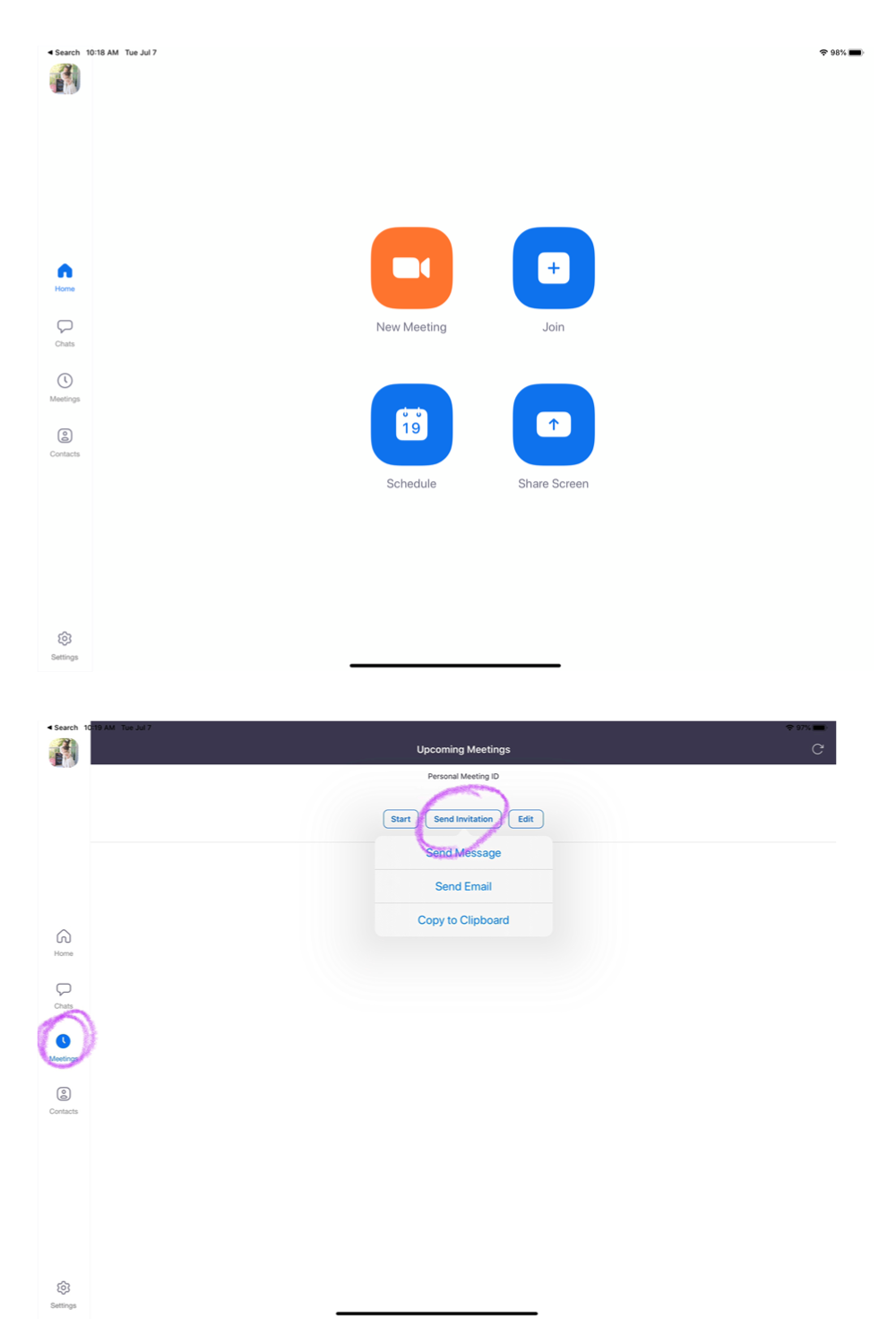 Then, open up the Zoom app on your device. On the left hand side of the screen, you'll see the option for "Meetings". (It's circled in the image above in purple.) Click that. At the top of the screen you should see your own personal Meeting ID. Click "Send Invitation" just beneath that and then you will have the option to "Send Message," "Send Email," or "Copy to Clipboard." All of those options will generate your own personal meeting LINK, ID and Password.
You choose the time for your Zoom meeting or party and send the details in an email or text to friends and family, asking them to click your Personal Meeting Link on the day and time of the party! Easy easy!
The email went a little something like this:
Scarlett's Royal Zoom Party 👑
Hi everyone! On Scarlett's birthday, July 6th, at 7pm, we invite you to join us for a quick "Happy Birthday" song as Scarlett blows out her birthday candles!
If you want to dress up in your finest ROYAL ATTIRE for the festivities, please do! (Crowns and wands are encouraged and blankets make great capes!)
Include a link to the Zoom meeting, the Meeting ID, and Password here.
Love you all!
Warmly,
Lexi and Mike
1 Week Before the Birthday Party:
I sent a reminder email to our family and friends about the Zoom party date and time and included the details once again.
The Weekend Before the Birthday:
I don't know about you and your family, but we always celebrated a birthday week! Scarlett's birthday this year fell on the Monday after the Fourth of July holiday weekend, so it was easy to add in fun and celebratory things to do the Saturday and Sunday just before she turned 6 on Monday.
We went strawberry and blueberry picking (more on that later!), we visited the rose garden in Boston, and we did a whole lot of crafting and baking.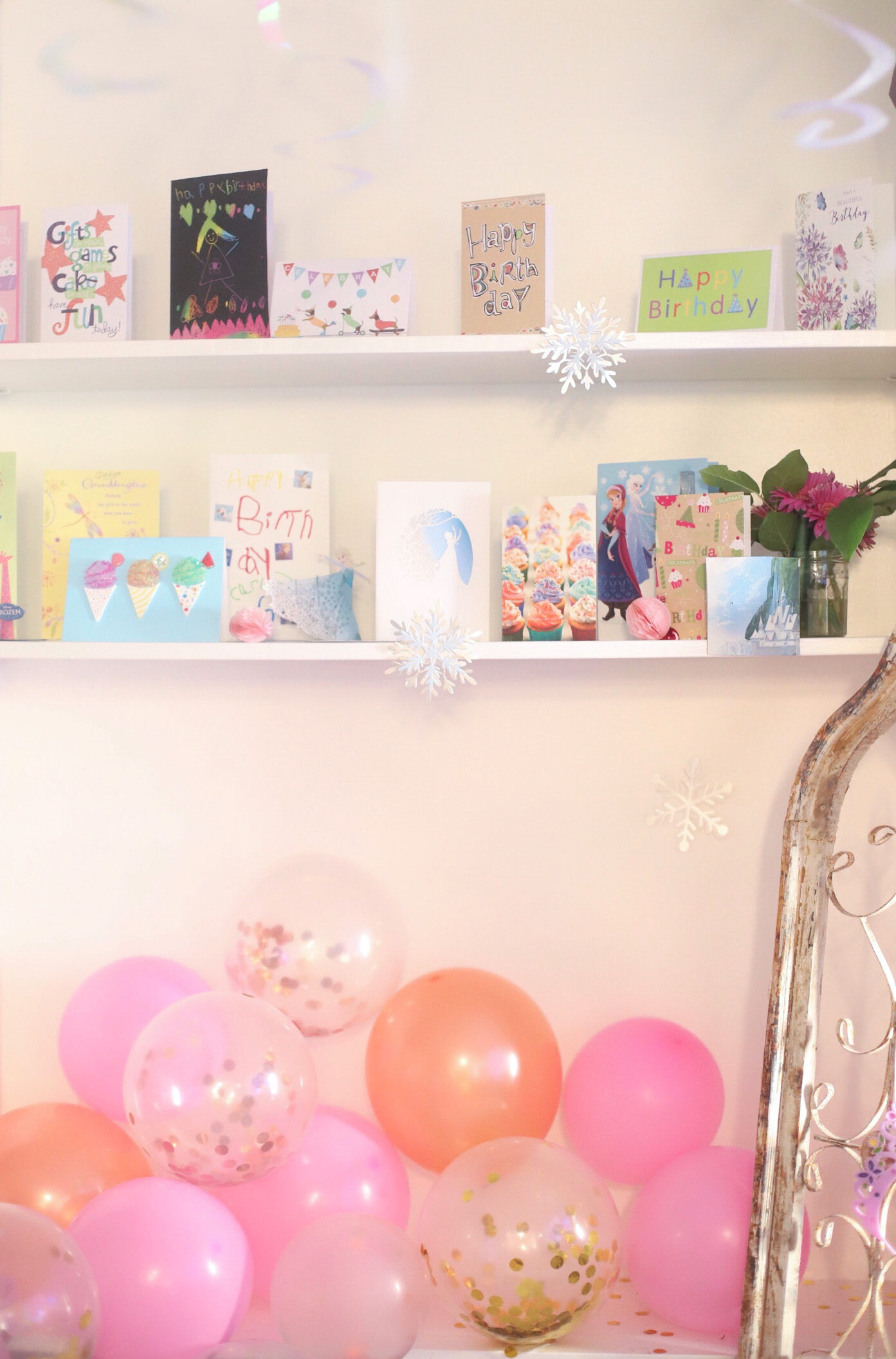 On the Day of the Birthday:
Midnight: Mom and Dad blew up balloons and snuck them into the birthday girl's room so that she would wake up to a bunch of balloons floating around her bed. (This electric balloon pump was a HUGE timesaver and we'll use it for years to come, especially because it's become tradition to fill our kids' rooms with balloons so that they wake up to the birthday fun in the morning on their big day each year!)
We also decorated the living room and front door with Frozen themed party decor, complete with hanging snowflakes and icicles, a huge Frozen door sign, a Frozen 'Happy Birthday' banner, and more balloons.
I wrapped all of the many presents our family sent for the girls so that it would be fun for Scarlett to unwrap her gifts on the day of her birthday.
We also finished putting together the Frozen doll cake. Full disclosure: while I love to bake, creating an Elsa and Anna doll cake was quite the undertaking. Hubby and I hilariously patched together the cake, but in the end, it was totally worth it. (I used this doll cake pan, and I wrapped the dolls together with plastic wrap to fit in the top of the cake. Then I used food coloring to dye our frosting and these sugar snowflakes and these icing decoration flowers to decorate the bottom of the dress.)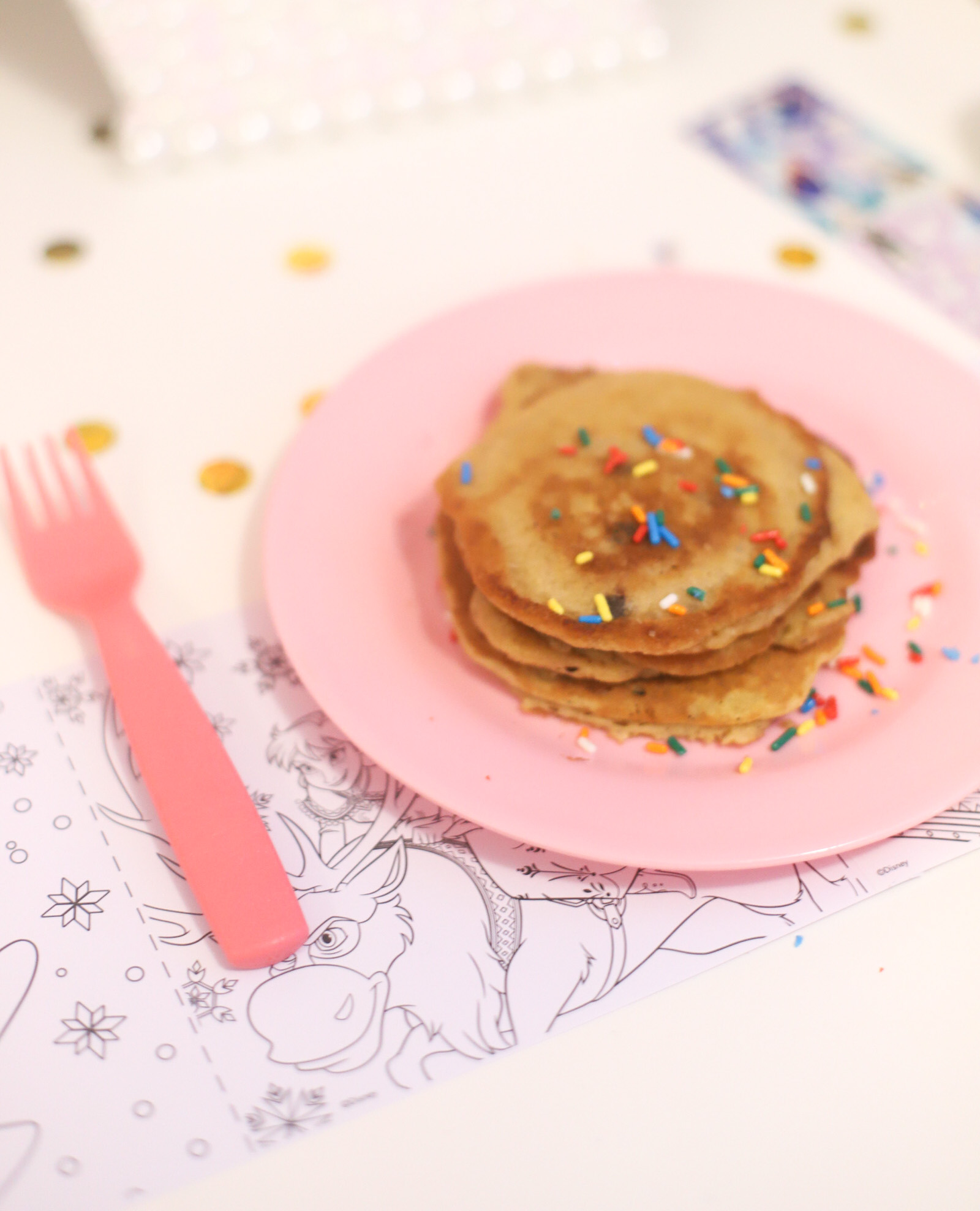 8am: Breakfast time! Per the birthday girl's request, I made chocolate chip pancakes (a.k.a., almond flour pancakes with a few vegan chocolate chips mixed in) topped with sprinkles.
I also let the girls open the first round of presents.
Lucky for us, we have amazing family members who all sent presents, so we had plenty to open (for both girls, I might add!) throughout the day.
9am: We used Frozen stickers and gem stickers to decorate our from the door Frozen sign and we colored a Frozen themed coloring sheet roll.
10am: We bought the new Trolls movie on Apple TV, filled the living room with cushions and blankets, and bundled up on the floor for a mini movie watching party.
Round two of present-opening! Seriously, so many presents to open.
Noon: Lunchtime! I made the girls pizza sticks and we read Frozen books.
Nap time for Emme and playtime for Scarlett. (Scarlett was so excited to play with some of her brand new presents!)
2:30pm: We made princess wands using a super easy Melissa & Doug set.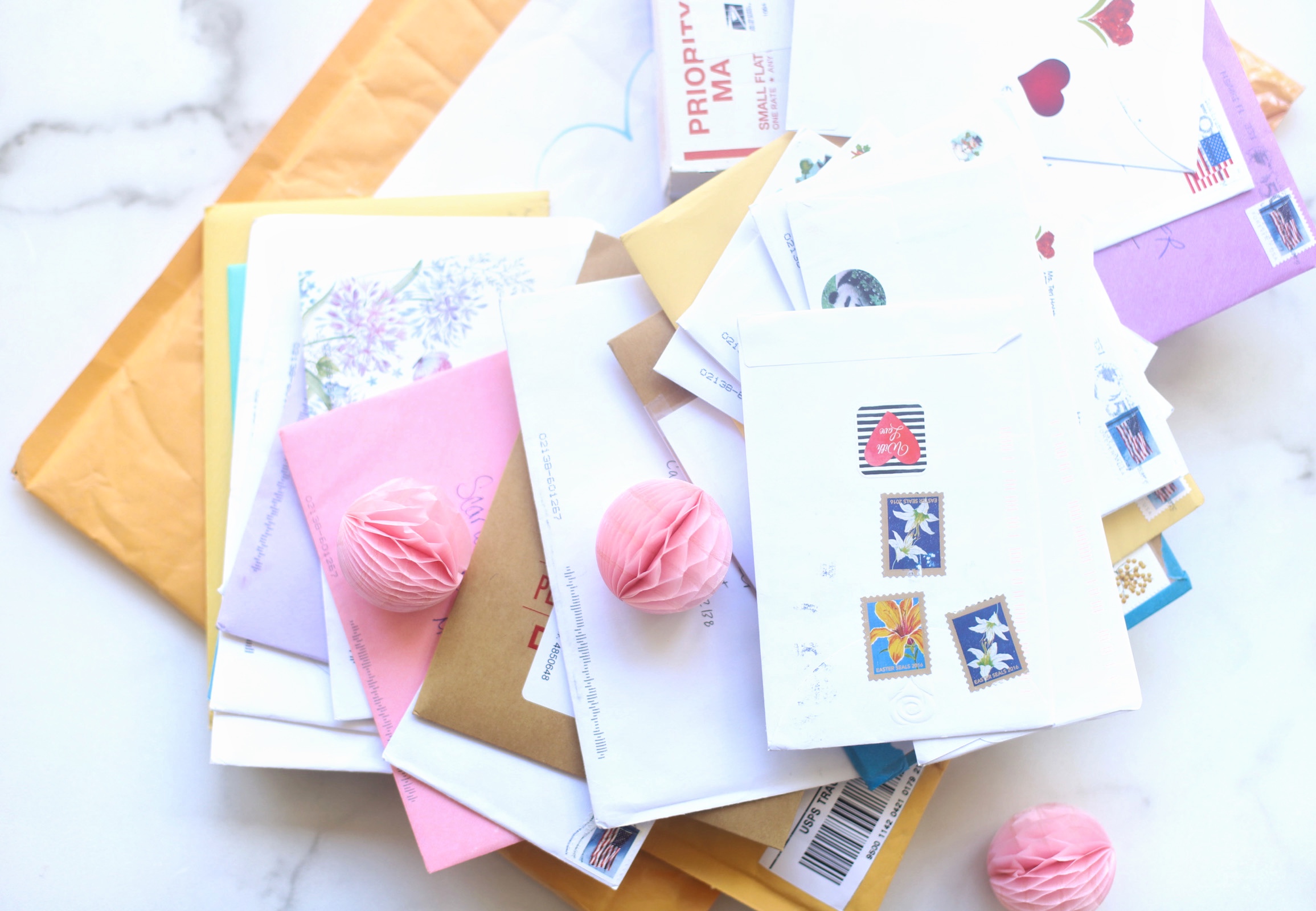 4:00pm: We sat down on the living room floor and opened all of the birthday cards friends and family had sent. We must have opened 40+ cards, or, if you ask Scarlett, "one thousand cards!" Scarlett absolutely loved this part. Mixed in were gifts, stickers, puzzles, even sea shells.
I also snapped a few pictures of Scarlett with some of the cards and gifts and texted them to their senders to say thanks. This was so much fun and such an easy way to quickly send "thank you" notes to everyone who sent something.
5:00pm: I got started on dinner – homemade sushi bowls, edamame, and miso soup (all Scarlett's requests), while the girls watched Frozen II on Disney+.
Scarlett also took a quick break to get all of her and her sister's dolls to sit around our living room as "guests" for her birthday party.
6:00pm: We put on our crowns and had an early dinner with Dad.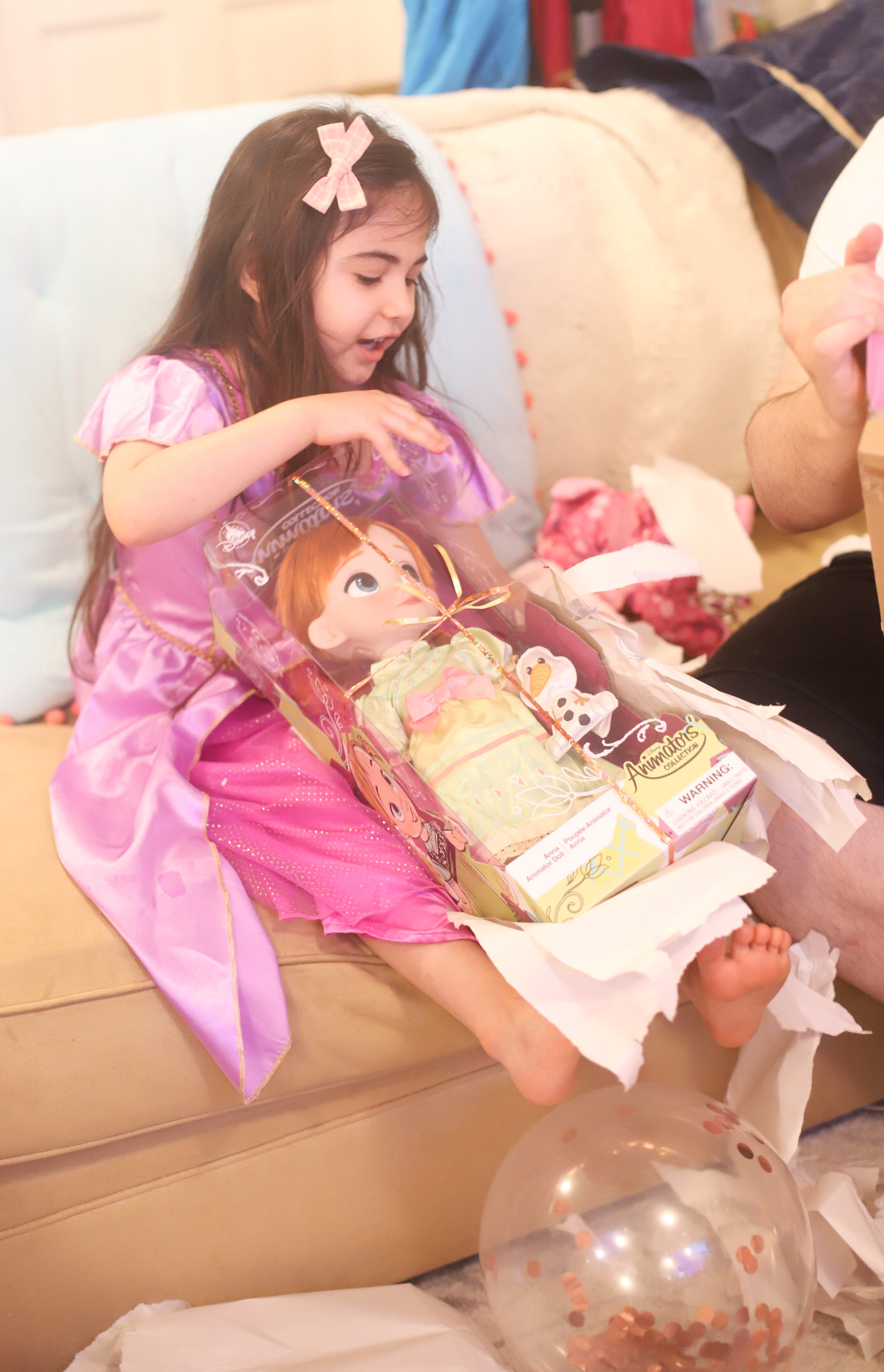 Round three of present-opening. This time, the big gifts from Mom and Dad.
6:55pm: We logged onto our zoom call (by clicking the personal invite link we sent to our friends and family) and started letting our guests into our royal zoom birthday party!
7:00pm: Everyone wished Scarlett a happy birthday and asked what she was wishing for, etc. Scarlett loved having an audience!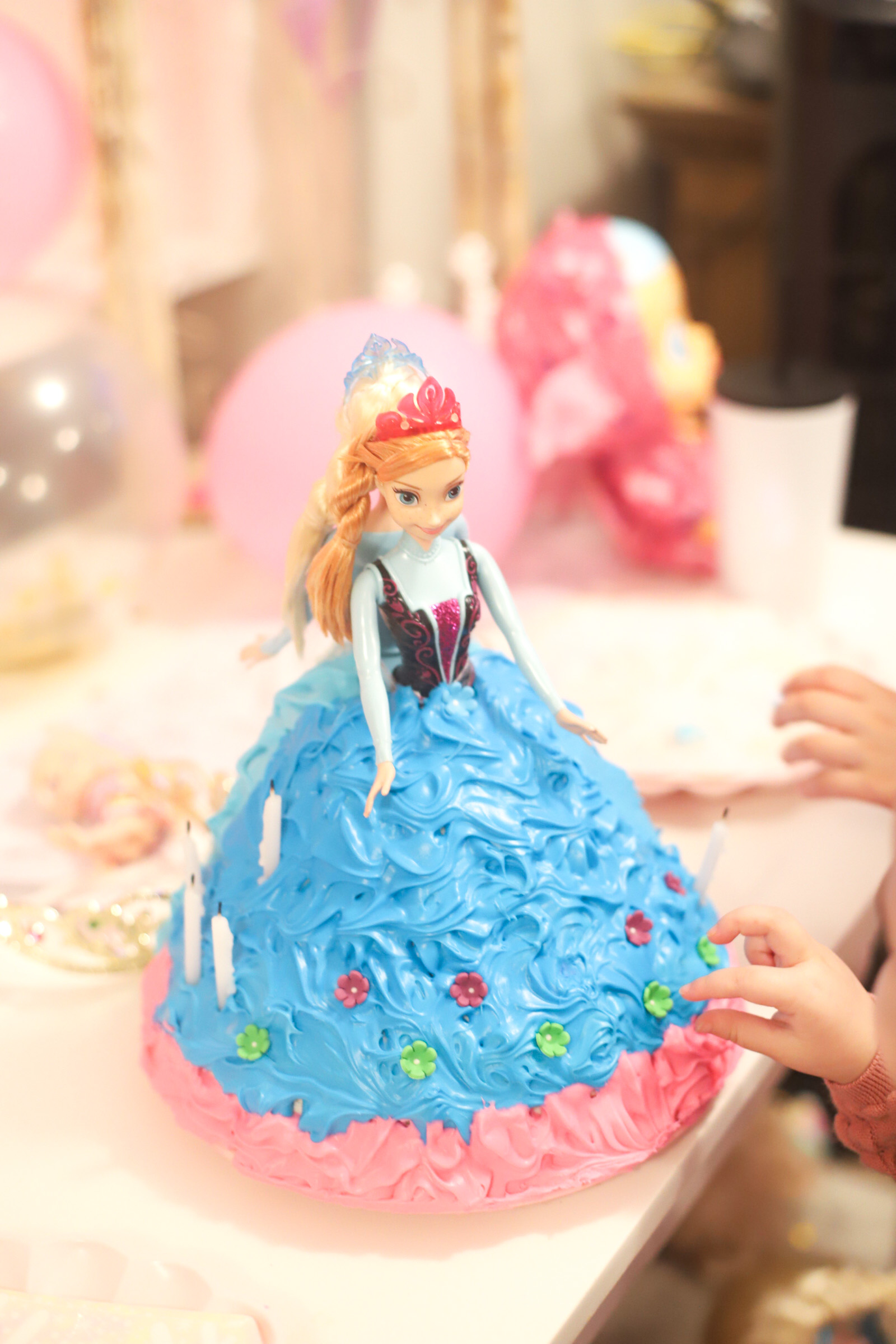 7:05pm: Mom and Dad brought out the birthday cake and everyone on zoom (and in our house) sang "Happy Birthday" to the birthday girl!
7:15pm: After Scarlett sang multiple songs from both Frozen movies to her guests (🤣), we said our goodbyes and ended the zoom call.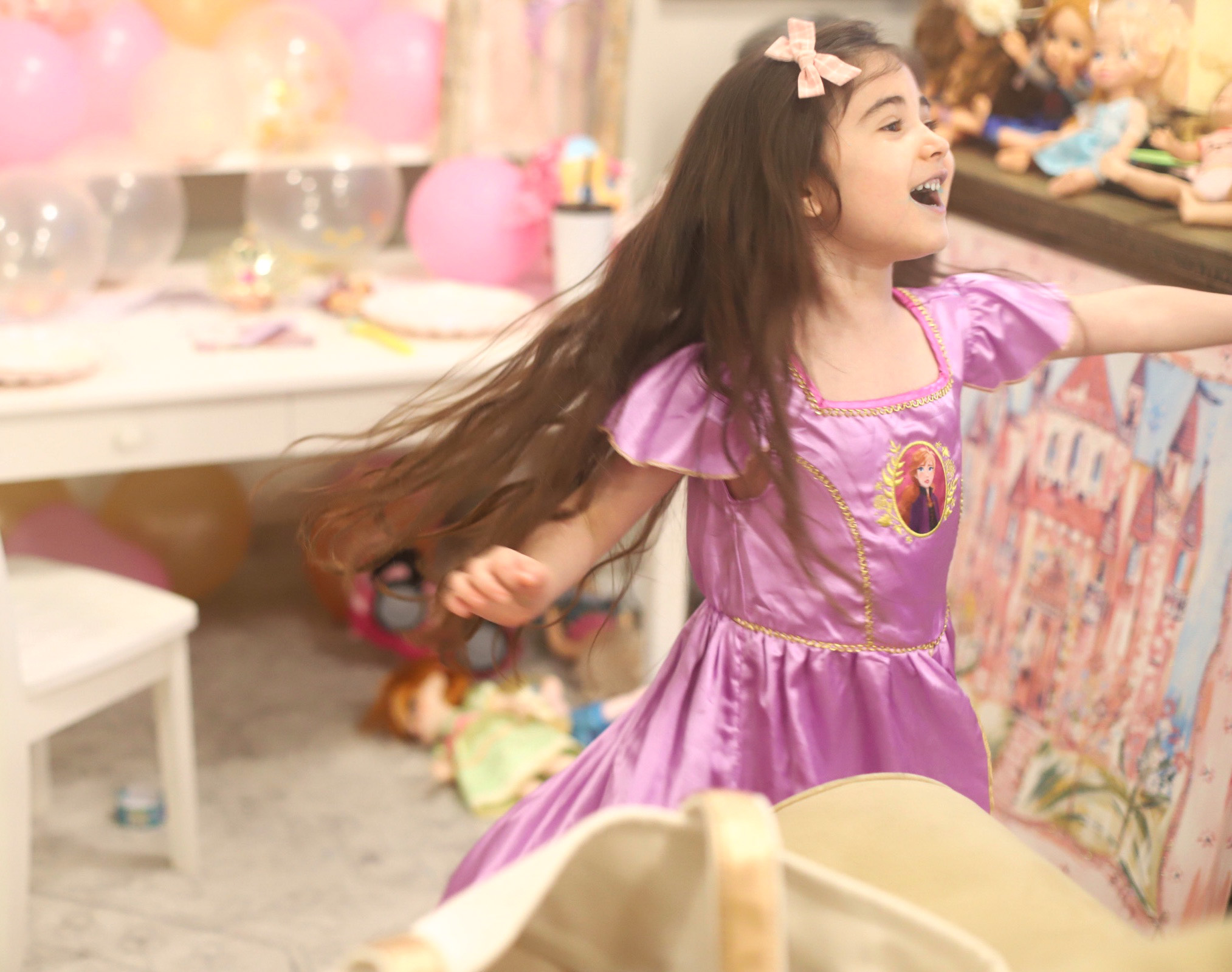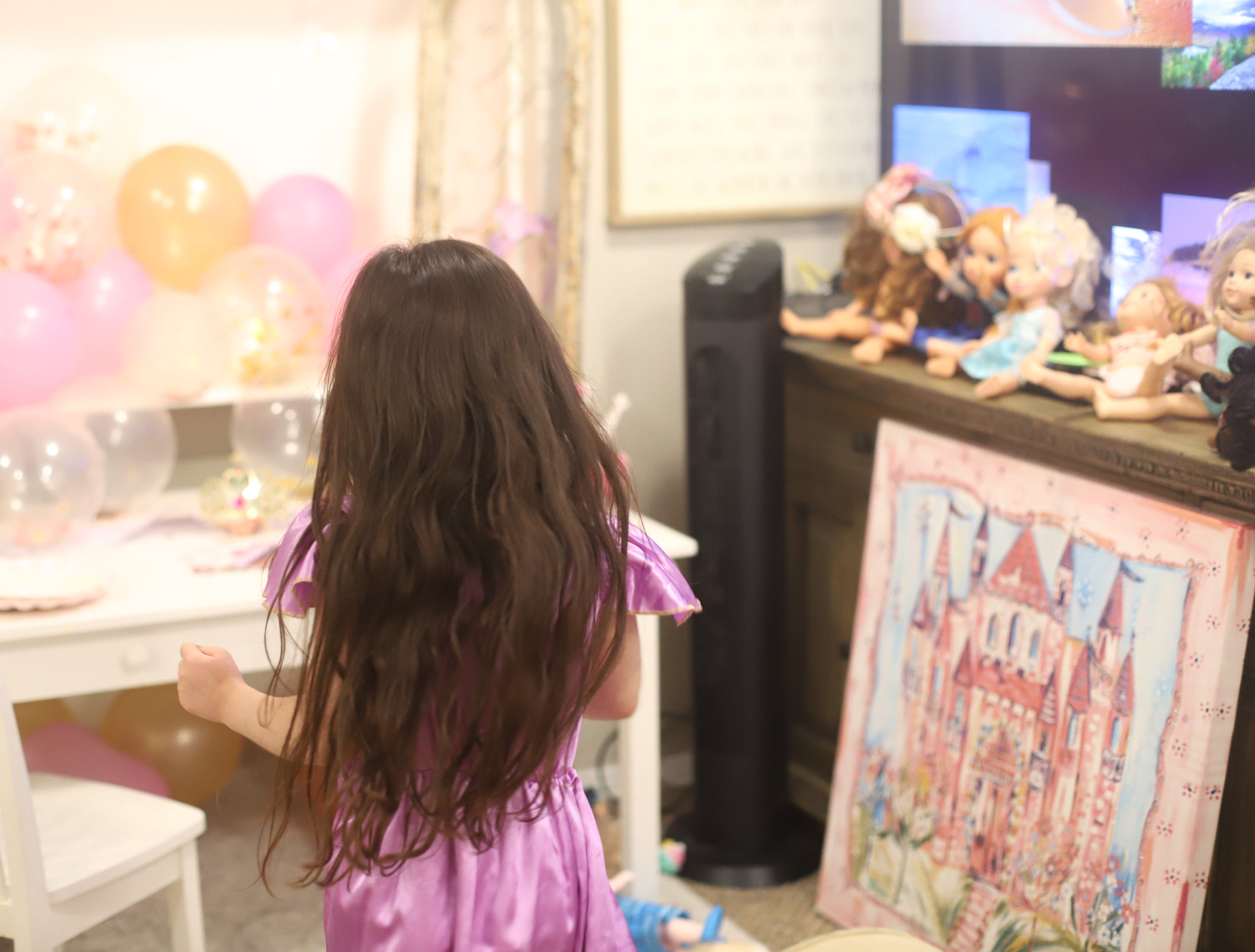 The whole day was magical and Scarlett was a bundle of energy going to bed at the end of the day, recounting all of the new presents she got, the stacks of mail she was able to open, seeing all of her family on zoom, and of course, all of the yummy cake she got to feast on!
Everyone made the big day so special for her from afar, and for that, I am so grateful.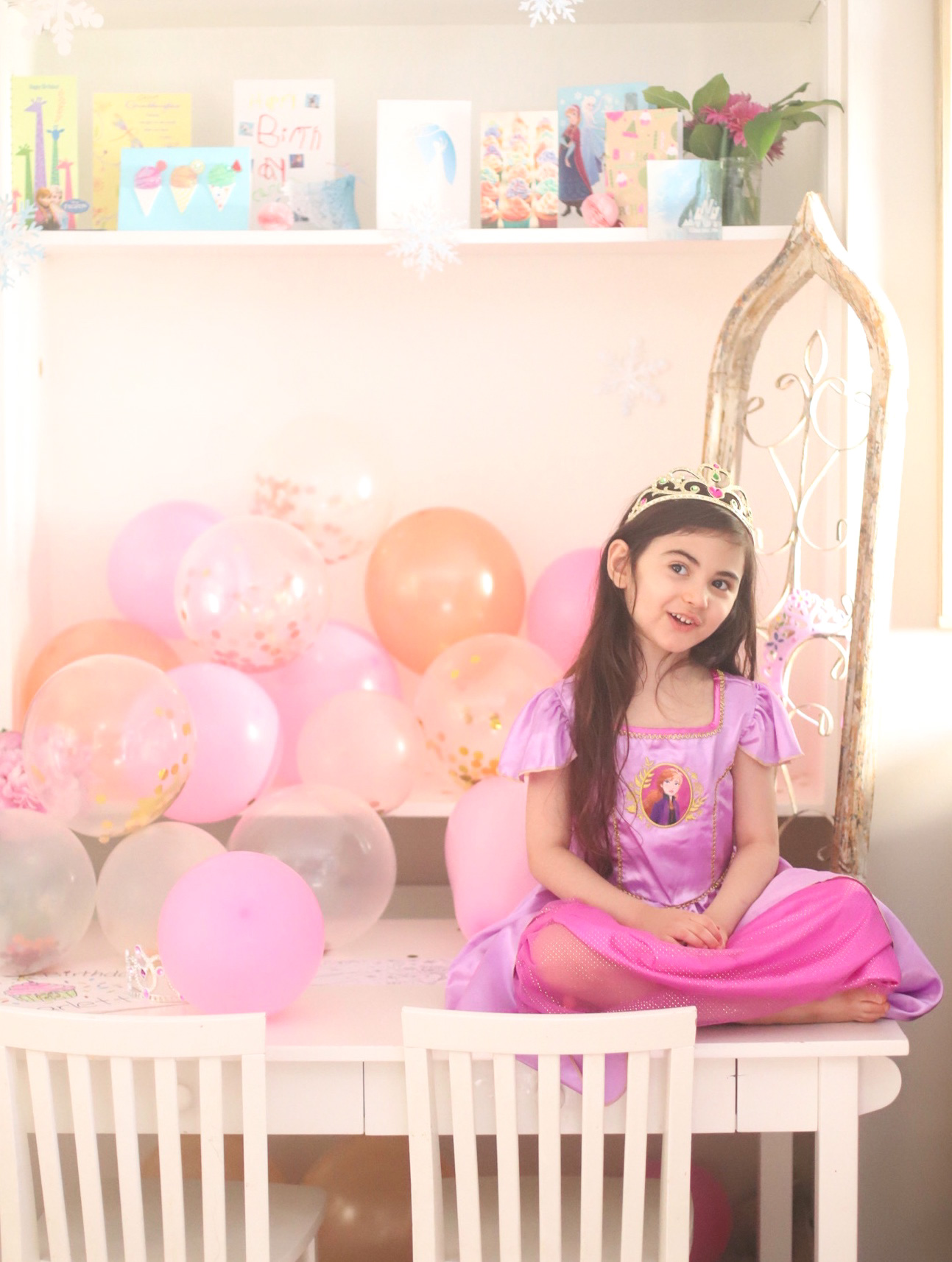 Have you thrown an at-home party for your kids while socially distancing? Have you joined in on a zoom party?
SHOP THE FROZEN BIRTHDAY PARTY POST | CLICK LEFT & RIGHT ARROWS TO EXPLORE