This post was sponsored by Diaper Genie and Target. Thank YOU for supporting the sponsors who help to make Glitter, Inc. possible!
Somehow we've been living in our new home for around 8 months and yet, I haven't shared a tour of Scarlett's nursery. I'm about to correct that today, because we're finally revealing a look at Scarlett's nursery! We'll call it the official nursery tour of the new home.
We've been so lucky to be able to keep Scarlett's nursery pretty consistent between the moves – here's the original; she's a great sleeper and hasn't ever tried to climb out of her crib, so the plan is to let her stay in the crib just a little bit longer. I know she's safe, and she sleeps so well in there.
With the color scheme, we stuck with black, white, gold, grey, white, and soft pops of pink. I figure, once we finally convert her to a "big girl" room (crying just thinking about it!), we'll let her choose the colors and theme. All signs point to pink. Lots and lots of pink.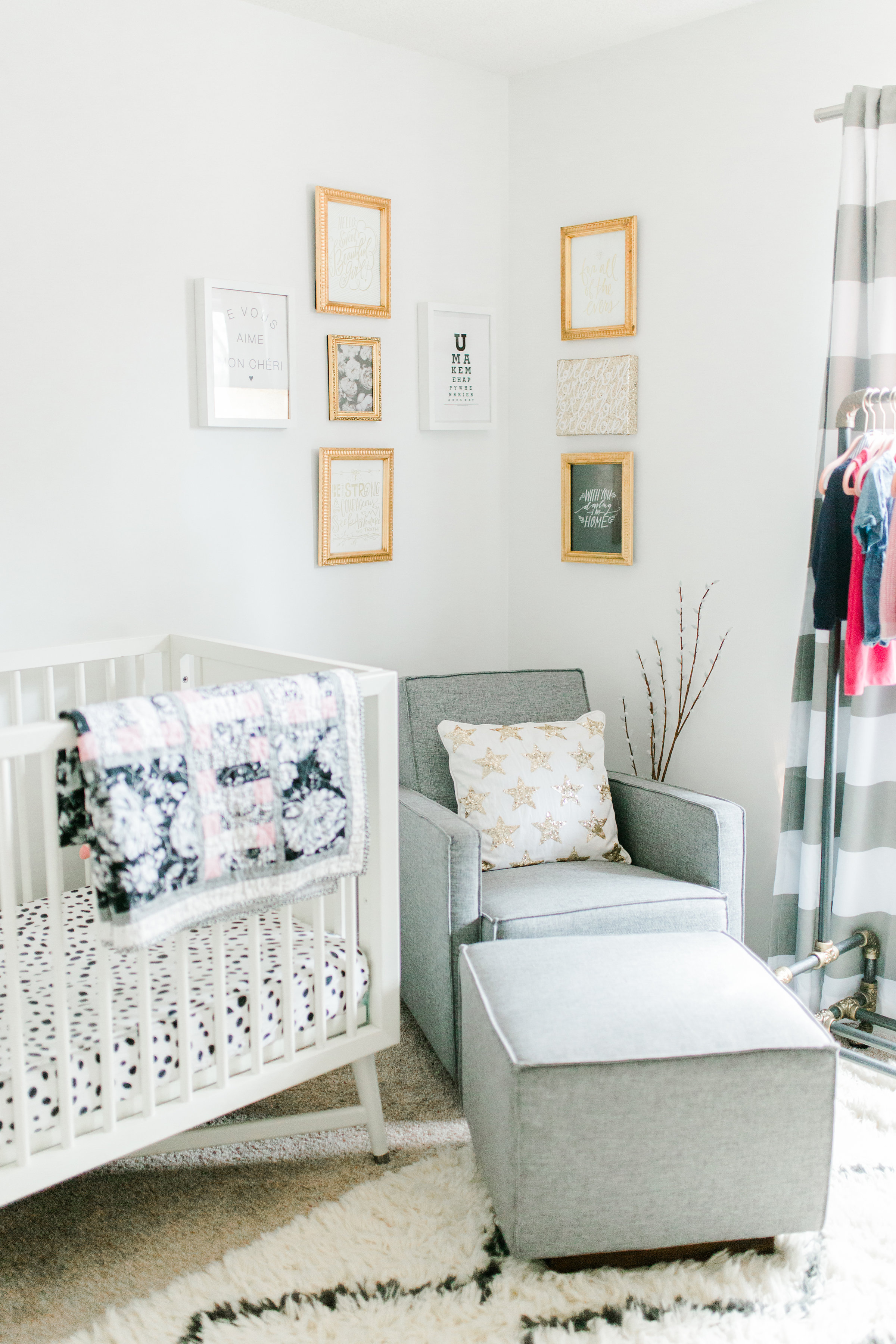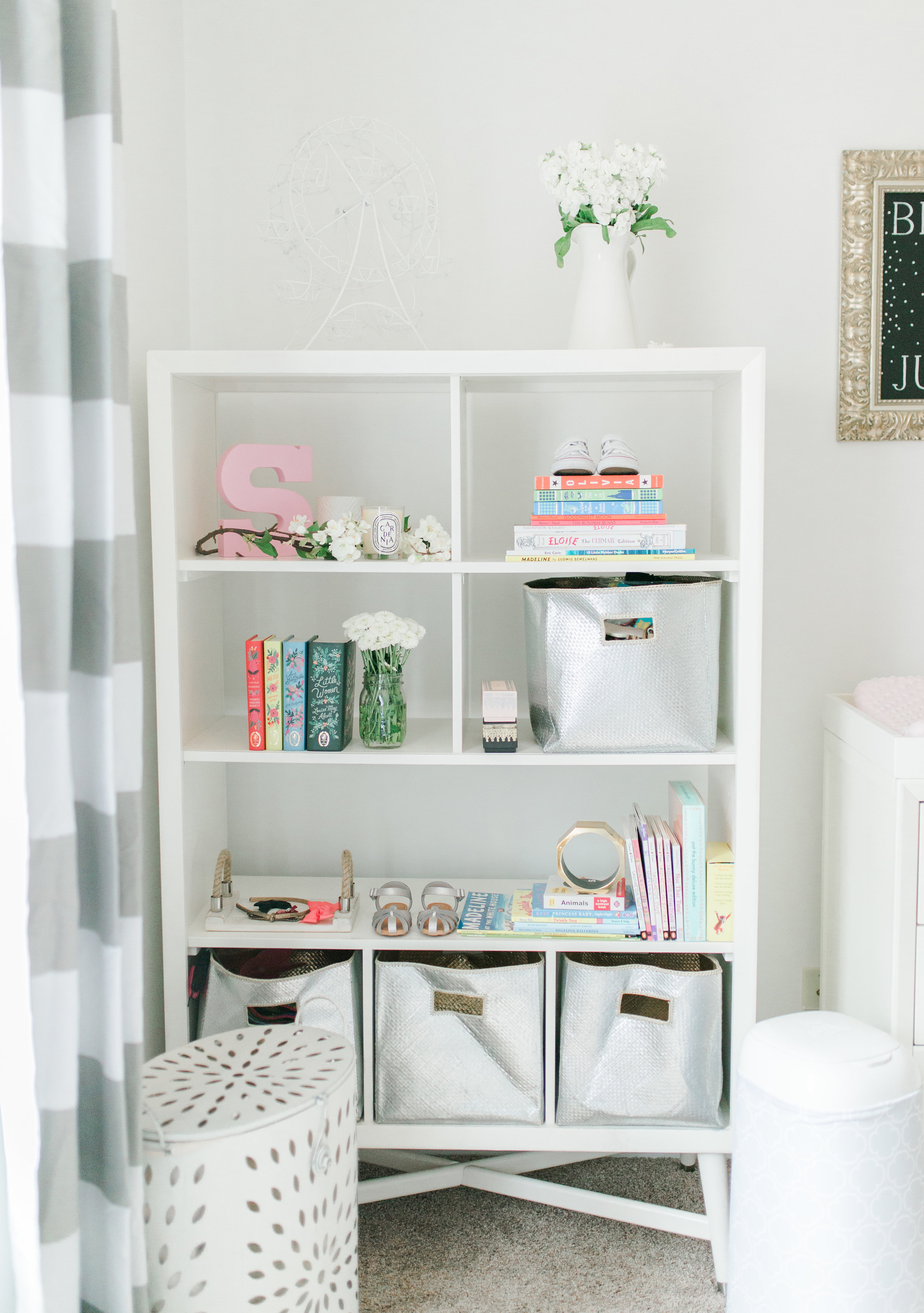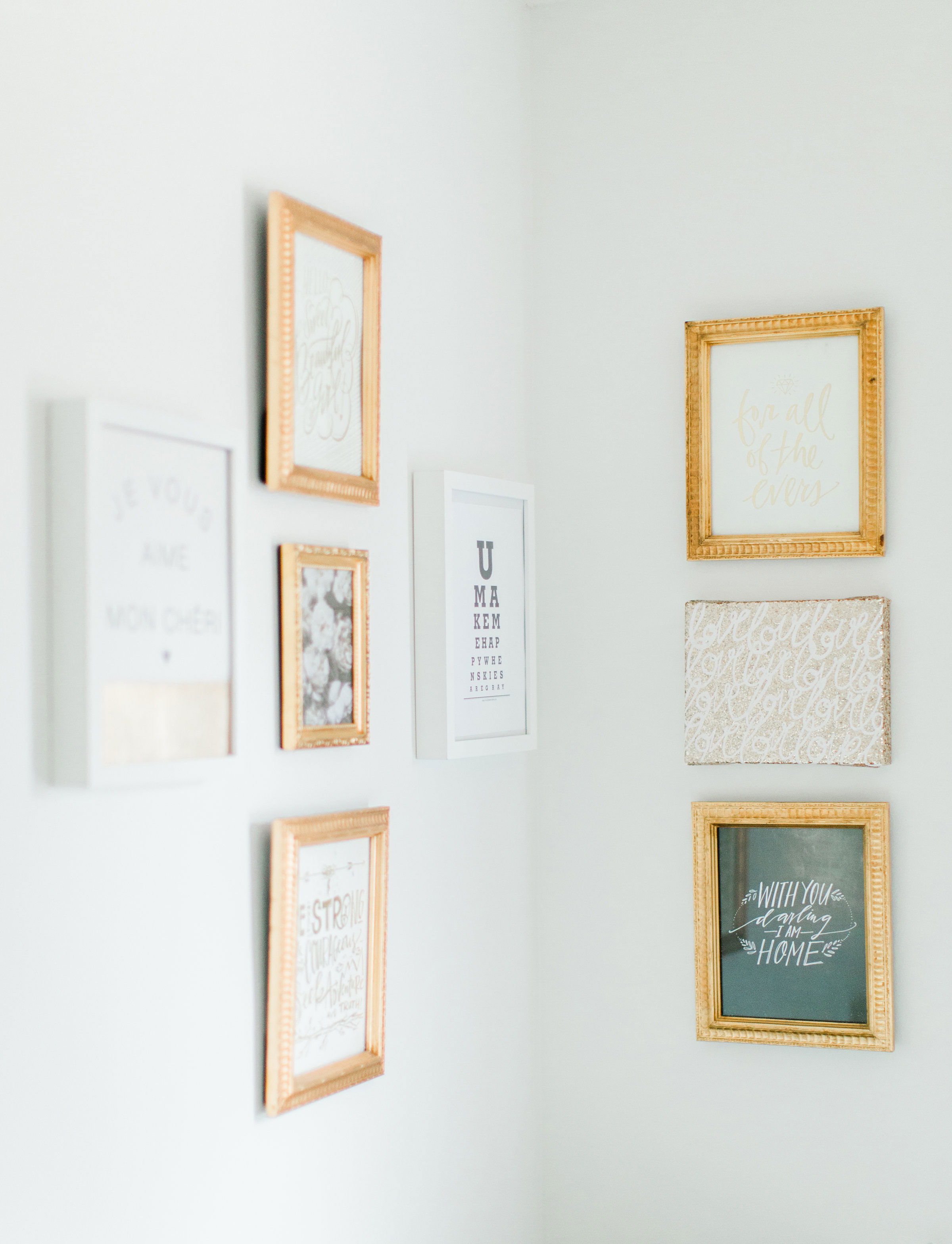 And now that we've used Scarlett's nursery, in one house or another, for over two years, I'm happy to report what things we've loved and used, and what's kept us organized as she continues to grow. There are so many products out there, and planning a new nursery can feel overwhelming. Well rest-assured, you can skip some of that trial-and-error, and check out our 9 nursery must-haves and a tour of our baby girls room!

NURSERY MUST-HAVES:
| 1. | A system to keep the clothing sizes organized. I really like keeping two large clear plastic storage buckets in Scarlett's closet, one that I can toss clothes that no longer fit her into, and one that I can put new clothes that don't quite fit her yet into. Babies grow fast, and they're constantly growing out of sizes. It can get messy and confusing trying to sort out what doesn't fit, so if something doesn't fit, I just fold it up and toss it in the "too small" bucket. When I have the time, and the bucket is pretty full, I label it (i.e., sizes 12-24 months), put the lid on it, and put it into our attic for storage. I also like having a bucket for the next size(s), because I'm always buying cute things that I see here and there in larger sizes, and Scarlett's many Grandmas are always sending outfits as well. Once Scarlett is ready to wear the new size, I have everything ready and waiting in the bucket in her closet. Trust me, this makes everything so much easier.
| 2. | A changing station. It is lightyears easier to have a dedicated diaper changing set-up. The top drawer of the dresser we use has all of the essentials – wipes, diapers, and diaper cream.
| 3. | A Diaper Genie. I'll admit, when registering for the first time, I wasn't sure why a Diaper Genie was all that necessary. You could realistically throw the dirty diapers into a garbage pin in the room. But let me tell you, you'll find out fast just how unpleasant even a couple of diapers left sitting can smell. A Diaper Genie is essential for a sweet smelling nursery, the pails and coordinating refills lock in odors and germs, clean-up is a breeze, and the new Diaper Genie Expressions covers are totally adorable, so the pail is stylish too. (The customizable designs were made to match your nursery décor and you can choose from five colors; Grey Clovers, Pink Starburst, Pink & grey, Blue Knit and Blue Tile.) This is one of my favorite things to recommend for new parents.
| 4. | A Glider. I went back and forth on this one. Gliders are not inexpensive, and I wasn't quite sure what all of that fuss was about. Now that we've been using ours for well over two years, I get what all of the hype is about. I loved holding her as a baby in that chair, feeding her there, rocking her to sleep; and now, we climb in together and read books, I can sit there comfortable and work when she's playing in her room, and she sits there on her own, "reading" to her dolls.
| 5. | A waterproof sheet liner for the mattress. Know this, there will be blowouts, there will be accidents. Protect the mattress and save your sanity. If you've got a waterproof liner under there, and an accident happens, your mattress is saved, and all you have to do is pull off the sheets and throw them in the wash.
| 6. | Baskets, bins, and cubbies to keep your little one organized. The older Scarlett gets, the more we try to encourage her to clean up after playing. Usually her motivation to clean up only lasts for about a handful of toys or books, but giving her wide open bins and buckets to drop things in has really helped to encourage clean up.
| 7. | Books, books, and more books. We read at least one or two books before every nap and at bedtime and it's made her such a lover of books. I love watching her repeat the words with me, touch and point out the colors on the pages, and request her favorites again and again.
| 8. | Black-out curtains. I have no idea why we didn't discover the magic of black-out curtains until this most recent move, but now that we know, we're never going back. I pull the black-out curtains shut during the afternoon to block out a lot of the daylight for nap time, and in the morning, as the sun is coming up, they're a lifesaver for blocking most of that bright morning light that would otherwise wake her up like a rooster at 5am. There are actually so many cute options at Target too; so don't feel limited to boring dark curtains. Scarlett's striped curtains are 100% black-out and are from Target's Pillowfort line.
| 9. | A baby monitor. Whether you go for the walkie talkie style (which work just fine!) or a fancy digital version (some even have apps where you can watch your little one from your phone), a baby monitor gave us SO much piece of mind. We've tried and loved both kinds for different reasons, and even travel with our audio baby monitor to this day. Scarlett also wore a heart monitor her first several months of life because of some health issues, and that gave me an extra layer of piece of mind that I loved. There are actually monitors to track your baby's heart rate and oxygen levels that are now available in major retailers like Target; which I think is amazing. Technology is amazing, isn't it?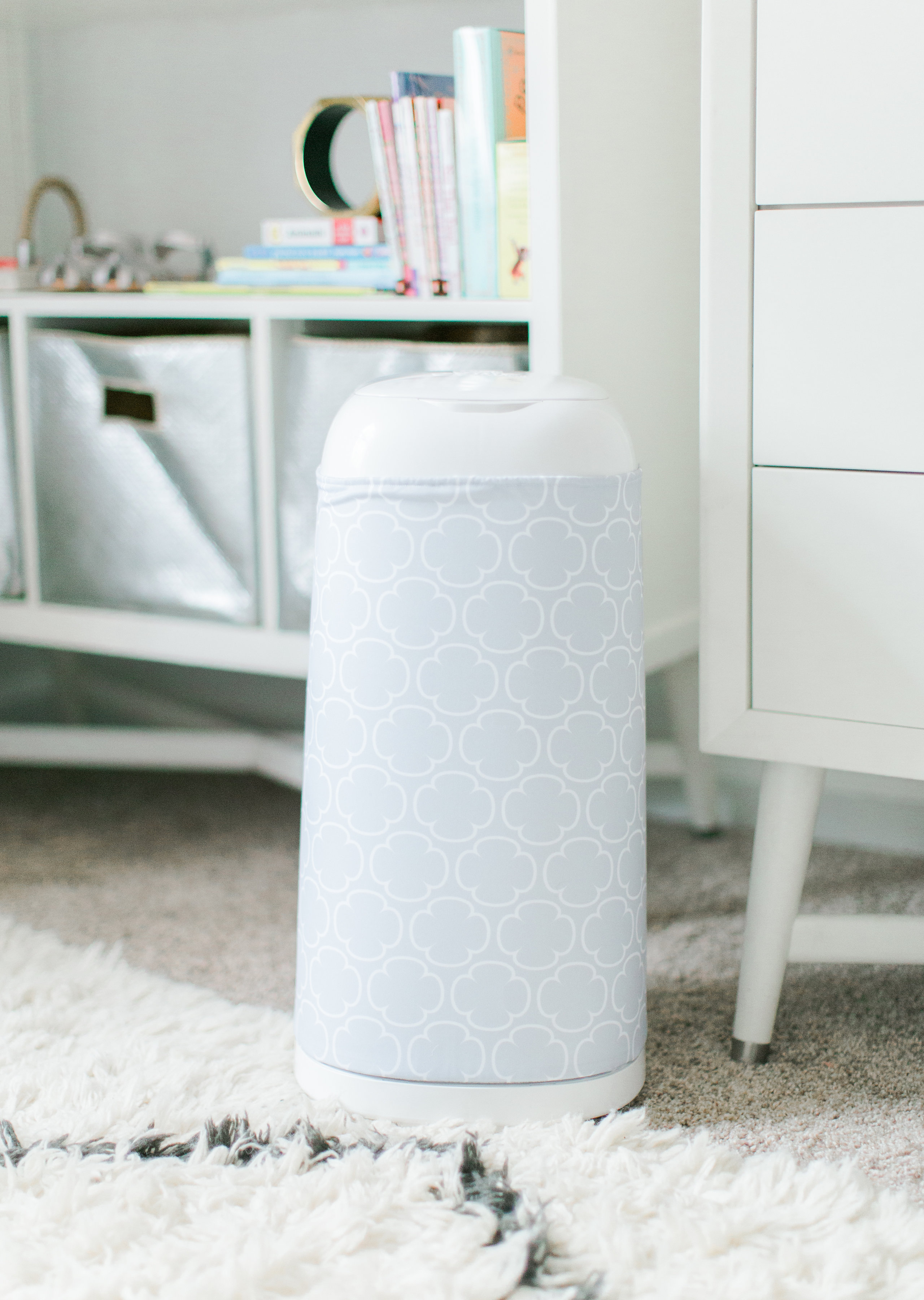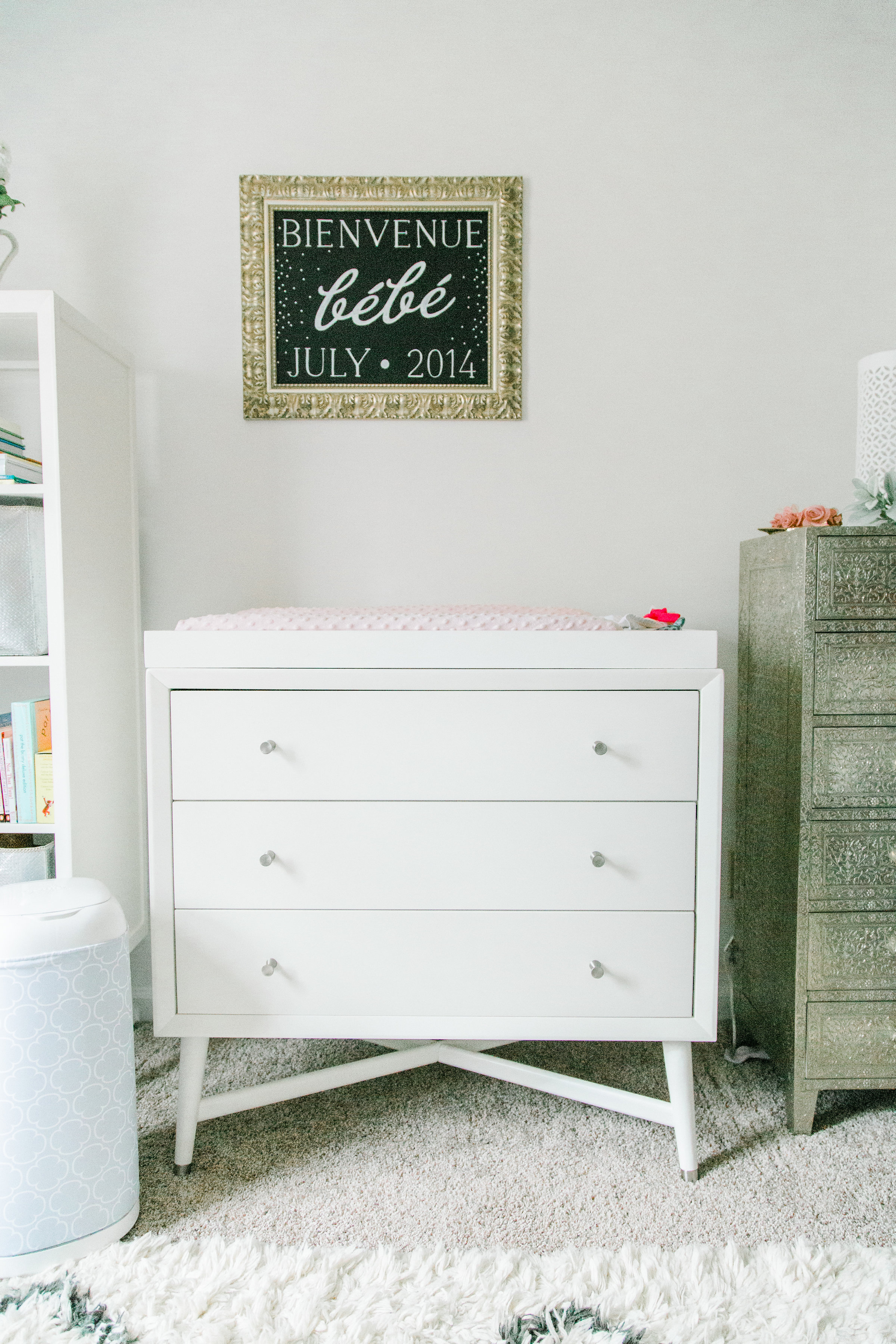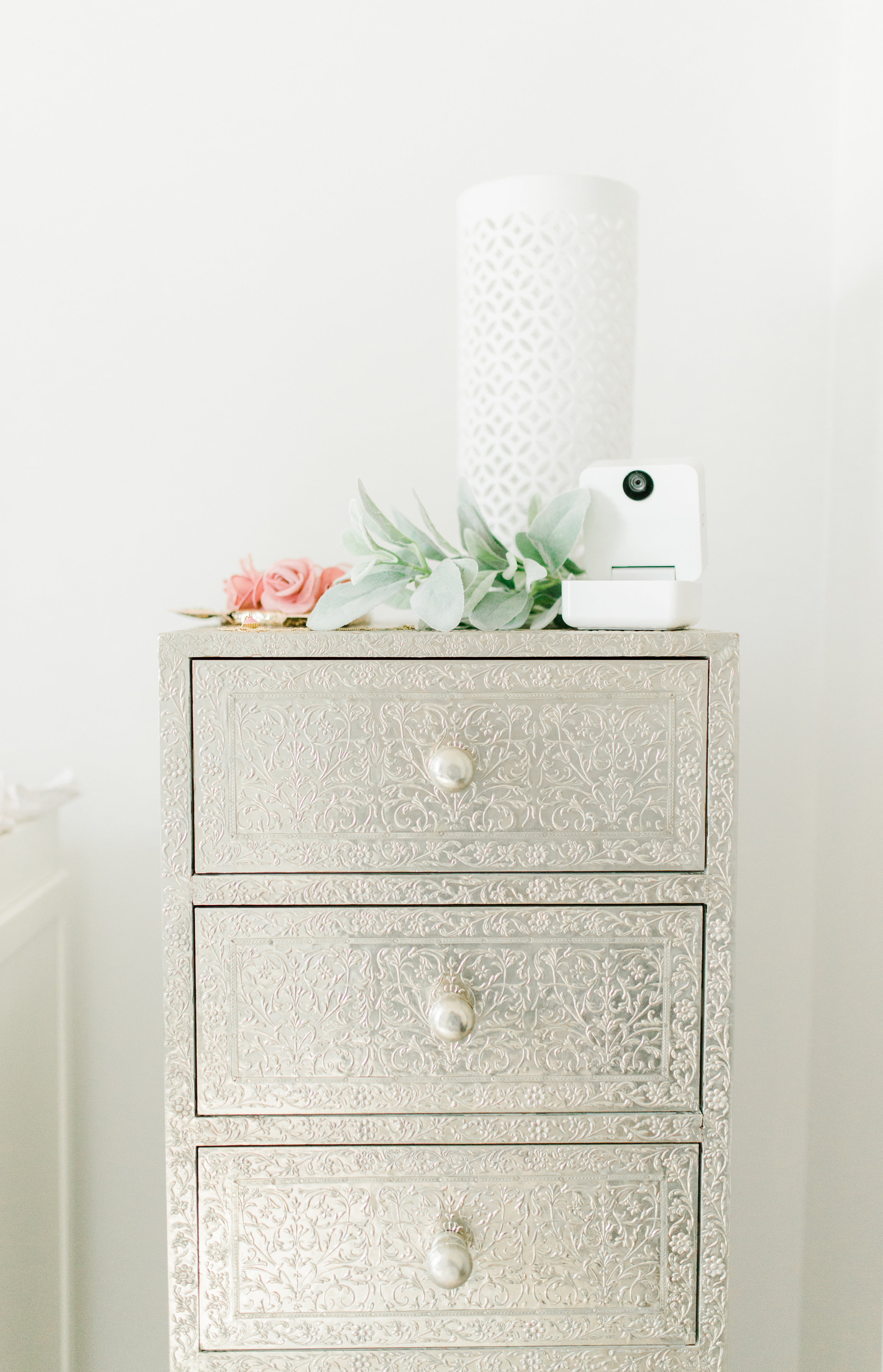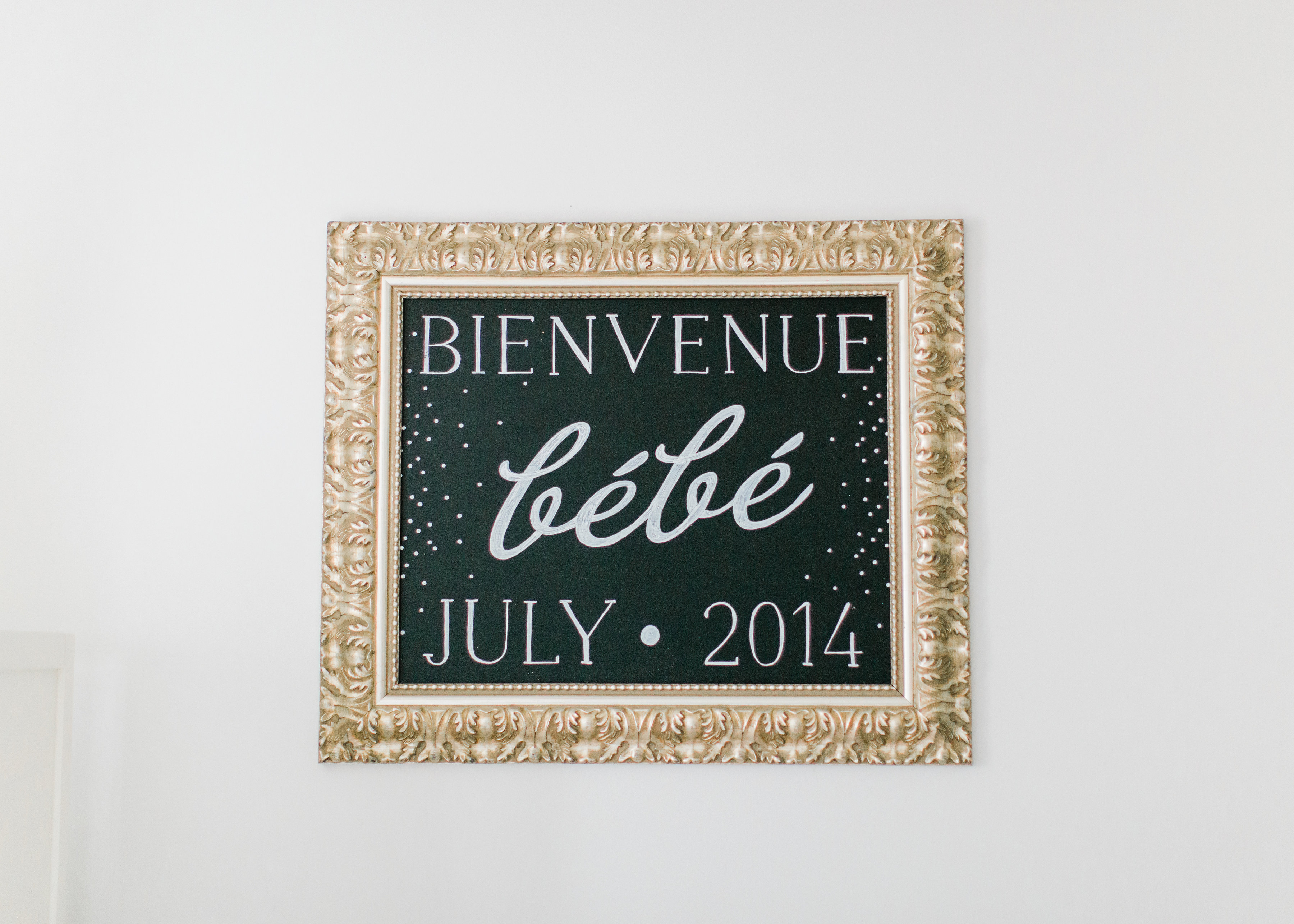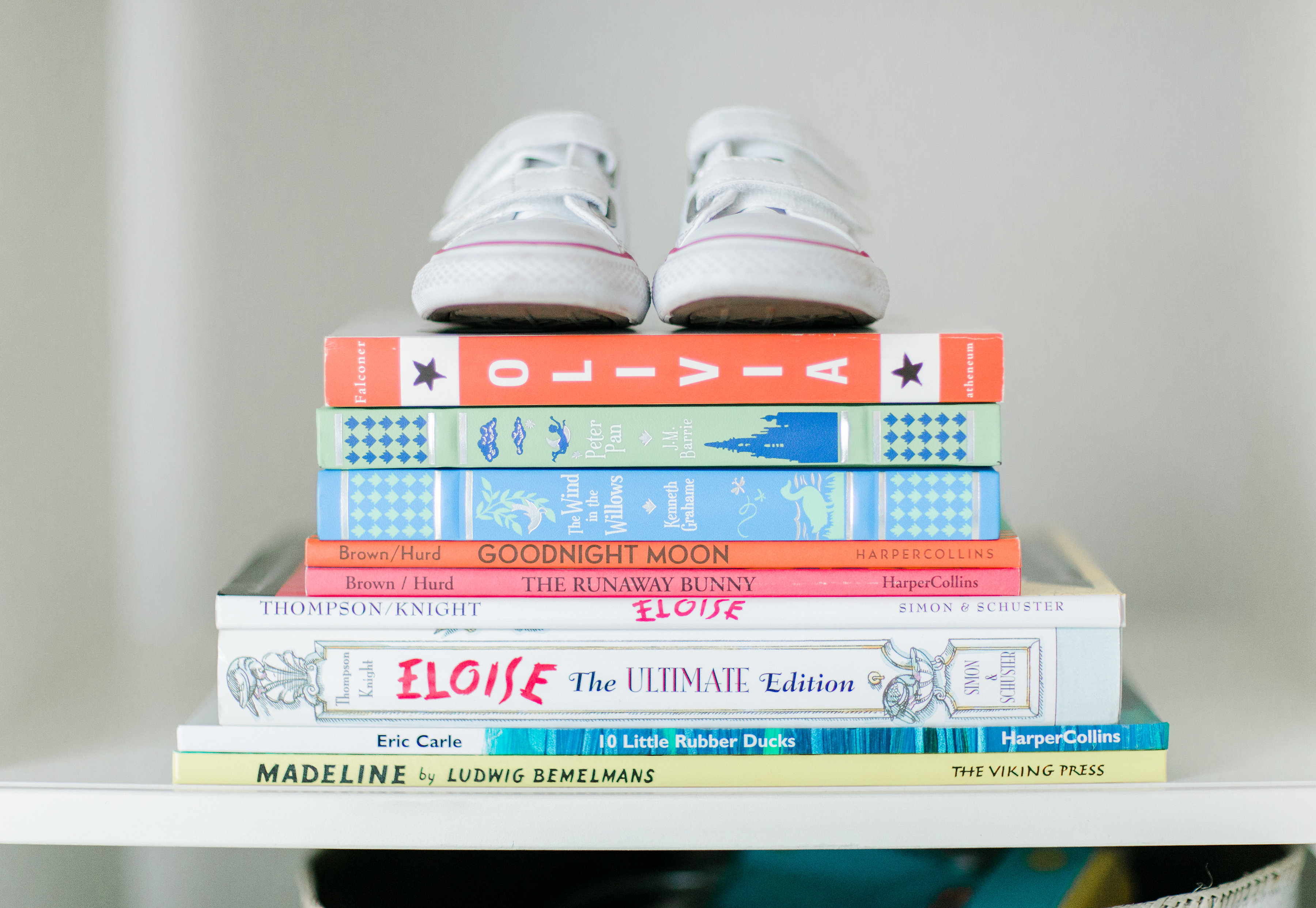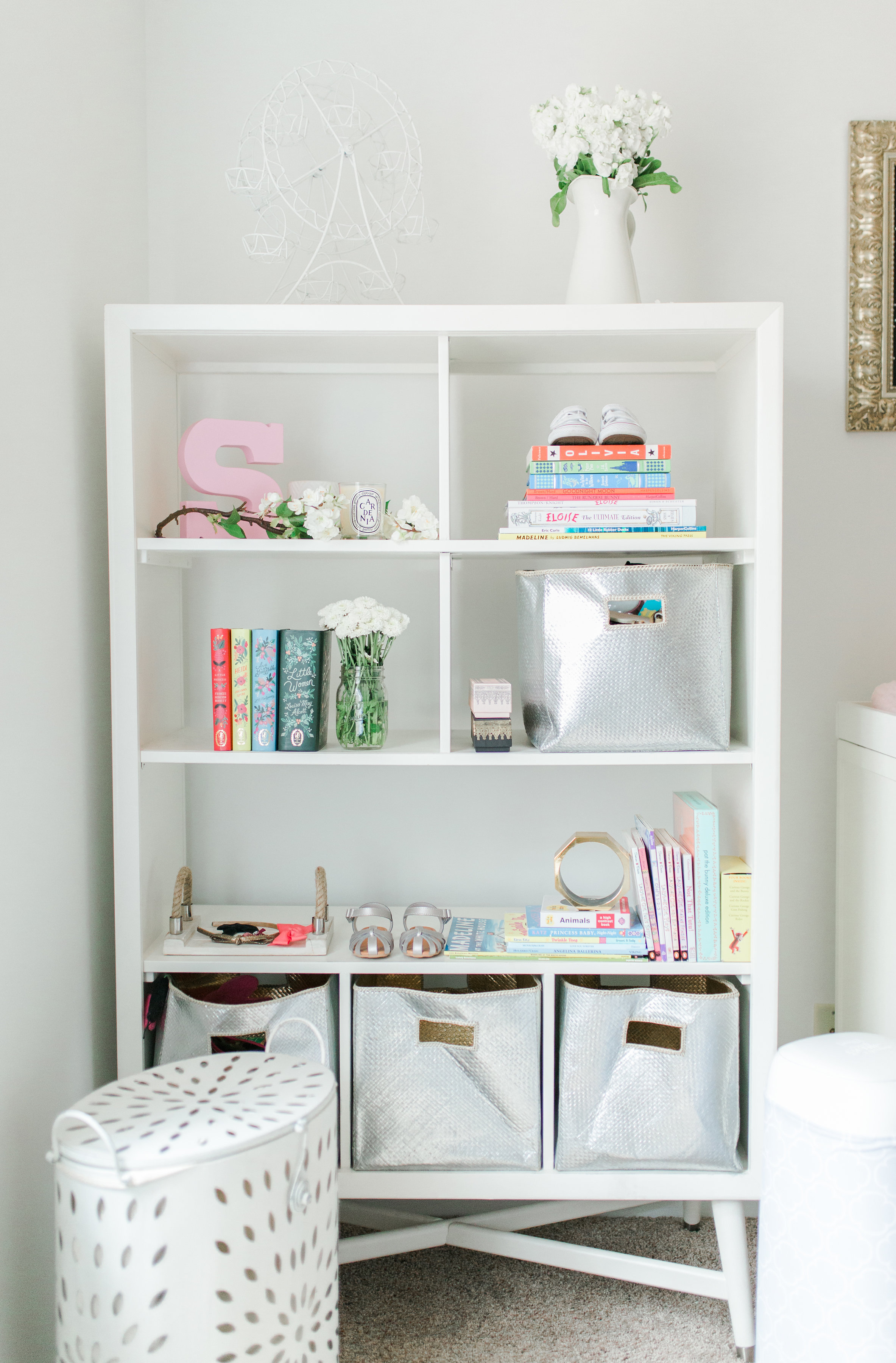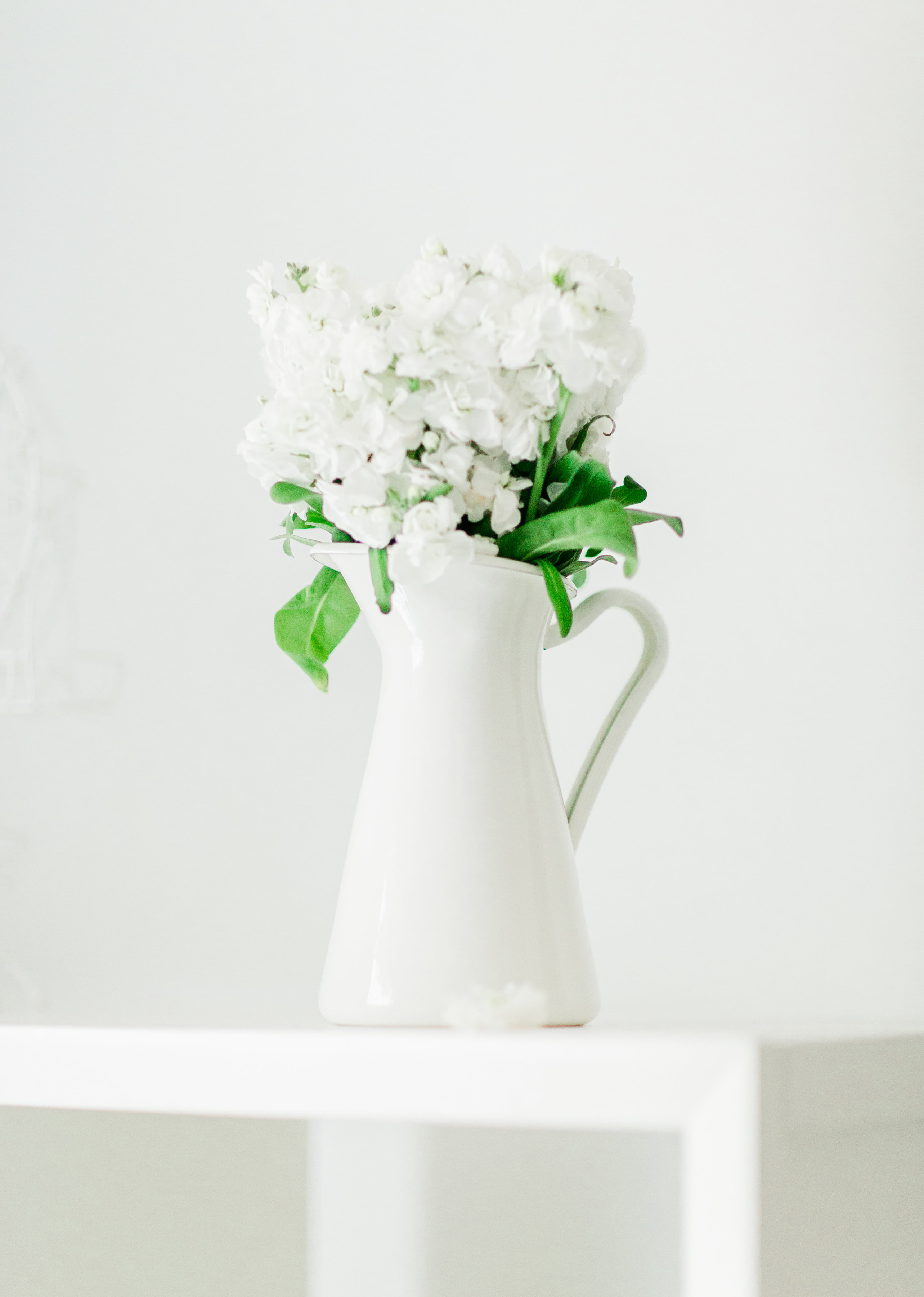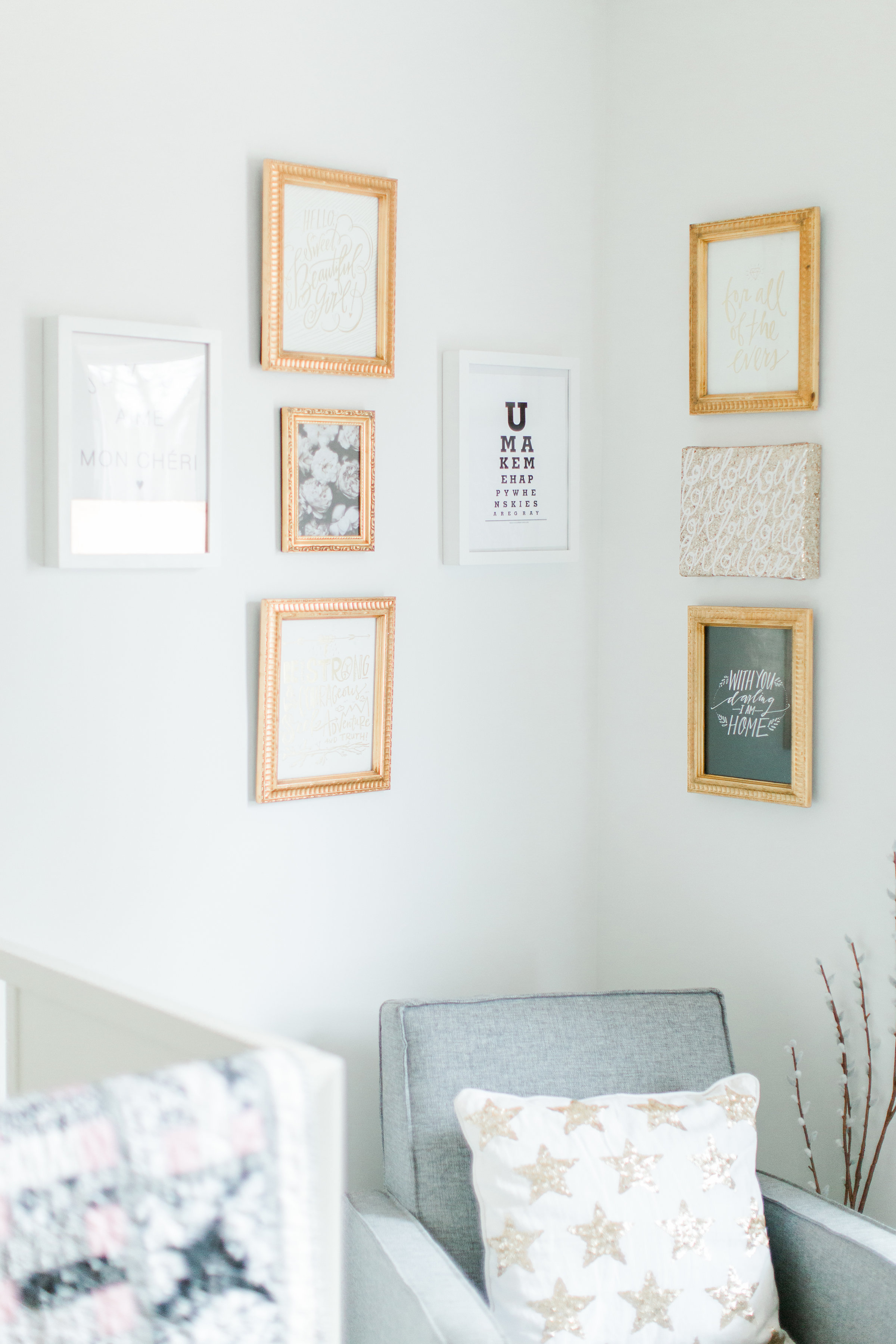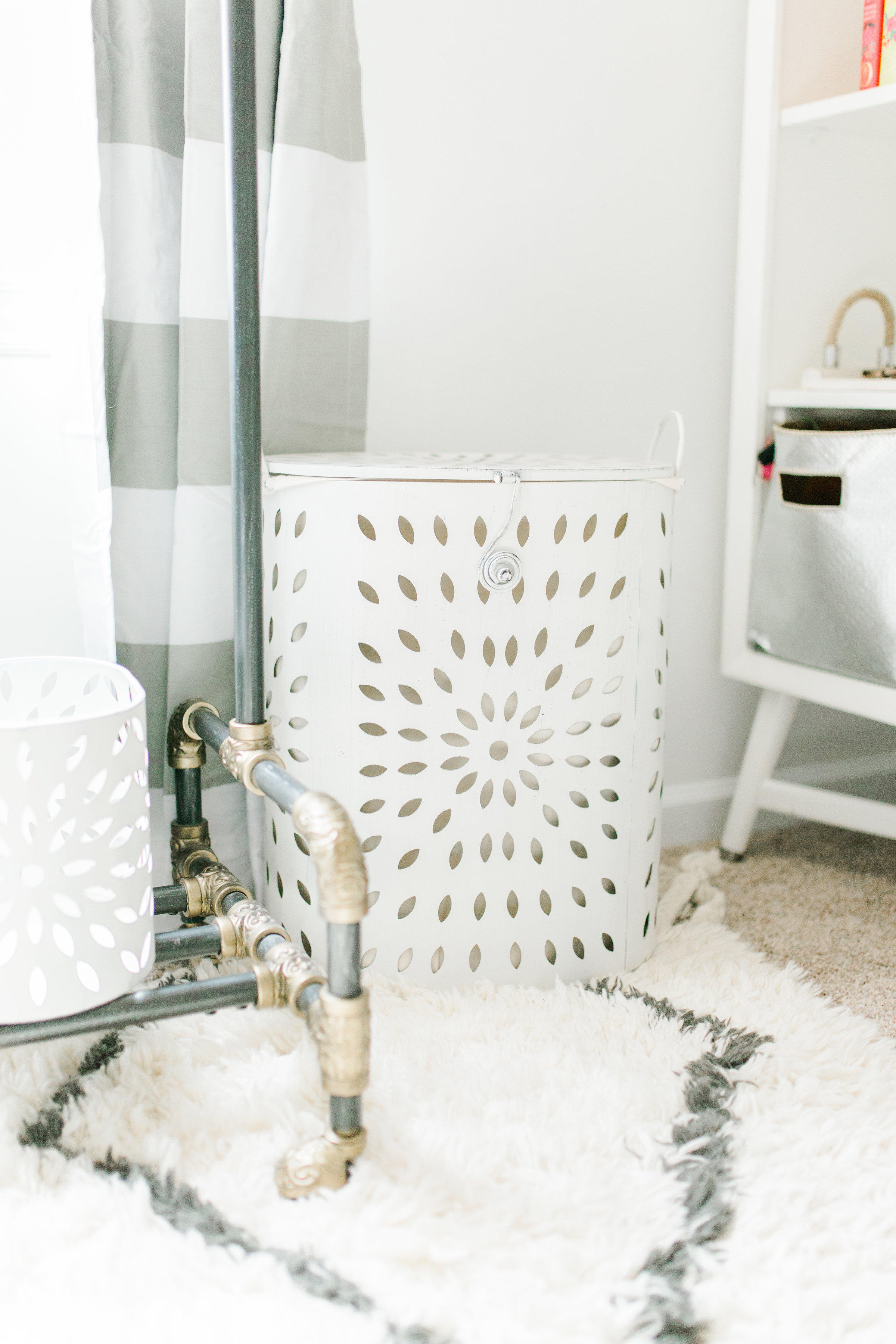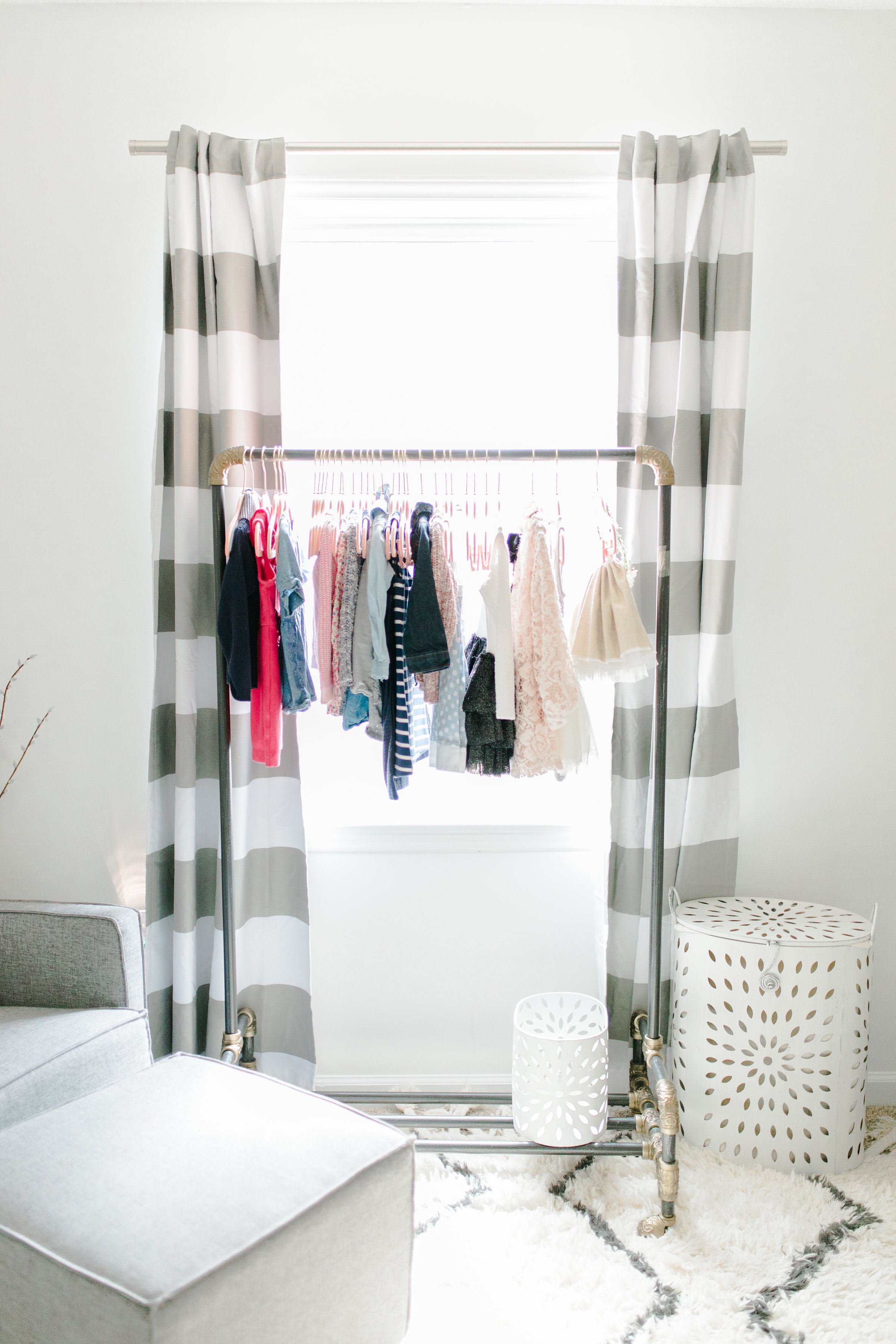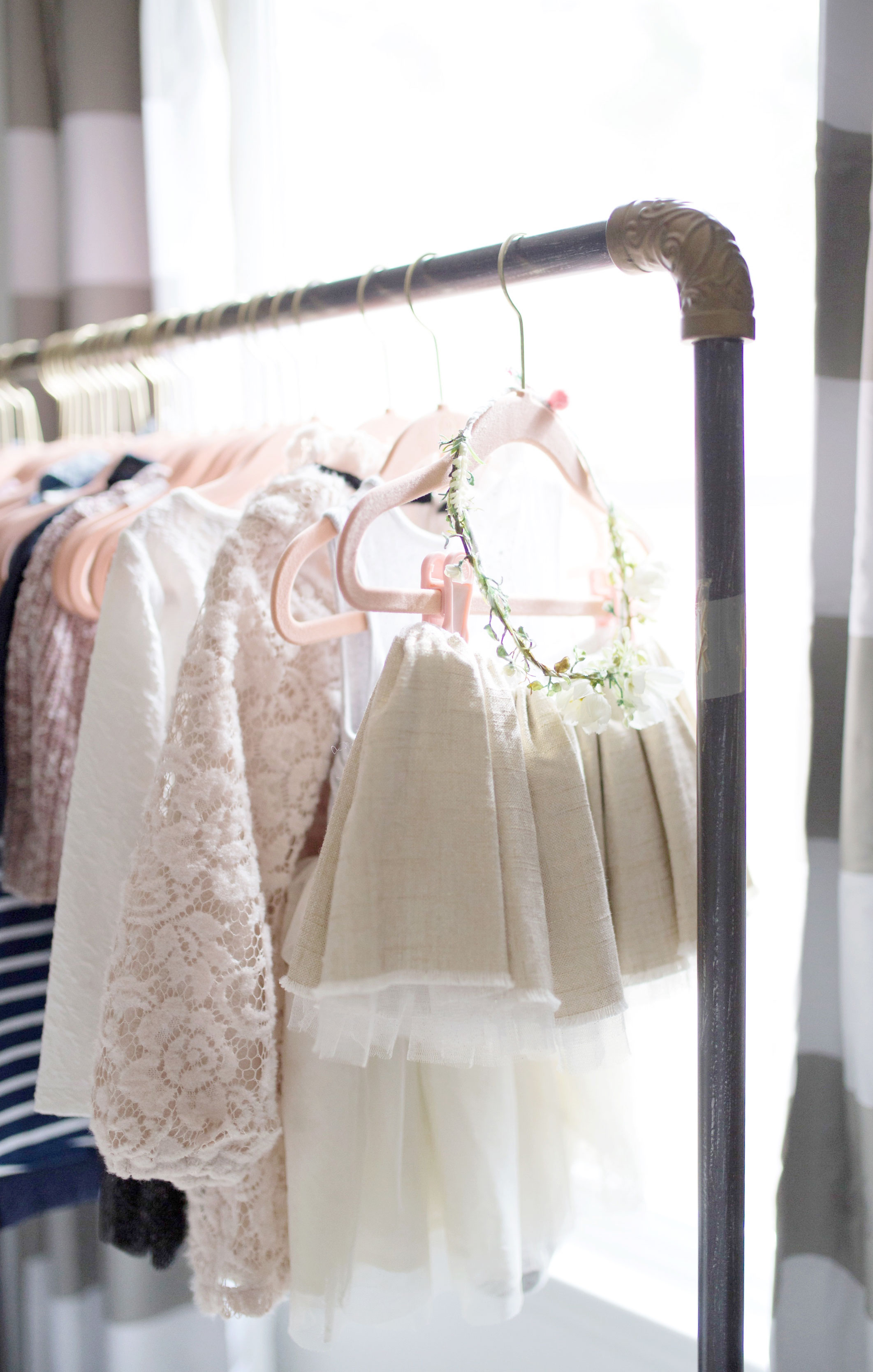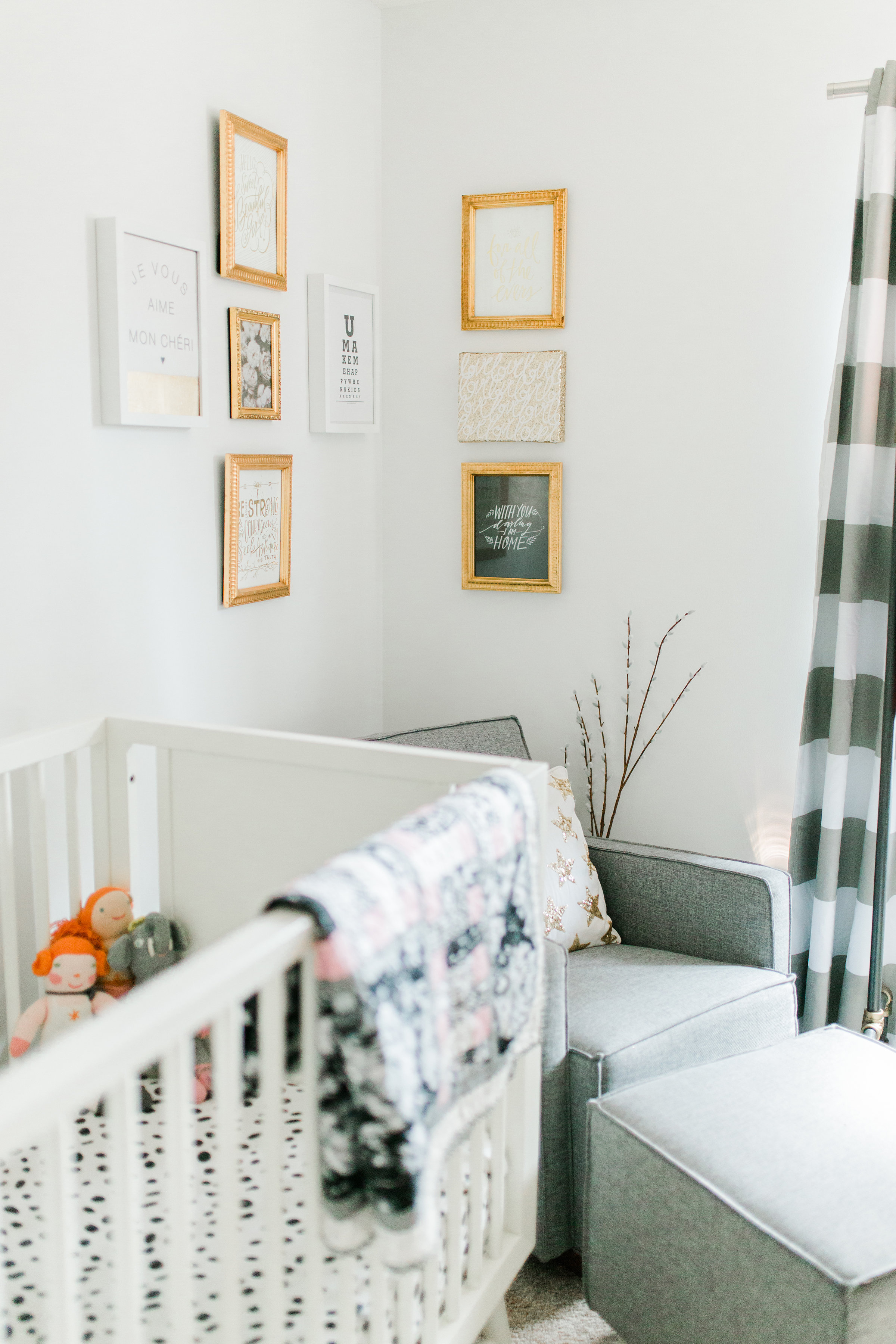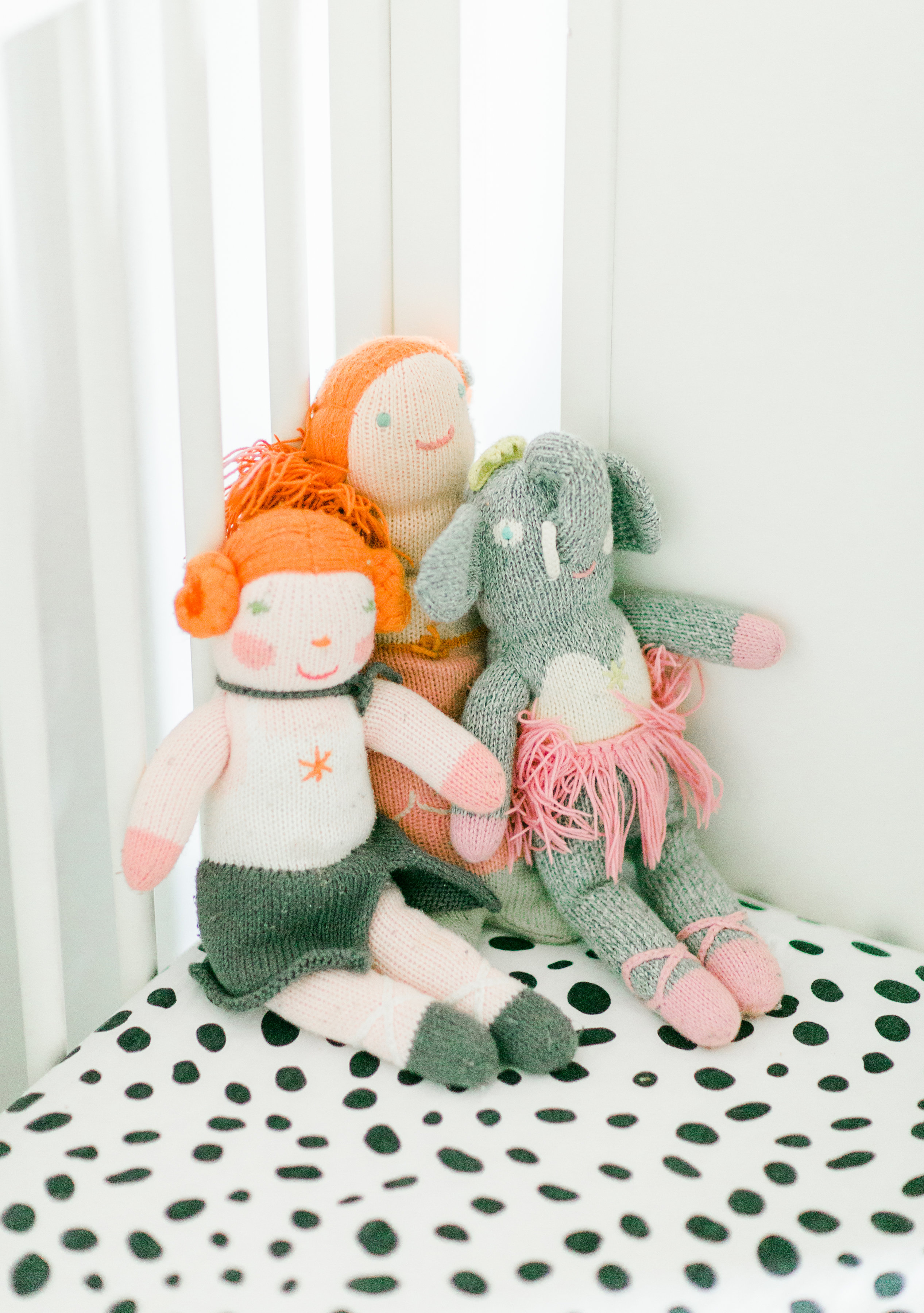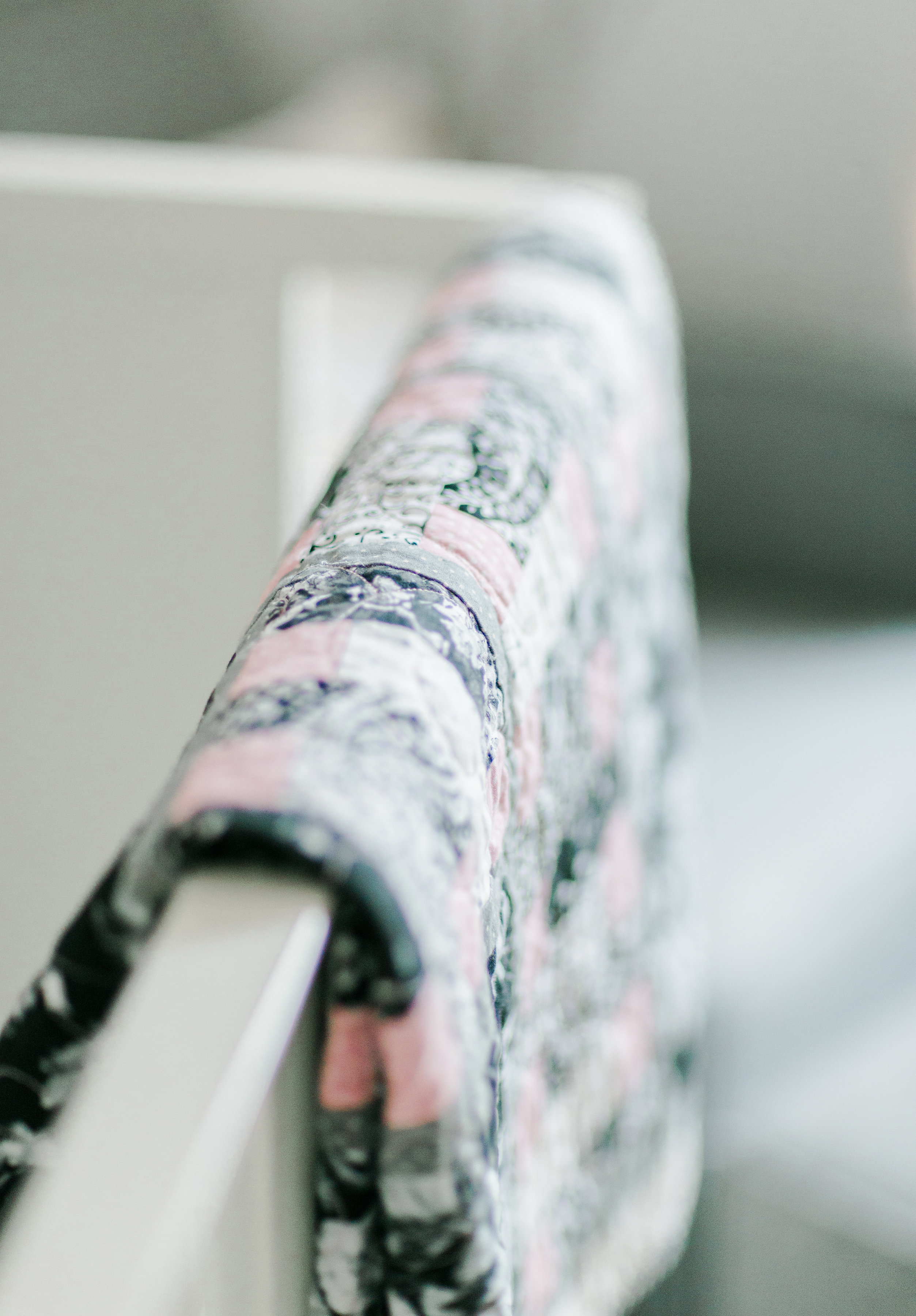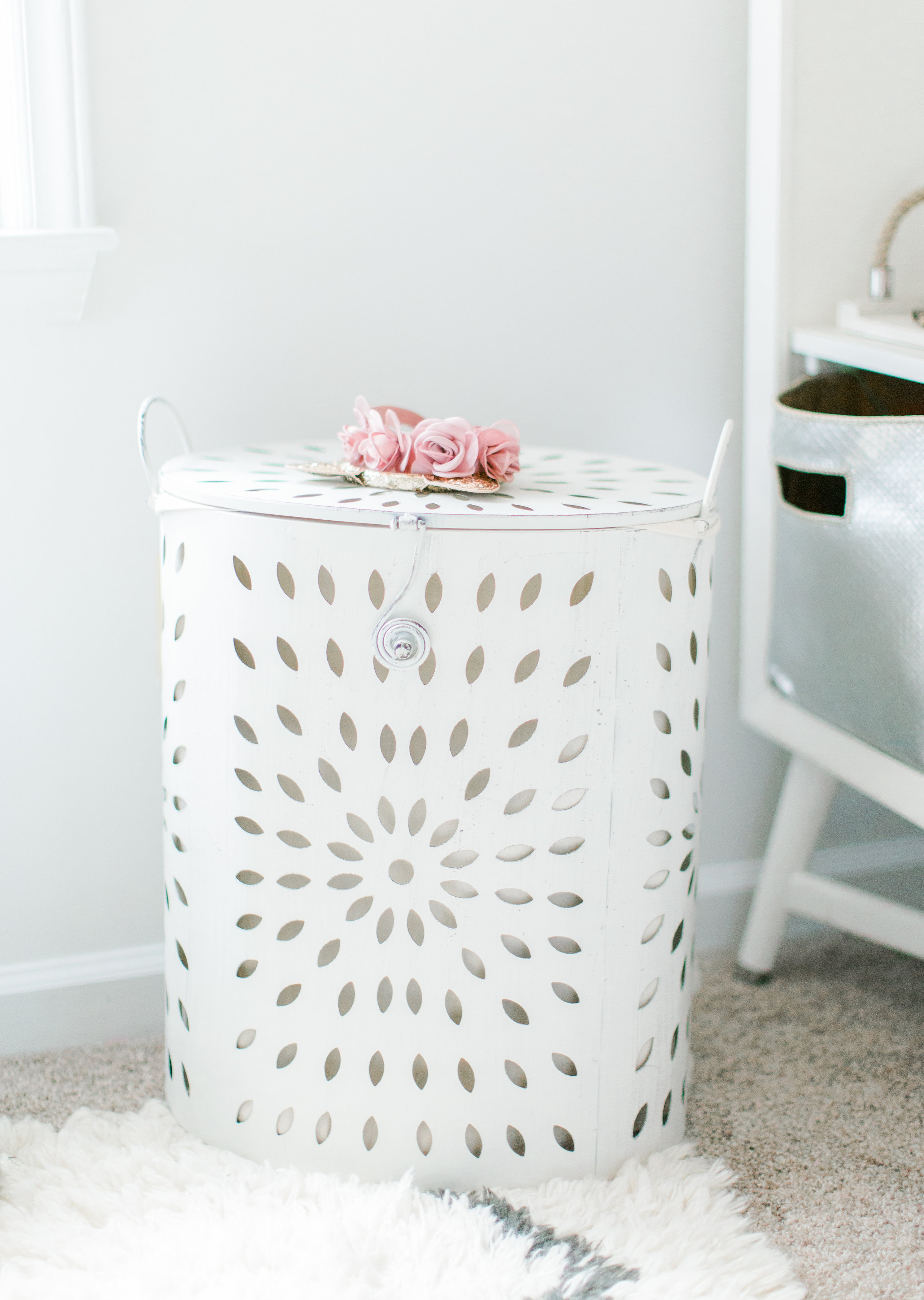 What are your nursery must-haves? Anything you've found to be essential in your little one's room?
Get the Look: Mid-Century Bookcase: DwellStudio | Mid-Century Crib and Dresser: DwellStudio via AllModern | Blabla Knit Dolls: Layla Grace | Quilt: Handmade by my Mom | Emily + Merritt Wardrobe Rack: PB Teen | Glider Arm Chair and Ottoman: AllModern | Gold Prints: Lindsay Letters | Pink Velvet Hangers: Amazon | Gold Sequin Hanger: Pearls and Pastries | Hand-painted Announcement Chalkboard: Beth + Borrow | Hottsie Dottsie Fitted Crib Sheet: Cotton Tale Designs | In Bloom Book Collection: Rifle Paper Co. | Intaglio Dresser: Anthropologie | Gold Star Sequin Pillow: PBTeen | Metallic Pandan Bins: Serena & Lily | Pebble Pure Crib Mattress: Layla Grace | Hamper: HomeGoods | Light Blocking Striped Curtain Panel: Target | Sneakers: Converse | Huarache Sandals: Target | Diaper Genie + Diaper Genie Expressions covers | Souk Wool Rug: West Elm
Looking for more? These are our favorite sites to shop for your modern nursery design.
Photos by Annie Watts Photography
This post contains affiliate links, which means that if you click on one of the product links, I'll receive a small commission. Thank you so much for clicking through and helping to support this little blog business of mine! Read more about our site, privacy, and disclosure policies here.
This is a sponsored conversation written by me on behalf of Diaper Genie. The opinions and text are all mine.