Can you believe Christmas is next week!? This year has completely flown by; and truth talk: I'm still shopping for last minute gifts! Whoops. Which is why, I LOVE Amazon Prime. They basically carry everything and most of it ships for free in two days or less. So I'm rounding out this year's holiday gift guides with 20 really great last minute gifts from Amazon. And trust me, there are some awesome gift ideas in here. I know, because I basically did my own last-minute holiday shopping through this list. 😉
Happy shopping, and be sure to let me know if you snag any of these great last minute gifts in the comments!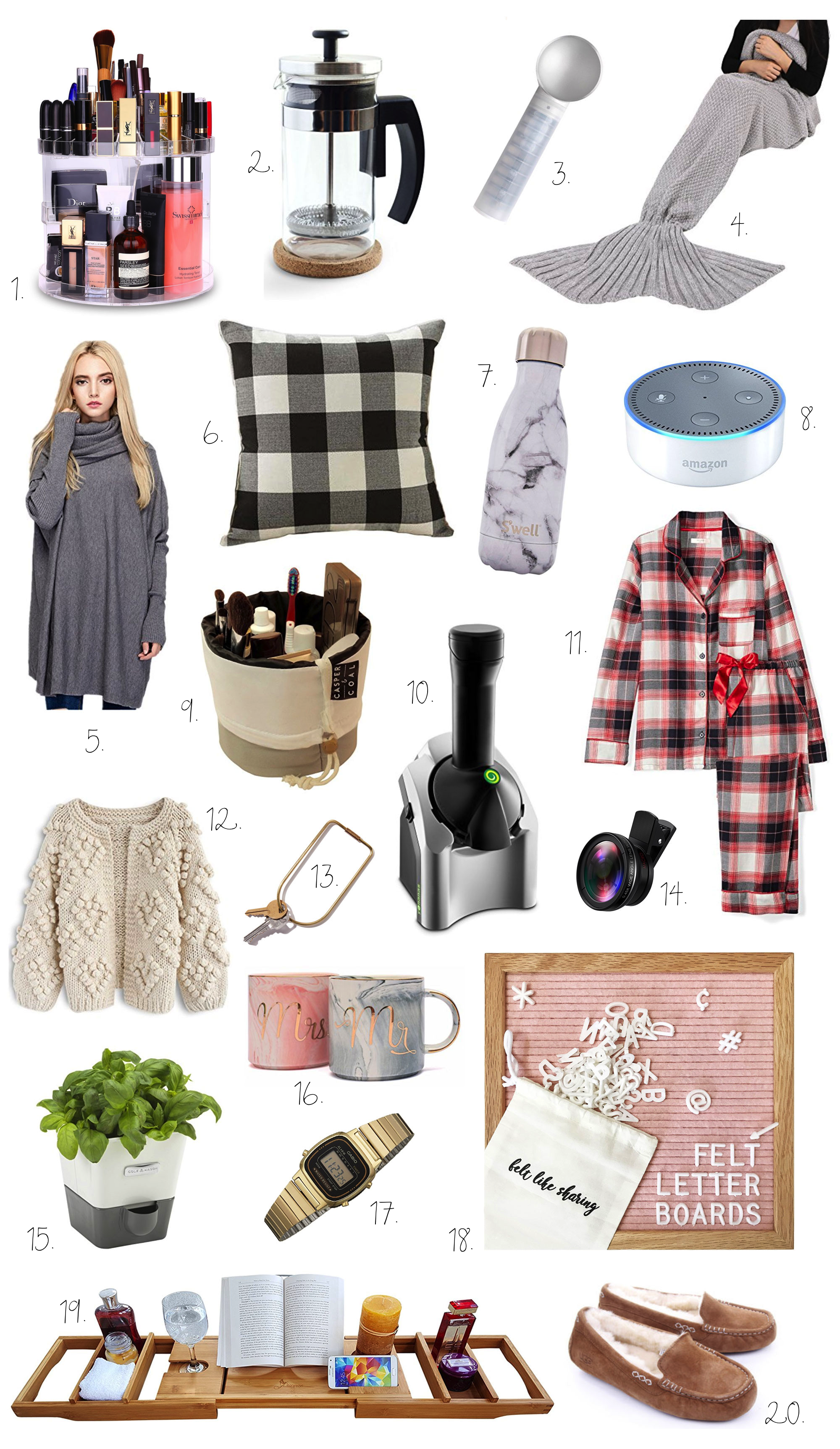 Gift Guide | 20 Really Great Last Minute Gifts From Amazon
1. Makeup Organizer Acrylic 360 Degree Rotating Cosmetic Storage, $32.99: This rotating tower is makeup goals. So convenient and chic, and makes your beauty organization a breeze.
2. Brillante French Press Coffee Maker, $22.90: Coffee drinkers love their french press because it makes a delicious cup of coffee. Snag one of these for your favorite coffee fanatic.
3. THAT! Scoop That II Warming Ice Cream Scoop, $24.95: This ice cream scoop is completely genius. It warms frozen blocks of ice cream with only the heat generated from your hand for easy scooping. Powered with a biodegradable thermo liquid that heats up just by holding the handle — and just enough to make it easy to get a perfect, full scoop out of frozen ice cream, but its specially coated to keep your precious ice cream from melting.
4. Cozy Crochet Knit Mermaid Tail Sleeping Blanket, $24.99: If you know a mermaid fan, this is the gift for them. Perfect for kids and grownups alike. It's also under $25 and comes in so many different colors. We bought a kid-sized mermaid tail blanket (under $20) for our toddler a few months back and she absolutely LOVES it.
5. Meow Meow Women's Turtleneck Long Sleeve Loose Knit Pullover Sweater, $28.99: For less than $30, this stylish tunic sweater is the kind of sweater just about any woman would love to have. (I just ordered two; one in grey and one in black!)
6. Buffalo Check Linen Square Throw Pillow Cover, $9.99: These buffalo check linen pillowcases look way more expensive than they actually are. Gift a pair with pillow inserts and you'll be a gift-giving hero. Pro tip: remember to size up by one size on your inserts so that your pillows will look nice and fluffy.
7. S'well Vacuum Insulated Stainless Steel Water Bottle in White Marble, $25: Anyone who is a cold-water fiend or a totally fitness fan will love these S'well water bottles. The white marble is my favorite.
8. Amazon Echo Dot, $29.99: Meet your new BFF, Alexa. The Echo Dot is a hands-free, voice-controlled device that uses Alexa to play music, control smart home devices, make calls, send and receive messages, provide information, read the news, set music alarms, read audiobooks from Audible, control Amazon Video on Fire TV, and so much more. We're kind of addicted.
9. Casper & Coal Travel Cosmetic Bag; $21.99: This canvas cosmetic bag is designed to hold products completely upright — and it's large enough to fit full bottles of shampoo. Plus, it has a drawstring to keep things secure. It's got three pockets and elastic bands to keep smaller items extra safe, a nylon interior to keep things leakproof, and is totally machine washable. Basically, it's perfect for travel but could also totally work on your bathroom counter every day.
10. Yonanas Fruit Soft Serve Maker, $46.88: This magical little fruit soft serve machine creates "ice cream" or "yogurt" like treats with frozen fruit. As a froyo addict, this sounds pretty brilliant to me.
11. Women's Flannel Pajama Set, $38: Who doesn't love getting new cozy pj's for the holidays? Love how classic these flannel pajamas are, but this heart print pajama set and this vintage thermal henley pajama set are both equally adorable as well; and of course, there are plenty of great options for the guys in your life.
12. Chicwish Heart Knit Sweater Cardigan, $69.90: The "It Girl" sweater; you've definitely seen your favorite blogger donning this cozy (and Instagram-worthy) cardigan. And it's really no surprise since the sweater is well-made and SO soft.
13. Areaware Bend Key Ring, $20: I've had my eye on these key rings for months. I love how sleek it is and it's also a great tool to help find your keys, especially when digging around in a big bag.
14. Clip-On 2 in 1 Professional HD Cell Phone Camera Lens Kit, $25.99: Anyone a tad Instagram-obsessed will love this fun phone camera upgrade. So simple and clever and under twenty bucks.
15. Self-Watering Indoor Herb Garden Planter, $19.99: If you're anything like me, i.e., you have the hardest time remembering to water plants regularly (#blackthumb), this self-watering potted planter is perfect. Such a fun gift for someone who wants to keep fresh herbs in the house, etc. And fun fact: it requires 40 percent less watering than other pots.
16. Mr. and Mrs. Ceramic Coffee Mugs Set of 2, 13oz with Gold & Marble Design, $23.99: Goodness, these are cute; and they'll check TWO gift recipients off your list! (Or you know, one for you, one for him.)
17. Casio Daily Alarm Digital Watch, $19.96: The ever-classic gold Casio watch is a timeless cool-gal accessory; i.e., my little sister has one, so I know it's cool.
18. Light Pink Felt Letter Board with 300 White Plastic Letters, $32.95: I am in love with felt letter boards; and this one is BLUSH PINK. So cute, cheeky, and fun for everyone. (It also comes in a bunch of fun colors, other than pink, and standard black, white, and/or grey.)
19. Bathtub Caddy, $35.95: This brilliant caddy tray extends to fit almost any bath size, and comes with holders for your drink, smartphone, and book or tablet. Plus, it's anti-skid rubber pads will keep it fully slip-proof. This is a bath-lovers' dream.
20. UGG Women's Ansley Moccasin, $89.99 (and for men, here): Slippers are ALWAYS a great gift, and my UGG slippers are a hands-down favorite. If you're looking for something more affordable, these dupes are just $14.99.
In case you missed it: Gifts to Say "Thank You" (Under $30), one of my favorite gifts to give: Pajamas, and 25 of the coolest and best stocking stuffers that are all under $30 (with most under $20!) If there's something you'd like to see or something you're looking for in particular, shoot me an e-mail at lexi@glitterinc.com, leave a comment here, or get in touch on Instagram!
This last minute gifts post contains affiliate links, which means that if you click on one of the product links, I'll receive a small commission. Thank you so much for clicking through and helping to support this little blog business of mine! Read more about our site, privacy, and disclosure policies here.