This post contains affiliate links, which means that if you click on one of the product links, I'll receive a small commission. Additionally, as an Amazon Associate I earn from qualifying purchases. Thank you so much for clicking through and helping to support this little blog business of mine! Read more about our site, privacy, and disclosure policies here.
Goodness I'm excited to share this bohemian Christmas wedding ideas today! When Christa of Christa Summers Photography sent this gem my way, I knew I'd have to share. It's so obvious that the talent behind this shoot had a clear, and gorgeous, bohemian vision – "I'm Dreaming of a Boho Christmas," and I love the Christmas slant to it all. I mean, you have got to see how they decorated the tables! So much holiday inspiration ahead.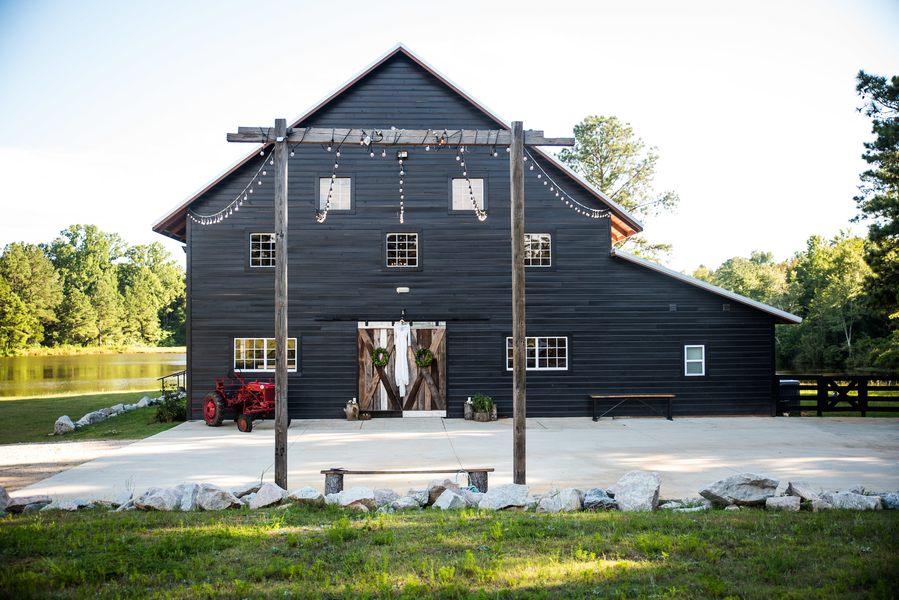 And hello, picture-perfect backdrop!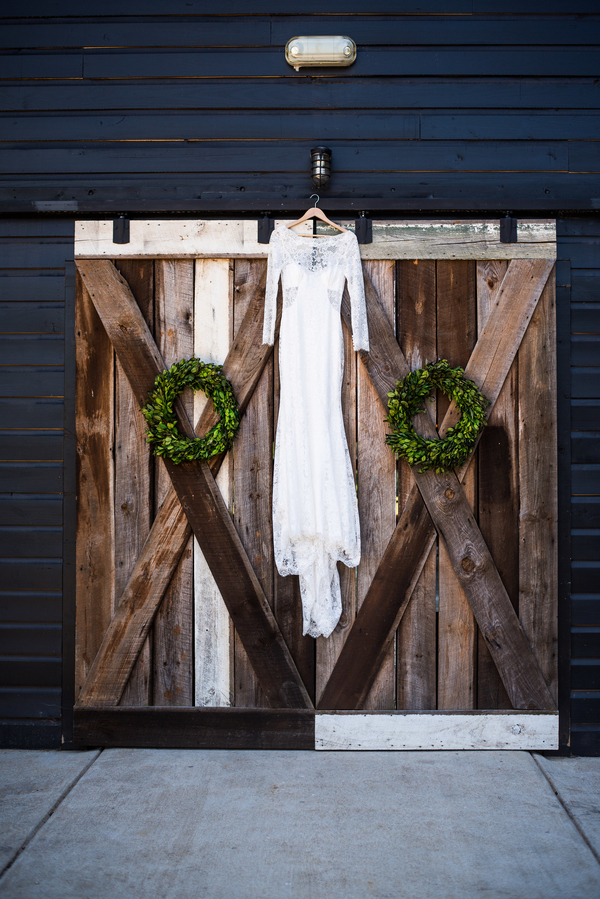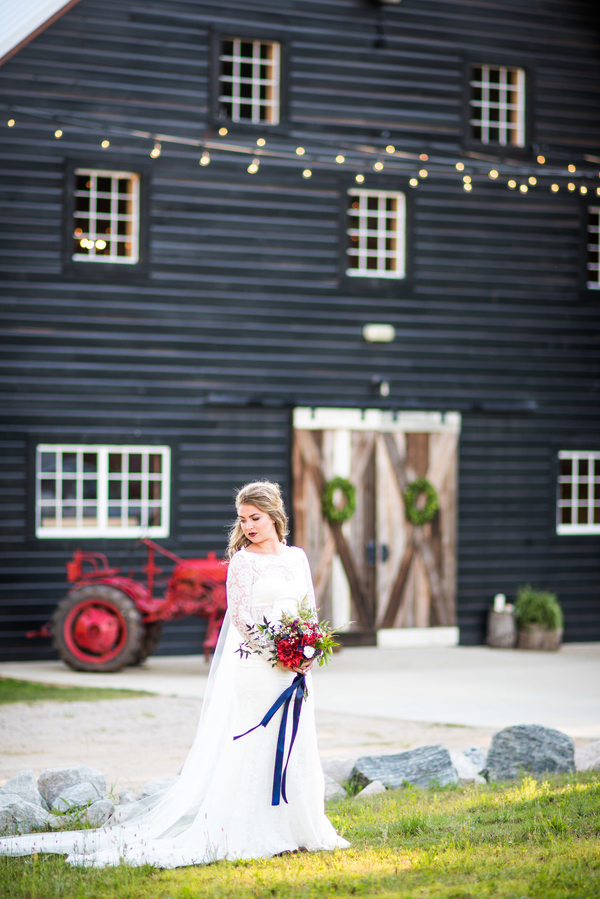 Christa explains how they dreamed up this gorgeous bohemian Christmas wedding ideas and shoot:
Over the summer, a close friend of mine who was visiting from Texas, and I sat chatting over coffee at our local Starbucks. Like most women, we found ourselves just catching up about life, our four-legged children, our relationships, and work. You see, we had been talking for some time about collaborating on a styled shoot; however, the only problem was we new we had a short period of time before she went back home, and we wanted the shoot to be one of a kind. That my friends is tricky.
We tossed around several ideas, and in our scattered conversation we found ourselves once again talking about our families and upcoming vacations and holidays. As we sipped our iced coffees, we got so excited as we talked about this year's Christmas and our plans, but we quickly found ourselves in tears because we were laughing so hard. You see, as we continued to discuss family Christmas traditions, we quickly realized that both of our moms, who are avid lovers of antiques and sometimes junk, have our entire life brought out brightly colored vintage Christmas ornaments each year to decorate our families trees. Although we thought of them as tacky when we were growing up, we now found ourselves creating a photo shoot based on these colorful yet boho vintage pieces.
From there, the idea of "I'm Dreaming of a Boho Christmas" was born. We thought it would be fun to feature as many cherished family items in the shoot as possible. Elements such as my great-aunt's 1930s fur coats, vintage chairs, china plates, and our mom's ornaments can be found amidst the other boho treasures we decided to use. We created what we thought to be the perfect bohemian Christmas wedding. There was a lounge with one of a kind furniture pieces, an air stream strung with colorful Christmas lights and wooden spools to set your coffee on. The newly married couple had dinner for two on the dock with signature cocktails, more twinkle lights, a cake for two, and of course, our Christmas ornaments. Lastly, they would finish the evening reminiscing about the beautiful wedding they just had under the Georgia oak tree that danced with Christmas lights.We hope you love this unique shoot and that you and your family have a very Merry Christmas!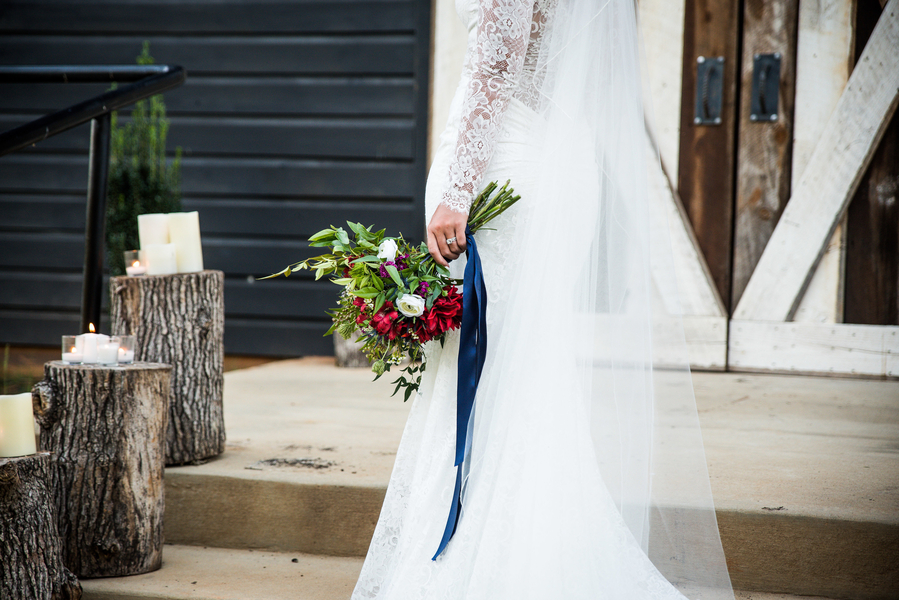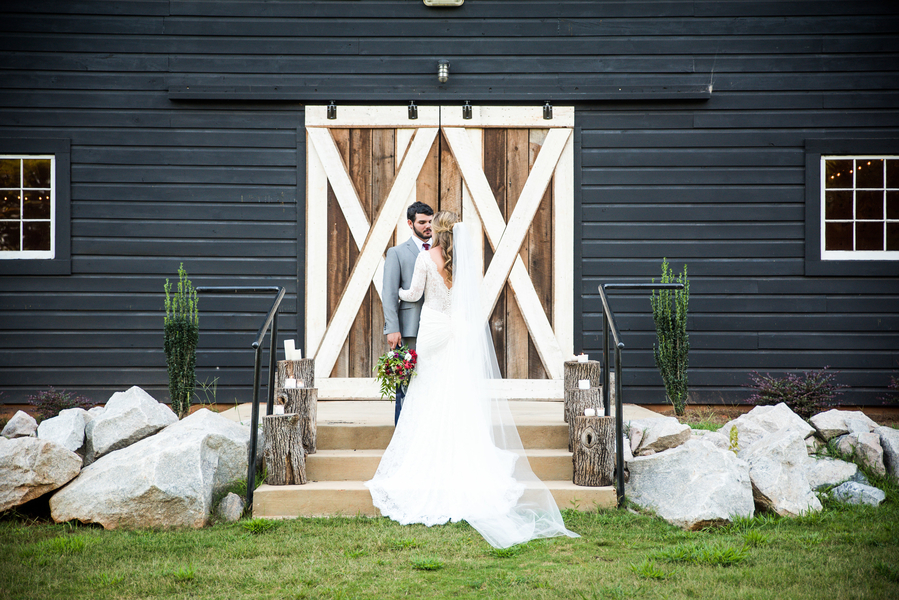 Christa designed the florals used. The bouquet was a mixture of Queen Ann's Lace, Wax Flower, and Ranunculus, along with various other wildflowers since they were going for a boho look.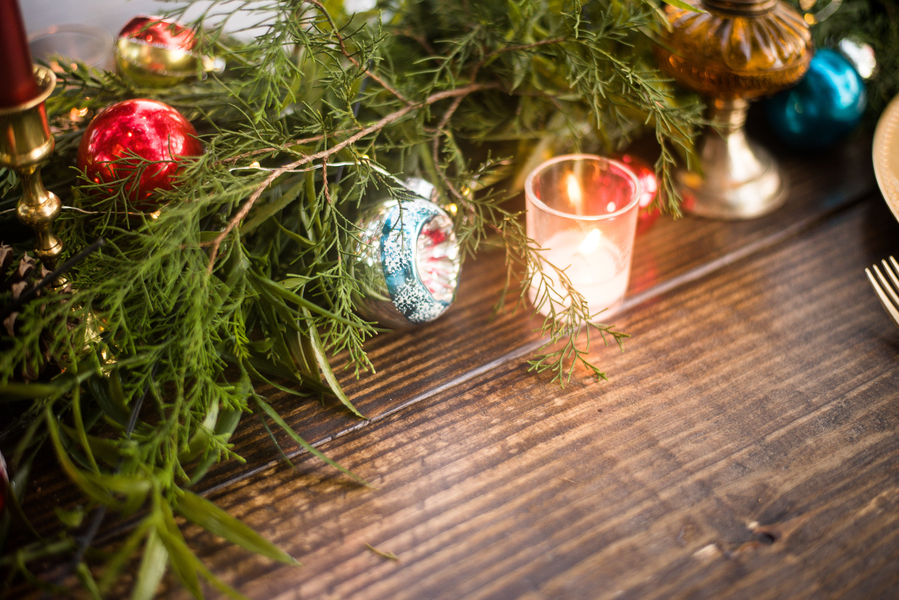 For the tablescape, Christa used a mixture of greenery along with vintage Christmas ornaments that they collected from their own moms' holiday stashes. Intertwined in the runner they placed brass candlesticks and pine cones to give it a winter feel.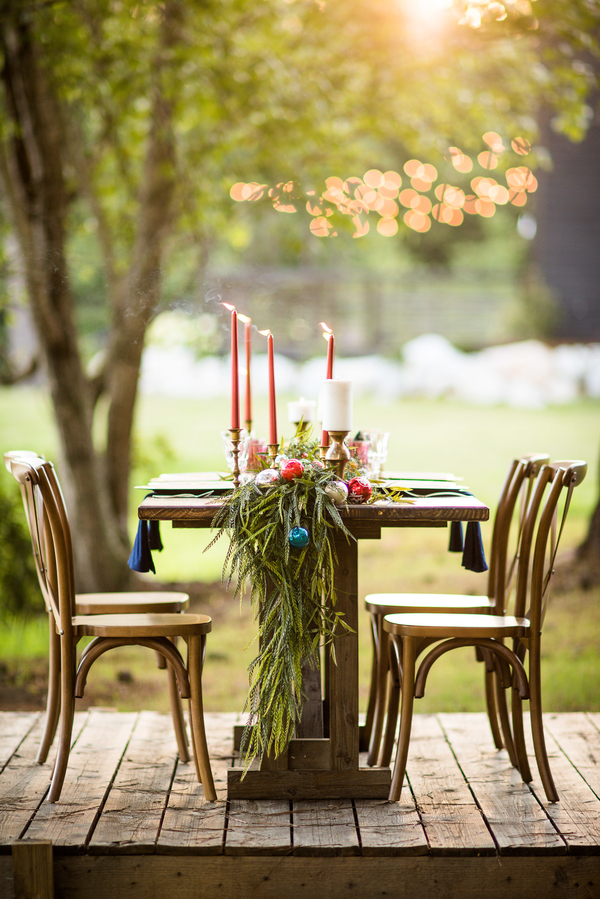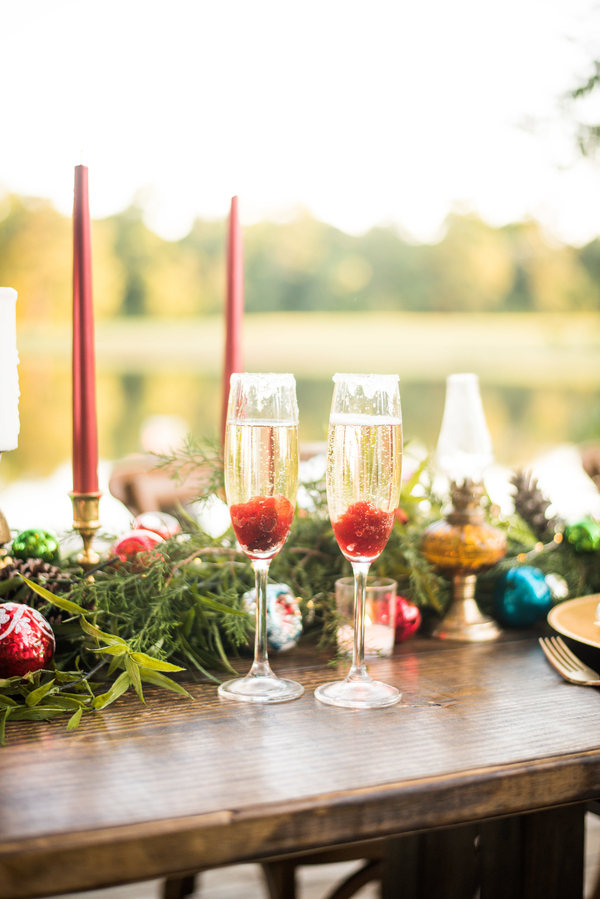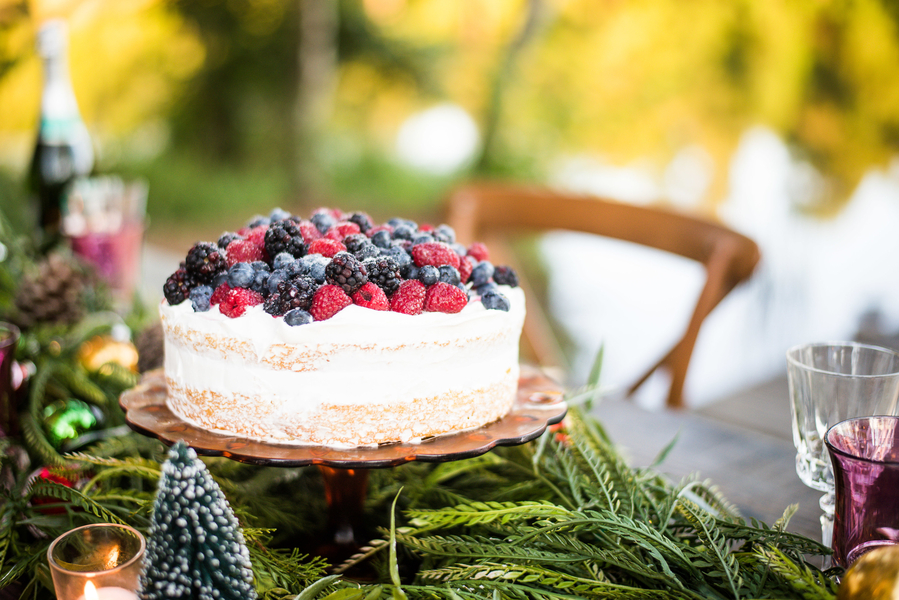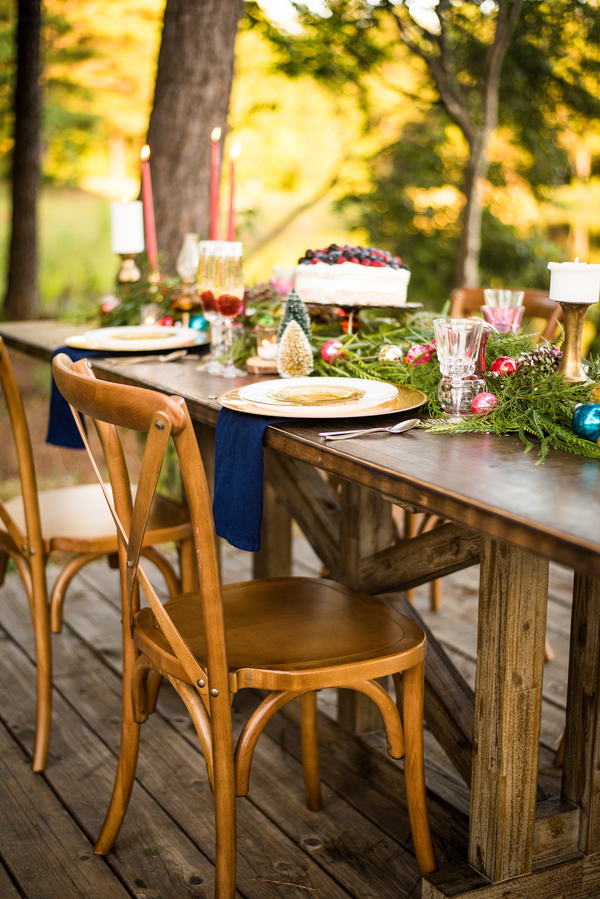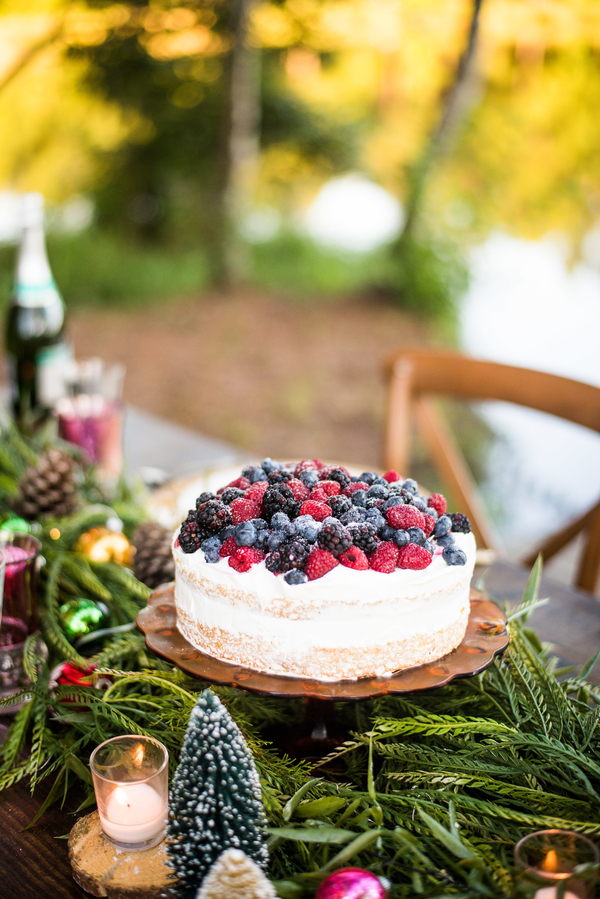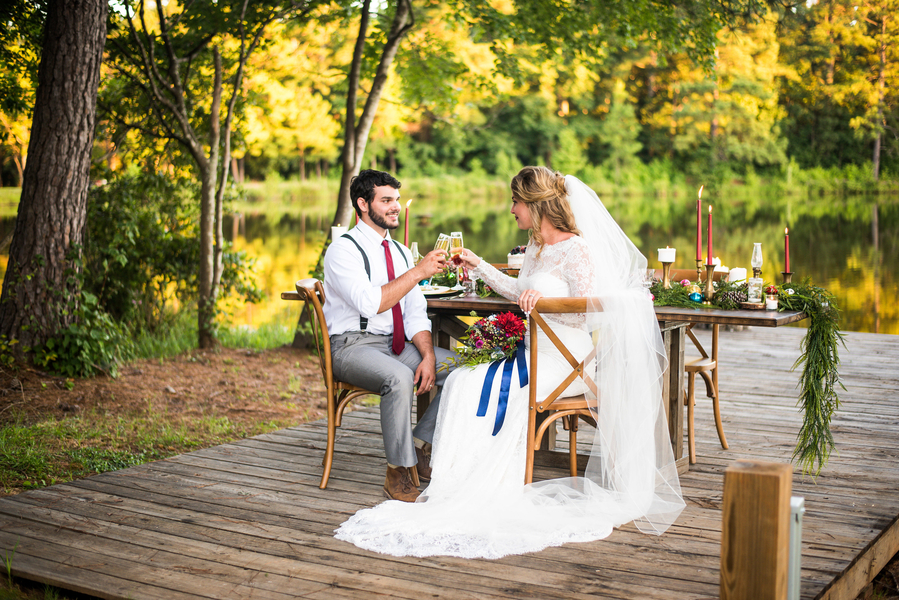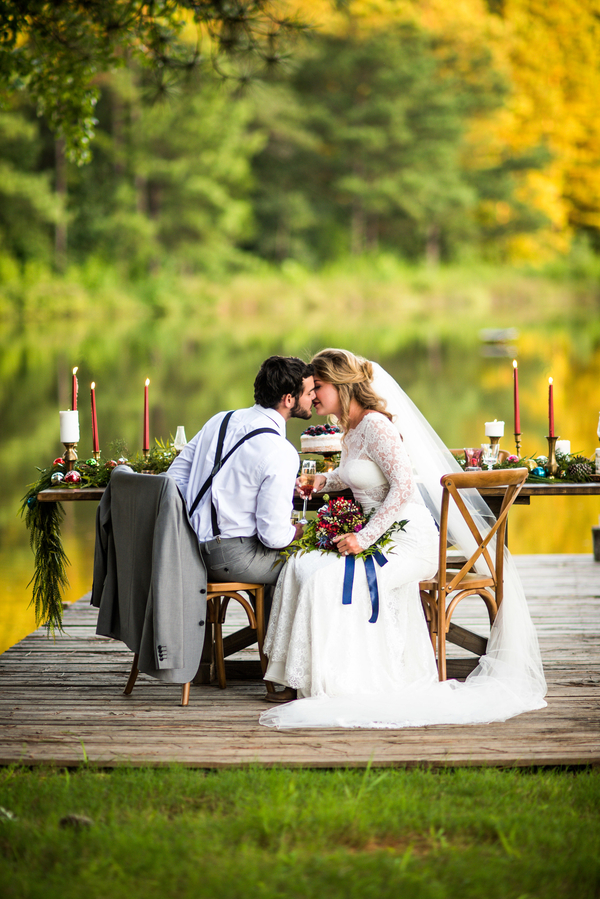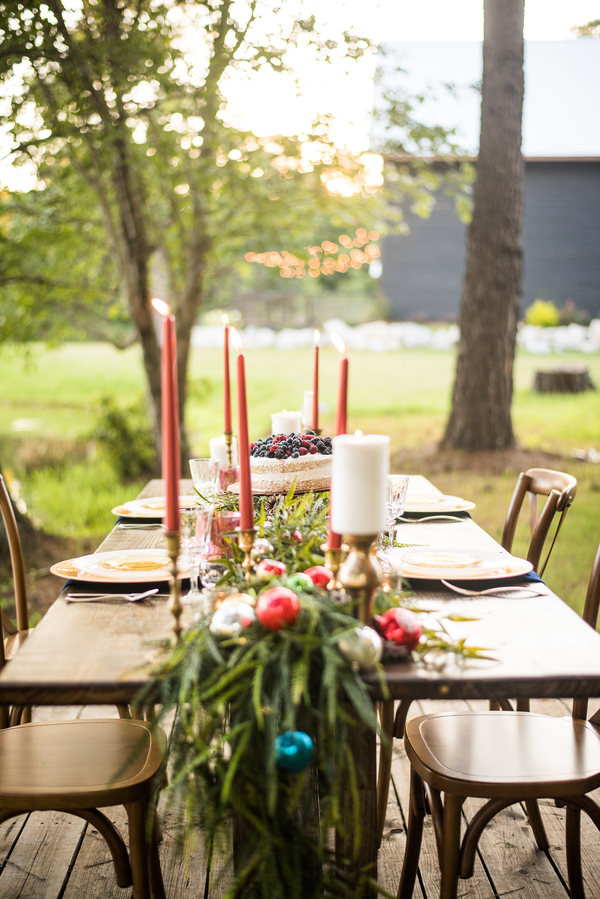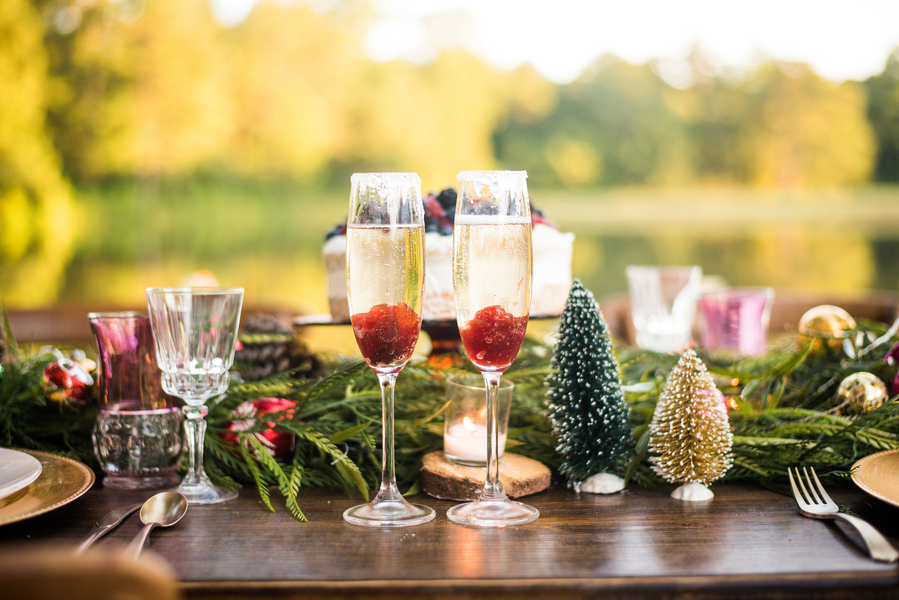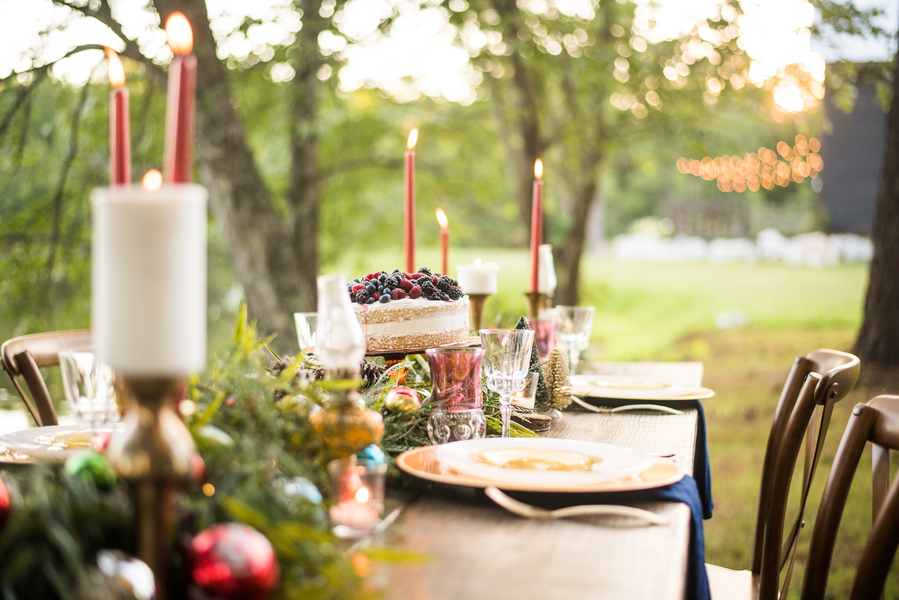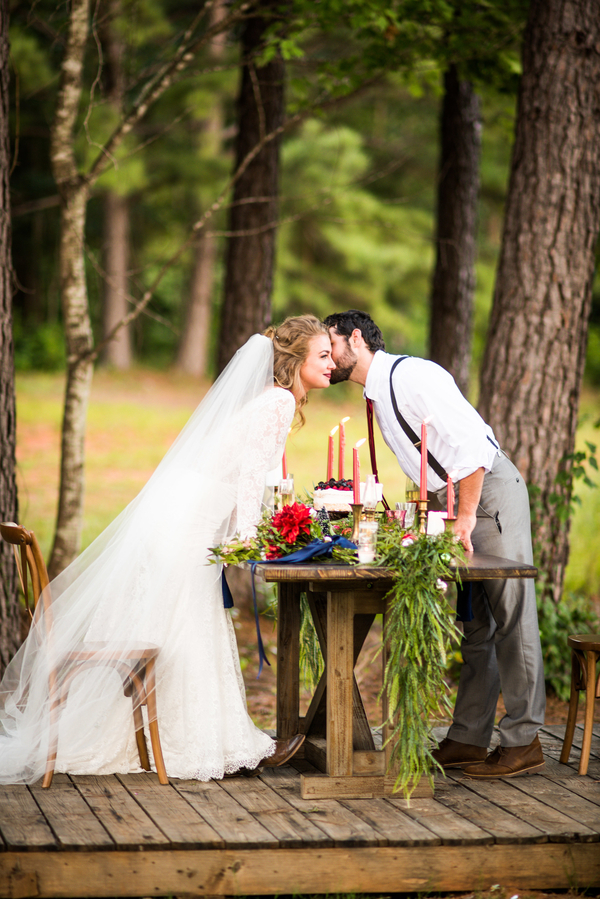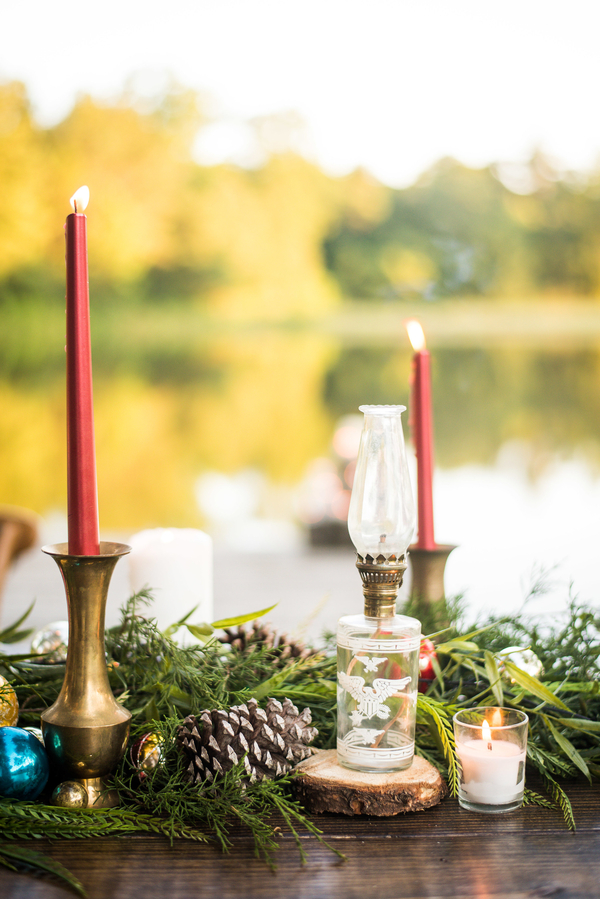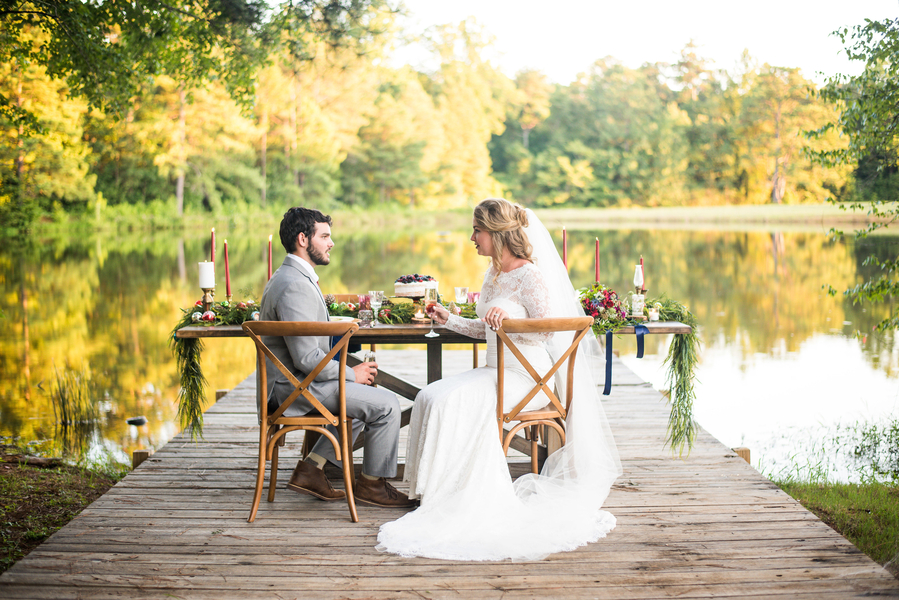 Such a gorgeous view.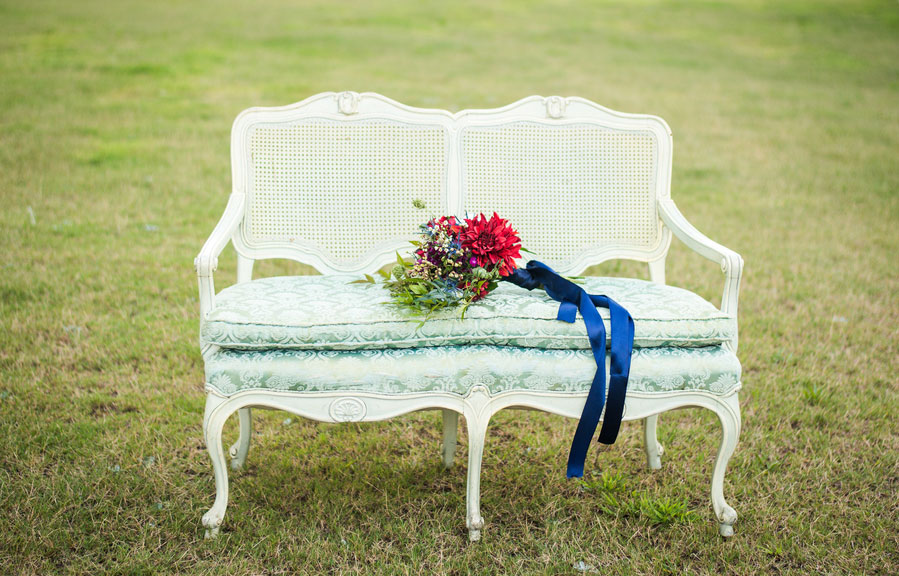 Not only did they incorporate vintage ornaments from both of their families, they also used an antique couch that they found at a thrift store, a fur coat passed down from a great aunt, and a camper found on Craigslist. To top it all off, we added a beautiful couple, multicolored Christmas lights, and a photo-worthy oak tree.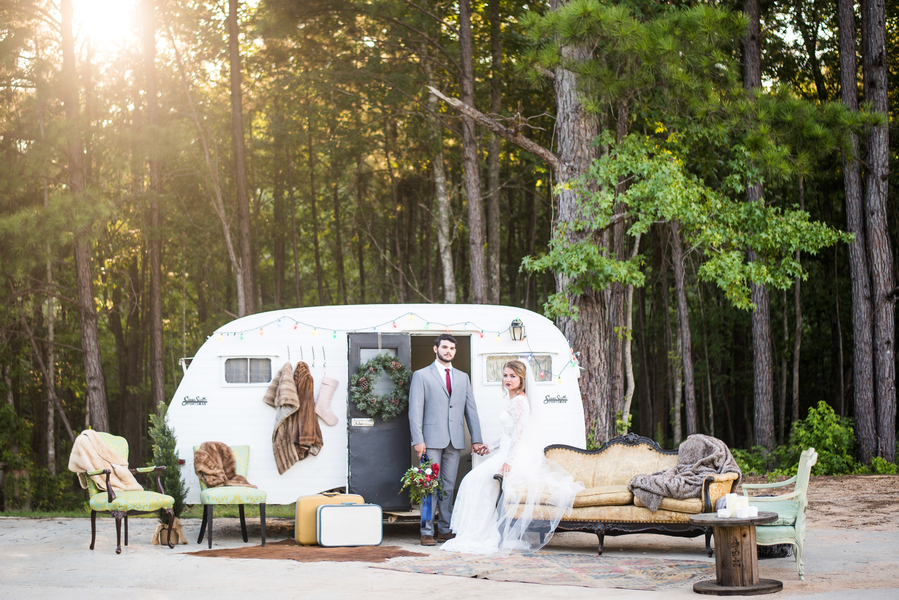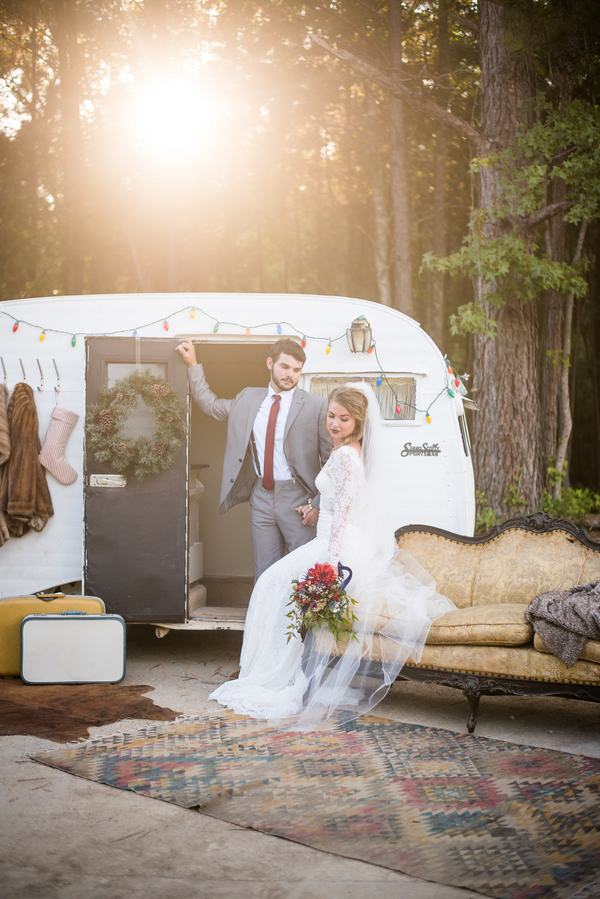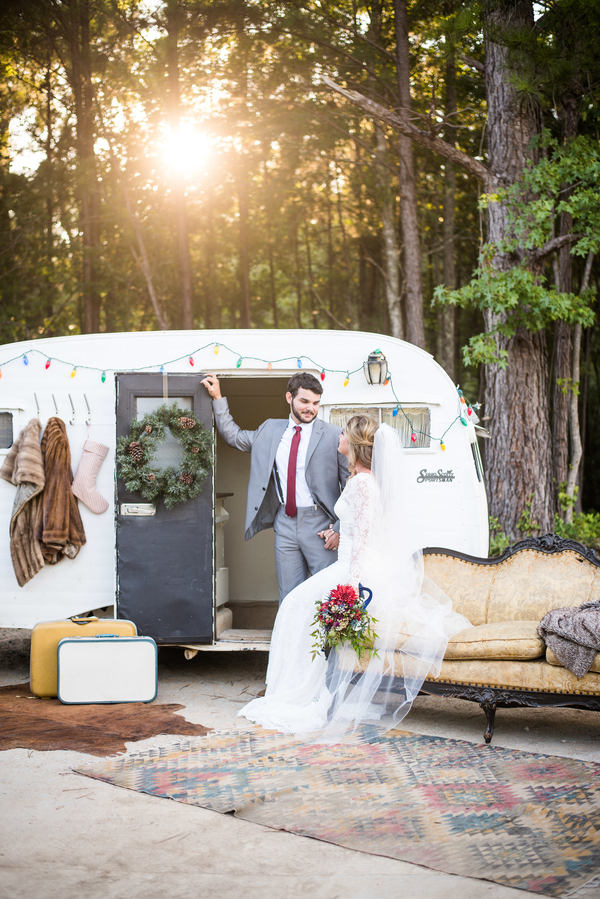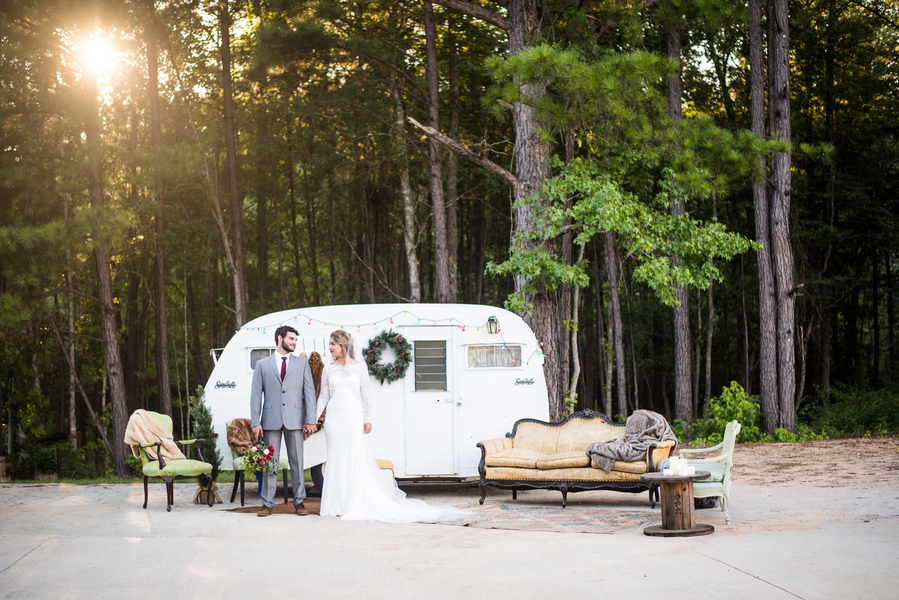 I can't get over the fact that they found a vintage CAMPER on Craigslist. That's styled shoot kismet, if you ask me!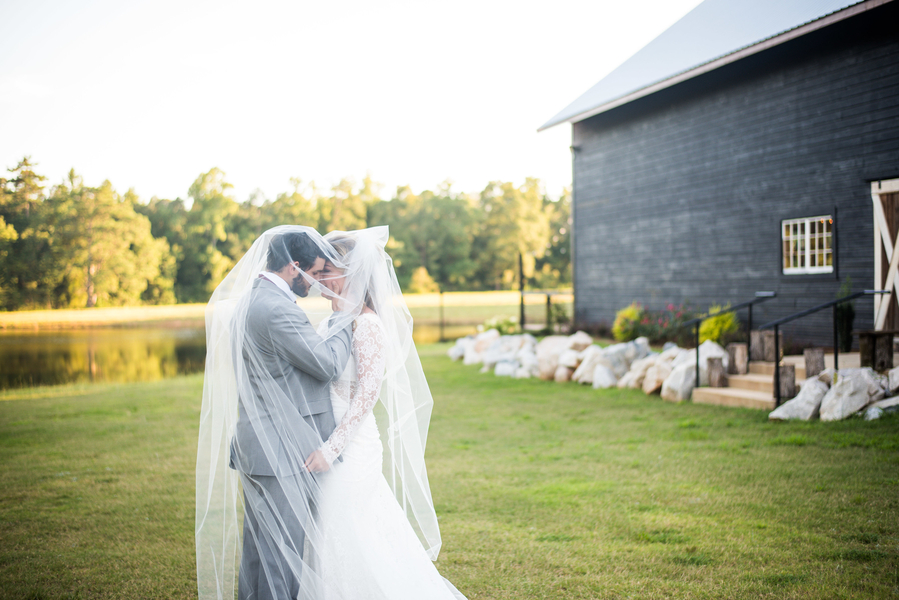 I mean, how good is that natural light?
Love this bohemian Christmas wedding ideas? See more dreamy wedding inspiration right here.
Photographer: Christa Summers Photography // Event Designer: Bob & Ginger Co. // Event Designer: S. Chapman Designs // Makeup Artist: Helena Bonner // Model: Chyna Hearn // Dress: Maggie Sottero Designs // Dress Store: Uptown Gowns // Event Venue: Three Oaks Farm