This post contains affiliate links, which means that if you click on one of the product links, I'll receive a small commission. Additionally, as an Amazon Associate I earn from qualifying purchases. Thank you so much for clicking through and helping to support this little blog business of mine! Read more about our site, privacy, and disclosure policies here.
Looking to simplify your time in the kitchen? These 18 brilliantly designed kitchen gadgets – all from Amazon – will have you wondering how you ever lived without them before. These are the best cooking and baking essentials to make life easier. 
A few months back I shared a post detailing 22 of the most useful items from Amazon, including a few really awesome finds that just make life easier. That post was SO popular, and I realized, why not share the equally amazing, life-changing Amazon kitchen gadgets I've used and loved in my own kitchen?
The Best Amazon Kitchen Gadgets
Everything from the most genius pasta strainer, to a healthier olive oil sprayer to replace all of those packaged kitchen sprays, even magnetic gold measuring spoons that seriously cut down on clutter; these 18 amazingly useful Amazon kitchen gadgets are pretty amazing.
18 Amazingly Useful Amazon Kitchen Gadgets
These 18 brilliantly designed kitchen gadgets – all from Amazon – will have you wondering how you ever lived without them before. They're THAT life-changing.
This attachment fits on all different bowls and pots and works exactly as it says it will. So much easier for straining pasta, etc.
This is another one of those kitchen items I can't believe I ever lived without before. Forget packaged kitchen sprays; pour your favorite oil (we use ours for olive oil), vinegar, or salad dressing, into the glass vial and then use your sprayer for all of your cooking needs.
The easiest way to froth your milk for at-home lattes and cappuccinos! (This doubles as a great gift for any coffee lovers in your life.
We initially got these convenient little timers last year for virtual school. We needed something to help keep our then 6-year-old on top of her schedule throughout the day at home. Since then, I've found I use these all of the time for cooking. It's so helpful to have several timers around; especially when cooking a few different components to a meal (main course, side dish, bread baking, dessert, etc.) They're also magnetic so they stick right to your fridge or oven.
This adjustable rolling pin evenly flattens dough to ensure uniform baking. The 1/16, 1/6, 1/4, and 3/8-inch removable discs make it simple to roll to a desired thickness and is perfect for pizza dough, pie crusts, tarts, cookies, and more.
Food storage never looked so good! Zip Top containers are food grade and safe for use in the dishwasher (bottom rack too), freezer and microwave. Basically, you can use these containers to store food, snacks, leftovers, etc., and heat them back up right in the bag. And the best part: the silicone materials is completely free of BPA, lead, PVC, latex and phthalates; i.e., they won't leach harmful chemicals like plastics can.
This genius solution for keeping your tea or coffee hot for hours is every tired mom's best fried.
This little brush and soap dish combo has serious scrubbing power, plus and ergonomic design that fits in the palm of your hand. The ceramic base acts as a soap dispenser and it's spring-loaded to create extra suds. It also comes with a replaceable bamboo dish brush.
I have and adore these magnetic measuring spoons. They're beautiful, functional, wash up perfectly (I've run them through the dishwasher dozens of times and they still look new), and they cut way down on the clutter of a typical baking drawer.
It's no secret that I love to bake. I mean, cookie bars are the easiest way to have dessert in no time. So of course, when I spotted this pan with built in dividers, I knew i had to try it. For the record: it's love. The non-stick surface makes popping brownies, cookie bars, and cake squares out of this pan so easy, and the dividers make for a perfect slice every time.
No joke, these are the BEST kitchen gloves I have ever owned. They hold up to serious heat, they're super easy to clean, and they stay looking nice long after traditional kitchen gloves start to look … well, awful.
Triple the life of your fresh herbs in one of these cleverly-designed BPA-free containers. Bonus: they fit into your refrigerator door.
I LOVE the variety of scoop sizes this set comes with. They're the perfect way to measure out even scoops for cookie dough, cupcakes, rolls, and of course, ice cream.
Skip the cutting board and use these genius kitchen scissors for cutting herbs and vegetables.
I'll admit, mandolines have always made me nervous. This one is designed so well though, with a built in hand guard. It slices, dices, and chops, and keeps all of your cut veggies contained in the storage container below.
This genius kitchen colander actually fits to extend over your kitchen sink. It takes up less room than a traditional colander that you have to clear plenty of space for in your sink, and it's pretty to boot!
These sturdy kitchen strainers are not only beautiful, they're functional (i.e., drain, strain or sieve away to your heart's content).
This is the most convenient cutting board with a BUILT-IN storage space. So cool.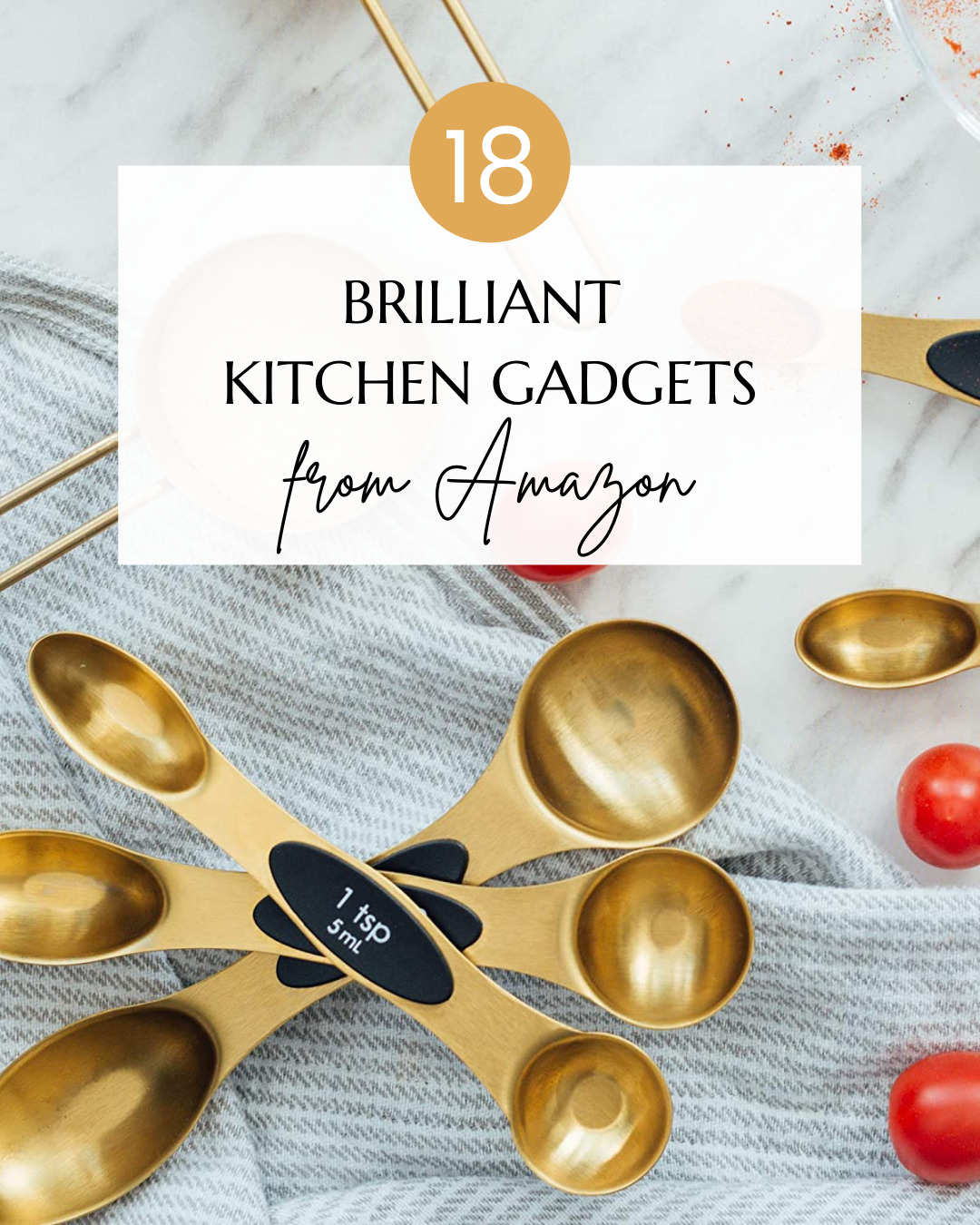 SHOP MY FAVORITE AMAZON KITCHEN GADGETS | CLICK LEFT & RIGHT ARROWS TO EXPLORE

Love Amazon as much as I do? Check out these Amazon post favorites:
22 Awesome Amazon Finds to Help Make Life Easier
The Amazon Makeup Organizer Travel Bag Everyone is Buying (Plus a Comparison of the Sizes)
20 Neutral Amazon Home Décor Finds for Winter
25 Gorgeous Amazon Home Décor Finds
50+ Adorable Fall and Winter Amazon Outfits for Girls
18 Totally Chic Pullover Sweaters and Tunics From Amazon
Any fantastic Amazon finds lately? I'm always on the lookout.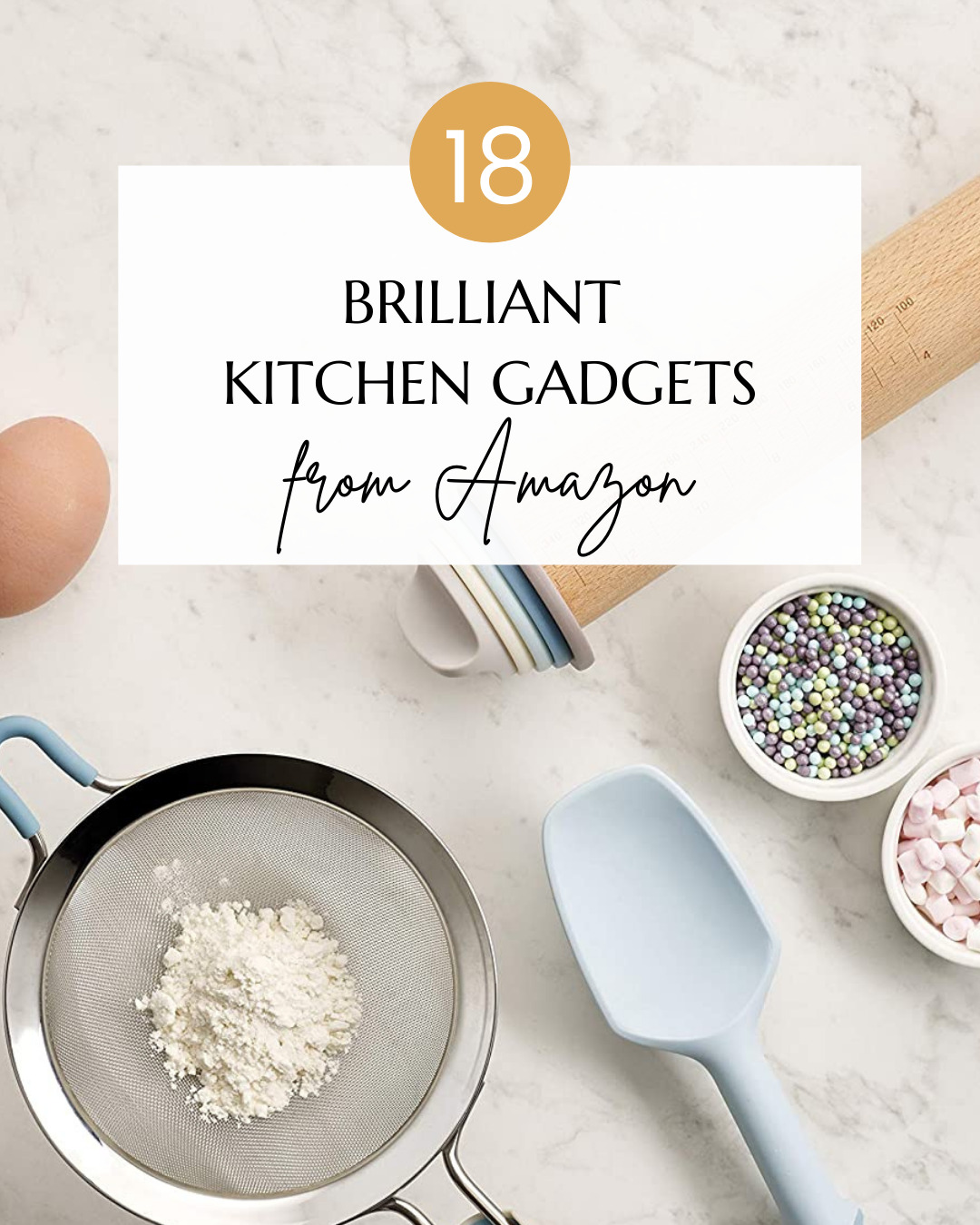 Cover Image: Magnetic Measuring Spoons Set
Follow me on Instagram for more updates.