Now that we're getting into the swing of life with a newborn all over again, I'll admit, I've watched my fair share of Hallmark movies and Gilmore Girls reruns (and I'm slowly tackling this list); mostly, because soothing and feeding and changing a newborn baby on an every two-ish hour schedule can be pretty all-consuming. In the afternoons, though, when Scarlett is home from school, I try to set her up with activities while I'm going through the newborn motions with her sister, so I've found myself reading books again. If you know me, you'll know that I am a total book junkie. (Reading even more is on my fall bucket list, after all!)
Veteran mom tip: if you're going to read a book while holding a newborn, it might be worth investing in a tablet, iPad, or e-reader. You won't need two hands to hold a book and turn the pages; SO much more convenient.
But I digress.
Books. I can't get enough. And when I've found a few good ones, I read and devour them like candy. Sometimes you can go through a whole slew of books that are all just good, or okay, or decent, or worse still, hard to get through; but not that literary candy you crave. So I've been on the hunt, and I've compiled a pretty awesome fall reading list of 12 must-read books, because, good news: there are so many incredible-looking novels out this year that I can't wait to dig into. And trust me, I read many, many reviews. Let's get to this Fall reading list!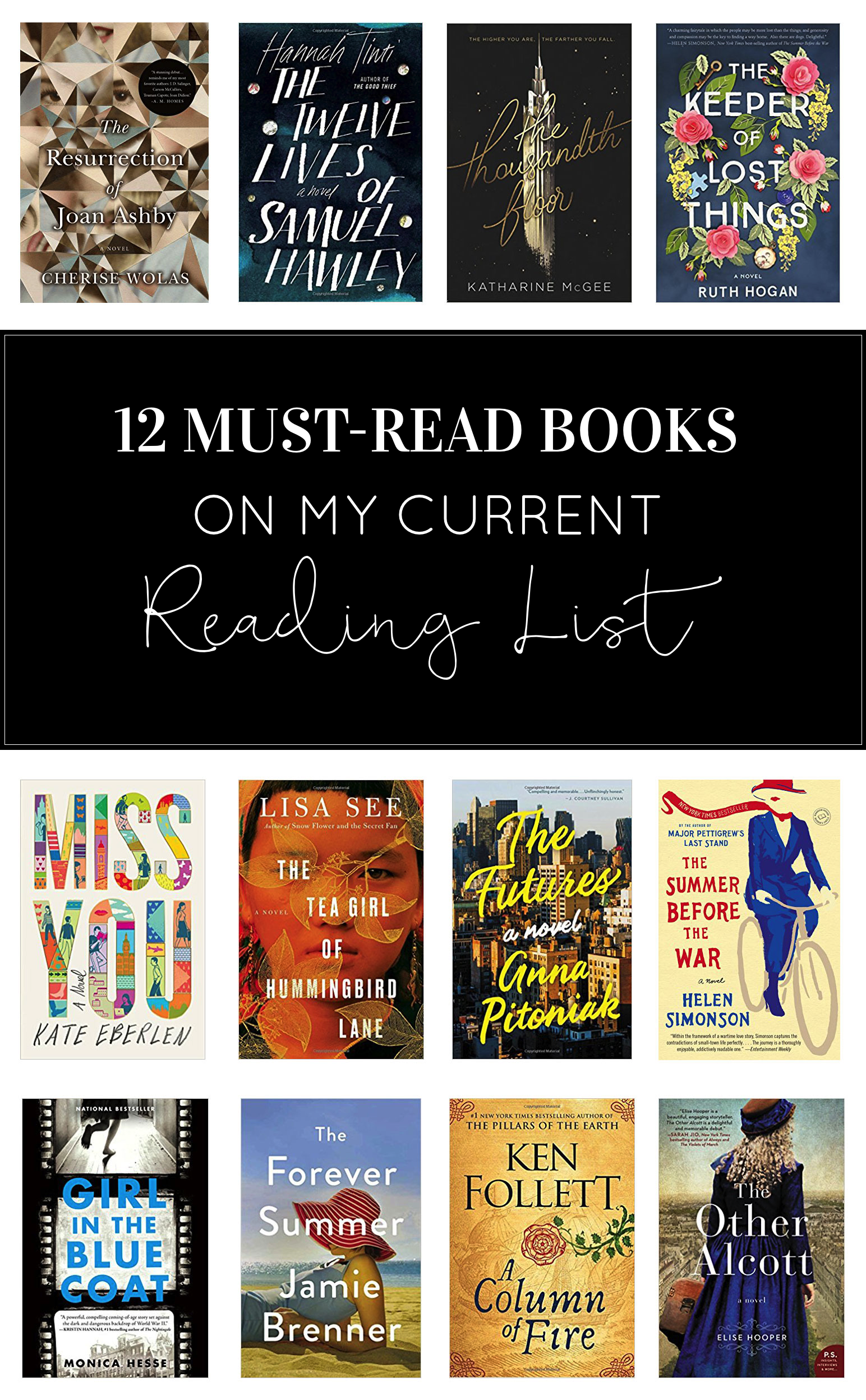 So if you're on the hunt for a few awesome books to read – including books topping the bestseller list, a cheeky beach read that still totally counts for fall and winter, two YA novels with rave reviews, love stories that you can plow through in one sitting mixed in, a few great history lessons, even the epic new Ken Follett novel – check out these 12 must-read books. (Get your wish lists ready!)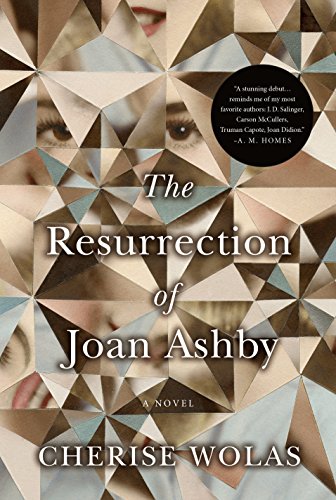 The Resurrection of Joan Ashby by Cherise Wolas
I viewed the consumptive nature of love as a threat to serious women. But the wonderful man I just married believes as I do—work is paramount, absolutely no children—and now love seems to me quite marvelous.
These words are spoken to a rapturous audience by Joan Ashby, a brilliant and intense literary sensation acclaimed for her explosively dark and singular stories.
When Joan finds herself unexpectedly pregnant, she is stunned by Martin's delight, his instant betrayal of their pact. She makes a fateful, selfless decision then, to embrace her unintentional family.
Challenged by raising two precocious sons, it is decades before she finally completes her masterpiece novel. Poised to reclaim the spotlight, to resume the intended life she gave up for love, a betrayal of Shakespearean proportion forces her to question every choice she has made.
Epic, propulsive, incredibly ambitious, and dazzlingly written, The Resurrection of Joan Ashby is a story about sacrifice and motherhood, the burdens of expectation and genius. Cherise Wolas's gorgeous debut introduces an indelible heroine candid about her struggles and unapologetic in her ambition.
Buy it here.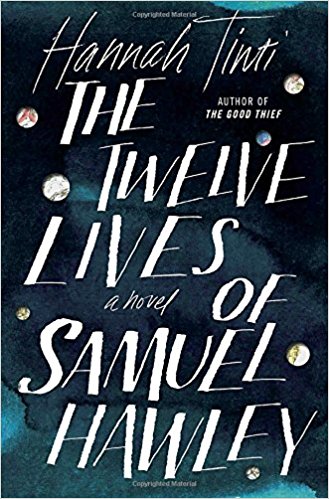 The Twelve Lives Of Samuel Hawley by Hannah Tinti
A coming-of-age novel and a literary thrill ride about the price we pay to protect the people we love most.
Samuel Hawley isn't like the other fathers in Olympus, Massachusetts. A loner who spent years living on the run, he raised his beloved daughter, Loo, on the road, moving from motel to motel, always watching his back. Now that Loo's a teenager, Hawley wants only to give her a normal life. In his late wife's hometown, he finds work as a fisherman, while Loo struggles to fit in at the local high school.
Growing more and more curious about the mother she never knew, Loo begins to investigate. Soon, everywhere she turns, she encounters the mysteries of her parents' lives before she was born. This hidden past is made all the more real by the twelve scars her father carries on his body. Each scar is from a bullet Hawley took over the course of his criminal career. Each is a memory: of another place on the map, another thrilling close call, another moment of love lost and found. As Loo uncovers a history that's darker than she could have known, the demons of her father's past spill over into the present—and together both Hawley and Loo must face a reckoning yet to come.
Buy it here.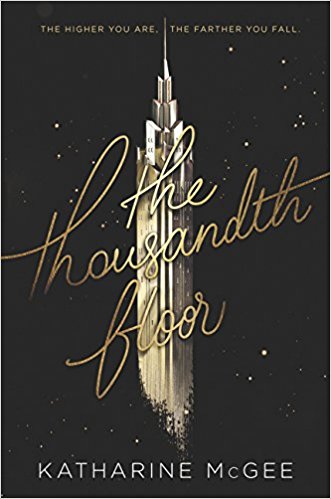 The Thousandth Floor by Katharine McGee
Welcome to Manhattan, 2118.
A hundred years in the future, New York is a city of innovation and dreams. But people never change: everyone here wants something…and everyone has something to lose.
Leda Cole's flawless exterior belies a secret addiction—to a drug she never should have tried and a boy she never should have touched.
Eris Dodd-Radson's beautiful, carefree life falls to pieces when a heartbreaking betrayal tears her family apart.
Rylin Myers's job on one of the highest floors sweeps her into a world—and a romance—she never imagined…but will her new life cost Rylin her old one?
Watt Bakradi is a tech genius with a secret: he knows everything about everyone. But when he's hired to spy by an upper-floor girl, he finds himself caught up in a complicated web of lies.
And living above everyone else on the thousandth floor is Avery Fuller, the girl genetically designed to be perfect. The girl who seems to have it all—yet is tormented by the one thing she can never have.
Debut author Katharine McGee has created a breathtakingly original series filled with high-tech luxury and futuristic glamour, where the impossible feels just within reach. But in this world, the higher you go, the farther there is to fall….
Buy it here.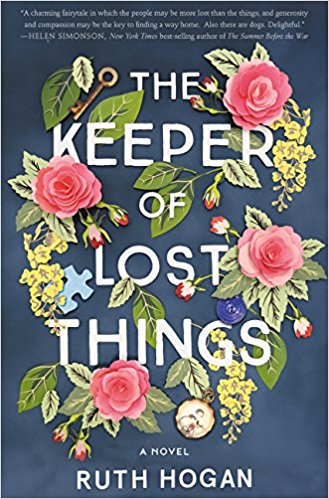 The Keeper of Lost Things by Ruth Hogan
A charming, clever, and quietly moving debut novel of of endless possibilities and joyful discoveries that explores the promises we make and break, losing and finding ourselves, the objects that hold magic and meaning for our lives, and the surprising connections that bind us.
Lime green plastic flower-shaped hair bobbles—Found, on the playing field, Derrywood Park, 2nd September.
Bone china cup and saucer—Found, on a bench in Riveria Public Gardens, 31st October.
Anthony Peardew is the keeper of lost things. Forty years ago, he carelessly lost a keepsake from his beloved fiancée, Therese. That very same day, she died unexpectedly. Brokenhearted, Anthony sought consolation in rescuing lost objects—the things others have dropped, misplaced, or accidently left behind—and writing stories about them. Now, in the twilight of his life, Anthony worries that he has not fully discharged his duty to reconcile all the lost things with their owners. As the end nears, he bequeaths his secret life's mission to his unsuspecting assistant, Laura, leaving her his house and and all its lost treasures, including an irritable ghost.
Recovering from a bad divorce, Laura, in some ways, is one of Anthony's lost things. But when the lonely woman moves into his mansion, her life begins to change. She finds a new friend in the neighbor's quirky daughter, Sunshine, and a welcome distraction in Freddy, the rugged gardener. As the dark cloud engulfing her lifts, Laura, accompanied by her new companions, sets out to realize Anthony's last wish: reuniting his cherished lost objects with their owners.
Long ago, Eunice found a trinket on the London pavement and kept it through the years. Now, with her own end drawing near, she has lost something precious—a tragic twist of fate that forces her to break a promise she once made.
As the Keeper of Lost Objects, Laura holds the key to Anthony and Eunice's redemption. But can she unlock the past and make the connections that will lay their spirits to rest?
Buy it here.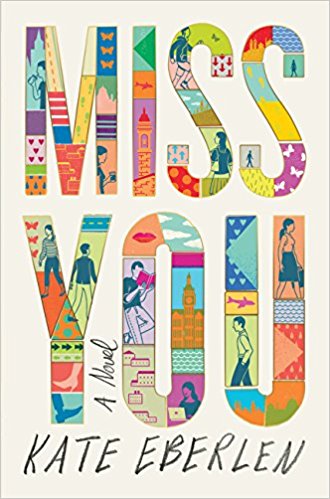 Miss You by Kate Eberlen
"If ever a couple was 'meant to be,' it's Tess and Gus. This is such a witty, poignant, and uplifting story of two lives crisscrossing over the years, with near miss after near miss. . . . I couldn't put it down."—Sophie Kinsella
A wryly romantic debut novel with echoes of One Day that asks, what if you just walked by the love of your life, but didn't even know it?
"TODAY IS THE FIRST DAY OF THE REST OF YOUR LIFE." Tess can't get the motto from her mother's kitchen knickknack out of her head, even though she's in Florence on an idyllic vacation before starting university in London.
Gus is also visiting Florence, on a holiday with his parents seven months after tragedy shattered their lives. Headed to medical school in London, he's trying to be a dutiful son but longs to escape and discover who he really is.
A chance meeting brings these eighteen-year-olds together for a brief moment—the first of many times their paths will crisscross as time passes and their lives diverge from those they'd envisioned. Over the course of the next sixteen years, Tess and Gus will face very different challenges and choices. Separated by distance and circumstance, the possibility of these two connecting once more seems slight.
But while fate can separate two people, it can also bring them back together again. . . .
Buy it here.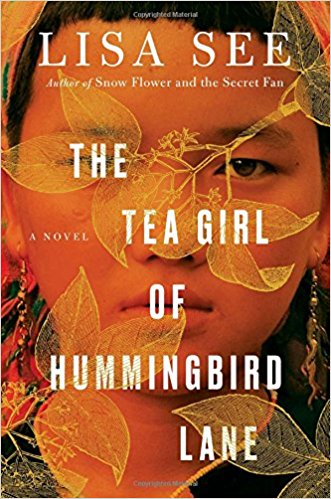 The Tea Girl of Hummingbird Lane by Lisa See
Li-yan and her family align their lives around the seasons and the farming of tea. There is ritual and routine, and it has been ever thus for generations. Then one day a jeep appears at the village gate—the first automobile any of them have seen—and a stranger arrives.
In this remote Yunnan village, the stranger finds the rare tea he has been seeking and a reticent Akha people. In her biggest seller, Snow Flower and the Secret Fan, See introduced the Yao people to her readers. Here she shares the customs of another Chinese ethnic minority, the Akha, whose world will soon change. Li-yan, one of the few educated girls on her mountain, translates for the stranger and is among the first to reject the rules that have shaped her existence. When she has a baby outside of wedlock, rather than stand by tradition, she wraps her daughter in a blanket, with a tea cake hidden in her swaddling, and abandons her in the nearest city.
After mother and daughter have gone their separate ways, Li-yan slowly emerges from the security and insularity of her village to encounter modern life while Haley grows up a privileged and well-loved California girl. Despite Haley's happy home life, she wonders about her origins; and Li-yan longs for her lost daughter. They both search for and find answers in the tea that has shaped their family's destiny for generations.
A powerful story about a family, separated by circumstances, culture, and distance, Tea Girl of Hummingbird Lane paints an unforgettable portrait of a little known region and its people and celebrates the bond that connects mothers and daughters.
Buy it here.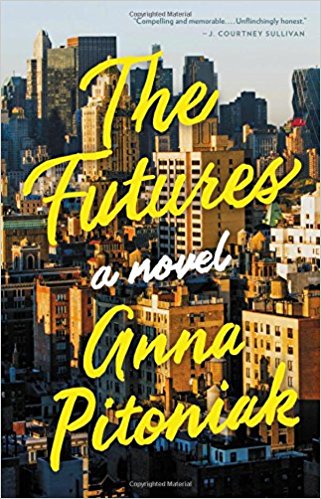 The Futures by Anna Pitoniak
In this dazzling debut novel about love and betrayal, a young couple moves to New York City in search of success-only to learn that the lives they dream of may come with dangerous strings attached.
Julia and Evan fall in love as undergraduates at Yale. For Evan, a scholarship student from a rural Canadian town, Yale is a whole new world, and Julia–blond, beautiful, and rich–fits perfectly into the future he's envisioned for himself. After graduation, and on the eve of the great financial meltdown of 2008, they move together to New York City, where Evan lands a job at a hedge fund. But Julia, whose privileged upbringing grants her an easy but wholly unsatisfying job with a nonprofit, feels increasingly shut out of Evan's secretive world.
With the market crashing and banks failing, Evan becomes involved in a high-stakes deal at work–a deal that, despite the assurances of his Machiavellian boss, begins to seem more than slightly suspicious. Meanwhile, Julia reconnects with someone from her past who offers a glimpse of a different kind of live. As the economy craters, and as Evan and Julia spin into their separate orbits, they each find that they are capable of much more–good and bad–than they'd ever imagined.
Rich in suspense and insight, Anna Pitoniak's gripping debut reveals the fragile yet enduring nature of our connections: to one another and to ourselves. THE FUTURES is a glittering story of a couple coming of age, and a searing portrait of what it's like to be young and full of hope in New York City, a place that so often seems determined to break us down–but ultimately may be the very thing that saves us.
Buy it here.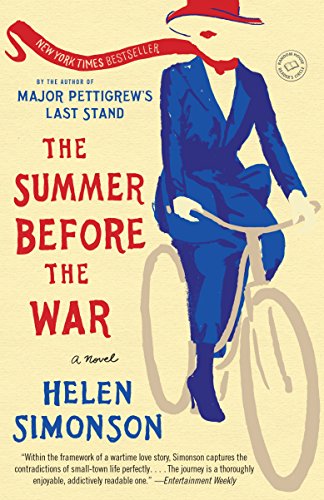 The Summer Before the War by Helen Simonson
NAMED ONE OF THE BEST BOOKS OF THE YEAR BY THE WASHINGTON POST AND NPR
East Sussex, 1914. It is the end of England's brief Edwardian summer, and everyone agrees that the weather has never been so beautiful. Hugh Grange, down from his medical studies, is visiting his Aunt Agatha, who lives with her husband in the small, idyllic coastal town of Rye. Agatha's husband works in the Foreign Office, and she is certain he will ensure that the recent saber rattling over the Balkans won't come to anything. And Agatha has more immediate concerns; she has just risked her carefully built reputation by pushing for the appointment of a woman to replace the Latin master.
When Beatrice Nash arrives with one trunk and several large crates of books, it is clear she is significantly more freethinking—and attractive—than anyone believes a Latin teacher should be. For her part, mourning the death of her beloved father, who has left her penniless, Beatrice simply wants to be left alone to pursue her teaching and writing.
But just as Beatrice comes alive to the beauty of the Sussex landscape and the colorful characters who populate Rye, the perfect summer is about to end. For despite Agatha's reassurances, the unimaginable is coming. Soon the limits of progress, and the old ways, will be tested as this small Sussex town and its inhabitants go to war.
Buy it here.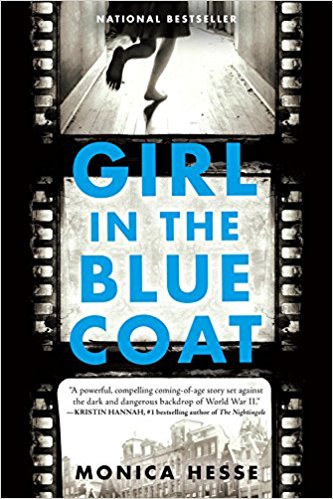 Girl in the Blue Coat by Monica Hesse
Amsterdam, 1943. Hanneke spends her days procuring and delivering sought-after black market goods to paying customers, her nights hiding the true nature of her work from her concerned parents, and every waking moment mourning her boyfriend, who was killed on the Dutch front lines when the Germans invaded. She likes to think of her illegal work as a small act of rebellion.
On a routine delivery, a client asks Hanneke for help. Expecting to hear that Mrs. Janssen wants meat or kerosene, Hanneke is shocked by the older woman's frantic plea to find a person – a Jewish teenager Mrs. Janssen had been hiding, who has vanished without a trace from a secret room. Hanneke initially wants nothing to do with such dangerous work, but is ultimately drawn into a web of mysteries and stunning revelations that lead her into the heart of the resistance, open her eyes to the horrors of the Nazi war machine, and compel her to take desperate action.
Beautifully written, intricately plotted, and meticulously researched, Girl in the Blue Coat is an extraordinary, gripping novel about bravery, grief, and love in impossible times.
Buy it here.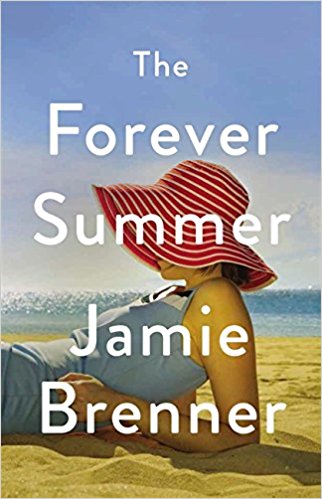 The Forever Summer by Jamie Brenner
When a DNA test reveals long-buried secrets, three generations of women reunite on Cape Cod for the homecoming of a lifetime.
Marin Bishop has always played by the rules, and it's paid off: at twenty-eight she has a handsome fiancé, a prestigious Manhattan legal career, and the hard-won admiration of her father. But one moment of weakness leaves Marin unemployed and alone, all in a single day. Then a woman claiming to be Marin's half-sister shows up, and it's all Marin can do not to break down completely. Seeking escape, Marin agrees to a road trip to meet the grandmother she never knew she had. As the summer unfolds at her grandmother's quaint beachside B&B, it becomes clear that the truth of her half-sister is just the beginning of revelations that will change Marin's life forever. THE FOREVER SUMMER is a delicious page-turner and a provocative exploration of what happens when our notions of love, truth, and family are put to the ultimate test.
Full of delicious descriptions of coastal New England and richly imagined characters, THE FOREVER SUMMER is an emotional, hot-topic page-turner and a must-read.
Buy it here.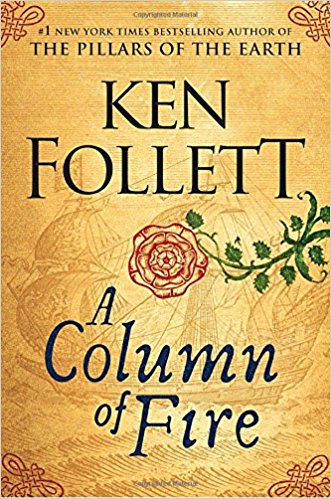 A Column of Fire by Ken Follett
In 1558, the ancient stones of Kingsbridge Cathedral look down on a city torn apart by religious conflict. As power in England shifts precariously between Catholics and Protestants, royalty and commoners clash, testing friendship, loyalty, and love.
Ned Willard wants nothing more than to marry Margery Fitzgerald. But when the lovers find themselves on opposing sides of the religious conflict dividing the country, Ned goes to work for Princess Elizabeth. When she becomes queen, all Europe turns against England. The shrewd, determined young monarch sets up the country's first secret service to give her early warning of assassination plots, rebellions, and invasion plans. Over a turbulent half century, the love between Ned and Margery seems doomed as extremism sparks violence from Edinburgh to Geneva. Elizabeth clings to her throne and her principles, protected by a small, dedicated group of resourceful spies and courageous secret agents.
The real enemies, then as now, are not the rival religions. The true battle pitches those who believe in tolerance and compromise against the tyrants who would impose their ideas on everyone else—no matter what the cost.
Set during one of the most turbulent and revolutionary times in history, A Column of Fire is one of Follett's most exciting and ambitious works yet. It will delight longtime fans of the Kingsbridge series and is the perfect introduction for readers new to Ken Follett.
Buy it here.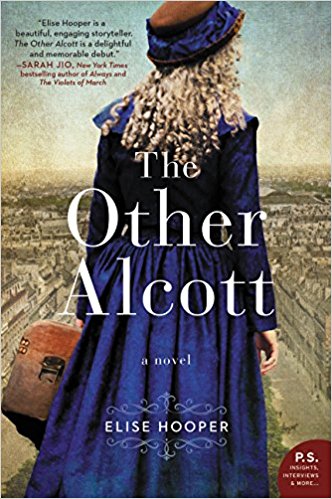 The Other Alcott by Elise Hooper
Elise Hooper's debut novel conjures the fascinating, untold story of May Alcott—Louisa's youngest sister and an artist in her own right.
We all know the story of the March sisters, heroines of Louisa May Alcott's Little Women. But while everyone cheers on Jo March, based on Louisa herself, Amy March is often the least favorite sister. Now, it's time to learn the truth about the real "Amy", Louisa's sister, May.
Stylish, outgoing, creative, May Alcott grows up longing to experience the wide world beyond Concord, Massachusetts. While her sister Louisa crafts stories, May herself is a talented and dedicated artist, taking lessons in Boston, turning down a marriage proposal from a well-off suitor, and facing scorn for entering what is very much a man's profession.
Life for the Alcott family has never been easy, so when Louisa's Little Women is published, its success eases the financial burdens they'd faced for so many years. Everyone agrees the novel is charming, but May is struck to the core by the portrayal of selfish, spoiled "Amy March." Is this what her beloved sister really thinks of her?
So May embarks on a quest to discover her own true identity, as an artist and a woman. From Boston to Rome, London, and Paris, this brave, talented, and determined woman forges an amazing life of her own, making her so much more than merely "The Other Alcott."
Buy it here.
---
What's on your fall reading list? I'll take all of the recommendations I can get!
---
And if you're looking for even more amazing books (or just want to join the club and save a dozen more to your wish list), check out last year's 12 Must-Read Books for 2016, and the year before: 12 Must-Read Books for 2015.
---
Looking to binge-watch a few great shows instead? I've got you covered. The Best Shows to Binge-Watch on Netflix, Hulu, and Amazon Prime Streaming (This list is HUGE!)
---
This post contains affiliate links, which means that if you click on one of the product links, I'll receive a small commission. Thank you so much for clicking through and helping to support this little blog business of mine! Read more about our site, privacy, and disclosure policies here.