This post contains affiliate links, which means that if you click on one of the product links, I'll receive a small commission. Additionally, as an Amazon Associate I earn from qualifying purchases. Thank you so much for clicking through and helping to support this little blog business of mine! Read more about our site, privacy, and disclosure policies here.
World Market's latest collection is here and it's all about the kids! The new collection is full of the cutest furniture, beautiful and fun toys and games, and stylish décor pieces and storage for your kid's play area or bedroom!
When it comes to home décor and furniture, especially for our rental, I always love shopping at World Market! They have so many great pieces for every room in our home that are high-quality, look great, and don't cost a fortune. The only area that seemed to be missing? Kids!
With two small girls at home, I'm always looking for fun pieces to update their play areas and bedrooms without spending a whole lot of money. Bonus points if I can shop for them and other rooms in our home in one fell swoop! So when World Market launched their kid's collection last week, you can only image how excited I was!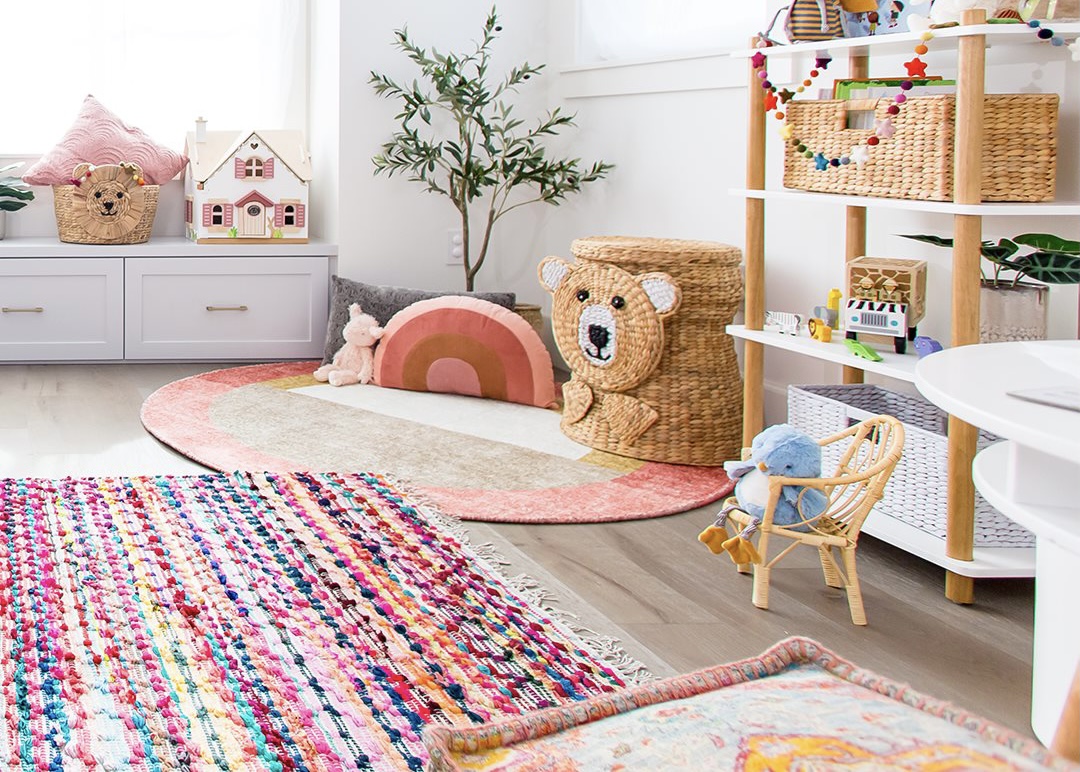 And get this; the World Market Kids Collection is chock full of so much more than just stylish décor, furniture, and rugs – they've started selling beautiful, high-quality toys, artwork, storage solutions, accessories, crafts, kids activities, even costumes and accessories for make believe and dress-up.
To make shopping even easier, I've rounded up some of my favorites from the new World Market kids collection. What do you have your eye on? Any favorite finds from the launch?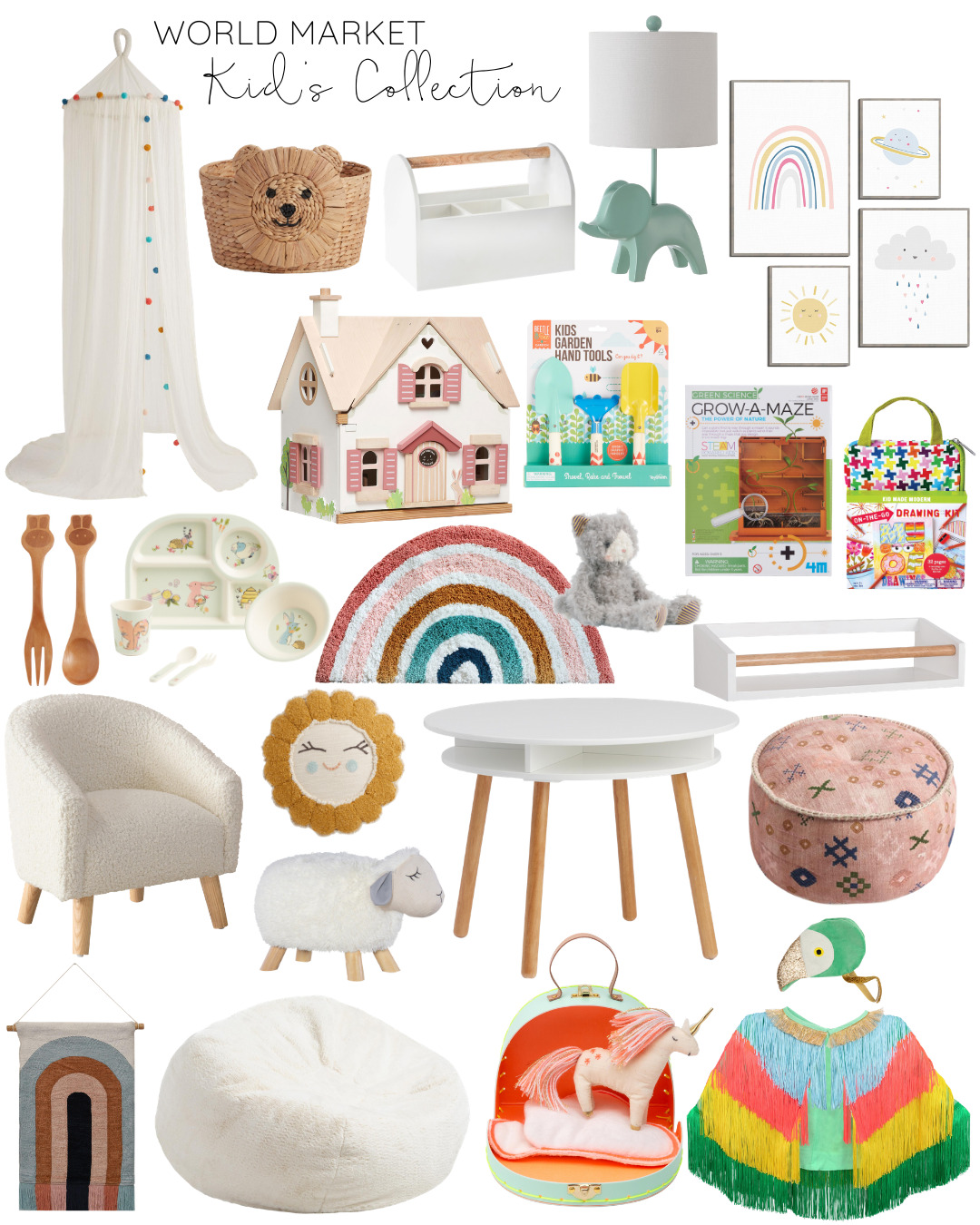 The Best World Market Kids Collection Finds
Made from a light-weigh cotton gauze fabric, this canopy will add a magical element to any space! Perfect to drape over a crib or bassinet, or added to a reading nook, your kiddos will love this fun canopy!
Keep play areas and bedrooms organized in these adorable baskets! The little lion face is so darling and is sure to bring a smile to your little one's face.
Caddy's are not only a great way to keep things organized while still looking cute, but they're also great for on the go! I love that this one has four different sections to keep everything organized.
Who else loves a good accent lamp?! This elephant one is so cute and comes in three different color options, making it easier to fit in with your design style.
Gallery wall made easy! This set of four prints is ready to be hung and will instantly add a fun visual aspect to any room.
How stinkin' cute is this dollhouse?! So many dollhouses you see now are very modern and I'm loving that this one is more quaint. It looks like it's right out of a fairy tale!
With spring right around the corner, it's time to start thinking of outdoor activities to do! This three-piece garden tool set is great for sand boxes but can also be a fun way to incorporate your kids into yard work!
This grow a maze kit is SO cute and is a great way to get in touch with nature, even when you're stuck inside! Simply plant a bean and watch it grow, no green thumb required!
Keep your kids entertained when you're on the go with this cute drawing kit! Complete with mini colored pencils, a sharpener, and a 132-page sketch book.
Make mealtime even more fun with this cute bunny fork and spoon set! The set is super lightweight, making it easy for little hands to grip and maneuver.
If your kids love fun plates as much as mine do, this set is a must! While it is Easter-themed, it's super cute to use all year long!
Transform any space in your home with this half-circle rug turned rainbow! The colors are so darling, it's easy to clean, and is a great option for spaces that a traditional rug might not fit.
Can you even handle the cuteness of this stuffed kitty?! The shaggy fur and floppy limbs are so cute! I love that the maker, Bunnies By The Bay is a woman-owned company that strives to tell uplifting stories of friendship!
Don't have the floor space for a traditional book shelf? This wall shelf is a great option! They also help give visual appeal to a room while keep your kids favorite books organized.
Can I get one of these in adult size? This cozy faux sheepskin upholstered chair is the perfect piece for a reading nook or playroom.
Throw pillows are one of my favorite ways to freshen up a space and this sunshine one is so cute for spring!
This cute and whimsical upholstered sheep stool is the perfect piece for a playroom or nursery! She's super soft and can easily be arranged for reading, a seat at a table, or as an ottoman.
Short on space and need to be intentional with the items you add to your play room? This storage table is the perfect option! It gives your kids a place to draw and do crafts and the shelving is perfect for storing coloring books, crafting supplies, and even rouge toys.
There's nothing better than a kid's furniture find that can easily blend into the decor of the rest of your home! This pouf is giving me major boho vibes and is great for additional seating options for kiddos in a space.
Can you tell I'm on a colorful rainbow kick right now?! This woven rainbow wall hanging will add colorful cheer to any room!
Is anyone else a sucker for a cute bean bag chair?! They're always a great seating option in a play room or bedroom and I love that they can easily be moved throughout the home, especially for movie night!
Why is it that normal, every day items are so much cuter when they're mini!? This mini rainbow suitcase is so cute and it's such an easy way to get your kids more excited for travel!
Looking to spark your kiddos imagination? This parrot dress up costume is a must! The colors are so pretty and it's the perfect activity for a rainy day.
Are you a fan of World Market? Have you checked out their new kids collection? Any favorites?
SHOP MY FAVORITE WORLD MARKET KID'S COLLECTION FINDS | CLICK LEFT & RIGHT ARROWS TO EXPLORE