This post contains affiliate links, which means that if you click on one of the product links, I'll receive a small commission. Additionally, as an Amazon Associate I earn from qualifying purchases. Thank you so much for clicking through and helping to support this little blog business of mine! Read more about our site, privacy, and disclosure policies here.
Our sweet Adelaide turned one not too long ago and we threw her the sweetest, simple wildflower themed 1st birthday brunch at home to celebrate, complete with a cake covered in pressed flowers, a boho low table setup, and the cutest flower sunglasses.
Adelaide's Wildflower 1st Birthday Brunch Garden Party
For Adelaide's very first birthday, we kept the party to just our family; though naturally, I went all out with the party decorations.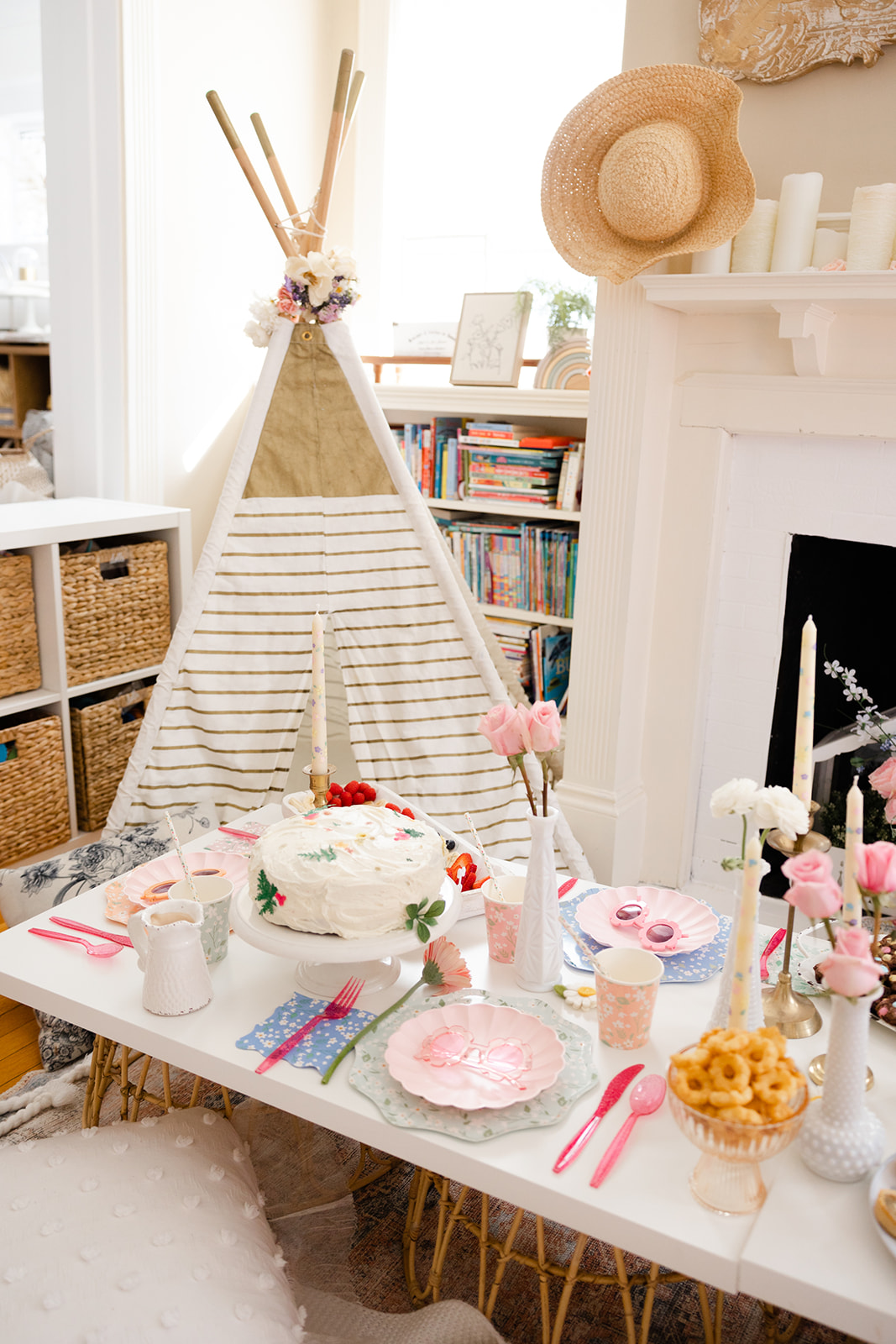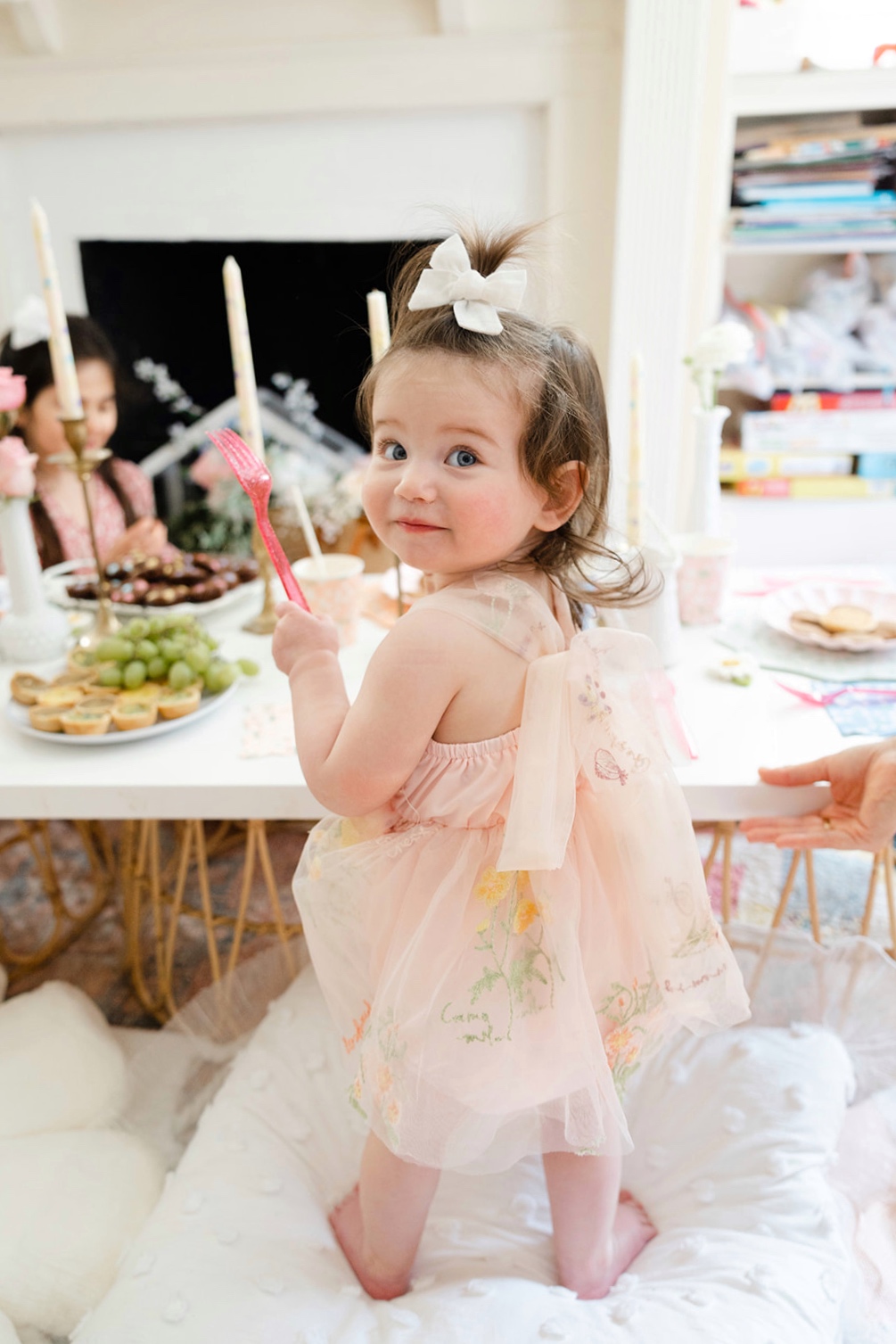 Adelaide's Wildflower 1st Birthday Brunch Garden Party Décor
Because Adelaide's party was at home in our playroom, and of course because she had just turned one and wasn't yet walking, I wanted the space to feel extra cozy and safe for her.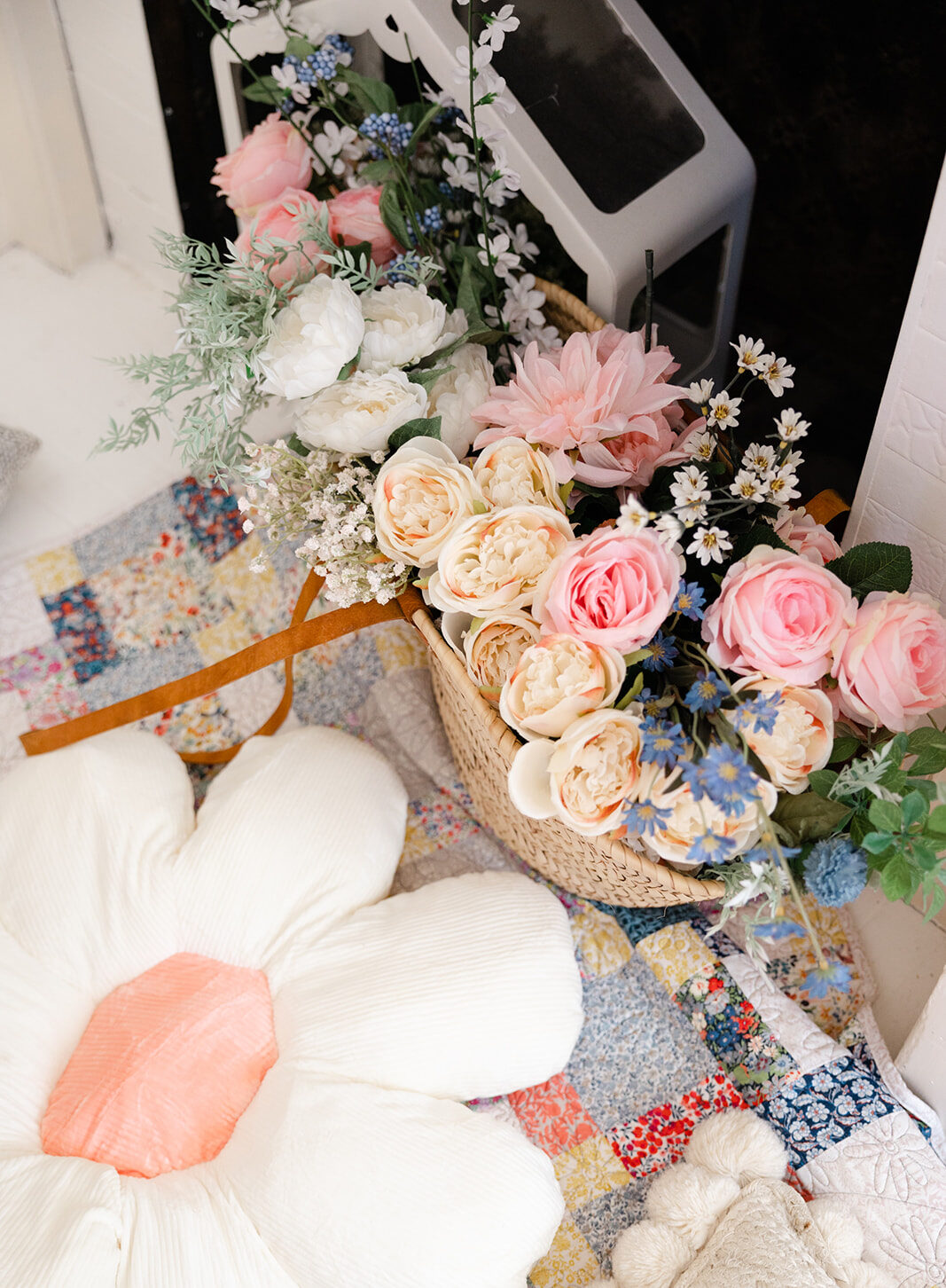 Wildflower 1st Birthday Party Design
To create the perfect at-home party space, I laid down a few cozy washable rugs and blankets (including the quilt my mom made for Adelaide when she was born!), then created our favorite DIY IKEA low picnic table, and surrounded the table with pillows and floor cushions.
I found these adorable daisy pillows on Amazon at the last minute and they are impressively soft and cuddly. I purchased the largest 28.5" size so that they could be used as oversized floor cushions for parties and hanging out. My girls have each claimed one for their bed since the party.
The décor was a just a whole lot of flowers, both real (in milk glass vases) and a big basket of faux flowers in a french market tote.
I also topped each party guest's place setting with a pair of flower sunglasses; because I love a cute sunny moment. 👓 (By the way, this pack of 8 kids flower sunglass pairs from Amazon is the BEST. The sunglasses are super sturdy, come in so many fun colors, double as the perfect summer party favor, and are really affordable. I find myself buying a new pack every few summers for the girls to wear for months on end.)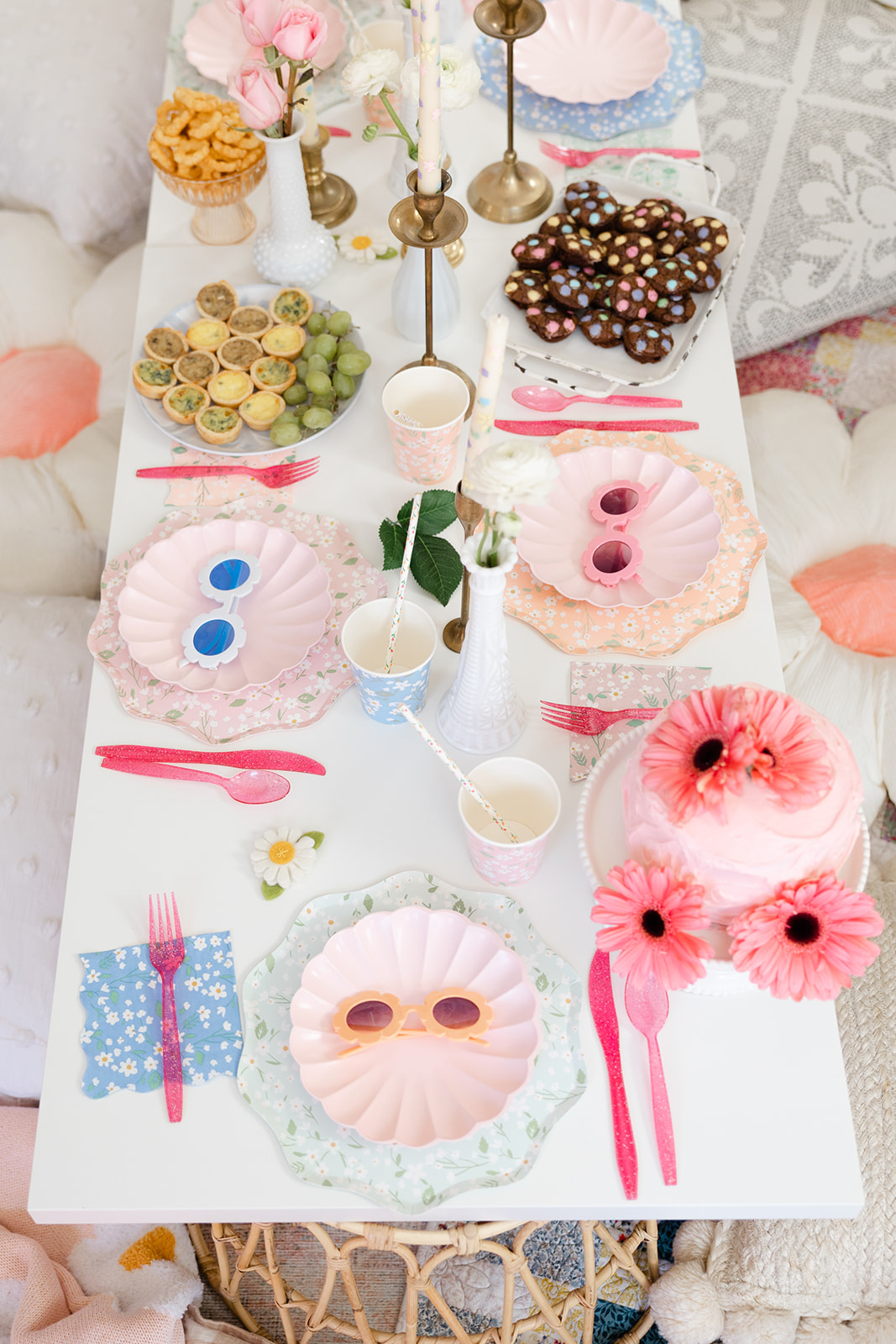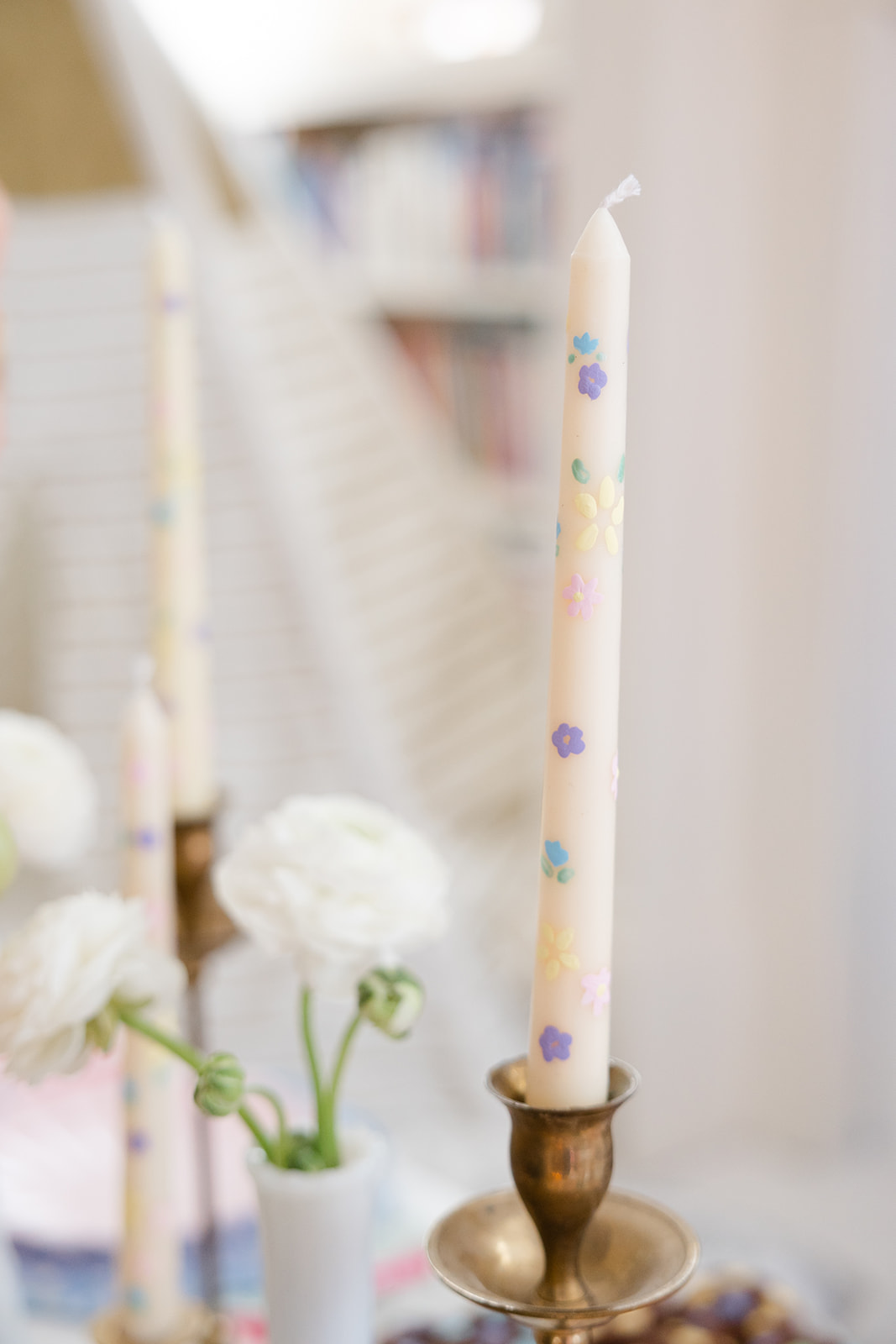 DIY Painted Taper Candlesticks
I also used the hand-painted flower candlesticks I made (check out this DIY post for the easy tutorial on painting your own candles) in a bunch of vintage brass candlestick holders I've collected over the years.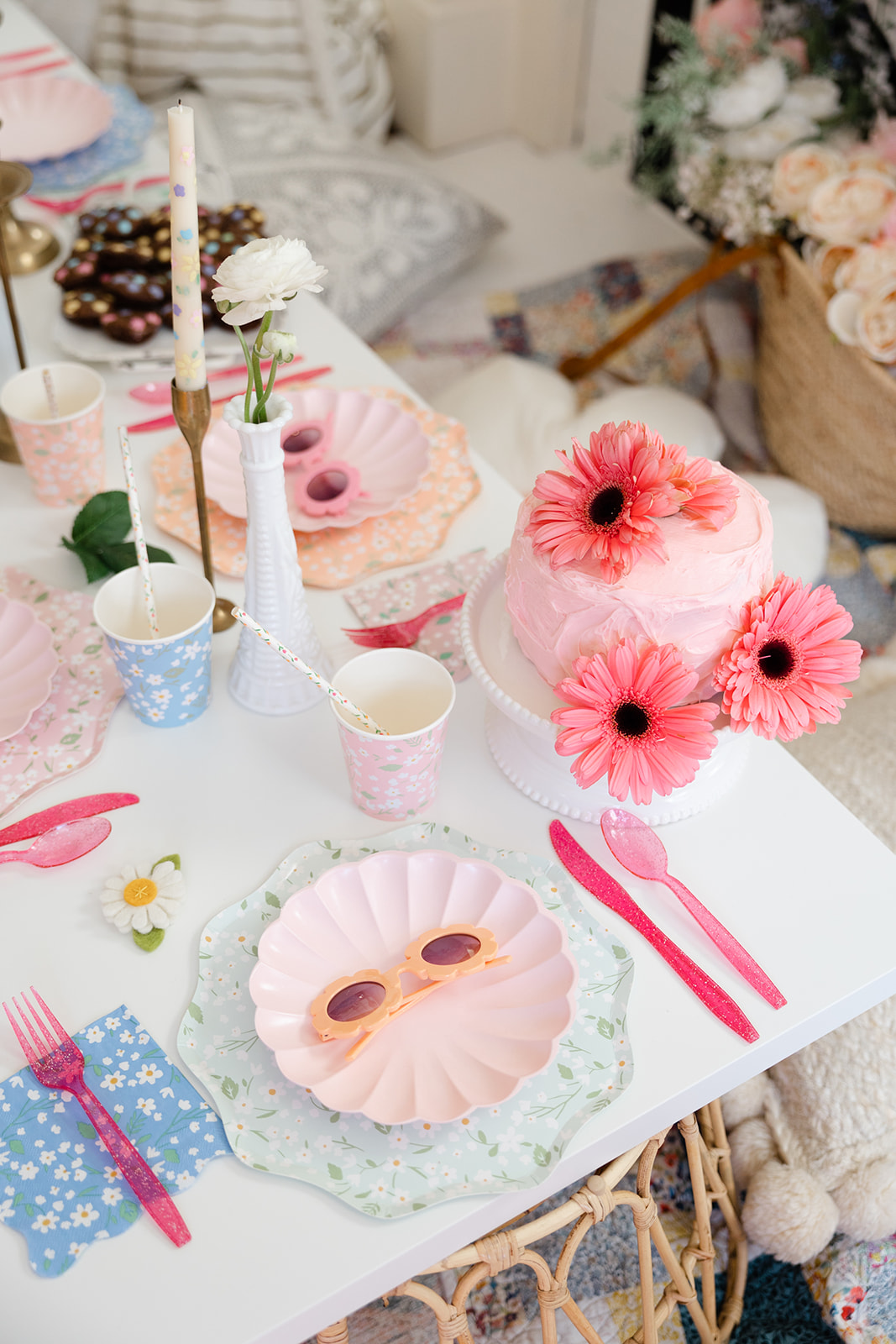 DIY IKEA Low Picnic Table
I loved our DIY IKEA low picnic table setup from Emmeline's 5th birthday costume party so much, we went with that again.
The bohemian-inspired low picnic tables, made using IKEA LINNMON tabletops and IKEA SNIDAD baskets (thanks to this awesome inspiration) has quickly become one of my favorite ways to set up tables for a kids party.
You can see the full tutorial for these boho DIY IKEA low picnic tables on our last party post; right here.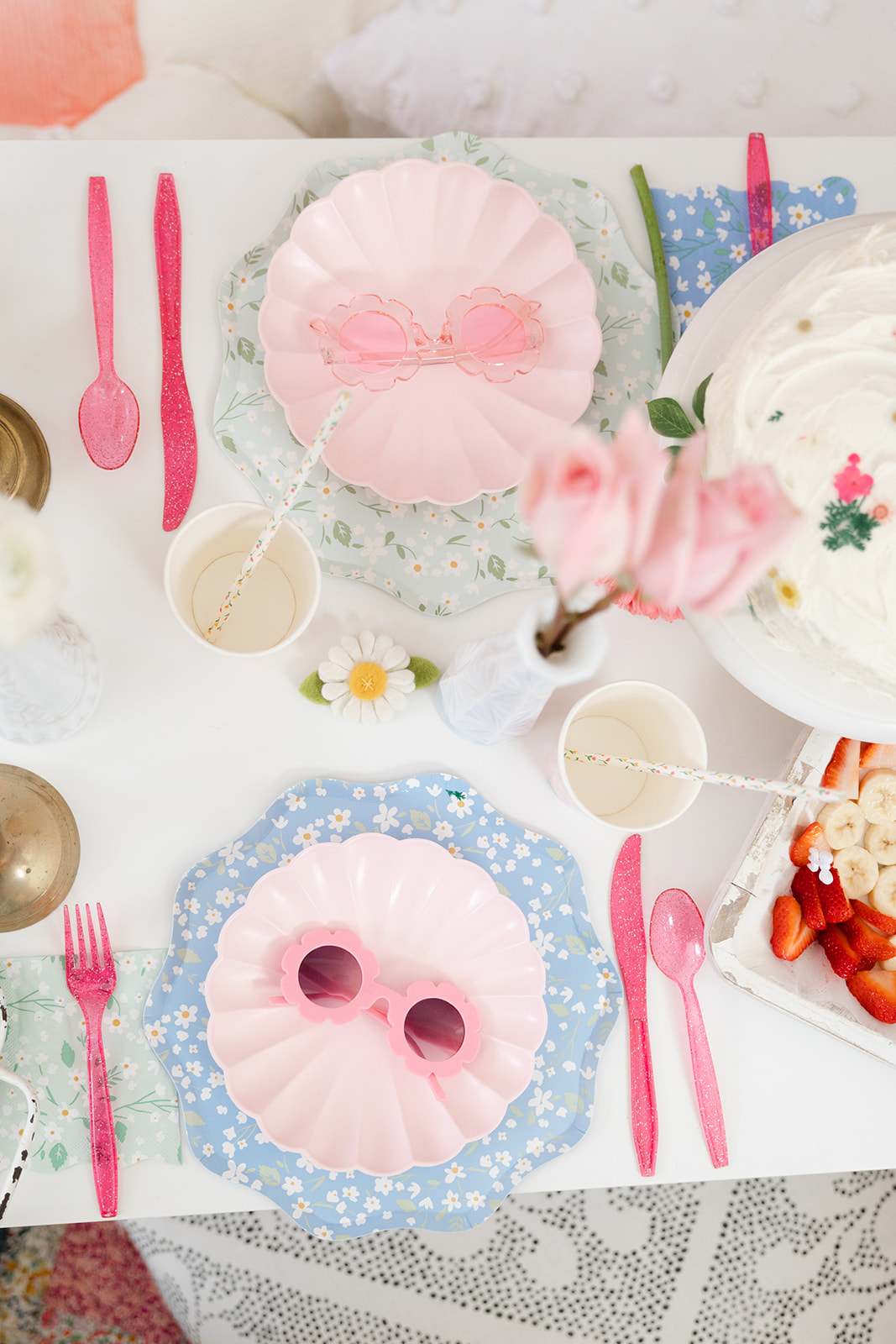 Wildflower 1st Birthday Party Table Setting
The party plates, cups, and napkins were all the Meri Meri Ditsy Floral party collection, plus the Meri Meri Scalloped plates (which I love and use any chance I get!)
You can find similar pink plastic cutlery on Amazon and flower-print paper straws on Amazon as well.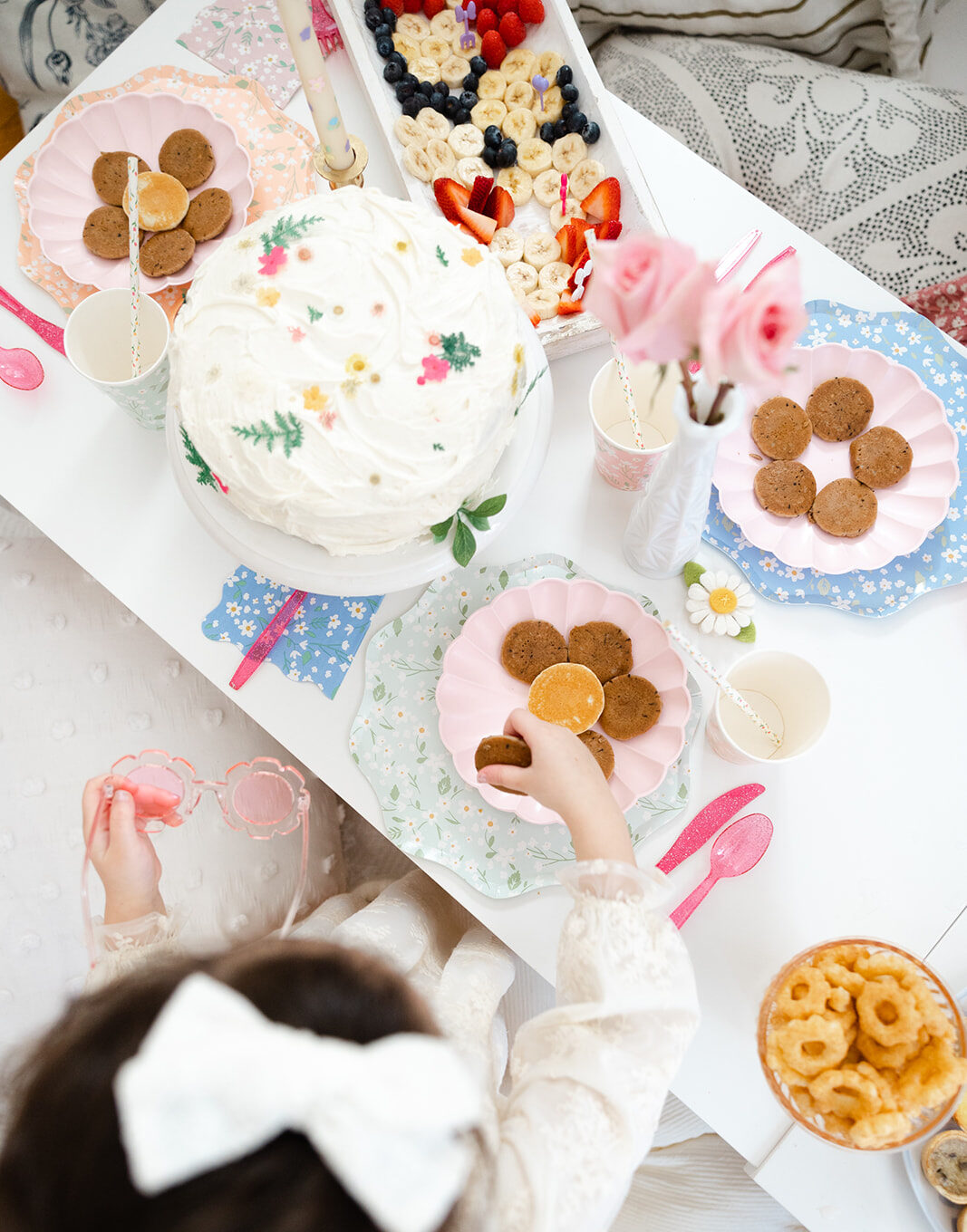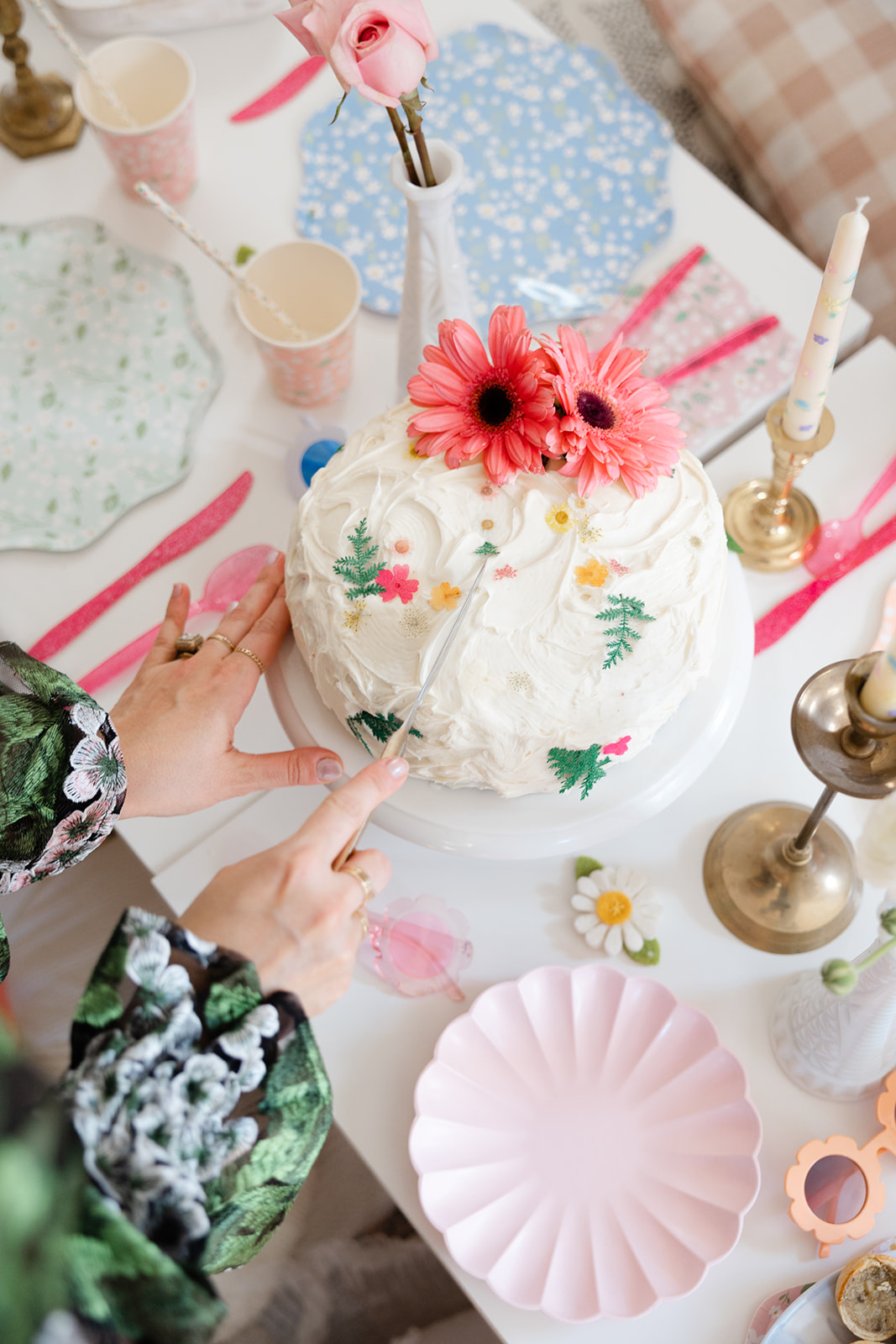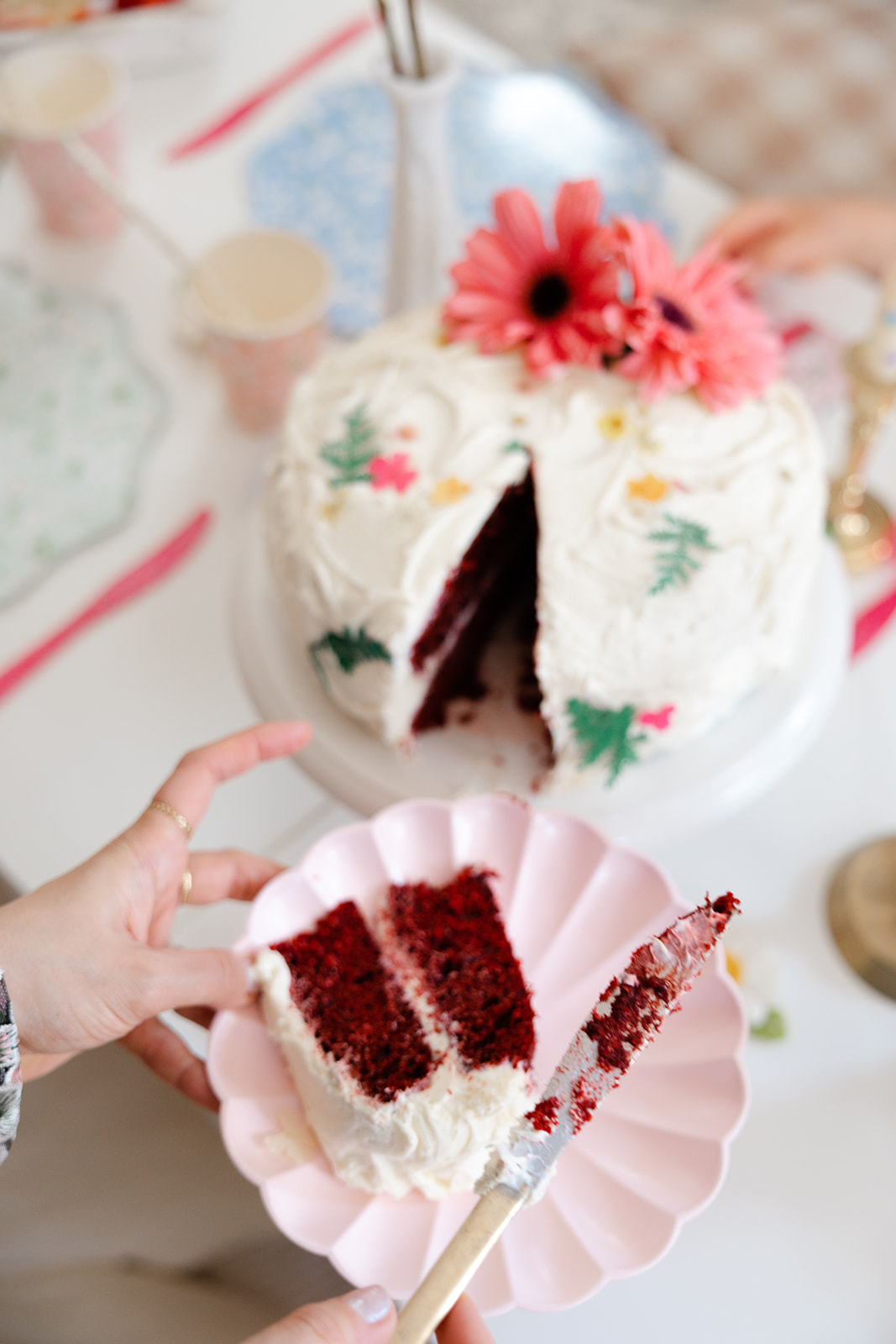 For the party menu, we went with a brunch spread because our Adelaide loves breakfast.
Wildflower 1st Birthday Brunch Menu
Mini pancakes (styled as daisies) and syrup
mini quiche
fruit: strawberries, blueberries, raspberries, and bananas (all of Addie's favorites)
mini brownies topped with pastel m&ms to look like daisies
Bamba Peanut Butter Suns (Another favorite of Addie's that we decided looked like flowers!)
two kinds of cake: our favorite vanilla smash cake (grab the recipe here) and a homemade red velvet cake that we decorated with dried, pressed flowers
juice and coffee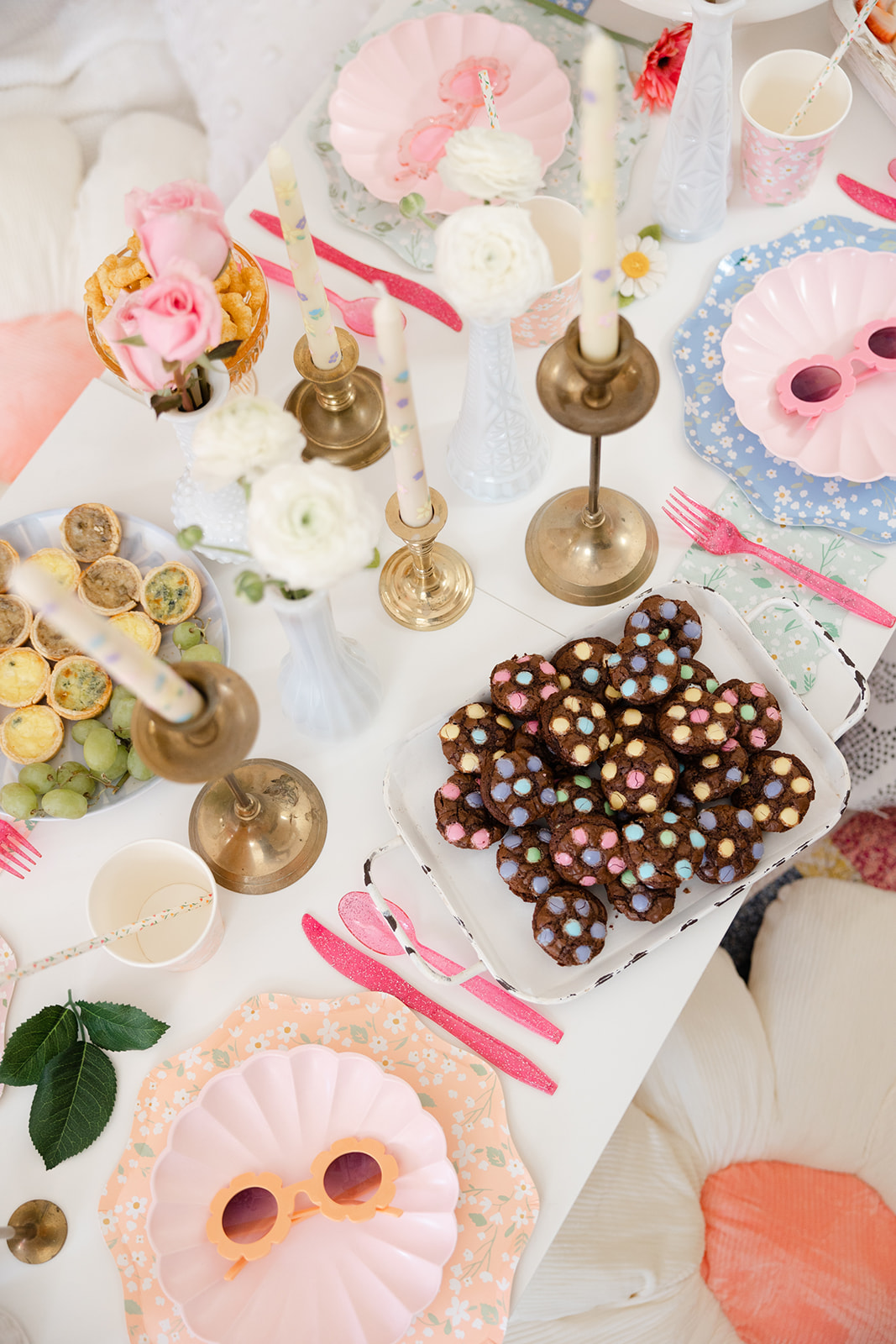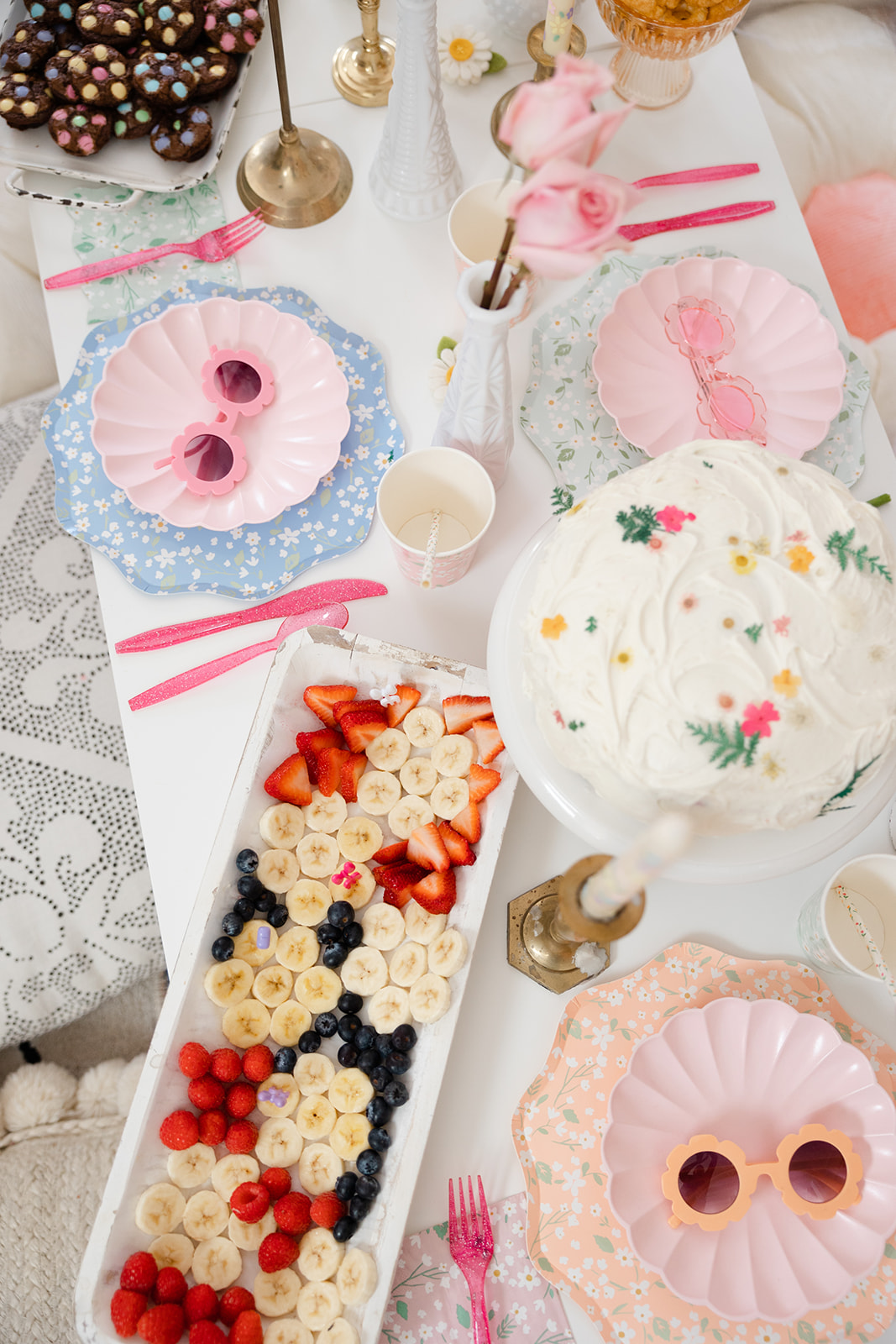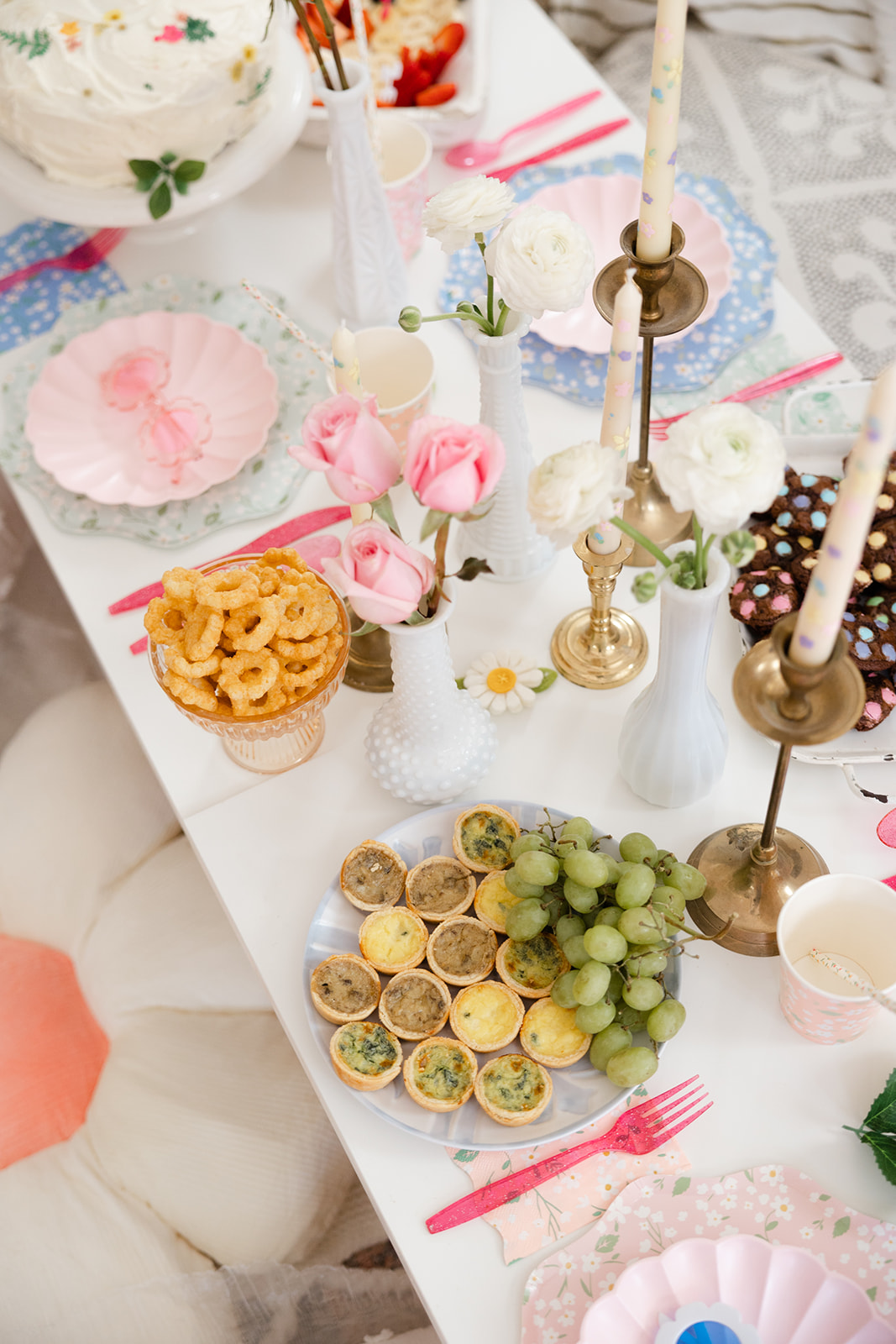 Adelaide's big sisters – Scarlett and Emmeline – loved helping decorate our daisy M&M brownies and the wildflower birthday cake.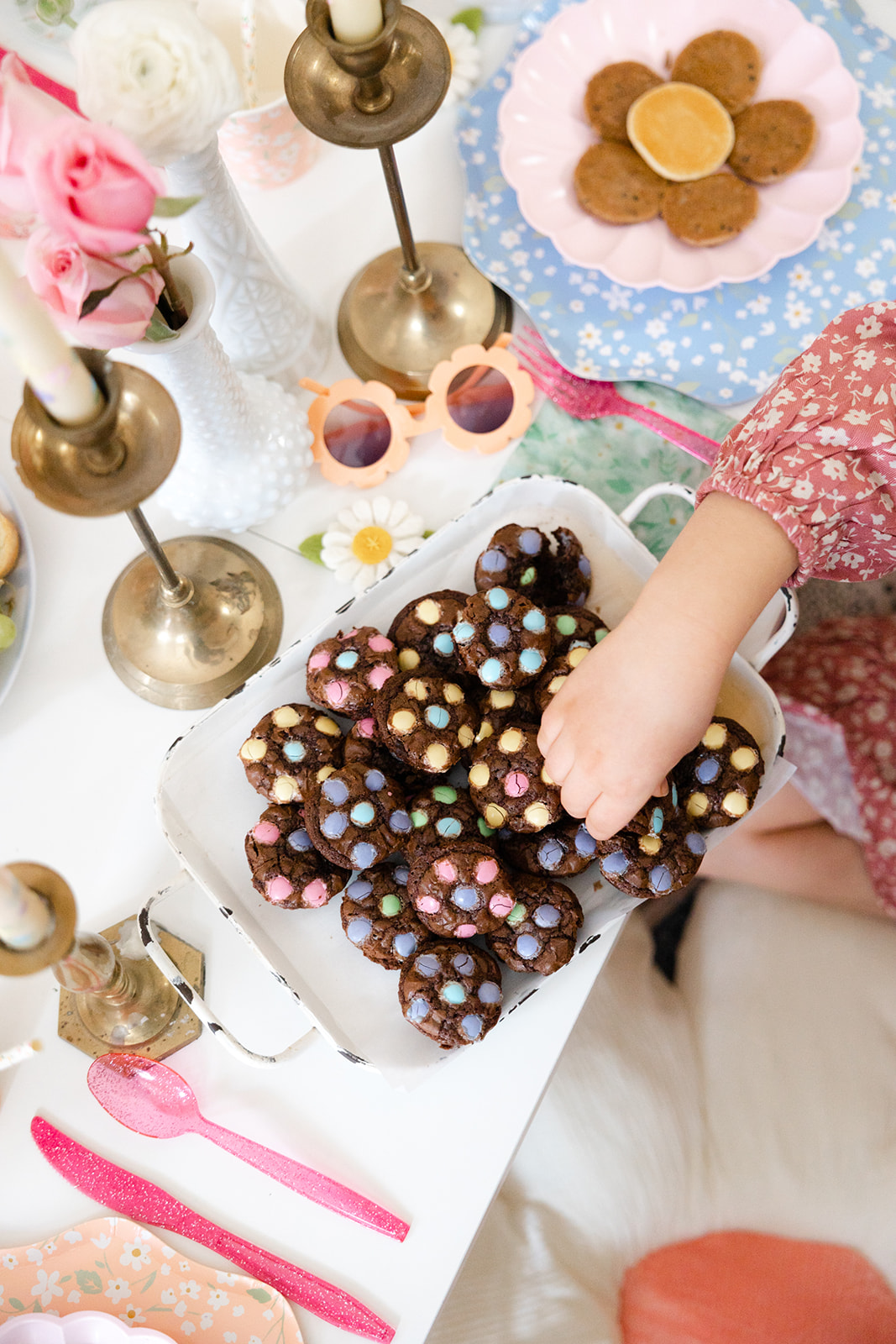 And of course, the mini pancakes were a huge hit.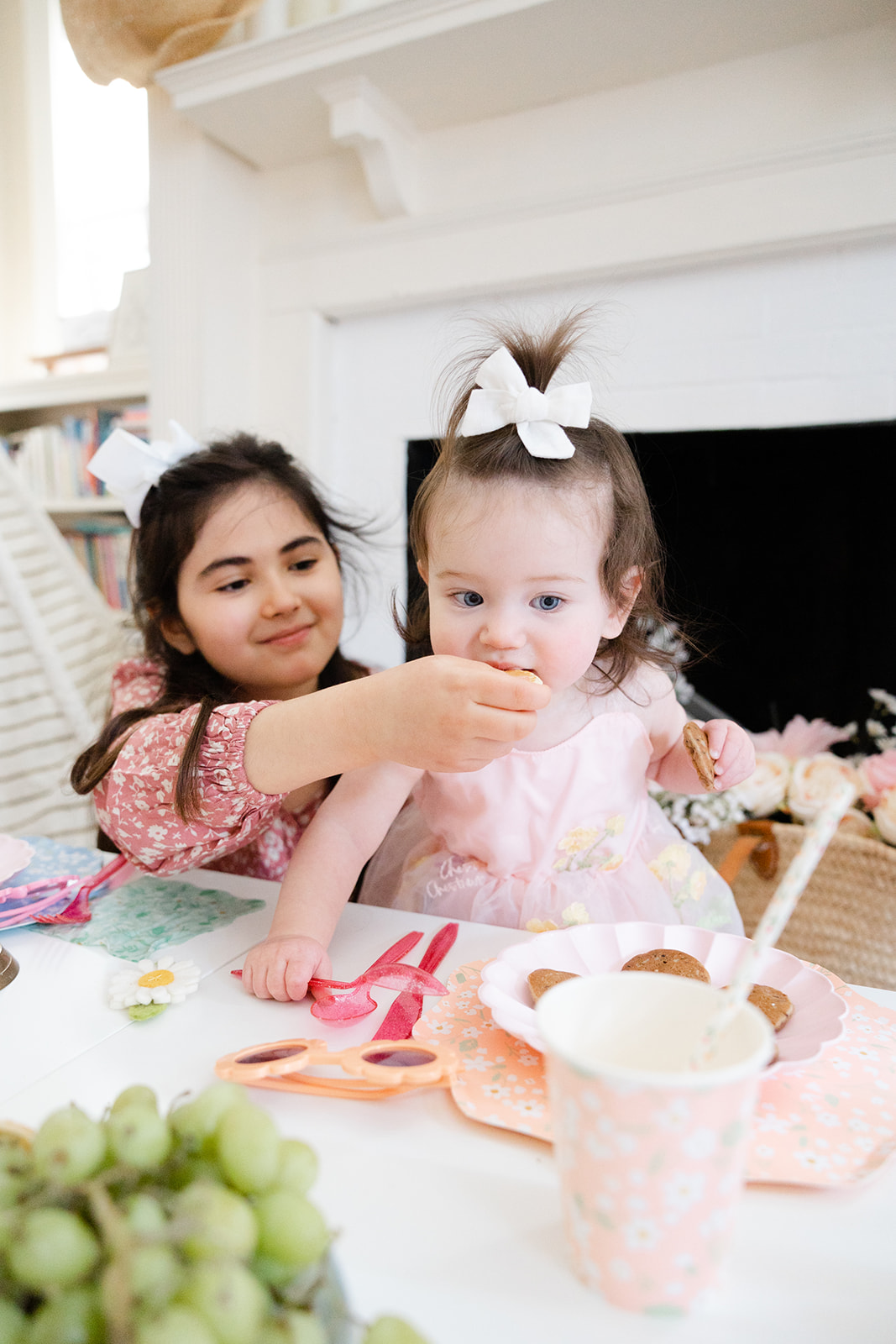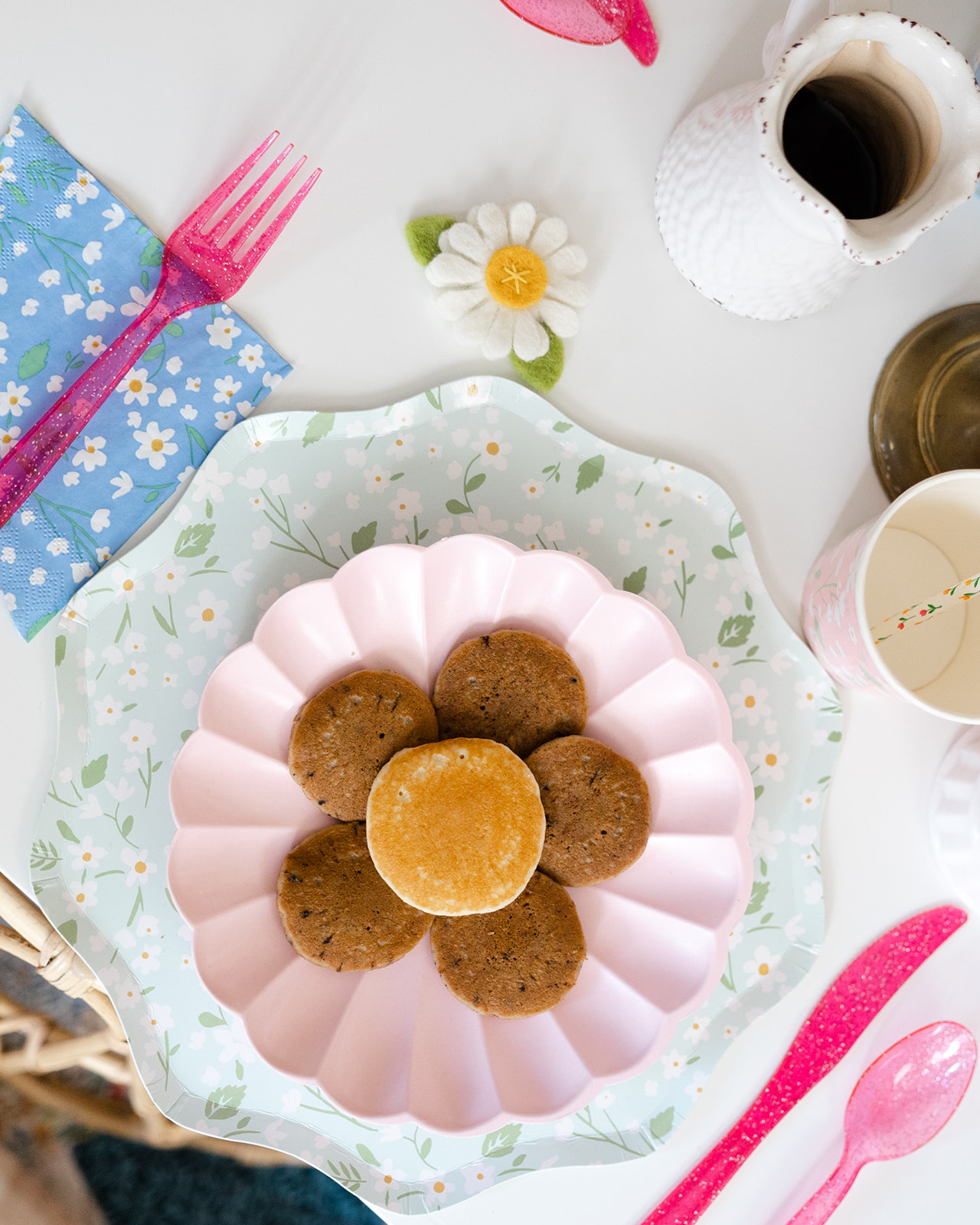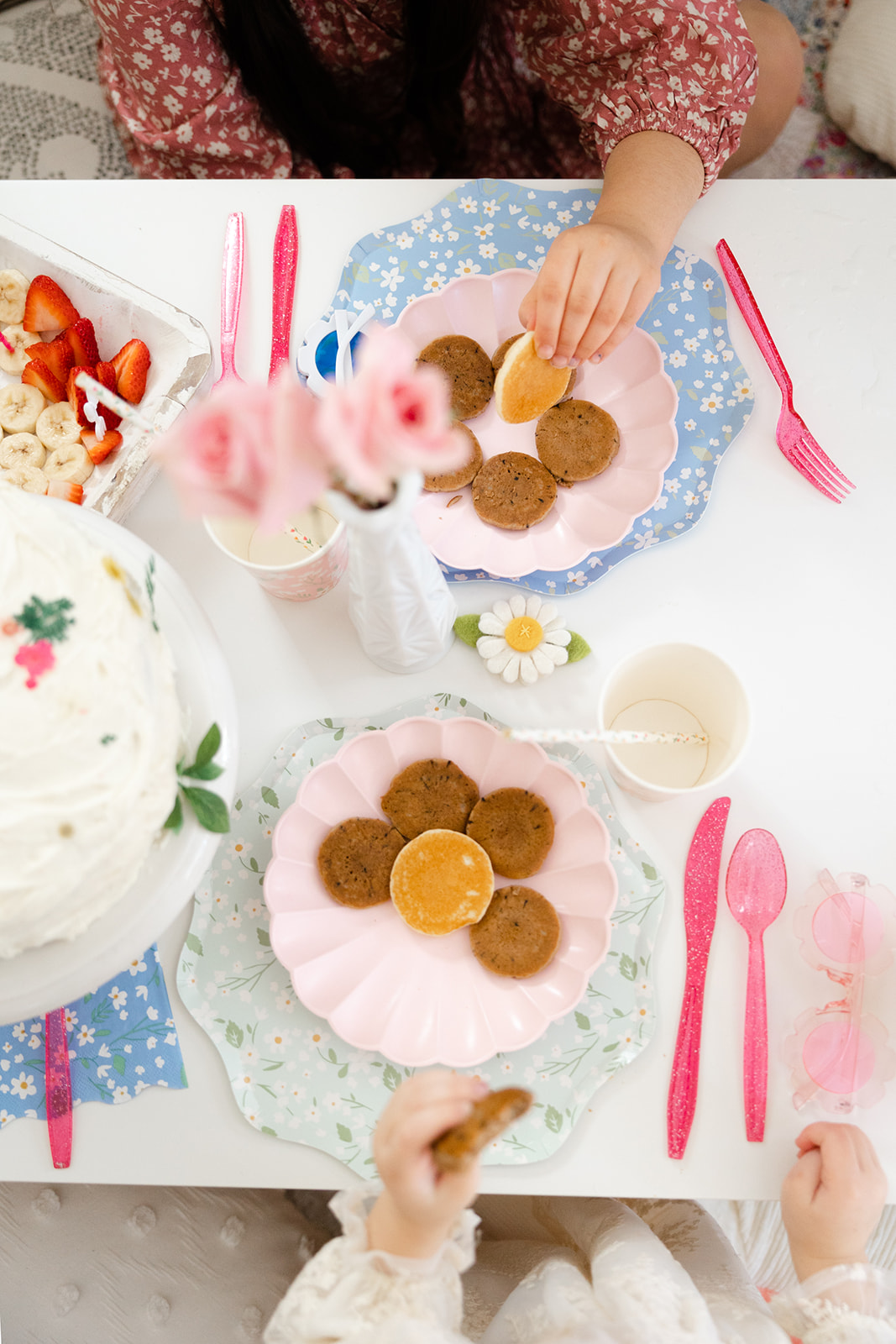 Frozen mini pancakes for the win! 🙌🏻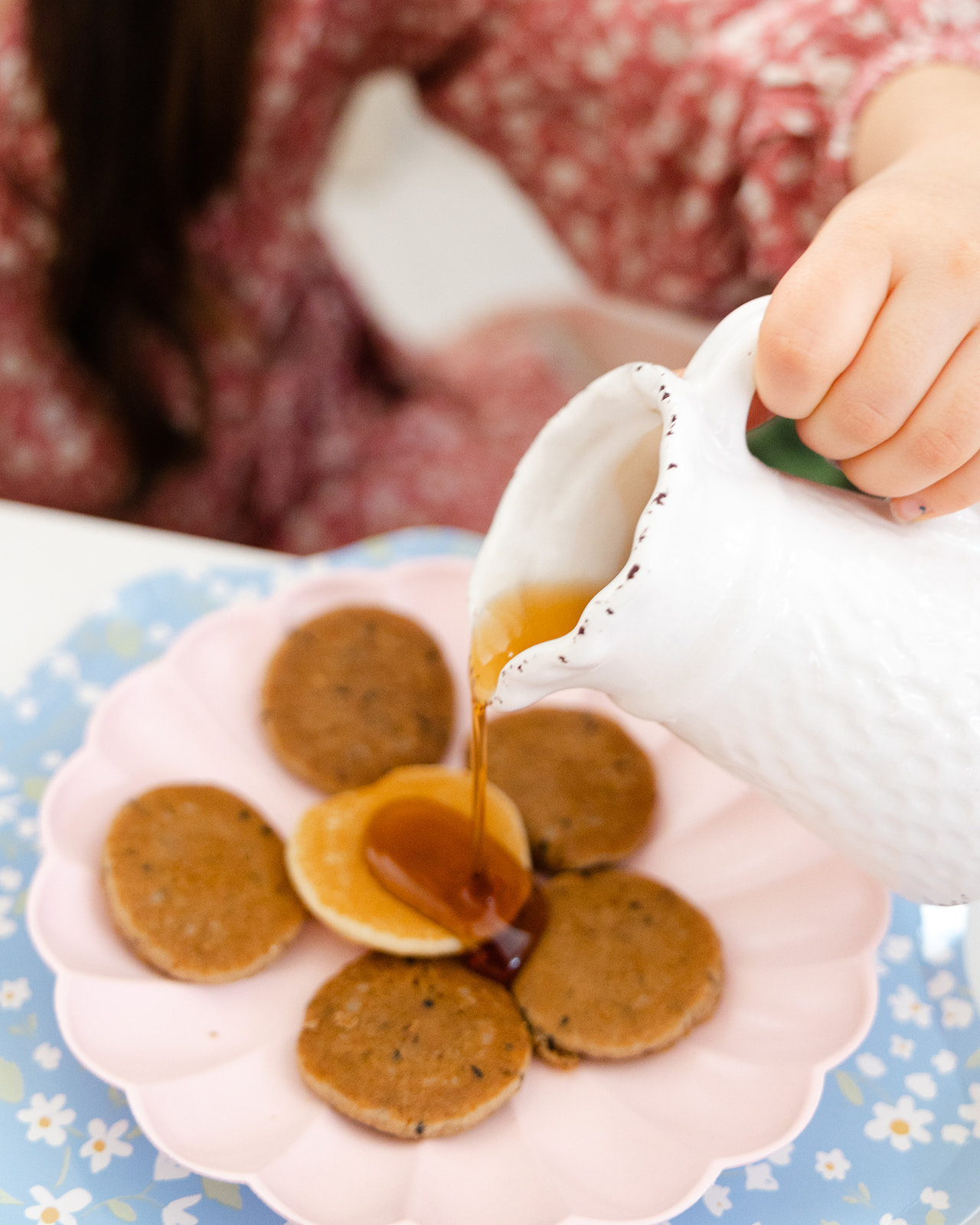 I'm so glad we kept Adelaide's 1st birthday party small and sweet.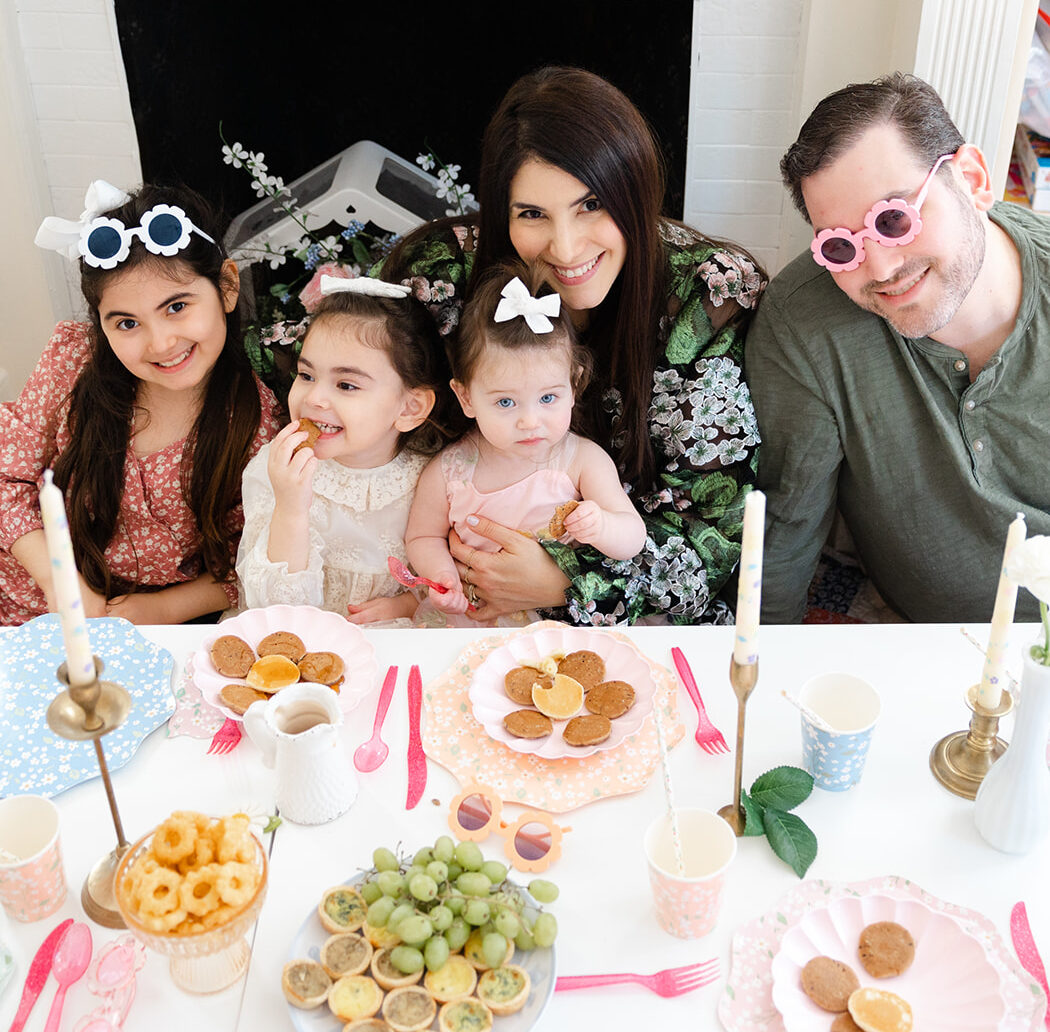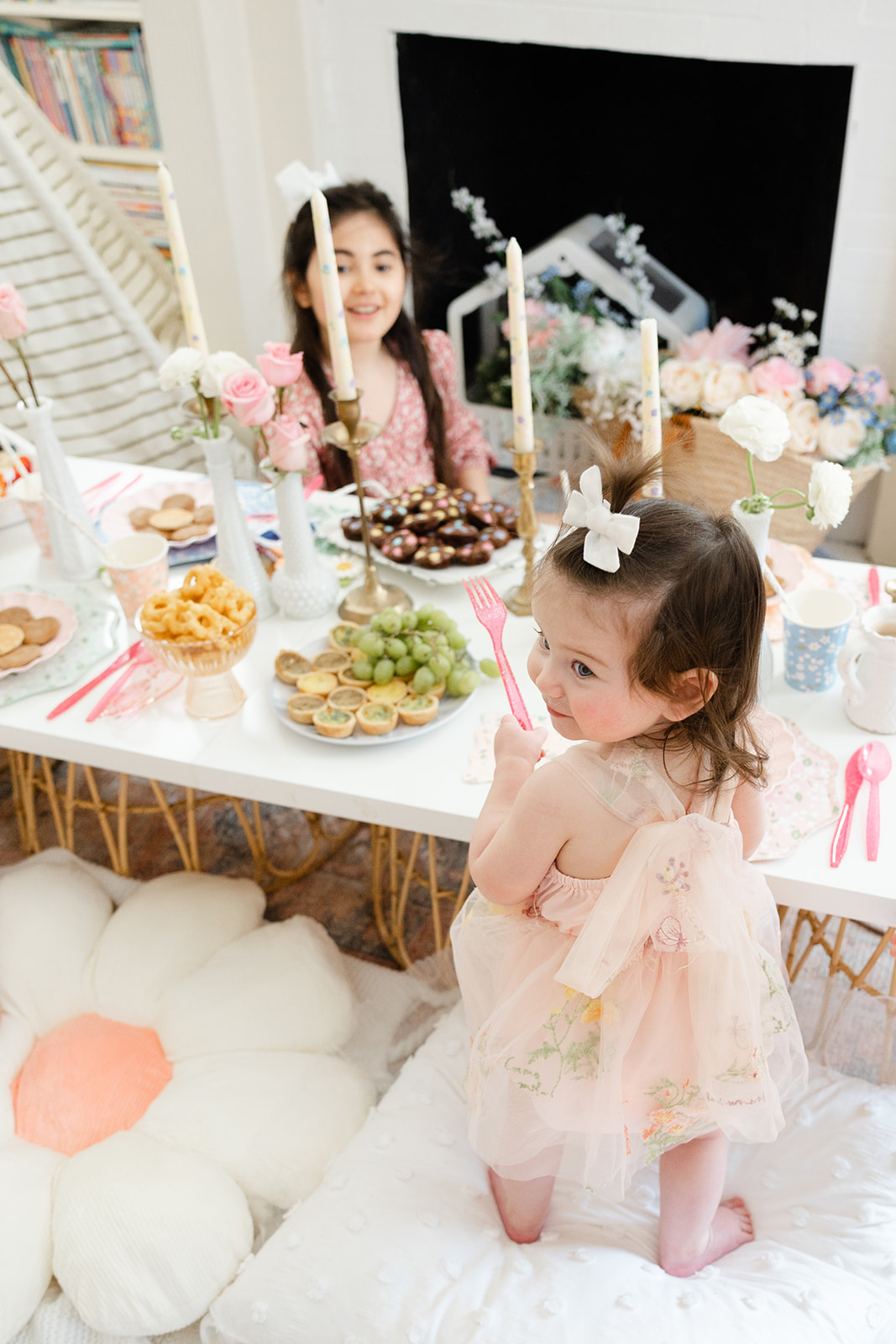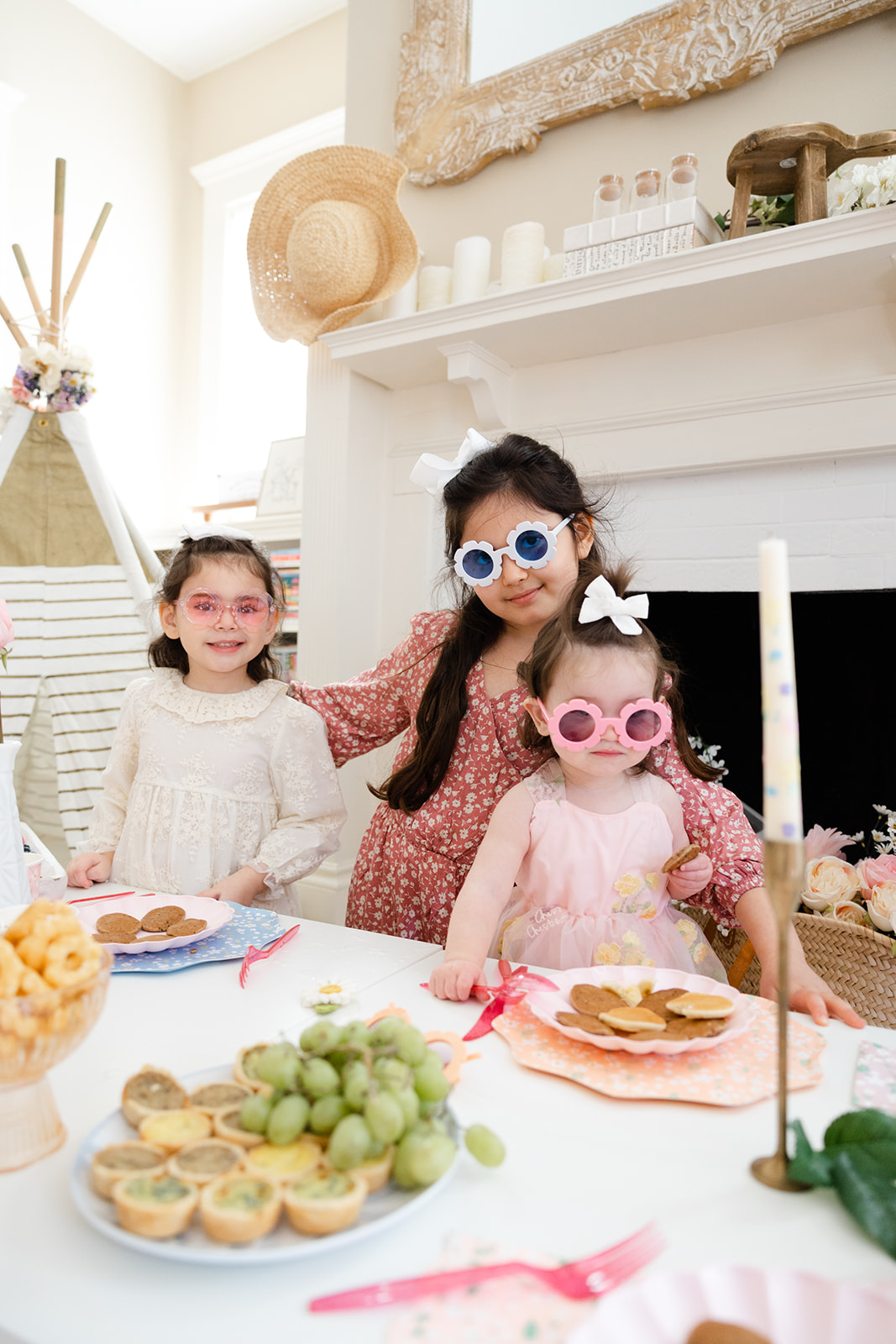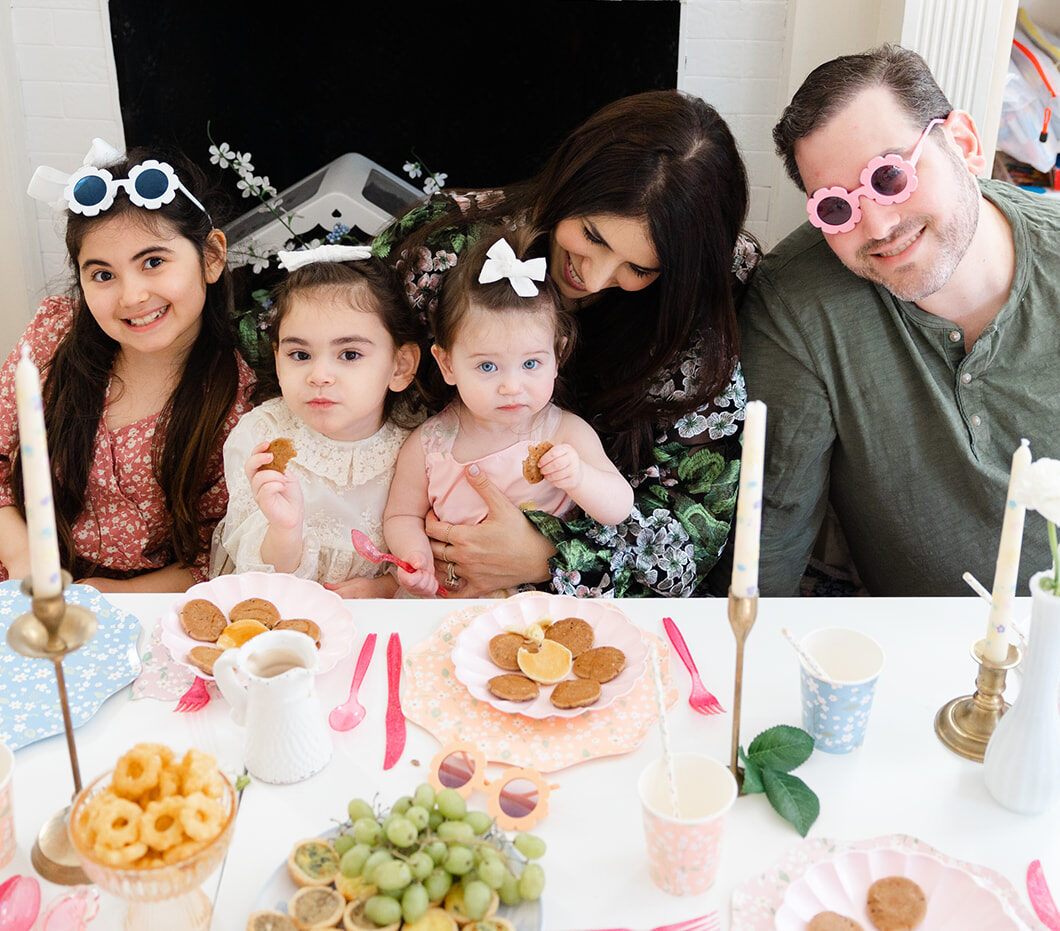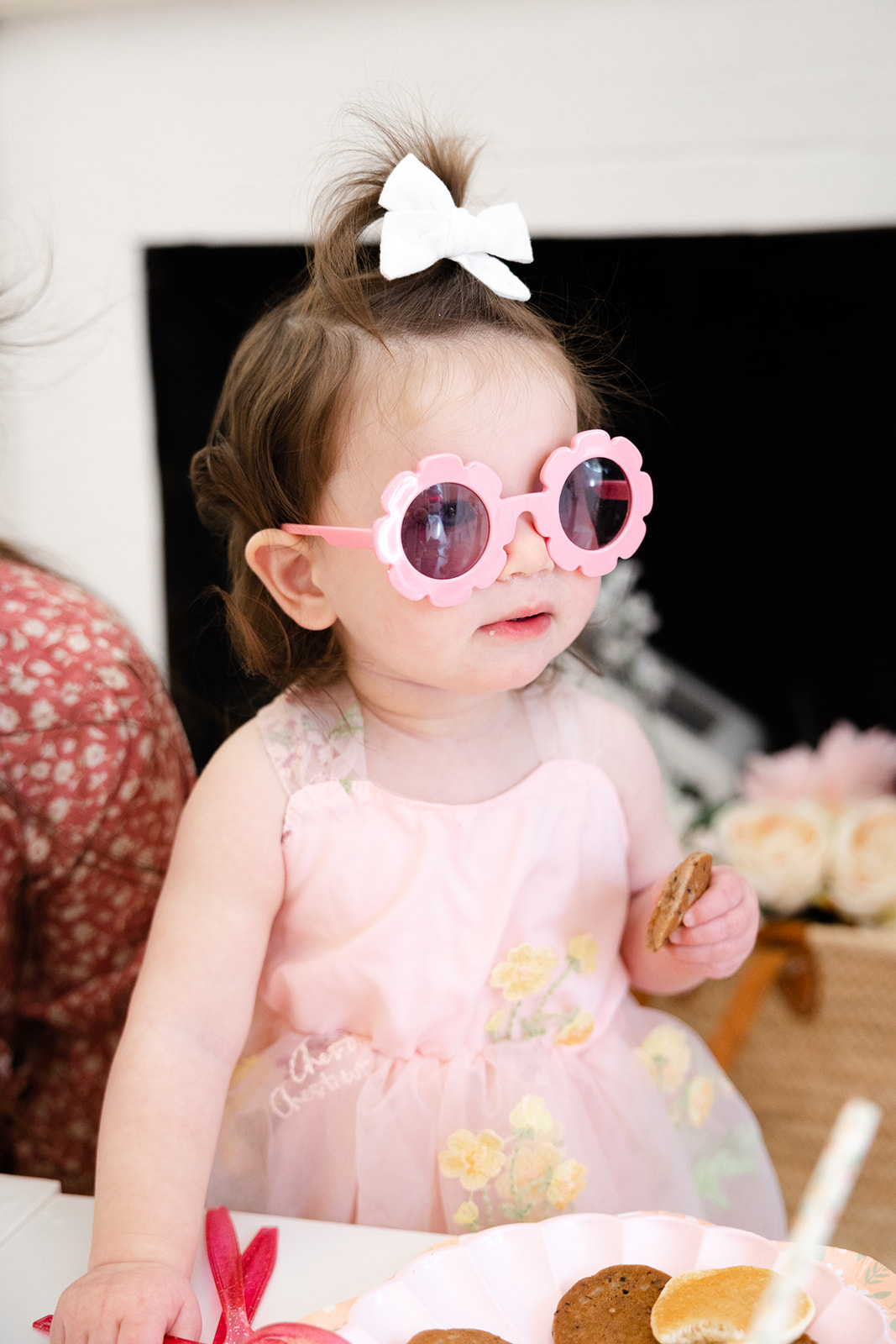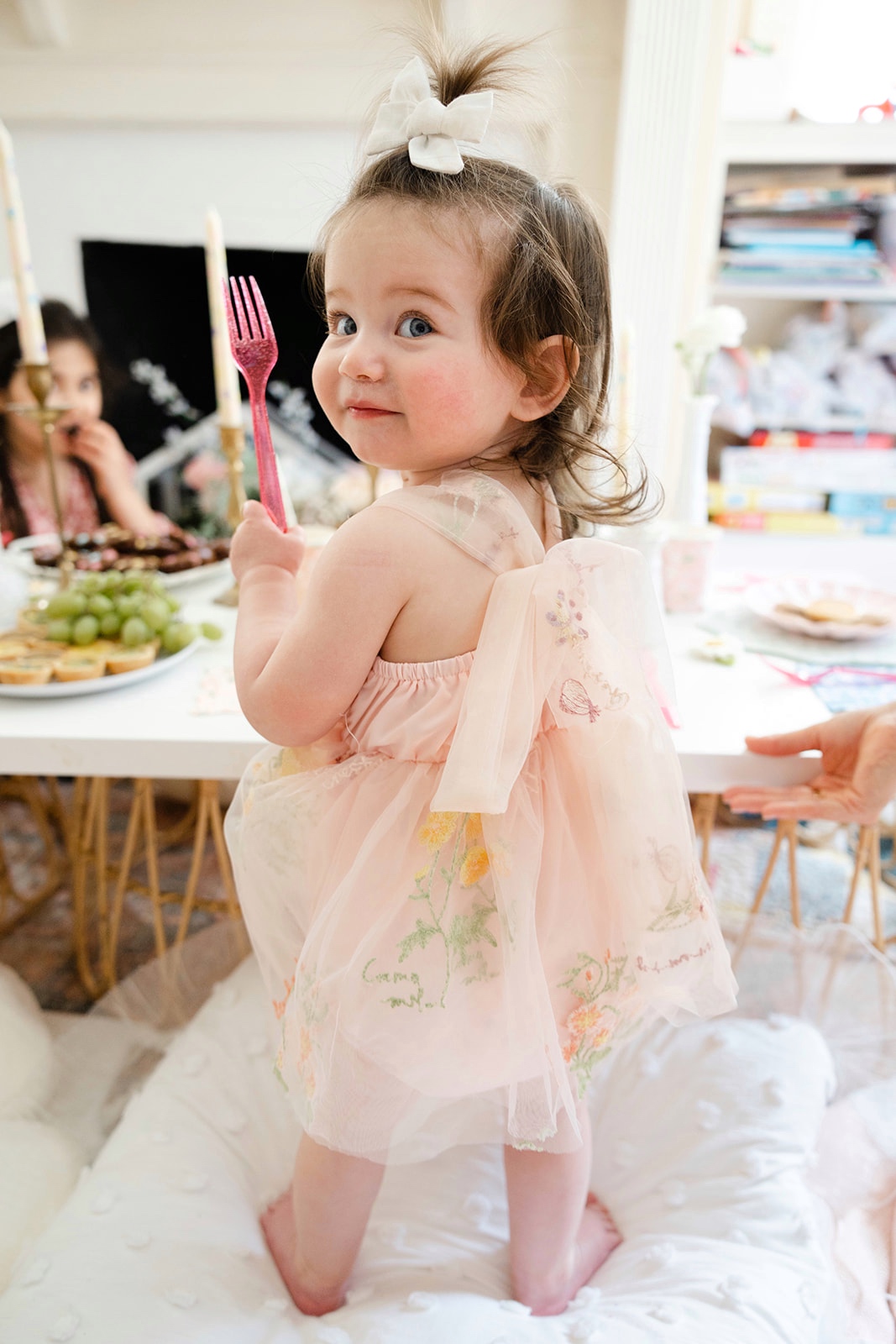 Adelaide's 1st Birthday Party Outfit
I was so torn on what to dress Adelaide in for her 1st birthday, so naturally, I chose several outfits. (You can see the outfit we chose for her cake smash here on Instagram!)
For the party, she wore this precious pink floral tulle tutu romper, covered in embroidered flowers, and the look could not have been more perfect. This baby girl outfit was a total Amazon find and it did not disappoint. It actually looks much more expensive than it is and photographs so well!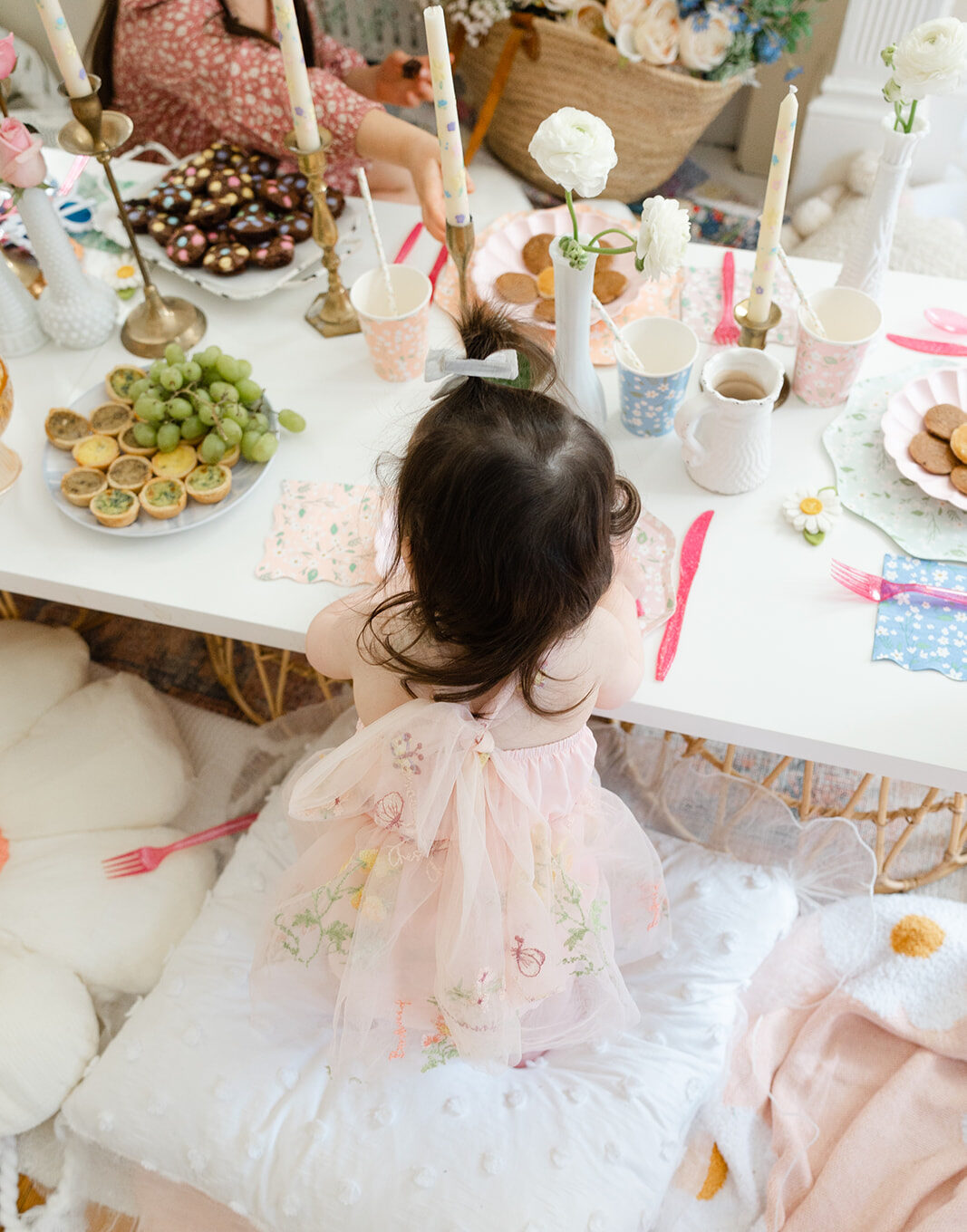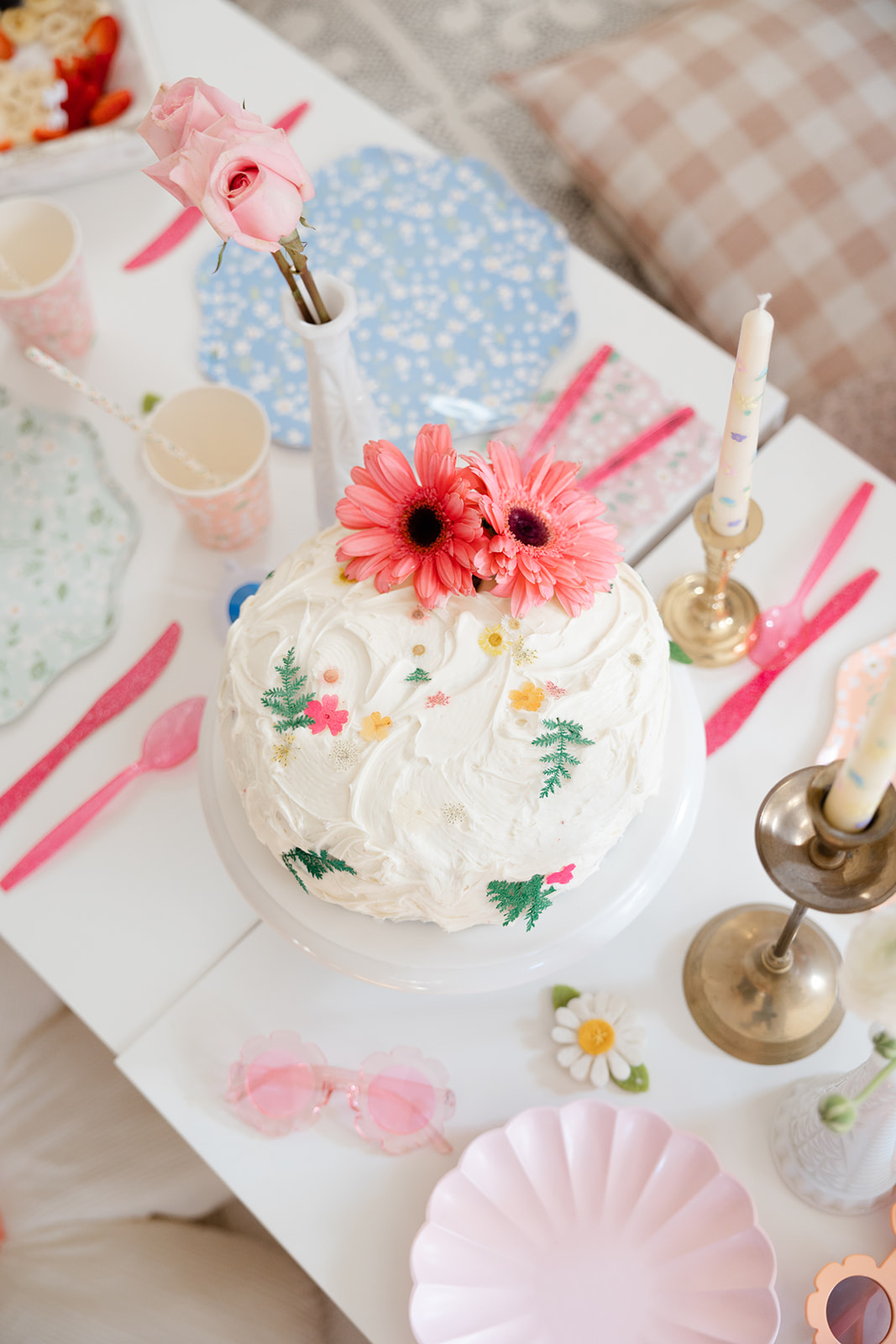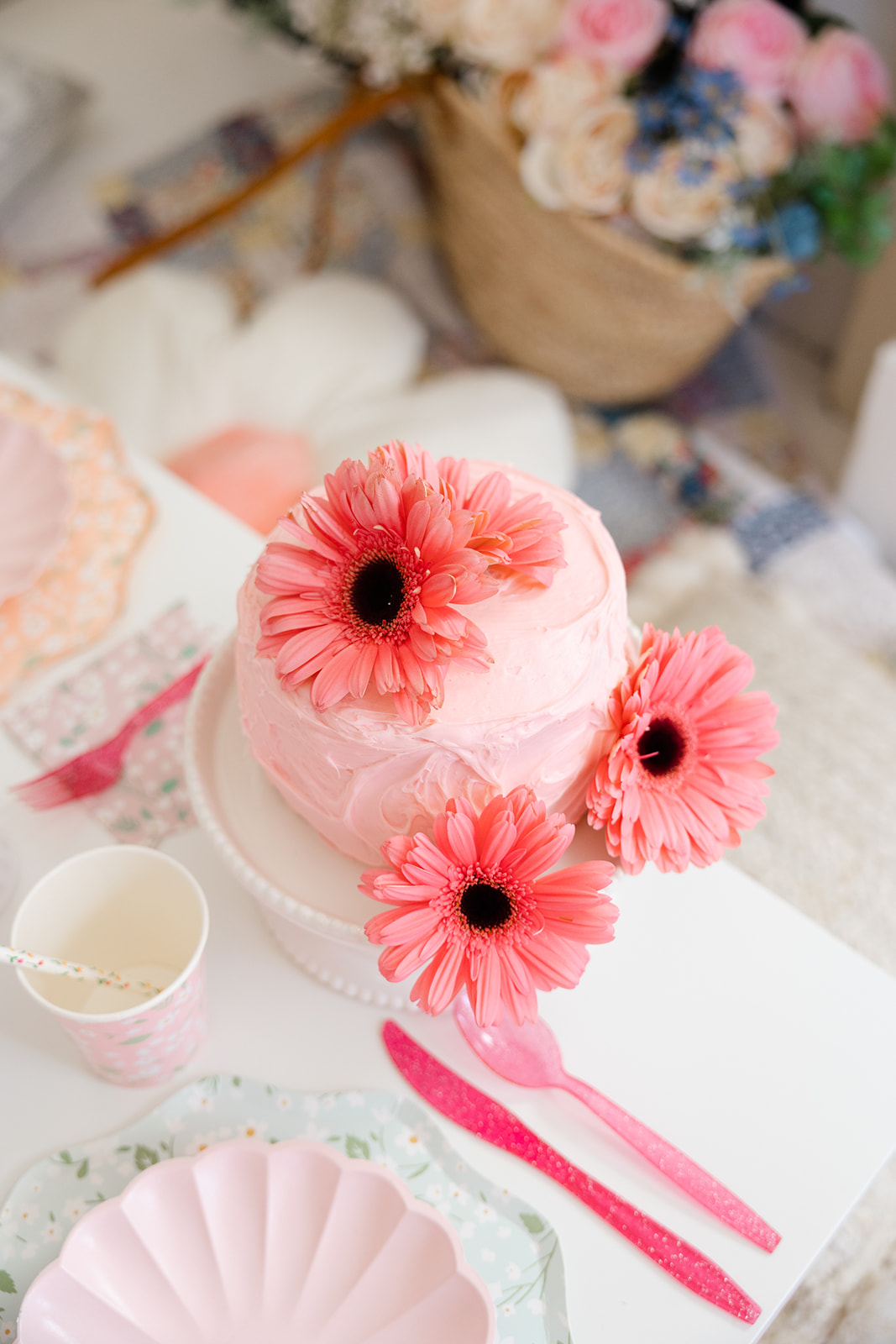 Another successful 1st birthday party in the books! (I still can't believe I have THREE baby girls. Pinch me!)
Any favorite birthday party details? Have you ever thrown a little party for your baby's first or do you keep things simple with cake and presets at home?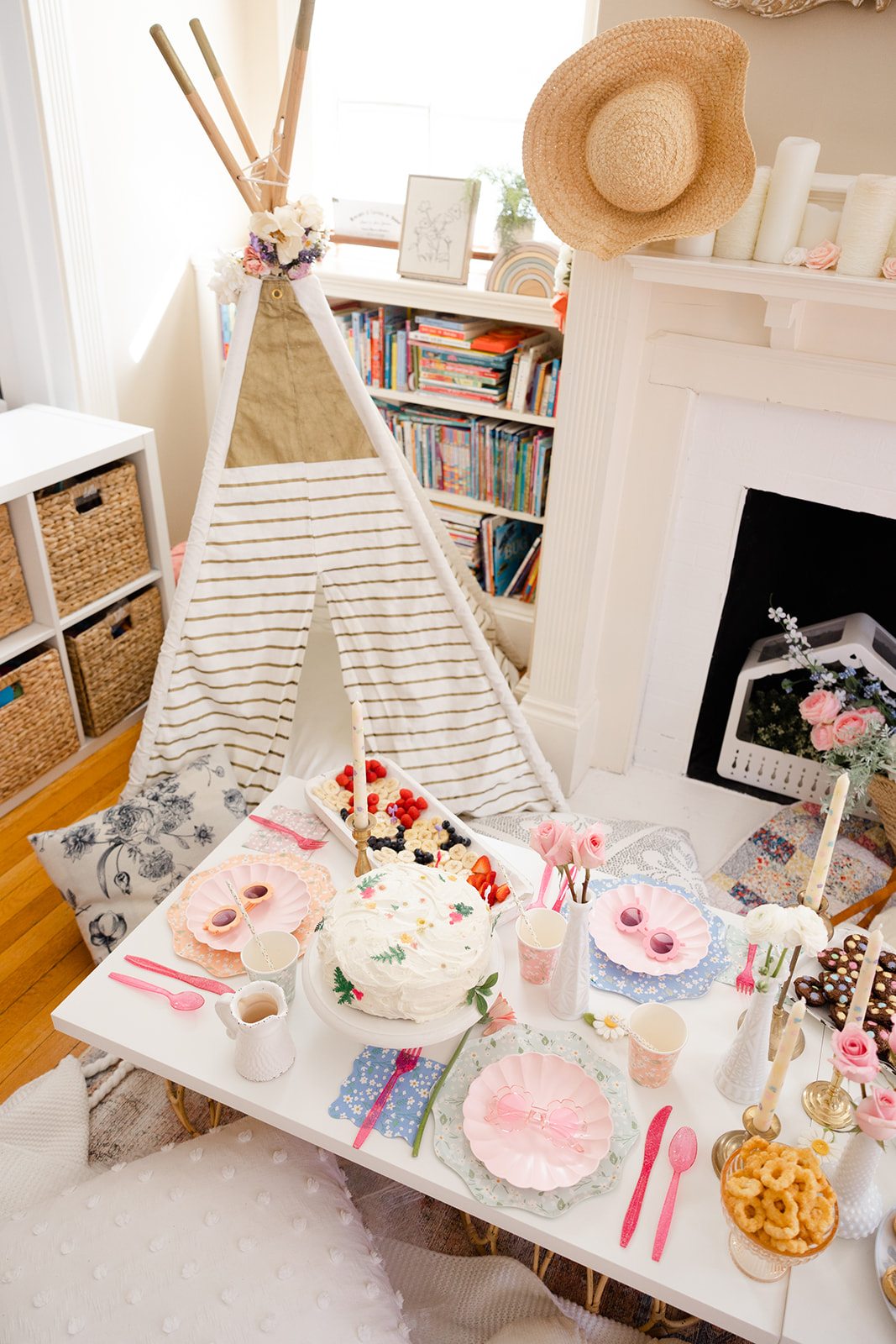 SHOP ADELAIDE'S WILDFLOWER 1ST BIRTHDAY BRUNCH PARTY POST | CLICK THE IMAGES TO SHOP

IF YOU LOVED THIS POST, YOU CAN SEE MORE OF OUR LIFE WITH THREE LITTLE GIRLS HERE OR FOLLOW ME ON INSTAGRAM TO SEE THE LATEST.
You May Also Like:
Emmeline's 5th Birthday Costume Party
Scarlett's 8th Birthday Mermaid Splash Party
Scarlett's 3rd Magical Mermaid Birthday Party
Emmeline's Backyard Garden Party
Scarlett's First Birthday Bohemian Party
Scarlett's 2nd Birthday Festival Backyard Party
I hope I've helped inspire your next birthday party. Thanks for reading and happy celebrating!
Photos by Sam Brooks Photos for Glitter, Inc.