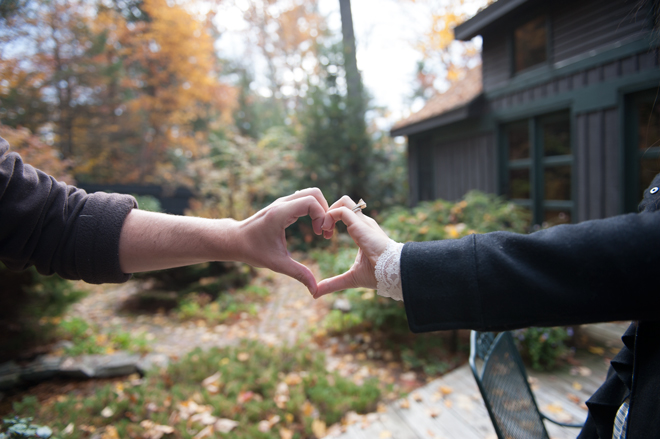 Today is our three year wedding anniversary, and it went by in the blink of an eye.  We've been together much longer than that actually:  we met when I was sixteen, he was seventeen.  We were boyfriend-and-girlfriend weeks after that.  There was never any question that we wanted to be together.  The connection was instantaneous.  I've met so many great couples who started out as friends first, and I'm always touched by their sweet "falling in love" stories, but for us, from the moment we met, it was electricity – and that feeling just never went away.   I love my husband more today than I did at sixteen.  Of course, a deeper understanding of love comes with maturity, but I think … no, I know, that even as kids, we understood inherently what love was, what it meant, because we met that other person.
But truth is, after dating all through senior year of high school and most of college, I got scared. Really scared. He was applying to medical school, in states I'd only been to in car trips, safe behind the windows of my parents' Suburban. I myself chose a state school rather than the better out-of-states because I needed to be close to everything I knew. I wasn't ready to grow up. And adults encouraged the split – telling us we were too young (that somehow we couldn't love each other quite that much when we were just that young.) I ended things in a flurry of emotion and we spent several years apart. My mom always jokes that even after the big break-up, Mike would swing by the house for dinner – we'd bat our eyelashes at one another, but I, ever the conservative, shied away from him, dated other boys, and missed him wholly. Fast-track to law school for me, medical school (and a PhD) for him, and it all just clicked. It fell back into place so effortlessly, we barely realized we were dating again by the time my law school Barrister's Ball (a.k.a., grad school prom) had rolled around, and it felt like high school all over again.  We were married in one of the most joy-filled (and tear-filled) ceremonies, surrounded by our closest friends and family.  (The full post on our wedding weekend is HERE.)  He was my high school sweetheart, and also happened to be the love of my life.
And every day I love him a little more.  The kind of love that almost hurts because it feels so overwhelming in all of the right ways.  I feel so lucky to have met my person.  He's perfect for me, and I think that's what makes it so right.  He makes me laugh hysterically, dreams right alongside me, supports every crazy thing I do, he's been through some of the toughest times I never imagined, he's my rock, and knows when to put his arms around me and let me bawl or laugh or both.  He does these little things that are so incredibly thoughtful.  And when he does the things that are less than thoughtful, he smiles and apologizes and promises to do better, and my heart warms and it hurts just looking at him, seeing him in pain.  I miss him when he's gone, even when it's just a few hours apart.  We both work a lot, long hours, but our texts are filled with I Love You's (they're basically incredibly embarrassing, and adorable, in the way I hope that we gross our future kids out all of the time.)  I guess the truth is, I have a crush on my husband.  A whopping, all-consuming, I-still-doodle-his-name-on-my-legal-pad-at-work kind of crush.  And I think the world of him.  Our love story isn't perfect, but it's ours, and it feels so good, so right, all of the time.  I can't imagine a life spent without him.  It's our kind of perfect.
Happy Anniversary, baby.