Fall always has me dreaming up ways to decorate my house. Although we live in sunny Miami, I have my heart set on warm throws, fur pillows, rustic lamps, and a great big fireplace. Since the fireplace might be just a tad tough to come by, I'll dream of the pretty home accessories instead.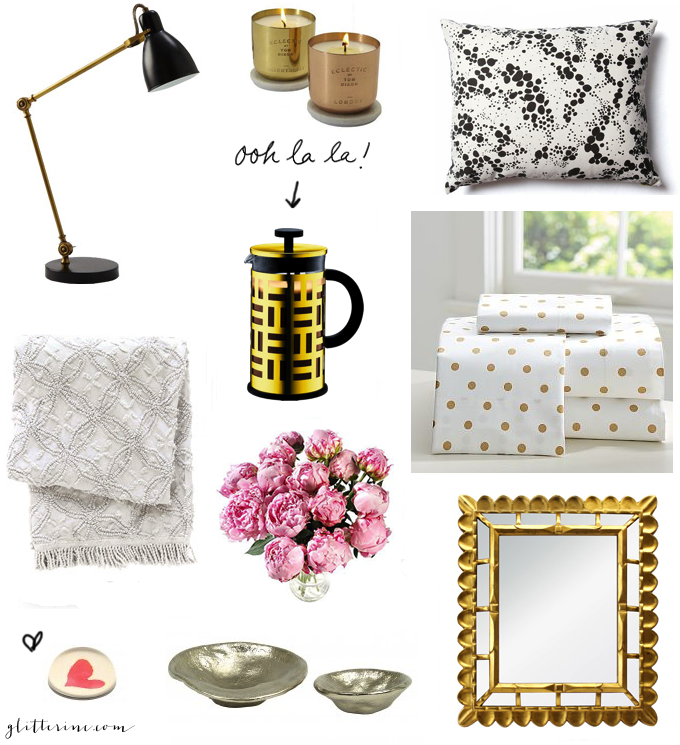 Get the Home Goods:
West Elm Industrial Task Table Lamp:  I love that this lamp is equal parts rustic and modern – very cool.
Tom Dixon London Scented Candles:  I've wanted to try these luxe candles for a while now.  Though a bit pricey, from a decor standpoint, they pack quite the punch – they're designed in copper and solid marble – and this line is meant to smell like London (one of my favorite cities in the world.)
Rebecca Atwood Pillow: Rebecca Atwood, uber talented textile designer and sister of well-known blogger, Grace, designs these incredible hand-painted pillows … and I want them all.
Bodum Eileen Gold French Press Coffee Maker:  I've spotted this pretty gold french press in so many house tours and photo shoots – it looks extra fancy in gold and serves up delicious pressed coffee – what more could you ask for?
Pottery Barn Teen Metallic Dottie Sheets:  These the metallic gold polka dot sheets, from the from stylists Emily Current and Meritt Elliott's brand new collaboration with Pottery Barn Teen. are just too good to pass on.  I've had my eye on them since the line launched (and I shared all of my favorite pieces from the collab, here) and I'm struggling to come up with a reason why I shouldn't just snatch them up.
Layla Grace Candlewick Throw Blanket in Dove Grey:  I'm a sucker for a great throw blanket, especially during the colder seasons when temperatures drop and the couch and a good book call.
Fresh Peonies:  Flowers brighten up any room.
Heart Dome Paperweight:  Little by little, I'm tackling the great office unpack, and this sweet little paperweight would fit in nicely on top of the stacks of (currently) unorganized papers.
Rough Cast Silver Plates:  Perfect for Fall parties, I can't get enough serving dishes.  Seriously, my cabinets are bursting with cute trays, mason jars, olive dishes, cheese boards, you name it.
Layla Grace Mirror: How great would this mirror be in an entryway?  Stunning.
(Check out the origins of this shopping-addiction-purge-series, here.)