This post contains affiliate links, which means that if you click on one of the product links, I'll receive a small commission. Thank you so much for clicking through and helping to support this little blog business of mine! Read more about our site, privacy, and disclosure policies here.
Want to make a healthier switch at lunch or dinner time? Here are 12 amazing recipes using vegetable noodles, when what you really want is pasta!
Anyone else shamelessly devoted to pasta? I want it all of the time. But especially when I've had a crummy day. Why can't my vice be going on long jogs or cleaning out my closets from time to time? I'll never know. But alas, it's pasta for me. Lucky for us, "pasta cheats" are gaining popularity, and I'm getting on the vegetable noodle cool train.
Mostly, it's zucchini noodles. Zoodles. They're on all of the food blogs. But guess what? It works for things like sweet potatoes, carrots, radishes, the list goes on. You make these crazy vegetable noodles using something called a spiralizer – those funky machines that turn vegetables into noodles. Well, vegetable noodles. They're not real noodles. Let's not go overboard here.
Rumor has it, the Paderno spiralizer is the best spiralizer around. It's under $30 and it has a 4.5 star-rating from more than 6,000 reviews on Amazon. (I am an Amazon review junkie. It's a black hole for me. I can spend hours reading reviews before I take the plunge and make a purchase. What can I say? I like to be informed.)
With the right sauce, and a little love, vegetable noodles can actually be really yummy. Pesto zucchini noodles? Mixed vegetable noodle pad thai? Yes, please! And if the thought of trying to trick yourself into eating veggies – when really you want to be eating ALL OF THE CARBS – freaks you out: the best trick is to go half-and-half. Cook half a box of regular spaghetti with your spiralized vegetable noodles, and you'll feel plenty satisfied and basically at that rockstar status.
So here are 12 awesome recipes you can make using veggie noodles …
When You Really Want Pasta: 12 Amazing Recipes Using Vegetable Noodles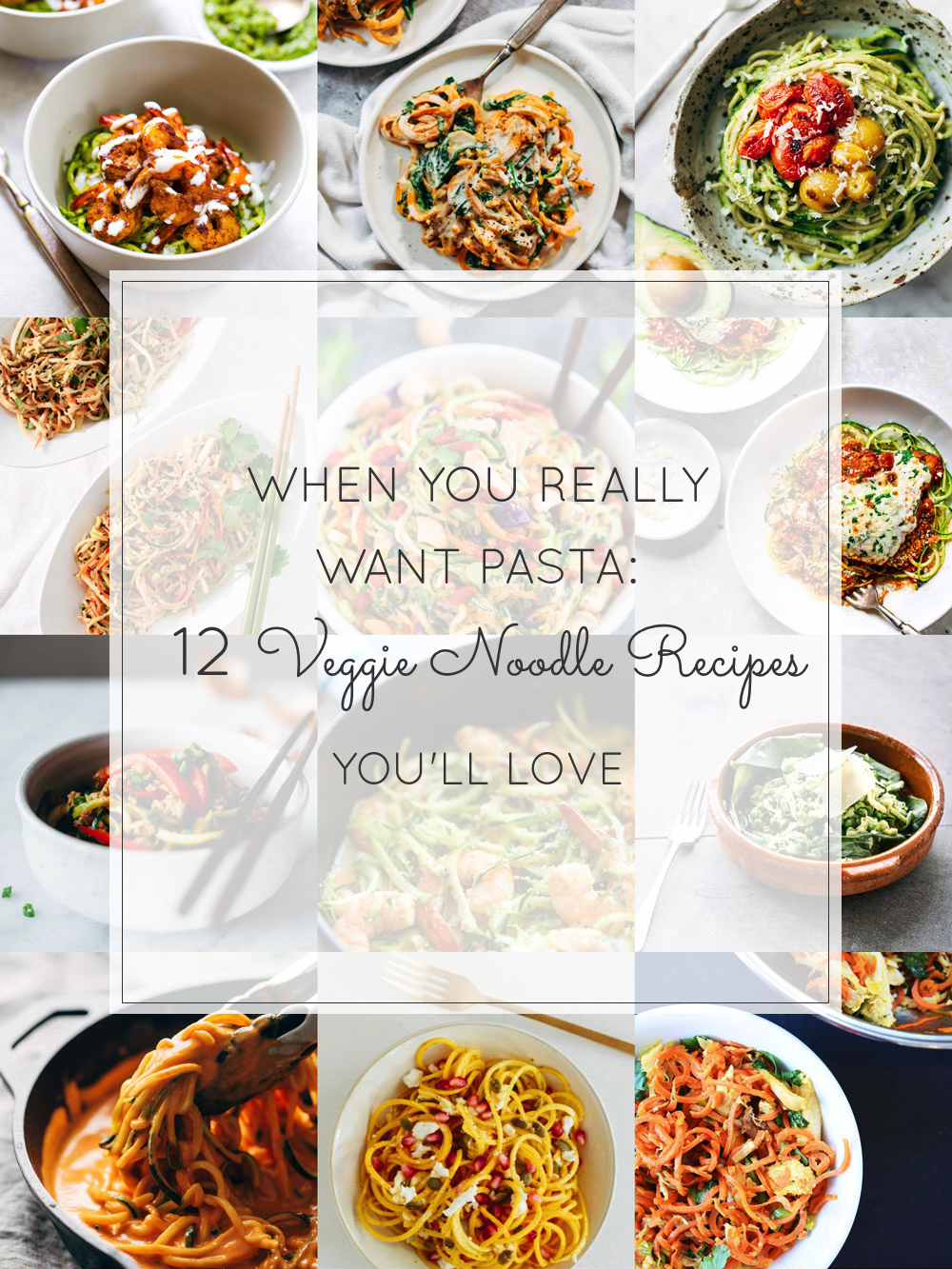 So without further ado, when you really want pasta (but just spent an hour in the gym and don't want to fall off the wagon, again): here are 12 recipes using vegetable noodles that you are sure to love.
When You Really Want Pasta: 12 Amazing Recipes Using Vegetable Noodles
Creamy Spinach Sweet Potato Noodles with Cashew Sauce via Pinch of Yum
Carrot Noodles with Chicken and Peanut Sauce via Buzzfeed
Zucchini Noodle Shrimp Scampi via Damn Delicious
No Noodle Pad Thai (Made with spiralized daikon radish, carrots, and zucchini!) via Cookie + Kate
Spicy Shrimp with Pesto Zucchini Noodles via Punch of Yum
Creamy Garlic Roasted Red Pepper Zucchini Pasta via Pinch of Yum
Golden Beet Noodles with Goat Cheese, Pepitas, and Pomegranate via Inspiralized
Zucchini Spaghetti With Crème Fraiche and Pesto with Peas via Top With Cinnamon
Rainbow Veggie Dragon Noodles via Get Inspired Everyday!
20-Minute Healthy Chicken Parmesan Over Zucchini Noodles via Pinch of Yum
Drunken Zucchini Noodles With Ground Park via My Name is Yeh
Burst Tomato and Zucchini Spaghetti with Avocado Sauce (If you miss carbs just too darn much, you can mix zucchini noodles AND good old reliable spaghetti!) via Pinch of Yum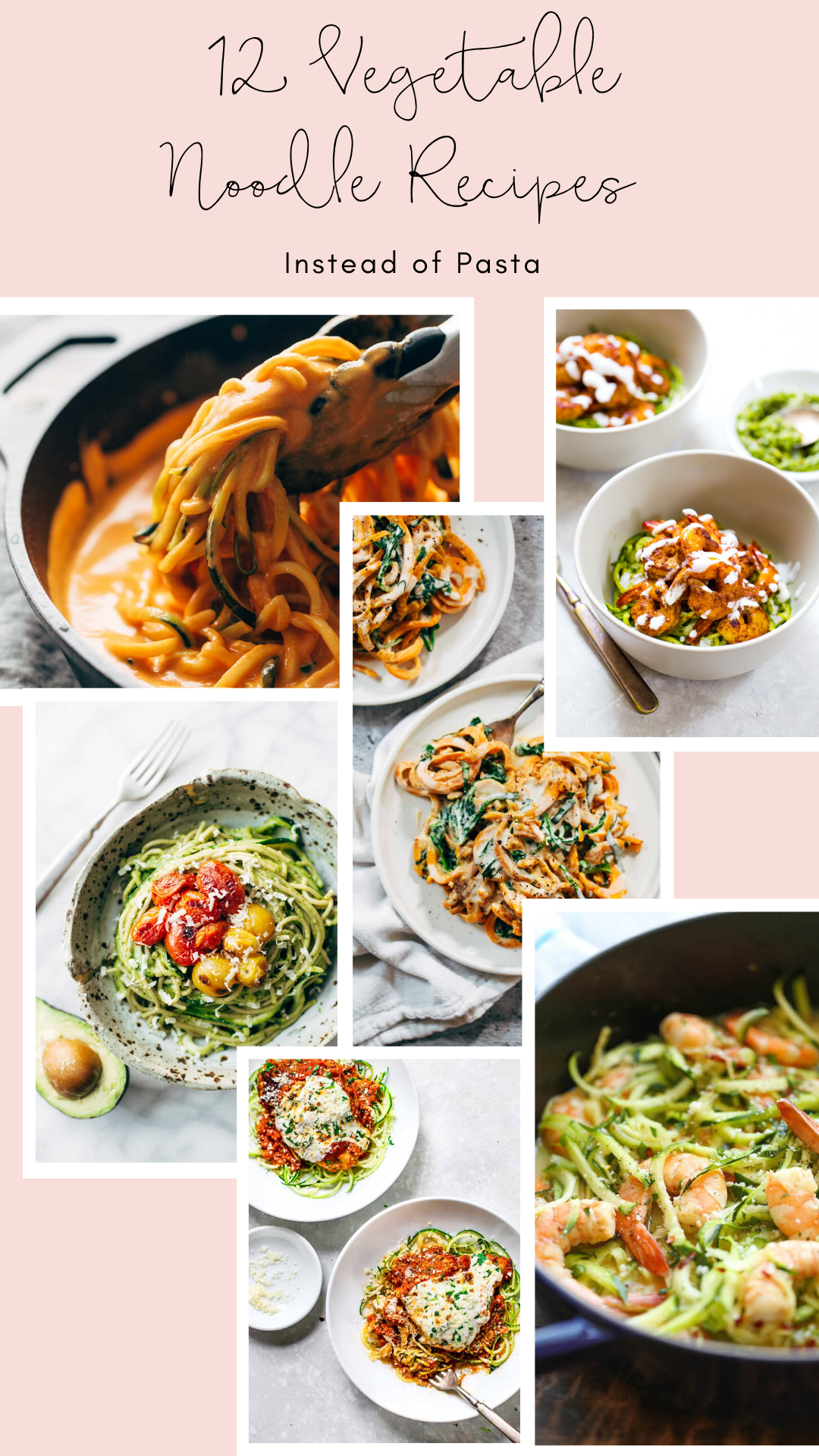 Have you tried veggie noodles in place of traditional pasta? Are you a fan? If not, would you make the switch?
SHOP THE VEGETABLE NOODLES RECIPE POST | CLICK LEFT & RIGHT ARROWS TO EXPLORE

If you make your own amazing vegetable noodle recipes for lunch or dinner, be sure to tag me on social media (@glitterinclexi) so I can live vicariously through all of your yummy healthier creations! Plus, I'd love to hear how yours turn out!