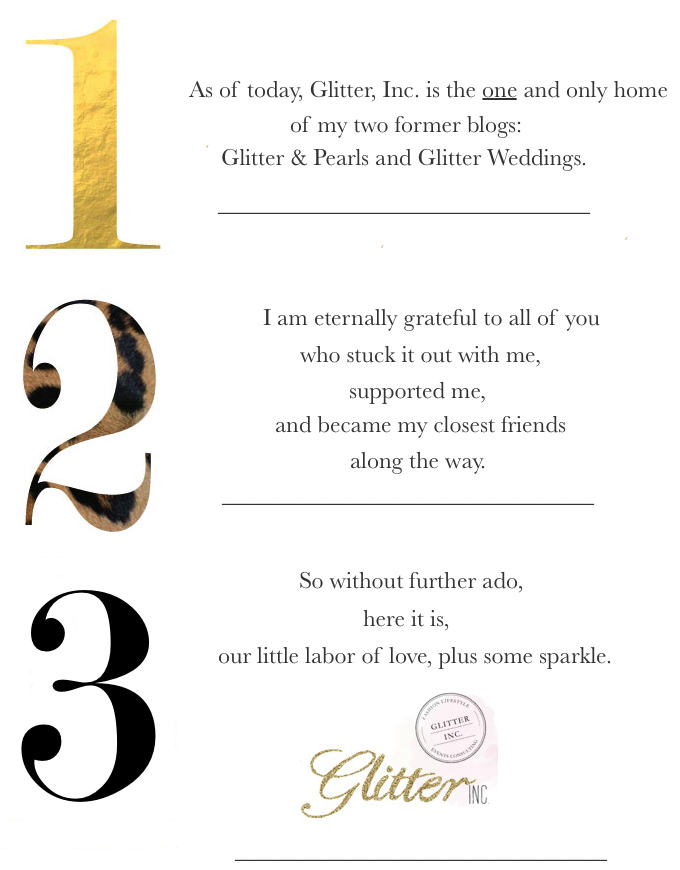 I am so incredibly excited to share with you my nearly year-long project, the all new home of both Glitter & Pearls and Glitter Weddings. I've always been an overachiever, so about a year-and-a-half ago I got the crazy idea to start a weddings and events blog on top of my already growing lifestyle blog, Glitter & Pearls. Not six months in, I realized how overwhelming it was trying to juggle a law job and two blogs, so I set into motion this great big merged blogazine-style website. My husband and I brainstormed for weeks about a name, and in the end, I just couldn't let go of my beloved glitter, so I merged the two and came up with Glitter, Inc. My designer, Tabitha, and my new-found developer, Zoe, worked tirelessly to get the merged site off the ground, and today, as I type here from a Starbucks in the middle of New York City (a long way from home back in Miami), I can't help but feel so lucky and grateful. It's been a whirlwind few years with ups and downs, but my writing, my blogs, my readers, my family and friends, all of it kept me smiling (not that that's too hard, I'm a perpetual smiler.)
Once I get a bit more time (blame fashion week!), there will be a few more updates and I'll go into a detailed explanation of all of the beautiful features, the updated functionality, and the newest categories and pages, but until then, have a look around, click away, ask questions, send me e-mails, share with friends, and be on the lookout for a whole bunch of fabulous Glitter, Inc. Launch Giveaways by some amazing Sponsors!!
And be sure to follow and share Glitter, Inc. on Twitter, Facebook, Instagram, and Pinterest!  Love you all.