We've been in our new (old) house for a few weeks now, and things are finally starting to come together. They say when you find your perfect home, you know instantly; and with this house, I had that feeling … twice. The first time was based purely off of grainy pictures and a quick drive-by (because like the two crazy kids that we are, we put in an offer on our little house sight unseen; that's how badly I wanted it, and how crazy the market is here in the Triangle); and the next time when we walked inside for the first time, after the seller had accepted our offer. I nearly cried with relief when we walked in the front door, because whether we liked it or not, it was ours. And we loved it.
Forgive my not-so-great photos, I took them in a frenzy before the moving trucks arrived. Consider these the "before photos."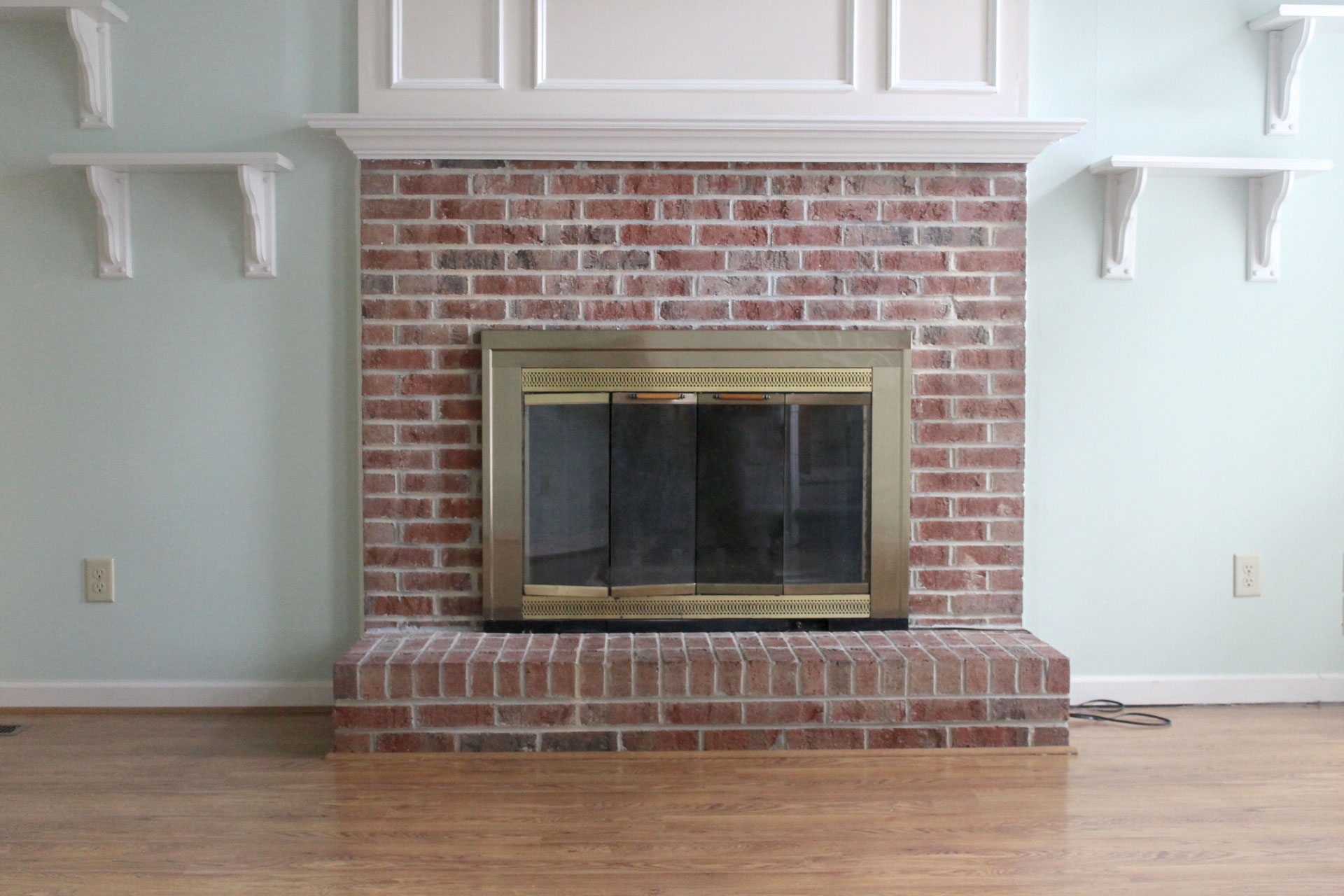 The house has great bones: an open living room with sky-high vaulted ceilings, the sweetest little breakfast nook, plenty of storage space that we may eventually convert to a bonus room, and a killer backyard. The owner also recently renovated the kitchen and master bath – a big plus once you really start to crunch the numbers. (Kitchen renovations are time-consuming, expensive, and up-end your life for months – think takeout every night of the week.)
The negatives – dated light fixtures and hardware, small closets (I may need that storage space converted sooner rather than later for all of my shoes!), seafoam green walls everywhere, plus a blue bathroom, bubblegum pink bedroom, and upstairs seashell-wallpapered bathroom.
But the house has that "feel." The kind you get when you know, this is it. A few ugly fixtures and need of a paint job certainly won't slow us down. We've already been tackling projects left and right, some with the help of awesome local contractors, thank goodness.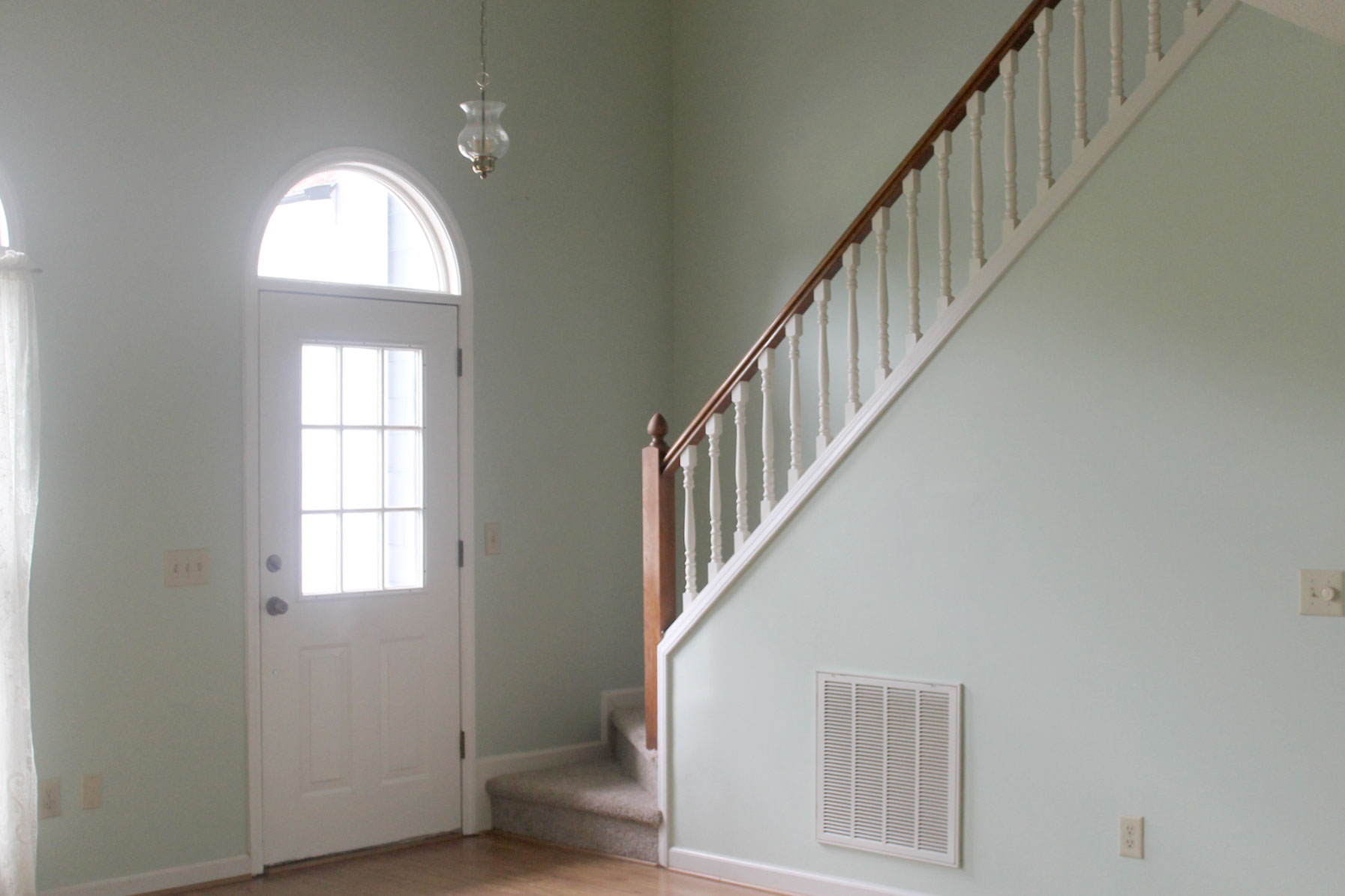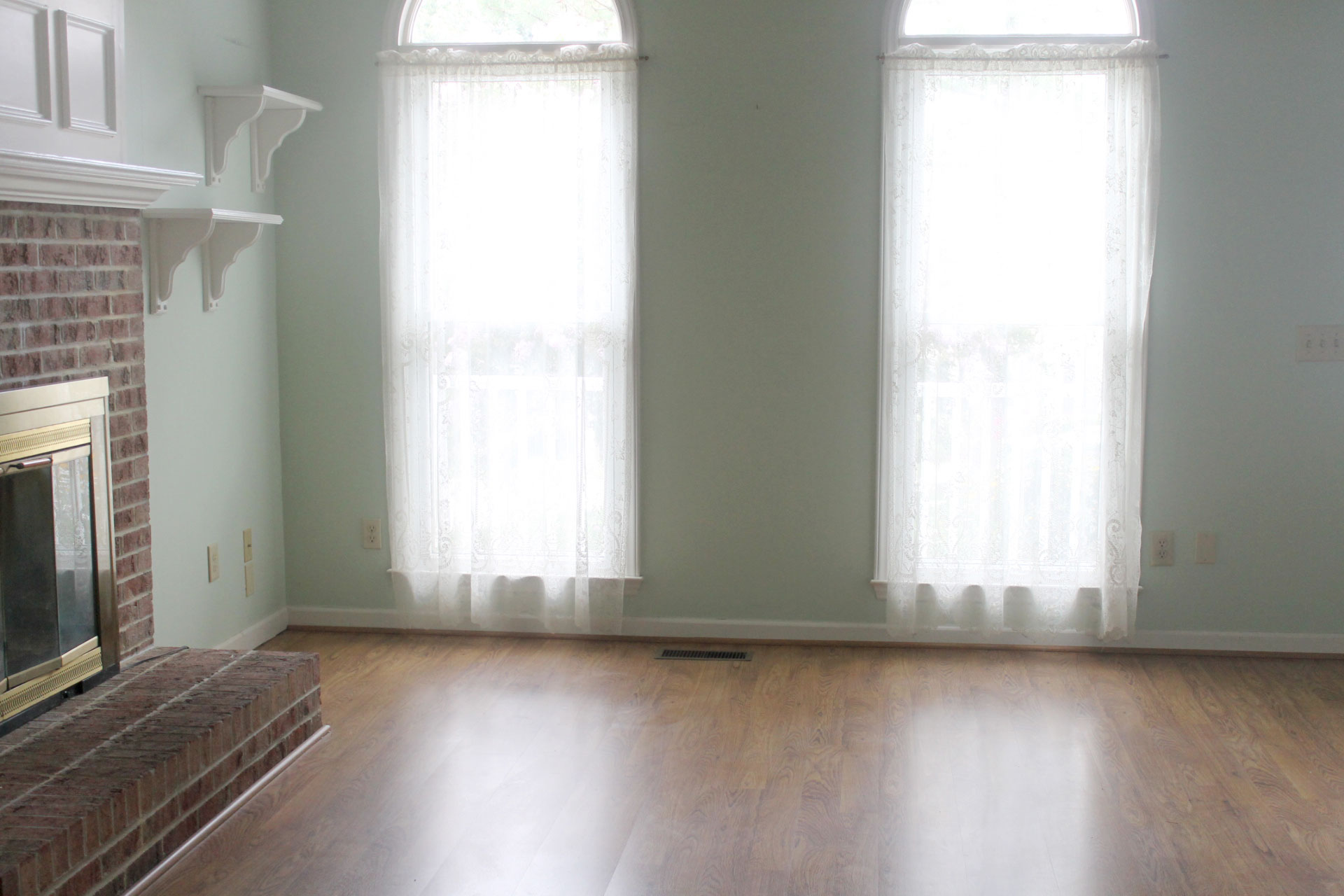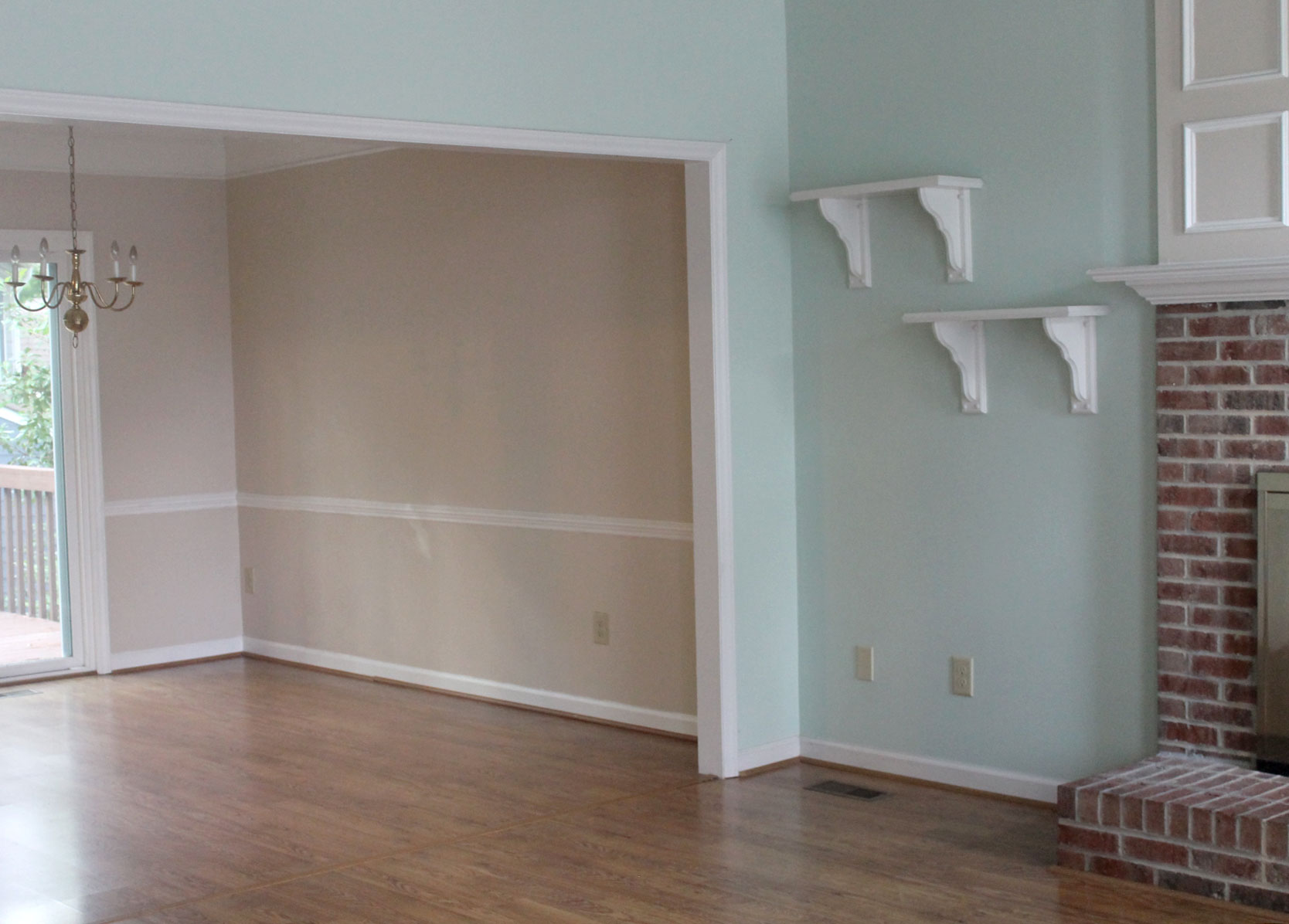 The open living room has this great old brick fireplace, that I've already painted white (more pictures coming soon!) and I'm kind of obsessed with. We also removed all of those shelves and painted the trim above the fireplace mantle white to give it a more clean, custom look.
The living area leads to the dining room and kitchen – all in a mostly open plan. We've already replaced the bright gold chandeliers and pendants.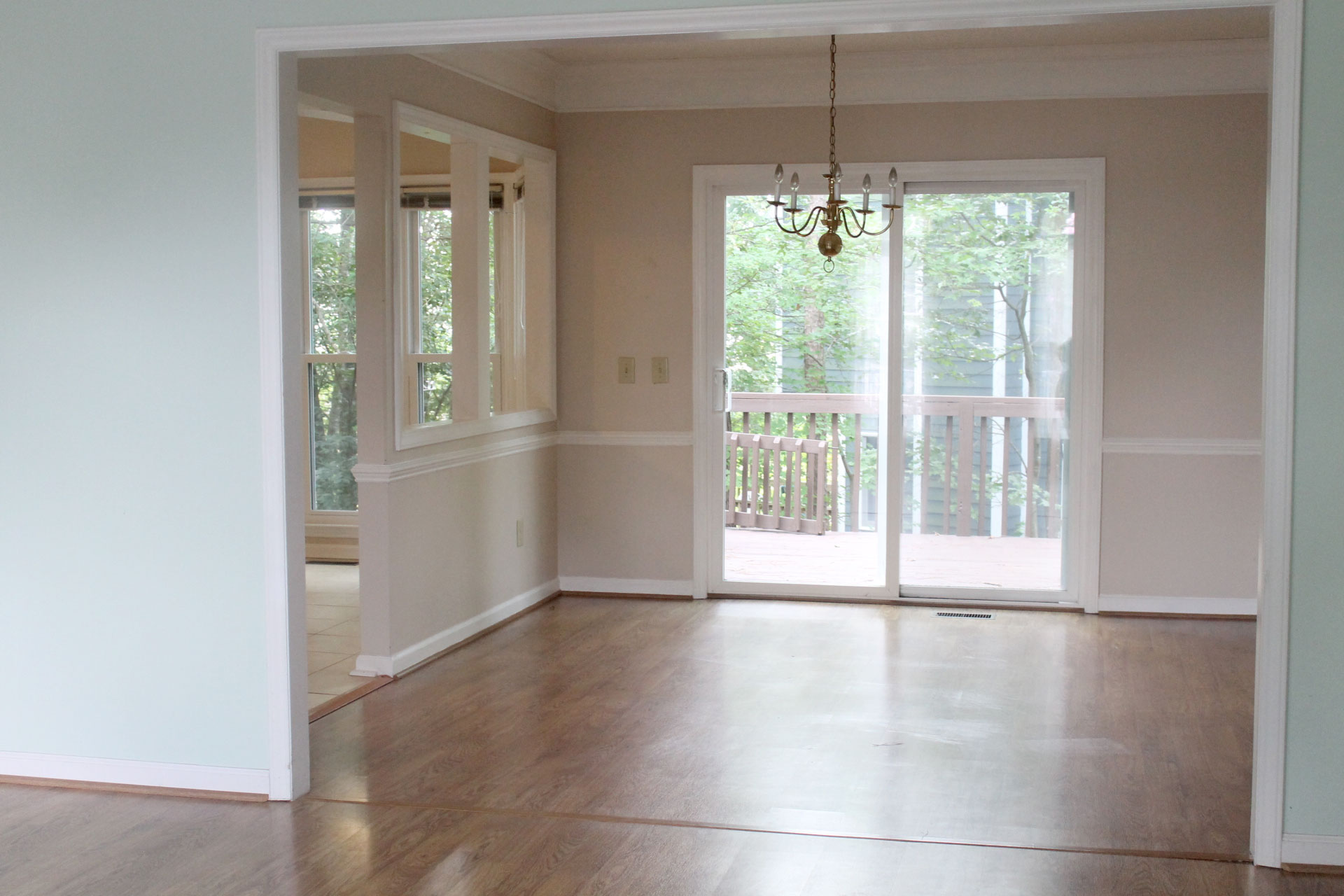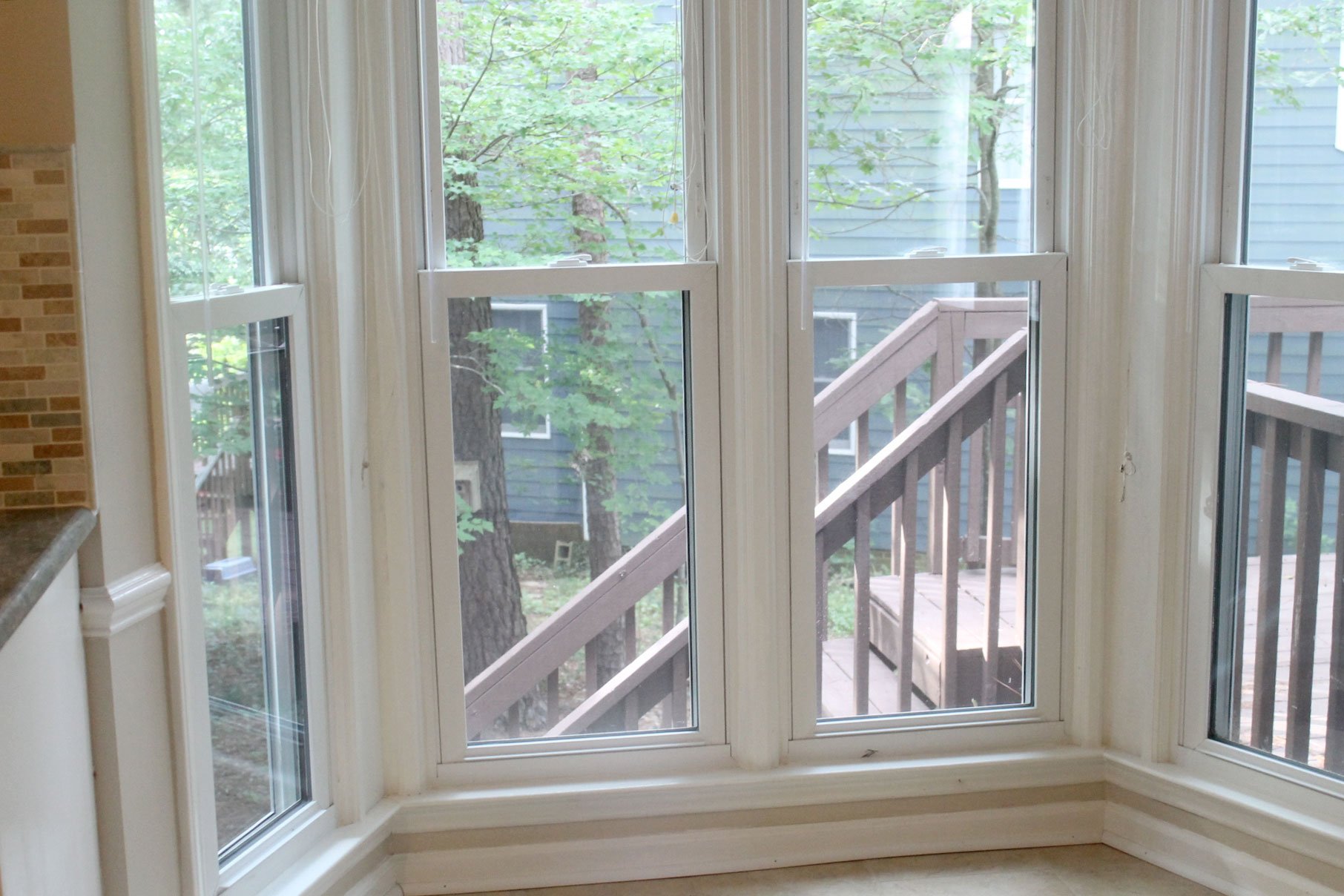 The breakfast nook of my dreams; so much light.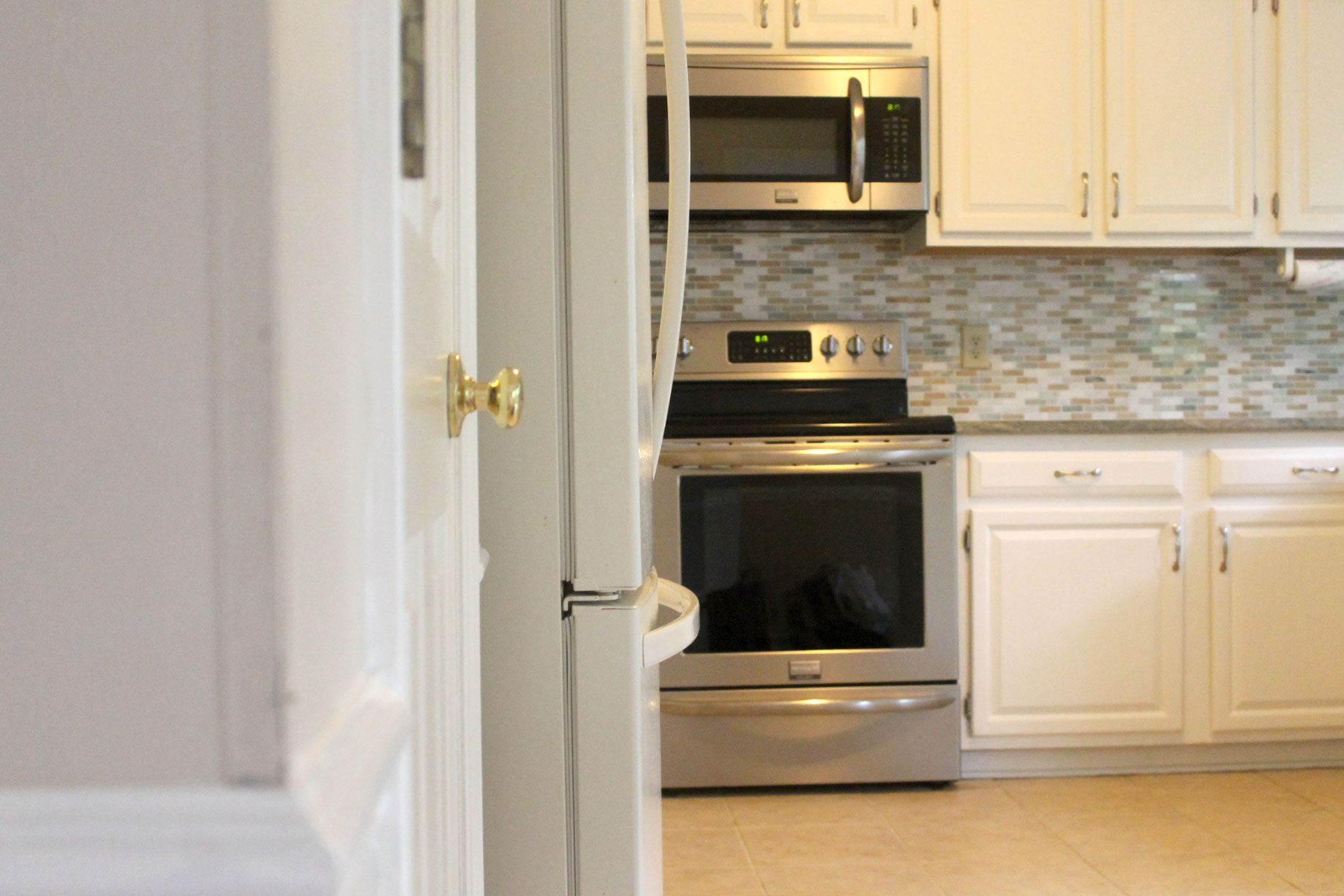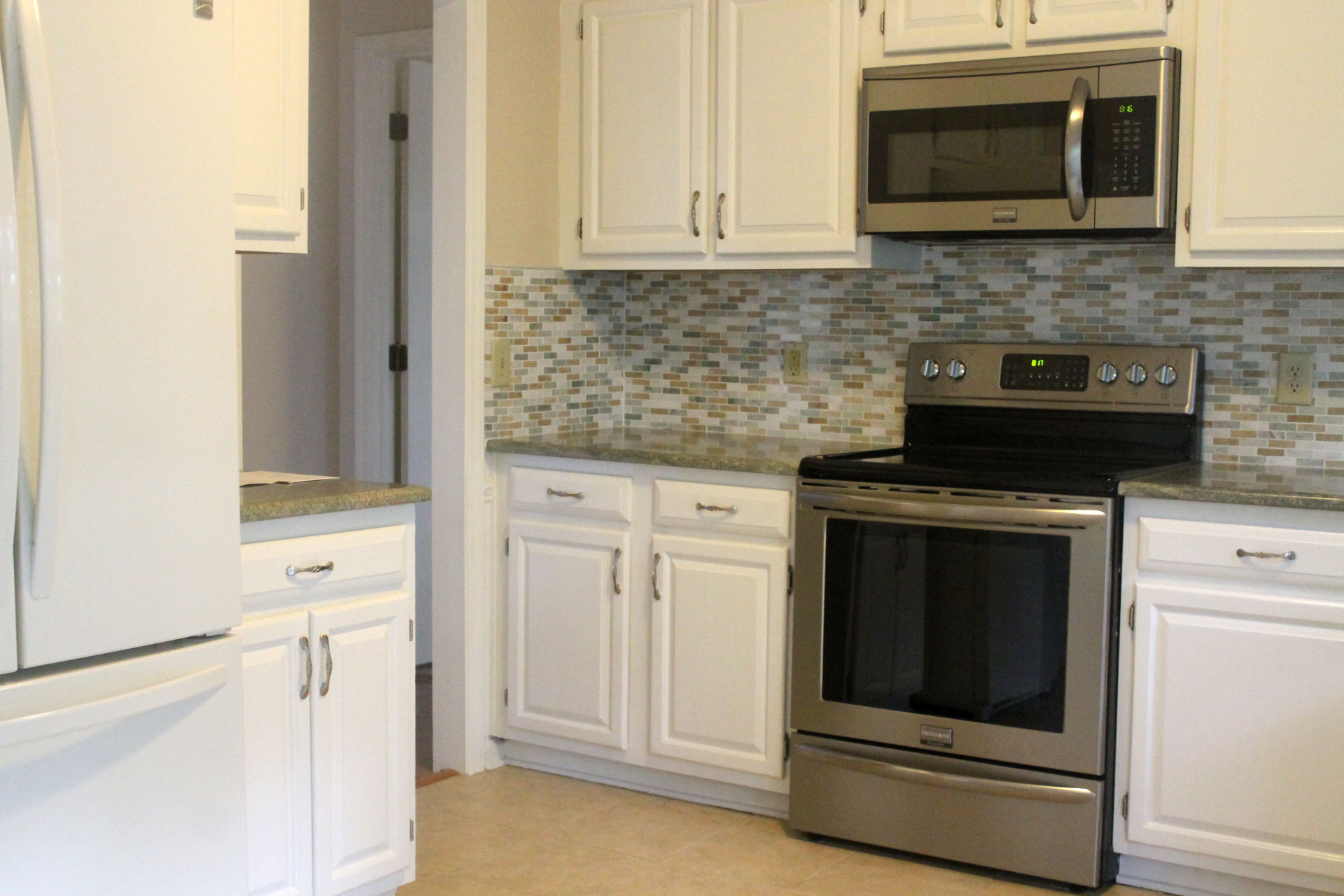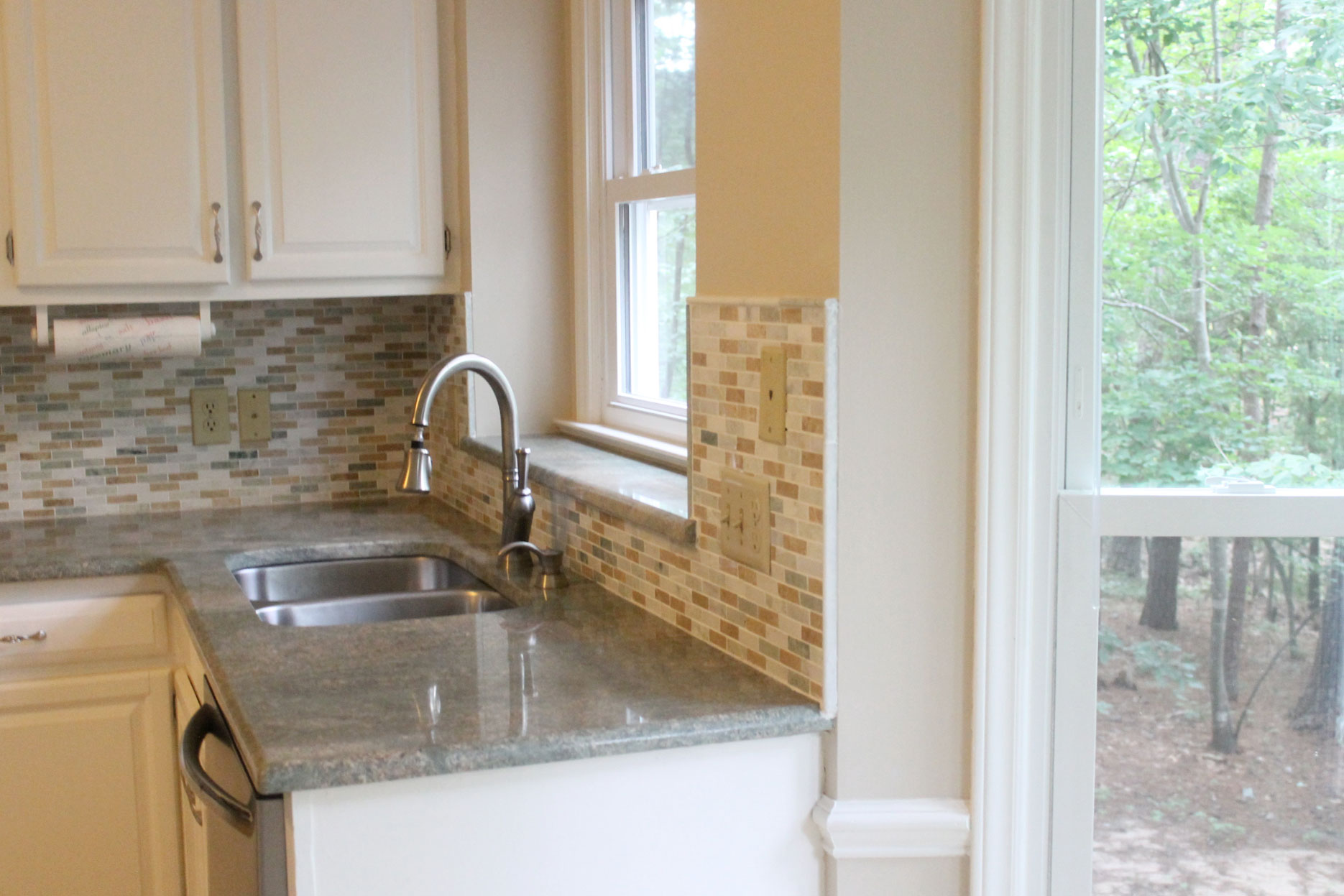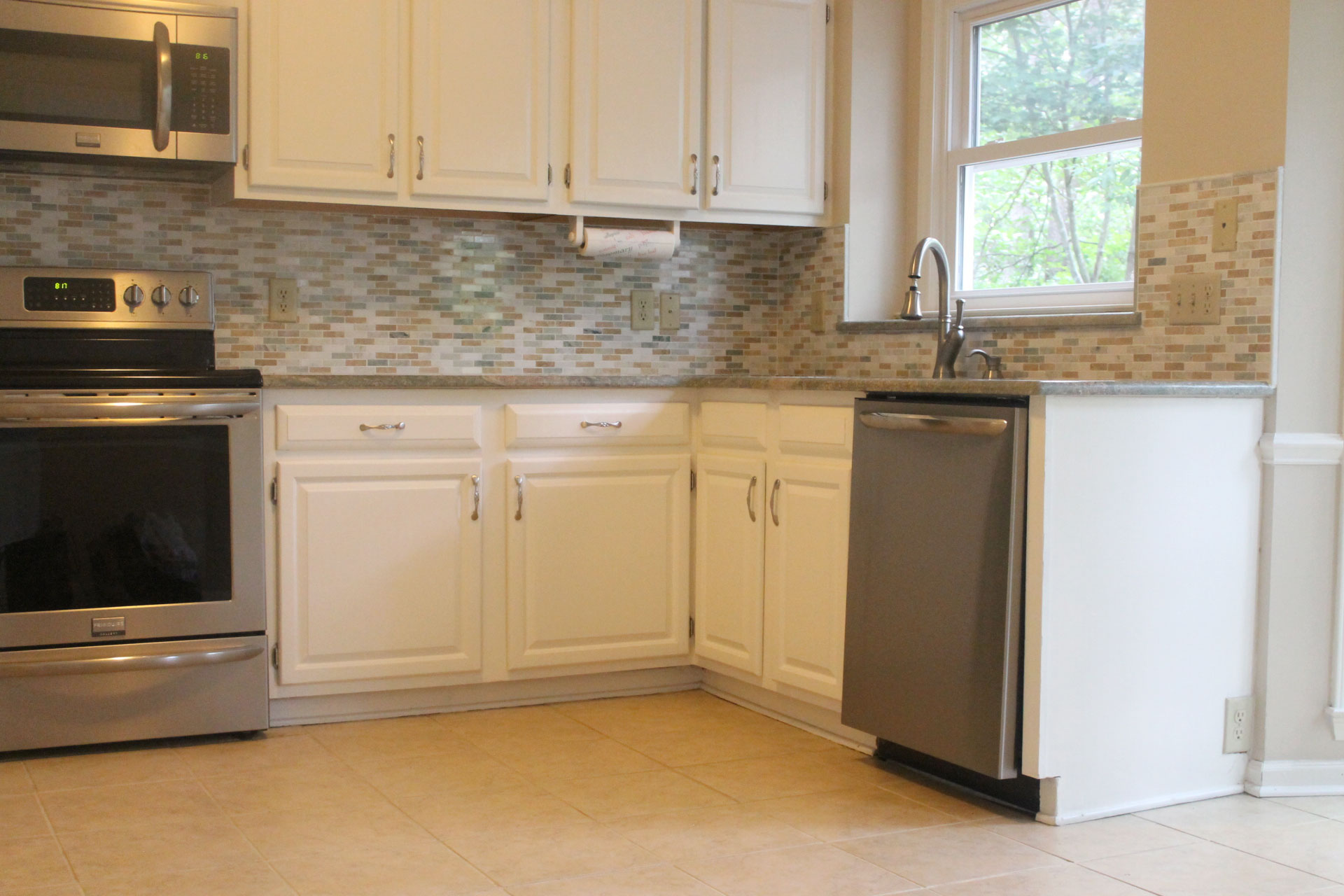 I was so thrilled to find a somewhat new kitchen (with granite countertops!) that was already white. We're still trying to decide what to do with the kitchen hardware – it's not bad, but also not my favorite. Thankfully little fixes like that aren't too expensive. We did buy a new stainless steel refrigerator that should be here any day now.
We're also going to make a bit of space in the garage so that I can keep the old refrigerator out there. I knew I was really an adult when I found myself giddy in the aisle of Lowe's a few weeks ago at the realization that I could have not one, but TWO refrigerators.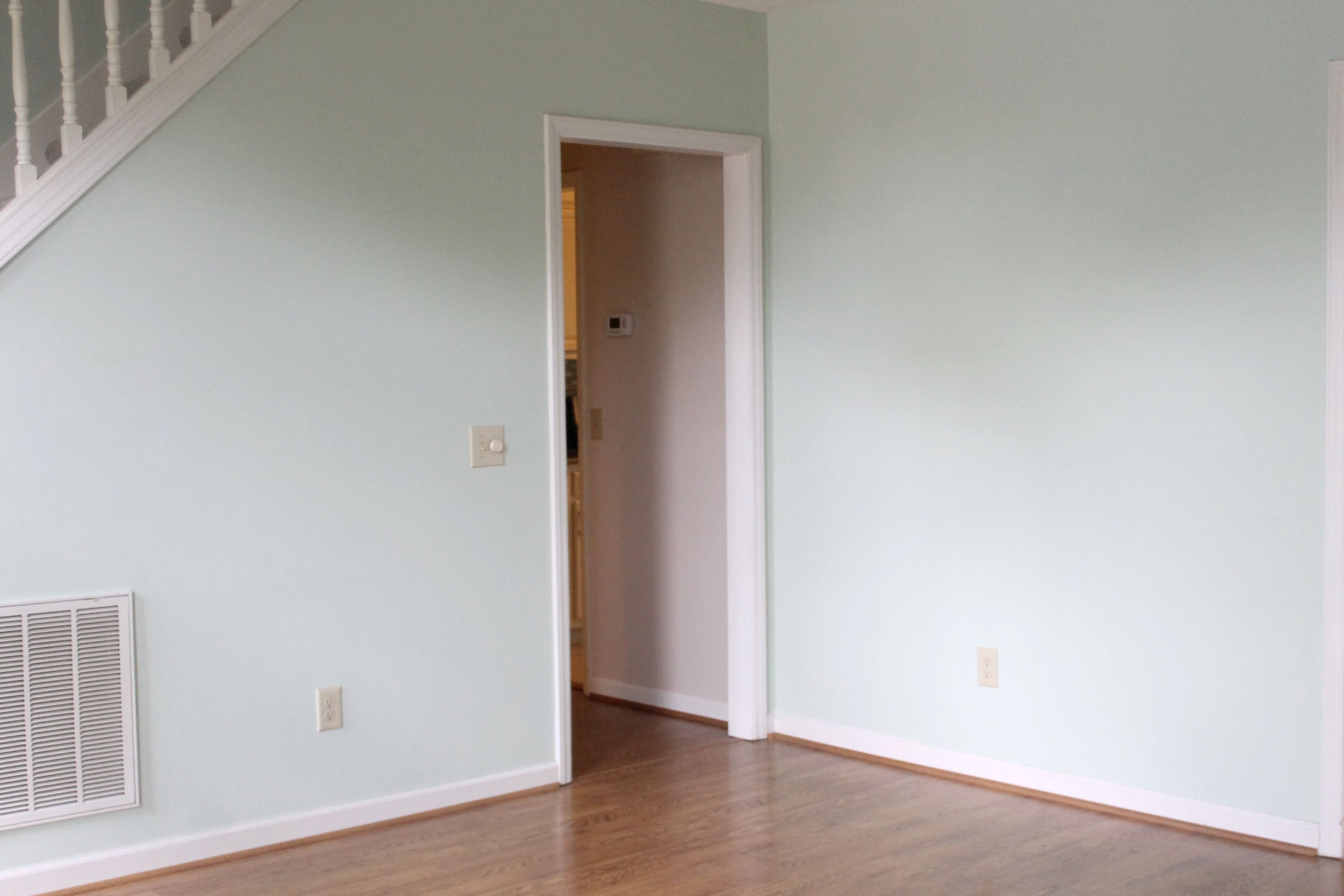 The hallway beside the kitchen leads to a laundry room (and then the two-car garage), a very blue guest bathroom (that has since been painted white), and master bedroom off to the side of the house.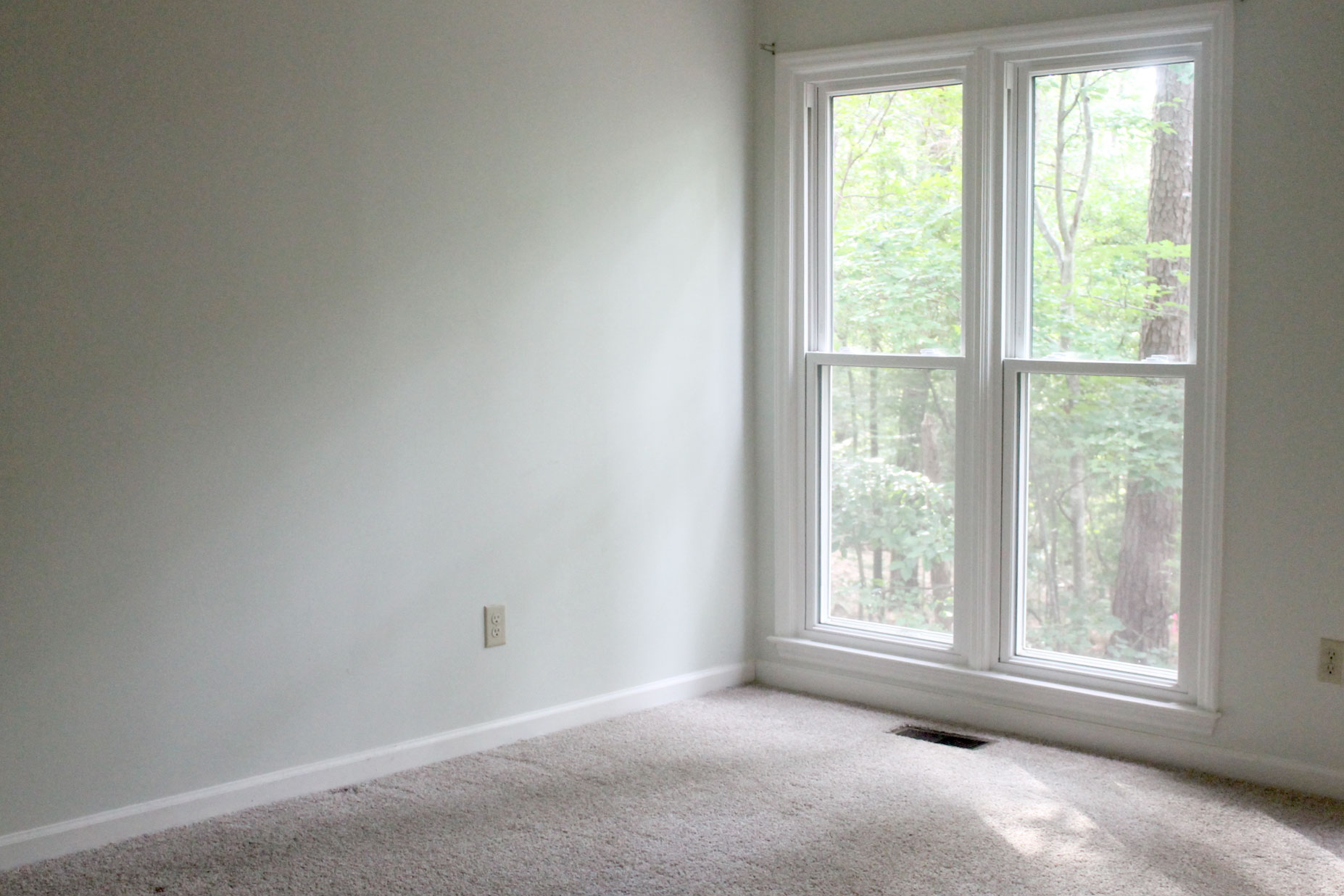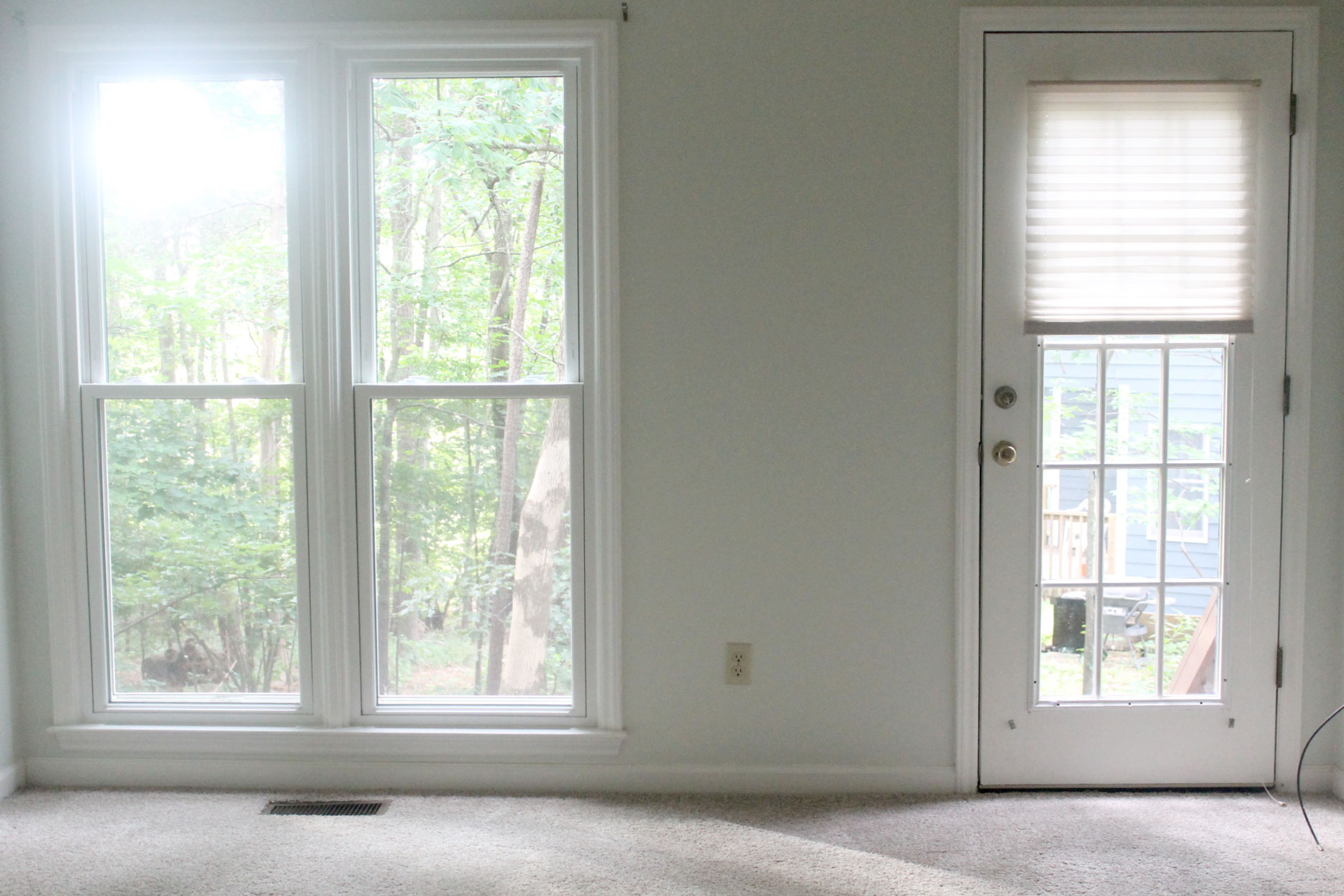 The view from our master is stunning; so many trees and even a little creek.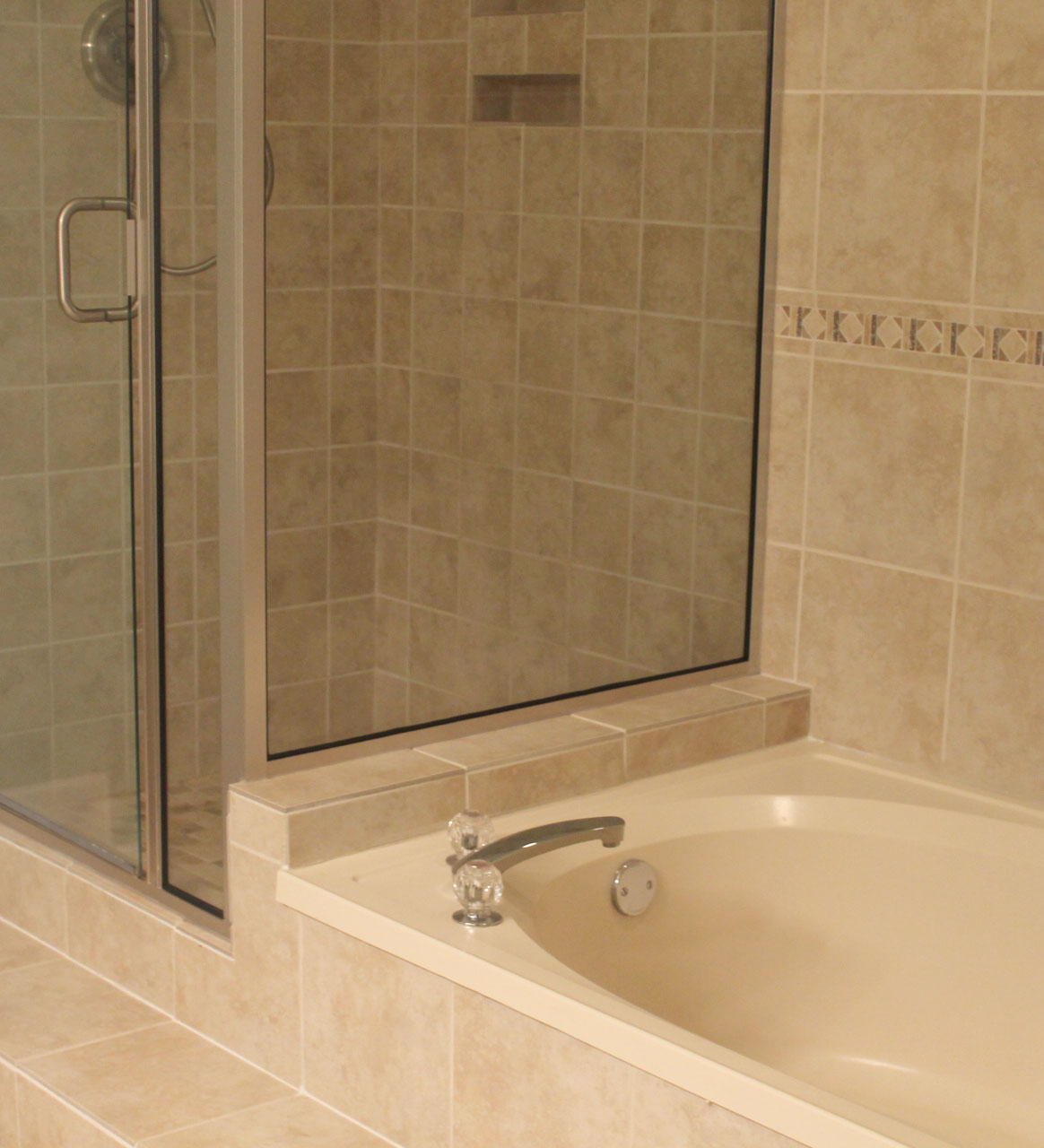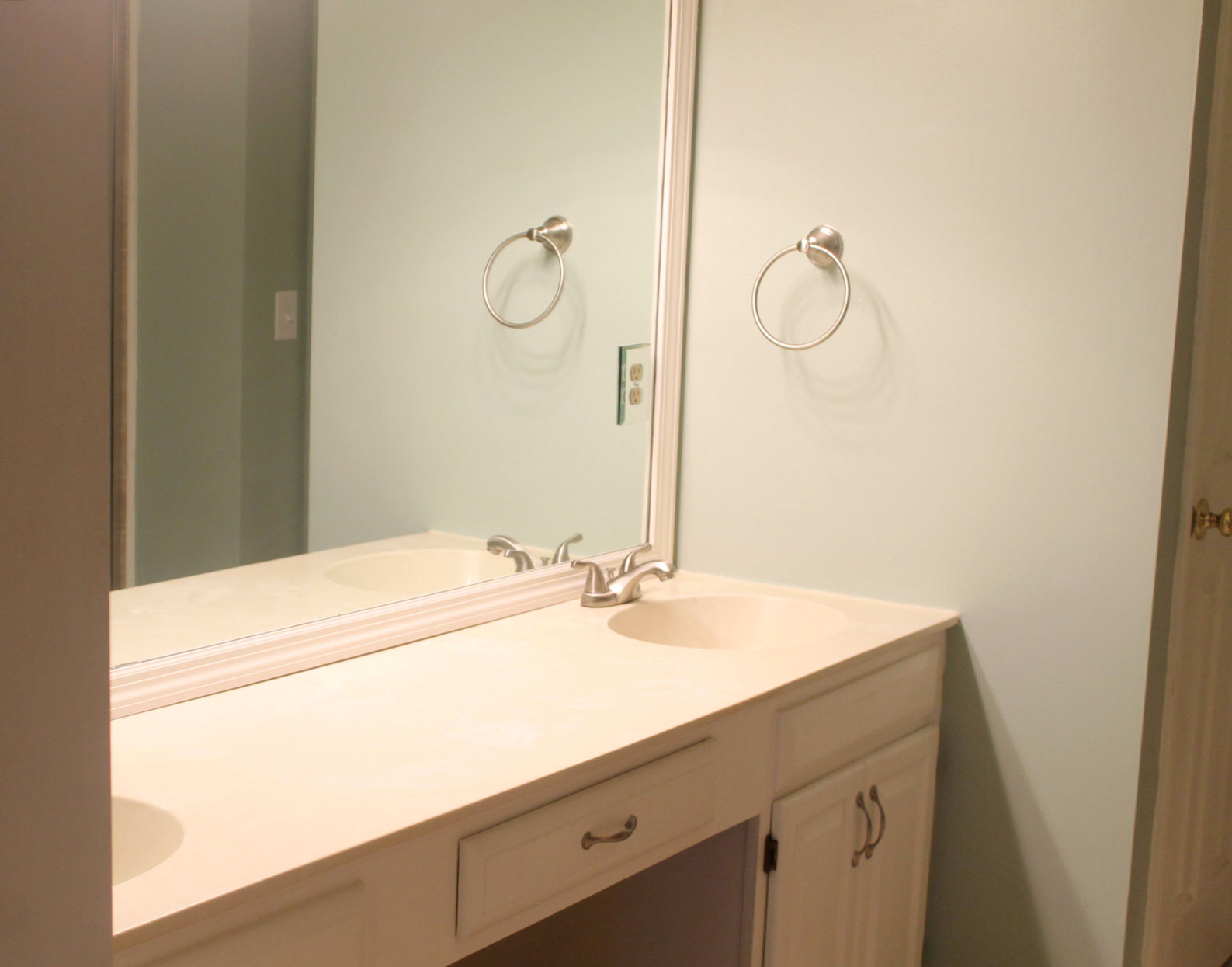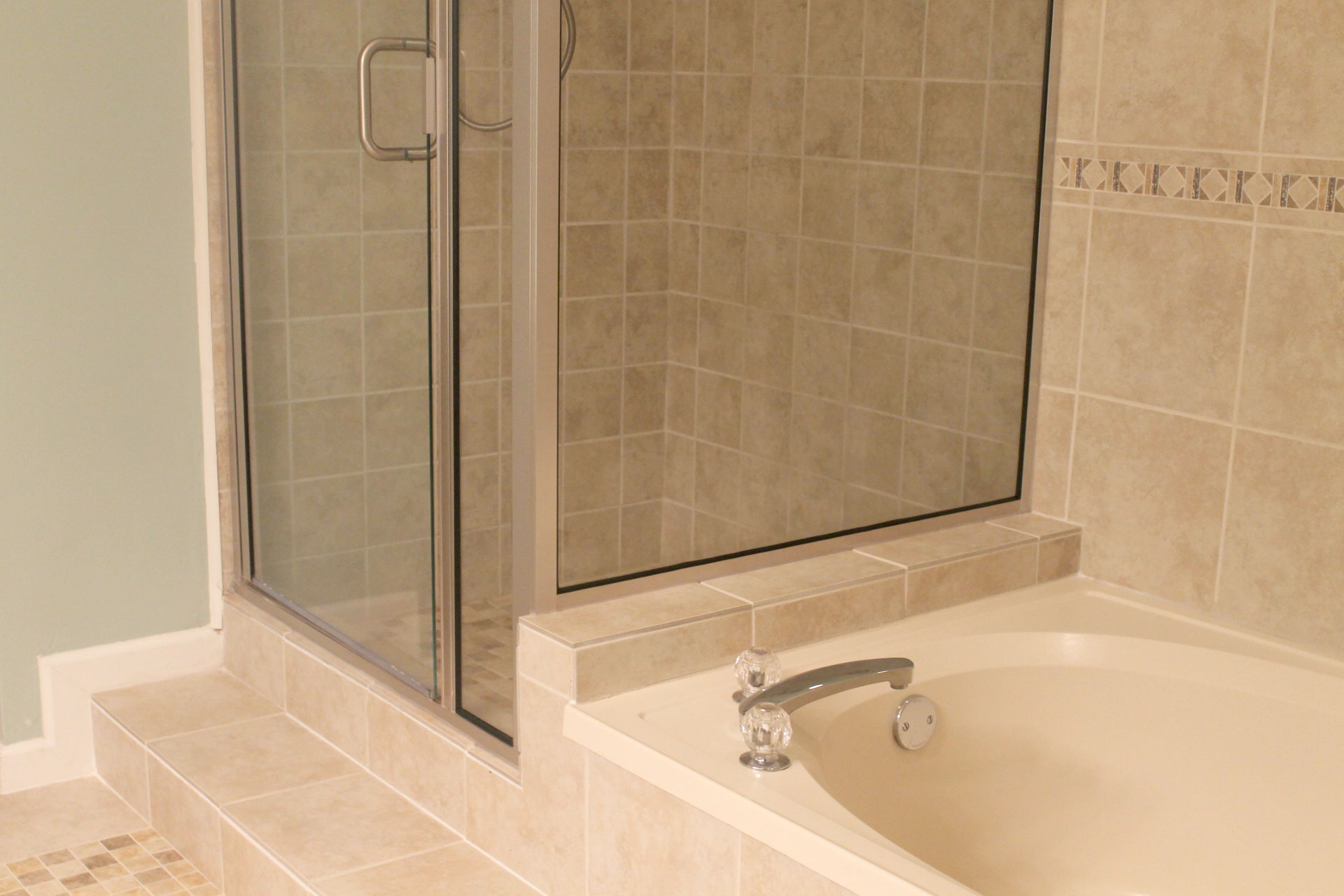 The master bathroom is a bit dark, so we're working on inexpensive ways to give it a bit of life. The countertops are also oddly low, but we already got two different quotes on heightening the sinks and replacing the countertops or putting in a whole new vanity and plumbing, and both options were a little too pricey. All suggestions are welcome!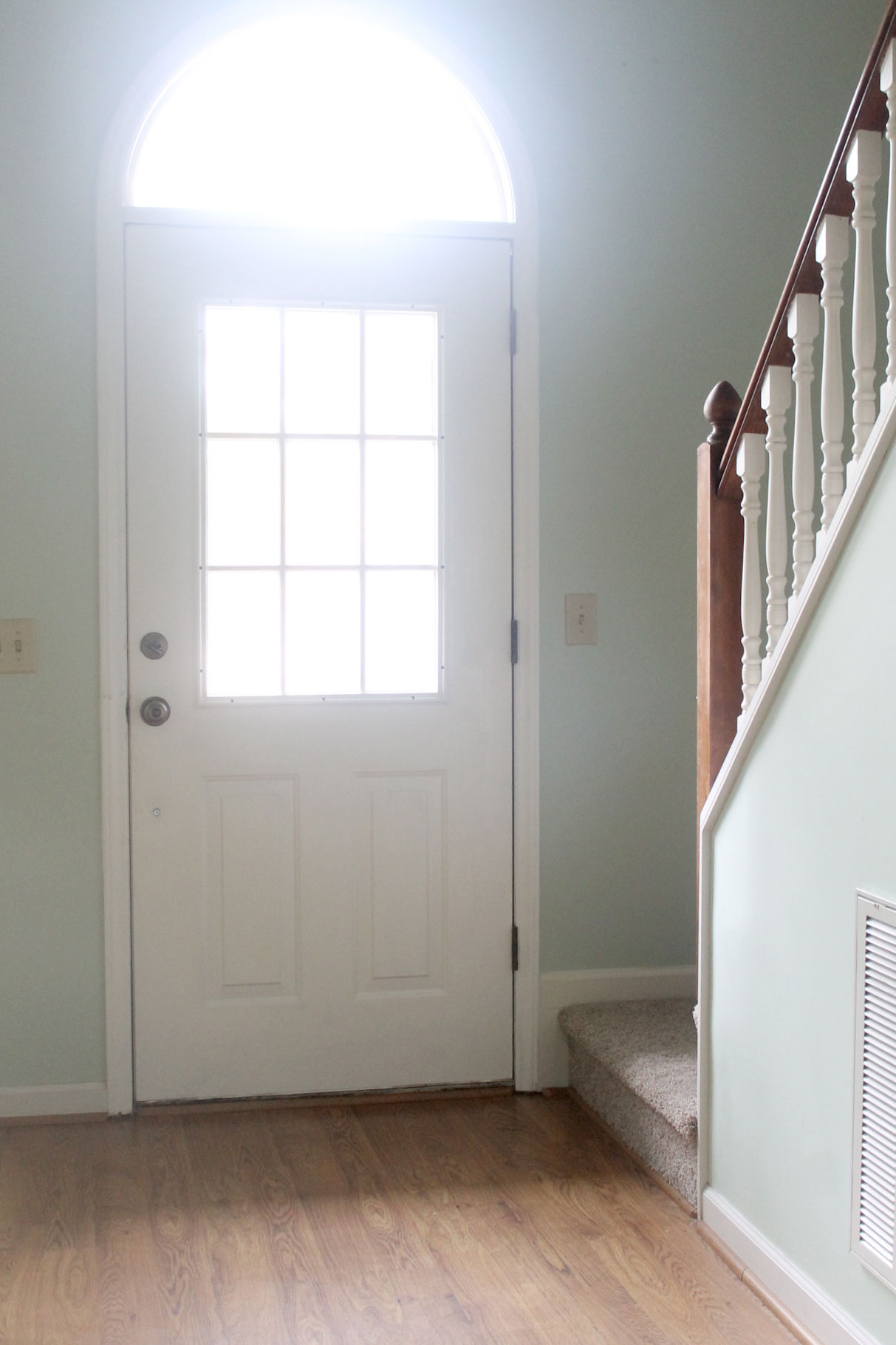 Upstairs we have two bedrooms, a large open loft space, a bathroom, linen closet, and unfinished walk-in attic. The bedrooms needed work – mostly a fresh coat of (white) paint and new window treatments.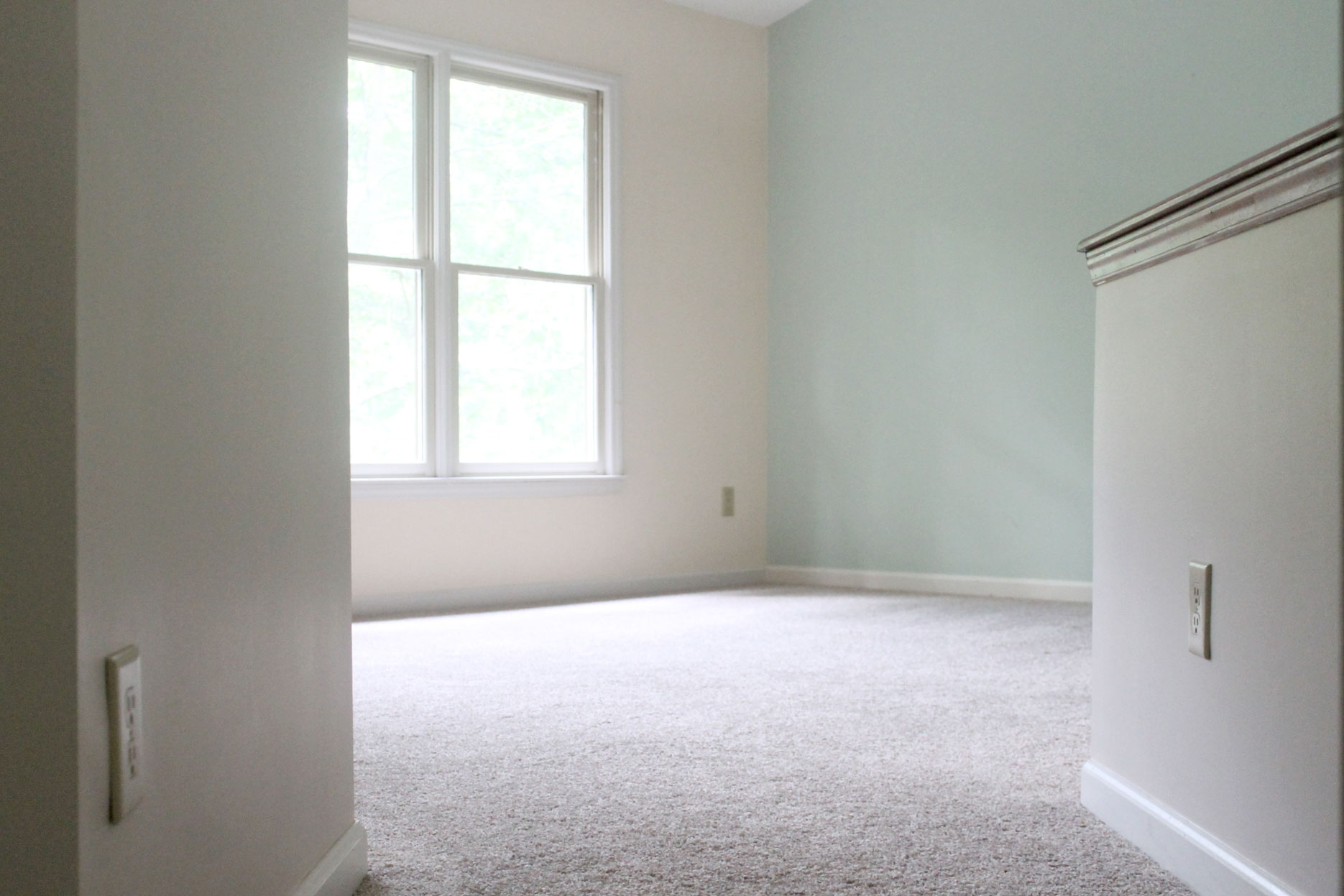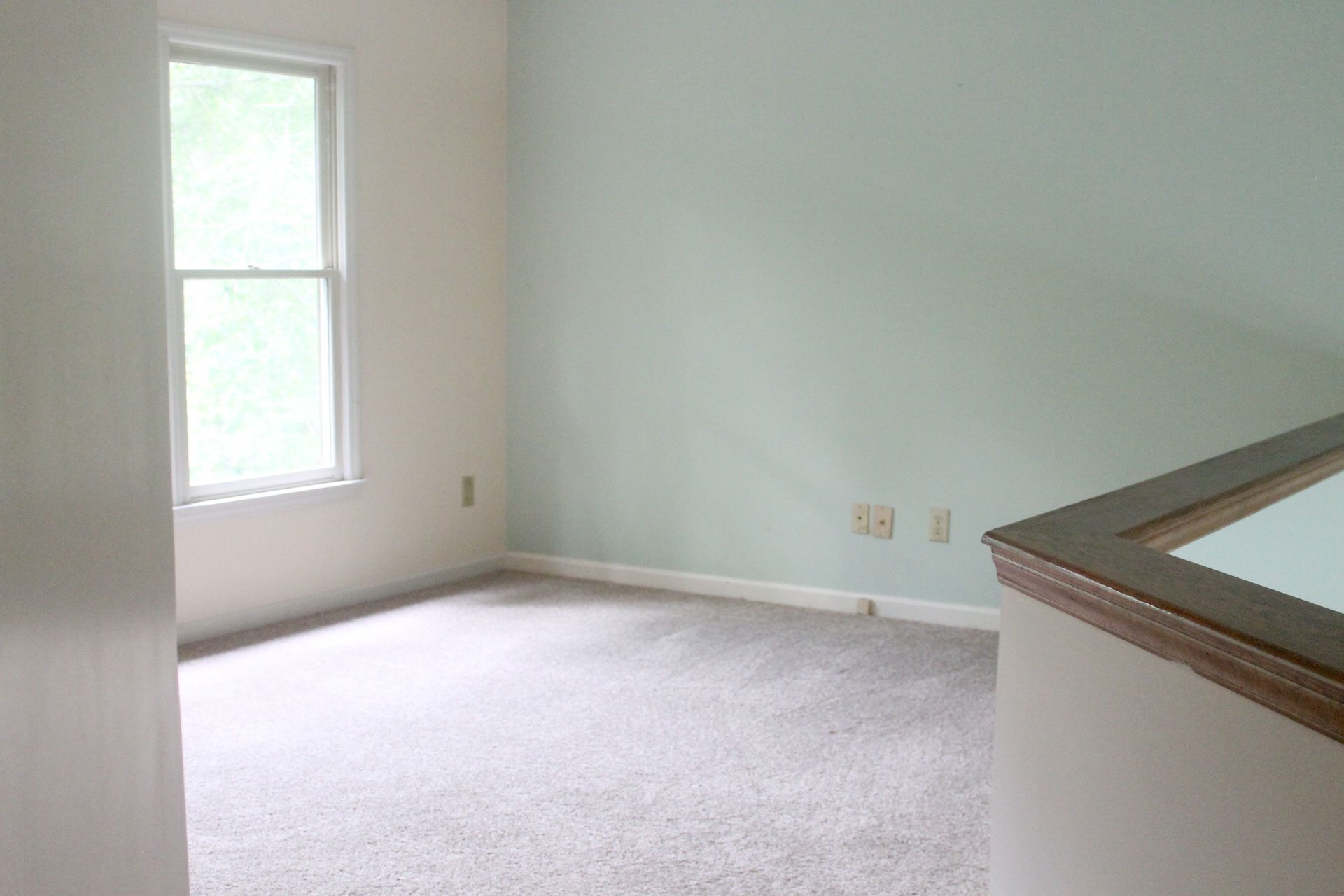 We've painted the walls of the loft white, and my hope is to turn that space into an office/play-space/craft room. I have a feeling Ikea shelving is going to become our new best friend.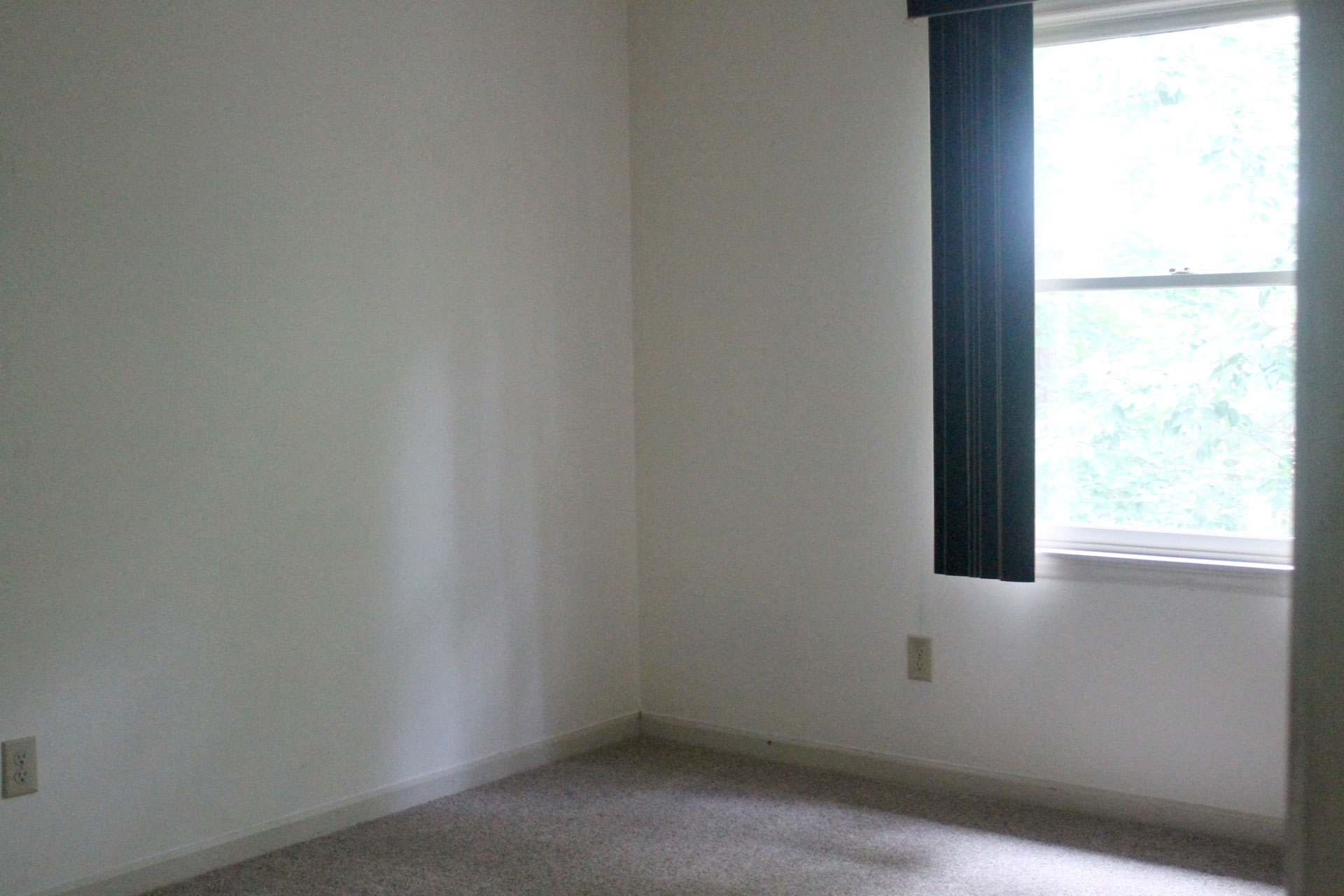 Oh, the pink walls. Thankfully, they're long gone.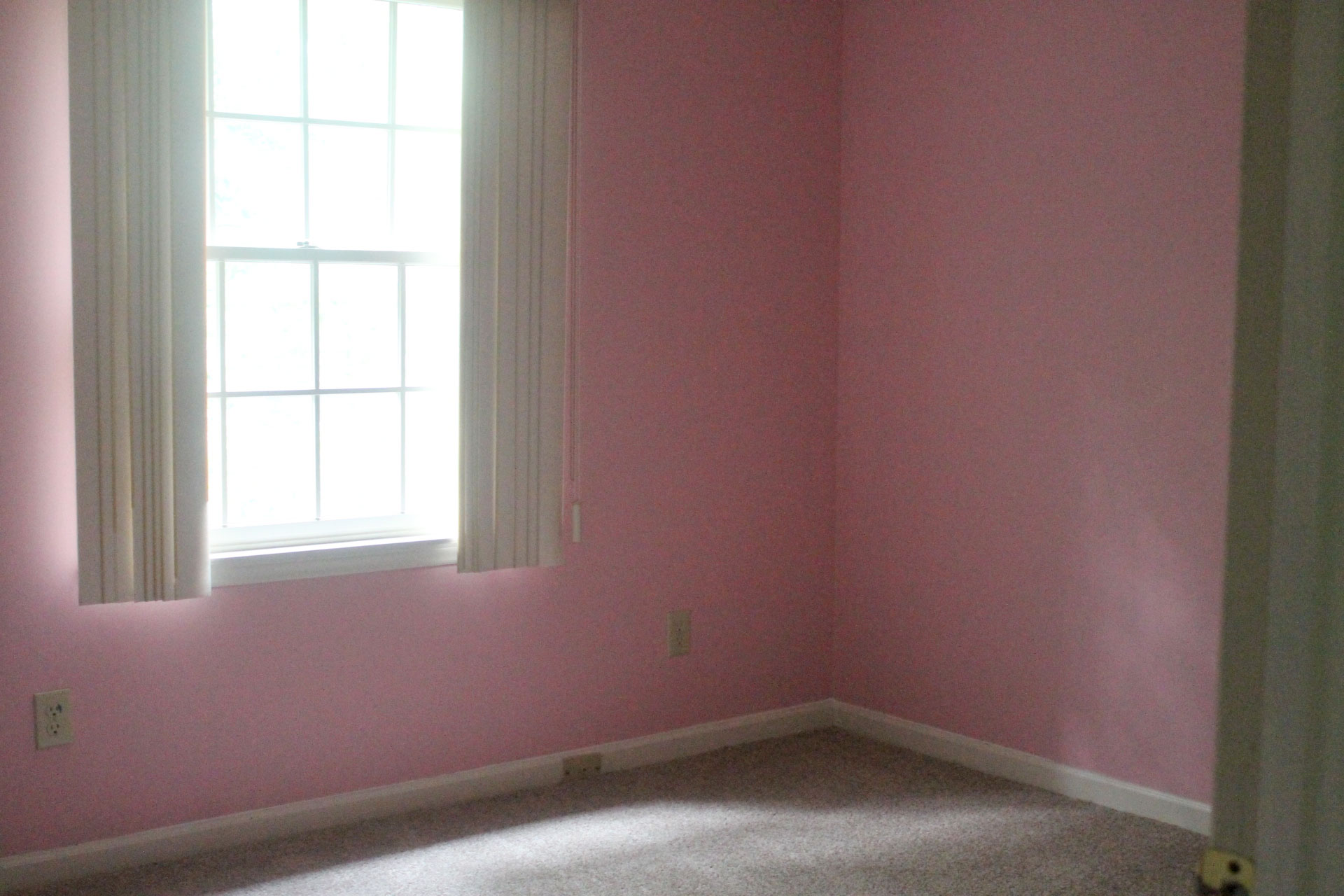 And let's not forget about that seashell wallpaper.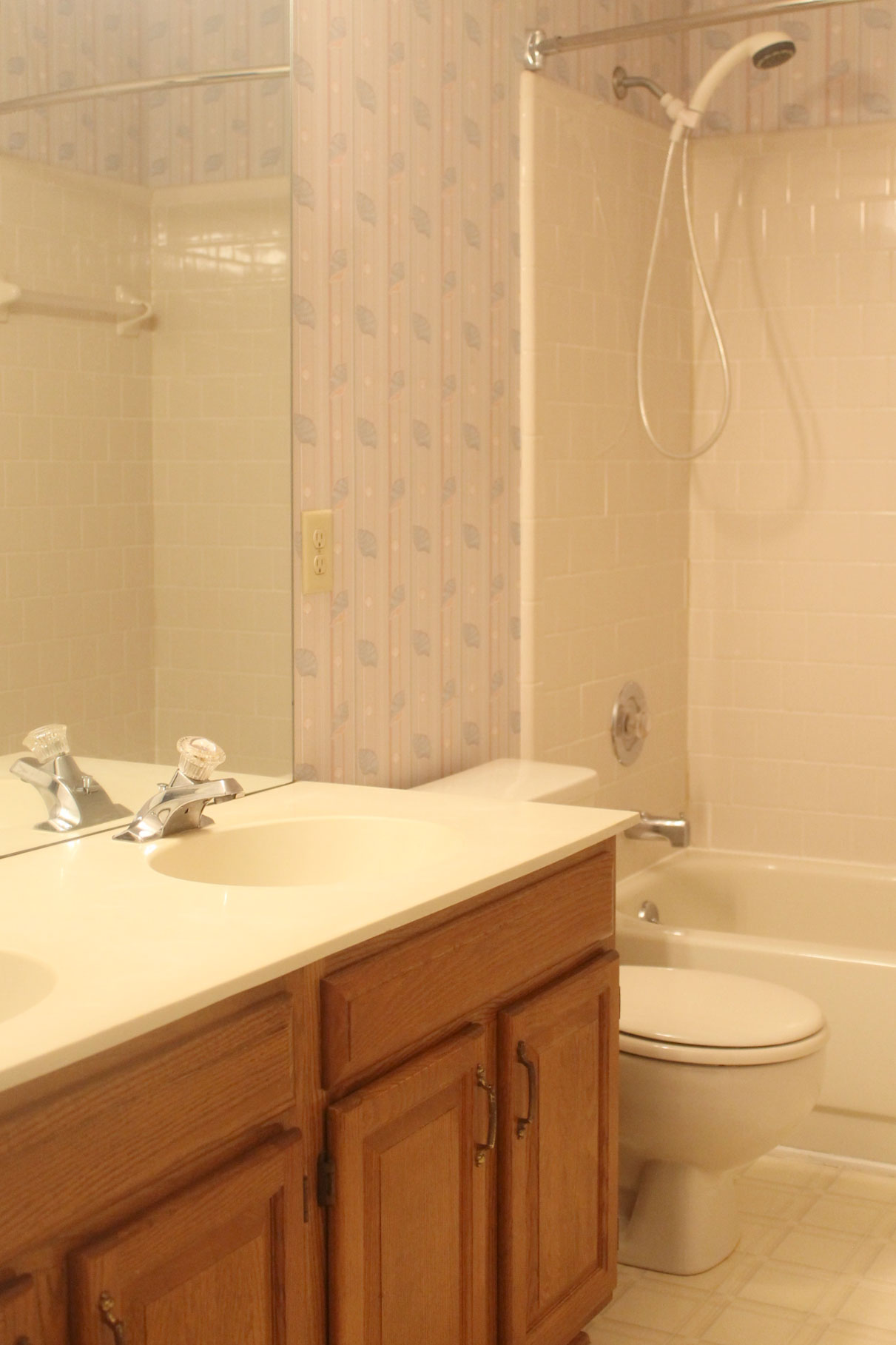 The wallpaper was a mission to hide. Stripping wallpaper is a huge pain in the rear, so with a lot of glue and several coats of paint, I think we've managed to conquer the wallpaper. Next up is those faucets and handles and a new color for the cabinets. Maybe a chalk paint in grey?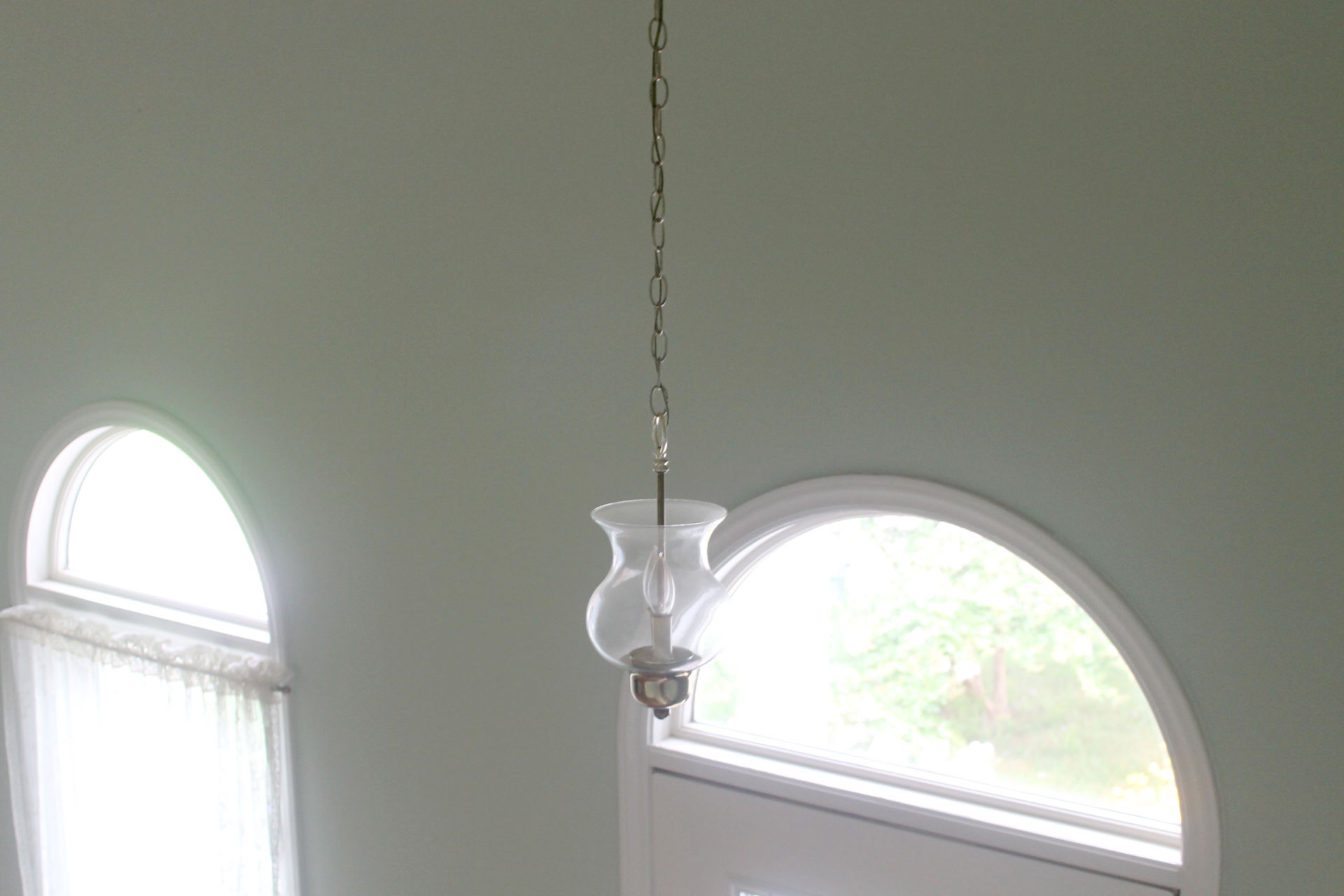 We've found great deals on light fixtures in particular; from Lowe's and Home Depot to Ikea, and even awesome clearance finds at Home Goods and the West Elm Outlet; I'm looking forward to showing you all what an improvement a coat of bright, white paint and a few new light fixtures can do for an old home.
I've been sharing little snippets of some of the changes on instagram's new #instastories and on snapchat → glitterinclexi , so be sure to follow me there for all of the fun behind-the-scenes before the big reveal.
Hope you liked the tour. I can't wait to share the "after photos" with you!