San Diego is one of those cities I could get lost in. Hubby and I love driving around a new city – house dreaming – i.e., fantasizing about all of the gorgeous homes we could live in (you know, with an unlimited budget). La Jolla in particular, is chock full of incredible houses; the whole town has this very cool throwback beach vibe, with stunning views and equally great food. So I thought I'd do a little review/guide to our favorite places in San Diego and particularly, in La Jolla. Let me know your favorite spots in the area! (If you're headed to California anytime soon, check out the LA guide as well.)
VISIT
One of the first places to check out is Black Beach. Whether you head out to the the bluffs of Torrey Pines overlooking the Pacific Ocean or you make your way down to the beach to check out the stingrays along the coast line and the dolphins swimming just beyond, this beach is not to be missed. The views from above the bluffs are breathtaking.
The architecture here is stunning – from the massive science buildings at UCSD to the footbridges over roads – all of the modern design looks gorgeous set against the desert-meets-beach backdrop.
On our first day here we visited Balboa Park to meet Erica of Acres of Hope Photography, who is undoubtedly amazing, by the way. I actually found her by searching for "mommy and me photographers". I had seen that Erica taught a mommy and me class to aspiring photographers, and I e-mailed her hoping for the best. She typically holds a class every other month or so and because there was no class being held when I would be there, Erica offered to teach me in a one-on-one session; very cool of her. So proud to announce, that after a bit of Erica's amazing teaching skills, I am off automatic mode … I hope for good. If you're in the San Diego area, you must must must take one of Erica's photography classes. She typically posts the new classes to her Instagram account, so be on the lookout when you have some time. (Pssst, the next class is being held in March!)
Balboa Park is an enormous and amazing place to visit, complete with gardens, walking paths, museums, several theaters, and the world-famous San Diego Zoo.
… now if only I could get them to smile in unison.
Mt. Soledad: Drive to the top of Mt. Soledad, where the Veterans Memorial is, and just stare out at the views. Snap a few pictures while you're at it, you won't want to forget those views.
La Jolla Cove: If you do nothing else, spend a few minutes at La Jolla Cove. The views are spectacular and there are so many seals.
In the last few pictures, you can see a mom and her baby seal – she gave birth to the baby that very morning. How fun is that?
EAT
Tacos range in San Diego anywhere from simple (and cheap) street tacos to gourmet tacos.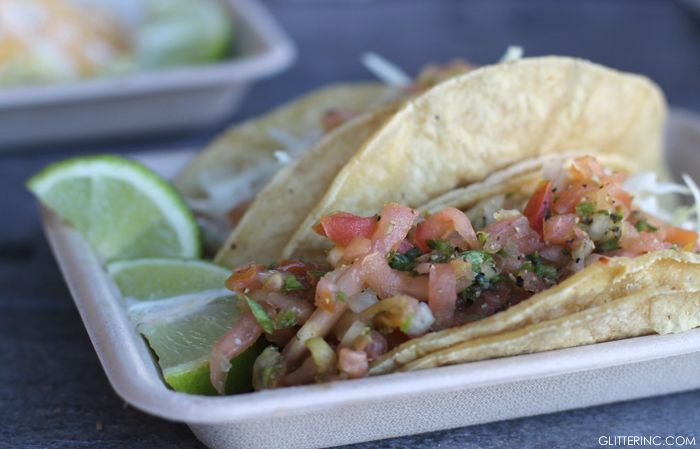 These shrimp tacos were inexpensive and good.
Puesto: We also stumbled upon Puesto and found a really great (dare I say it … hipster) taco paradise. Homemade corn tortillas, spicy but amazing guacamole, and truly unique flavor combinations. Basically any taco with their signature "crispy cheese" is a winner here.
As for our traveling little lady, someone discovered babbling and just can't stop. I can hardly believe how quickly Scarlett has grown … just looking at these photos, seeing her through another perspective (rather than in my own arms), has me all teary-eyed. At six months, she holds her head up so well, is just about sitting up on her own, babbles and coos and smiles at absolutely everyone, plays with toys, eats fruits and veggies (so much avocado on this California trip!) and is generally adorable.
Wahoo's Fish Tacos: By the way, if you're ever in California, make your way over to a Wahoo's Fish Tacos and order a fish taco and a shrimp taco … you're welcome. These were my fave, hands down.
Get the Look: Isabel Marant Étoile's Enery Dress // Loeffler Randall Rider Bag // Theory Space Dye Open Cardigan // Karen Walker Super Duper Strength Sunglasses // Stuart Weitzman 50/50 Over-the-knee boots
Thanks so much for following along on our travels! I have a whole rundown of our residency travels coming soon. Stay tuned.