This post contains affiliate links, which means that if you click on one of the product links, I'll receive a small commission. Thank you so much for clicking through and helping to support this little blog business of mine! Read more about our site, privacy, and disclosure policies here.
Looking for a truly great book to read? I'm sharing three books I recently read and absolutely loved; as in, the kind you just cannot put down.
I read a lot. It's something that, no matter how short on time I am, or how tired, or how little I practice self-care, I do make the time for, even if only for five minutes before bed. And lately, I've just been devouring books.
Because time is limited, I try to make it a point to only read books that I find I'm truly enjoying.
When I was younger, I used to force myself to power through books, even when I wasn't enjoying them. Whether they didn't resonate with me, or I wasn't connecting with the protagonist, or a whole host of other possible reasons for just not "feeling" a book, I still forced myself to finish the book. Maybe it was the student in me, but I just couldn't bring myself to toss a book aside, mid-way through. These days, I've learned to let go, and thank goodness for that. If a book doesn't capture my attention relatively early on, or I don't find I'm connecting at least in some small way, I set it aside. Sometimes I'll go back, if I find myself still curious about the characters or the story, but for the most part, I'm better about only reading what I'm truly interested in.
And isn't that the sign of a great book? One that you can't put down? I want to WANT to read a book and I want to crave to know what happens next.
I read plenty of good books. Books that friends and family recommend. Books I see on the New York Times Bestseller list.
Ahhh, but great books. I LIVE for great books. I love that feeling of desperately wanting to know what happens to a character; feeling deeply intertwined in their fictional lives.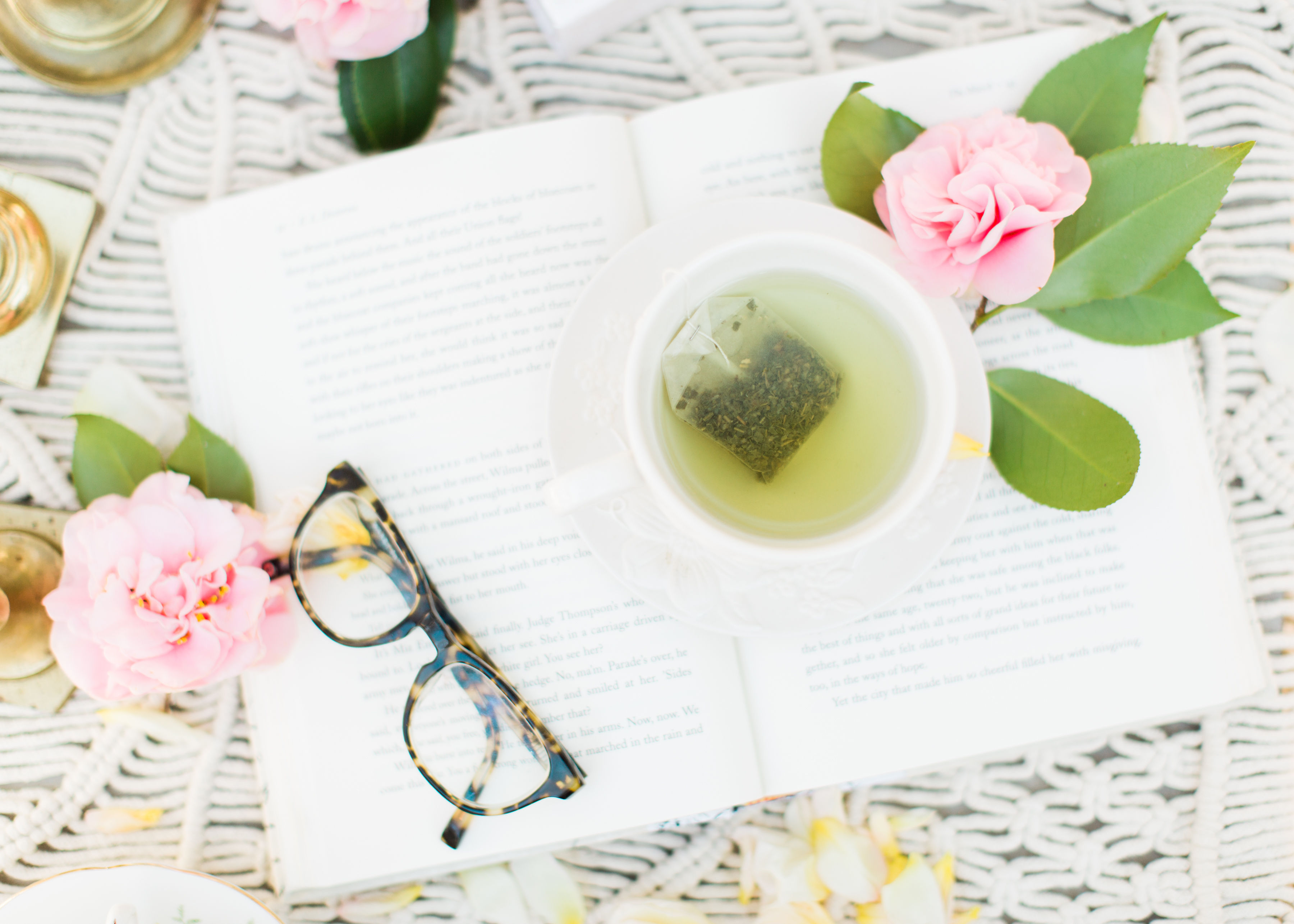 Three Books I Recently Read and Loved
So today, because I know you love great books too, I'm sharing three books I recently read and absolutely loved.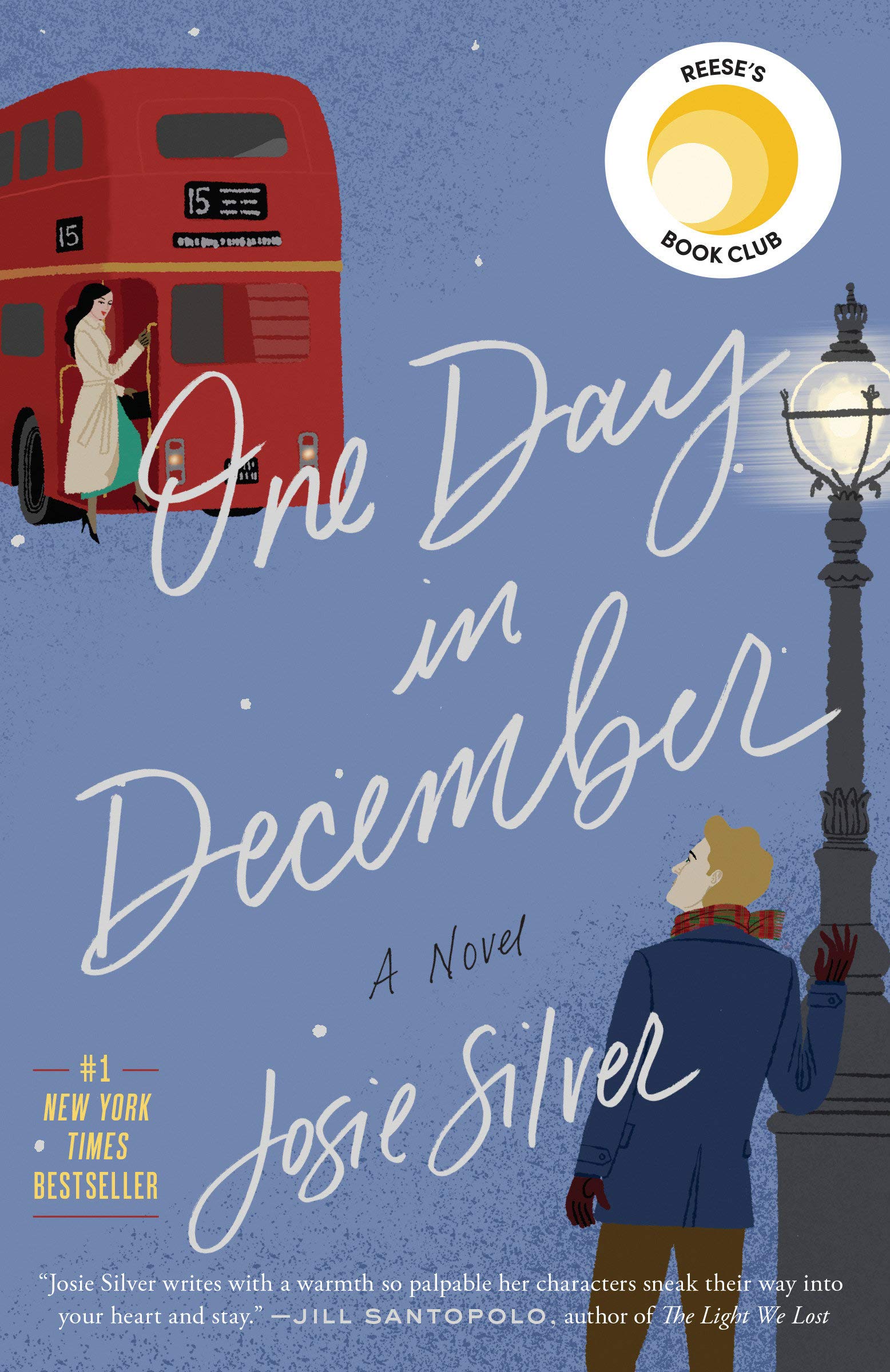 I just finished this one a few days ago, and honestly, I could not put it down. It's a romance novel, with several twists. I plowed through page after page, completely committed to the characters, their lives, their sometimes painful paths. The book was a total whirlwind, in the best kind of way. I could hardly wait for the ending.
Not to mention, this book, which just came out in 2018, has been so popular, it's a #1 NEW YORK TIMES BESTSELLER and a Reese Witherspoon x Hello Sunshine Book Club Pick.
Per the book's description on Amazon:
Two people. Ten chances. One unforgettable love story.
Laurie is pretty sure love at first sight doesn't exist anywhere but the movies. But then, through a misted-up bus window one snowy December day, she sees a man who she knows instantly is the one. Their eyes meet, there's a moment of pure magic…and then her bus drives away.
Certain they're fated to find each other again, Laurie spends a year scanning every bus stop and cafe in London for him. But she doesn't find him, not when it matters anyway. Instead they "reunite" at a Christmas party, when her best friend Sarah giddily introduces her new boyfriend to Laurie. It's Jack, the man from the bus. It would be.
What follows for Laurie, Sarah and Jack is ten years of friendship, heartbreak, missed opportunities, roads not taken, and destinies reconsidered. One Day in December is a joyous, heartwarming and immensely moving love story to escape into and a reminder that fate takes inexplicable turns along the route to happiness.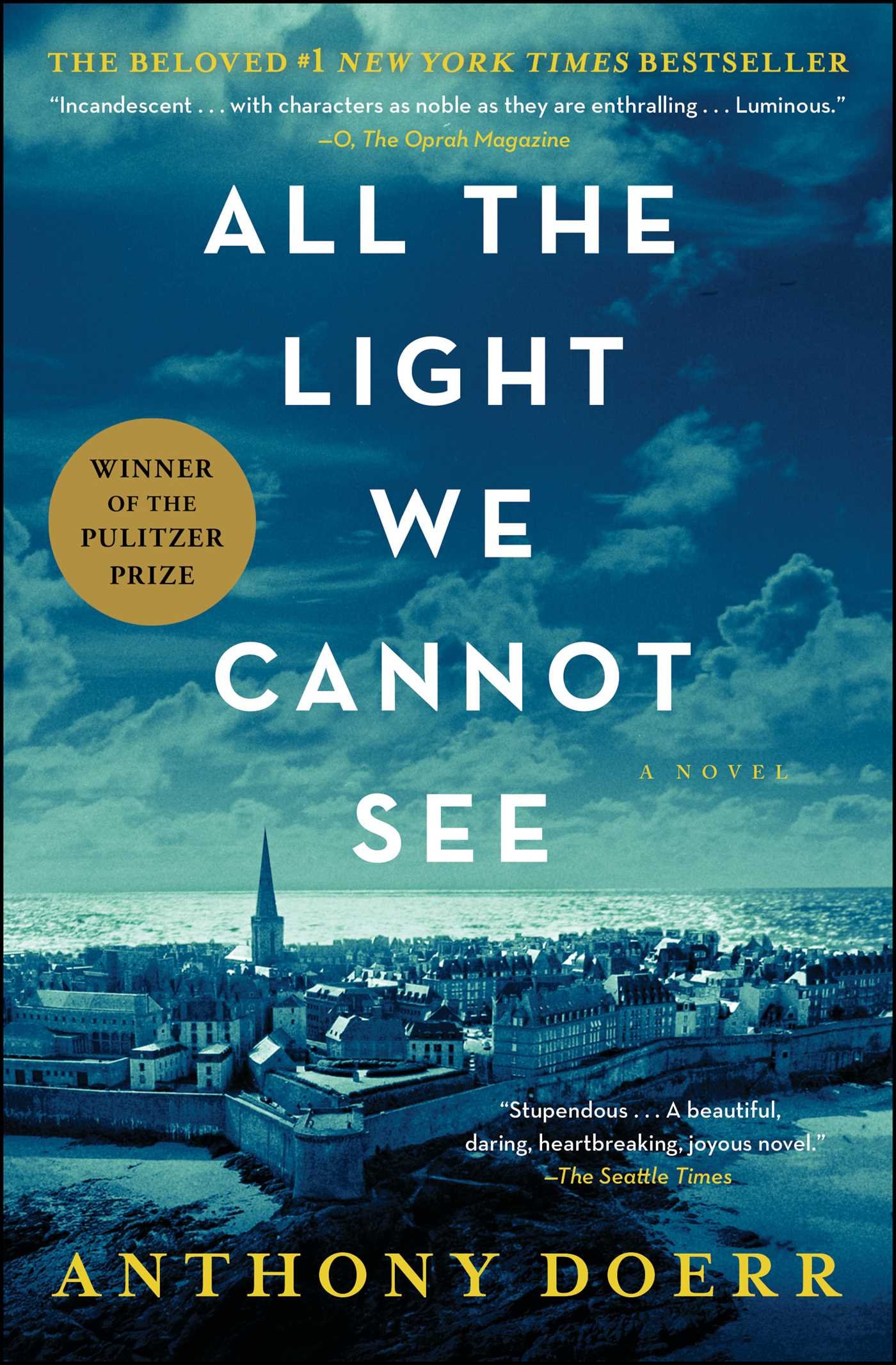 I'm not sure there are words for how beautifully written this book is. This stunningly ambitious instant New York Times bestseller about a blind French girl and a German boy whose paths collide in occupied France as both try to survive the devastation of World War II is haunting and detailed and sweeping. I was a ball of emotions as I turned the last page. Well worth the read.
Per the book's description on Amazon:
From the highly acclaimed, multiple award-winning Anthony Doerr, the beautiful, stunningly ambitious instant New York Times bestseller about a blind French girl and a German boy whose paths collide in occupied France as both try to survive the devastation of World War II.
Marie-Laure lives with her father in Paris near the Museum of Natural History, where he works as the master of its thousands of locks. When she is six, Marie-Laure goes blind and her father builds a perfect miniature of their neighborhood so she can memorize it by touch and navigate her way home. When she is twelve, the Nazis occupy Paris and father and daughter flee to the walled citadel of Saint-Malo, where Marie-Laure's reclusive great-uncle lives in a tall house by the sea. With them they carry what might be the museum's most valuable and dangerous jewel.
In a mining town in Germany, the orphan Werner grows up with his younger sister, enchanted by a crude radio they find. Werner becomes an expert at building and fixing these crucial new instruments, a talent that wins him a place at a brutal academy for Hitler Youth, then a special assignment to track the resistance. More and more aware of the human cost of his intelligence, Werner travels through the heart of the war and, finally, into Saint-Malo, where his story and Marie-Laure's converge.
Doerr's "stunning sense of physical detail and gorgeous metaphors" (San Francisco Chronicle) are dazzling. Deftly interweaving the lives of Marie-Laure and Werner, he illuminates the ways, against all odds, people try to be good to one another. Ten years in the writing, a National Book Award finalist, All the Light We Cannot See is a magnificent, deeply moving novel from a writer "whose sentences never fail to thrill" (Los Angeles Times).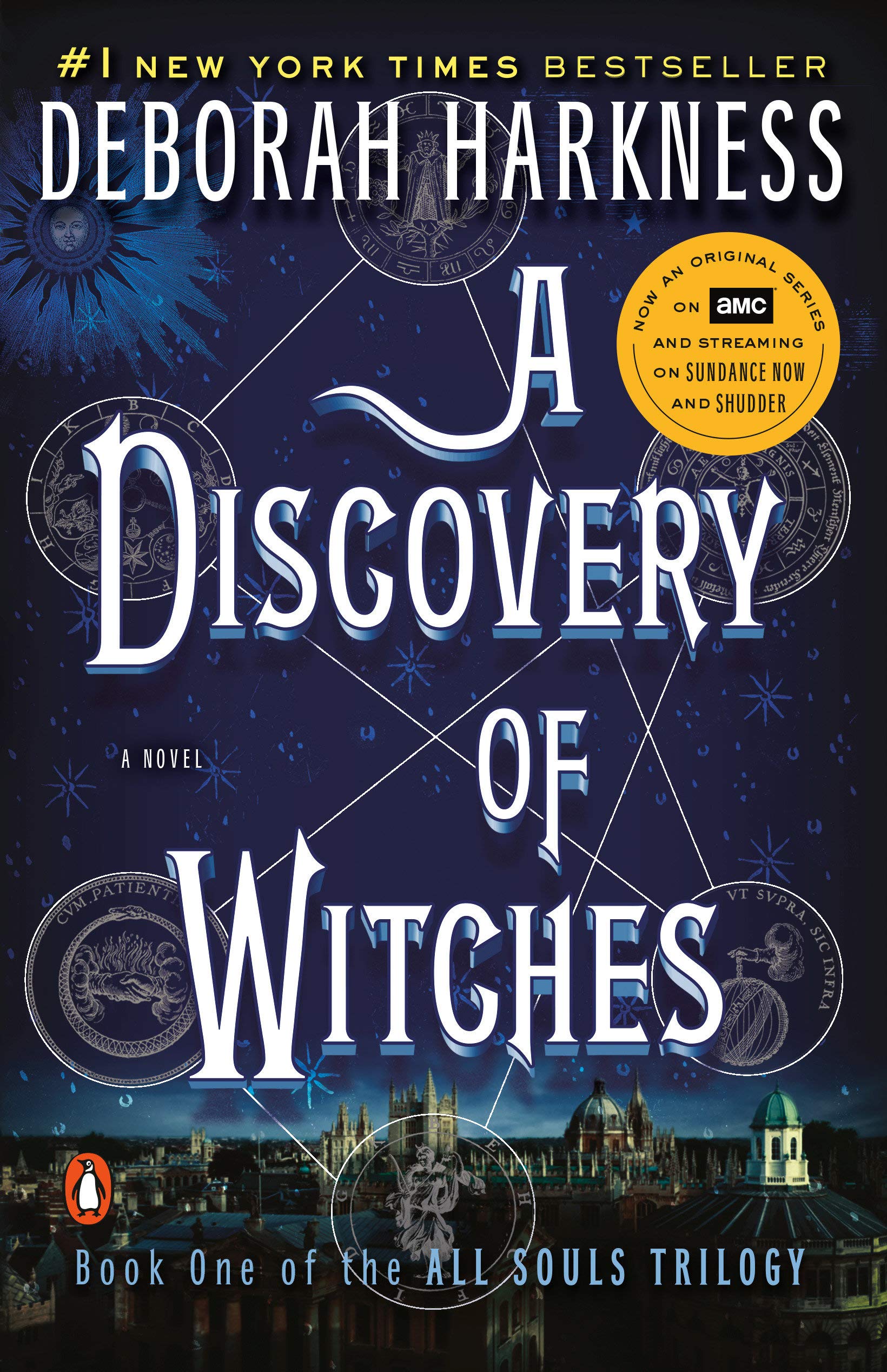 Admittedly, I had had this book on my reading list for years before finally getting around to reading it. My friend Hitha first recommended it to me, and since then, Amazon constantly recommended it to me as a book I would certainly like. I mean, I do love historical fiction, supernatural stuff, etc., so yeah, it seemed like a given.
Eventually, I snagged myself a copy. In truth, it took me a bit to get into this one; but once I did, oh my gosh, the obsession is REAL. This is actually the first book in a series of three books; the first of which was just made into a mini-series on AMC.
Honestly, I think for the same reason I felt this book had a slow start, I wound up absolutely adoring the book and it's characters. These books are all about the nuances, the descriptions, and the detail. My goodness, the detail. The level of historical details in this fictional, supernatural world, is astonishing. Harkness' writing is incredible. She leaves you hungry for more. Everything about this book is compelling and I'll be sure to update you all once I've inevitably whipped through books two and three.
Per the book's description on Amazon:
Deborah Harkness's sparkling debut, A Discovery of Witches, has brought her into the spotlight and galvanized fans around the world. In this tale of passion and obsession, Diana Bishop, a young scholar and a descendant of witches, discovers a long-lost and enchanted alchemical manuscript, Ashmole 782, deep in Oxford's Bodleian Library. Its reappearance summons a fantastical underworld, which she navigates with her leading man, vampire geneticist Matthew Clairmont.
Harkness has created a universe to rival those of Anne Rice, Diana Gabaldon, and Elizabeth Kostova, and she adds a scholar's depth to this riveting tale of magic and suspense.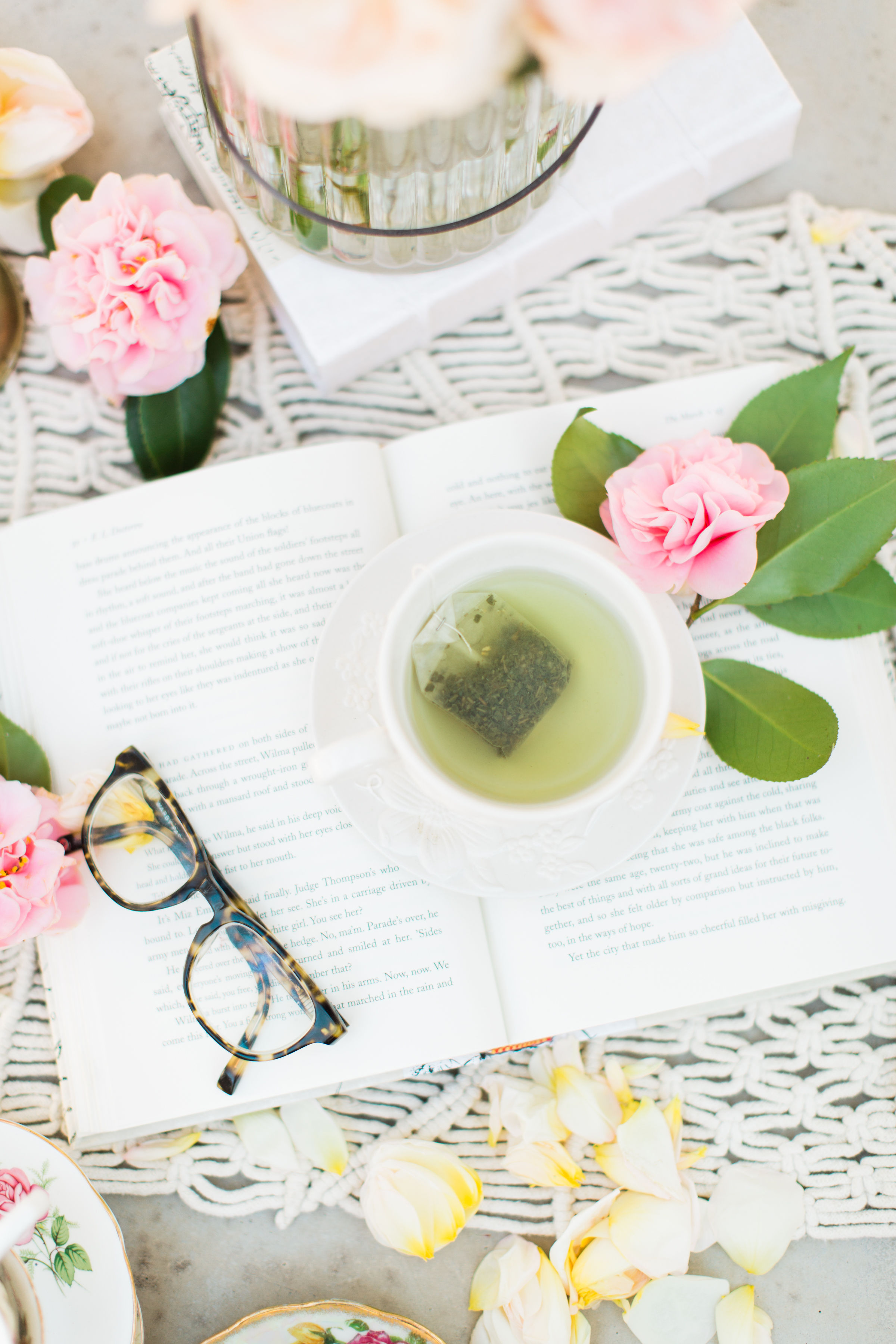 SHOP MY FAVORITE RECENT READS. CLICK LEFT & RIGHT ARROWS TO EXPLORE
Did you know that there's a whole catalog of my favorite books over on my BOOK CLUB page? And if you need even more book recommendations, here's my Spring Reading List. Yep, I like books a lot.
And in case you're curious, you can read all about why I started a book club right here.
If you do pick up any of these books, join the conversation by tagging me (@glitterinclexi on Instagram, Facebook and Twitter) and #GlitterBookClub in your posts.
Psst … want to see more of this book-inspired outdoor tea and dessert party shoot? All of the prettiness is right this way!
Photos by Annie Timmons Photography for Glitter, Inc.