This post has been sponsored by Delizza. All thoughts and opinions are my own.
Welcome the sunshine with a whimsical and fun outdoor spring tea and dessert party, complete with the easiest, totally impressive, and foolproof desserts that will make you the official hostess with the mostest.
Ahh, spring. Every year around this time, we all clamor for spring. Winter can feel endless and once the obvious signs of spring start making their debut, the excitement for the change of seasons becomes almost palpable. For me, I daydream about throwing whimsical flower-filled outdoor parties.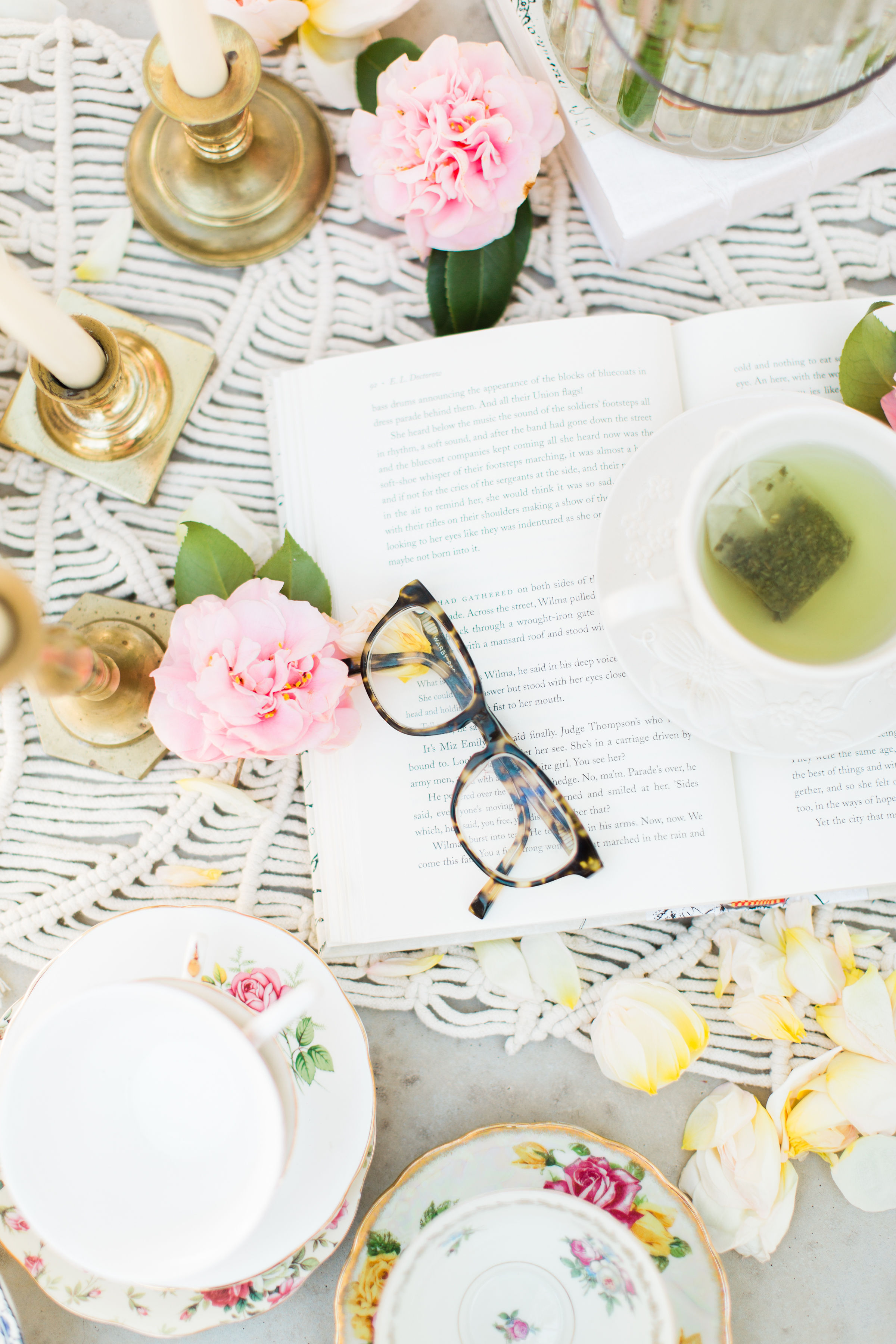 When it comes to a beautiful and bright outdoor party, simplicity is the name of the game.
I'm a big believer in celebrating the everyday—whether that means gathering a few of your closest friends over a big bowl of spaghetti or throwing one ridiculously memorable southern soirée, celebrating is always a YES.
And because I look for any excuse to gather and celebrate, sometimes the very best way to do that is by keeping things relaxed, easy and fun. For this outdoor spring party, I got this crazy idea to serve a bunch of yummy bite-sized desserts and tea … and nothing else. It may seem almost too simple, but you'd be amazed at how much your guests will love and appreciate being served big trays of Delizza Belgian Mini Cream Puffs, Delizza Belgian Custard Cream Mini Eclairs, berries, and chocolate. It's the perfect excuse to get together, eat the yummiest fool-proof sweets (more on that hostess-with-the-mostest trick below!), and just BE together.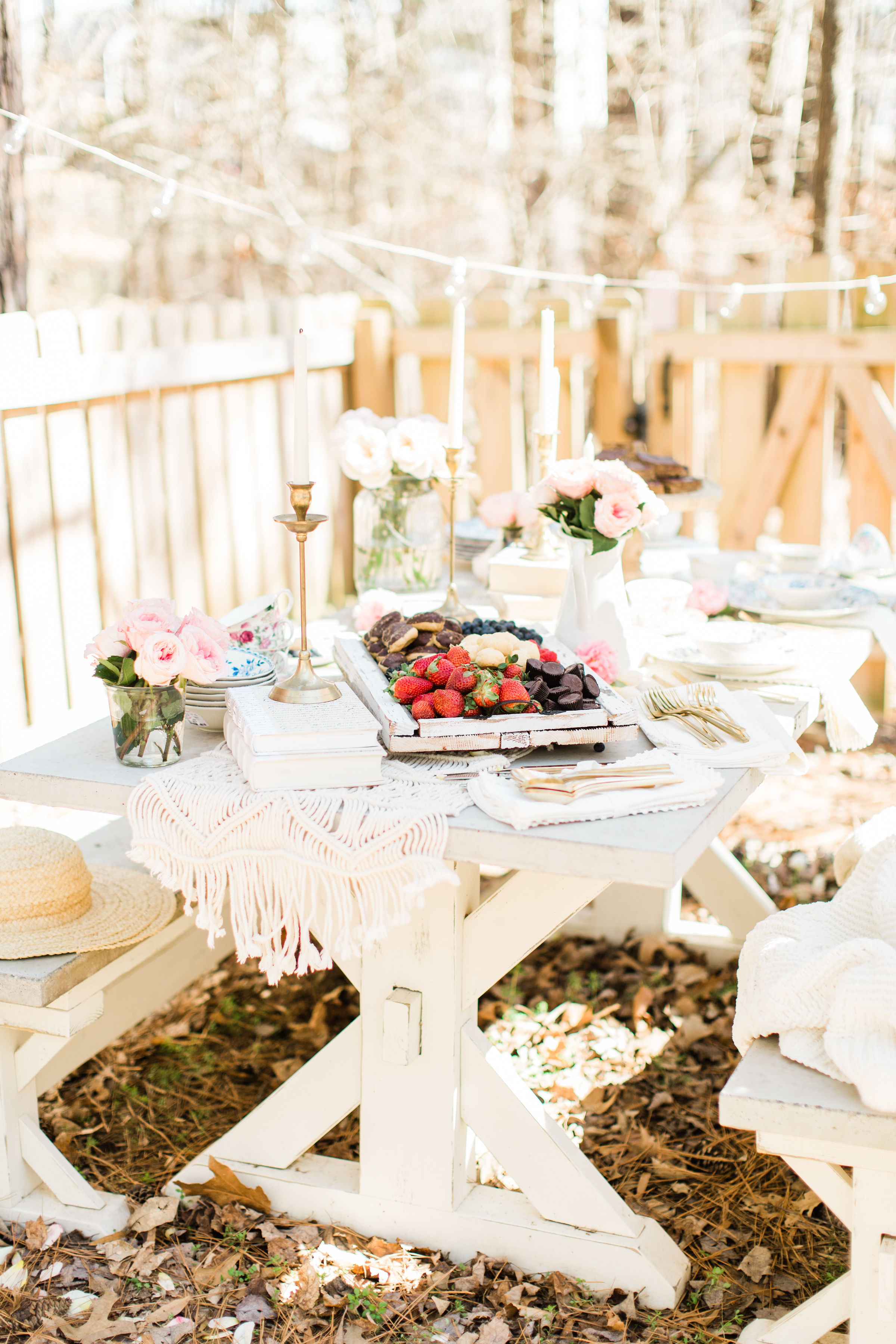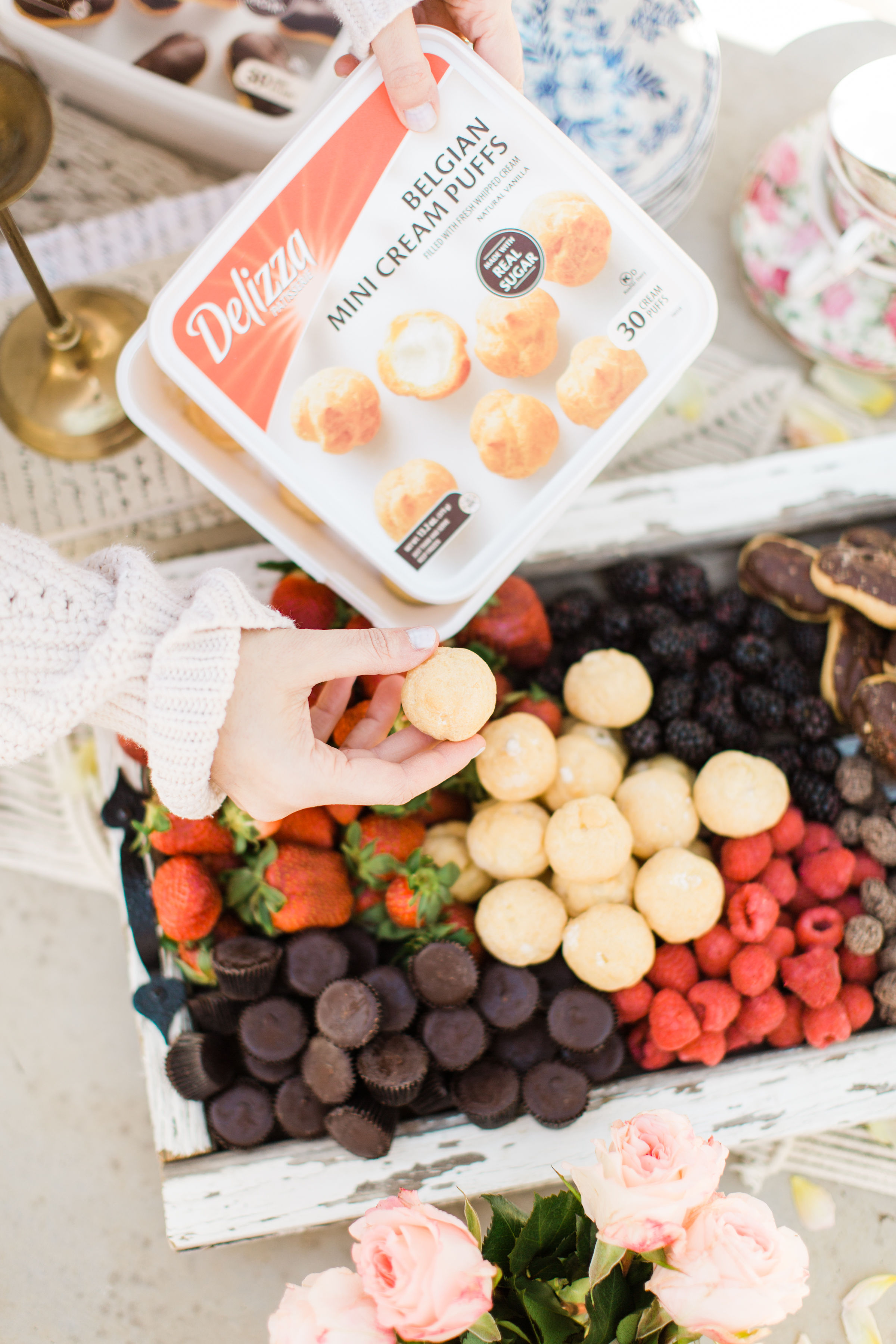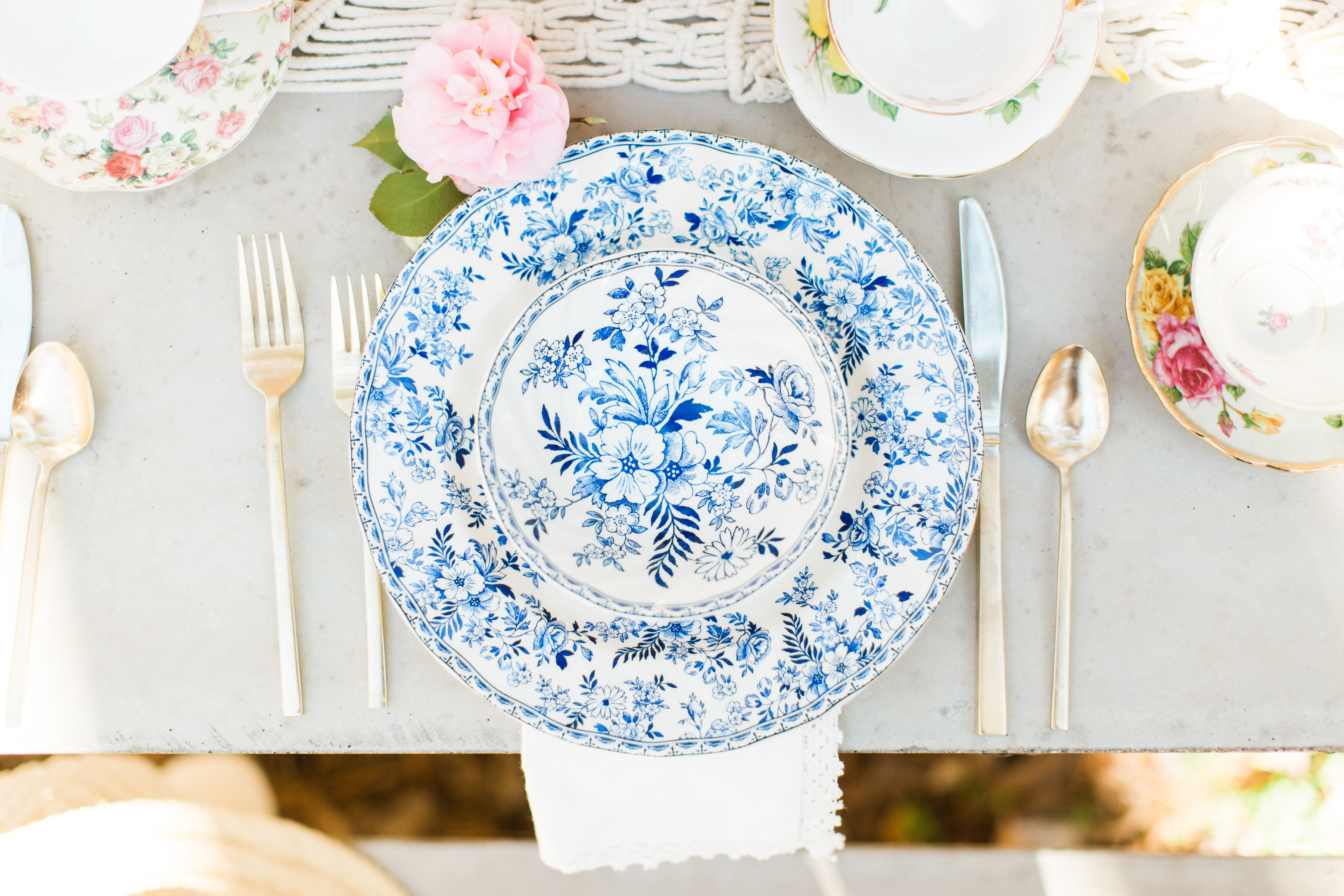 It's spring! The sun's finally out and the flowers are in bloom; eat dessert first and have family and friends over just because.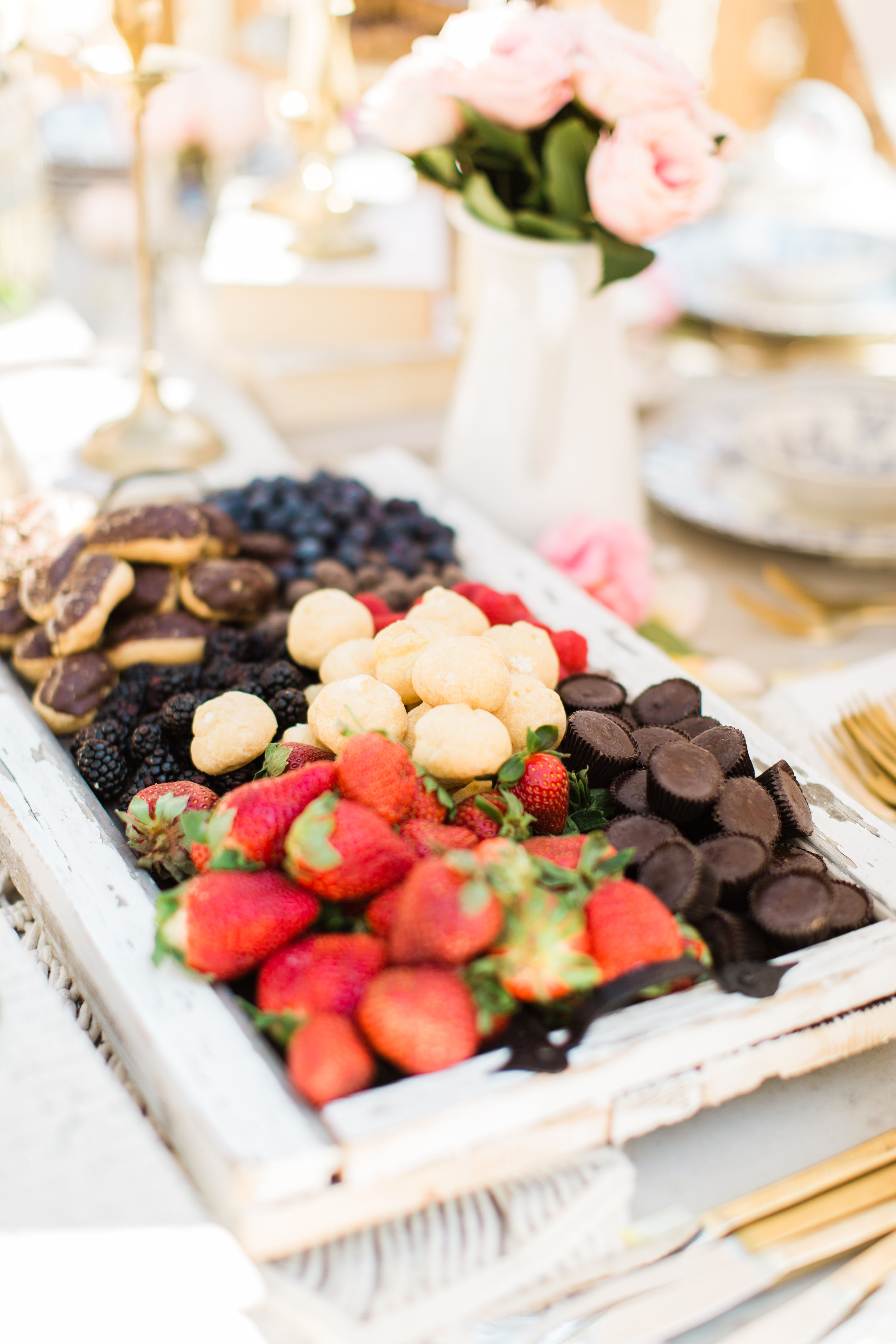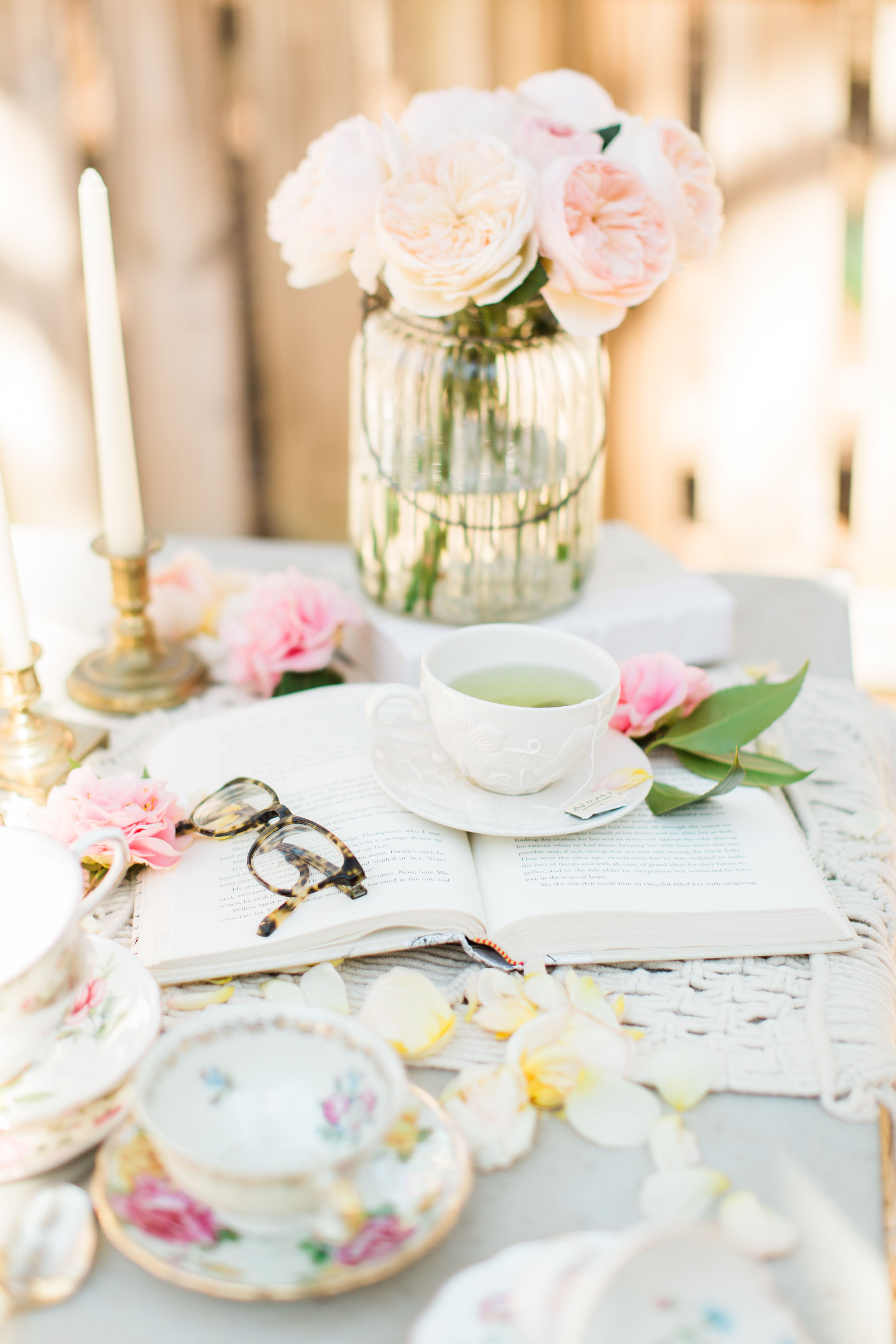 Also, if you've followed along on this blog or over on Instagram for awhile now, you'll now that I'm an avid teacup collector. I look for any excuse to break out my teacups. There's no logic or reason to my teacup obsession, especially now that we'll be packing up, majorly downsizing, and trying out city life in Boston in just a few short months(!!!)
But rest assured, the teacups are coming with me.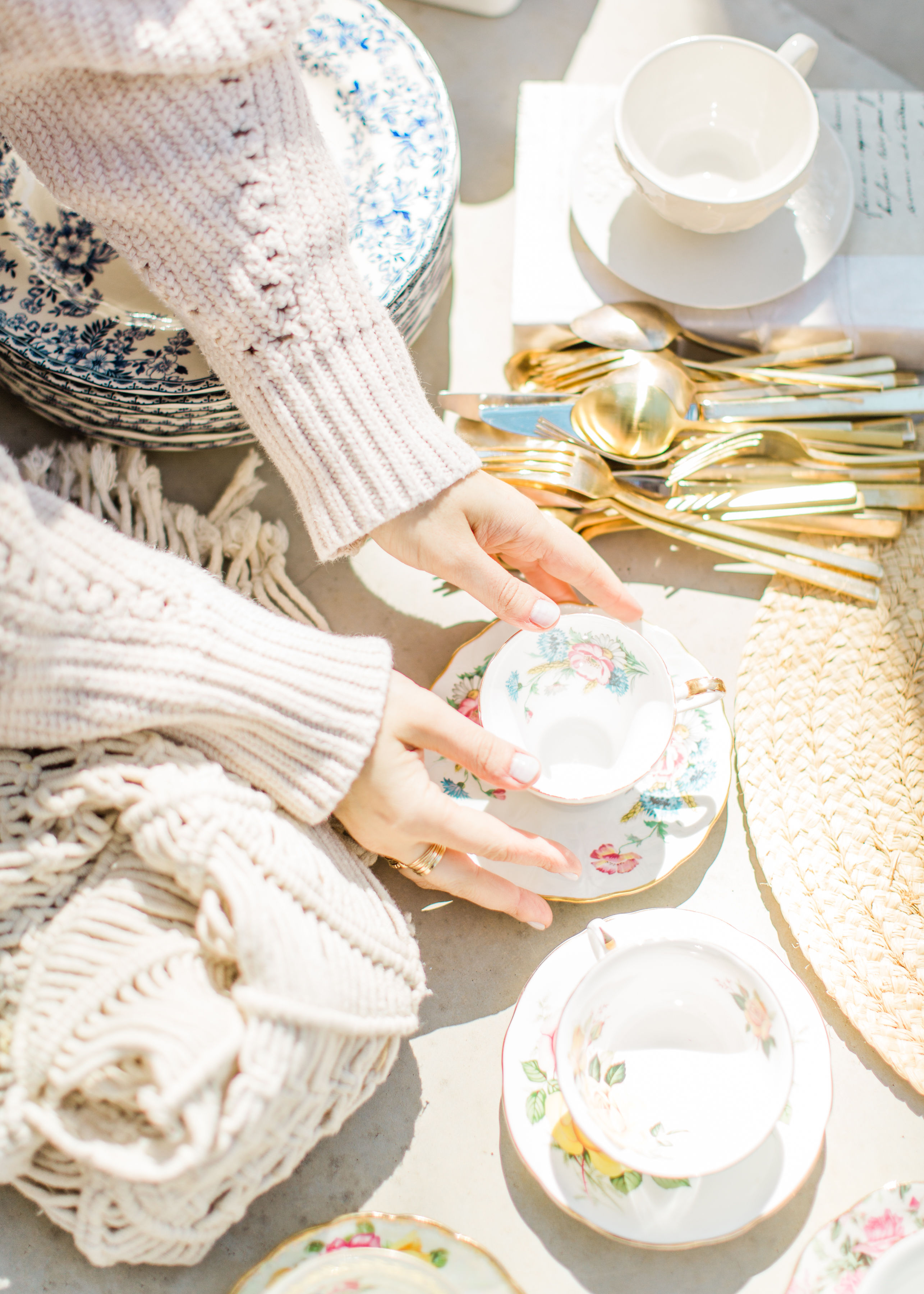 How to Throw a Whimsical Outdoor Spring Tea and Dessert Party
Remember, first and foremost: the goal is to be together—to invite your favorite family and/or friends and enjoy one another's company. Don't let things like a complicated menu or perfectly polished silver bog you down. Fun is the name of the game.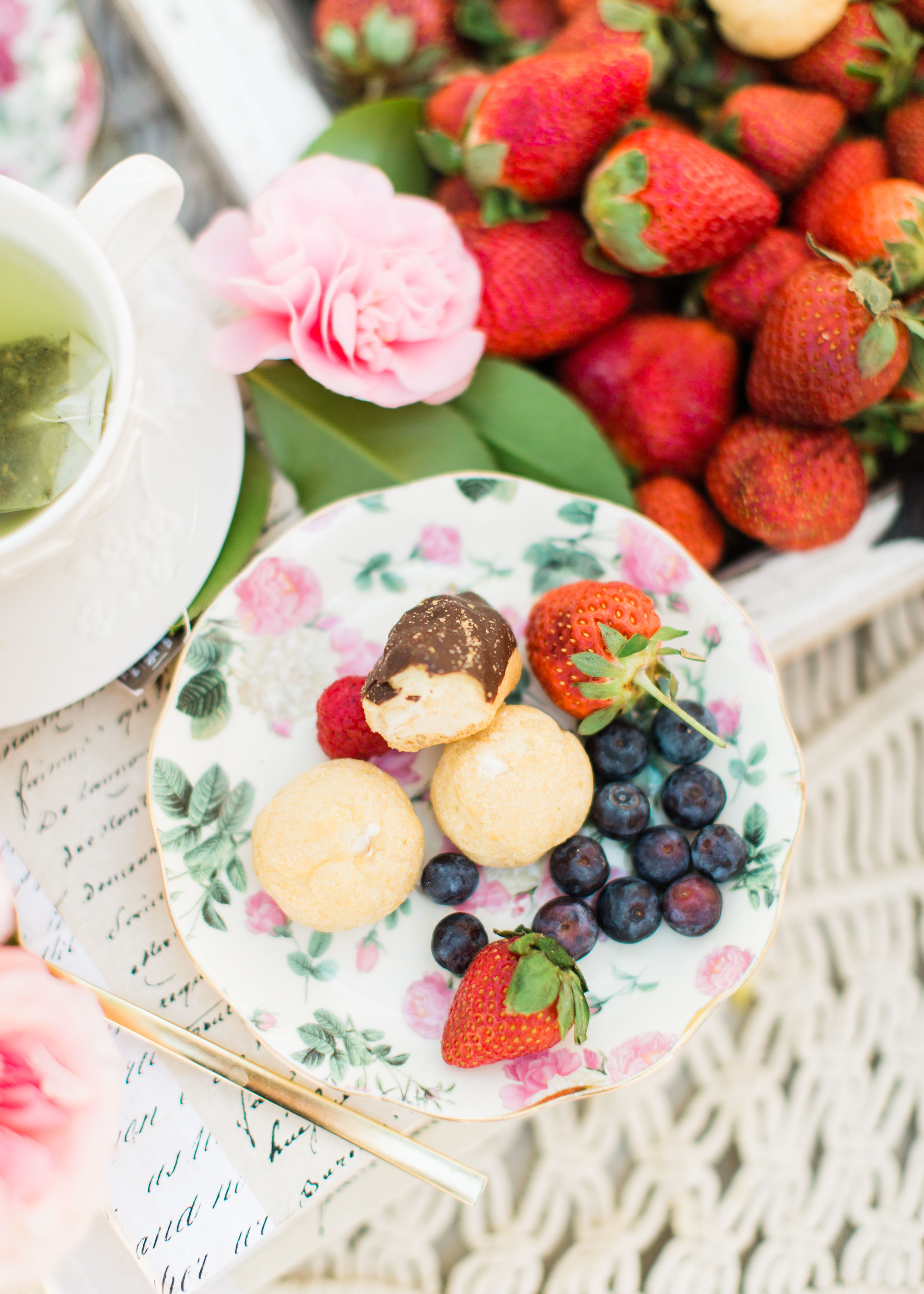 Embrace shortcuts. For instance, for this tea and dessert party, we went straight to the frozen foods section to pick up a few delectable desserts like Delizza Belgian Mini Cream Puffs and Delizza Belgian Custard Cream Mini Eclairs. Delizza frozen desserts, like their cream puffs and mini eclairs, look impressive, taste incredible, use real sugar, and require almost no effort at all, saving me stress and allowing everyone to have a great time without any of the hassle. Hostess with the mostest, indeed.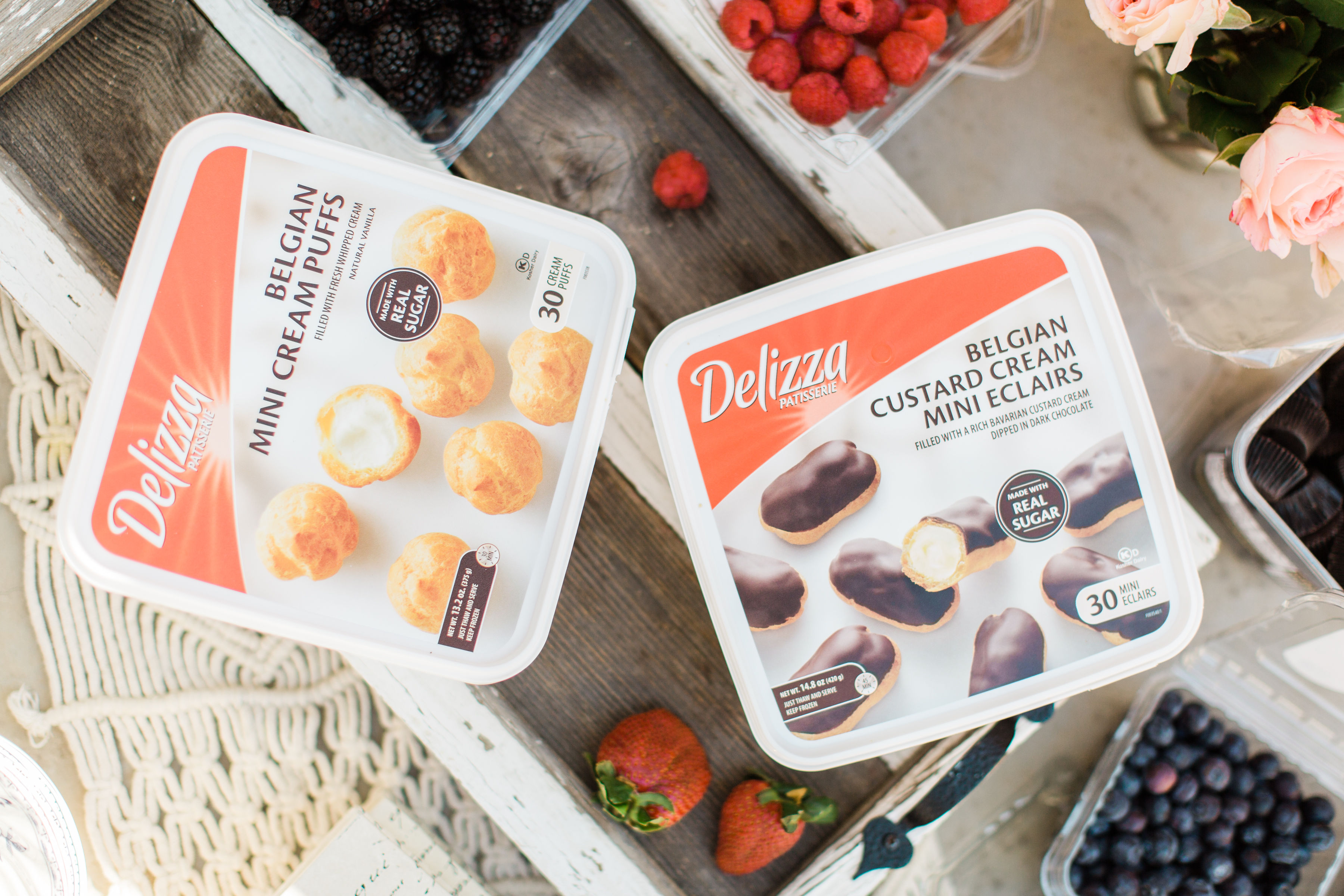 You can find the stores that carry Delizza closest to you by checking out this helpful store locator.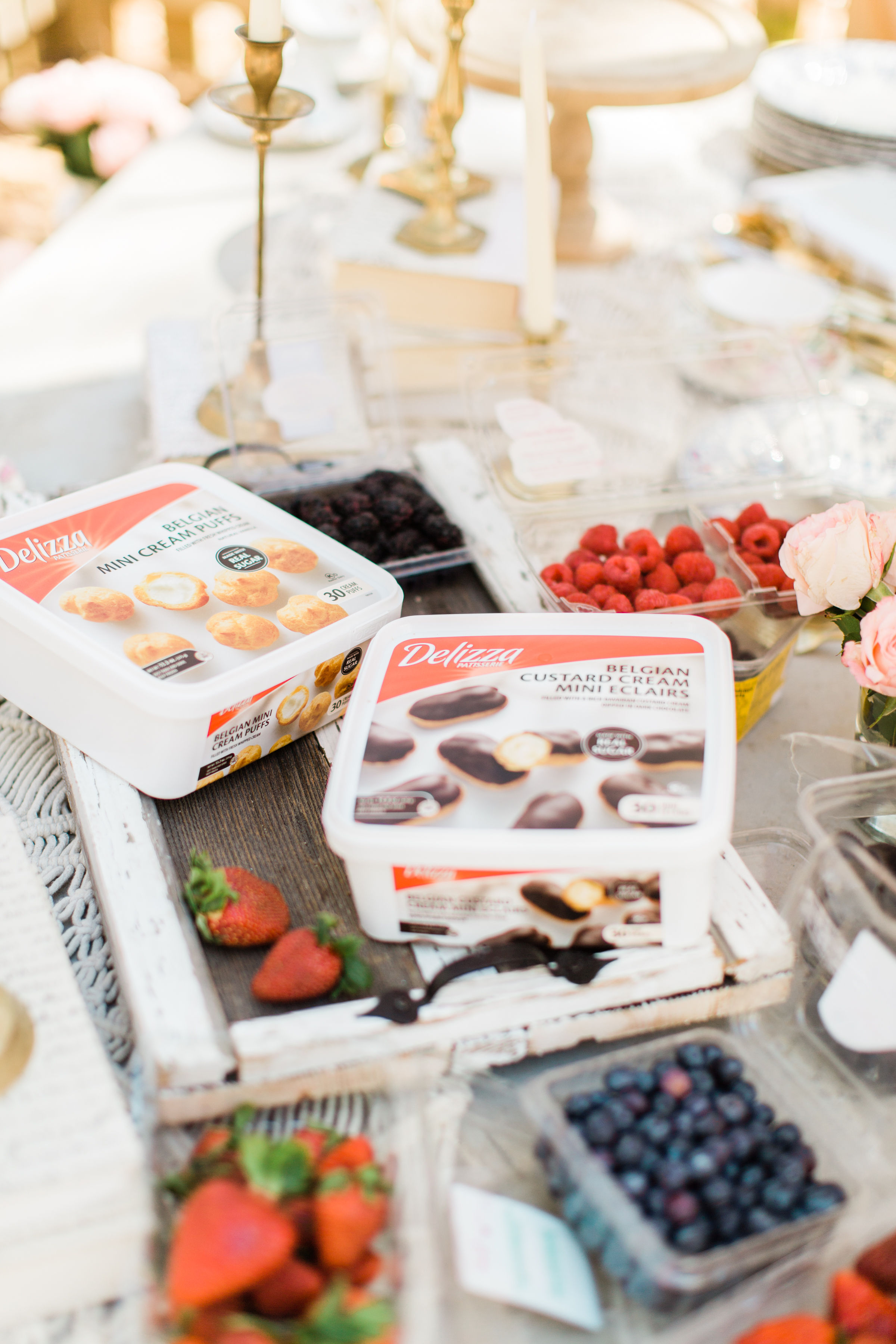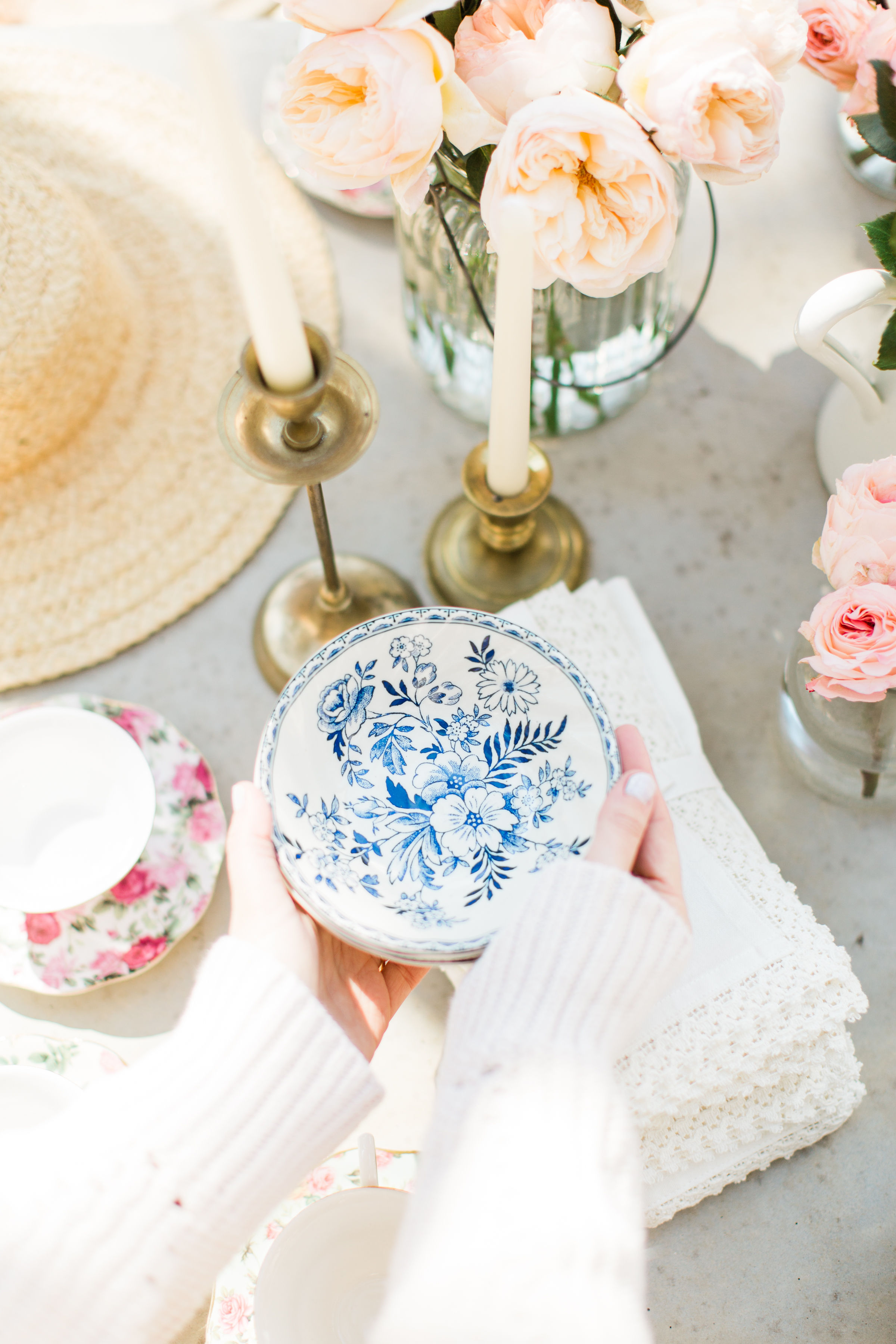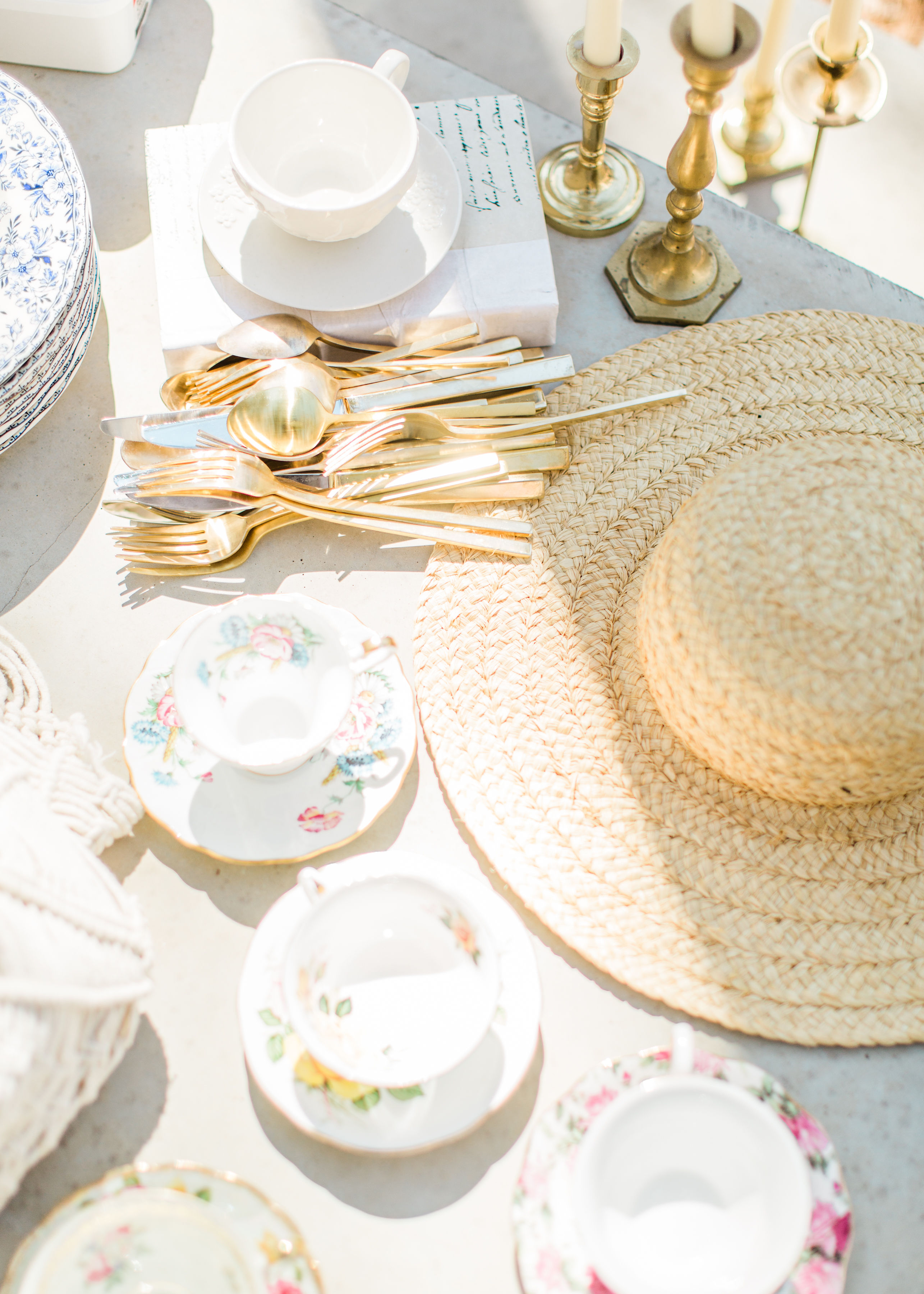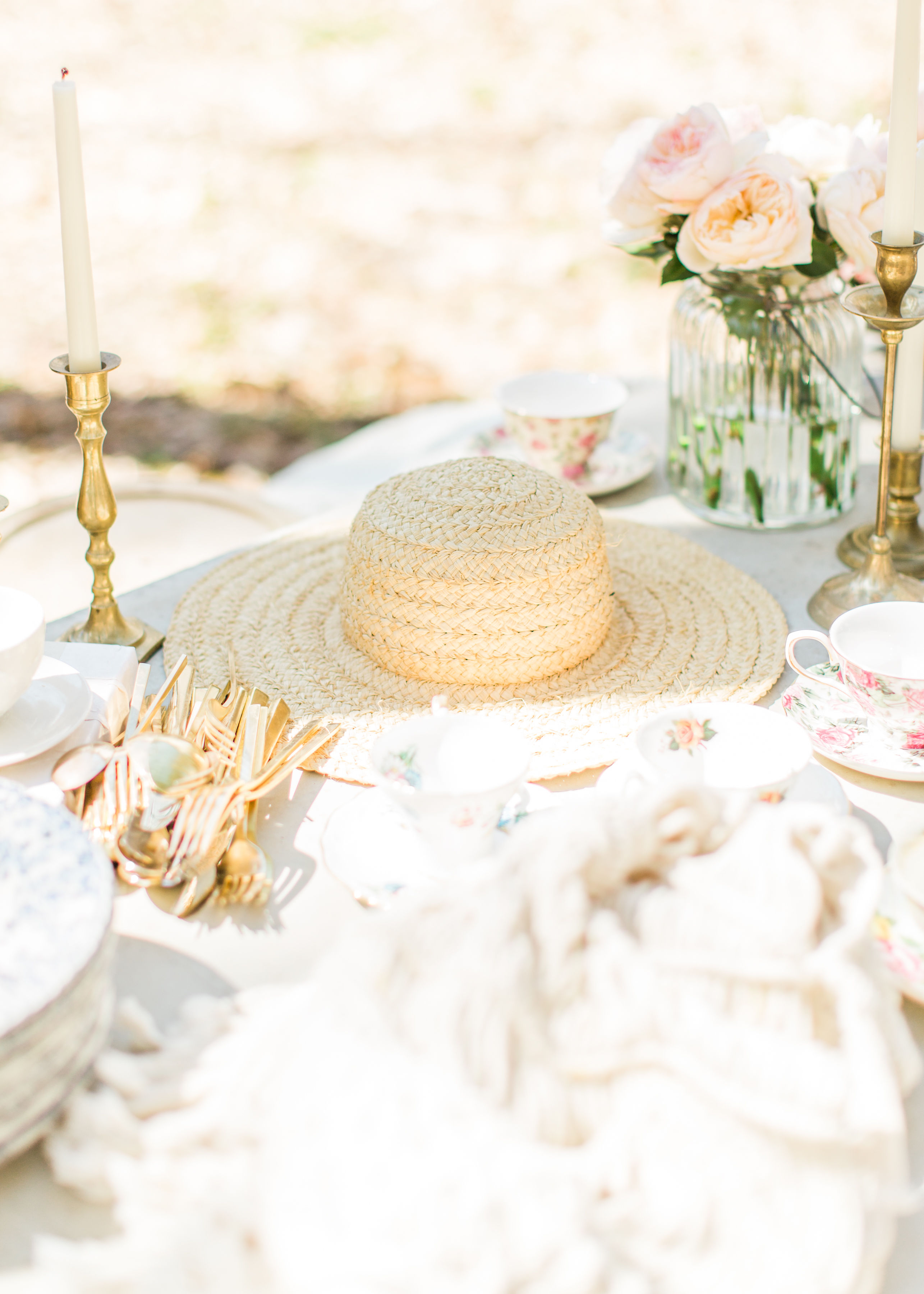 Don't fret over perfectly setting the table.
Lately, I've been setting out stacks of dishes, glasses (or teacups), napkins, and flatware, and letting the group grab their own, as they serve up and pile their plates high with goodies, rather than carefully setting the table. Stacks of china and teacups always remind me of Alice in Wonderland and the Mad Hatter's tea party; the look is whimsical and nostalgic and I just love it. (Sneaking in stacks of books was another little nod to that. Plus, setting things like candlesticks and flowers in vases on top of those book stacks helps to add height and dimension—making your table look all the more glamorous without a whole lot of extra effort.)
Today's dinner party or gathering is uncomplicated, and I totally dig it. Embrace those relaxed vibes.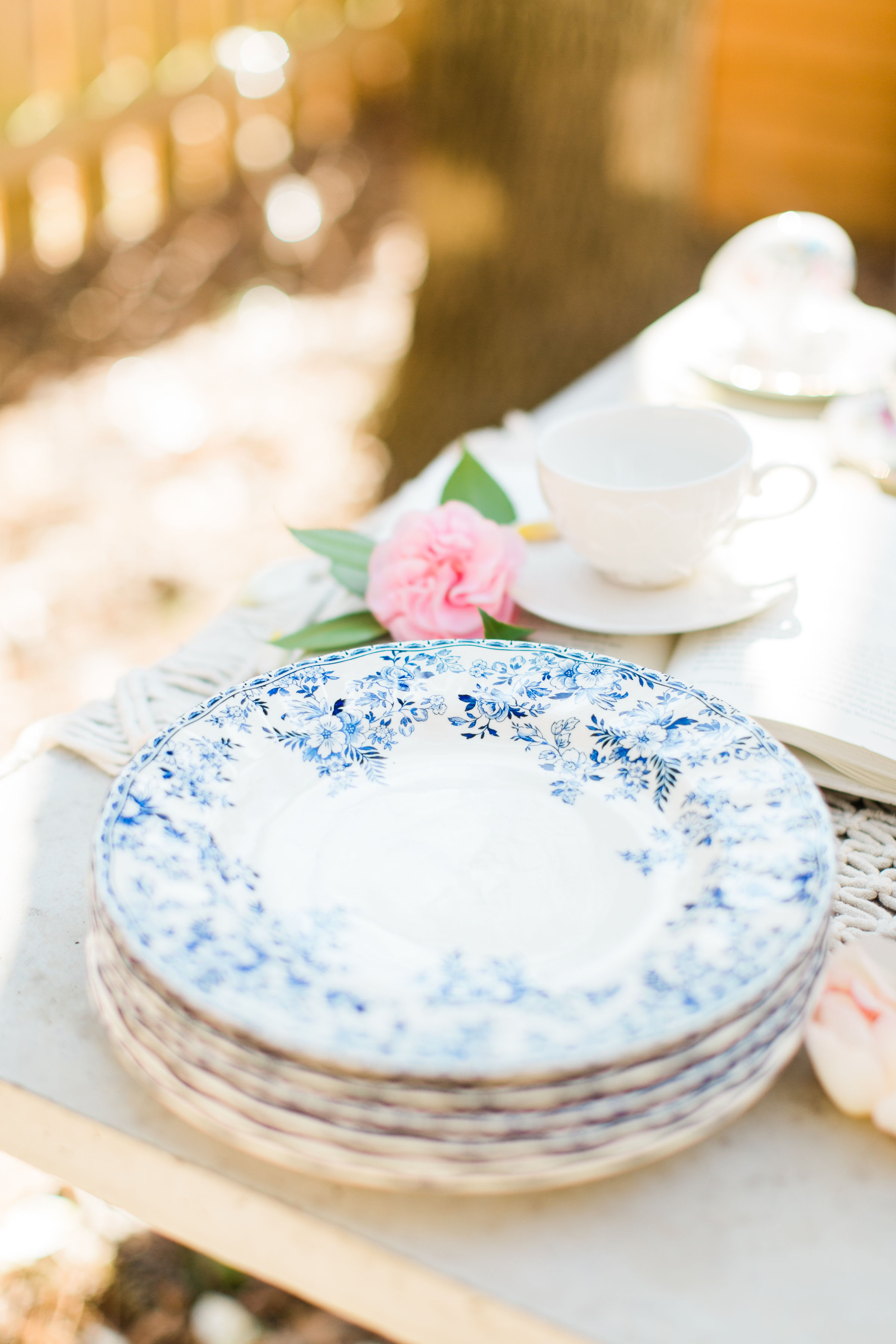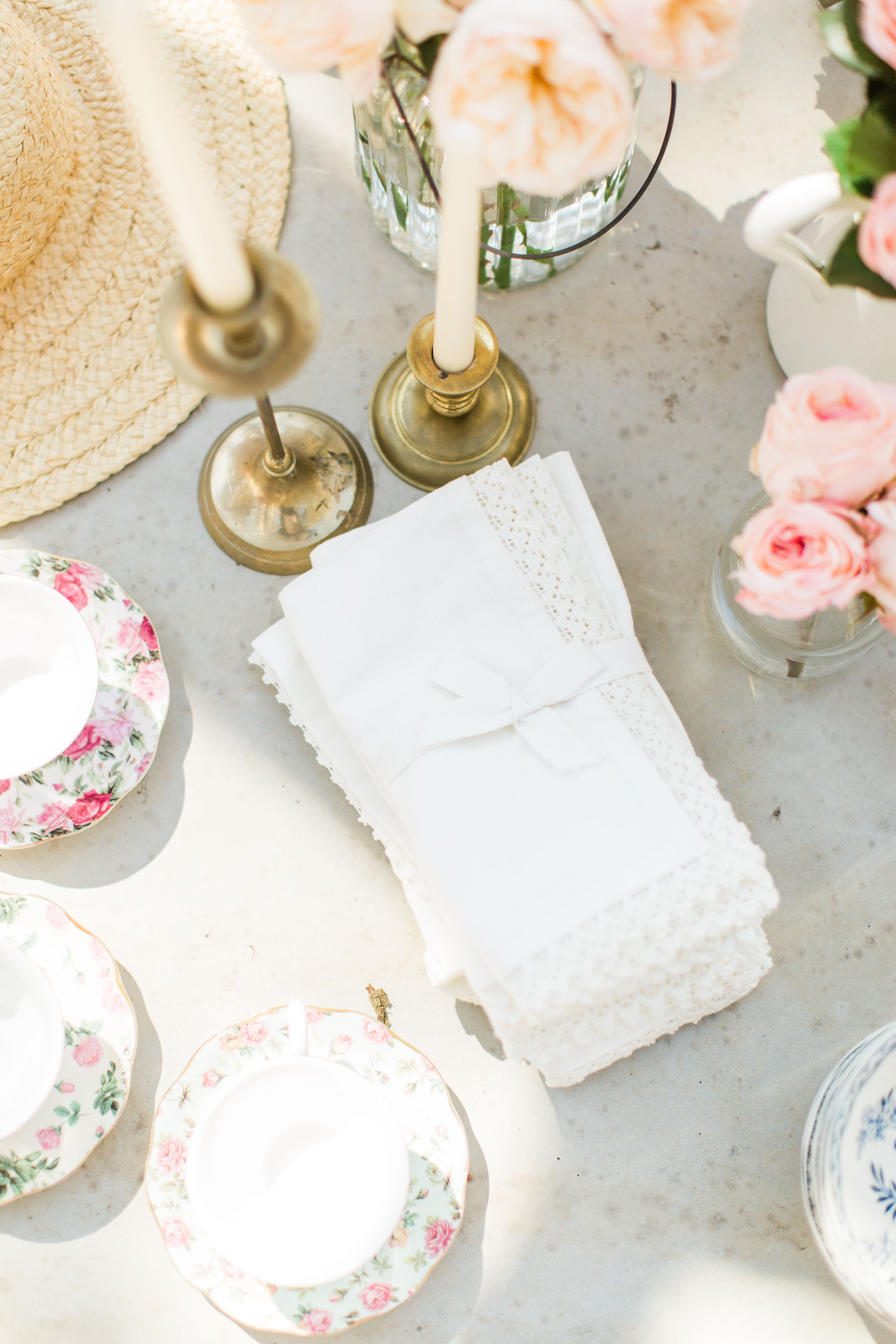 And as the host of a simple backyard party, especially one that's light-hearted and meant to be casual and fun, keep the décor simple. Use your everyday dishes (and teacups, if you're so inclined!); throw out your favorite easily accessible flatware, glasses, and napkins (paper is totally fine!)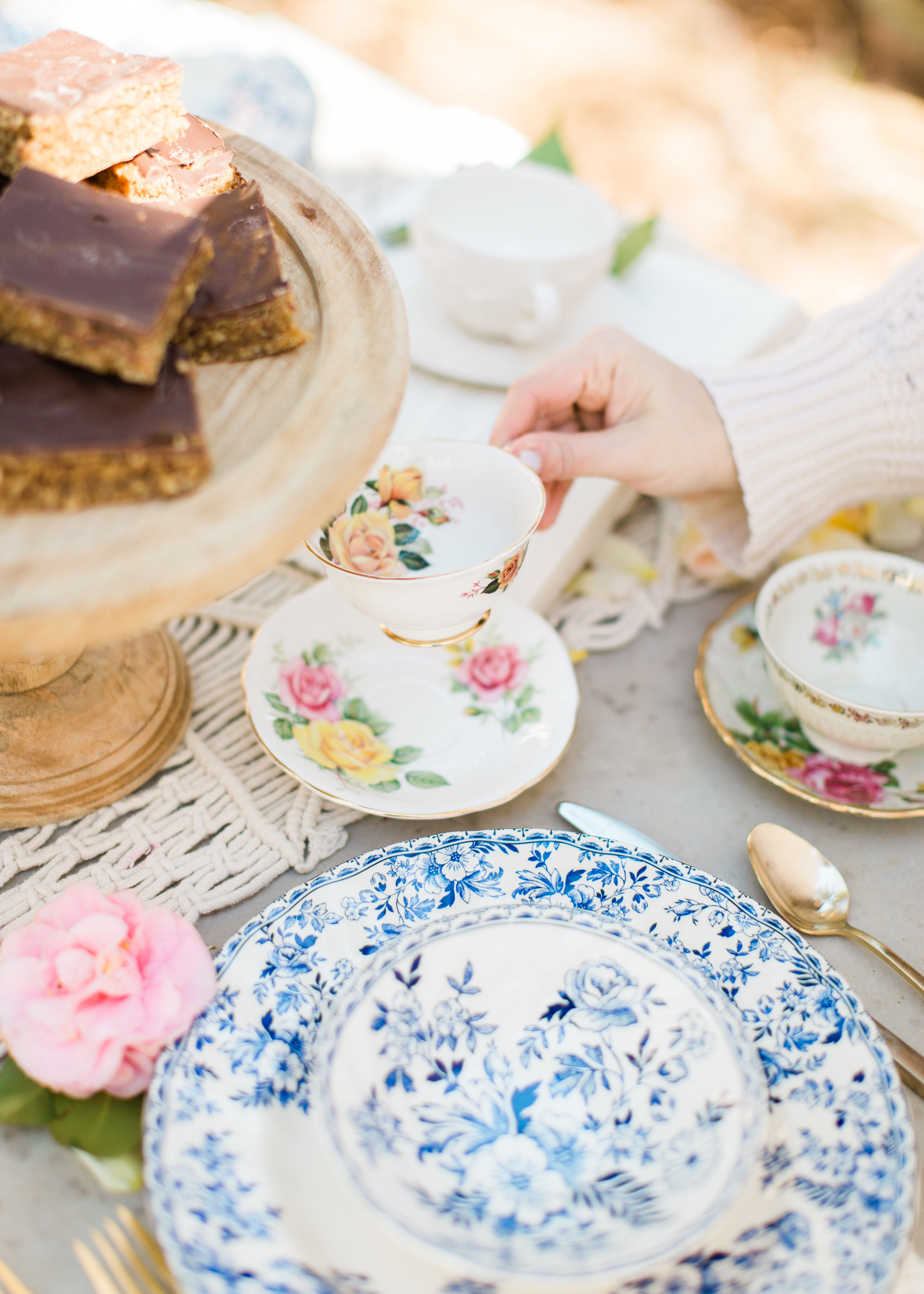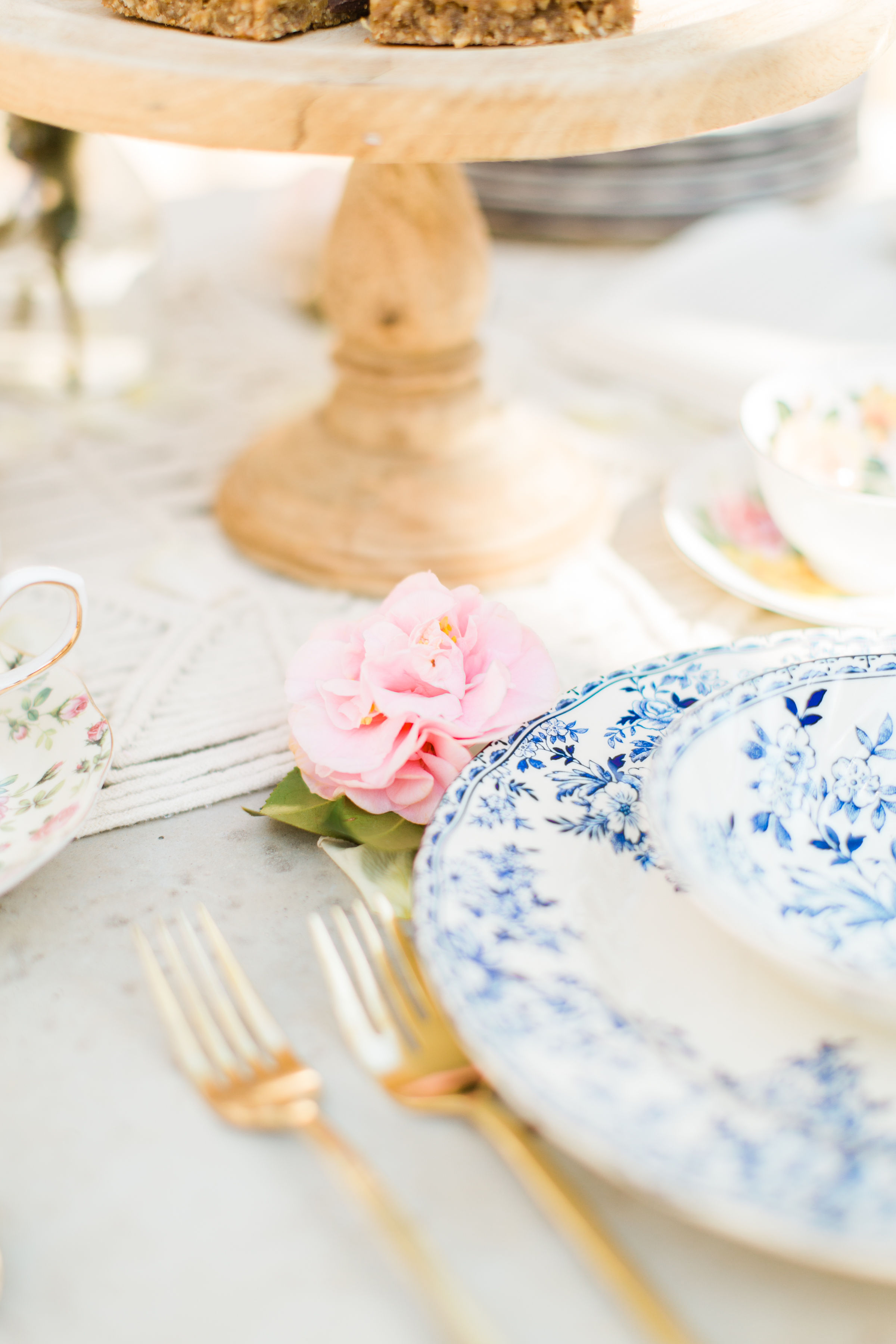 Fresh flowers are always an uncomplicated way to jazz up a party.
Buy a few inexpensive bunches of flowers at your local grocery store, farmers market, or flower shop, and sprinkle fresh flowers everywhere. Scatter flower petals, forage your own backyard (we found a few gorgeous pink blooms on a bush behind our back deck), mix heights by creating a few simple flower arrangements in vases of varying heights, and then pluck a few blooms right off of the stem and tuck those flowers around your dessert trays and centerpieces.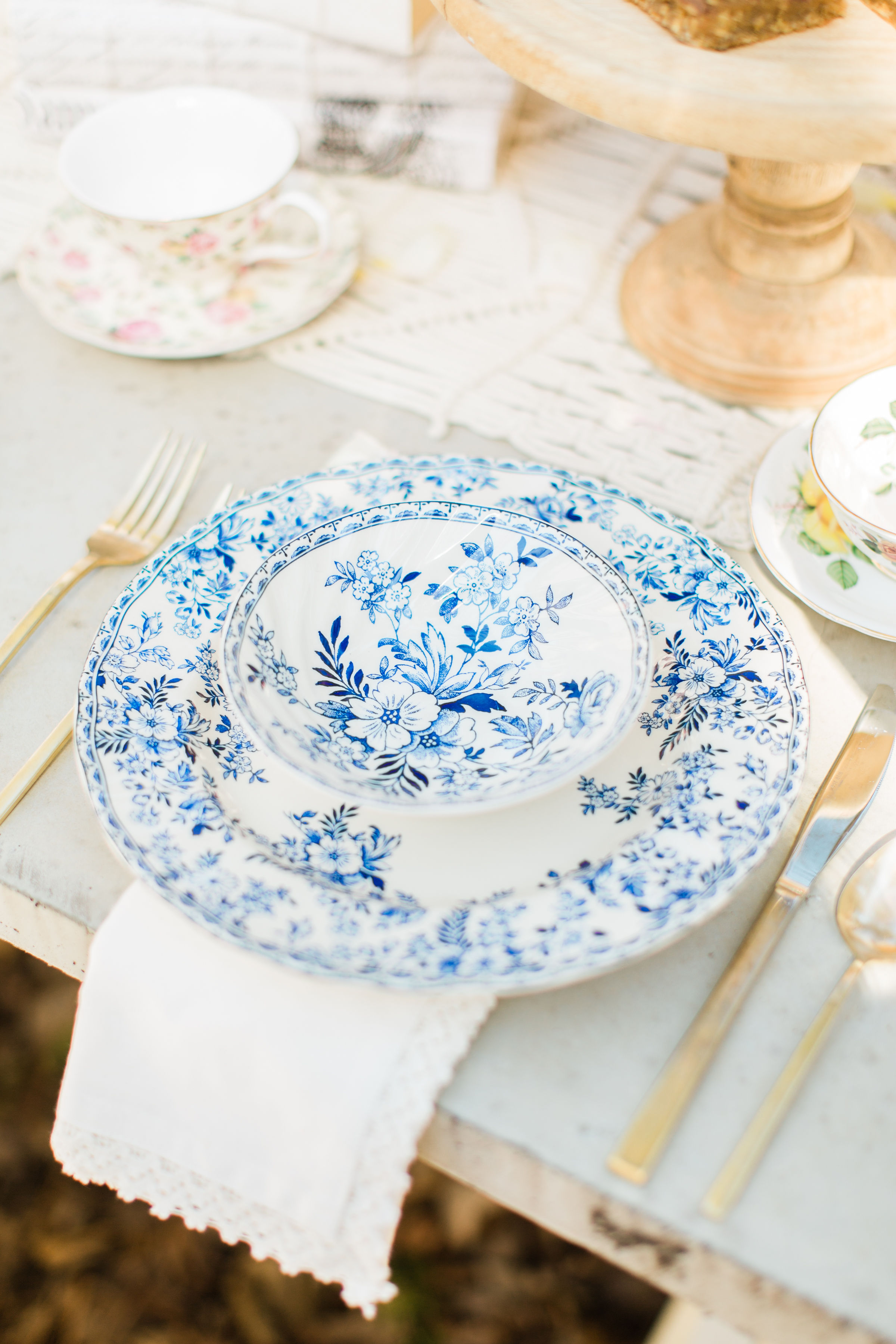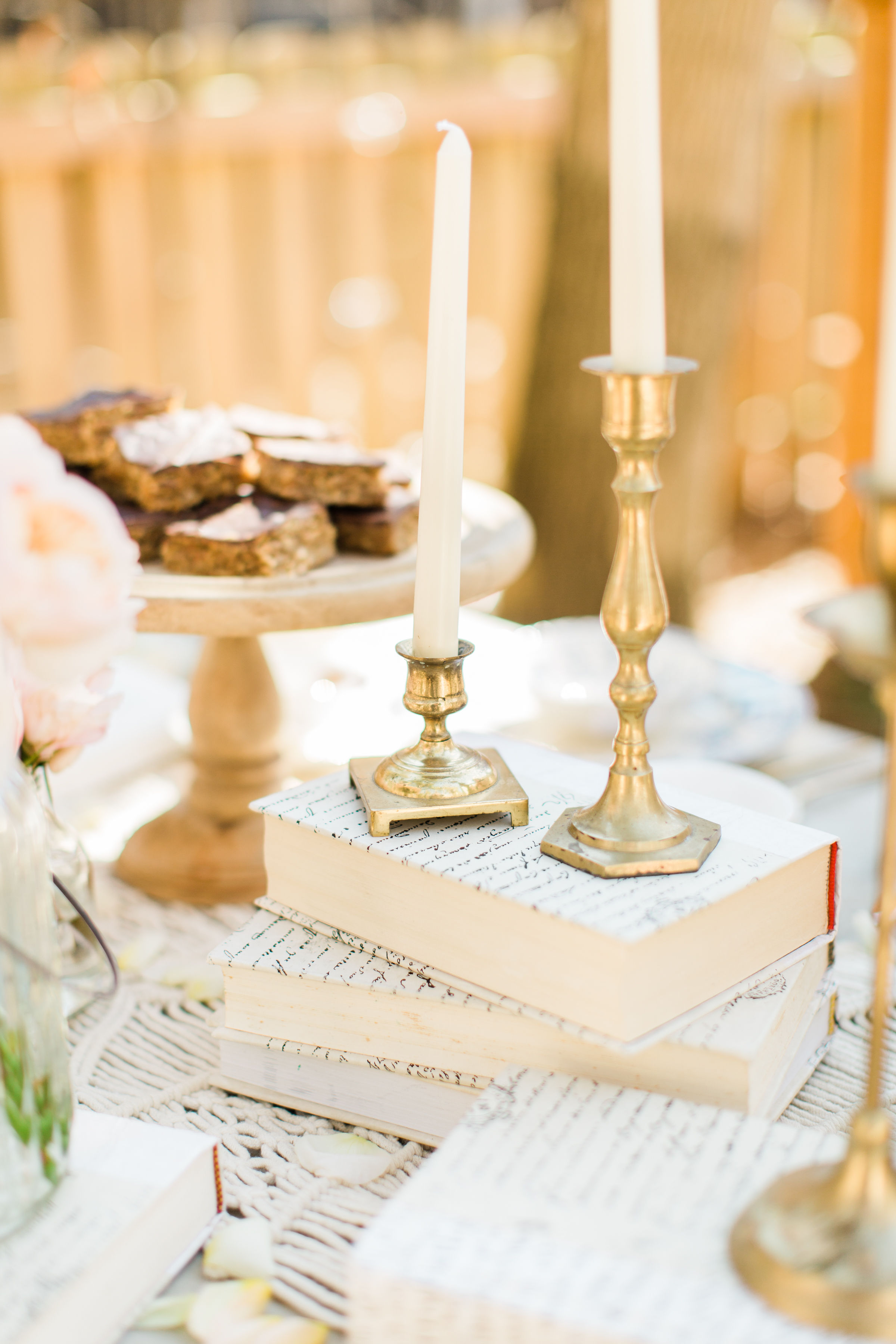 Don't forget to ENJOY your party!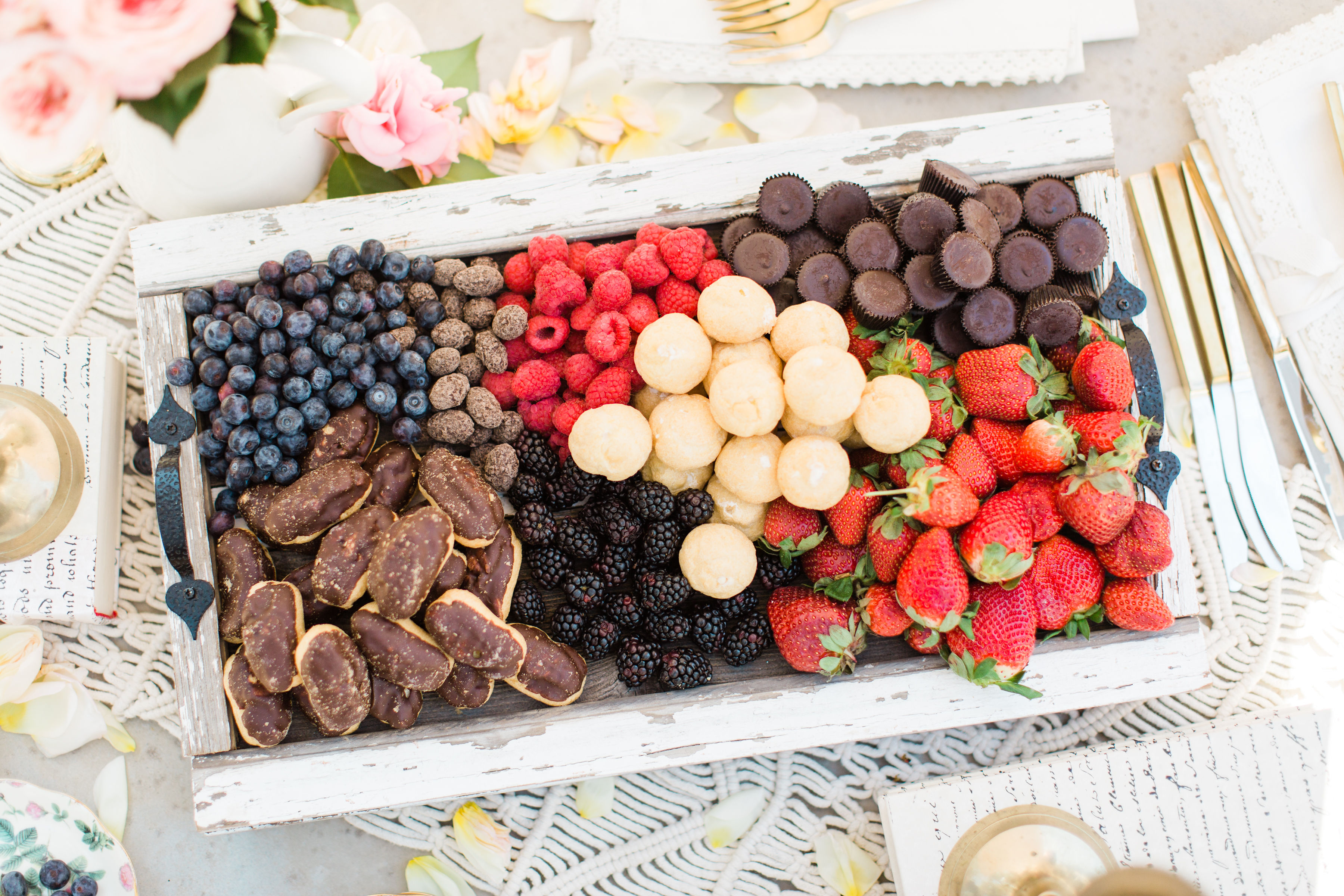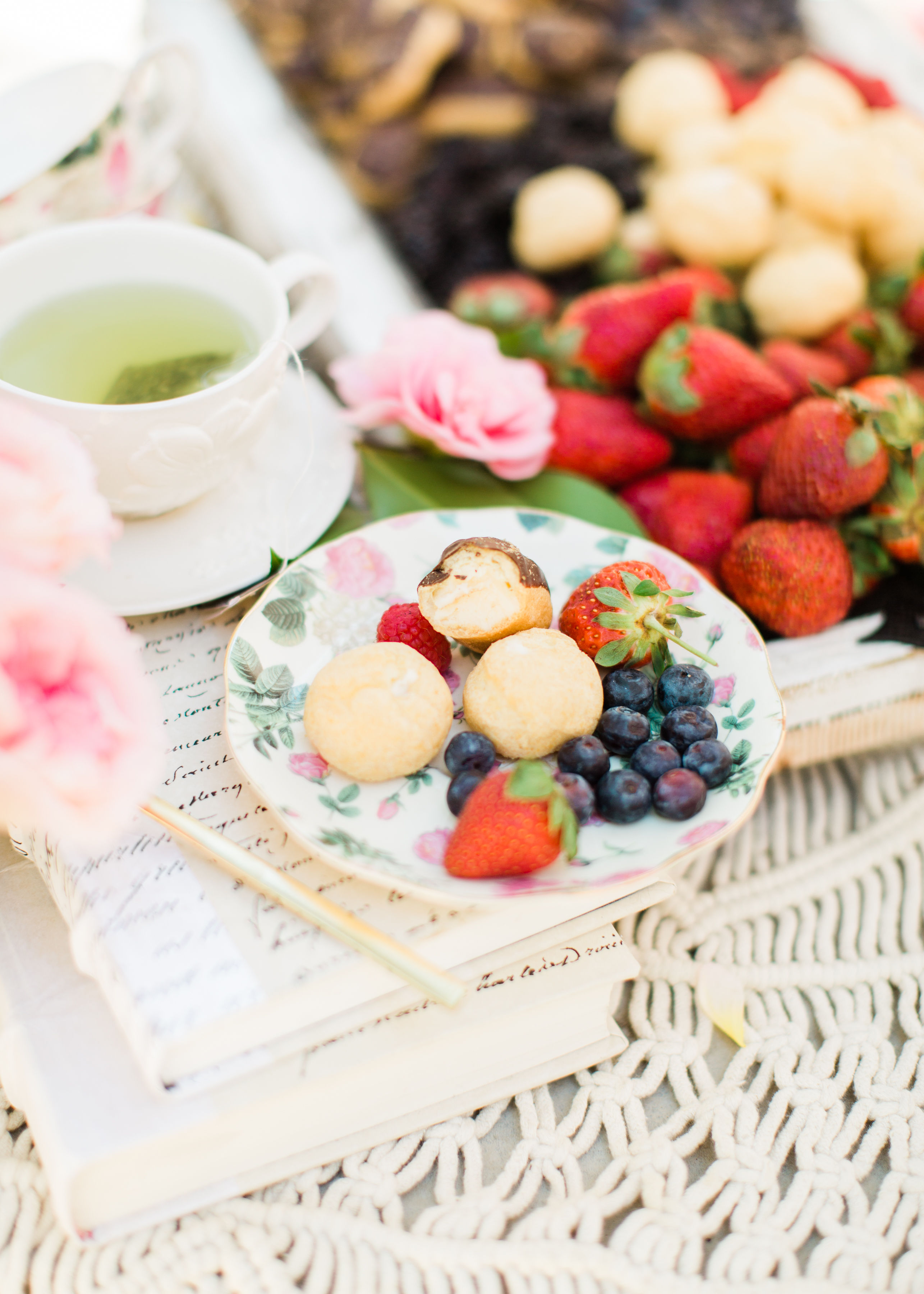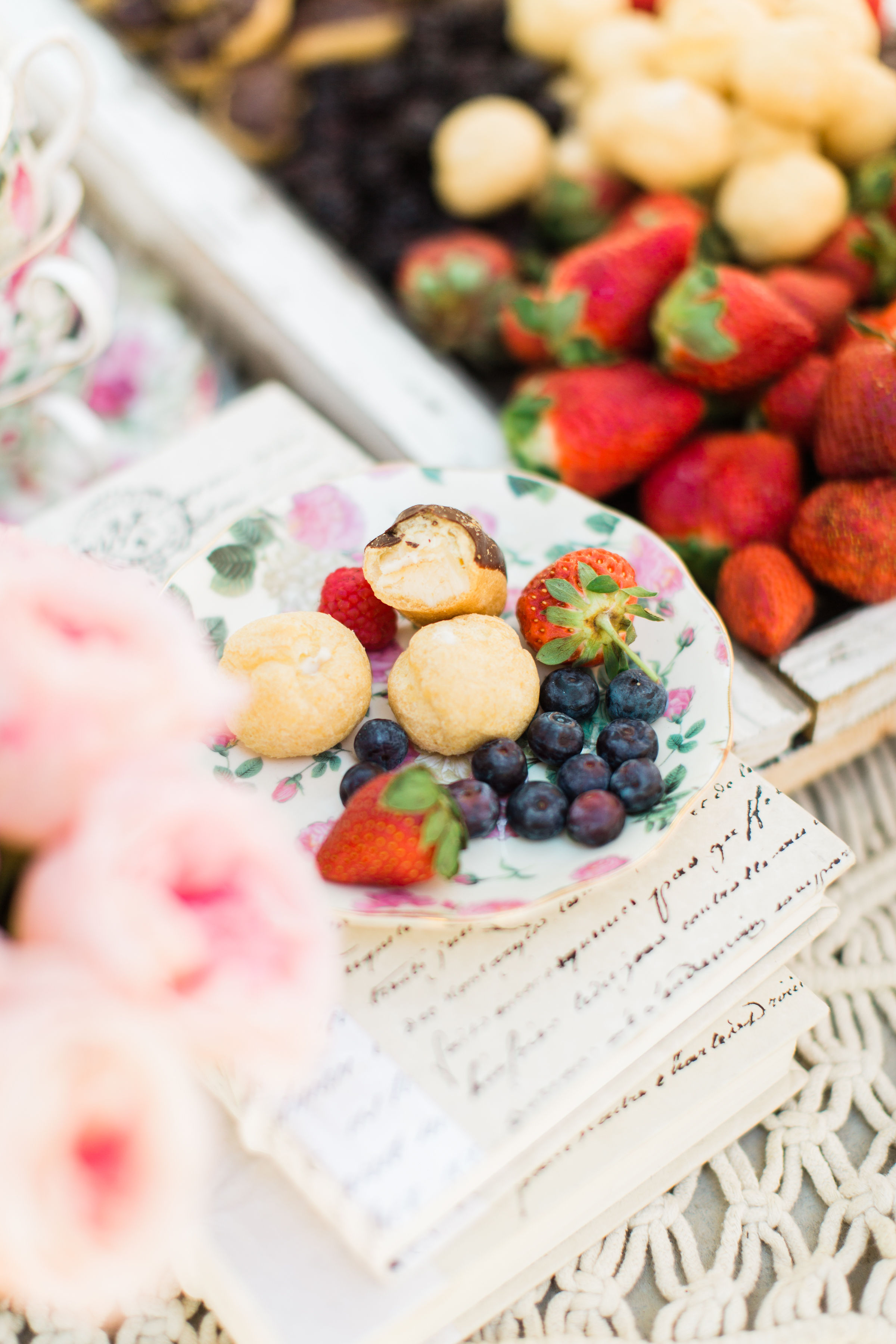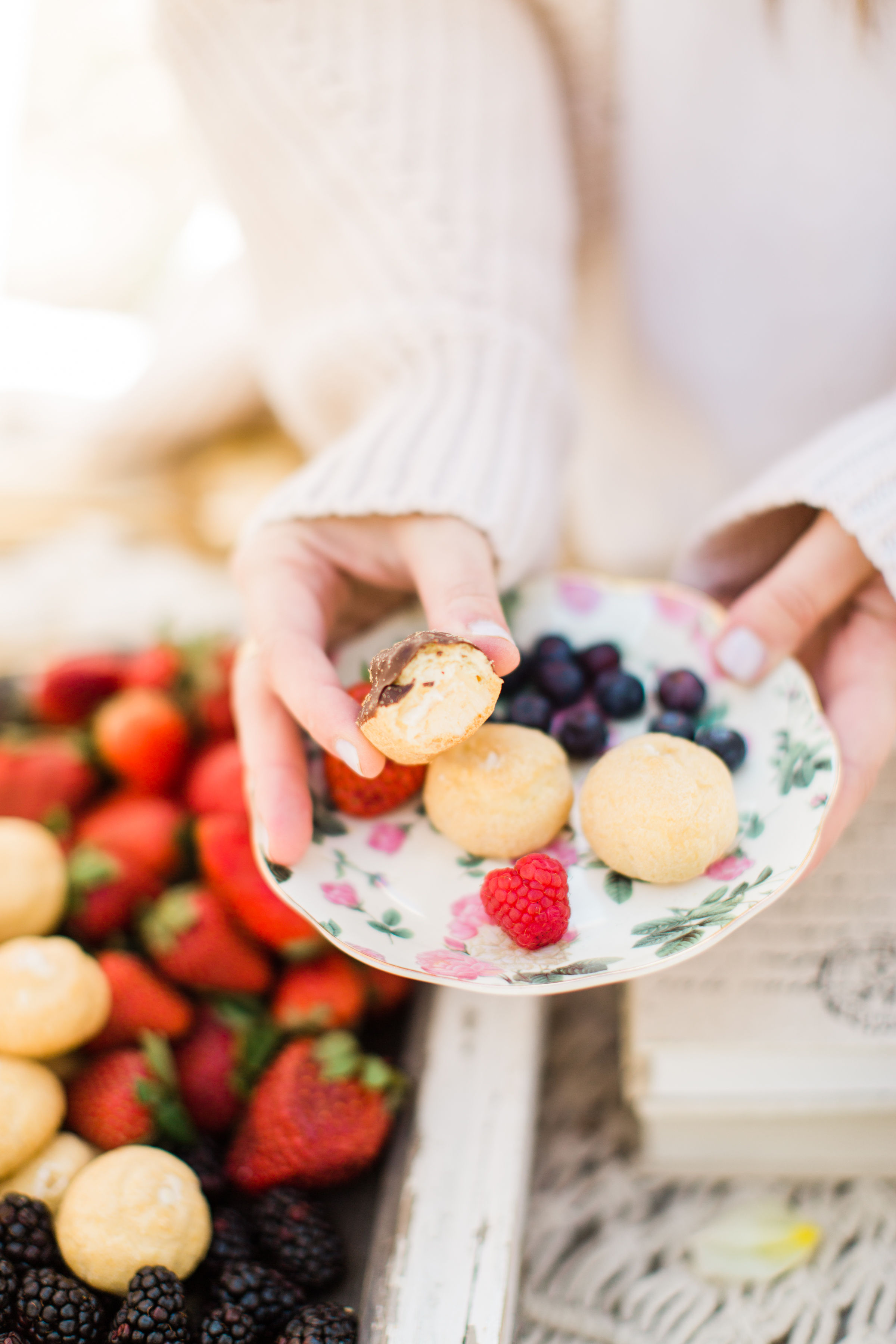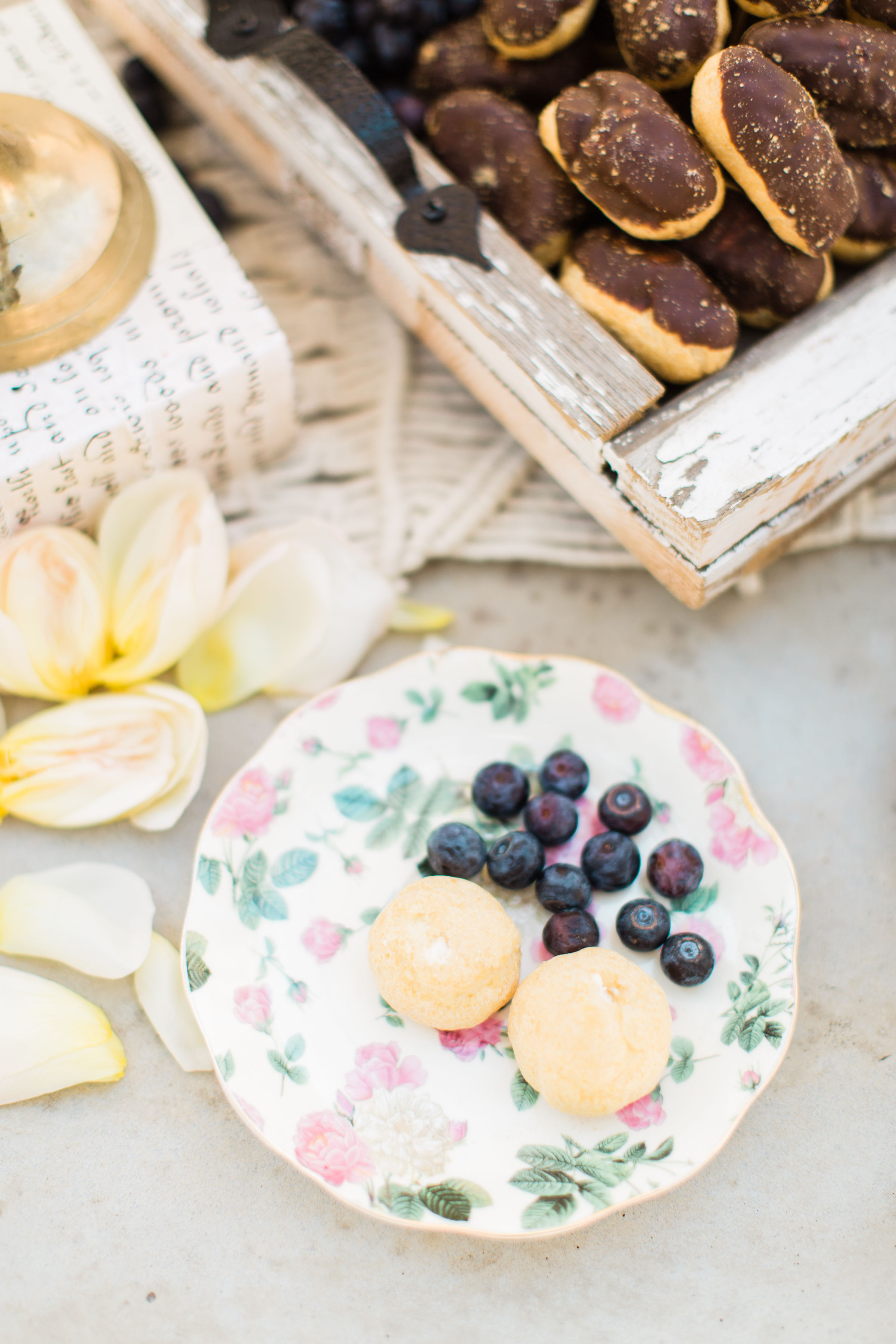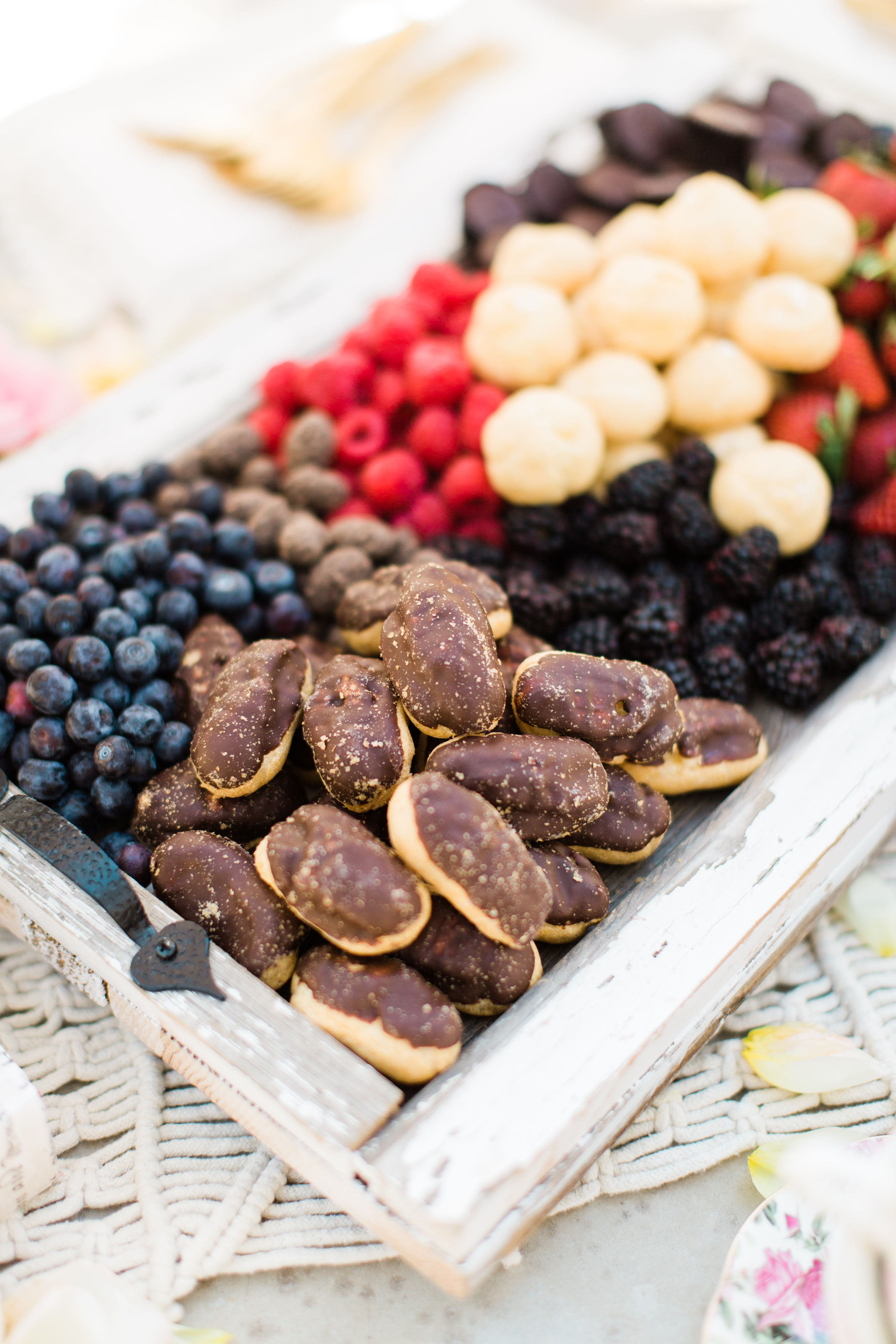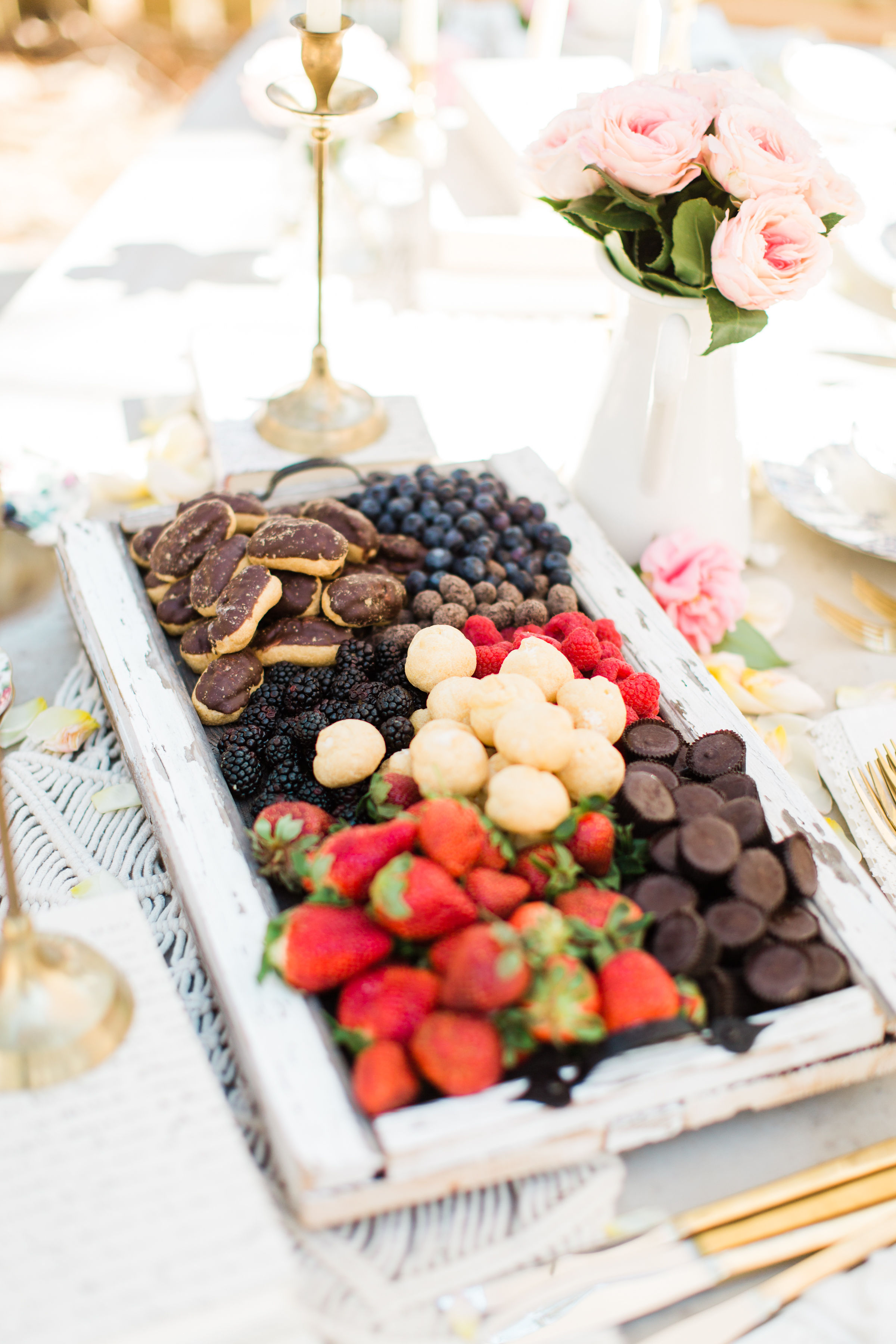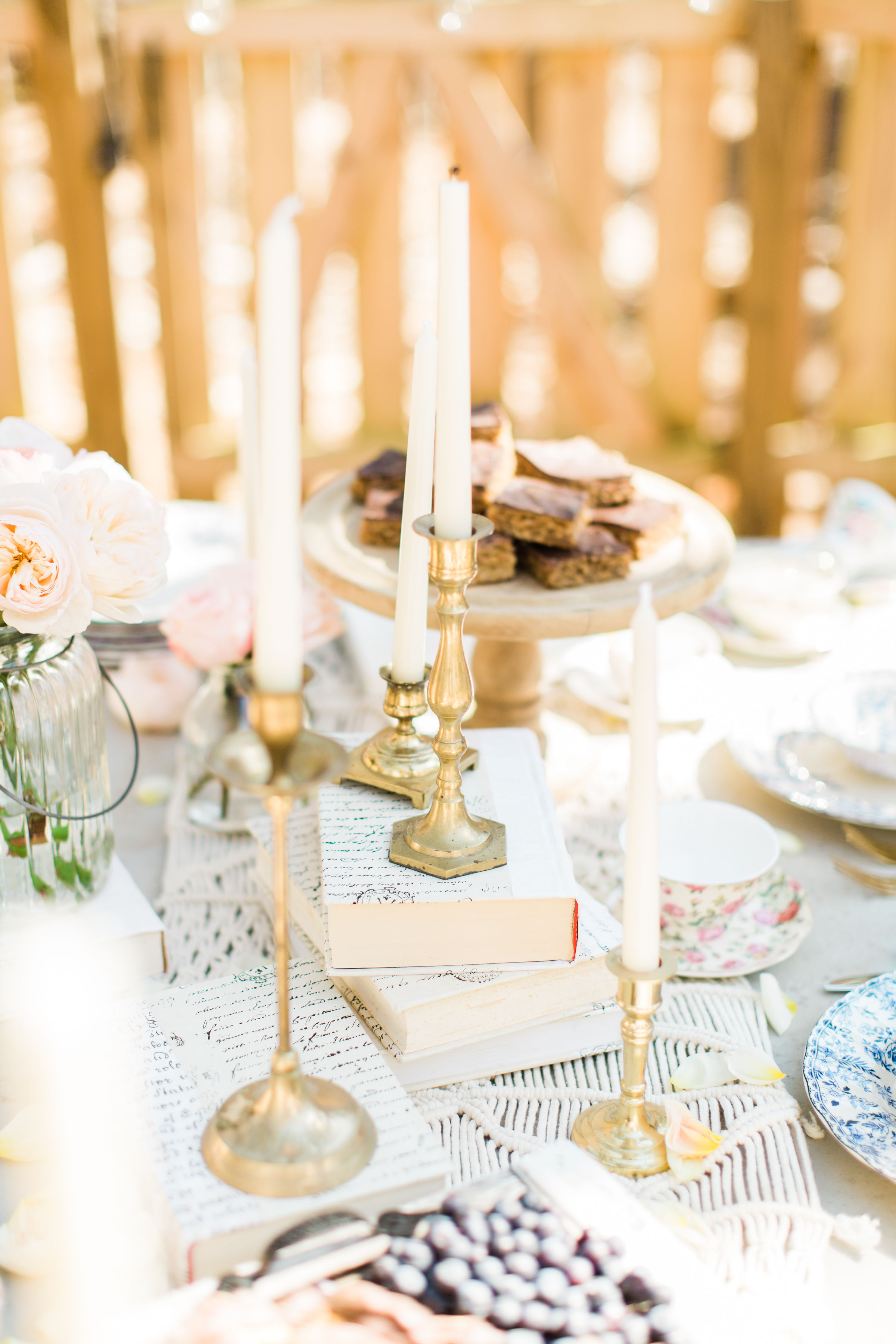 This outdoor spring tea and dessert party would make the perfect setting for a weekend gathering, a relaxed Easter party with friends or family, a totally chic book club, the list goes on and on.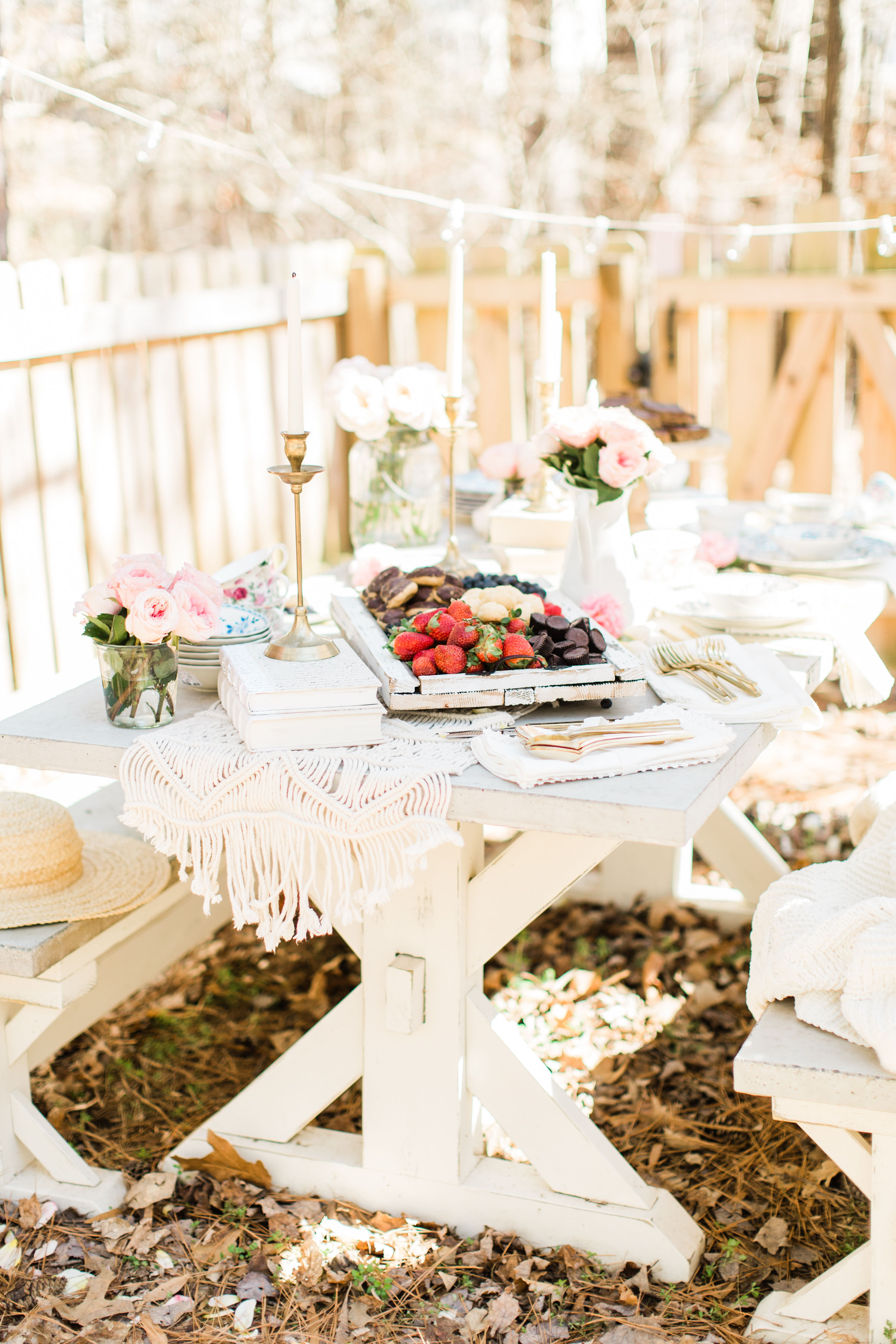 Love this whimsical celebration? Check out all of our parties here; and if you put together your own outdoor spring tea and dessert party, be sure to tag me on social media (@glitterinclexi) so I can live vicariously through all of your get-togethers!
Photos by Annie Timmons Photography for Glitter, Inc.