In just a few days, hubby and I will be celebrating our five-year wedding anniversary. I can't believe we were married five years ago, or that he proposed a little over six years ago. Sometimes it feels just like yesterday, with a baby and so many great memories squeezed in.
We met at a mall, where he worked, when I was sixteen, and he was seventeen. We were inseparable after that. And like all good love stories, he proposed years later, at that same mall, in the exact spot where we first met. Spoiler alert: I said "yes." (You can read a bit about why I fall in love again every day, here.)
Funny enough, I joke with my husband all of the time that I hope he proposes to me again and again. I want to get married again and again too. There is something about those moments, the great moments that are forever ingrained in your memory. The day we met; looking up at him, sitting on a wall outside the movie theater, and knowing. I really did just know. The day he proposed. Dirty hair after a long day at work; flip flops thrown on haphazardly when he suggested dinner on that fateful Tuesday night – because I had been in court that day, and I wouldn't dare stumble around in my heels for another minute after so many hours on my feet – and he popped the question with a beautiful ring and speech that all feels like a happy blur now. The day we stood in front of our closest family and friends by our favorite lake in Maine, and he said "I do" and I said "I do" and we both cried. The day our baby girl was placed into my arms, after hours of fear and pain and worry; I held her and my husband's strong hand and the world just felt infinitely more wonderful. The really good stuff.
Selfishly, I want more. I want those feelings again and again. So I'm dreaming up the next proposal; you know, to save my hubby some work. I want to be proposed to in Maine, where we were married (because it feels so very us.)
Then if I really had my way, I'd love a dreamy picnic, set on our cabin deck (and lest you think I've jumped off the deep end and gone all campy on you, we got married in Maine at a resort with very awesome cabins), complete with champagne, snacks, and another vintage-inspired diamond sparkler wouldn't be half bad either. Then I want to eat s'mores and talk about our memories late into the night, even though we've told the stories to one another a hundred times, I love them still.
Now it's your turn:
I've teamed up with Kay Jewelers to help you plan the perfect proposal. Take the #ProposalPlan quiz and see what should go into your Proposal Plan and be sure to check out the Kay Jewelers website and their Facebook, Twitter, and Pinterest for plenty of inspiration.
I dreamed up a private proposal. Which sounds perfectly us. And Scarlett can come too. Hubby, take note.
target="_blank" rel="attachment wp-att-22010″>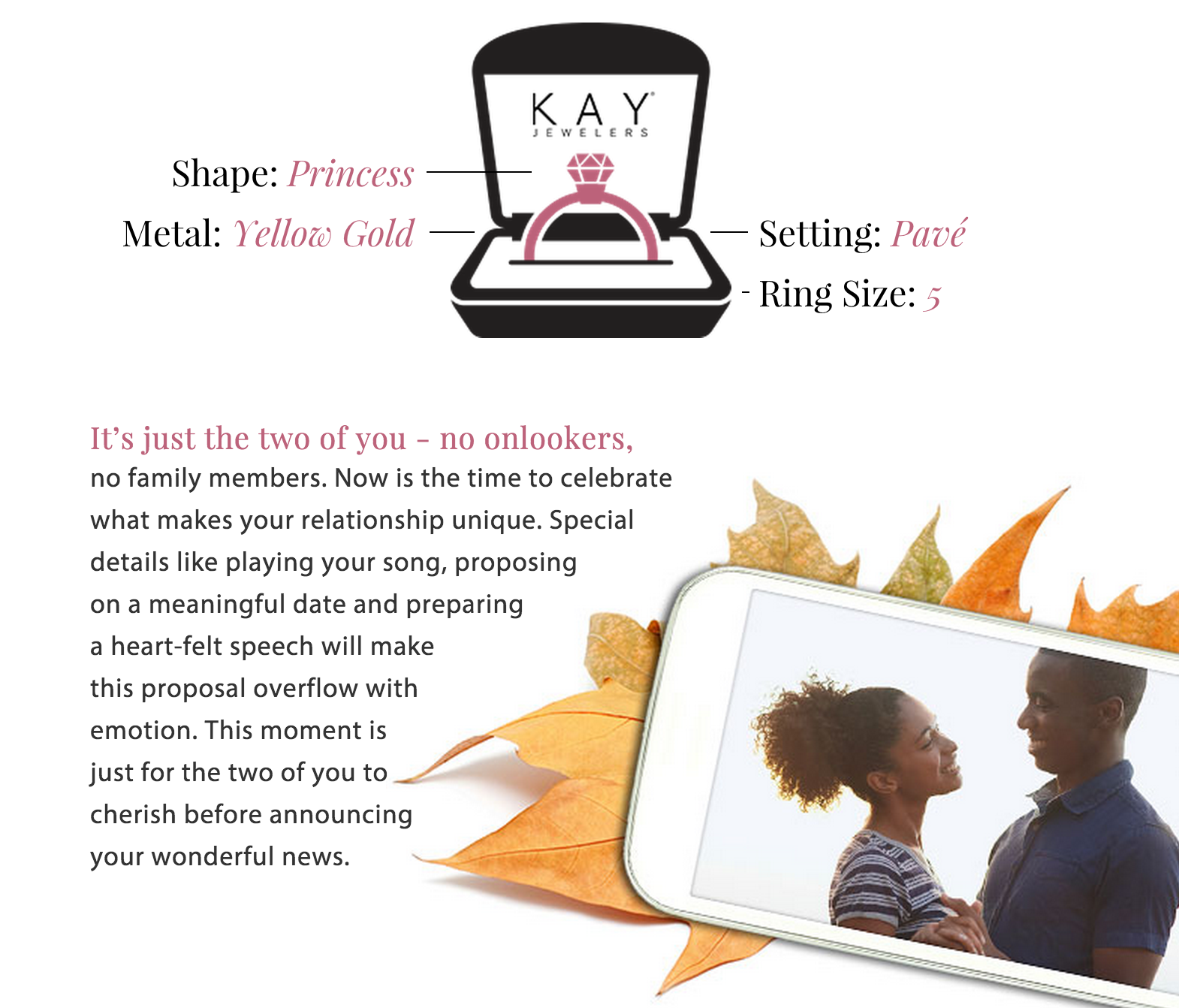 What are you waiting for? Hop on over to the #ProposalPlan quiz, and send your someone special a gentle hint.
This post was sponsored by Kay Jewelers. Thank you so much for supporting the sponsors that make Glitter, Inc. possible!