I'm so excited to share one of my favorite holiday gift guides to put together: Christmas stocking stuffer ideas for eight nights of Chanukah (a.k.a., Hanukkah); 25 of them, to be exact. When it comes to stocking stuffer ideas, the trick is, finding small-ish, inexpensive gifts each of your recipients will love. The same goes for the many nights of Chanukah. We grew up in a house where my mom and dad managed to get all four of us a gift for every night of Chanukah … all EIGHT. That's 32 gifts; just for their kids. Now that we have two little girls of our own, I of course want to carry on the tradition. My mom always used to lead up to the BIG gift (i.e., the gift reserved for the last night of Chanukah), with small and thoughtful gifts. My plan is to stock up on Target $1 – $5 section gifts, arts and crafts (i.e., markers, stickers, play-doh, etc.), and books for the first nights of Chanukah, and slowly work in the more creative, bigger gifts. Thankfully, I can keep it affordable, since odds are, the rest of the family will inevitably be spoiling … err, I mean, showering, these girls with gifts this holiday season.
Now let's talk gifts! I spent hours hunting down what I thought were the coolest and best stocking stuffer ideas that would also work for eight nights of Chanukah – and they're all under $30 (with most under $20!) Happy shopping, and be sure to let me know if you snag anything great in the comments!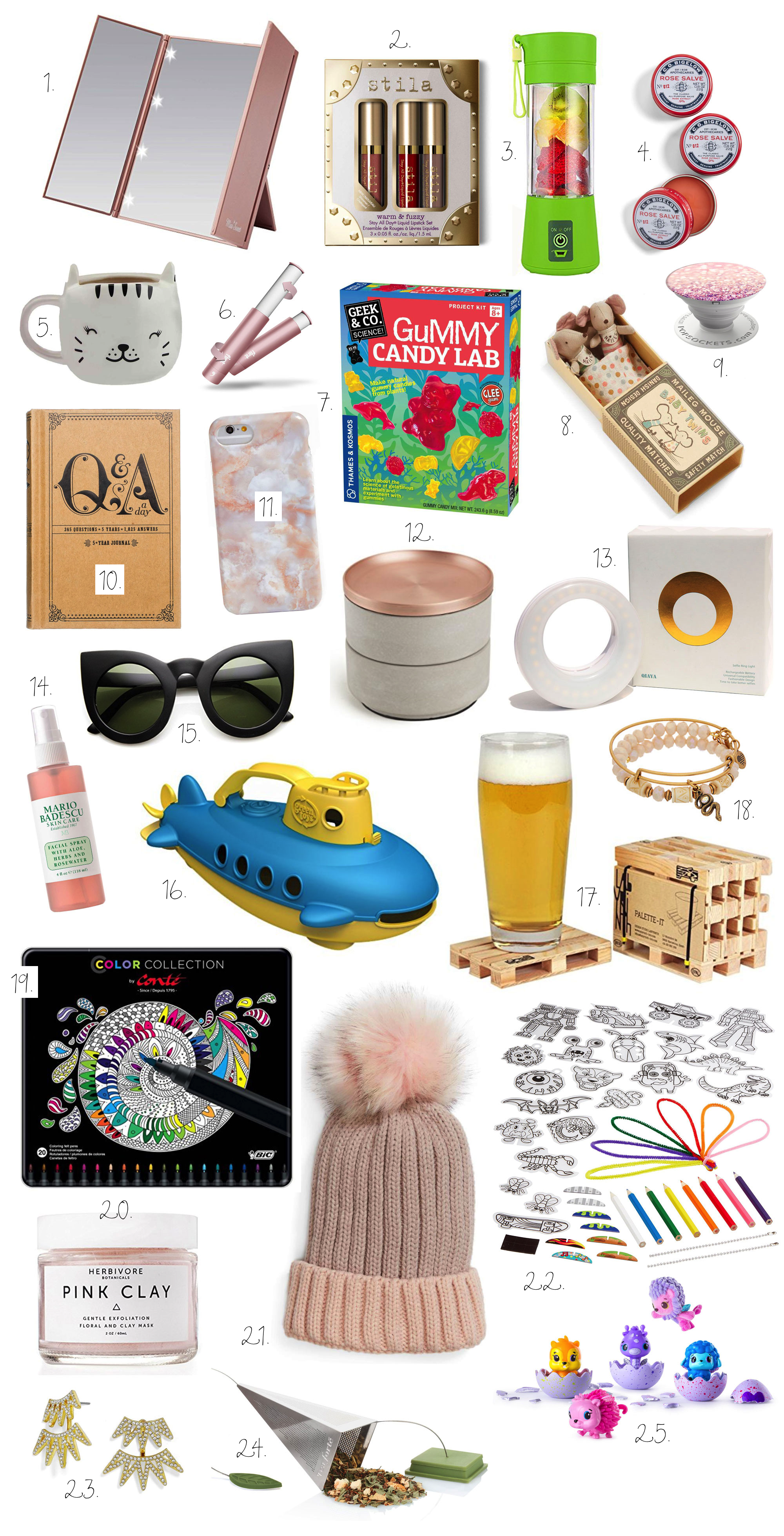 Gift Guide | 25 Stocking Stuffer Ideas for Eight Nights of Chanukah (All Under $30)
1. Miss Sweet Led Lighted Tri-Fold Makeup Mirror in Rose Gold, $19.99: There's not a beauty fanatic out there who hasn't crushed on one of these fancy foldable LED mirrors, perfect for travel.
2. STILA Warm & Fuzzy Stay All Day Liquid Lipstick Set, $20: This limited-edition set is a steal and perfect for any beauty lover; featuring shades of stay all day liquid lipstick in STILA's best-selling red, nude, and brand new shimmer. I also have my eye on Smith & Cult Lip Gloss in Life in Photographs, $15.40: Because lip gloss is always a good idea; especially in this gorgeous shade of neutral blush pink. (Also available at Nordstrom.)
3. TopEsct Personal Blender, $19.29: This totally cool portable personal blender blends smoothies and protein shakes on the go. It comes with a rechargeable battery and can charge easily with its USB port (you can even charge your phone with it). It's BPA-free, and has six blades making this tiny blender powerful. It comes with a convenient no-spill lid and has magnetic sensors that will automatically stop the blades once opened. Ummm, how cool is that?
4. C.O. BIGELOW Rose Salve Lip Balm Trio, $15: Pop one in each stocking … (They're also available on Amazon individually.)
5. PALADONE Happy Cat Heat Change Mug, $14: For any cat, coffee or tea lovers, this adorable mug will brighten their day. The cat even closes her eyes in happiness when you add a warm beverage. OMG.
6. Flint Reusable Lint Roller, $10: Anyone who wears a lot of black (Guilty!), knows what a pain lint is. Well, problem solved … stylishly. This retractable lint brush roller looks like a pretty tube of lipstick but it's actually a discreet and unbelievably convenient tool that makes it easy to get rid of lint, hair, and dirt when you're on the go. Because it has a cover, the adhesive part won't stick to anything in your purse when you travel with it.
7. Gummy Candy Lab Science Project Kit Toy, $19.95: Your favorite budding scientist (and gummy candy fanatic) will be thrilled with this cool science kit that lets them use a natural gelatin-like ingredient called carrageenan that is made from seaweed to make tasty sweet or sour gummy creations. Kids learn about the scientific properties of natural polymers as well as other chemistry basics, all while having lots of fun.
8. MAILEG Baby Twins Stuffed Toy Mice in a Box, $30: Goodness, this is adorable. My three-year-old would freak out over this gift, and based on all of the glowing reviews, it sounds like kids up to at least eight years old treasure this sweet gift. (There's also a single "little sister" mouse in a box at Anthropologie for $26.)
9. PopSockets, $9+: Cell phones just keep getting bigger and bigger (and I'll admit, I'm obsessed with my giant iPhone plus), so a PopSocket can totally come in handy both as a grip and expanding stand. They come in so many cute prints and colors too.
10. Q&A a Day: 5-Year Journal, $11: This one is totally random, but I actually really love it. The Q&A a Day Journal shows you what was going through your head each day—for five years of your life. Simply turn to today's date, answer the question at the top of the page, and when you finish the journal, start over. As you return to the daily questions again over the years, you'll notice how your answers change, or don't. With questions like "On a scale of one to ten, how happy are you?", to "What can you smell right now?", and "If you could travel anywhere tomorrow, where would you go?", this classically designed journal is the perfect gift for, well … anyone.
11. Rose iPhone Case, $20: SO pretty and comes in plenty of sizes for all of the different iPhone models out there. Who doesn't always want a new phone case?
12. Umbra Tesora Jewelry Box, Concrete/Copper, $21: It's a jewelry holder! How cool is that? The concrete and copper design makes it all the more chic, it keeps your baubles organized, and it's compact if counter space is limited.
13. QIAYA Ring Light for Camera, $13: If you or someone you know loves taking selfies but struggles to find good lighting for pics, this rechargeable and adjustable ring light is seriously a must-buy. Pocket-sized and compact, this ring light attaches to your phone and delivers professional-quality lighting, so no more dark circles or blurry pics. Featuring three light levels, you can dim or brighten this light based on your preference, for the best pics possible.
14. MARIO BADESCU Facial Spray with Aloe, Herbs & Rosewater, $7: I am OBSESSED with this stuff. My sister talked me into picking one up recently at Nordstrom, and I've been a convert ever since. I spray it all over my face in the morning as a perfect pick-me-up for my dehydrated skin, and it smells SO good. It's also small enough that you can travel with it, but don't let the small size fool you, it lasts and lasts.
15. Oversized Bold Rim Round Cateye Sunglasses, $7.99: Chic and inexpensive. Perfect.
16. Green Toys Submarine, $10.41: If your little one lives for bath time, this submarine is a slam dunk. Probably going to have to get this for Scarlett because bath time is her favorite and she adores anything under-the-sea. (Exhibit A: mermaid party.)
17. Palette-it Set of 5 Design Pallet Coasters, $14.69: Yep, my husband would love these.
18. Alex and Ani Golden Snake Expandable Bracelet Set, $25.99: These are such fun bracelets to collect and are pretty much the perfect foolproof gift for jewelry lovers.
19. BIC Color Collection by Conte, Felt Pen, 20-Count, $7: For the artist in your life – big or small – this set of felt pens is the perfect gift (and it's just $7 as an Amazon add-on item!)
20. Herbivore Botanicals All Natural Pink Clay Exfoliating Facial Mask, $26: Face masks are all the rage these days, and Herbivore Botanicals makes the most amazing products. I would love getting a tub of this fabulous face mask goop. Just sayin'.
21. BP. Pom Pom Beanie, $15: Who doesn't want/need an adorable new beanie topped with a faux fur pom? (Also comes in navy and grey.)
22. Shrinky Dinks Cool Stuff Activity Set, $7.09: Remember Shrinky Dinks? Our sitter brought over a pack for Scarlett to play the other day, and I don't know who was more excited, me or her. The best part about this inexpensive throwback activity? Kids still love them! I plan on grabbing the mermaids for her for one of the nights of Chanukah.
23. BAUBLEBAR Sun Ray Ear Jackets, $21.60: These stunning ear jackets are edgy and gorgeous and make the perfect statement. They're also on sale for less than $22.
24. Tea Forte ICON Stainless Steel Loose Leaf Tea Infuser, $12: Tea lovers will flip over this easy-to-use tea infuser, which is made in a pyramid shape to better disperse loose leaves and flavor. It's even got a cute little leaf on top so you can easily pull out the infuser without any mess.
25. Hatchimals CollEGGtibles, $9.99: Word on the parenting scene is that EVERY kid ever wants a Hatchimal for Christmas. The full-sized Hatchimal is $69.99 and keeps selling out (I know, right!) But these mini Hatchimals are just $9.99 and have nothing but five-star reviews.
SHOP STOCKING STUFFER IDEAS POST (and then some!) | CLICK LEFT & RIGHT ARROWS TO EXPLORE

Do you have any favorite gifts to give as stocking stuffers?
In case you missed it: Gifts to Say "Thank You" (Under $30) and one of my favorite gifts to give: Pajamas. And stay tuned — we've got plenty of great gift guides coming up, and if there's something you'd like to see, shoot me an e-mail at [email protected]glitterinc.com, leave a comment here, or get in touch on Instagram!
This stocking stuffer ideas post contains affiliate links, which means that if you click on one of the product links, I'll receive a small commission. Thank you so much for clicking through and helping to support this little blog business of mine! Read more about our site, privacy, and disclosure policies here.