This post contains affiliate links, which means that if you click on one of the product links, I'll receive a small commission. Thank you so much for clicking through and helping to support this little blog business of mine! Read more about our site, privacy, and disclosure policies here.
Whew! In case you missed the BIG news: Scarlett's first birthday party that I styled and threw a few months back was published on Style Me Pretty Living! I am over the moon, and so happy to finally share the gorgeous bohemian backyard party photos (huge thanks to Brandi Leigh), and details behind putting together this celebratory bash.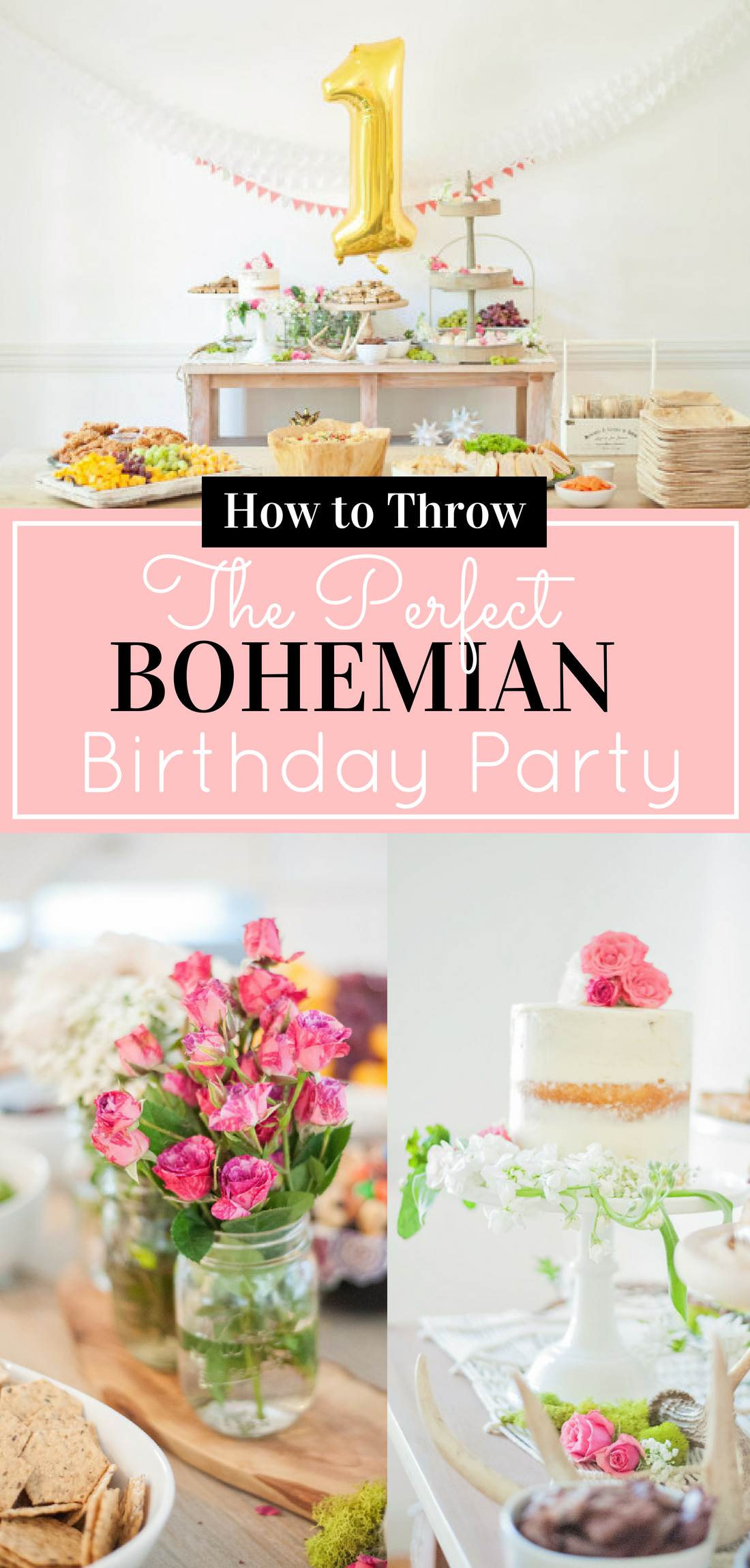 Fair warning: this post is photo heavy (full of photo awesome-ness, obviously.)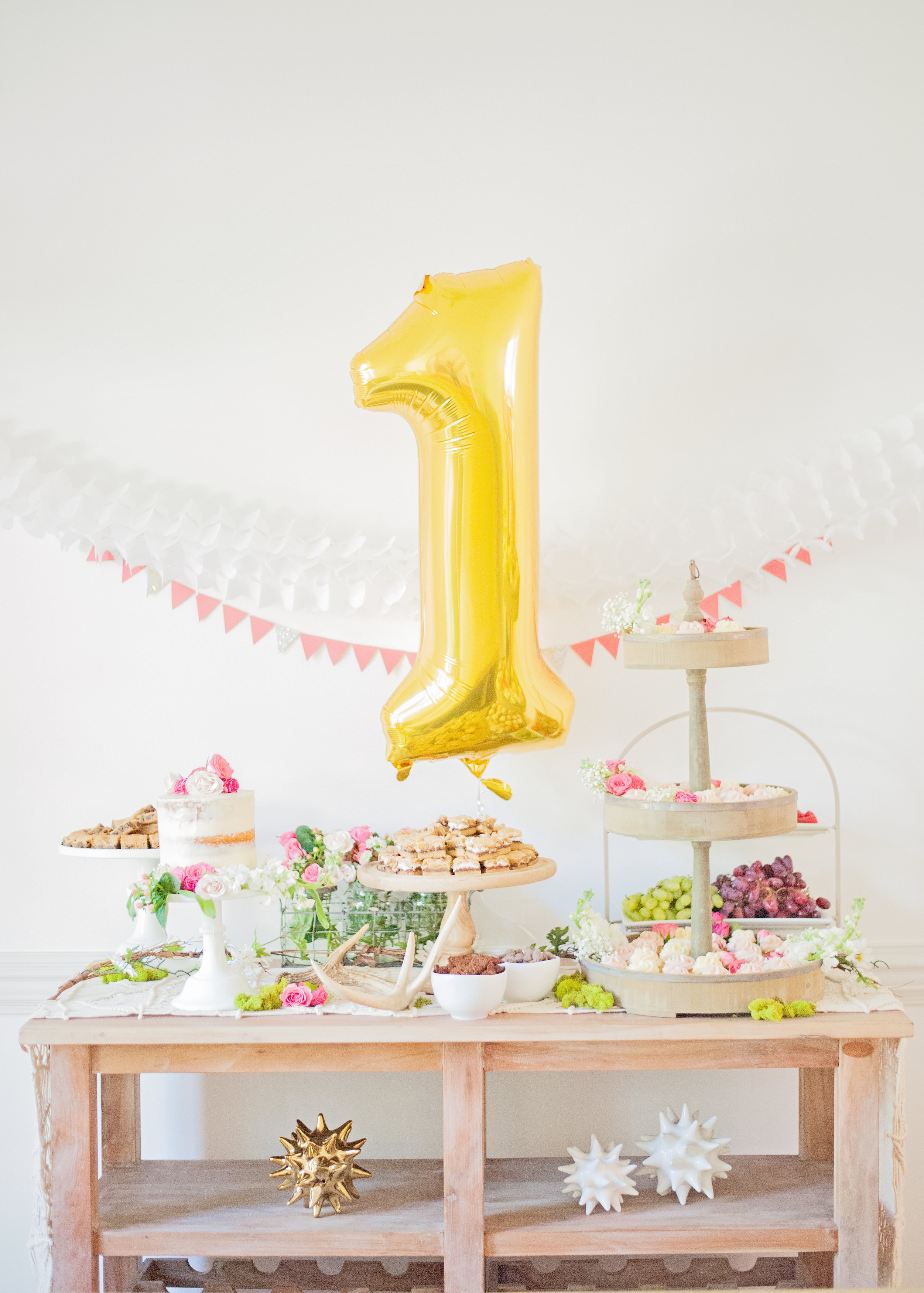 As a blogger, I'll be the first to admit I get a little obsessed with the details, so when it came to our little girl, Scarlett's first birthday party, I went all out. We had just recently moved into our new home in North Carolina, so it also happened to be the perfect excuse to get our house – well, at least the downstairs! – into tip-top shape and throw one big housewarming/birthday bash to get to know our neighbors and my husband's co-workers.
We collaborated with Partyology, who sponsored our party and was responsible for so many of the great party supplies and décor you see throughout the party. Partyology is an oh-so-helpful creative party-planning/shopping app and site. Basically, it's an innovative app bringing together ideas, inspiration, products and curated party supply purchases in one place; a Pinterest for party-planning, if you will. You save great party images, products and supplies to your collections (see mine, here), and then when you're ready to bring the party to life, you can order products right through the app. Using their app, I was able to create the backyard bohemian bash of my dreams – an idea I had been playing with in my head for months.
I can't sing our photographer's praises enough. Brandi Leigh came before the party to photograph a lot of the styled shots and stayed throughout the party like a trooper to catch all of the extra-adorable moments. She is an unbelievable talent and made our baby girl's birthday party look like a million bucks. There are more great styled shoots to come, so be on the lookout!
Back to the house … we had this awesome screened-in patio with no furniture to fill it (and a limited new homeowners' budget), so we got creative. Cue the "bohemian lounge" complete with Scarlett's teepee, layers of souk rugs, blankets and throws, floor cushions and pillows.
The activities for the kids all sort of grew from the bohemian hang-out idea. We wanted the kids to have a great time, particularly because we had so many young kids in attendance (and my own mom has always been a rockstar at making amazing food for the grownups with plenty of memorable stuff for the kiddos.) I found bubble sticks at Walmart in the clearance section and covered them in gold polka dot stickers from Target to give as party favors. We also had temporary tattoos and lollipops on a tray in the kids "lounge," butterfly wings decorating the chairs, and plastic mason jars with lids so the littles could run to their hearts content with juice in hand. Bubbles, tattoos, a teepee, and lollipops: obviously the boho lounge was a big hit.
And lest we forget the food …
Scarlett thoroughly enjoyed smashing her own mini cake (big thanks to Whole Foods for making us a perfect little chocolate vegan cake for her!)
We kept the food simple: a homemade toasted pine nut caprese tortellini salad; homemade artichoke dip with chips, crackers and carrots for dipping; trays with petite sandwiches and chicken fingers; and a cheese and fruit board; plus tons of dessert.
Admittedly, I had a lot of fun with the dessert table. I am a dessert fiend, so I knew I wanted to make that the focal point. I made s'mores bars and chocolate chip cookie bars (both foolproof and so good), put out plenty of fruit, dark chocolate salted almonds, brownie brittle, an amazing cake and cupcakes by Sugar Euphoria that I decorated with real flowers, and a vegan birthday smash cake from Whole Foods for Scarlett who has a milk protein allergy but loved her cake all the same (thank goodness!) We kept drinks simple: a big vat of iced tea, sodas, juice, and craft beer (my husband had a lot of fun picking local North Carolina beers to try.)
I'm still pinching myself over how well the party turned out. This was my first party on my own (without my family's help back in Miami), so I worried how everything would turn out. Thankfully good food, good drinks, and good friends is all you really need for a great time!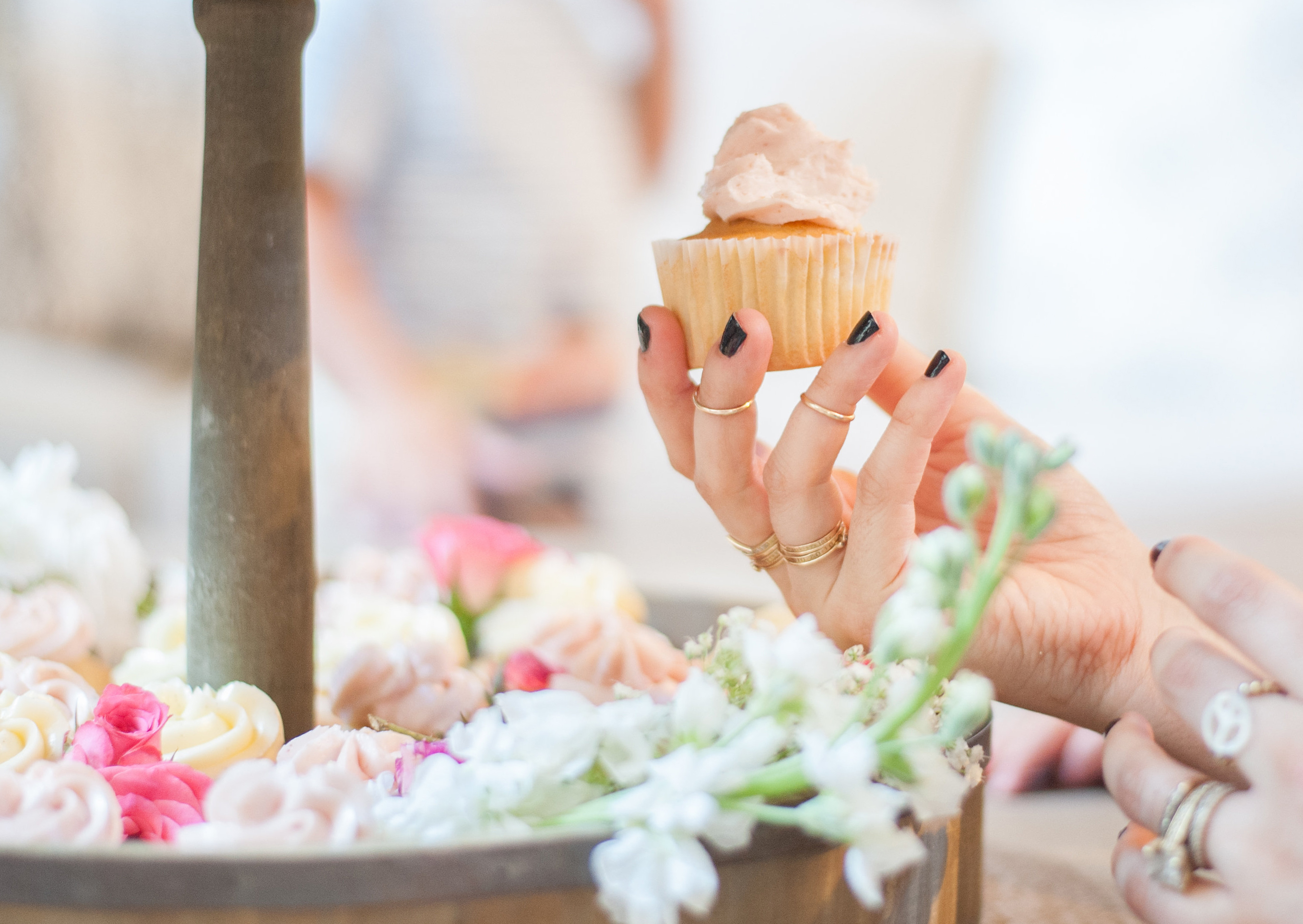 Anything you like from the party that I forgot to list? Just leave me a comment or shoot me an e-mail and I'll be sure to get back to you with the details!
Photography: Brandi Leigh Photography | Party Planning and Styling: Lexi of Glitter, Inc. | Party Planning App: Partyology | Cake and Cupcakes: Sugar Euphoria | Flowers: Lexi of Glitter, Inc. | Lexi's Dress: Free People | Scarlett's Birthday Outfit: RuffleButts| Baby Fringe Booties: Minnetonka | Gold Number "1" Balloon: Urban Outfitters | Gold Serveware: West Elm | White Milk Glass Cake Stands: One Kings Lane | Wood Slice Cake Stands: World Market | Wood Barn Door Serving Tray: White Birch Studio | Rustic Three-Tier Tray: Amazon | Paper Pinwheels: Michaels | Vintage Floral Fabric Bunting: Amazon | Globe String Lights: Yard Envy | Flower String Lights: Oh My Goodies | Macramé Dessert Table Runner: Anthropologie | Gold Stripe Teepee: Land of Nod | Fabric Teepee Banner: Lexi of Glitter, Inc. | Fairy Butterfly Wings: Amazon | Mexican Blanket: Thrifty Mart USA | Souk Rug: West Elm | XO Muslin Throw: Modern Burlap | Floor Cushions: Urban Outfitters | Arrow Throw Tapestry: Urban Outfitters | Pink Rug: Lulu & Georgia | Silver Pouf: Lulu & Georgia | Fabric Banner: Feather & Fray | Plastic Mason Jars with Lids: Home Style Divas | Floral Straws: Twigs & Twirls | Eco-Friendly Plates: Smarty Had a Party | Wooden Cutlery: Wrap and Reveal | "Wild One" Cocktail Napkins: With Love + Ink | Burlap and Lace Paper Napkins: Wedding Bubbles 'n More | Dried Moss: Melrose Botanicals | Glitter Polka Dot Bubble Sticks: DIY by Lexi of Glitter, Inc.
Special thanks to Partyology for sponsoring this post. Thank you so much for supporting the sponsors that make Glitter, Inc. possible!
This post contains affiliate links, which means that if you click on one of the product links, I'll receive a small commission. Thank you so much for clicking through and helping to support this little blog business of mine! Read more about our site, privacy, and disclosure policies here.