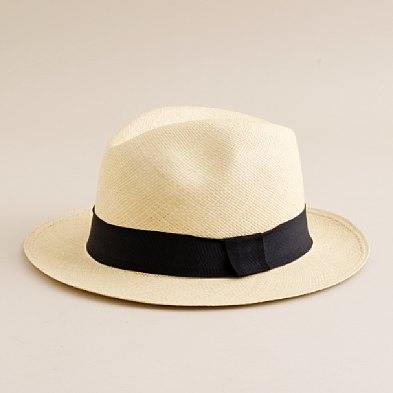 Is it weird that I desperately want a Panama Hat (or fedora)?
It all began in Rhodes – Greece, to be exact. I honed in on my perfect Country take-away (slang for tacky souvenir). The straw fedora. It spoke to me. I imagined myself playing bridge and rocking a snazzy tracksuit. I wanted that hat. And it was too big. And then it rained.
And thus began my quest for that perfect fedora. Then, my friend, We ndi, looked fabulous in a straw fedora complete with striped ribbon (a la Urban Outfitters) – sold out.
So my fruitless search continues. My head looks silly in a tight-lipped hat; every chic blogger looks savvy in same hat.
And so I look on. Is $68 too much for a hat I may or may not look like a Golden Girl in?  Survey says:  yes.
Try the J.Crew Panama Hat on for yourself, and go on, look fabulous.