I love nail polish. With every move over the years, I've forced myself to narrow down my must-have nail polishes, and toss the half-dried bottles that are clearly beyond saving. And even after all of the purging, I still have a pretty formidable bucket of nail polish favorites. When Essie sent me their Winter 2016 Collection, it took all of my willpower to not drool over the perfect Holiday colors. They've quickly become my favorite holiday nail polish colors of the season.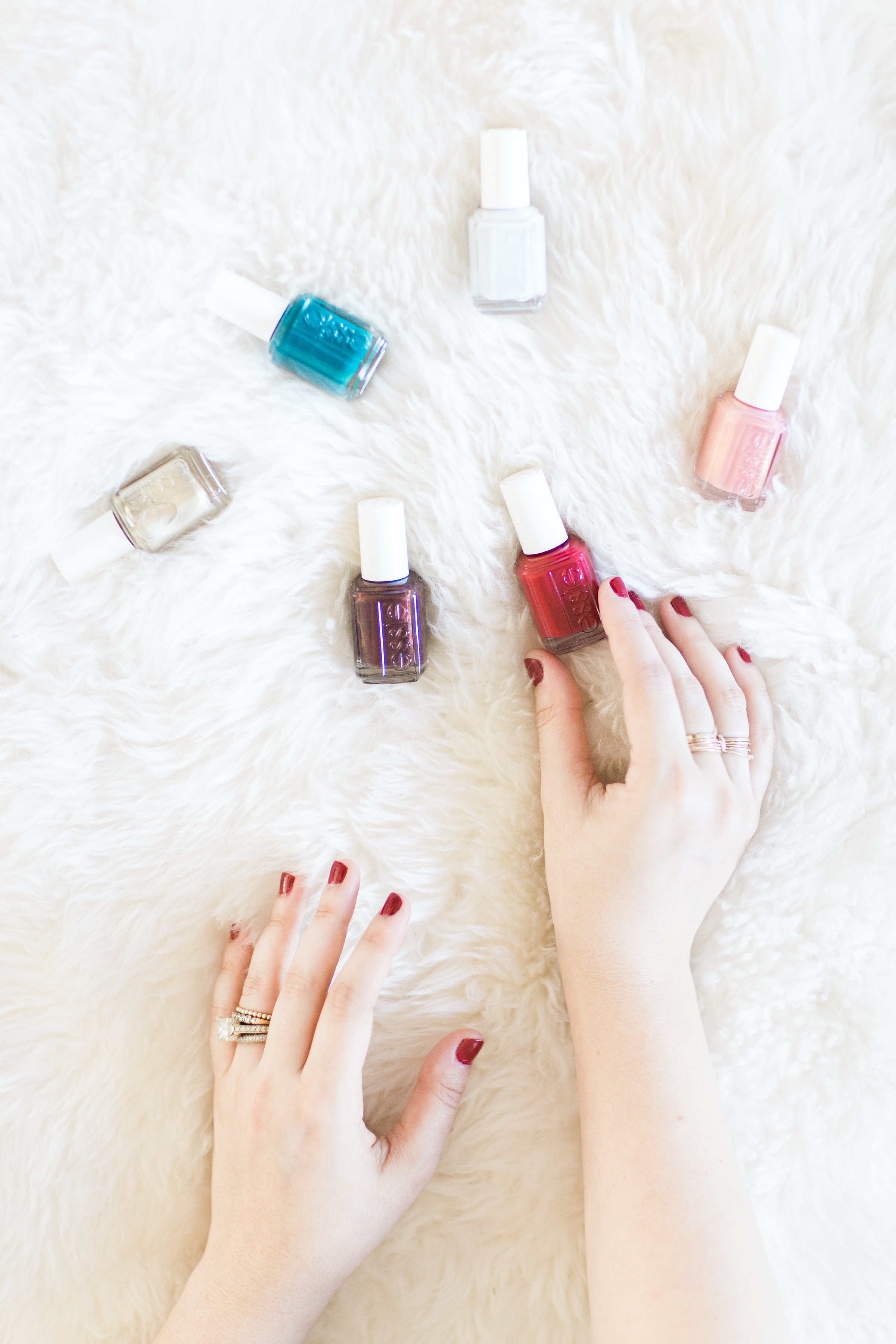 Isn't it funny how such a simple thing, a nail polish color, can really add so much impact to an outfit? Over the Holidays, everyone wants to get a little extra festive. I tend to reach for classic holiday reds, with the occasional snowy white every once in a while. (And of course, I never tire of black nail polish … and here's why you should try it.)
But gold? Oh my gosh, guys – Getting Groovy – Essie's signature holiday gold color, is dreamy. Described as a metallic palladium gold, this gold is classic, not too jarring, and feels softer than a typical harsher gold.
The classic red of the group, Party on a Platform, is described as a towering London garnet red crème. Is cheeky, and a bit deeper than a classically bright red. I'm in love.
Ready to Boa is such a beautiful fall/winter color. It's a dark red with a stunning shimmer mixed in.
Satin Sister is described as a sleek ebony peacock blue but it feels more deep green to me. I liked this one way more than I thought I would. It's striking on.
Oh Behave, a minx peach frost, is adorable and sweet. It works in any season.
Go With The Flowy, a cloudlike dove gray with subtle shimmer, is super wearable and one of my favorites in the collection.
If you're not sure which to try, you can play with a handful when you snag the Essie Winter Collection Mini Set.
Which holiday nail polish color is your favorite? Do you stick to a classic red over the holidays or do you go for something funkier with a metallic gold or deep winter green?
Big thanks to Essie for sending me the Essie Winter 2016 Holiday Nail Polish Collection!
Photos by Annie Watts Photography for Glitter, Inc.
This post contains affiliate links, which means that if you click on one of the product links, I'll receive a small commission. Thank you so much for clicking through and helping to support this little blog business of mine! Read more about our site, privacy, and disclosure policies here.