This post contains affiliate links, which means that if you click on one of the product links, I'll receive a small commission. Additionally, as an Amazon Associate I earn from qualifying purchases. Thank you so much for clicking through and helping to support this little blog business of mine! Read more about our site, privacy, and disclosure policies here.
These 4 shower products – including an amazing scrub, two cleansers, and a body wash (with lotion built right in!) – have become holy grail beauty items for me; and bonus: they're all affordable and available at Target!
I am a bath and shower aficionado. It all started with my mom. She lives for a great bubble bath. One of my favorite memories as a kid (and admittedly, even now, going home as an adult), was using my mom's bath tub only to discover all of the new bubbles and scrubs and body washes and cleansers she had stocked up on. Truly, my mom has every yummy scent and texture you can imagine. Need a good gift to get my mom? Anything for her bath tub! (By the way, same goes for me!) 😉
In our new house, I have a huge bath tub, and I'm as happy as a kid in a candy shop. That love has transferred over to the shower too; namely because I'm a busy mom, and many days I'm lucky if I get a 10-minute shower.
The bright side is, I've amassed quite the collection of shower scrubs, cleansers, and body washes to make our shower feel just a little bit more spa-like. Give me a high end body wash or whipped cream any day, but truth be told, Target is my happy place, so I'm equally thrilled about affordable treats I can snag for the shower in those never-ending store aisles.
I've tried so many amazing scrubs, cleansers, and body washes, and lately, I find myself reaching for the same handful of shower products again and again. And bonus: they're all affordable.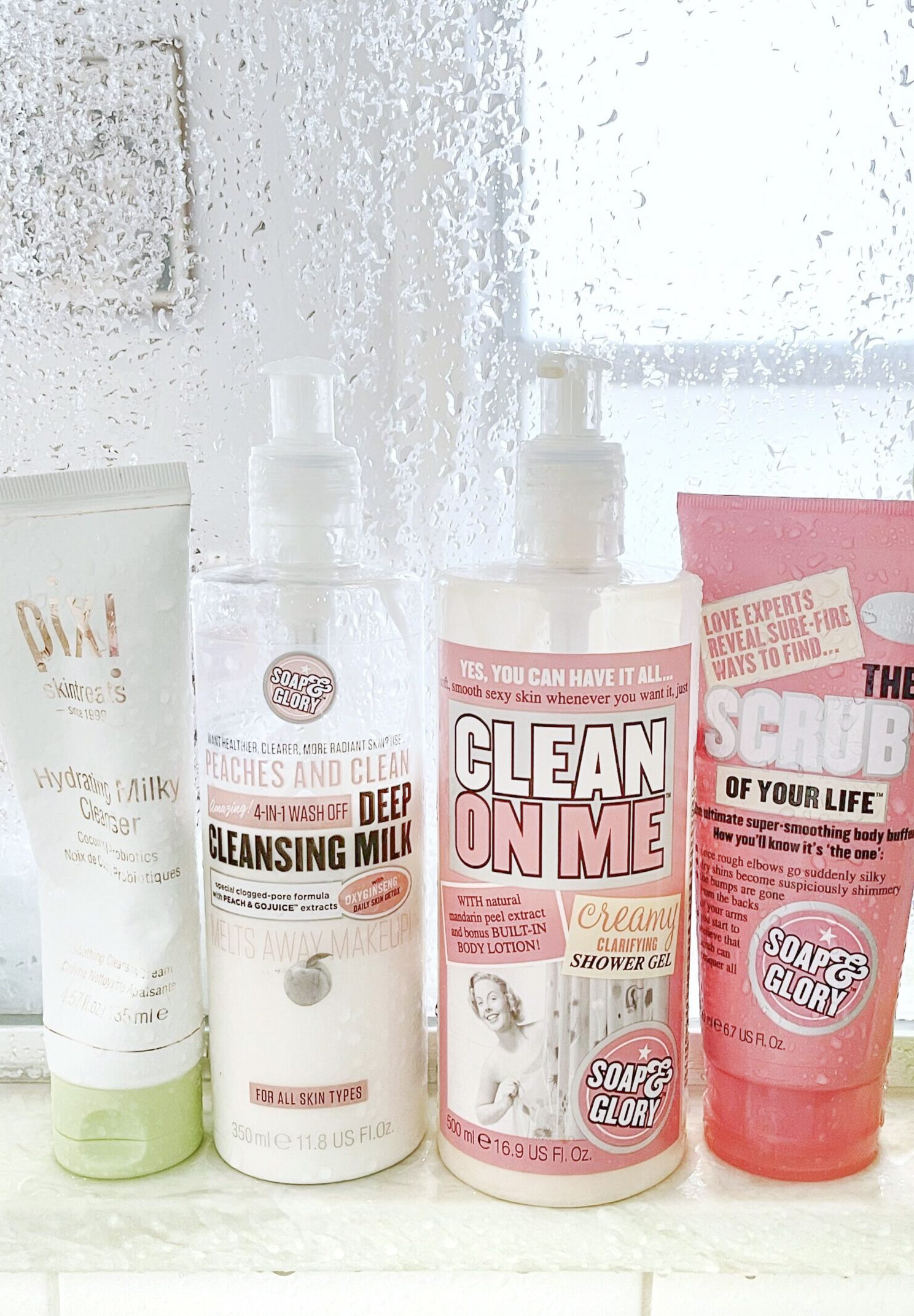 My Current Favorite Affordable Shower Scrub, Cleansers, and Body Wash
This daily gentle facial cleanser provides your skin with deep hydration. It has this rich, soothing, luxurious-feeling cream base that moisturizes, cleansers, all as it works to calm skin irritation. Great for sensitive skin and leaves skin feeling clean without drying it out.
The scent is also very mild, which I love, especially on days when my sensitive skin is acting up.
This is another great cleanser that does exactly what it says it will; it cleanses, clarifies, and leaves my skin soft and silky after use. This one does an impressive job of removing makeup – including mascara. That's a win in my book.
It's a good-sized bottle, giving you a lot of product for the money.
It also has this minty peach scent that leaves your skin feeling awake and refreshed, which is especially great if you shower/cleanse in the morning.
I actually fell down the Soap & Glory rabbit hole with this holy grail product first. The combination of rose, bergamot, strawberry and orange peel extract somehow reminds me of old school Benefit Cosmetics perfume (anyone else remember Maybe Baby?) and I adore it. (Note: if you don't love stronger perfumed scents, this one might not be for you.)
I love shower gel and body wash. My husband is a bar soap kind of guy. Knowing that he has no interest in my body wash, I reached for this on the aisles at Target the first time I saw it. The branding, the descriptions, all of it; it's uber feminine and it was love at first sight. And then of course, I used it in the shower for the first time and WOW.
It smells great. Gets you nice and clean, and the skin-clarifying shower gel has a bonus built-in body lotion that leaves your skin so soft.
If you're searching for an amazing scrub to use in the shower, look no further. I am seriously hooked on this body scrub. I love how well the scrubbing beads gently exfoliate, and because it smells similar to the OG Soap & Glory Clean On Me Creamy Clarifying Shower Gel, it leaves your skin smelling amazing after your shower.
This exfoliating body scrub is great to use before shaving, before applying any self-tanner, and to get rid of those pesky bumps on your arms over time, etc.
So there you have it: my current favorite affordable shower scrub, cleansers, and body wash.
SHOP MY CURRENT FAVORITE SHOWER BEAUTY PRODUCTS | CLICK LEFT & RIGHT ARROWS TO EXPLORE

Any holy grail shower scrubs, cleansers, or body washes you swear by? I'm always on the hunt for new goodies for my bath and shower! 😉 You can also see more of my favorite bath and beauty items right here. Follow me on Instagram for more updates.