This post has been sponsored by Layer Cake Wine. All thoughts and opinions are my own. This post contains affiliate links, which means that if you click on one of the product links, I'll receive a small commission. Additionally, as an Amazon Associate I earn from qualifying purchases. Thank you so much for clicking through and helping to support this little blog business of mine! Read more about our site, privacy, and disclosure policies here.
Stay close to home and celebrate things big and small with a romantic at home date night porch picnic. Here are a few easy ways to make staying home for a date night extra special and elevated.
Fall is my favorite for a million reasons. I love the leaves, the crisp chill in the air, the excuse to frequent pumpkin patches and apple orchards, Halloween, Thanksgiving—the list goes on and on. And perhaps one of my favorite parts of fall is that our wedding anniversary falls squarely in the middle of it all. Mike and I were married on Halloween weekend coming up on 11 years (!!!) ago. Our wedding is still easily one of the best memories ever; and though our lives are busier these days, we still love carving out a little time to do something special to celebrate the big event.
The last few years we've stayed close to home to celebrate our anniversary, and I knew I wanted to dream up a special date night right from home this year. When Layer Cake Wines reached out asking to partner, I realized that this would be such a perfect fit.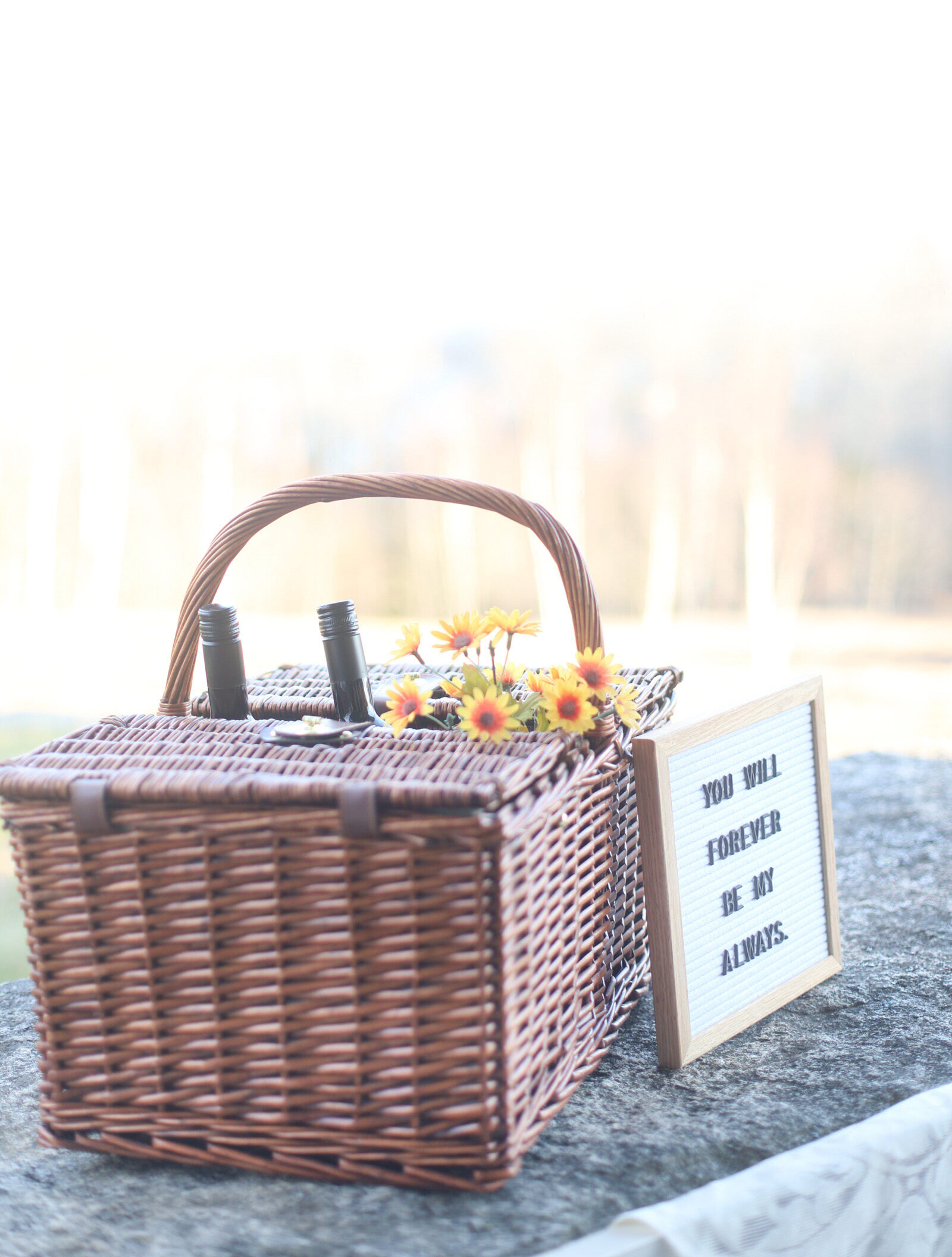 Layer Cake Wines
Layer Cake Wines are an easy choice for us every time. We've been drinking and serving their great quality, richly layered wines for years and years. Layer Cake is robust in flavors with varietals from the best wine making regions of the world. I love that their wines fit every occasion, from a dinner party to a random Tuesday night, and of course, a romantic date night for two.
Click here to find Layer Cake Wines near you – you'll love all of their varietals!
And just like Layer Cake Wines, I wanted to create a date night porch picnic that felt richly layered with delicious wine, good food, music, and the perfect touch of ambiance.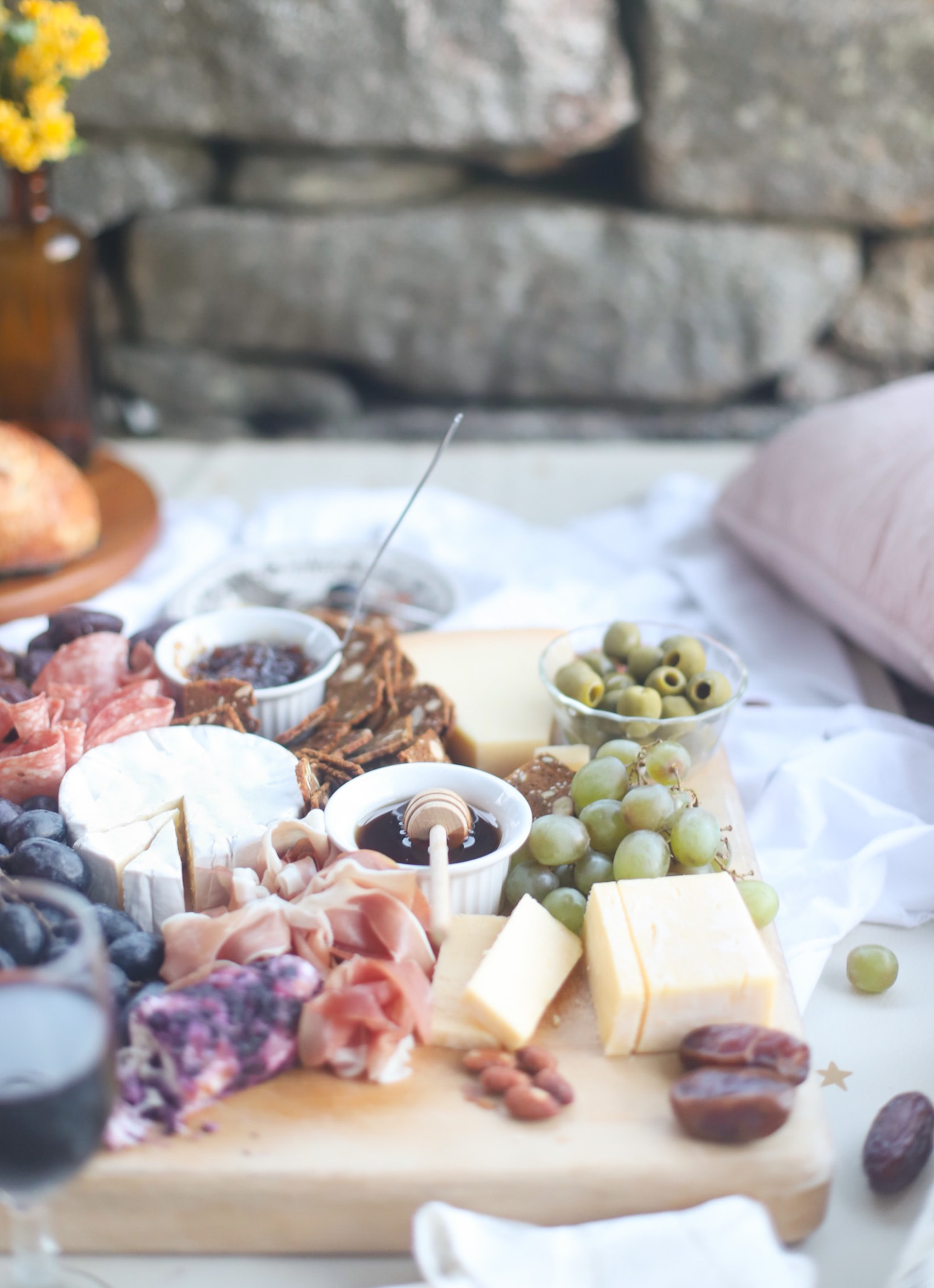 How to Set up a Romantic Date Night Porch Picnic for Two
So today, I'm sharing a few easy ways to make staying home for a date night extra special and elevated with a romantic porch picnic for two.
Follow these simple steps for an impressive celebration at home.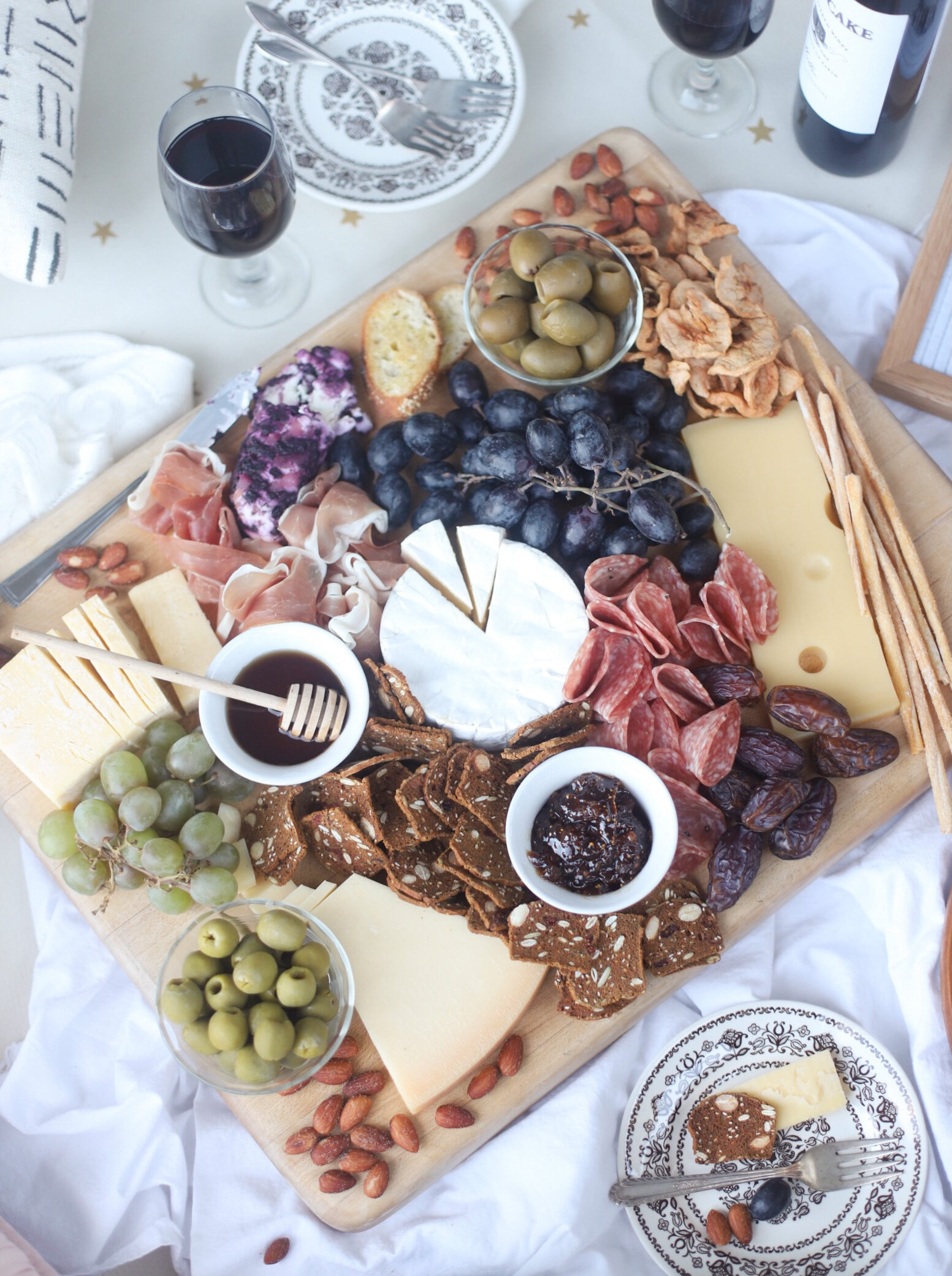 Plan the menu.
Decide on your drinks and food.
We pulled out Layer Cake Malbec, Layer Cake Cabernet Sauvignon, Layer Cake Pinot Noir, and Layer Cake Bourbon Barrel Aged Cabernet Sauvignon to offer a nice variety and turned our date night charcuterie into a wine tasting of sorts. It made the whole evening so much more fun and helped to expand our wine knowledge a bit, all while adding excitement to date night. Layer Cake makes it simple for me to access wines from the best wine regions of the world without having to leave home. Each place of origin has wines that are hand selected and authentically made for rich, delicious wines I know I'll enjoy.
For the food, we went with a more traditional charcuterie board full of cheese, cured meats, plenty of crusty bread and crackers, fruit and nuts.
Part of what makes an at-home date night special is planning in advance so that when it comes time to sit down to enjoy date night, you're not scrambling to come up with what's for dinner. (And for the record: takeout pizza and wine is equally memorable and easy!)
For our porch picnic, we built a charcuterie with our favorite sweet and savory snacks.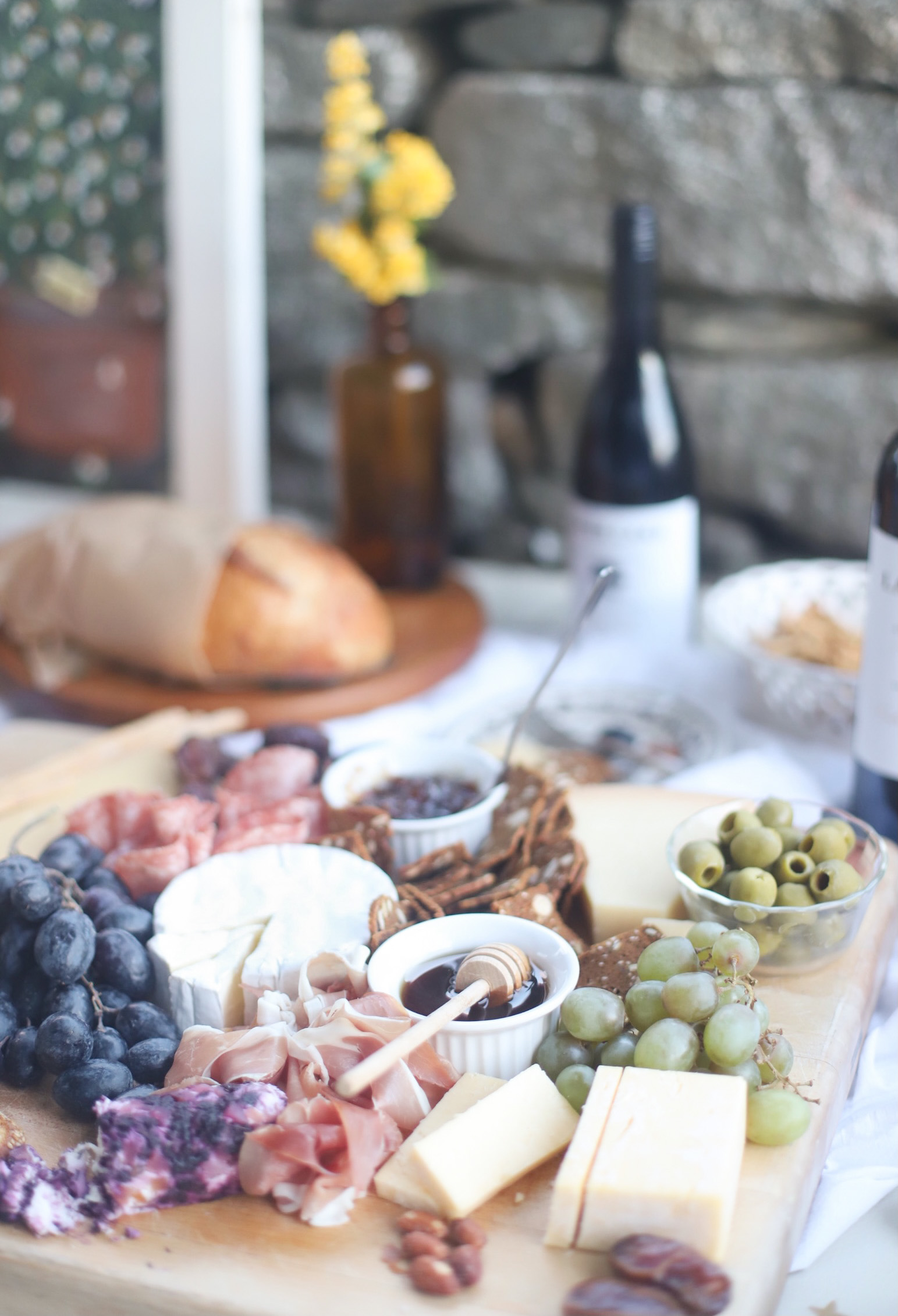 Date Night Charcuterie
Cheese (brie, cheddar, goat cheese, manchego, etc.)
Cured Meats (genoa salami, soppressata, prosciutto, mortadella, etc.)
Roasted and Salted Nuts
Olives
Grapes
Dates
Dried Fruit (like dried apples, apricots, dried cherries, etc.)
Breadsticks
Crackers (we used raincoast crisps; so good with cheese!)
Pretzels
Loaf of Crusty Bread
Toast Rounds (we toasted ours in the oven with a little olive oil and fresh garlic)
Olive Oil for Dipping (pour good quality OO in a small bowl and top with freshly ground pepper and salt)
Honey
Fig Jam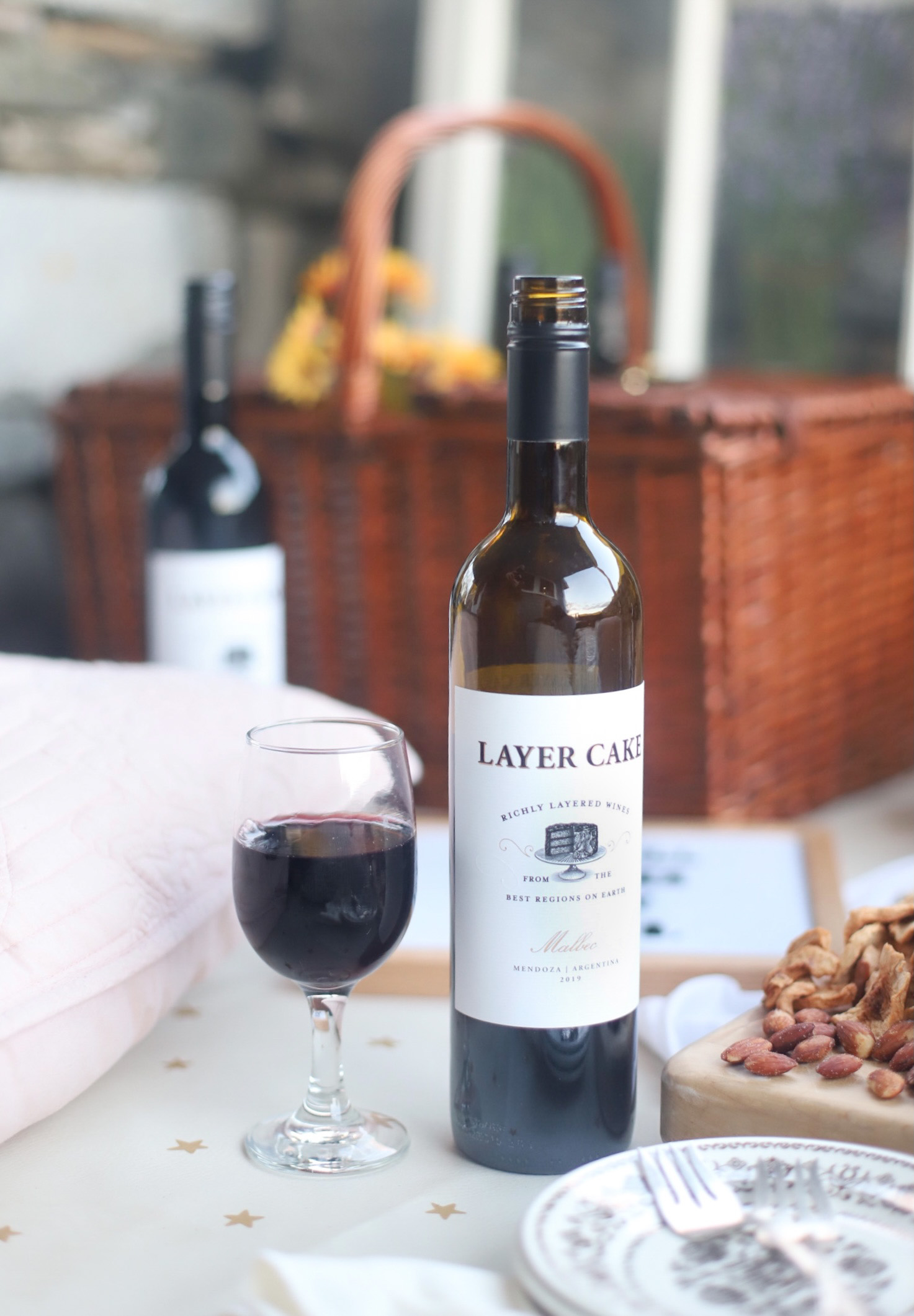 Wine Pairings
One of my favorite wines to pair with a charcuterie is an Argentinian Layer Cake Malbec. It stands up well to all the different types of cured meat, and I think it balances out the richness of the cheese as well.
Break out the fancy dishes.
You have all of those beautiful wine glasses in the cabinet, fancy china from your wedding, cloth napkins, etc., why not use it for a celebratory date night? Plus, you just need two plates, two sets of silverware, a few glasses; making cleanup easy.
We actually pulled out a few of my favorite vintage pieces for this date night setup – vintage dishes, vintage silverware, vintage lace napkins – and I loved the rustic, elevated vibe it added to our dinner.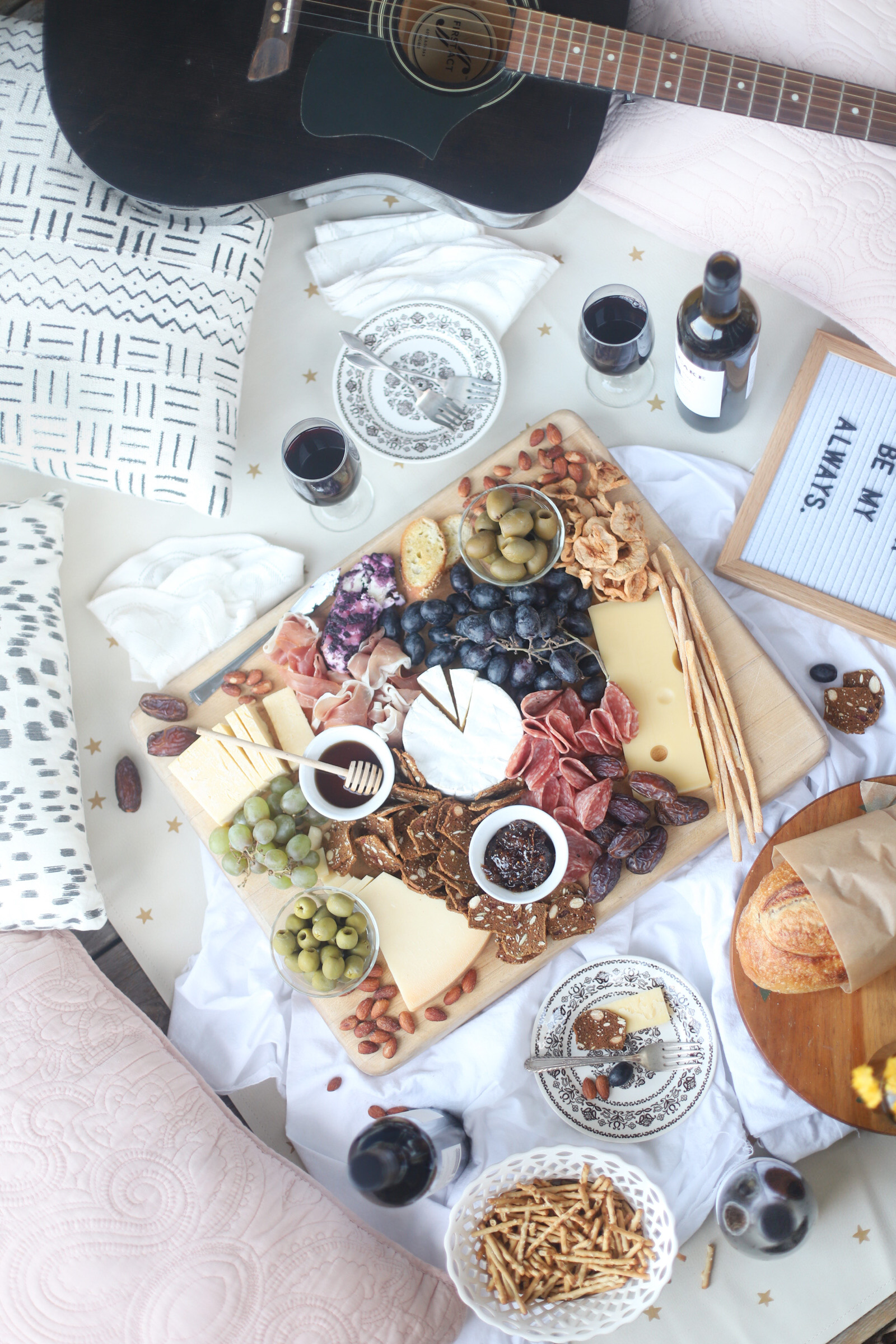 Treat this like a picnic.
Lay down a blanket or mat, set out oversized pillows and cushions to sit on. Make the picnic set-up comfy and cozy and make it just a little break from the norm. Fully embrace that picnic theme!
Set the mood.
Put on your favorite album or play your favorite songs from the wedding. You can also pull out the guitar and let your partner play you a few songs (swoon). Light a few candles. The point is, make the night extra special. Turning off the noise of the tv or talk of the stress of the day. Then, focus on just enjoying date night is what will really make the evening indelible.
Put the kids to bed, put away your phones, and enjoy that date night for two!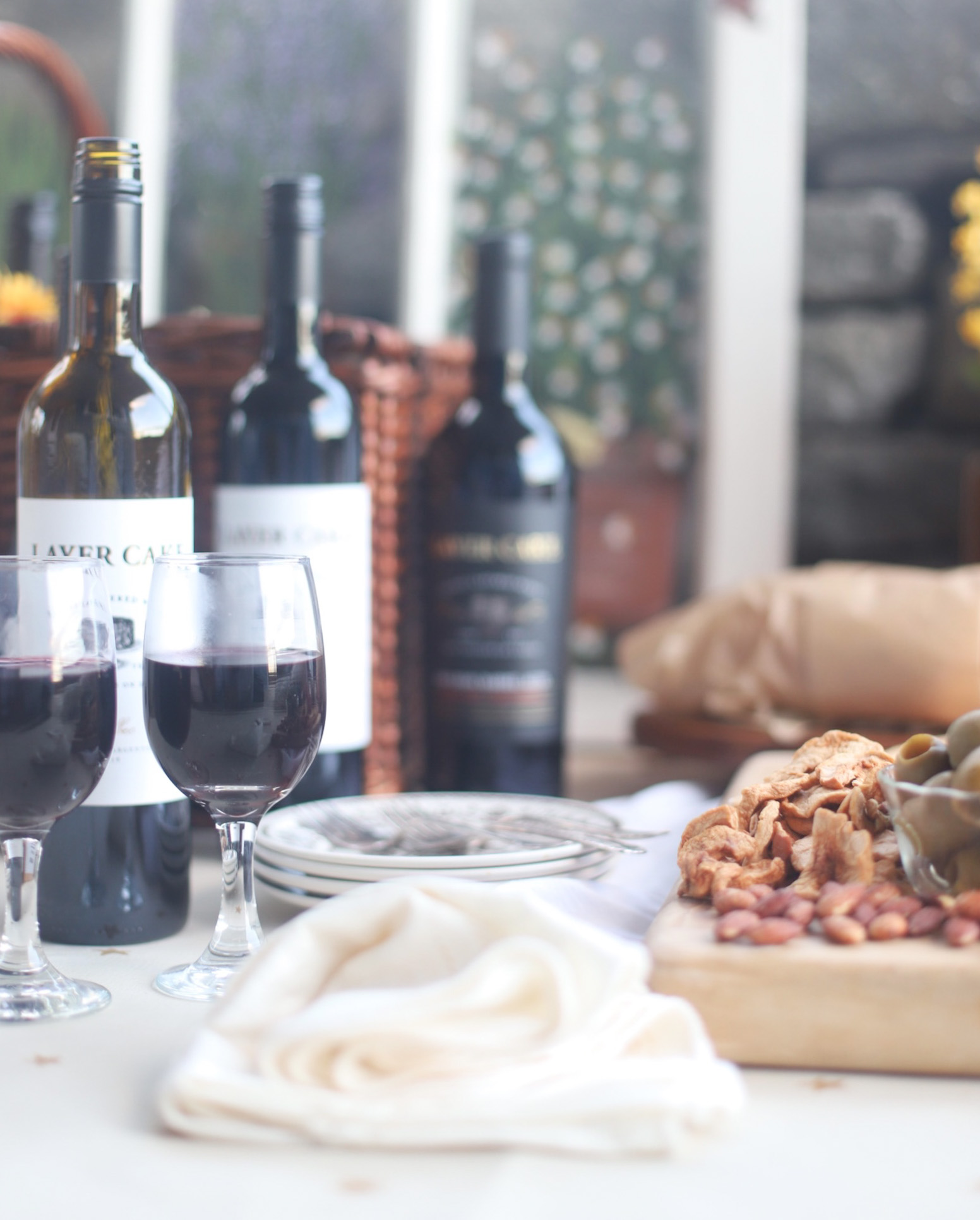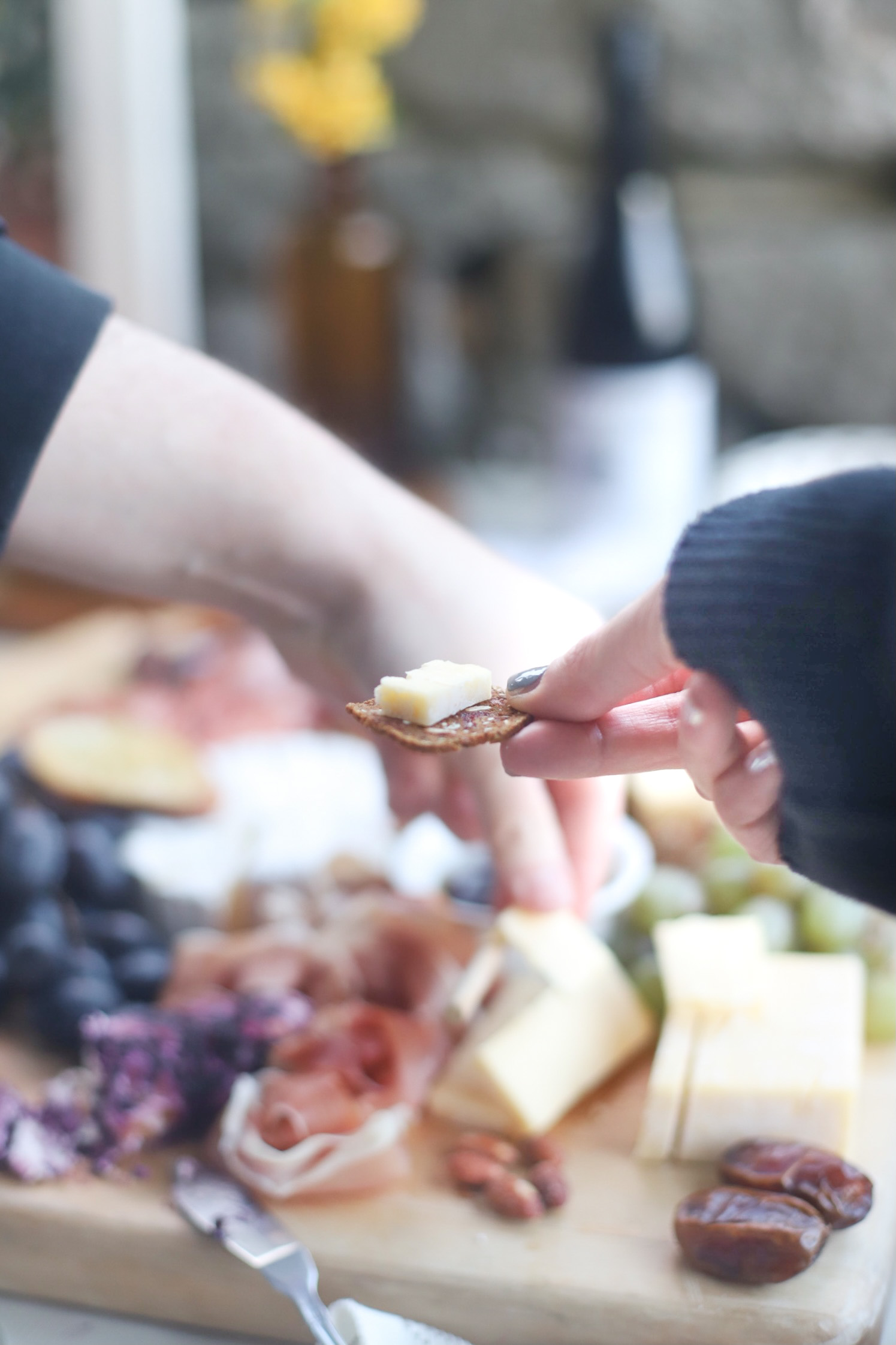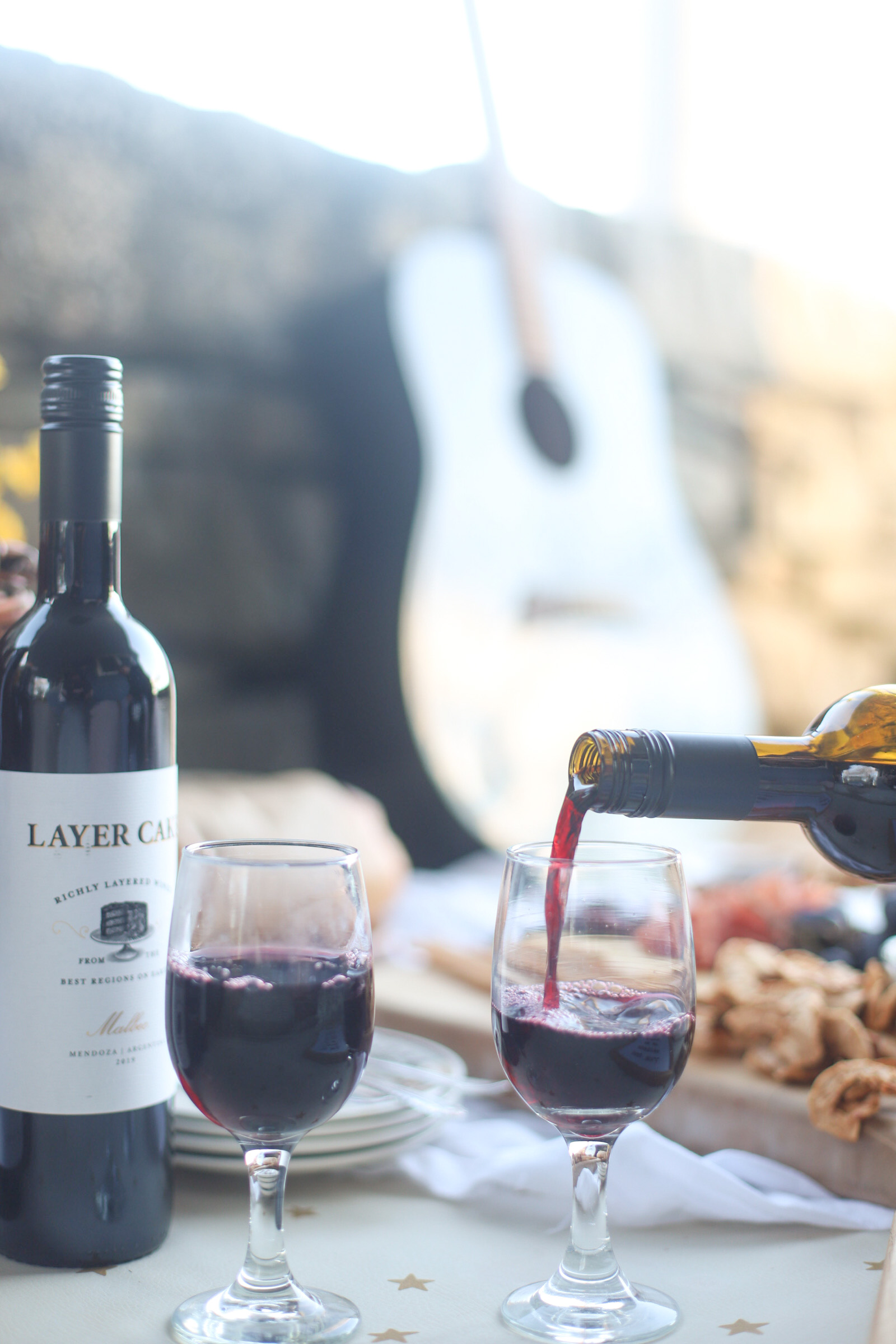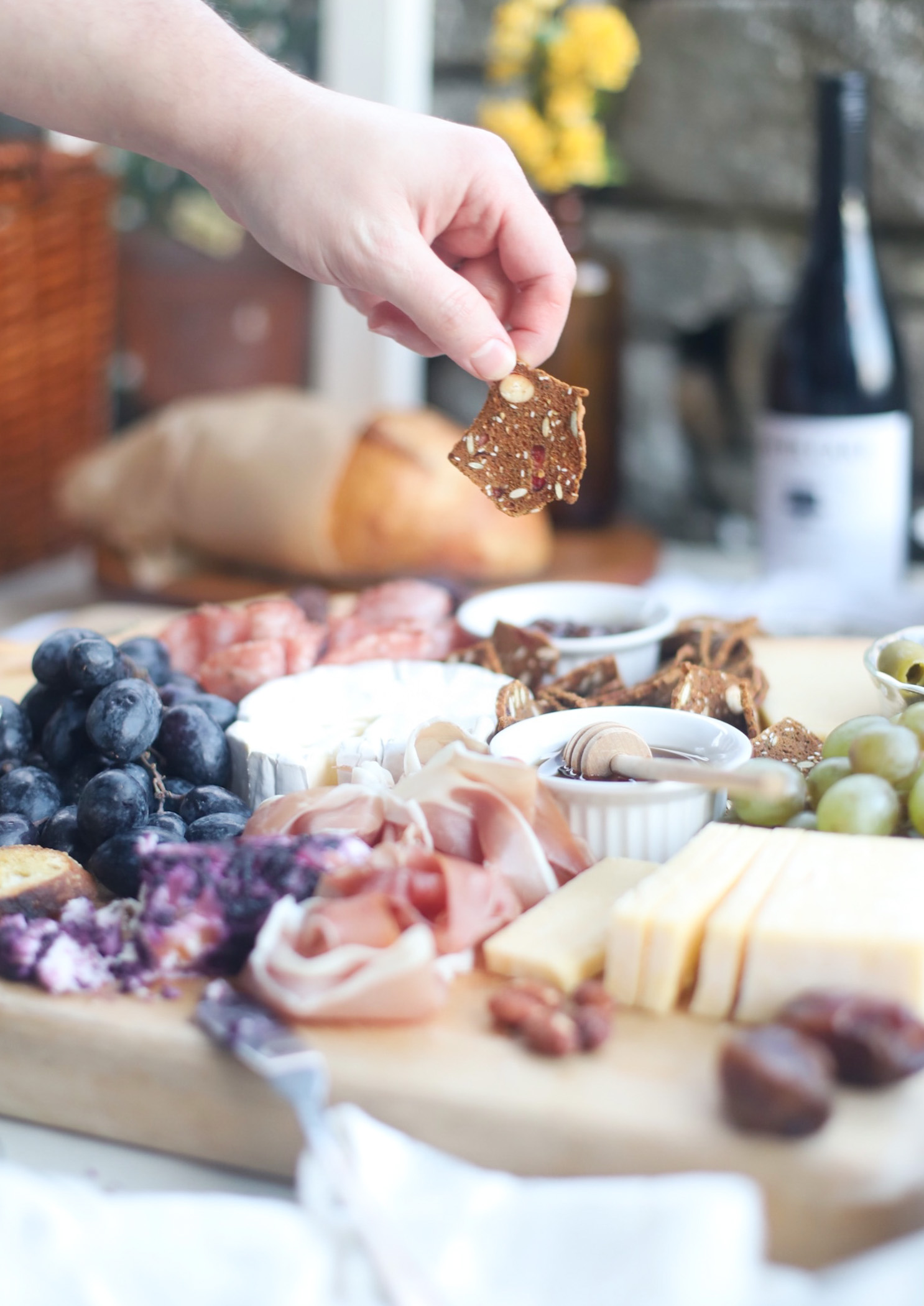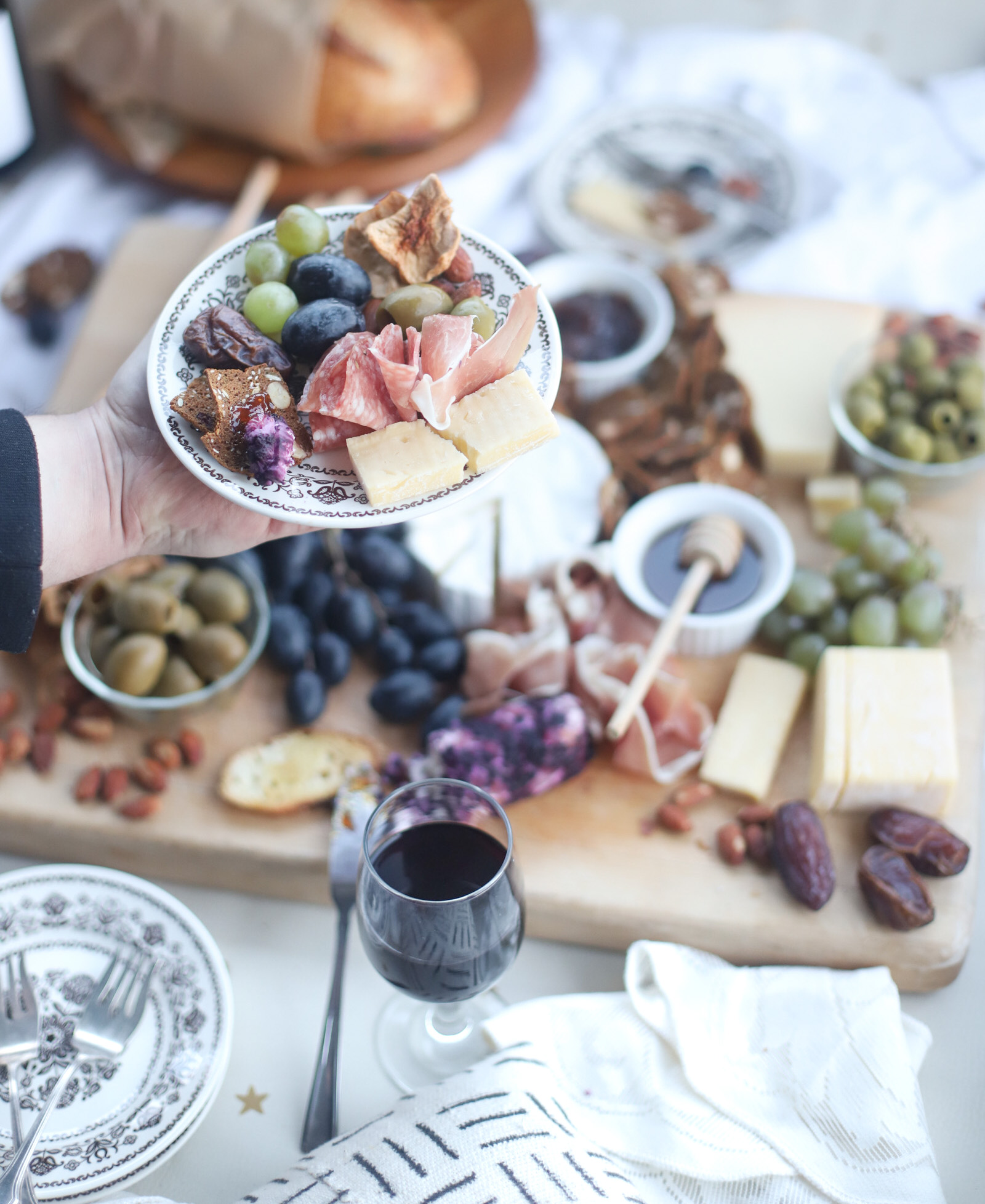 I hope that you find that this at-home date night idea post is helpful. Also, I hope it inspires your romantic outdoor celebrating this season!
What about you; do you celebrate anniversaries out or at home? Would you put together an at-home date night?
Love this simple and romantic date night porch picnic? Check out all of our celebrations here (with plenty of ideas for at-home party fun!) and head to our recipe page to see what else we're dreaming up in the kitchen! And if you put together your own date night porch picnic, be sure to tag me on social media (@glitterinclexi) so I can live vicariously through all of your sweet low-key celebrations!