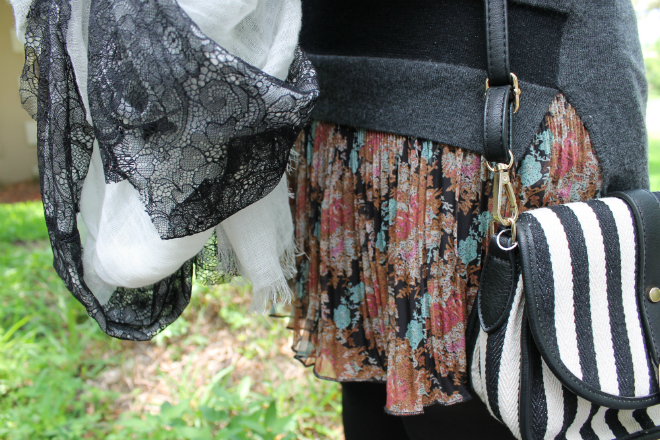 This week's final T.J.Maxx Style Scout post is all about prints. I've always loved wearing and mixing prints.  When it comes to pairing bolder prints, it's best to stick with certain color tones or shades.  I'm also a big fan of mixing a smaller pattern with a larger pattern, or here, in the case of the small floral print on this swing skirt (perfect for every season, I might add), stripes were an easy pairing (cue purse and sweater).  And because the lace on the scarf was black, I knew I could slip that into the mix easily as well. (The scarf selection at T.J. right now is bananas. Check my instagram for pictures!)
The oversized sweater was something I have been on the hunt for for quite a while now, and this one was designer, on a major discount thanks to T.J. Maxx, soft as could be, and with the added bonus of stripes.  I wore a designer-score tank top from T.J. under the sweater, and bought the same tank in two other colors (black, grey, and white – tank top staples in my book.)  The striped purse went into my cart the second I saw it – adorable, functional, and the black and white stripes make it incredibly versatile (New mantra: stripes go with everything!)  By the way, ever consider T.J. for your beauty purchases?  They have an awesome selection of hair care, beauty appliances (hello, new blow dryer!), and beauty items (often times, department store finds at a fraction of the price.)  It's hard to see in the pictures, but even my shimmer nude name brand nail polish was a find from my local T. J. Maxx.  Win.
Side note: now that it's warming up again, T.J. Maxx tends to put all of their tights (and winter wear in general) on sale; stock up now while the prices are reduced … you'll be happy you did when Fall rolls around again.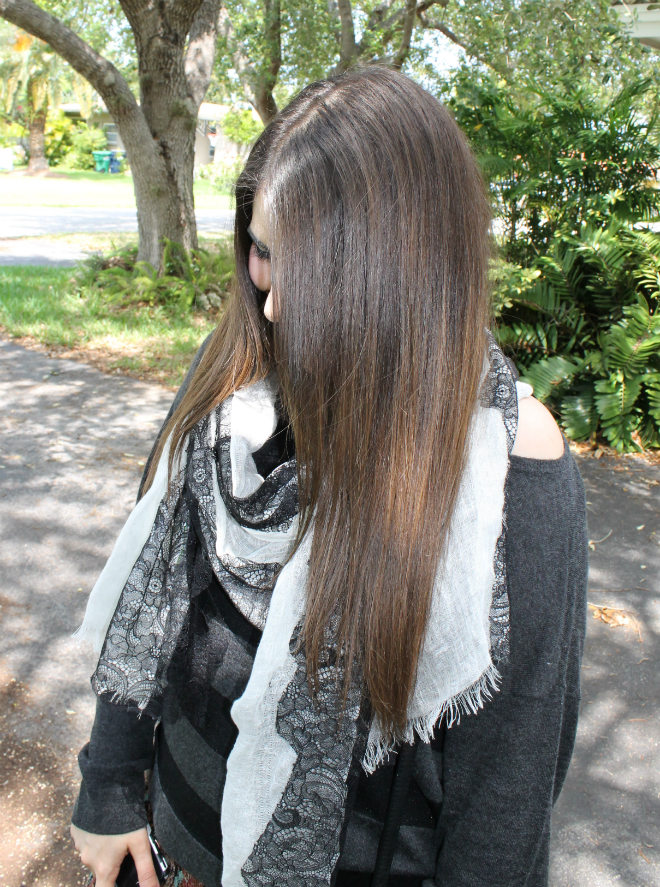 And by the way, T.J. Maxx wants you to submit your own T.J. Maxx Style Scout looks for a chance to win up to a $500 gift card. To be entered you must:
–  Tag #maxxstyle and include the designer and price of their score;
–  Share via Twitter, Instagram or Facebook (desktop only).
Click here for the official rules.
Our MaxxStyle Scouts are making the latest trends their own, and sharing tips for ways to express yourself through fashion. You never know what you'll find at TJ's – the possibilities to express your personal style are endless.
Disclosure: Compensation was provided by T.J. Maxx via Glam Media.  The opinions expressed herein are those of the author and are not indicative of the opinions or positions of T.J. Maxx.