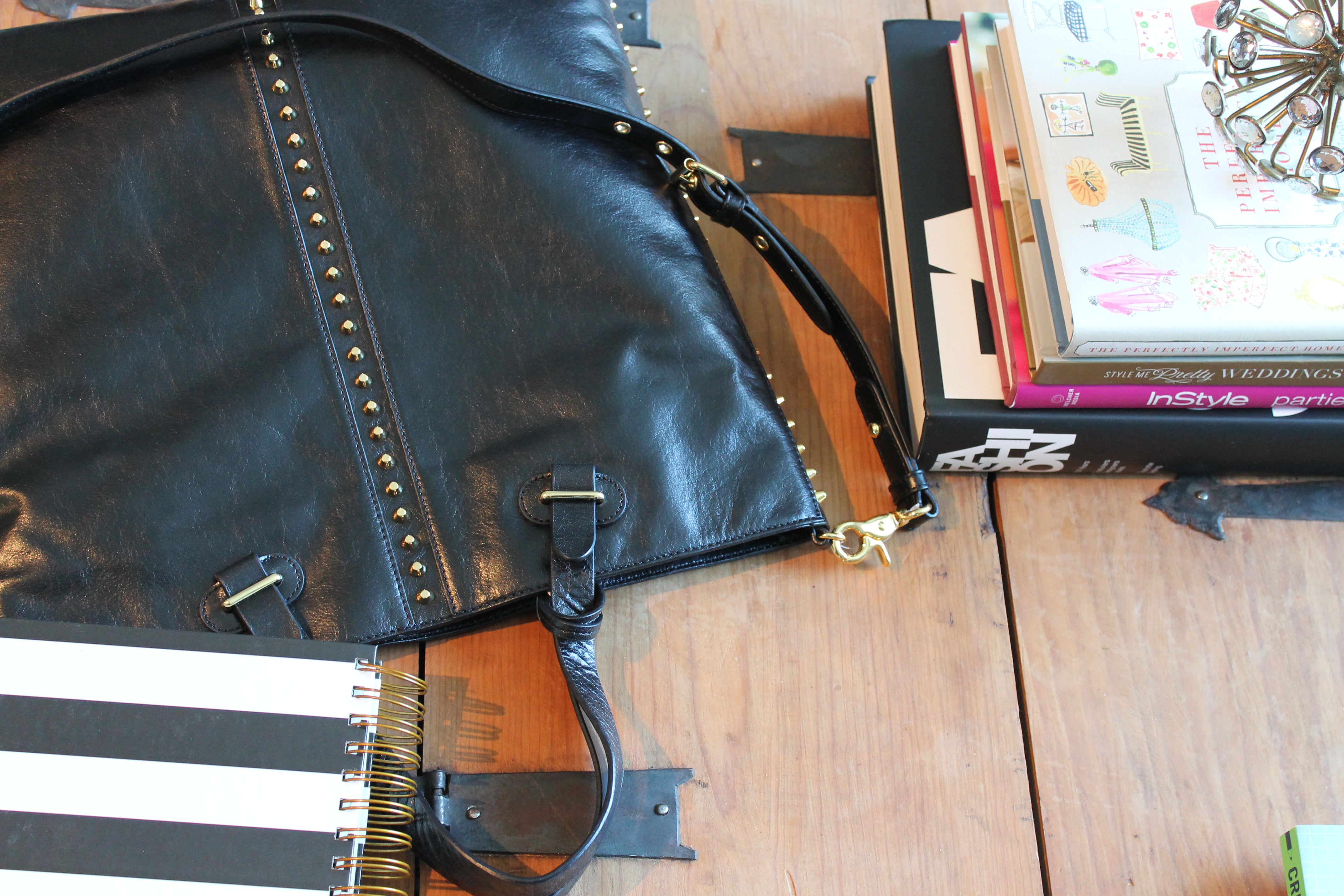 When it comes to my everyday outfits, I've learned to embrace my kind of hectic schedule, and I actually like dressing the part.  My look is typically what I'd call cute casual, with a pair of high heels tucked away under my desk, of course.  I also strive to dress in quality clothes; the kind that only look expensive.  (I hunt down almost everything I wear at major discounts, because who wants to pay full price?  Shopping is a sport, after all.  #cardio)  Most afternoons I leave the office to run errands, snap photos for the blog, and jump behind a computer screen or a cup of coffee at a nearby café for my next meeting.  A roomy carryall bag, comfy flats, my beloved paper agenda, and a sweater (I swear, I'm cold everywhere!) are essential for me.  And once home, I'm happy to kick off my shoes and unwind.
This Fall, one of my favorite trends is the leather trend.  Not just for leather jackets and great bags anymore, I've noticed bits of leather sneaking it's way into every inch of fashion, and I love it.  While hunting on a T.J.Maxx assignment this week, I found SO many adorable pieces with leather details [i.e., sweet leather pockets, leather sleeves, great leather booties, leather clutches, leather jacket after leather jacket (and I wanted them all), the list goes on].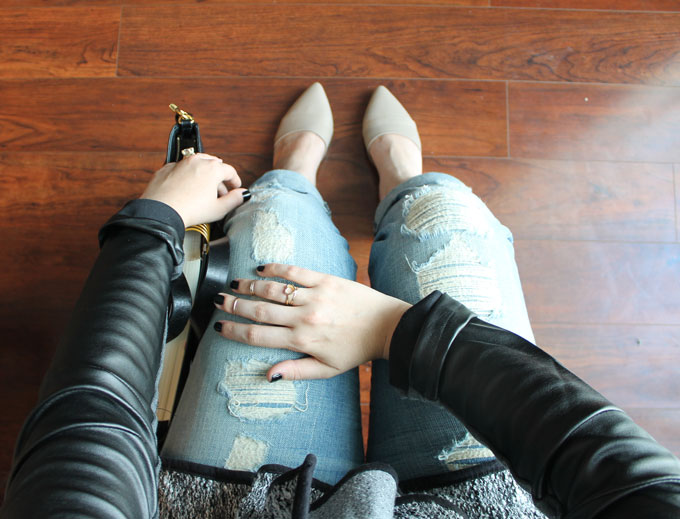 Of course, the second I spotted the leather-sleeved cardigan/jacket, I knew it was love.  The leather sleeves make this cozy sweater look more dressed up, though I still get to feel like I'm wrapped up in a great big sweater.  Perfect for the especially long days from office to blog.  And I could not walk out of the store without that bag.  It's a tote, with shorter top handles and an extra long strap, plus it's covered in just the right amount of gold spike studs.  It's also designer, at a fraction of the price.  I about died in the aisle.  Me and the bag, we had a moment.  I also snatched up a glossy black nail polish and a new shampoo and conditioner from the ever-expanding T.J.Maxx beauty department.  All in all, I'd say it was a pretty great shopping trip!
Then it was home to throw my feet up, toss my gorgeous new bag on our coffee table, and back to blog work I went.
What I Wore:  Leather-Sleeved Sweater Jacket (c/o T.J.Maxx) // Stadium Tank // Distressed Boyfriend Jeans // Designer Spike Studded Black Leather Tote (c/o T.J.Maxx) // Nude D'Orsay Flats // Gold Polka Dot Iphone Case // Gold Rings // Coffee Table Books:  Style Me Pretty Weddings // InStyle Parties // The Perfectly Imperfect Home // FASHION: 150 Years of Couturiers, Designers, Labels
And stay tuned, there are still more Fall-inspired T.J.Maxx posts coming at you over the next few weeks and months.  Be sure to follow along here on the blog, and on instagram with the #maxxinista hashtag.  (Did anyone catch those gorgeous designer leopard calf hair pumps I spotted earlier this week on instagram?  #swoon)

Expressing yourself through fashion, and knowing how to put together a great look—at great value, is what being a Maxxinista is all about.  At T.J.Maxx you can score the unexpected to make your own personal style statement. Here's to rockin' your real deal.
Disclosure: Compensation was provided by T.J.Maxx via Glam Media.  The opinions expressed herein are those of the author and are not indicative of the opinions or positions of T.J.Maxx.