In need of cookies for Santa? We've got you covered. Just in the nick of time, we've got the yummiest frosted gingerbread cookies for you; a.k.a., a recipe for the most festive, chewy homemade Gingerbread cookies. This spin on a classic, crisp gingerbread men made delightfully chewy, is sure to become a family favorite (especially with the kiddos.) Soft, chewy, and mildly spiced – these cookies are a crowd pleaser. Not to mention, they're adorable.
The best part about these gingerbread cookies is how simple they are to whip up. Talk about the perfect Christmas Eve activity!
The cookie dough takes little effort to whip up, requiring minimal time in the fridge, and they bake up to golden perfection in just 10 minutes. The whole family can join in and decorate their own gingerbread man (and other adorable shapes) – getting as creative as they please. Just hope you can ice them as fast as they'll be eaten! This was a serious issue in my kitchen …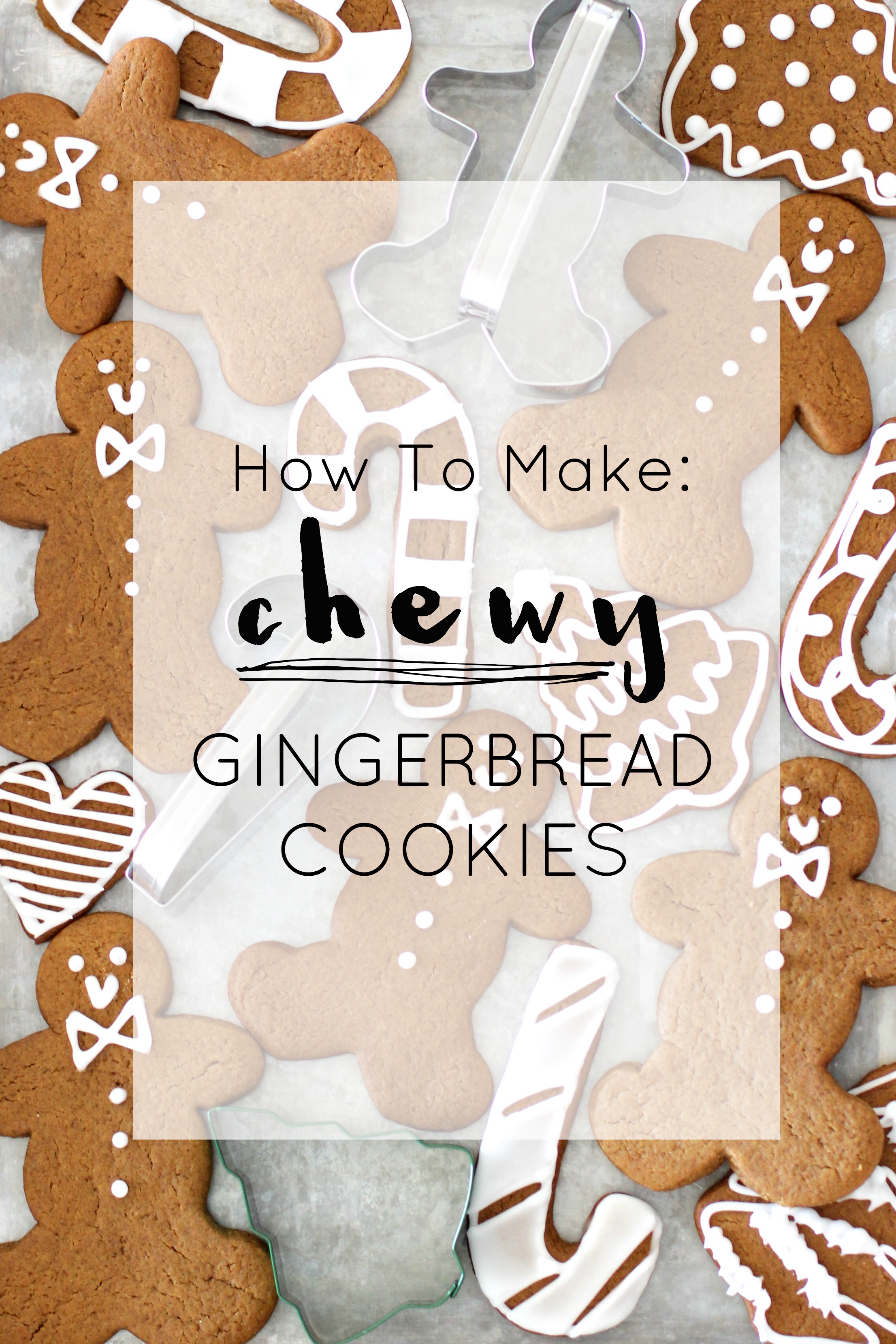 Chewy Gingerbread Men
Yields 2 dozen large cookies.
INGREDIENTS
For the gingerbread cookie dough …
3 cups flour
¾ cup dark brown sugar
1 tbsp cinnamon
½ tbsp ground ginger
½ tsp ground cloves
½ tsp salt
¾ tsp baking soda
12 tbsp butter, softened slightly
¾ cup molasses
2 tbsp milk
For the royal icing …
1 ½ cups powdered sugar
3 tsp milk
3 tsp light corn syrup
¼ teaspoon vanilla extract
(FOR EXTRA SPICE, use a full tablespoon of ground ginger – I prefer my cookies less spicy, so I only used ½ a tablespoon.)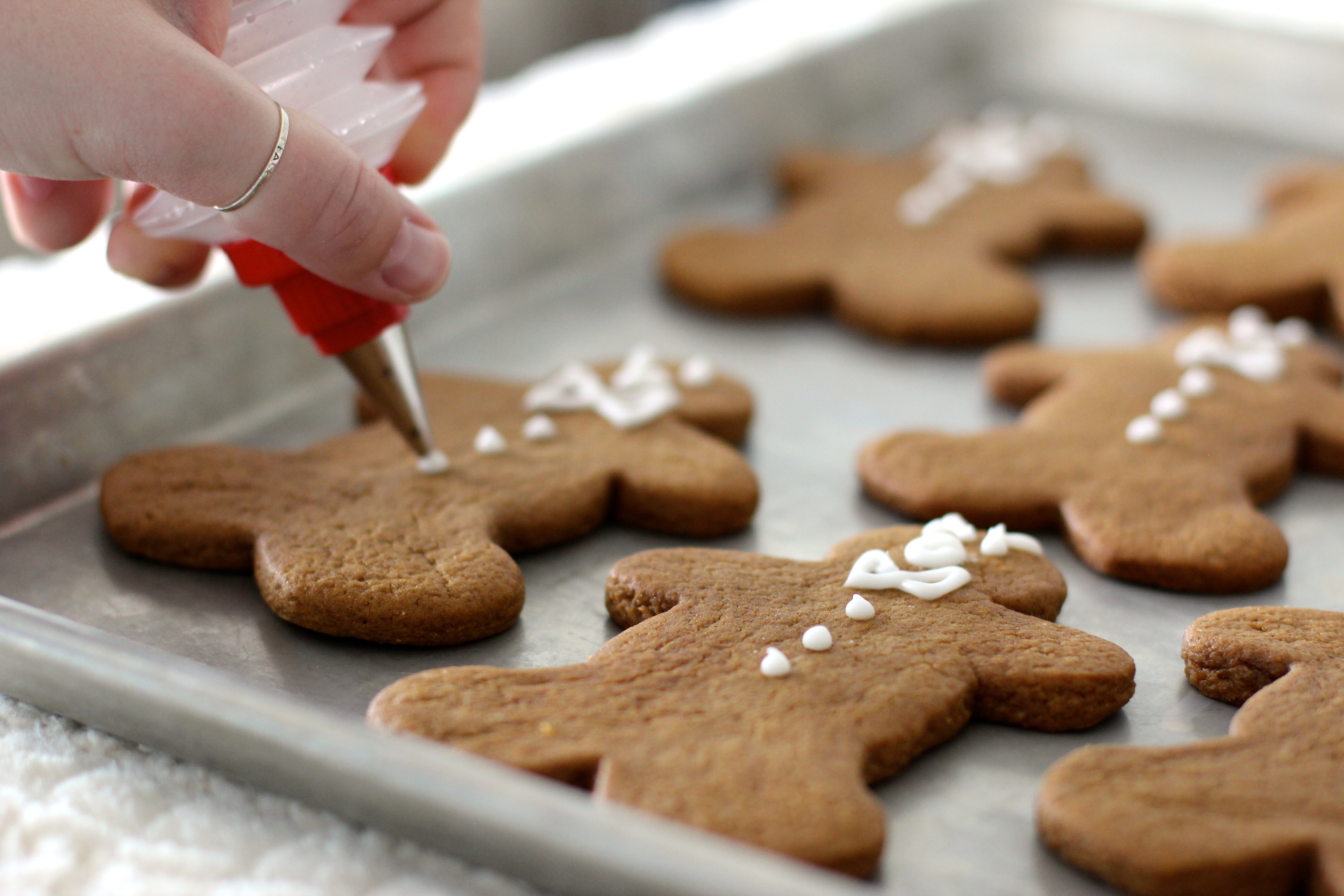 DIRECTIONS
1. In a large bowl, combine flour, dark brown sugar, cinnamon, ginger, cloves, salt, and baking soda. Once whisked together, add in 12 tbsp of butter (chopped into 12 pieces.) Cut the butter into the flour mixture until it resembles small crumbs.
2. Once the butter is cut into the flour, pour in the molasses and milk. Mix until completely combined. (The dough will seem dry at first, but it will come together once it is completely mixed.)
3. Separate the dough into two large pieces. Then, sandwich each in between two sheets of parchment paper and roll out the dough until it is around ¼ of an inch thick. Refrigerate for 20 minutes.
4. While the dough chills, preheat the oven to 350 degrees. After 20 minutes, cut the dough into shapes and place onto a parchment lined baking sheet. Smoosh together the leftover pieces of dough, roll them out, and cut more shapes until all of the dough has been used.
5. Bake the cookies for 10-12 minutes, until lightly golden around the edges. Transfer the cookies onto a cooling rack and allow them to cool to room temperature before frosting them.
6. As the cookies cool, prepare the icing. Combine powdered sugar, milk, light corn syrup, and vanilla extract in a bowl and mix until smooth. The consistency of the icing should be that of toothpaste, so that the lines you pipe do not run or spread. Decorate each gingerbread man however you'd like – and enjoy!
Serve with hot cocoa or tea on a cold holiday morning, and you've got yourself a pajama-clad party!
Recipe adapted via Stick A Fork In It
Special thanks to Rachel of Sugar-Coated Inspiration for this amazing recipe! (Check out all of Rachel's posts for Glitter, Inc., here.)