Today I'll be here and over on the Lulu & Georgia blog sharing my behind-the-scenes style (and my new favorite rug!) The idea behind the feature: share a few of your favorite things, plus a really great rug. Since I needed my hubby to snap the photos, I couldn't stuff him on the rug as well (but he's definitely one of my favorites).  So without further ado, take a peek at a few of my favorite things …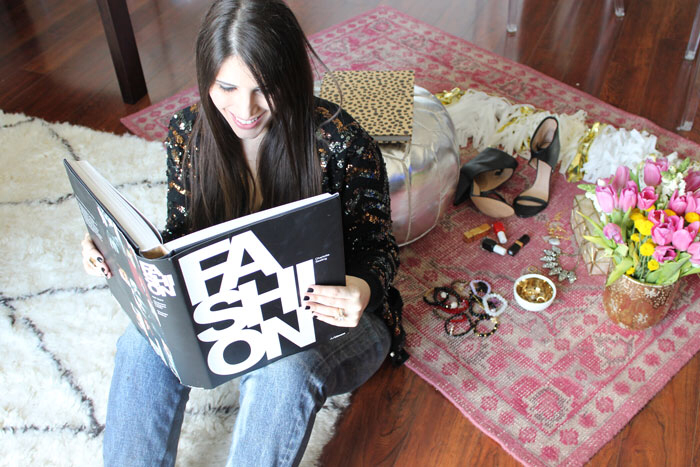 By the way, if you don't know Lulu & Georgia, it's time to get acquainted.  Launched just last year, the online retailer is bursting with gorgeous home goods; namely, hundreds of gorgeous rugs.
My style is pretty eclectic and ever-changing, with a few constants: sequins, the color black, and a healthy dose of femininity.  I guess if I had to spell out my design style, I'd go with bohemian, romantic, edgy … but then I'll see a picture of a clean white modern space on Pinterest, and I'm running to change everything.
For instance, I dreamed up an entire nursery for baby girl on the way (one of my favorites … currently hanging out in my belly, on the rug) around the Pari Rug, but then it arrived in all of it's pink glory, and I was shuttling it from room to room pairing it with different spaces declaring each look "the best fit."  For now, the rug is under our dining room table, where I just may have to keep her, because I love the look that much.  And baby's nursery design has turned into a black, white, and gold mecca.  All of that is subject to change on one of my many design whims, of course.
Belly, refusing to be out-shined, tried to sneak her way into each and every photo. There she is, barely posing, as a bundle of blonde movement.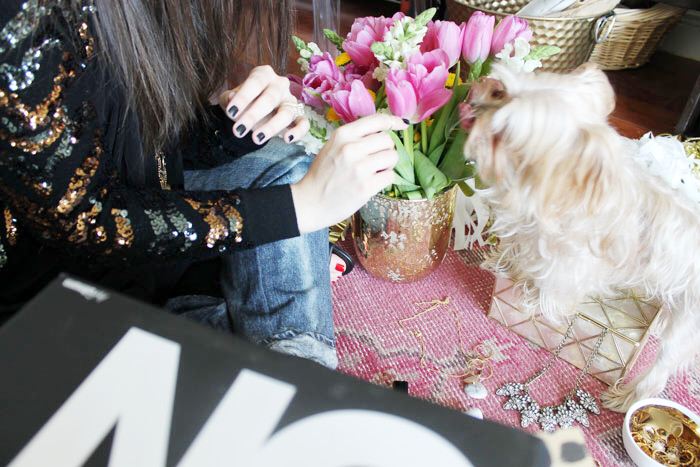 A huge thanks to Lulu & Georgia for having me!
Get the Look: Pari Rug: c/o Lulu & Georgia | Moroccan Rug: Rugs USA | Metallic Crackle Flower Pot: Anthropologie | Silver Pouf: c/o Lulu & Georgia | Necklace: BaubleBar | Gold Capiz Box: West Elm | Canvas Dauville Gold Glazed Large Porcelain Bowl: Amazon | Fashion: 150 Years of Couturiers, Designers, Labels | Glamorous Rooms | Confetti Garland: c/o Studio Mucci | Rag & Bone Pajama Jeans | HATCH Lily Tank | Marc Jacobs Sequin Cardigan | IRO Sandals
The best part: you can use the code GLITTERINC20 for 20% off your entire purchase at Lulu & Georgia, valid until 5/18.