With the holidays fast-approaching, dinner parties, get-togethers, and other fun events are on the horizon. My mom (and Bubby) always taught me to bring a little something special for the gracious host or hostess to say "thank you," and I've actually always loved coming up with sweet ways to thank these awesome party-throwers. They are, after all, working hard to throw one great party for everyone to enjoy!
Tips when shopping for gifts to say, "Thank you!":
Bring/Buy something your hosts would truly enjoy. (If they're big foodies, a kitchen gift is always a winner; if they like to have fun, cute shot glasses or a vintage-inspired decanter might be the way to go; if they're house is always immaculate; a yummy candle or set of linen hand towels should do the trick; etc.)
Keep tabs on what your friends like or have expressed interest in. (If they always compliment you on the coffee you serve, package up a bag of your favorite coffee with two awesome mugs; etc.)
Consider where they live. If your host/hostess call a tiny apartment home, don't bring a giant basket full of stuff; if they've just moved into a new home, consider something you love for your home or something local to their new area; etc.)
Think about the whole family. Are their kids and/or pets? Maybe there's something the whole family would enjoy.
Don't spend too much. For your very best friends, you can of course spend a little more if you've found something extra-thoughtful, but trust me, a gift in the $10 – $30 range can be just as special, and you can easily keep it under $60.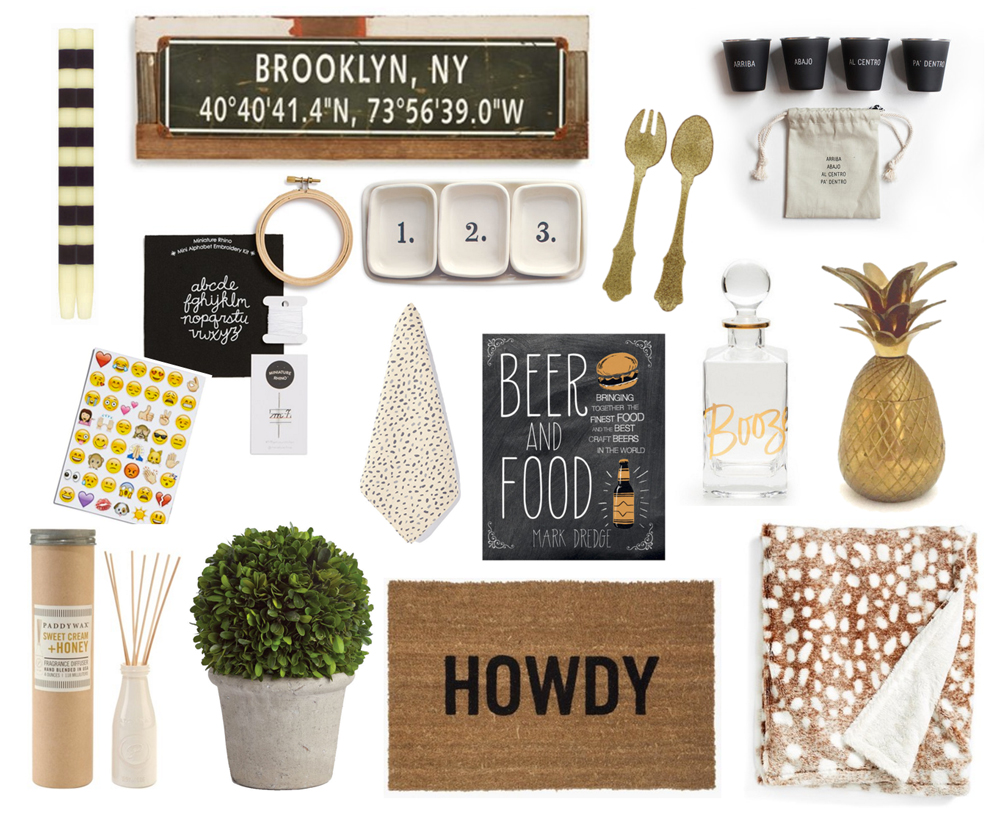 THE "THANK YOU" GIFT GUIDE: Favorite City Sign // Chez Elle Booze Decanter // Spanish Toast Shot Glass Set // "1, 2, 3" Dishes with Tray Set // Beer and Food Book // Black and Ivory Striped Candles // Emoji Magnets // Mini Alphabet Embroidery Kit // Pehr Ink Speckle Napkins – Set of 4 // Sabre Gold Glitter Serveware Set // Howdy Doormat // Brass Pineapple Candleholder // Paddywax Relish Collection Oil Diffuser, Sweet Cream And Honey // Preserved Boxwood Topiary (Small and Medium) // Kennebunk Home 'Doe a Deer' Throw

SHOP THE STORY / CLICK LEFT & RIGHT ARROWS TO EXPLORE

This post contains affiliate links, which means that if you click on one of the product links, I'll receive a small commission. Thank you so much for clicking through and helping to support this little blog business of mine! Read more about our site, privacy, and disclosure policies here.