This post contains affiliate links, which means that if you click on one of the product links, I'll receive a small commission. Additionally, as an Amazon Associate I earn from qualifying purchases. Thank you so much for clicking through and helping to support this little blog business of mine! Read more about our site, privacy, and disclosure policies here.
And just like that, holiday gift guide season is upon us! I'm actually going to try to roll out gift ideas and all of the best sales and deals (especially on toys and electronics, which are predicted to go especially fast this year!) a bit earlier than usual.
I'll be publishing gift guides and sale finds on Instagram at least once or twice a week every single week leading up to Christmas! FYI: Hanukkah is 31 days away and Christmas is 58 days away; a.k.a., the countdown is on!
This year I am starting with the gift guide tailored especially for little kids' toys since odds are, some of the hottest toys are sure to sell out quickly this year. Between this year's early shoppers and major shipping delays affecting retailers across the board, snagging those Hanukkah and Christmas presents early this year is definitely for the best.
Plus, I've always loved picking out toys and activities for our kids that inspire imagination, creativity, and endless hours of play. I'll keep on adding gift ideas and popular toys as I find them, so check back on this post for inspiration. I hope you enjoy the year's gift finds!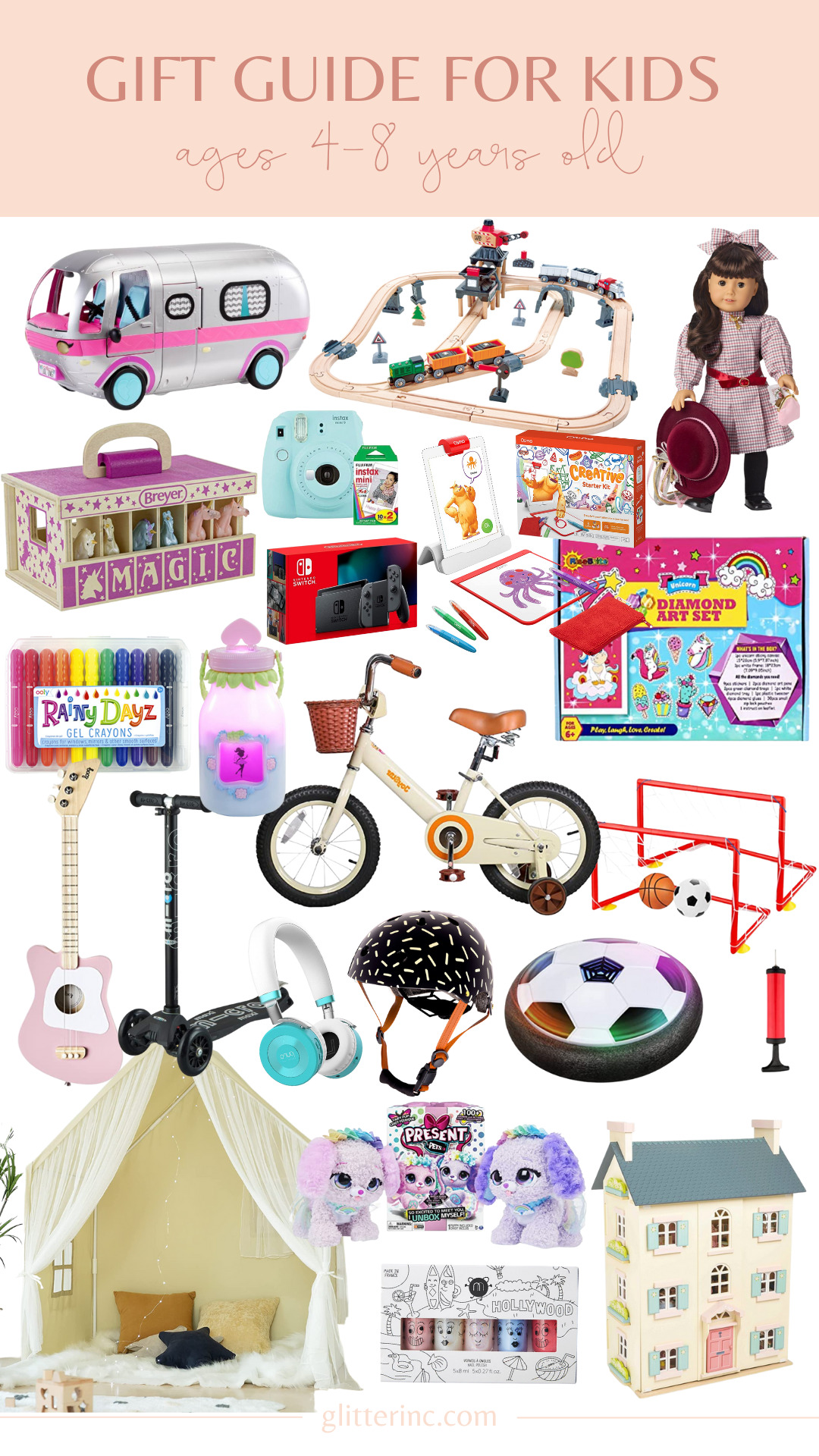 Click the Images Below to Shop My Little Kids Gift Ideas

Gift Guide | Gift Ideas for Little Kids
, Ages 4 to 8 years
Emme actually just got this set as a gift for her October birthday after seeing a friend in preschool carrying around the same set. It IS adorable and totally portable, making it a great toy for kids to bring on trips, etc.
The play tent is the gift that keeps on giving and giving. We have a smaller teepee that the girls have used since they were babies. I love that this bigger version can easily fit several kids, is stylish, and is available on Amazon!
We have and love Osmo and it's such a great learning activity that provides so many hours of fun for the kids. Even better: you can add games for birthdays and holidays. (The starter kit is also on major sale on Amazon right now!)
My girls tell me these are all the rage!
A bike is always an A+ Christmas or Hanukkah gift.
A dollhouse is such a sweet gift that will last your kids years. This one is especially beautiful and durable.
I am loving that American Girl has made such a major comeback, including my favorite OG American Girl doll, Samantha. I love the idea of gifting this to my own girls.
Kids LOVE having their very own camera. The best part of Instax is that it's just that; instant pictures, making this an extra perfect choice for little kids.
These are selling out EVERYWHERE and happen to be on sale at Target right now. Snag one while you can.
The Loog 3 String Acoustic Guitar is the ideal first guitar. It includes flashcards with chord diagrams plus full access to the super helpful Loog app.
I love letting our girls play with nail polish like this that easily washes off.
This magnetic set is so cool and is sure to provide endless hours of play.
Kids absolutely love scooters and this is the perfect starter scooter for little kids.
Safety first! Especially when it's this cute.
These crayons are meant to be used on windows! How cool is that?
I've been meaning to pick up a set like this for our kids and I'm thinking it will make a perfect gift for one of the nights of Hanukkah. I love a combo gift/activity.
This was another big birthday present for Emme this year and the girls are obsessed. They play with it everyday and transport it back and forth from the playroom to the porch. It fits all of their small dolls – LOL dolls, Calico Critters, etc.
I am just obsessed with this hover soccer set.
With "My Fabulous Storyteller," kids can craft their own stories by choosing a hero, an object, a location and so much more. Then their fun and engaging adventure begins! We do books at bedtime every night, so this seems like such a sweet way to keep up that tradition in a new way.
I kind of want this for myself. Stick tiny prizes, treats, and more inside this arcade claw and let your kids go wild with the pretend play.
We got these wireless headphones last year for Scarlett and they are so great!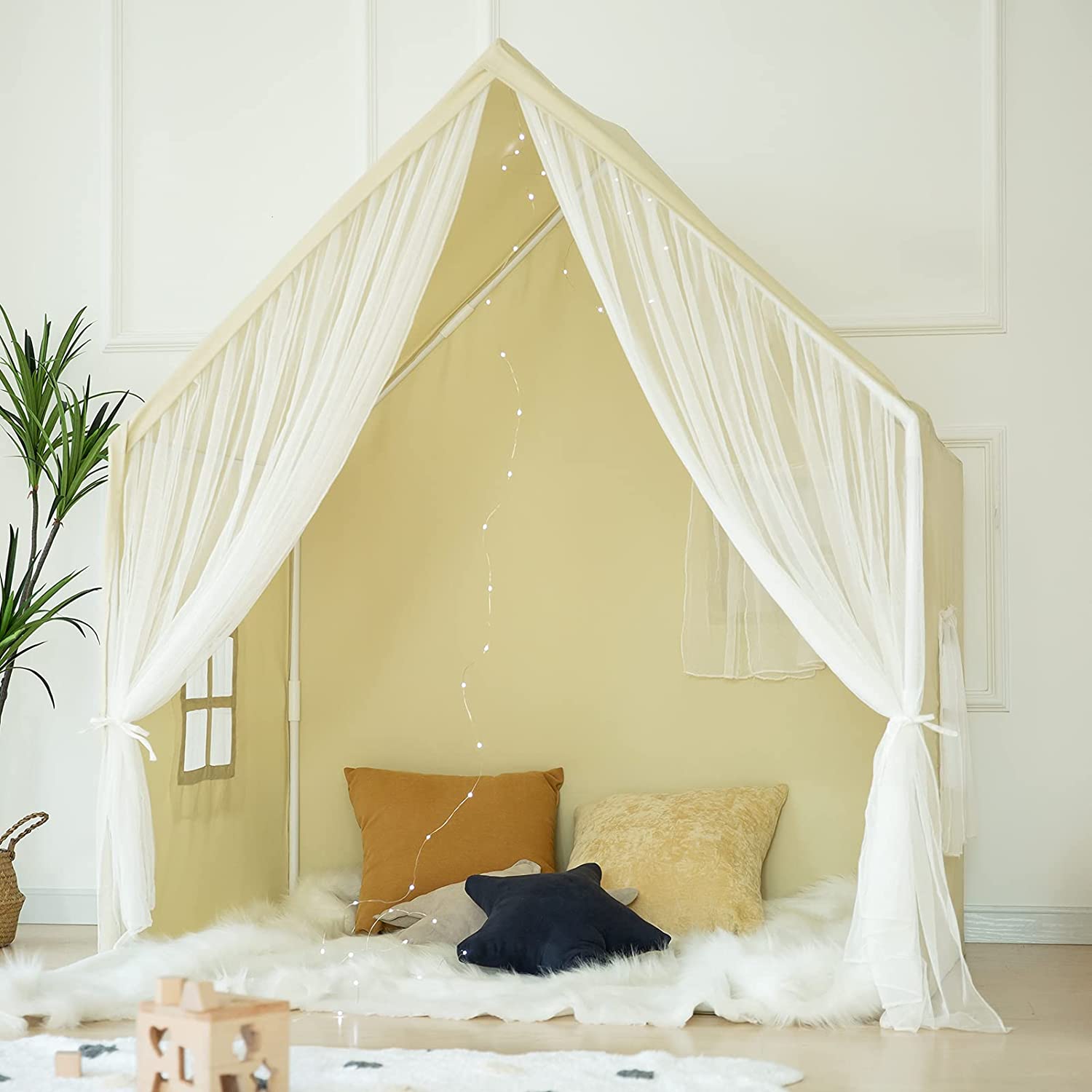 SHOP THE KIDS GIFT GUIDE | CLICK LEFT & RIGHT ARROWS TO EXPLORE

Loved this gift guide made especially for the little kids? Check out all of our awesome gift guides to help with your holiday shopping this season! If there's something you'd like to see or something you're looking for in particular, shoot me an e-mail at lexi@

glitterinc.com

, leave a comment here, or get in touch on Instagram!