This post contains affiliate links, which means that if you click on one of the product links, I'll receive a small commission. Additionally, as an Amazon Associate I earn from qualifying purchases. Thank you so much for clicking through and helping to support this little blog business of mine! Read more about our site, privacy, and disclosure policies here.
Next up in this year's Gift Guide series: gifts for toddlers! This gift guide in particular is tailored especially for toddlers, full of curiosity and excited to get their hands on anything new and fascinating to play with.
Note: I'll be publishing gift guides and sale finds on Instagram at least once or twice a week every single week leading up to Christmas!
Between this year's early shoppers and major shipping delays affecting retailers across the board, snagging those Hanukkah, Kwanzaa and Christmas presents early this year is definitely for the best.
Plus, I've always loved picking out toys and activities for our own toddler that inspire imagination, creativity, and endless hours of play. I'll keep on adding gift ideas and popular toys as I find them, so check back on this post for inspiration. I hope you enjoy the year's gift finds!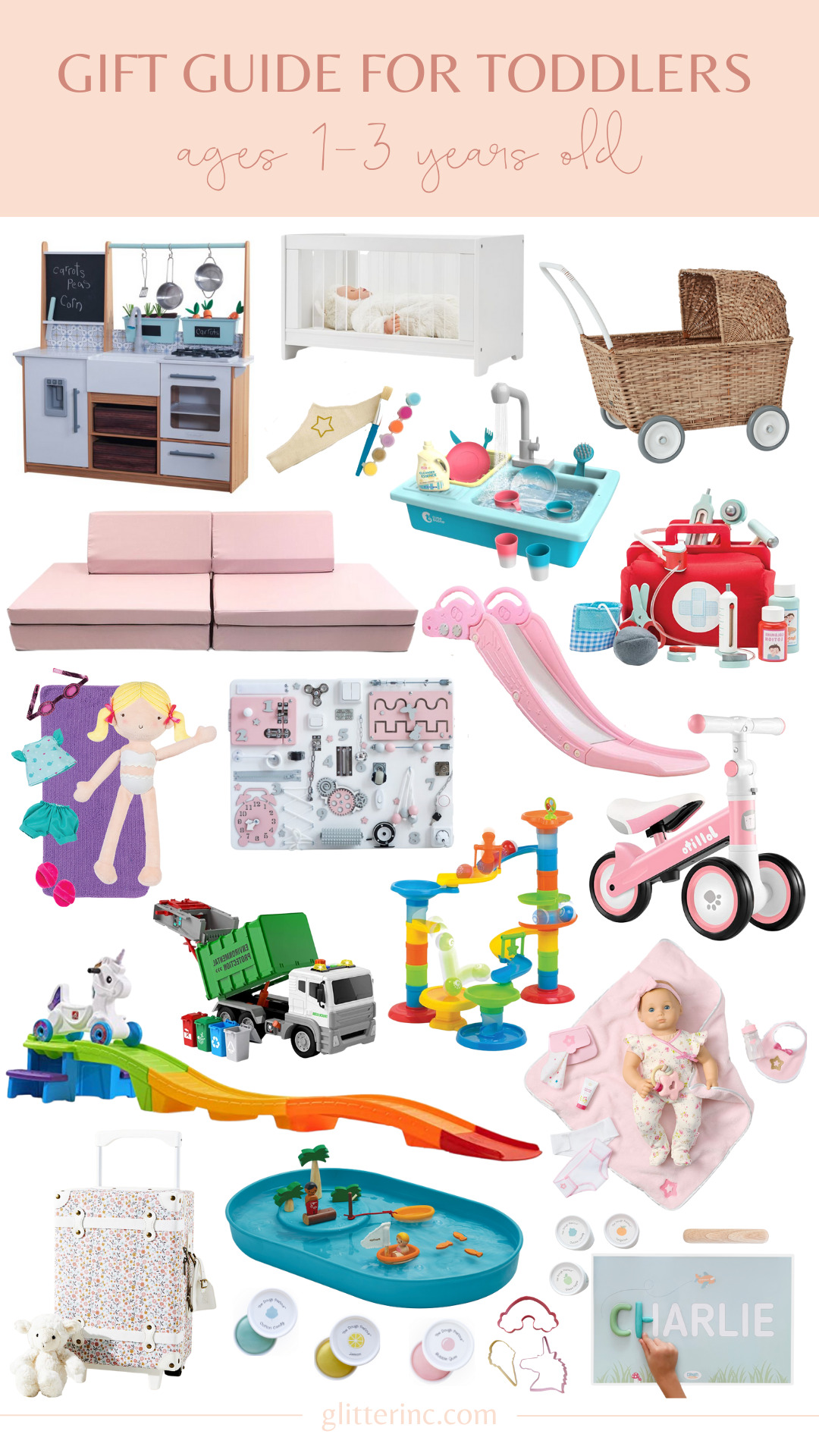 Gift Guide | Gift Ideas for Toddlers
The play kitchen may just be the most perfect holiday gift for toddlers. From baby through toddler through kid years, our own girls have played with their play kitchen for years upon years. For birthdays and other celebrations, you can buy them play food, a shopping cart (we have and love this one!), the list goes on and on.
This acrylic and wood crib is a modern day take on the baby doll crib, and goodness is it ever pretty. Such a fun way to promote imaginative play with dolls and toys.
This is our toddler's absolute favorite baby doll. American Girl makes the most beautiful dolls that last for generations. If you're on the market for an American Girl, order soon, as shipping delays may make it tough as we get closer to the holidays.
I love this super interactive service station for kids. So many hours of play and it's a beautiful and classic piece to keep and play with for years to come. (Pssst .. this one has been selling out everywhere, so snag it while it's still in stock here.)
This is such an incredible, interactive toy; perfect for curious toddlers.
The perfect 3-wheeled bike for toddlers to learn on; this one is just so darn cute.
In case you're looking for a slightly bigger bike that your toddler can grow with, this Joystar Training bike comes with removable training wheels, an adorable basket, and the cutest vintage vibes.
This is one of the best busy boards I've seen. What a fun way for young toddlers to learn and play.
Emme has and absolutely adores this sink. I can set out a towel or mat, fill her sink with water, and she will wash her little plastic dishes and flatware for hours. The working faucet and color-changing dishes = just about the most fun a toddler can have.
My girls have been begging us for this indoor toy roller coaster set since we went to a friends house with one. It's epic, and toddlers can ride on it (which is incredible). If you have the space for it, highly recommend.
If your kids love playdough, this personalized name mat and play dough set is the most amazing gift.
If you haven't yet stumbled upon the world of these buildable foam play structures, you're totally going to awant to snag a set for your toddlers. Our girls have built everything from forts to castles to restaurants to space ships, and the imaginative play never ends.
Another water play winner, any young toddler would go nuts for this hands on and oh-so-sweet set.
This adorable color-changing doll would make for such a sweet gift.
I love gifts that double as a great activity that can then be used long after that.
I love the idea of giving our toddler her very own suitcase for travel; and this one is extra beautiful.
This slide came highly recommended in a parents group on Facebook that I'm in. Basically, if you have a Nugget or a Blocksy or even just a soft ottoman or sturdy couch, this slide is about to add endless hours of indoor play for your kids.
I have had my eye on this beautiful stroller for our toddler for as long as I can remember. She is obsessed with pushing around her baby dolls, and I love that this piece in particular would be such a great keepsake to pass on for generations.
Our toddler is obsessed with playing doctor and nurse. This set is so cute and is ideal for endless hours of play.
The girls' younger cousin got this truck for his birthday recently and it was SUCH a huge hit. It lifts and dumps the trash cans, that toddler scan fill with anything they want, and is such a great toy!
Click the Images Below to Shop My Toddler Gift Ideas

SHOP THE TODDLER GIFT GUIDE | CLICK LEFT & RIGHT ARROWS TO EXPLORE

Loved this gift guide made especially for toddlers? Check out all of our awesome gift guides to help with your holiday shopping this season! If there's something you'd like to see or something you're looking for in particular, shoot me an e-mail at lexi@

glitterinc.com

, leave a comment here, or get in touch on Instagram!