I am most definitely a foodie – I like to eat it, I like to cook it, I like to write about it; so this gift guide was an extra easy one to put together, I just rounded up the things I most want for my kitchen right now … cue the copper nesting bowls, fancy finishing salts, and that gorgeous slate serving board. (And be sure to visit  all of this year's holiday gift guides for plenty of gifting inspiration!)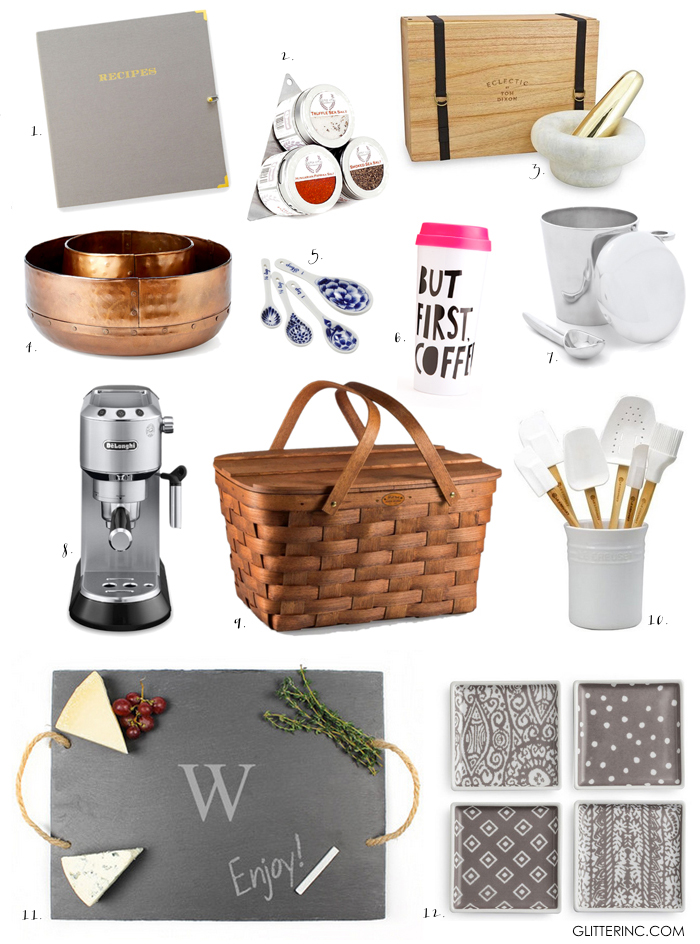 1. Sugar Paper Grey Recipe Binder: I love the idea of keeping recipes in a more classic pen-to-paper kind of way, and this recipe binder is both nostalgic and chic.
2. Gourmet Finishing Salt Collection: Gourmet finishing salts just sound fancy, don't they? Such a perfect present-topper or stocking stuffer for your favorite foodie.
3. Tom Dixon Stone Spice Grinder: Now this is what I call a kitchen splurge – a luxe gold and marble spice grinder – so cool.
4. Hammered Copper Bowls: I recently acquired my first set of copper mixing bowls and I'm hooked. They are especially perfect for baking, and did you know, solid copper beating bowls will make your eggs lighter and fluffier when you whisk them in a copper bowl? #foodieheaven
5. Measuring Spoons Set: These were too darling not to share, and another great present-topper or stocking stuffer.
6. Ban.do Hot Stuff Thermal Mug: I've had a crush on this coffee thermos for months. I mean really, coffee makes the world go round.
7. Lunares Silver Pint Ice Cream Holder & Scoop: Fancy ice cream container – love.
8. Delonghi Dedica Espresso Machine: Hubby and I have been dreaming about our very own espresso machine; it feels so grown-up (and we are big big coffee fans after all.) 'tis the season for splurging.
9. Prairie Natural Wood Picnic Basket: A great big picnic basket for Spring, a.k.a., the perfect get-through-Winter motivation.
10. Le Creuset Silicone Spatula Set with Crock: This set is the kind of set everyone who lives in their kitchen will love: practical, sleek, and durable.
11. Slate Serving Board: Oh how I love this slate serving board, plus it can be customized with a monogram, making it a very fabulous gift indeed.
12. Casablanca Small Tidbit Dishes: Adorable multi-purpose dishes in Moroccan patterns? Perfect.
This year, I'll also continuously be adding to my holiday Gift Guides on Pinterest, so be sure to check out the GIFT GUIDE: FOODIE board for more great inspiration!