Over the next few weeks I'll be sharing gift guides for everyone special in your lives. I (not so) secretly LOVE putting together these gift guides – it's an excuse to online shop, without the guilt (and it's one more holiday tradition I get to add to the growing list). So expect a whole lot of gifts coming your way over the next few weeks — I'll be trying out gift guide posts on Tuesdays and Thursdays. And don't be shy: let me know if there are any people you really need help shopping for. Any excuse to "shop" sounds like a plan to me!
Let's start with an easy one, shall we? I have to admit, the blogger gift guide was a whole lot of fun to put together.  Mostly because I shamelessly acknowledge that I want all of the things on this little blogger's wishlist. So make your blogger bff's day and send her something fabulous!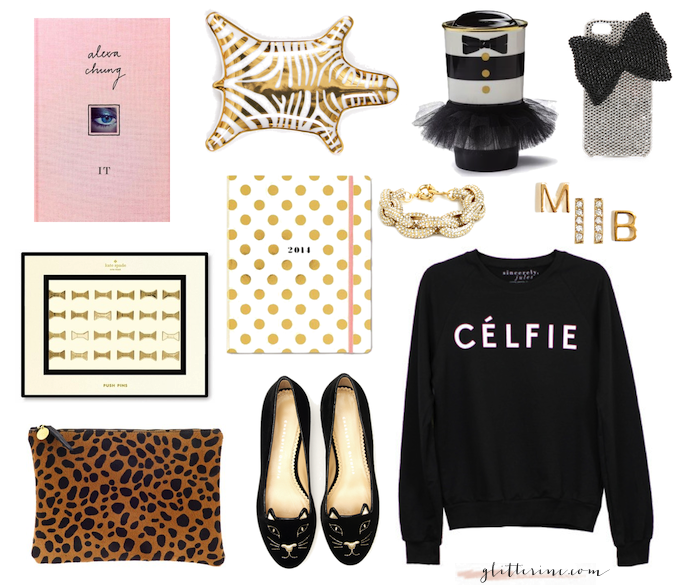 Get the Blogger Gifts: 
It by Alexa Chung:  This book of inspirations and ideas from Alexa Chung, includes bits of her personal writing, drawings and photographs, plus her thoughts on life, love, music and fashion – even how she decides what to wear in the morning!
Jonathan Adler Gold Carnaby Zebra Stacking Dish:  It's gold, it's got a zebra print, it's the perfect resting spot for your baubles, and it's 100% instagram-worthy.
Starbucks and alice + olivia Cermaic Travel Mug:  This is epic.  A striped travel mug, wearing a tutu, designed by alice + olivia.  Epic, I tell you.
alice + olivia Bow Jeweled iPhone 5 / 5S Case:  Because no blogger leaves home without their cell phone, a sparkly bow topped case seems essential.  Plus, all the easier to find it in your tote bag.
Kate Spade Gold Bow Push Pins: Although Pinterest is a magical resource, there's nothing like an at-home physical inspiration wall to really get your creativity flowing.
2014 Kate Spade New York 17-month Agenda: I've said it before, I'll say it again. Nothing beats pen to paper when you're trying to stay truly organized. I heart my paper agendas.
BaubleBar Pavé Links Bracelet:  It's sparkly, it's perfect, it's on sale.
Maya Brenner Alphabet Stud Earrings + Jennifer Meyer Bar Studs with Diamonds: Mix and Match earrings are ever-popular right now, and I seriously love this combo.
Clare Vivier Flat Clutch in leopard: I just can't get over this adorable little clutch.
Charlotte Olympia Kitty Flats: These kitty flats are just too stinking adorable to resist.  They're also dressy enough to skip the heels in favor of these Charlotte Olympias and pretend to not be breaking any sacred fashion rules (like wearing heels at all times … ouch.)
Célfie Raglan Sweatshirt: Designed by the blogger behind Sincerely Jules, this is practically a behind-the-scenes blogging uniform.  And I want it.