Jumping back into the Glitter, Inc. Gift Guide series: gifts for the boys.  Shopping for the man in your life is tricky. Odds are, you've already gotten him some of the essentials (i.e., that new pair of jeans he so desperately needed). So this year, for that special someone, spoil them, buy them something they wouldn't normally buy for themselves.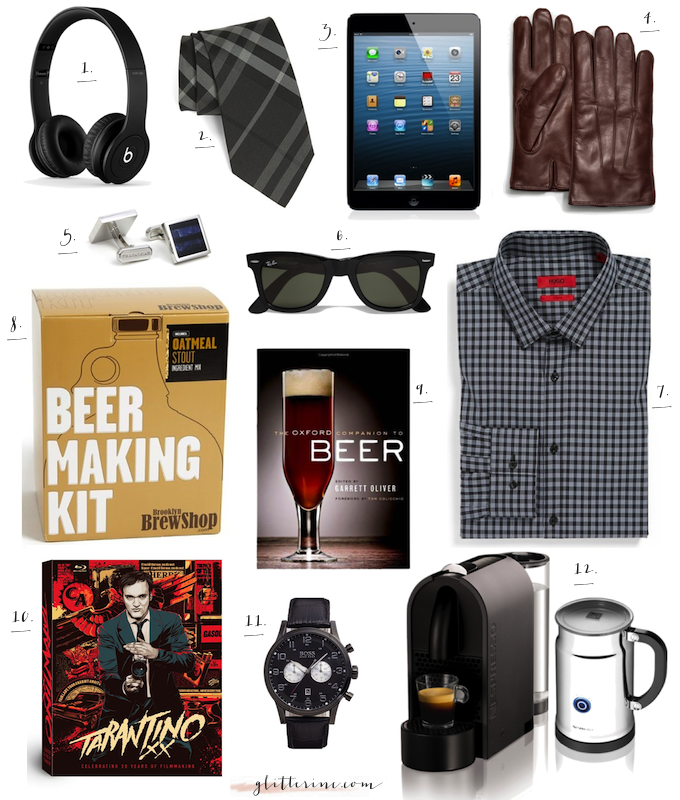 1.  Beats By Dr. Dre Beats Solo Headphones:  What guy doesn't want a really dope pair of headphones?
2.  Burberry London Woven Silk Tie:  Ever since my husband started his rotations in the hospital, and dressing in grown-up clothes, he's become addicted to ties.  I had no idea guys were so into their ties, but they are!  And this isn't just any tie – it's a classic.
3.  Apple iPad Mini:  This one's easy, but I promise, he'll love it.
4.  Coach Basic Nappa Glove:  They're essential, but also a little bit luxe.
5.  Trafalgar Stone Cuff Links:  Again, manly, and just a touch traditional.
6.  Ray-Ban Original Wayfarer Sunglasses:  These are the classic Ray-Bans, and also happen to be the perfect gift.
7.  HUGO Dress Shirt:  I threw this one in because again, hubby is so into his snazzy outfits right now.  Plus, HUGO is boss.
8.  Brooklyn Brew Shop 'Oatmeal Stout' One Gallon Beer Making Kit:  Come on, you know he wants to brew his own beer.
9.  Oxford University Press The Oxford Companion to Beer:  And this is the comprehensive resource to all things beer.
10.  Tarantino XX: 8-Film Collection:  This works with really any director's collection that he loves, but I think it's safe to say that men universally love Tarantino.
11.  HUGO BOSS Chronograph Leather Strap Watch:  I love that leather is a bit unexpected on watches nowadays, it has just the right amount of throwback vibe, and he'll be able to wear it every day.
12.  NESPRESSO Espresso Maker Bundle:  Because who doesn't want this?