Thank you to Stacy's Pita Chips for sponsoring this post and helping me bring this party to life. All thoughts and opinions are my own. We truly appreciate you supporting the sponsors who help make Glitter, Inc. possible!
I'm a huge fan of the Holidays. I think it has to do with the fact that I love throwing parties, and from October through the new year, I get to throw plenty. This holiday season, I really wanted to create a holiday dinner party that felt easy and fun. I've been crushing pretty hard on farmhouse style décor, so I knew that I wanted to capture that and bring it to life in a merry little mingle dinner party. My take on the trend: a farmhouse style winter wonderland holiday party.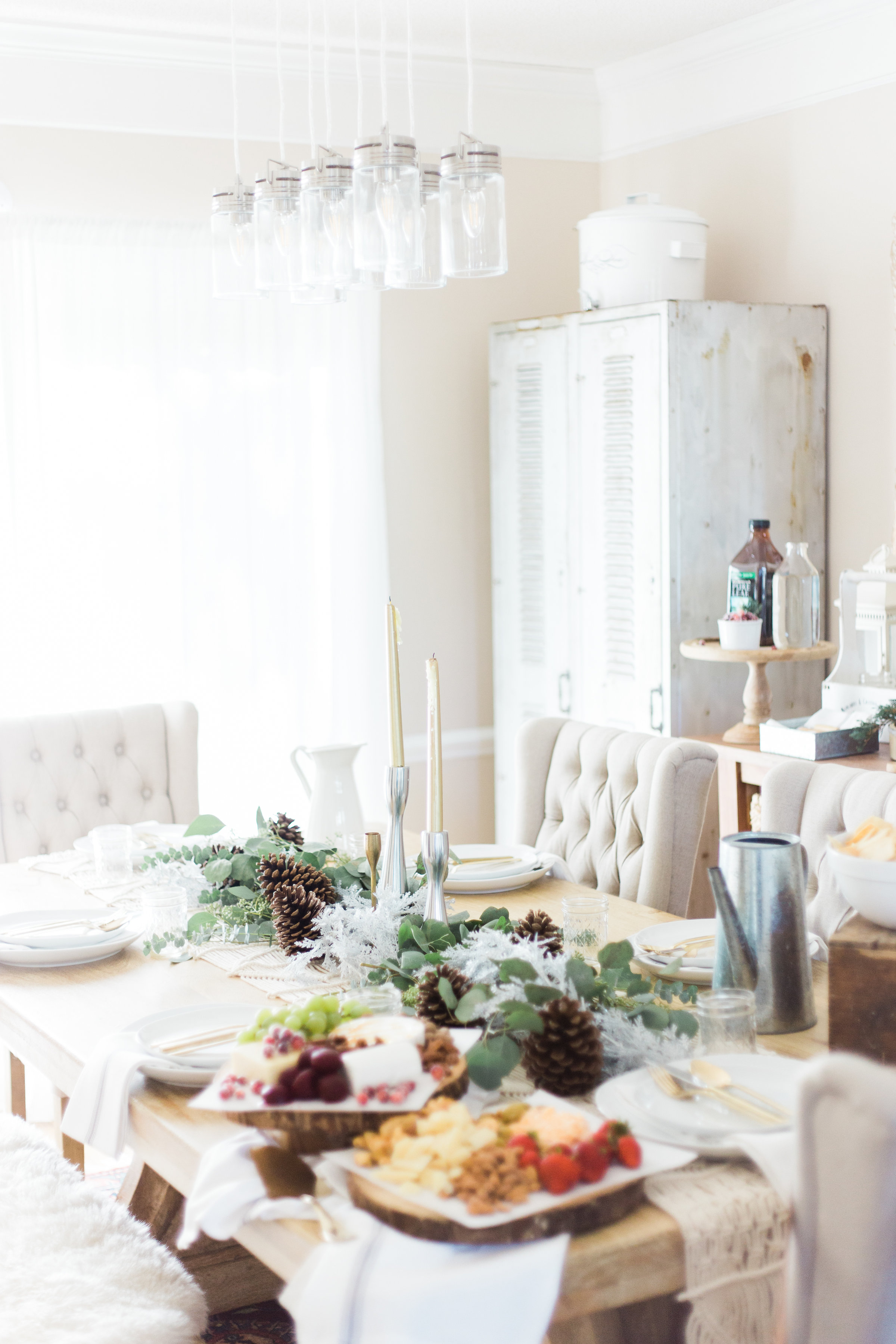 I wanted the feel to be lighthearted, casual and relaxed. I made an easy southern style charcuterie board with cheese, nuts, olives and pickled beets, plus plenty of fun sips and snacks like Stacy's Pita Chips, Nut Harvest Dark Choc Almond Toffee Bites, Indulgences by Smartfood Popcorn in Raspberry & Dark Chocolate, Lay's Wavy Dipped in Dark Chocolate, Pure Leaf Unsweetened tea, Bud Light, and Stella Artois with sugared cranberries.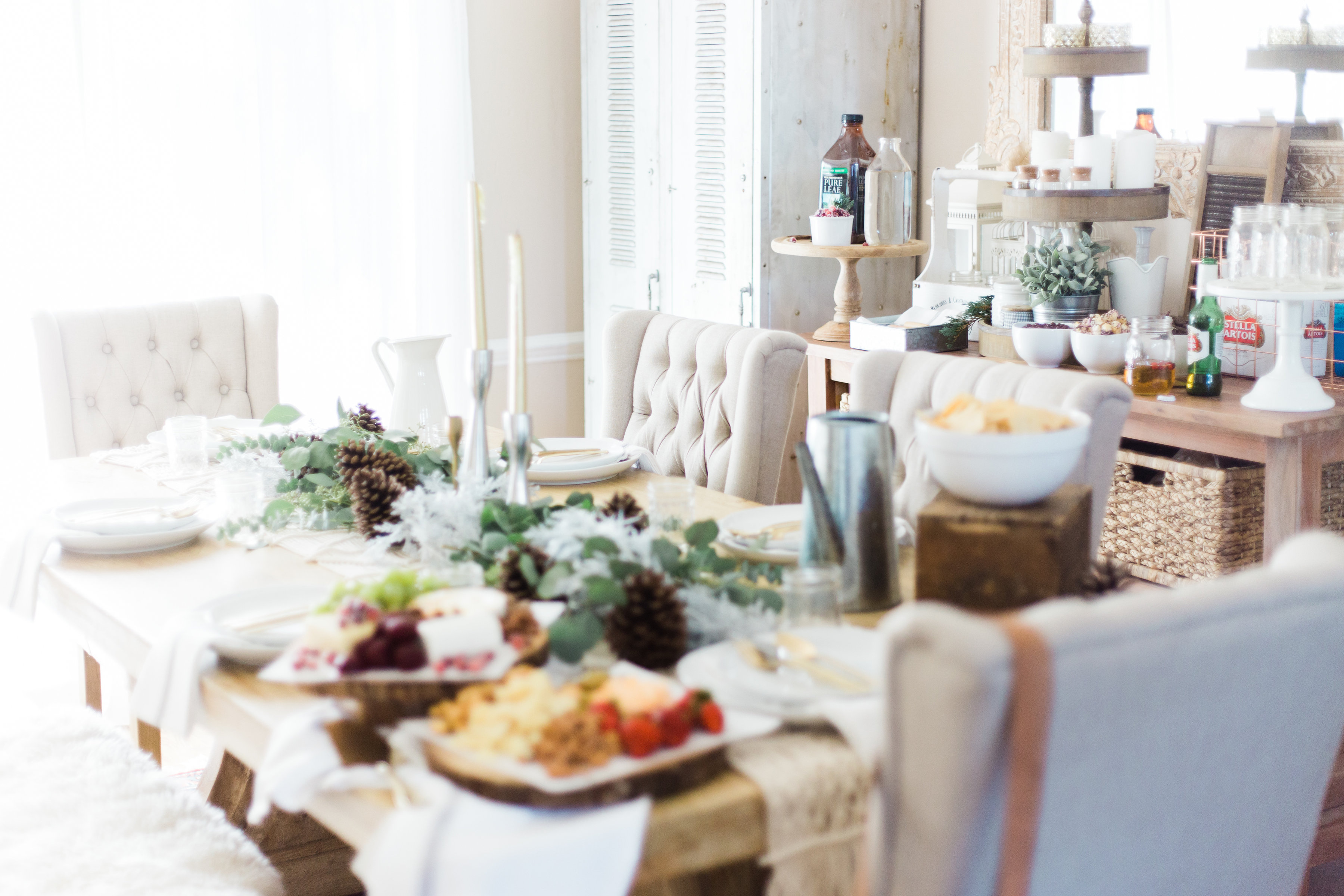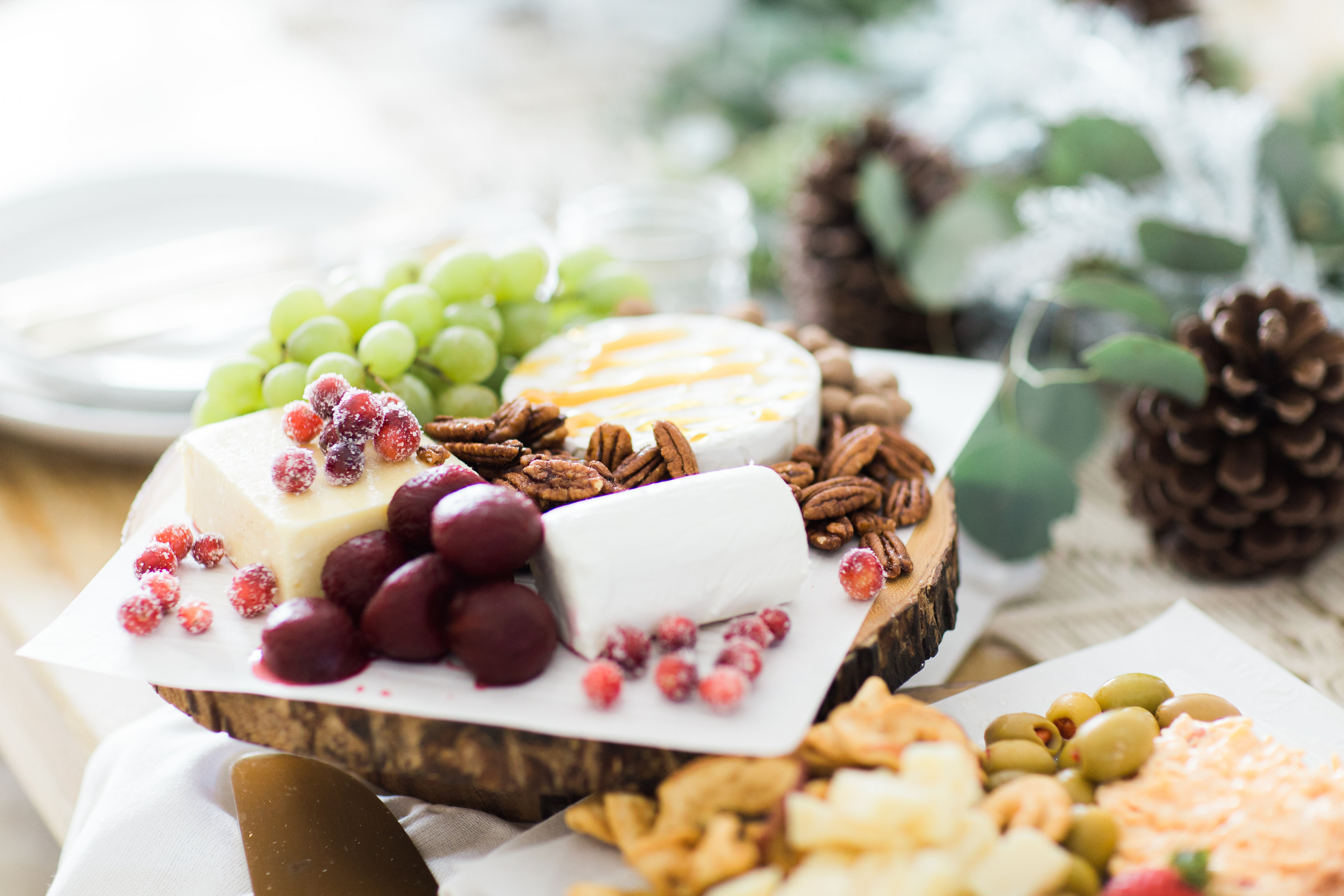 The cheese board is such a fun spot to gather a crowd, and really is the perfect party uniter. You'd be amazed at how simple it is to throw a charcuterie together. Choose cheeses and/or meats, nuts, candied nuts, fresh fruit and dried fruit, olives, etc., and arrange everything in little handfuls. Have things like crusty bread or Stacy's pita chips so your guests can take slices and scoops of the cheese.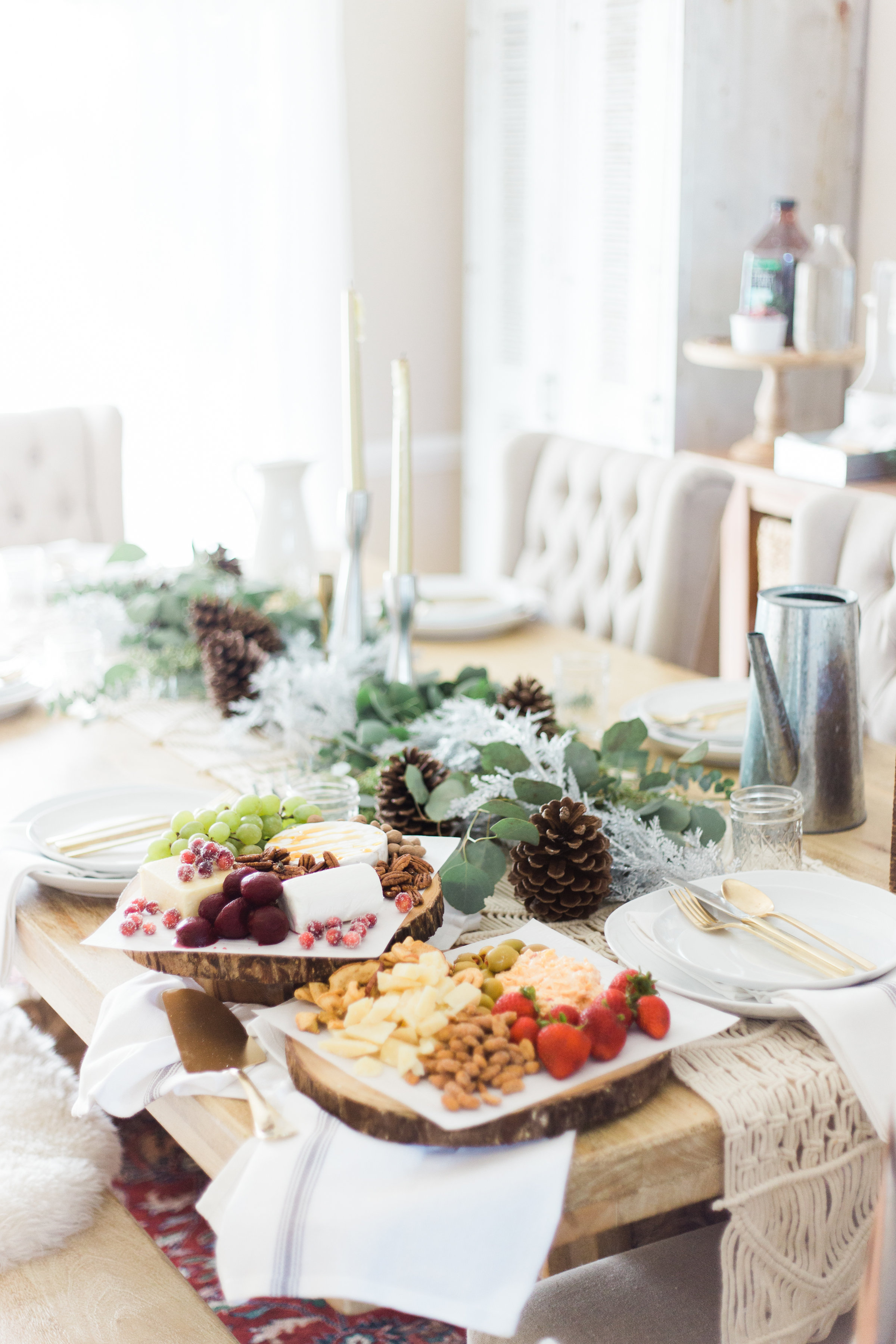 Tell me that's not making you hungry?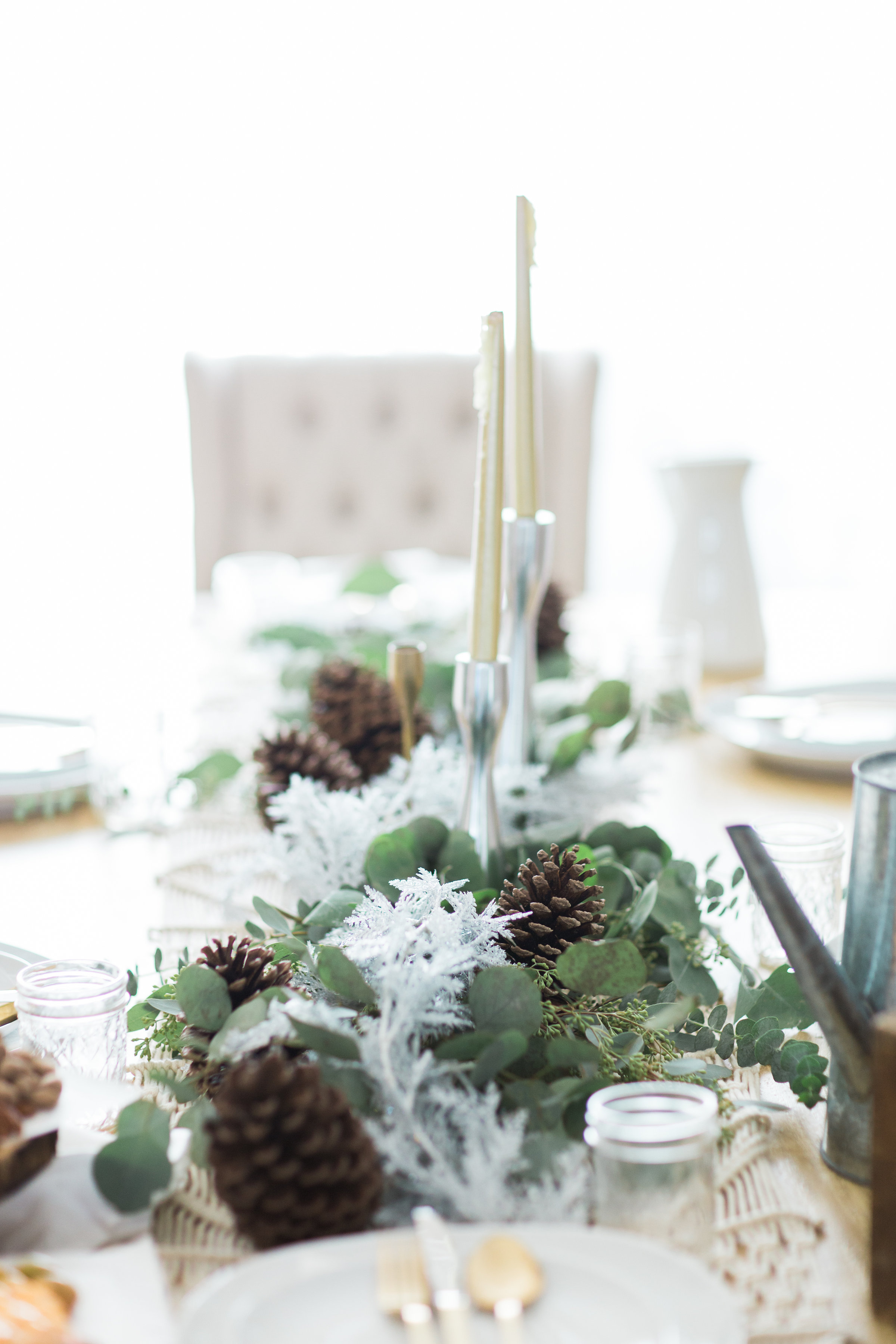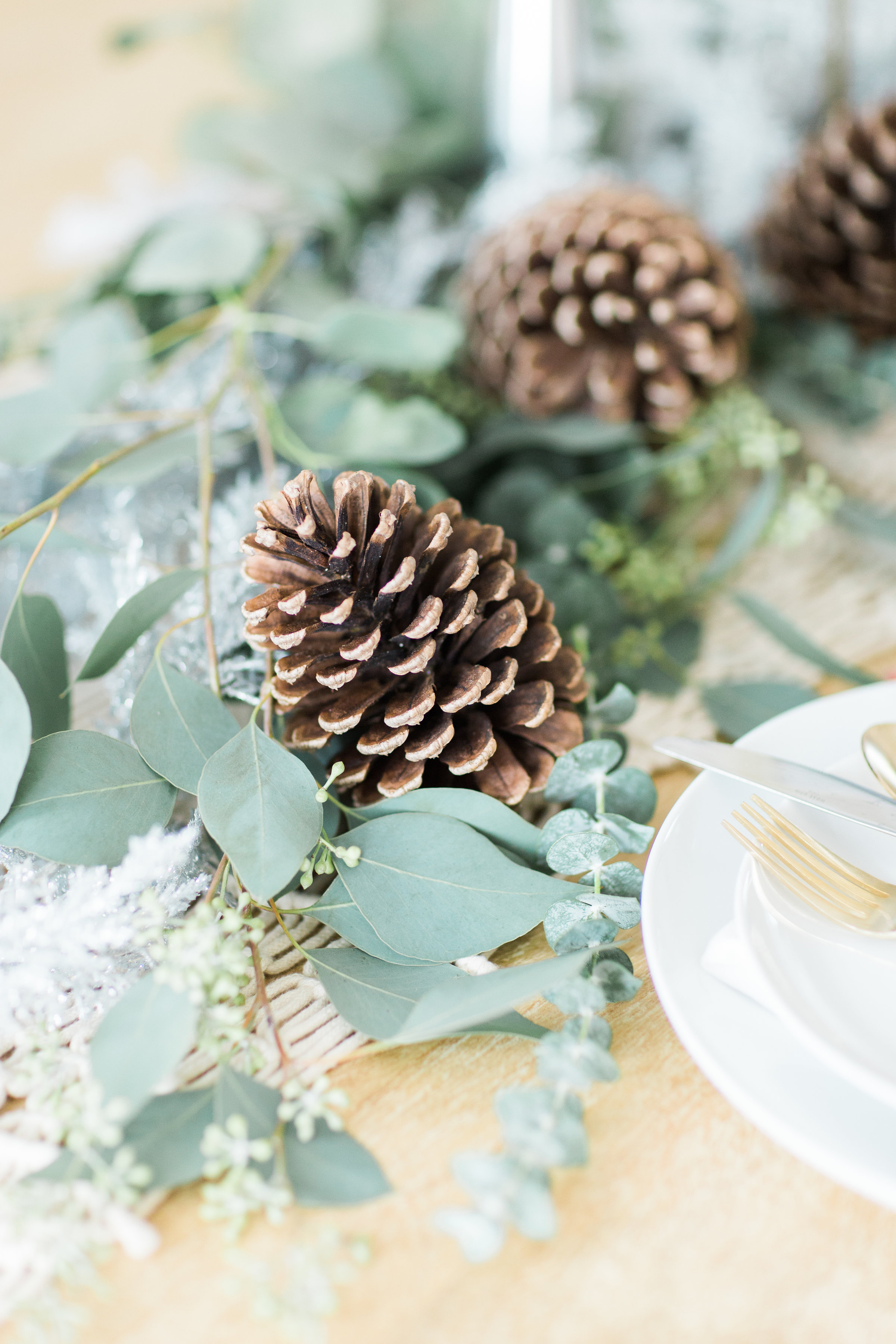 I laid down my favorite macrame table runner along the center of the table and then just stuffed fresh eucalyptus (you can buy it in inexpensive bunches at your local grocery store or Trader Joe's), plus some leftover silver garland I had from last year's holiday party, and a few loose pinecones here and there. Then I set out a few candles, and voila: a simple, but beautiful table centerpiece.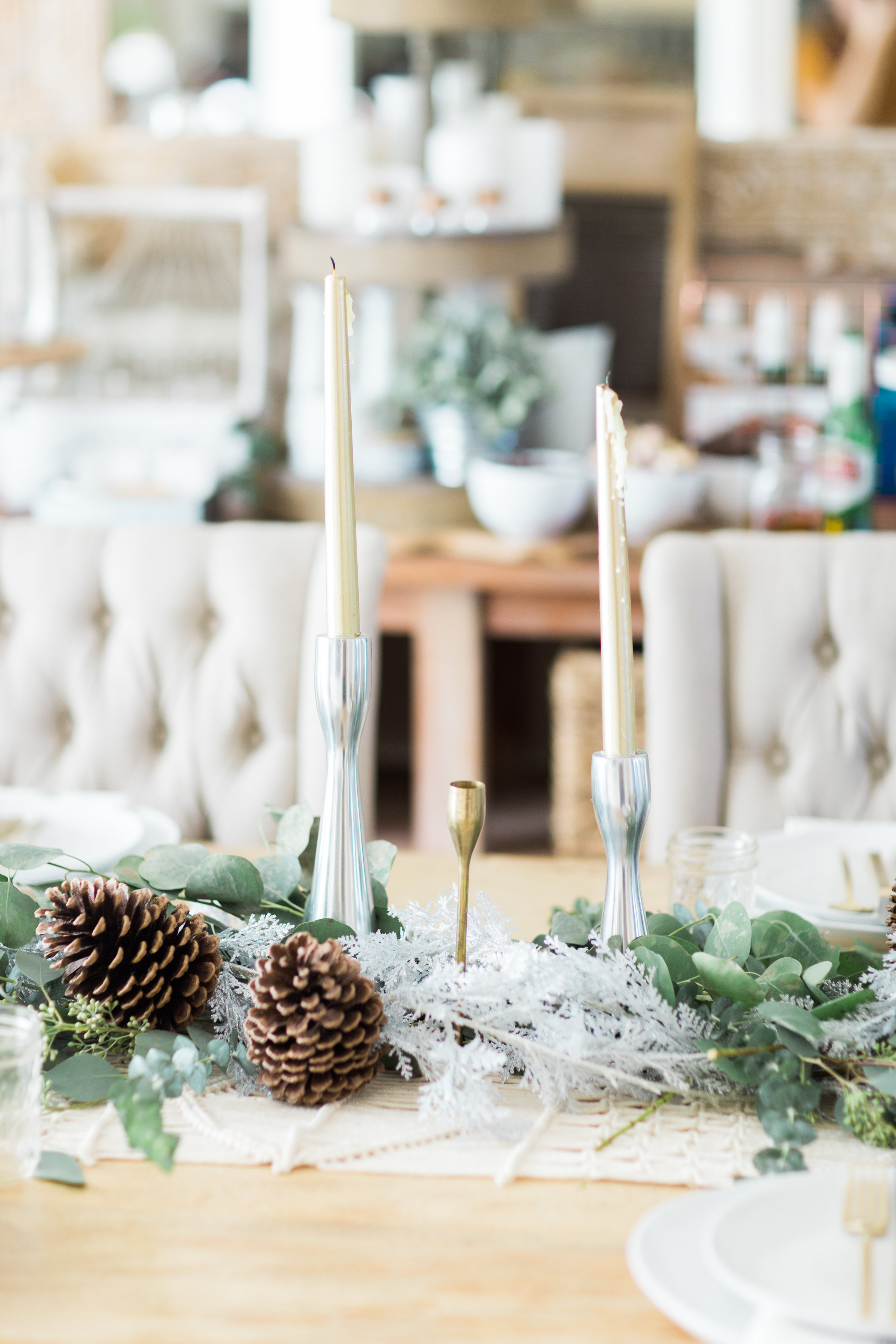 As for snacks, there were plenty.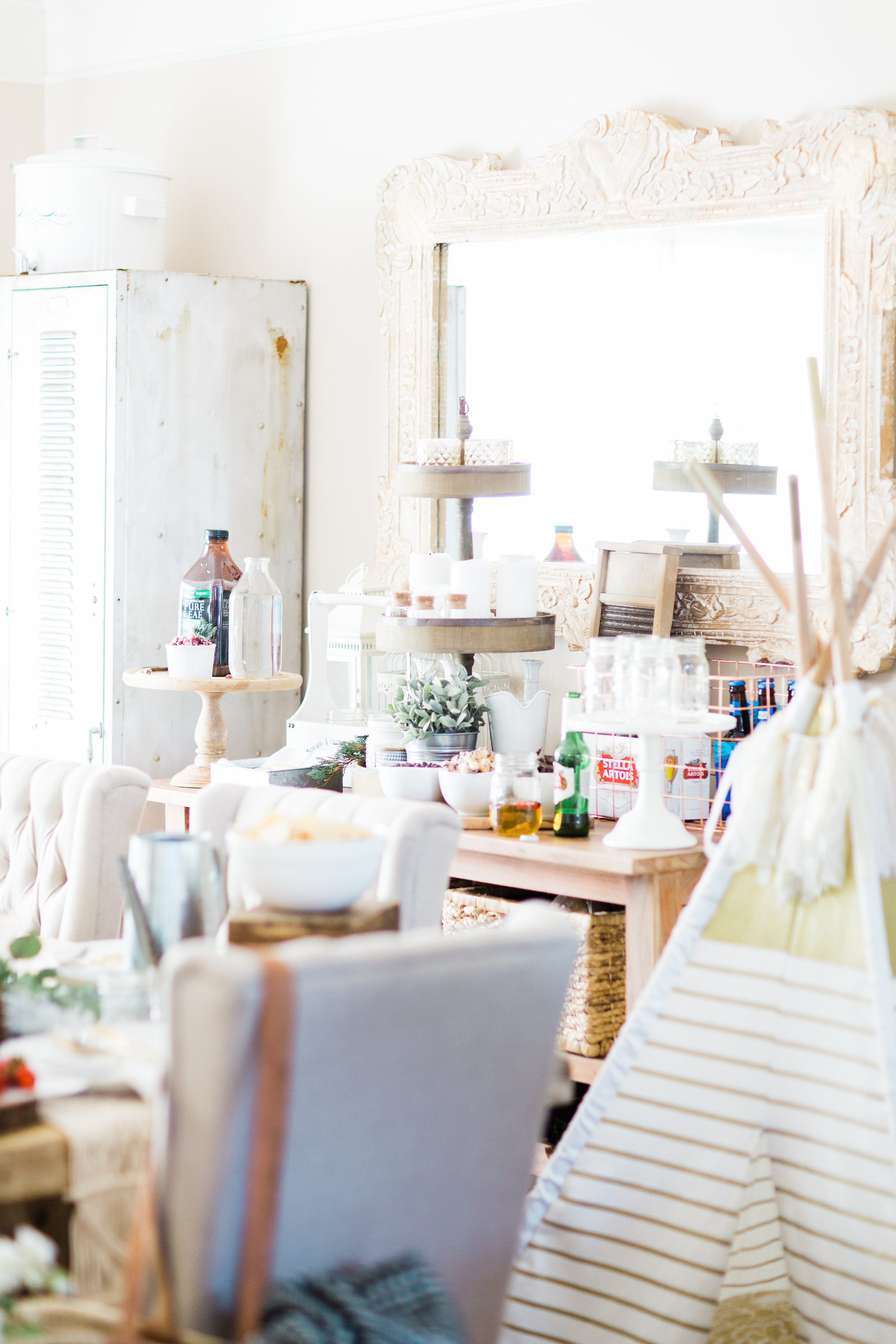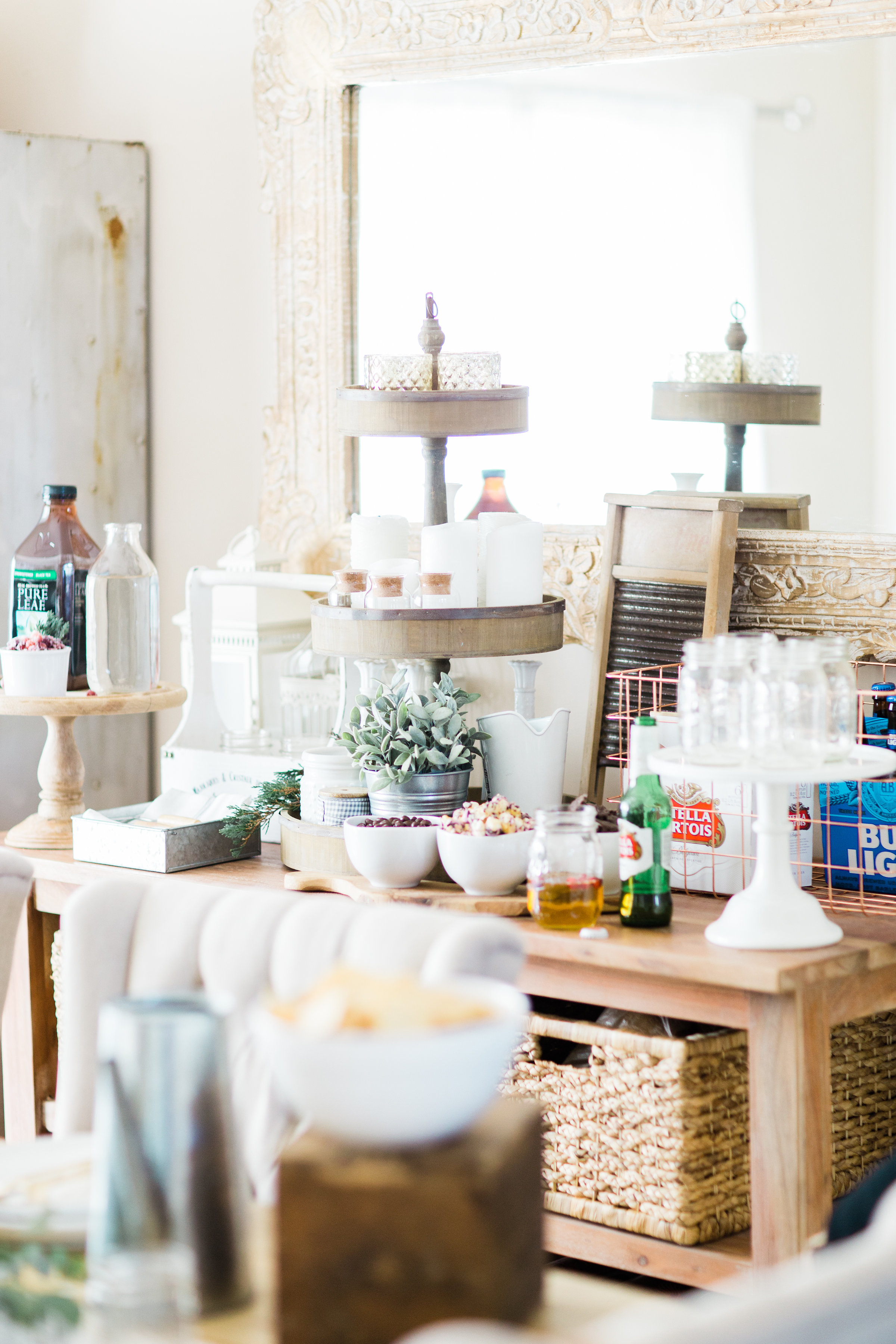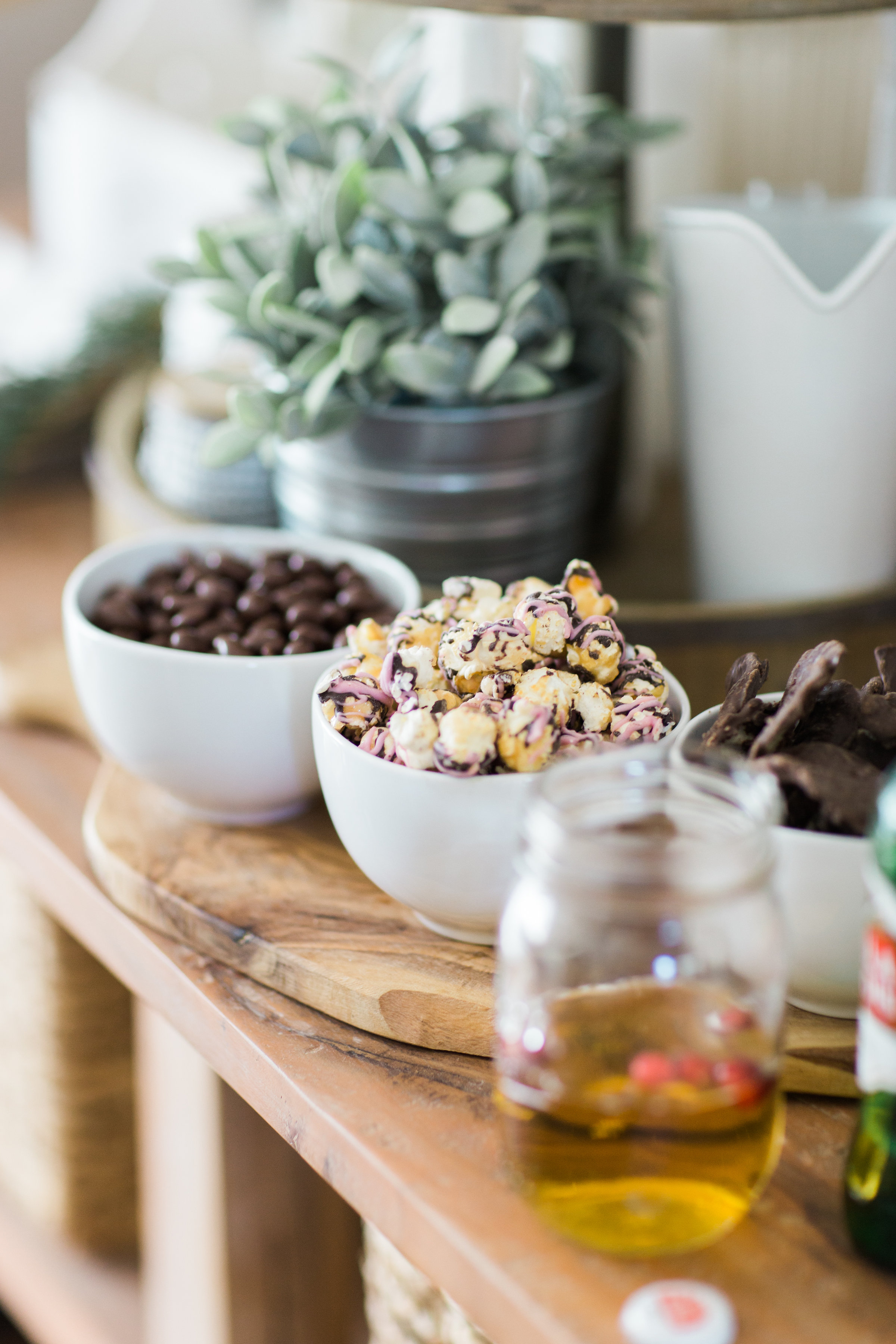 The pita chips worked so well with the Southern charcuterie.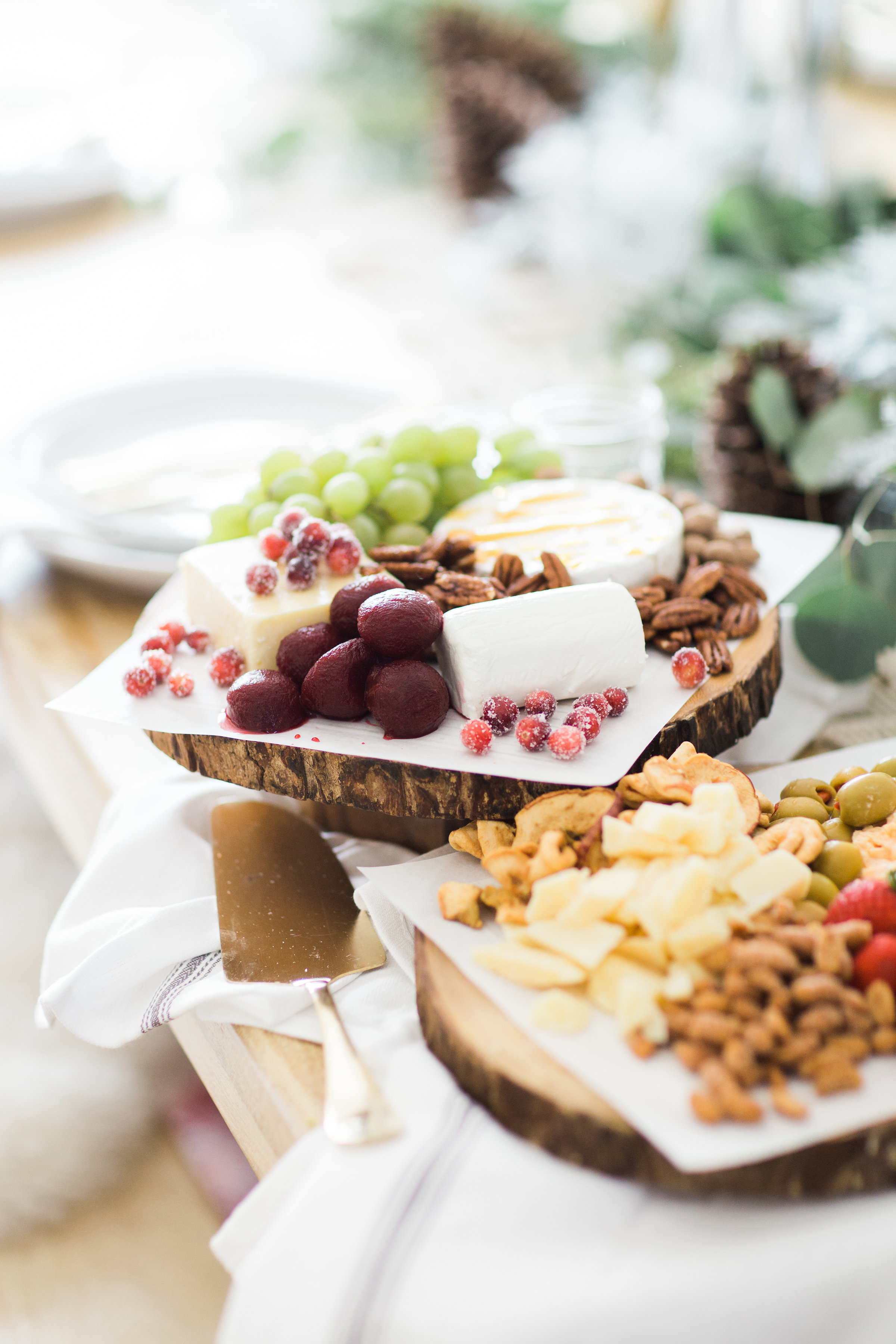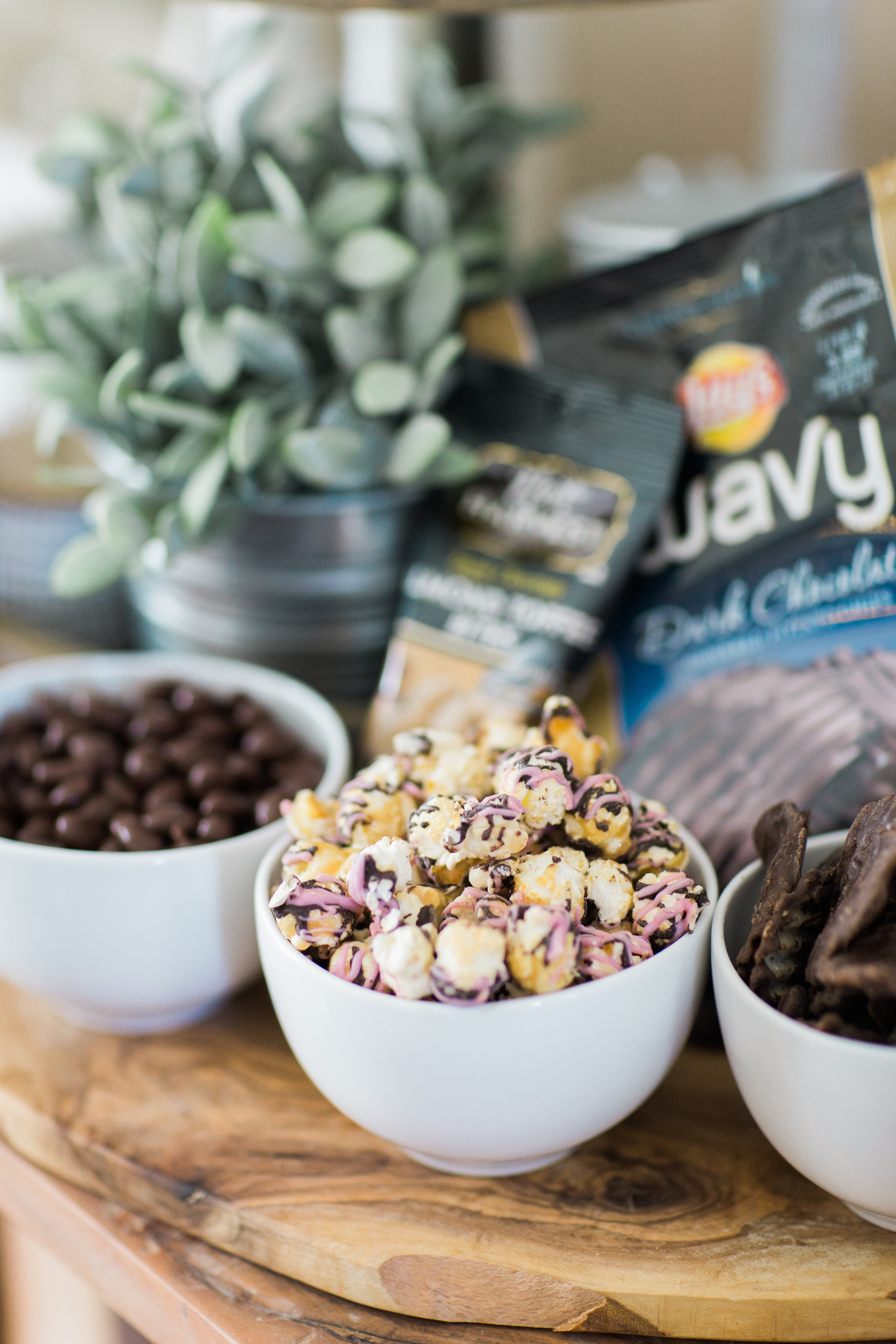 I am officially a raspberry and dark chocolate popcorn convert and both the popcorn and dark chocolate covered wavy Lay's chips were crowd favorites.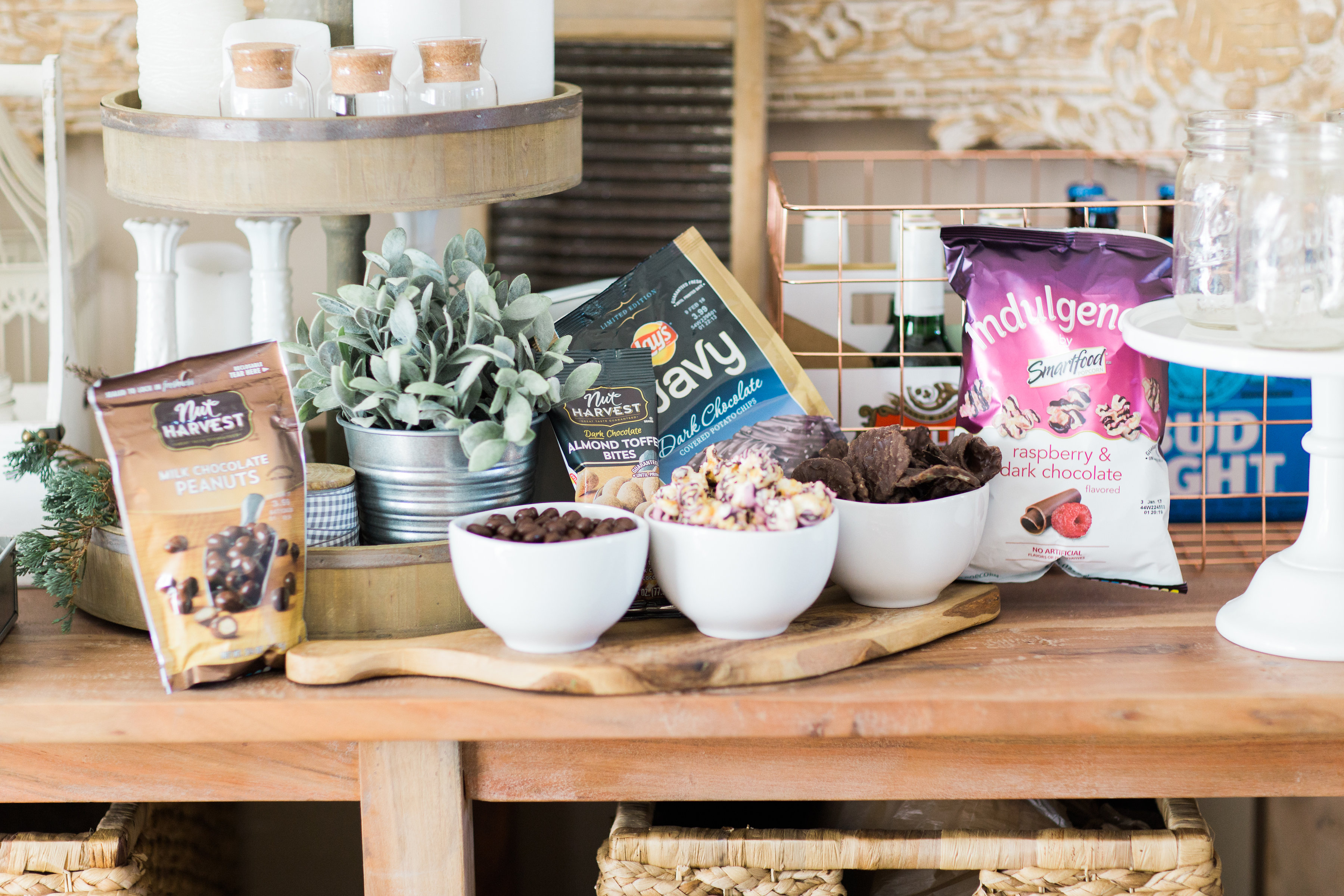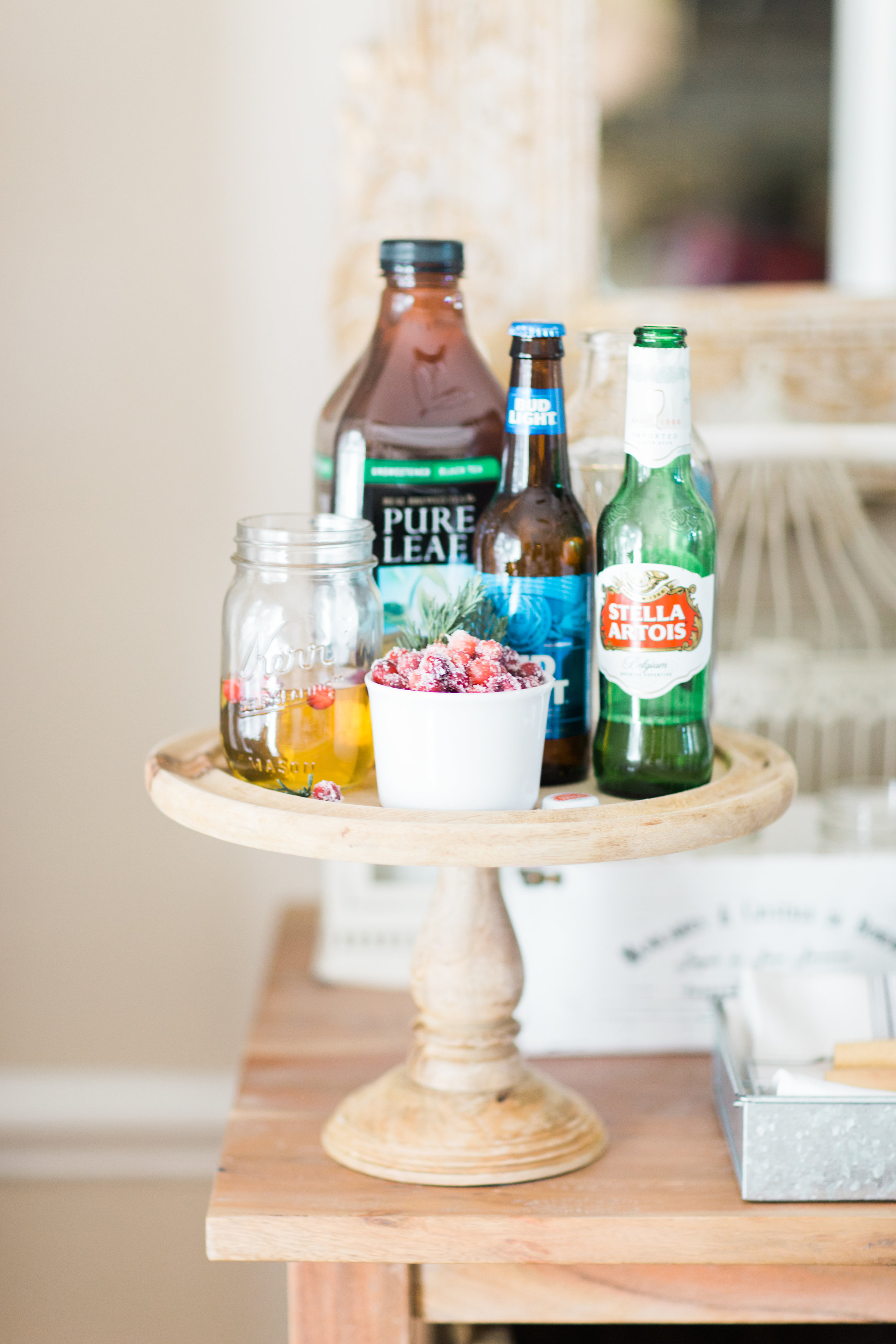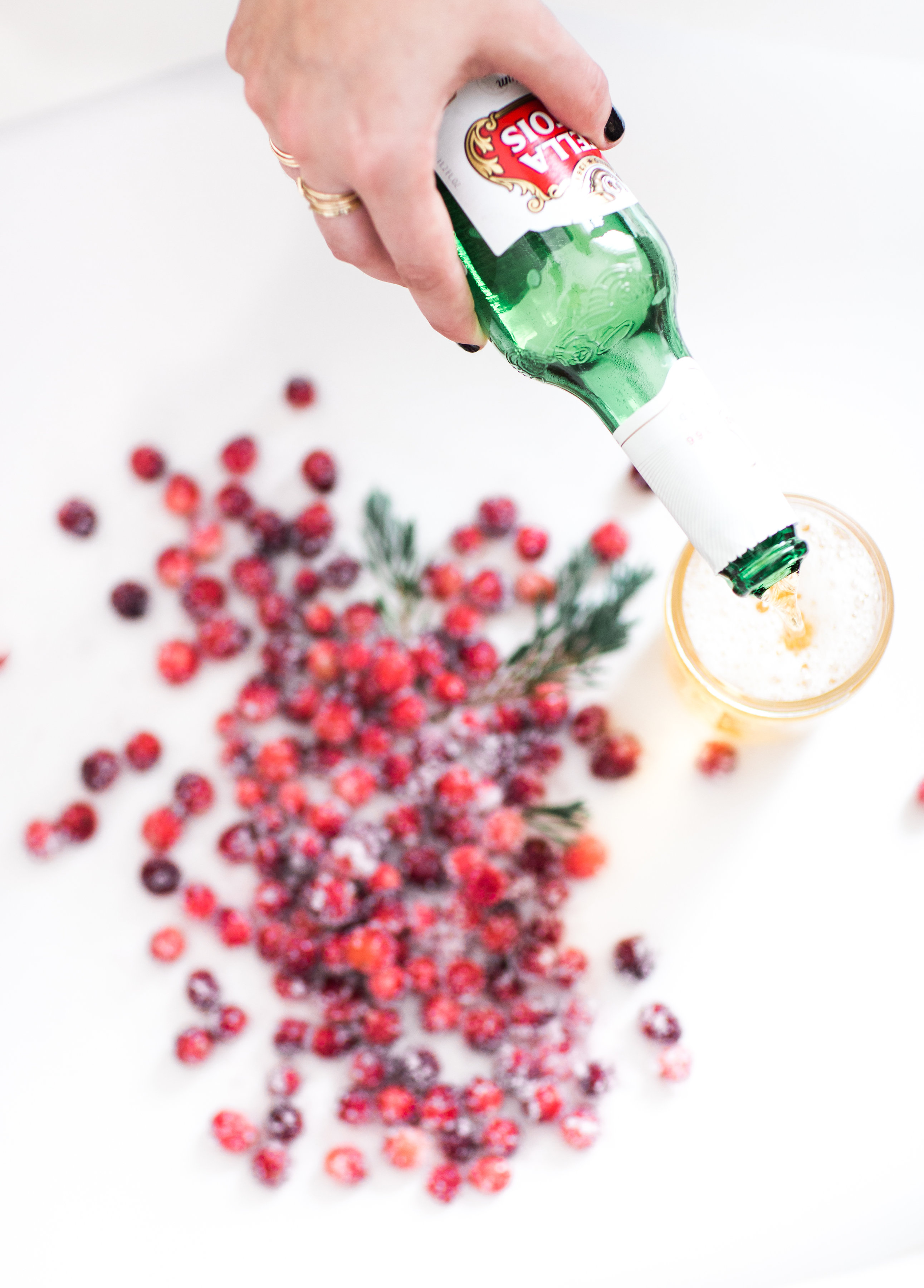 We had plenty to drink between the Pure Leaf Unsweetened tea, Bud Light, and Stella Artois with sugared cranberries.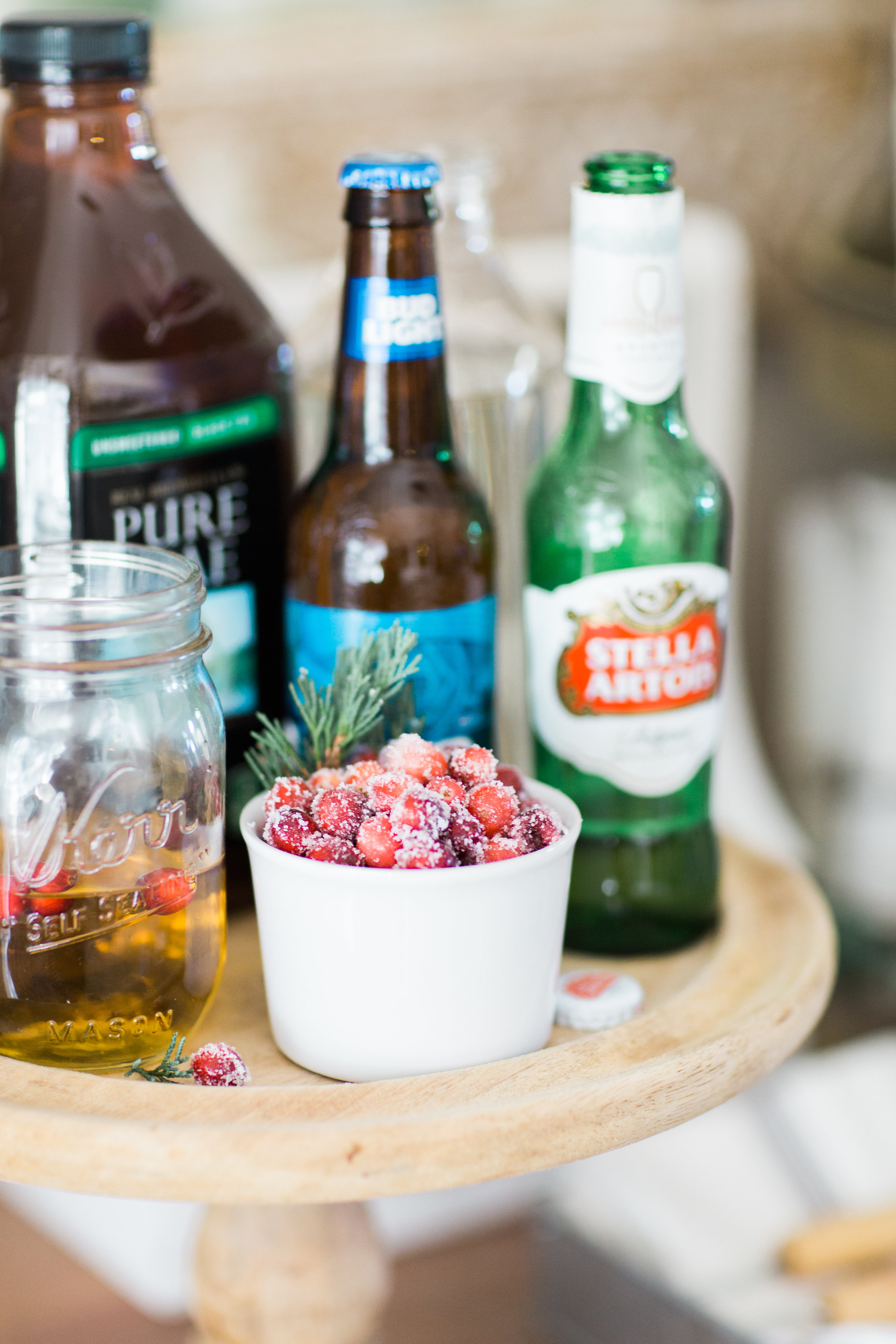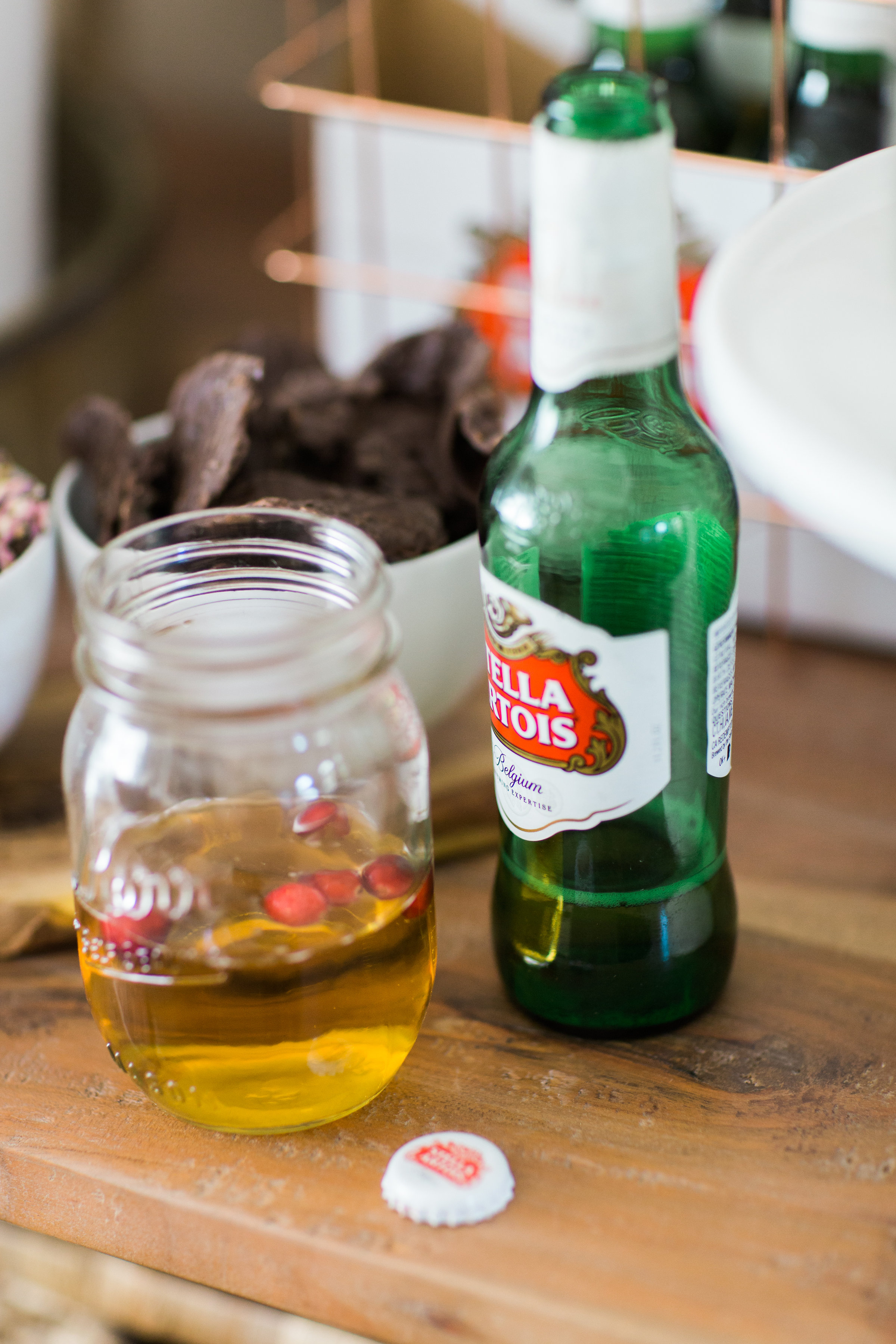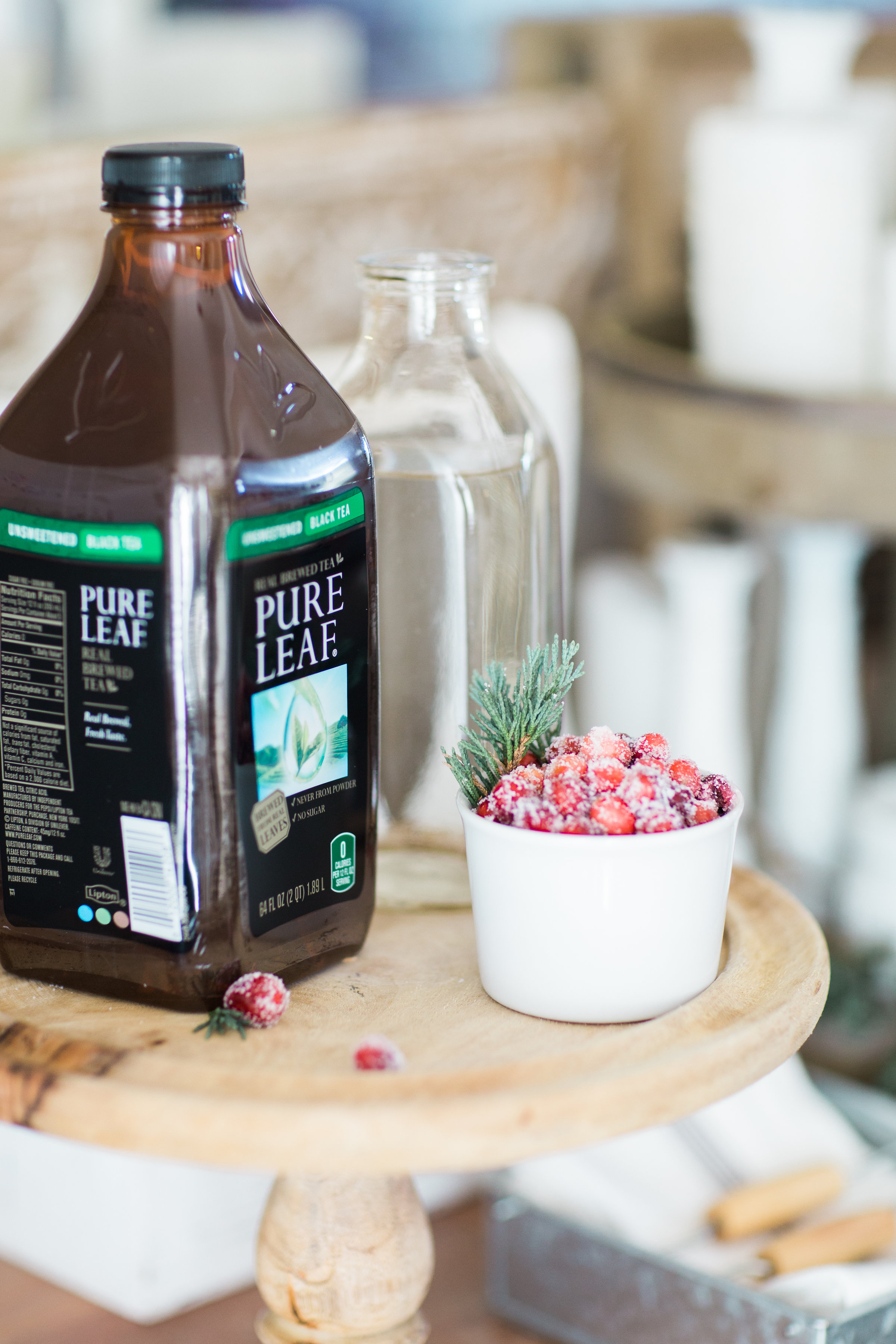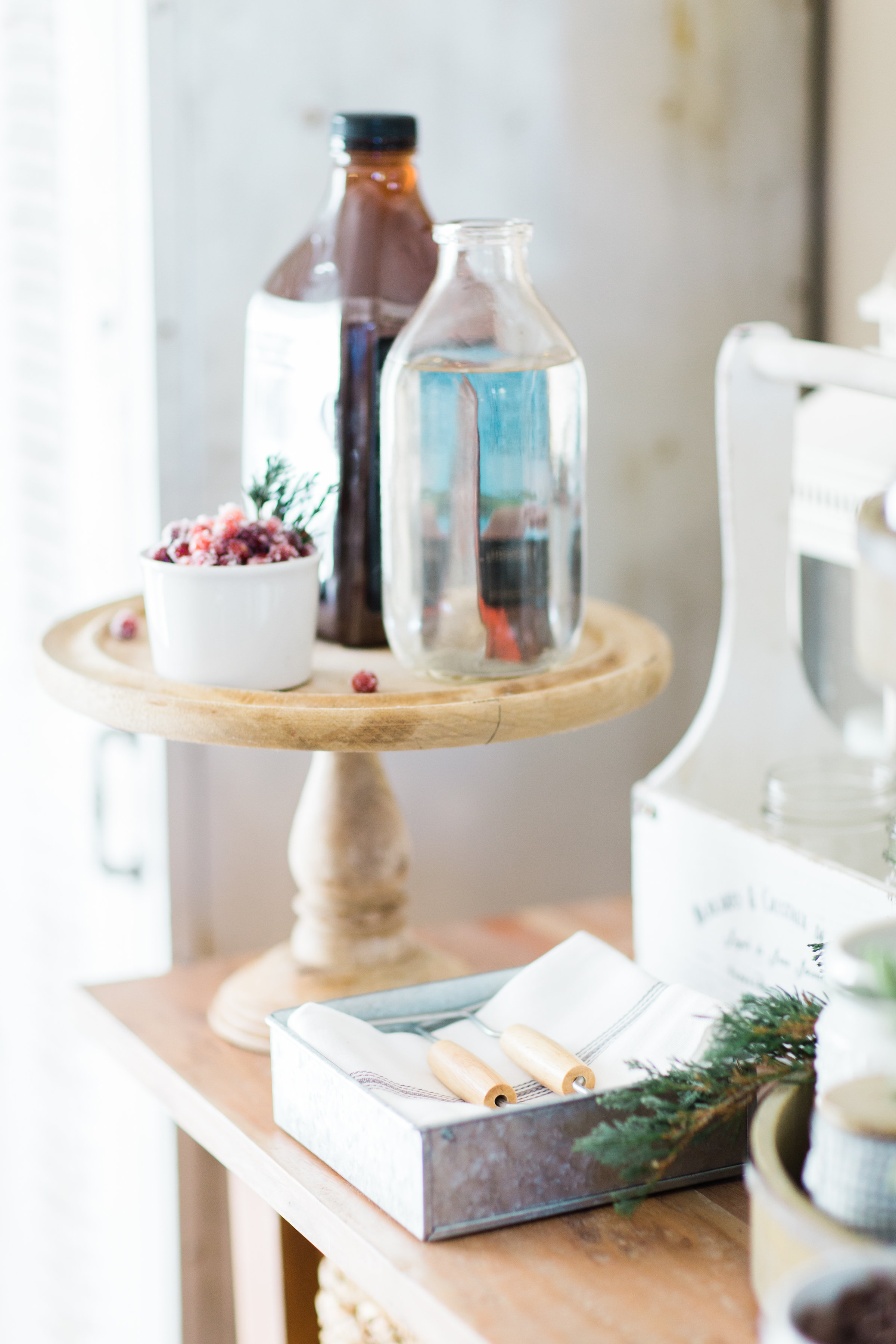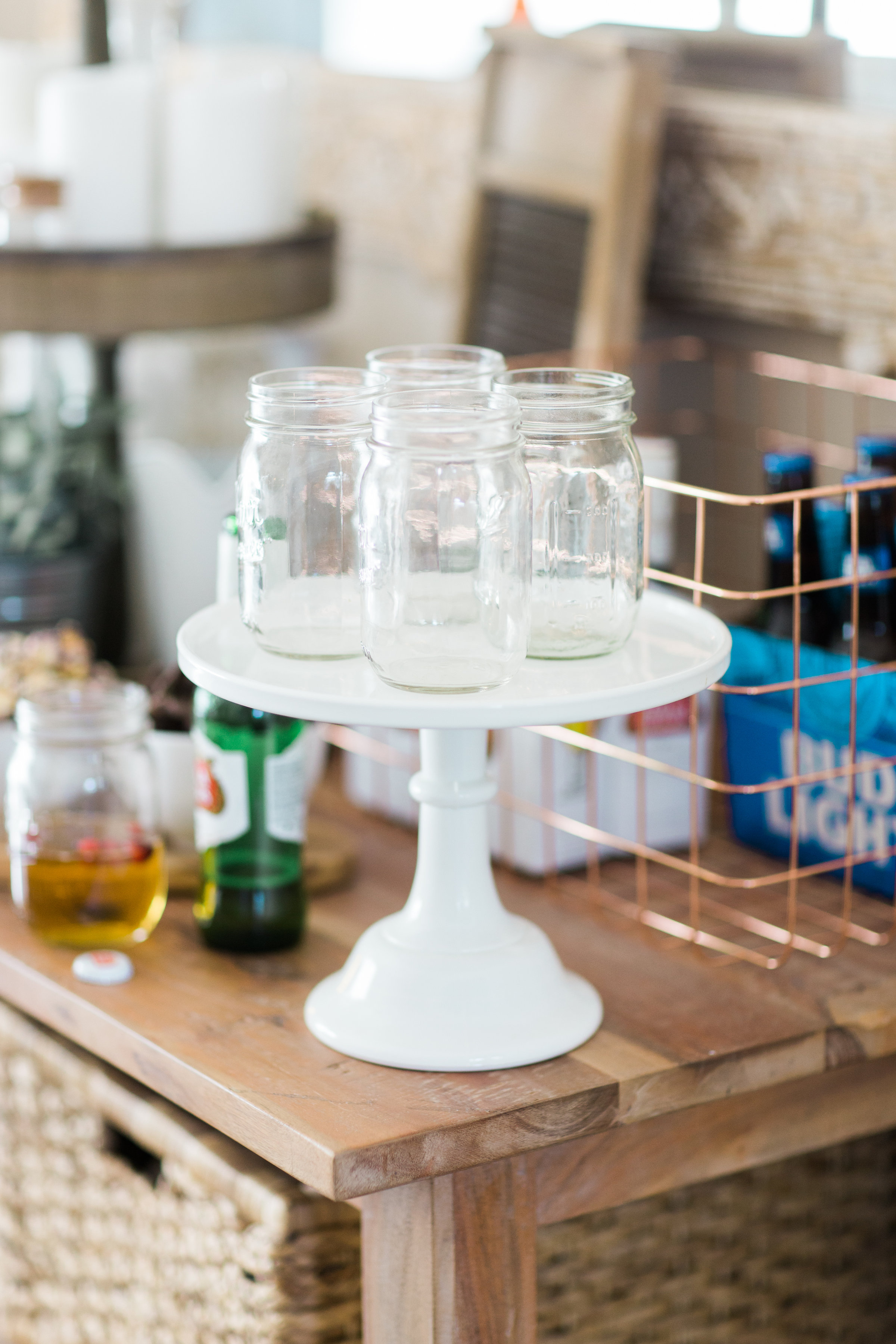 Mason jars give everything that farmhouse feel, don't ya think?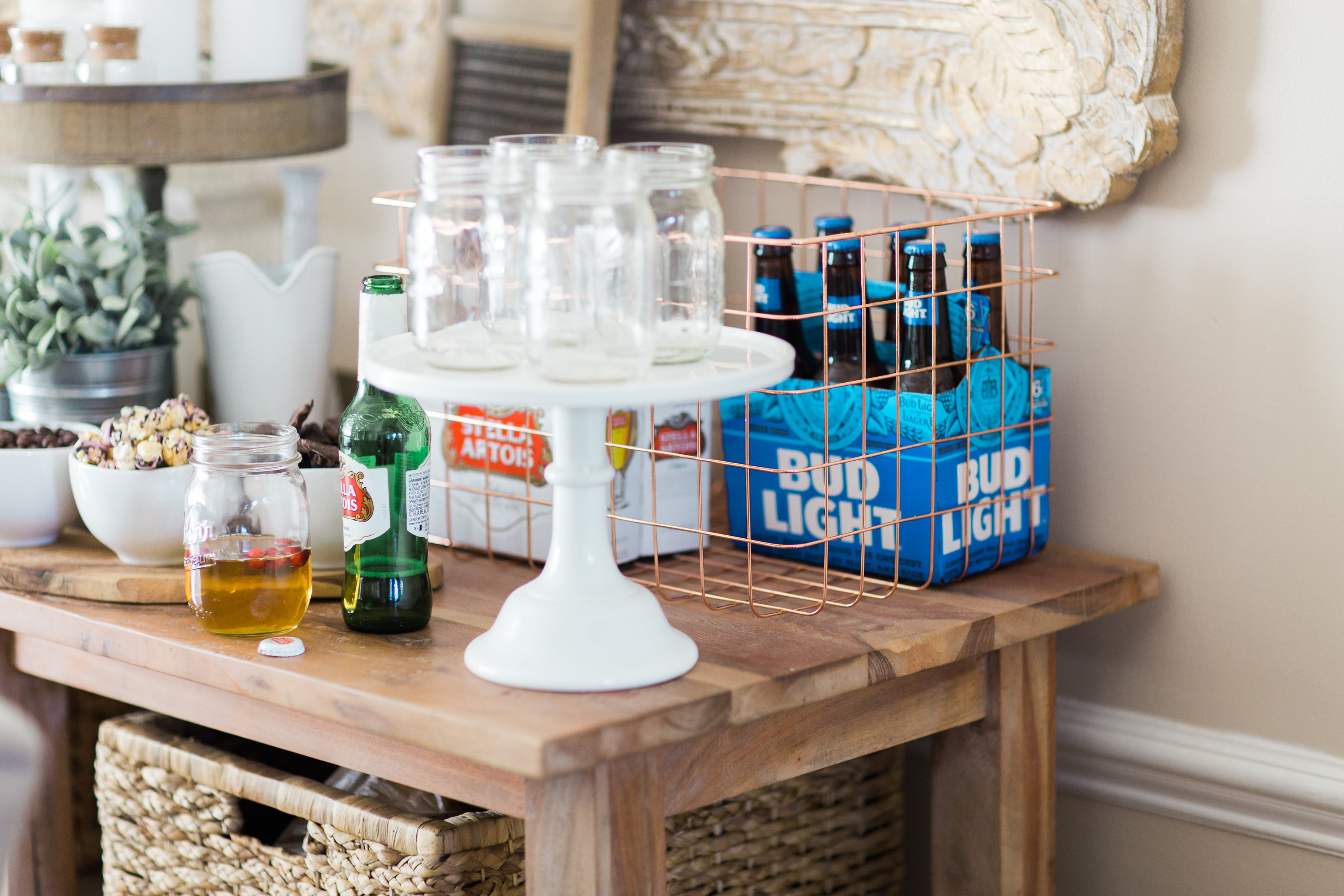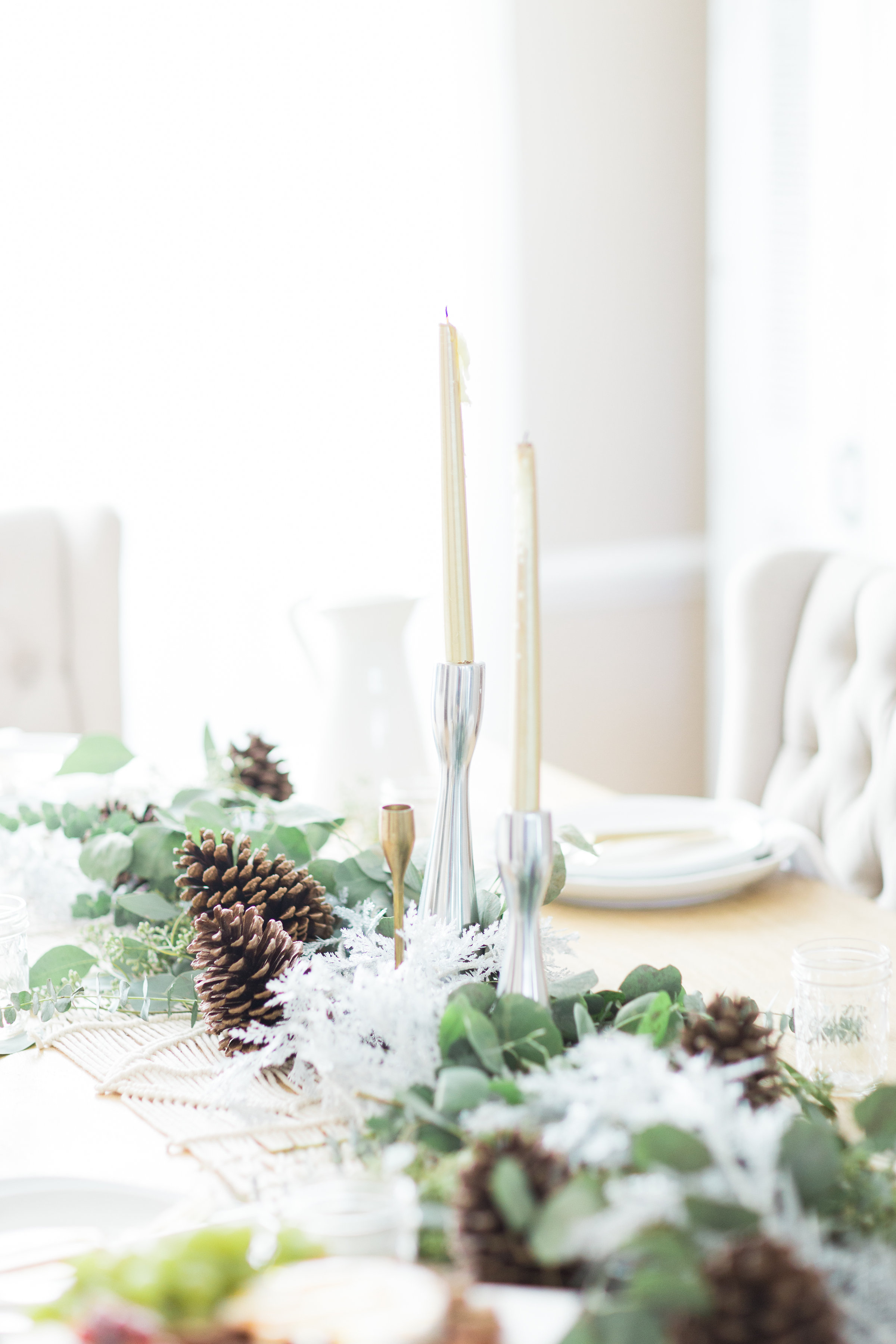 I love setting a table, but I also like to keep things simple. No confusing fork placement in this house!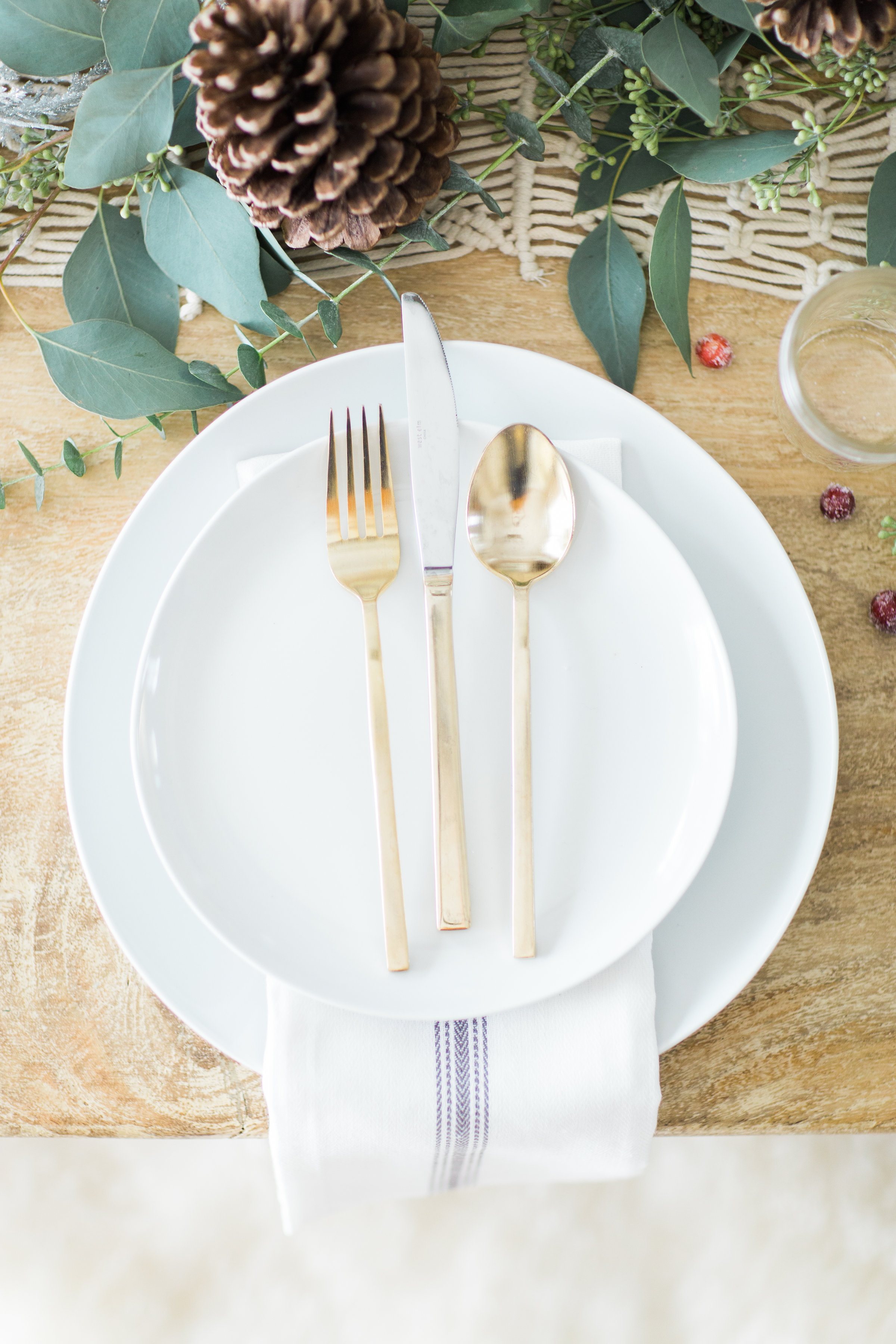 I use this gold flatware for everything, these are just our everyday white dishes that work for basically any occasion, we used mason quilted jelly jars as glasses, and I found these great farmhouse style napkins on Amazon! We also set up this galvanized napkin holder at the bar where all the snacks were. Snacking is a messy business.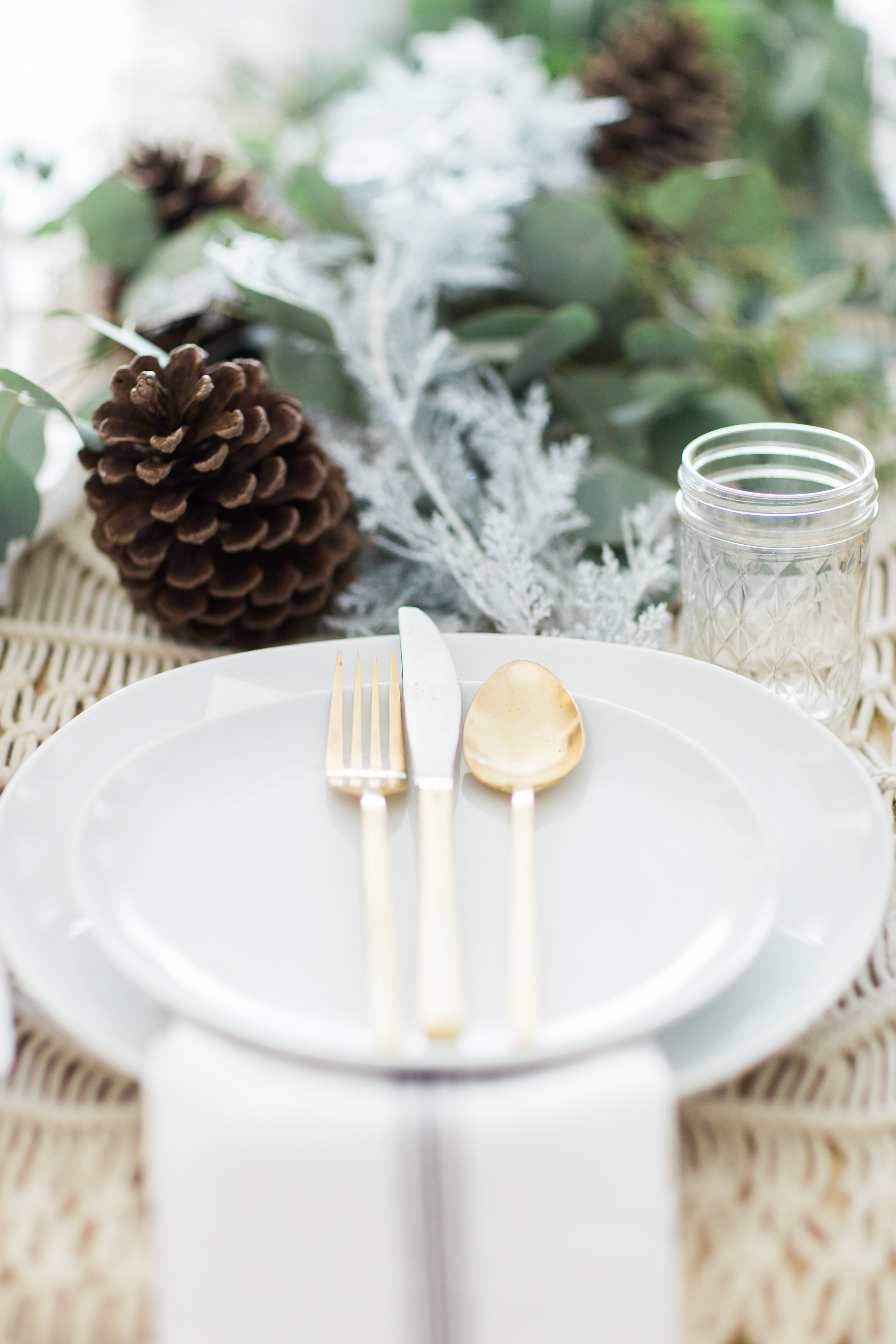 The feed sack style stripe on the napkins makes me so happy.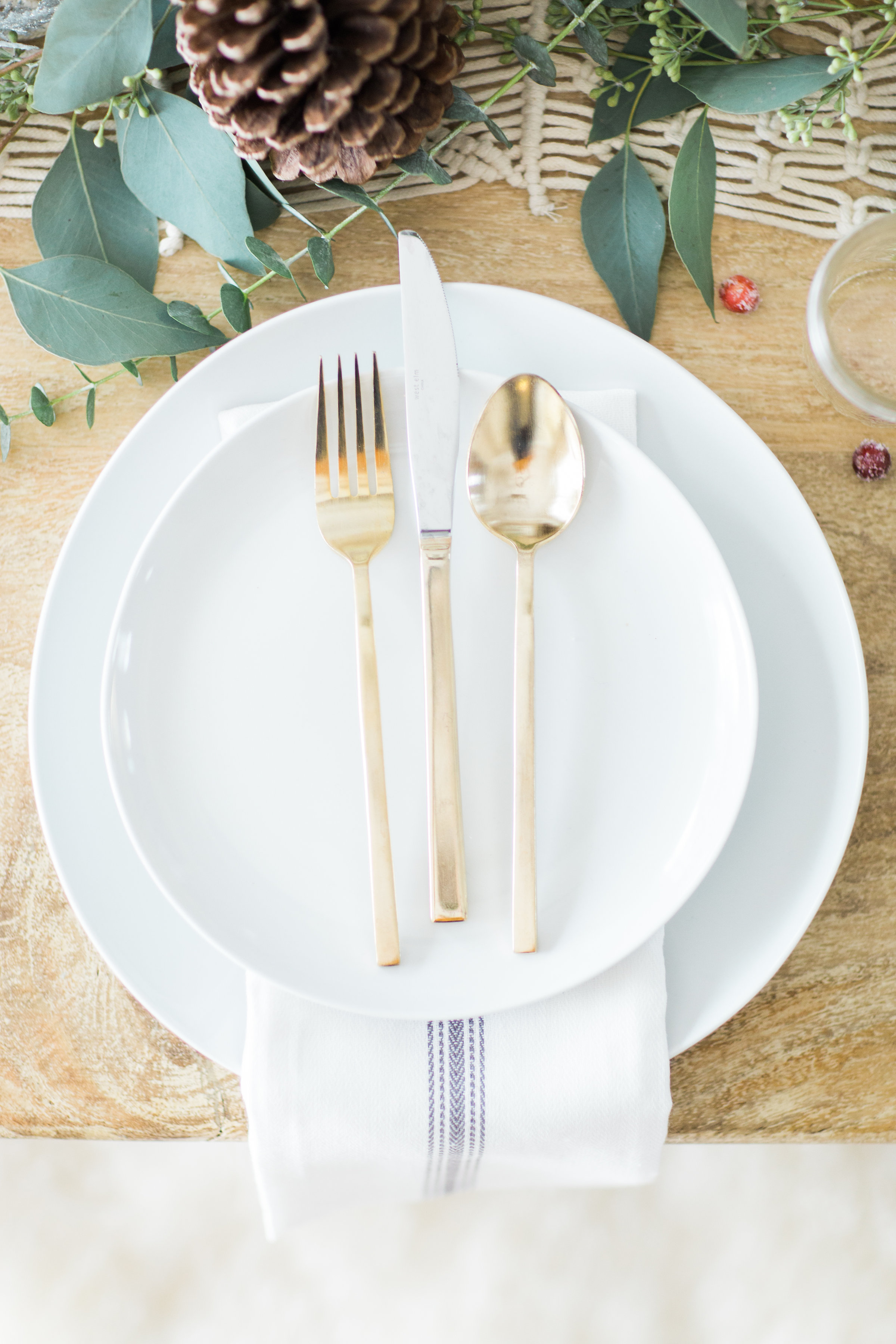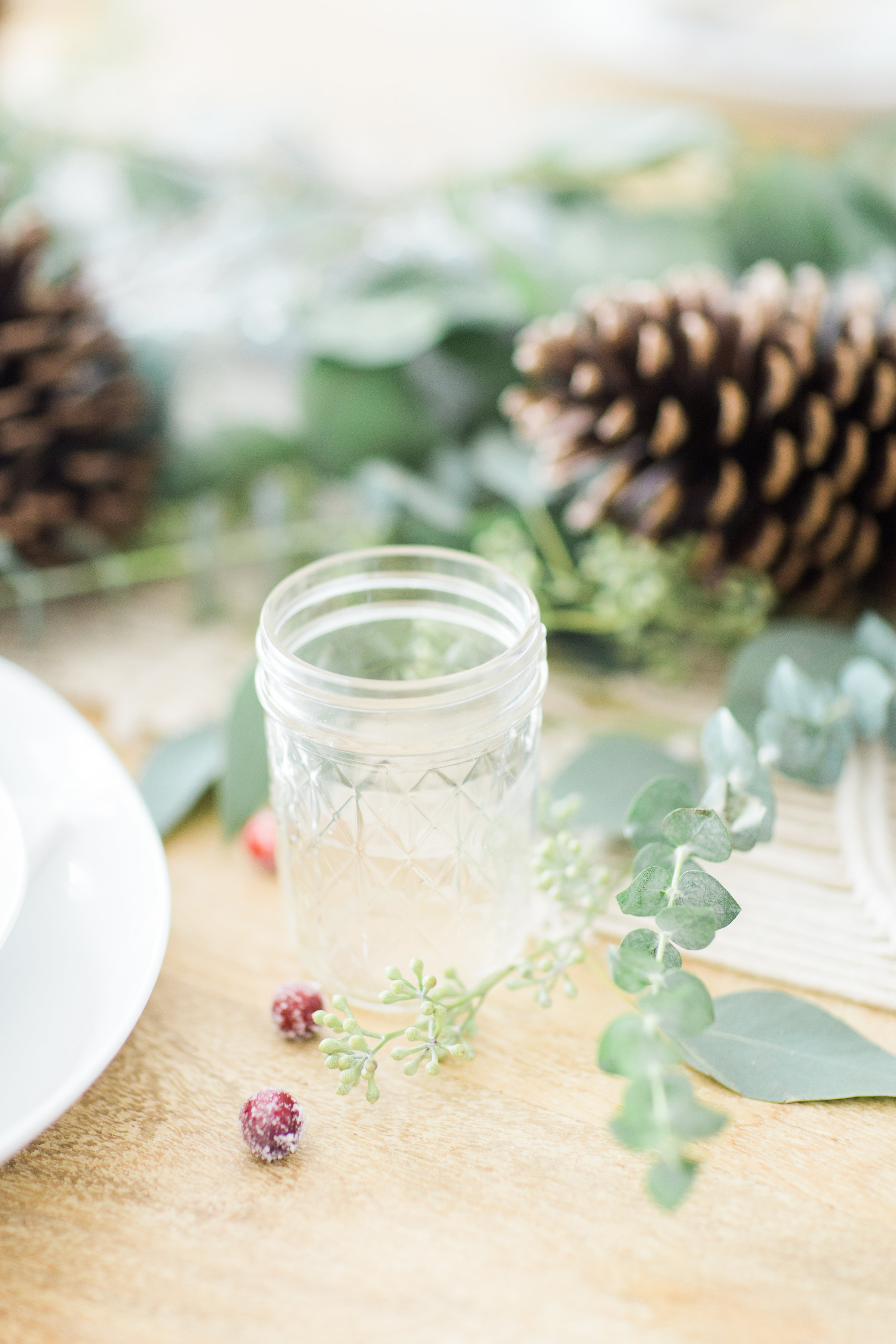 I think I'm in love with sugared cranberries. I want to sprinkle them on everything.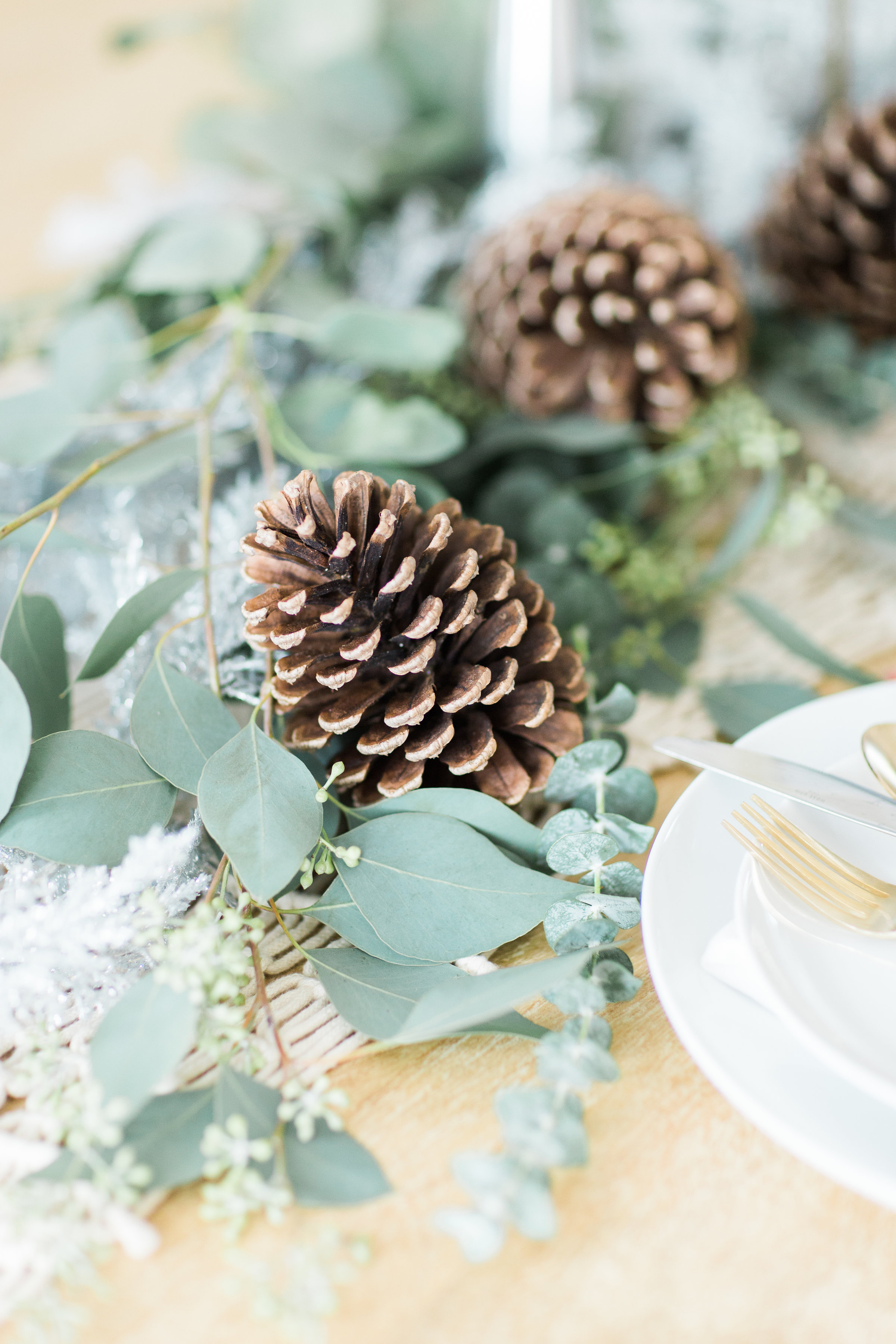 When in doubt, decorate with eucalyptus and pinecones. It feels organic and warm, and will last through the holidays. (Eucalyptus actually dries really well.)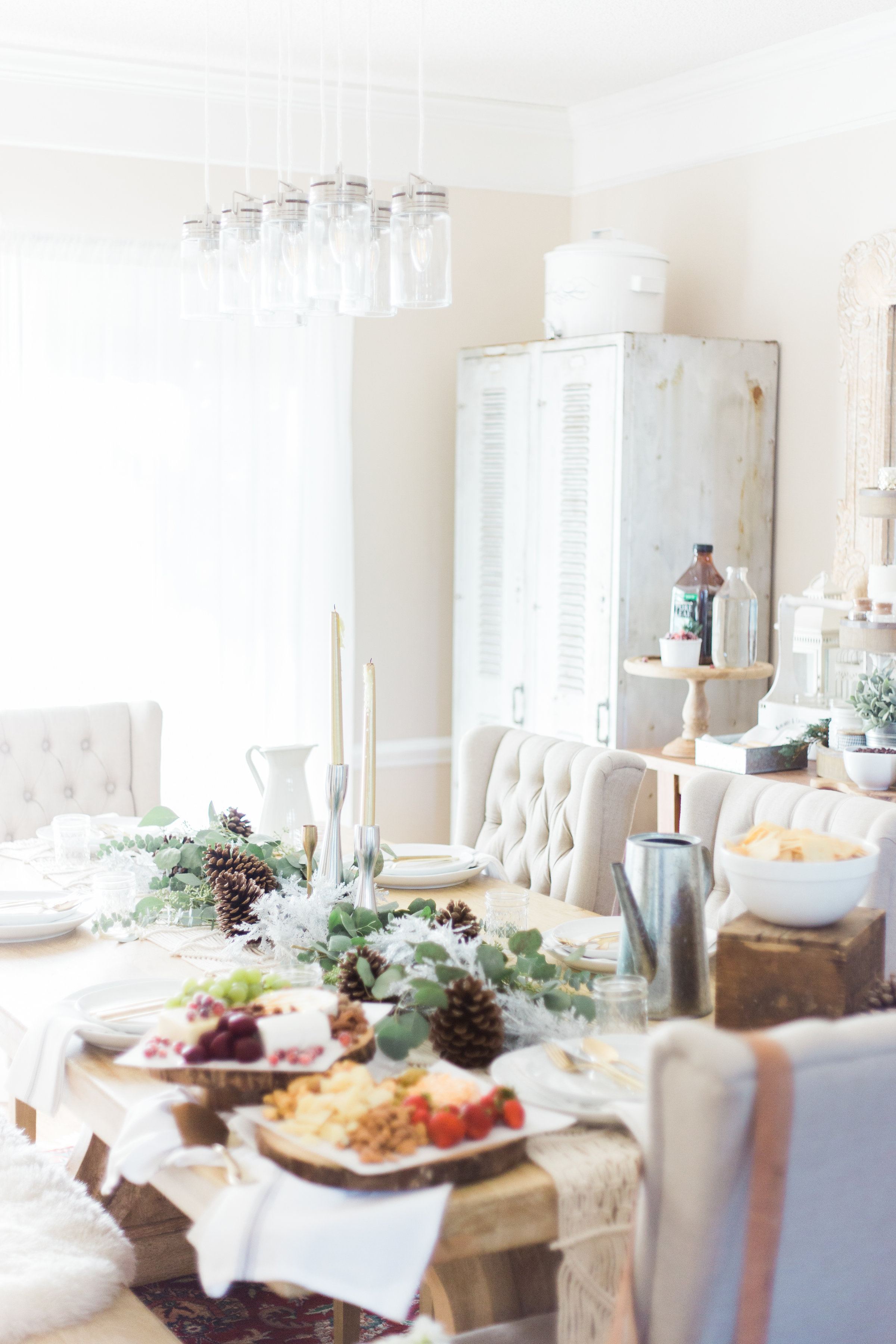 See more tips and tricks for your holiday parties at www.pinterest.com/fritolay.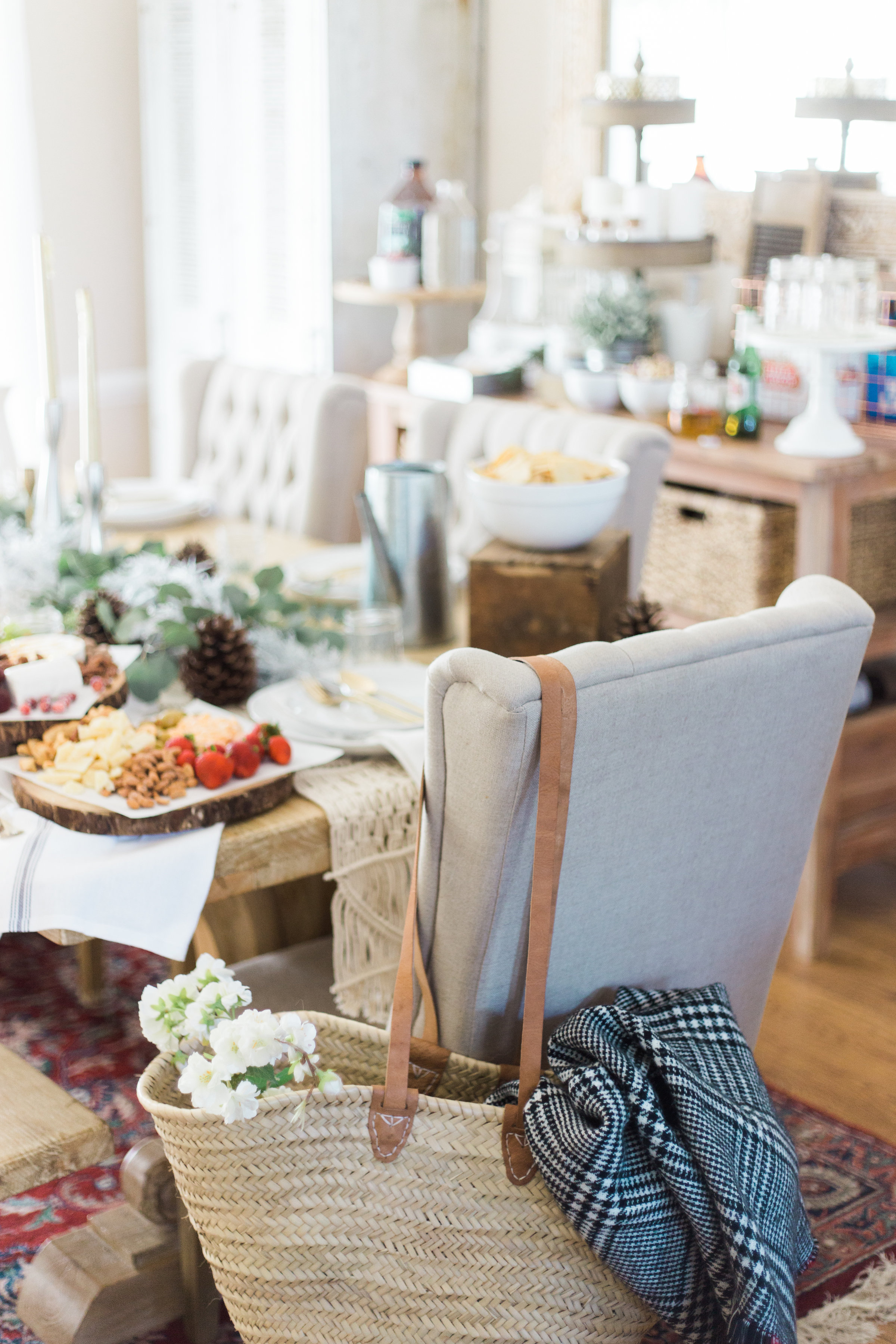 I hope you loved our farmhouse style winter wonderland holiday dinner party!
SHOP THE POST | CLICK LEFT & RIGHT ARROWS TO EXPLORE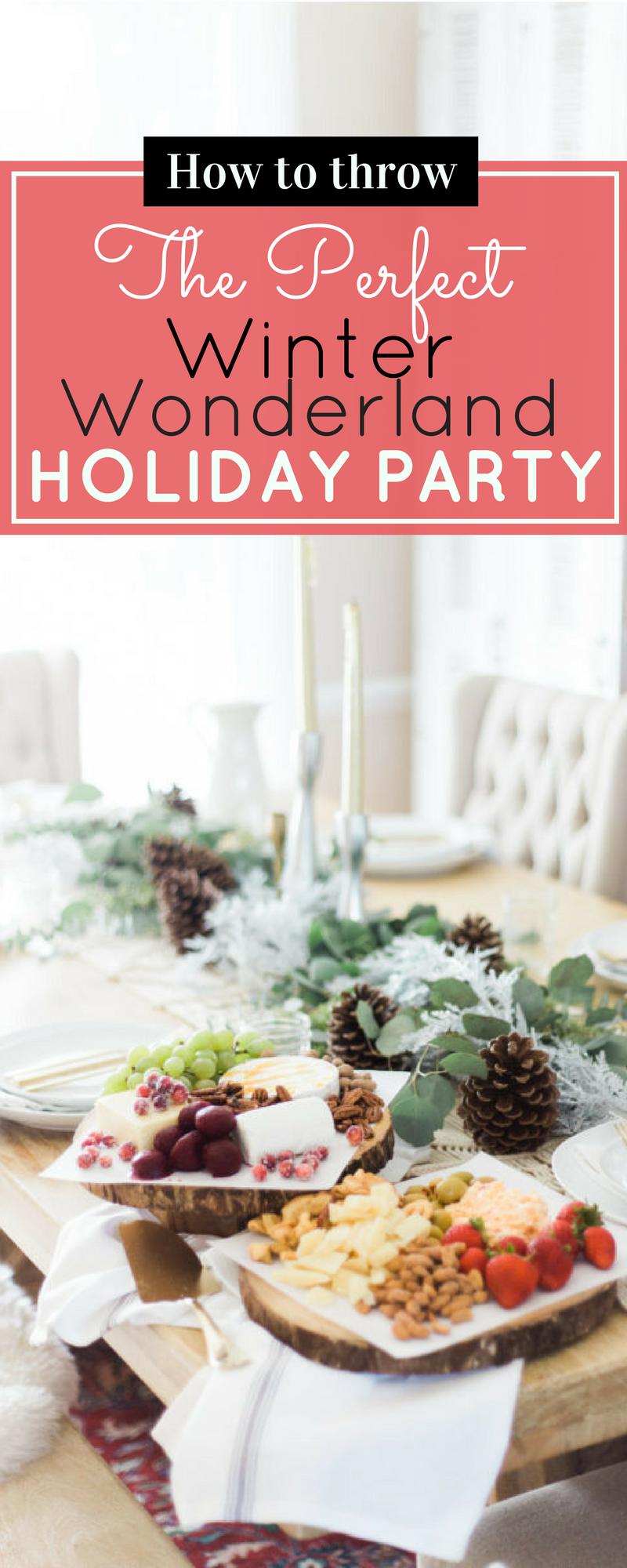 Photos by Annie Watts Photography
This post contains affiliate links, which means that if you click on one of the product links, I'll receive a small commission. Thank you so much for clicking through and helping to support this little blog business of mine! Read more about our site, privacy, and disclosure policies here.