Thank you to OREO for sponsoring this post. All thoughts and opinions are my own. Thank you so much for supporting the sponsors that make Glitter, Inc. possible!
It's no secret that I can't stop baking. And during the holiday season, my baking habit kicks into overdrive. This year, Scarlett is starting to show even more of an interest in what's going on in the kitchen, and I couldn't be more excited to get her involved in the process. My mom always had us in our highchairs, even as babies, playing with measuring cups and scoops of cereal, so I've done the same with our little girl.
OREO Cookie Balls are the perfect family-friendly recipe. Plus, when we were at Walmart the other day, and I spotted the OREO Cookies, I knew we had to make something. OREO Cookie Balls are incredibly simple to make, and your kids can help every step of the way. Scarlett had a blast helping me "smash" the cookies in a zip-top bag (easily, her favorite part), we mixed the ingredients together, and then she helped me to put our Ḥanukkah (a.k.a., Chanukah) sprinkles on top of our chocolate-coated OREO Cookie Balls.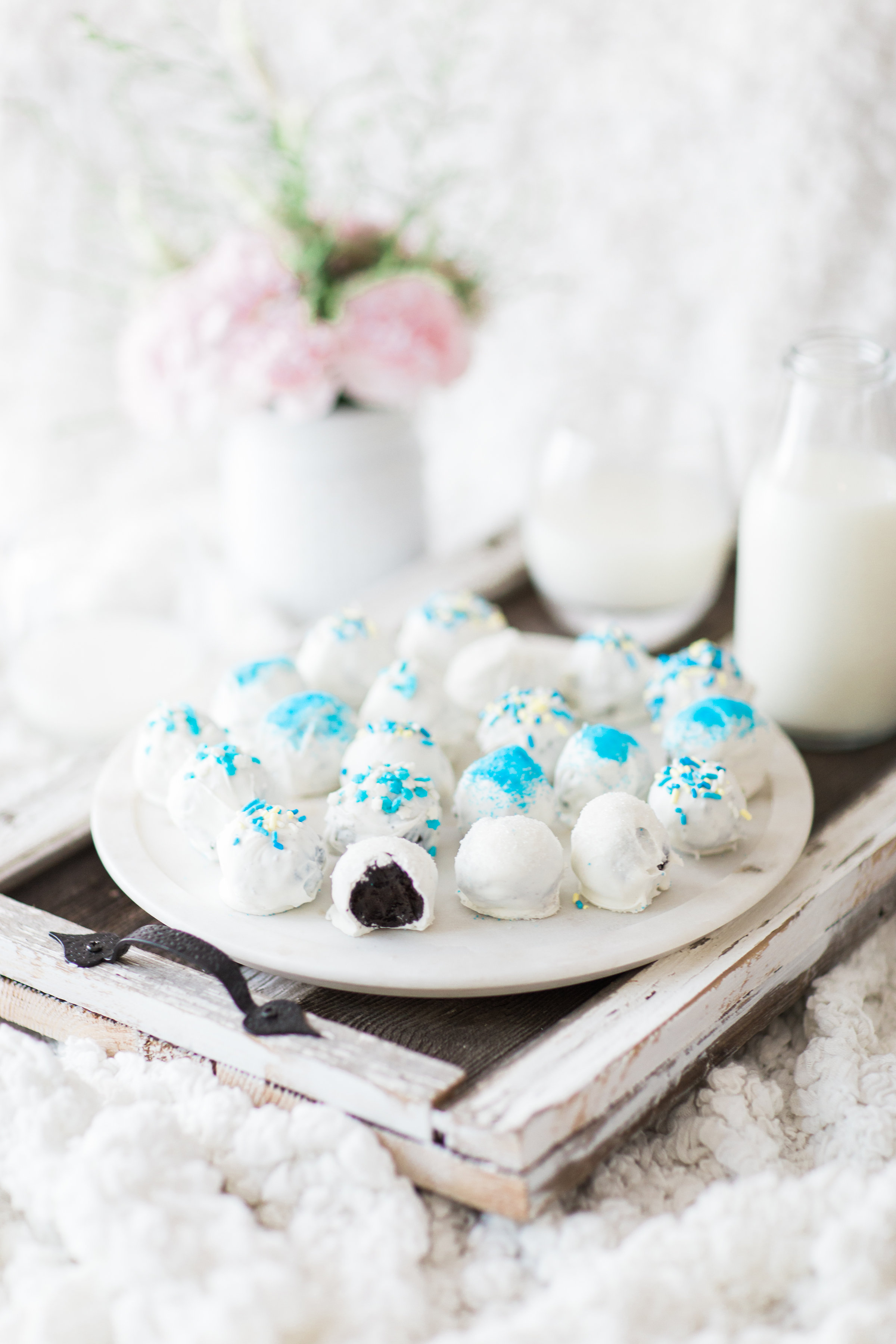 If you're an OREO cookie lover (and I mean, who isn't?), these Ḥanukkah OREO Cookie Balls are most definitely for you.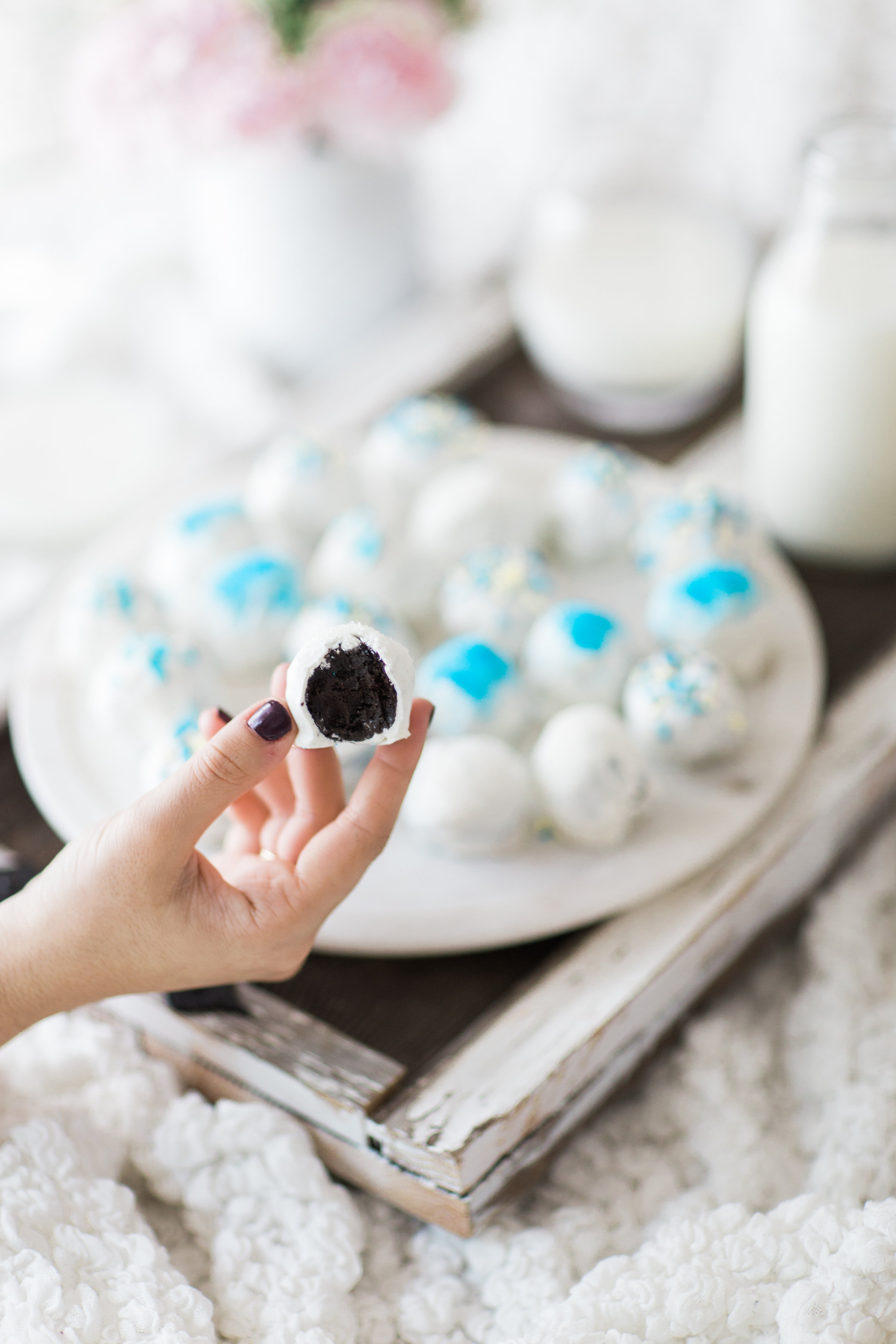 How to Make OREO Cookie Balls
INGREDIENTS
1 pkg. (8 oz.) brick cream cheese, softened
42 OREO Cookies, finely crushed (about 3-1/2 cups), divided
1 pkg. (12 oz.) Wilton brand melting chocolate*, melted
Sprinkles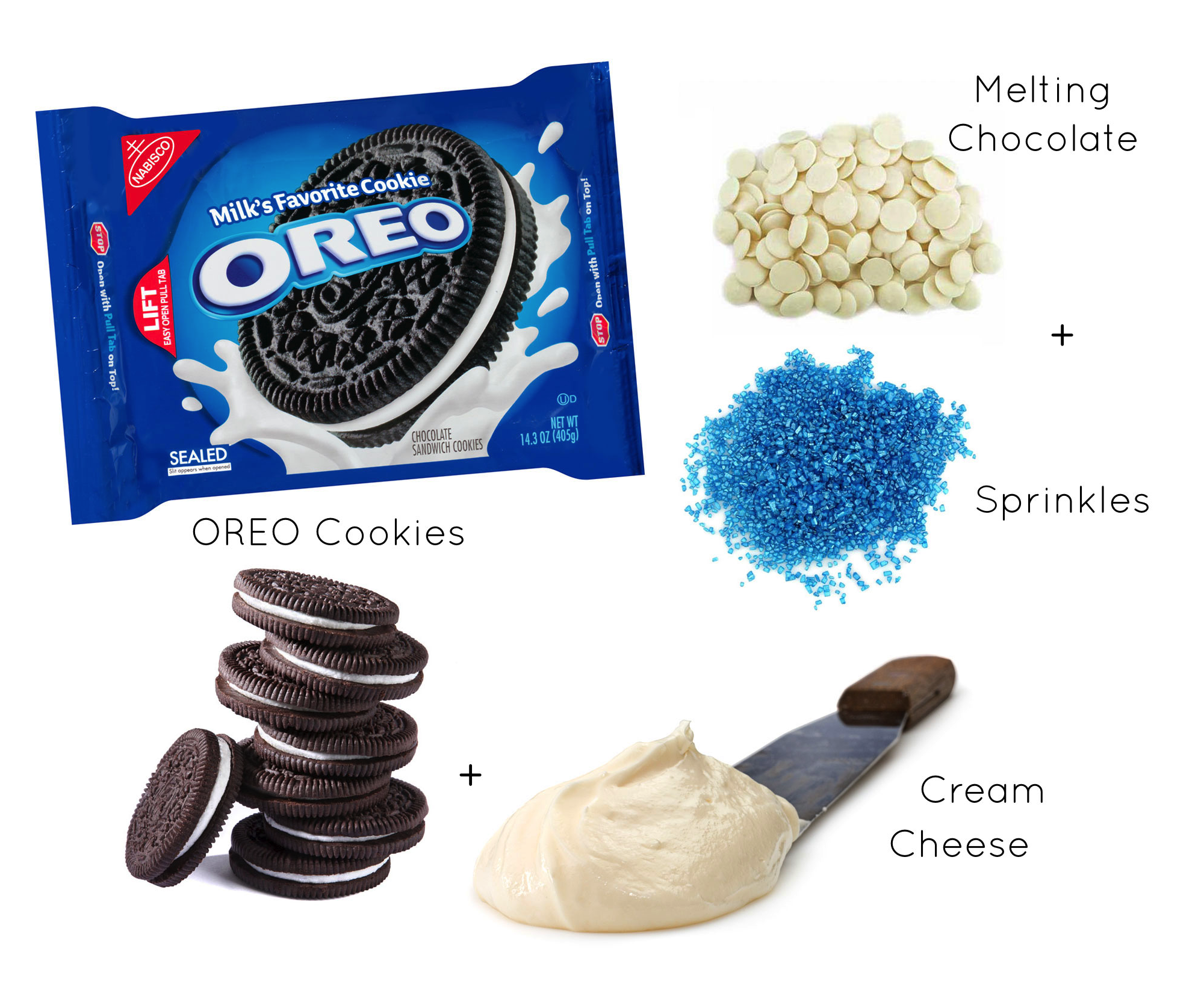 DIRECTIONS
Mix cream cheese and cookie crumbs until blended.
Put your chocolate in a microwave-safe bowl and melt chocolate in the microwave by cooking about 15 seconds at a time, removing from microwave, stirring, and microwaving another 15 seconds. Repeat this until your chocolate is completely melted and smooth. (You can also melt your chocolate in a pot on the stove, but we're all about simplicity here.)
Shape mixture into 48 (1-inch) balls. Freeze 10 min. Dip balls in melted chocolate; place in single layer in shallow waxed paper-lined pan. While the melted chocolate is still soft, sprinkle with your favorite holiday sprinkles.
Refrigerate 1 hour or until firm. Keep refrigerated until ready to serve.
*You can also use semi-sweet or milk chocolate baking chocolate if you prefer a different kind of chocolate over white chocolate.
Recipe adapted via Snack Works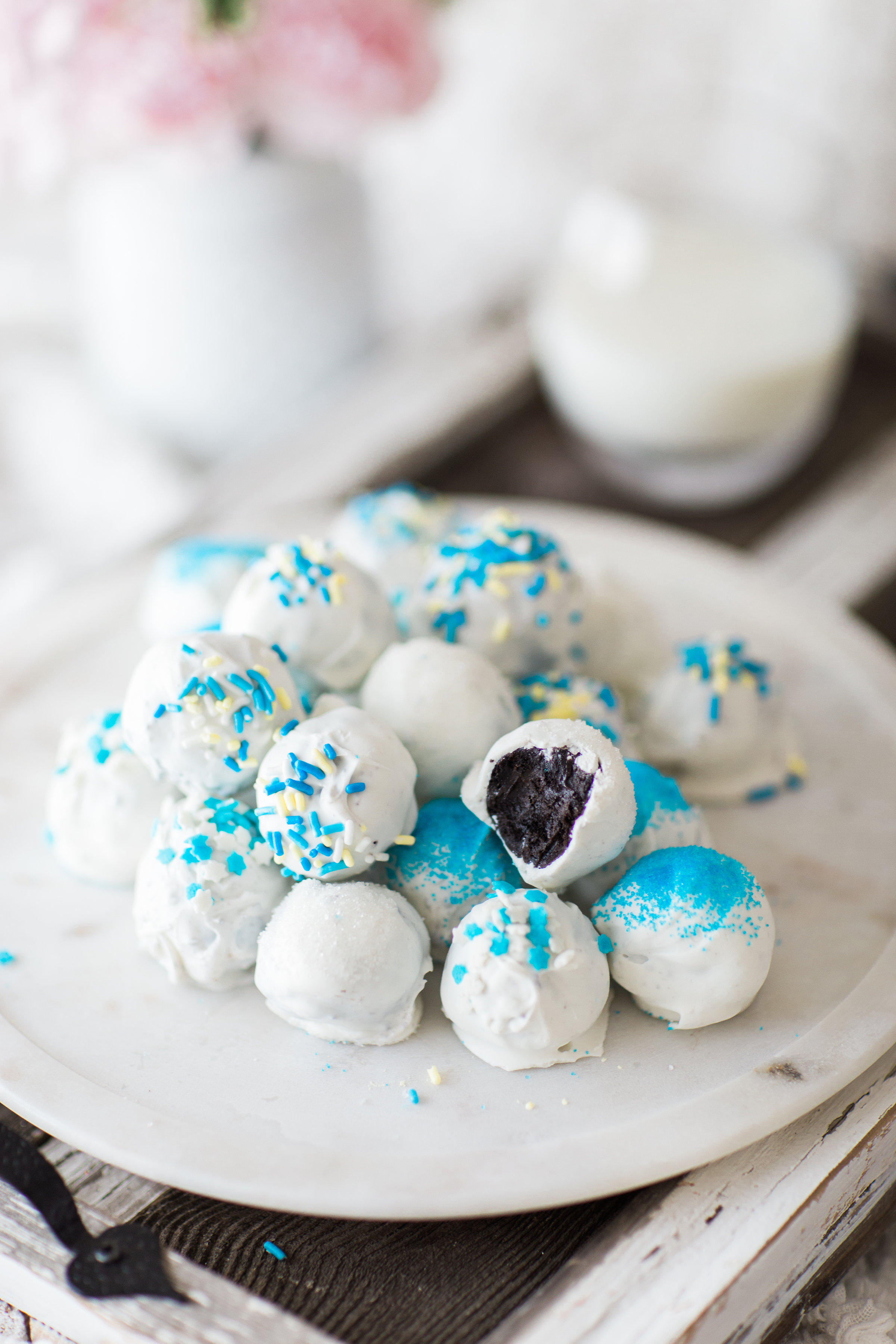 TIP: To easily coat your OREO cookie balls with the melted chocolate, add your cold cookie balls, one at a time, to the bowl of melted chocolate. Use 2 forks to roll the cookie balls in chocolate until evenly coated. Remove balls with forks, letting excess chocolate drip back into the bowl and place the coated balls onto your prepared pan. Don't forget to refrigerate the balls until firm.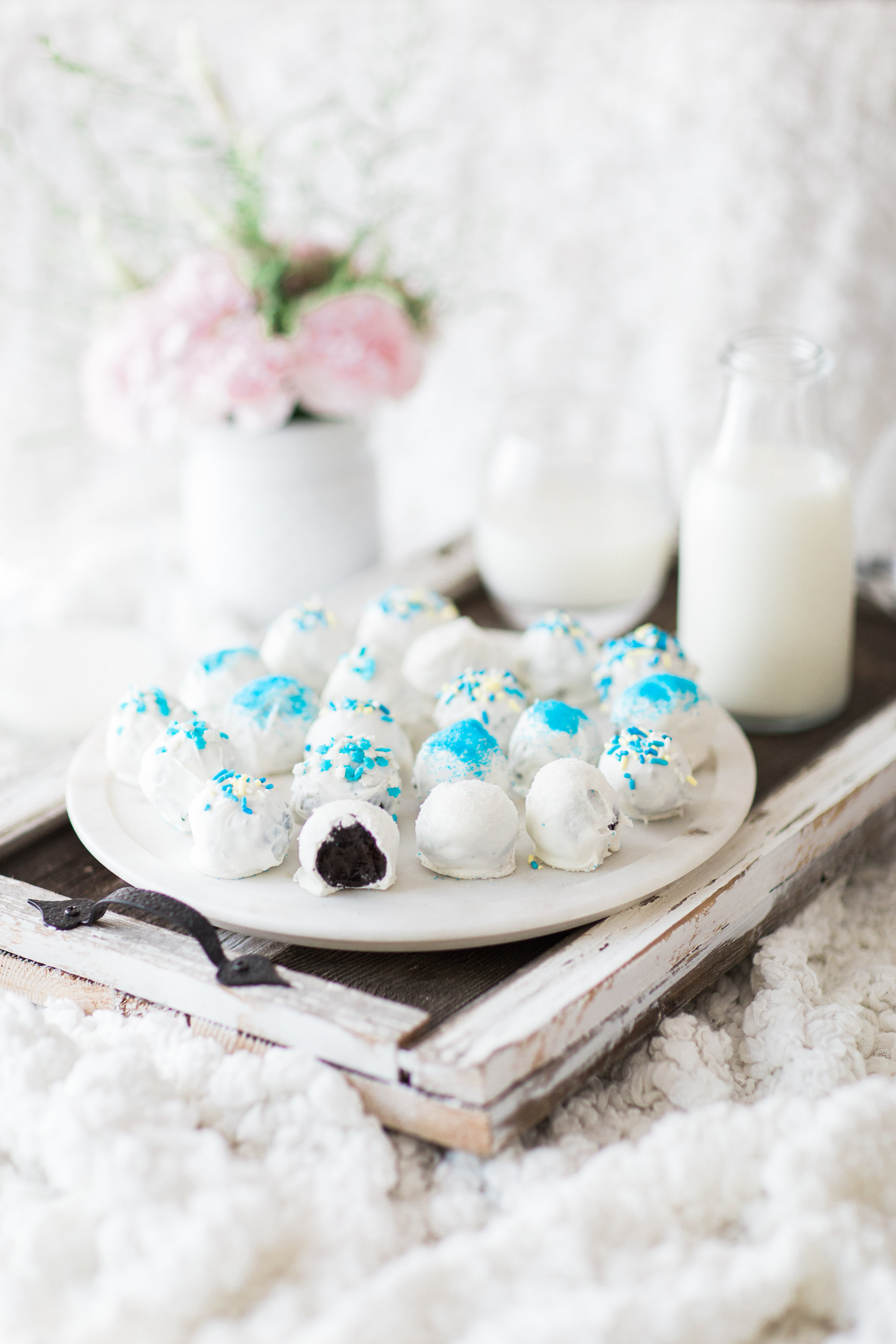 According to my hubby, the very best way to eat these Ḥanukkah OREO cookie balls is with an ice cold glass of milk. And trust me, my hubby knows snacks. Have one Oreo Cookie Ball with a glass of milk for the yummiest snack.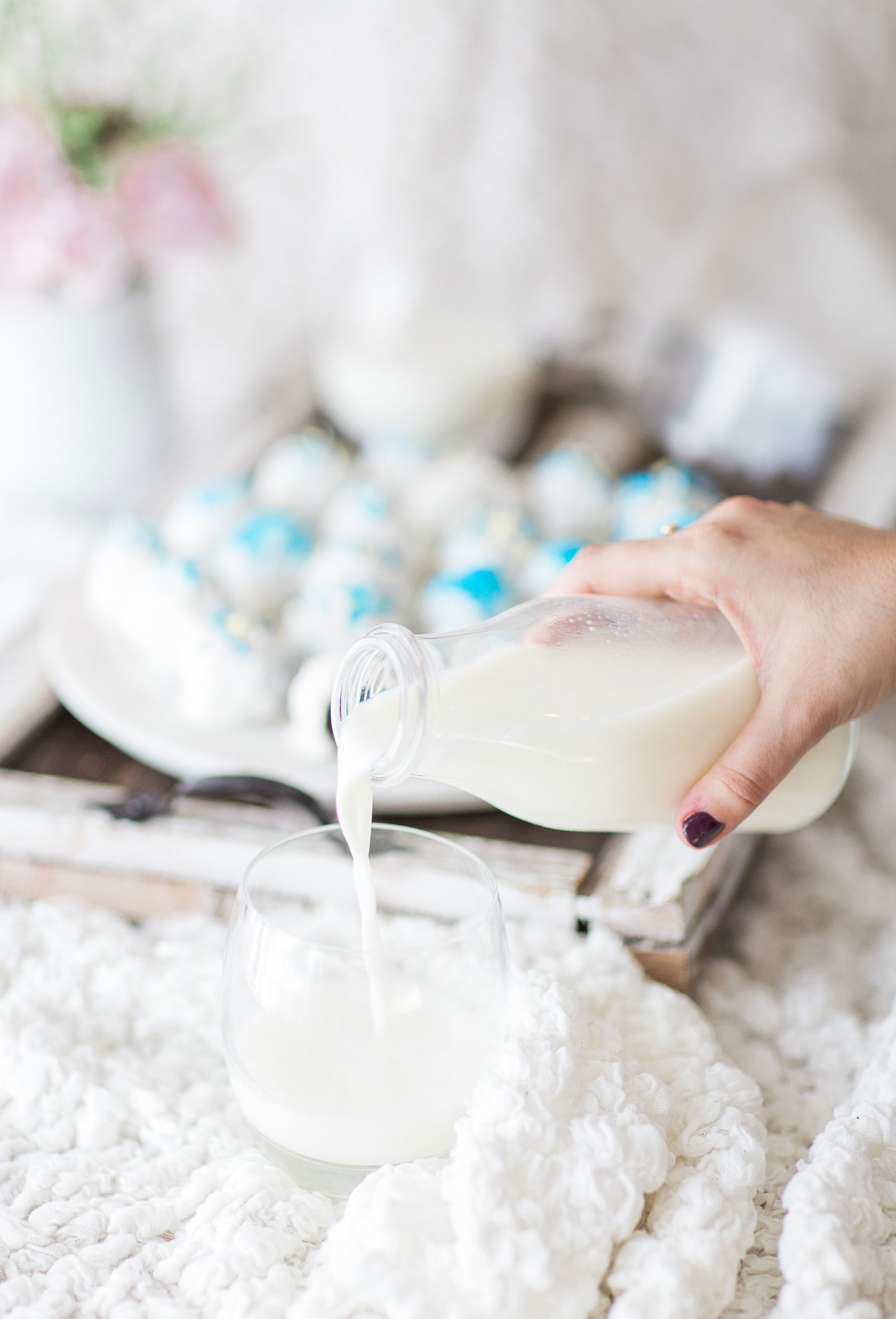 These are also such a simple gift for the holidays or dessert to bring to a holiday party. They're always a fan favorite and they really are so simple to make.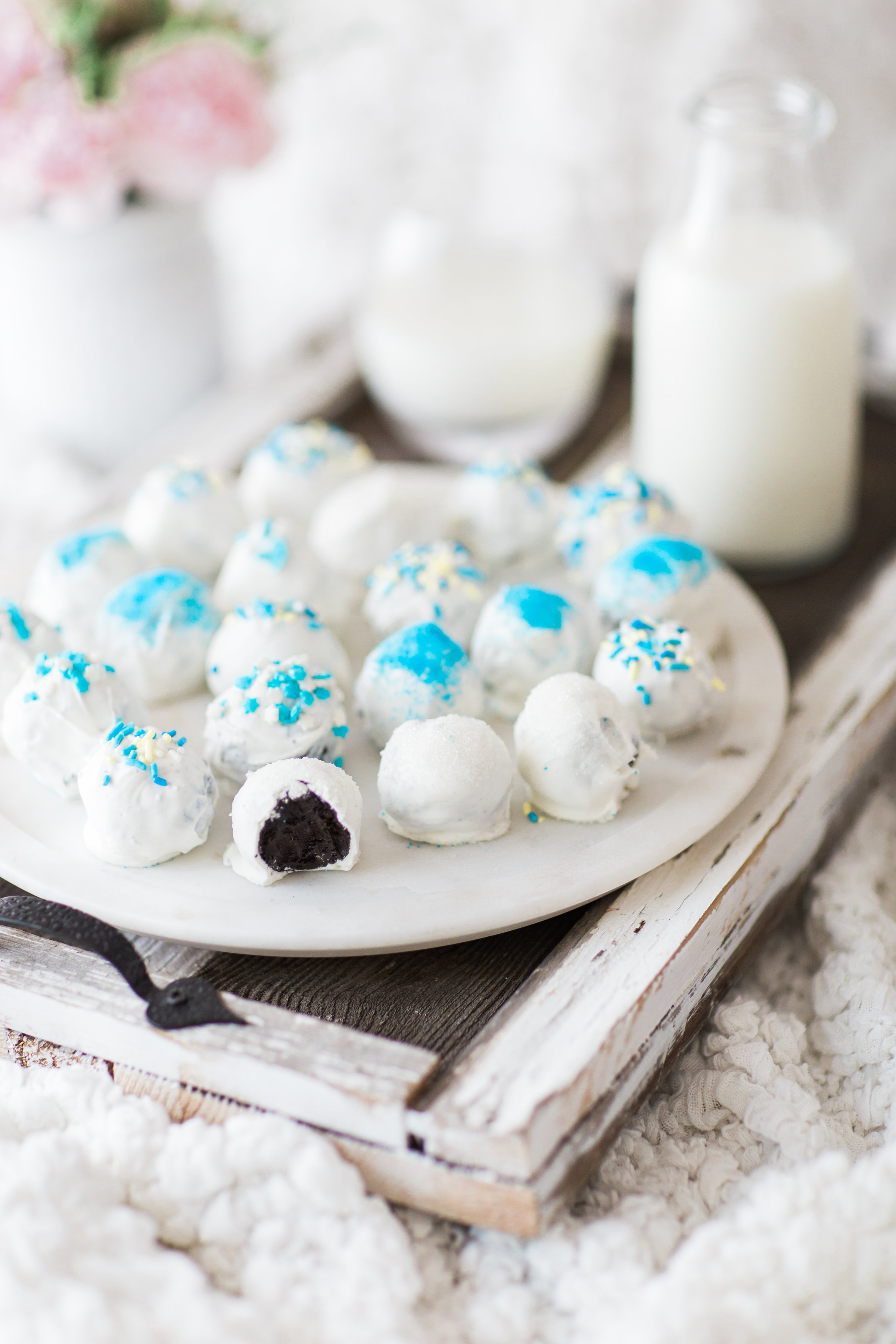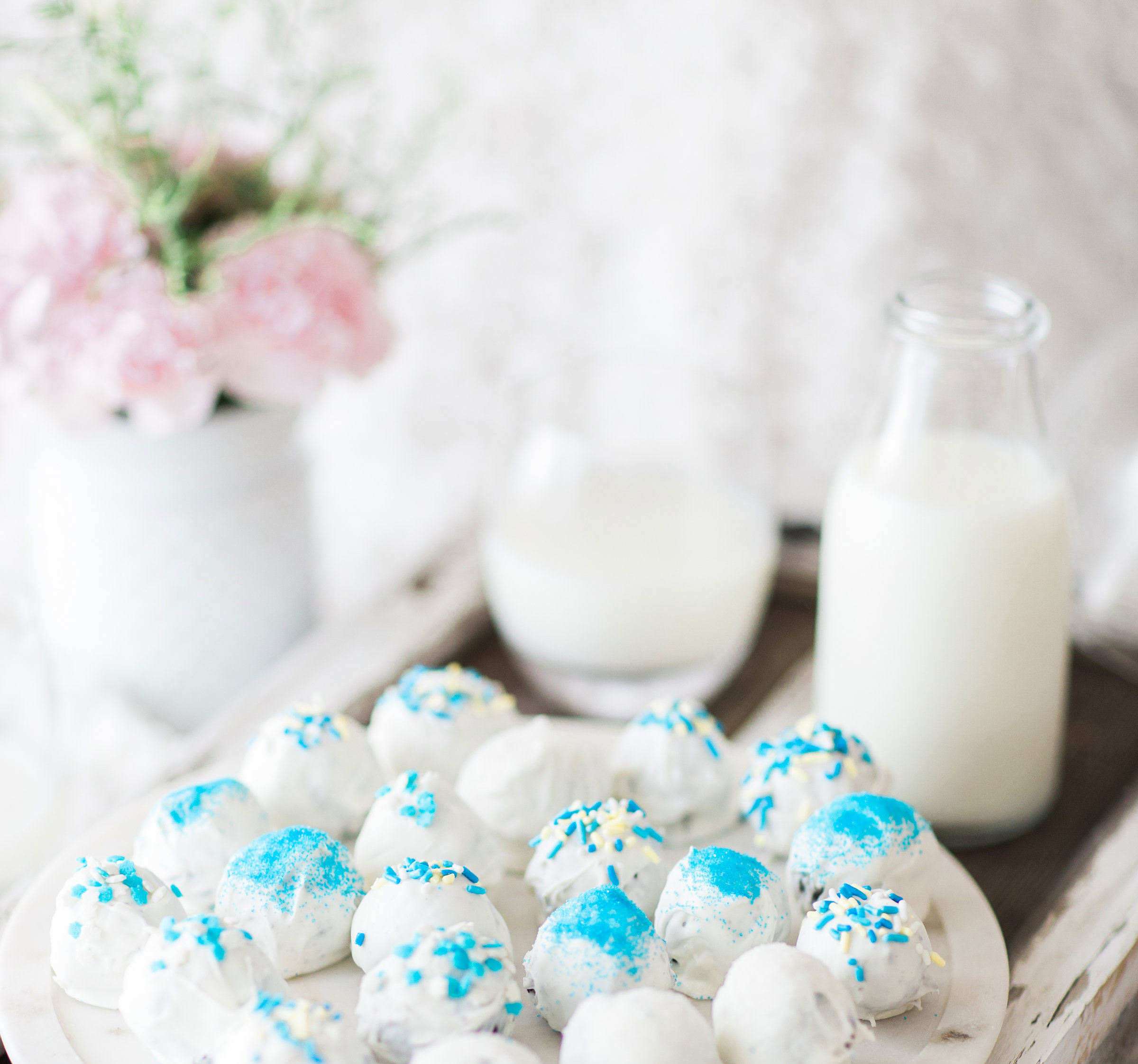 Have you ever made OREO cookie balls? Are you a fan?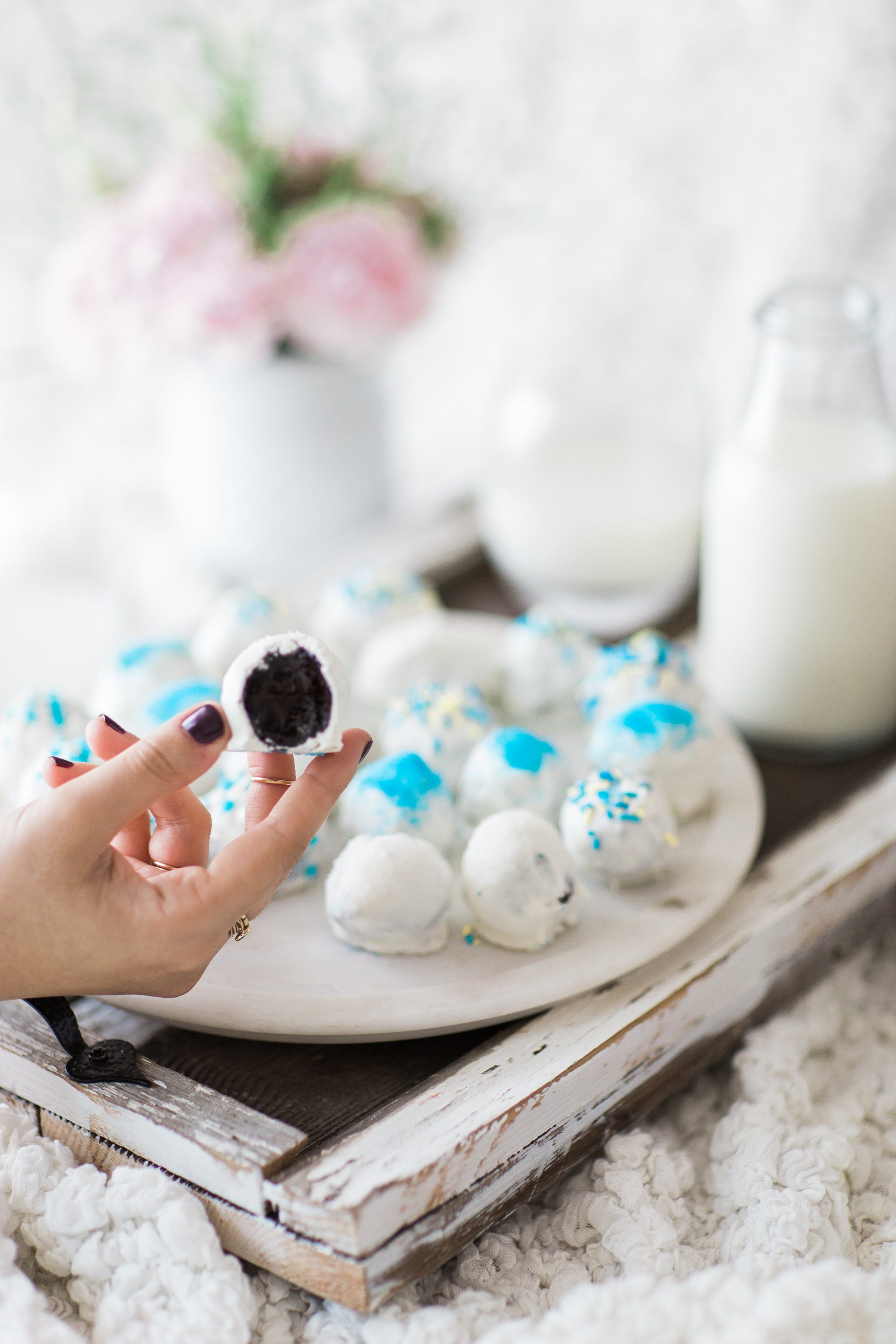 Learn more about the different varieties of OREOs available at Walmart for your next baking project!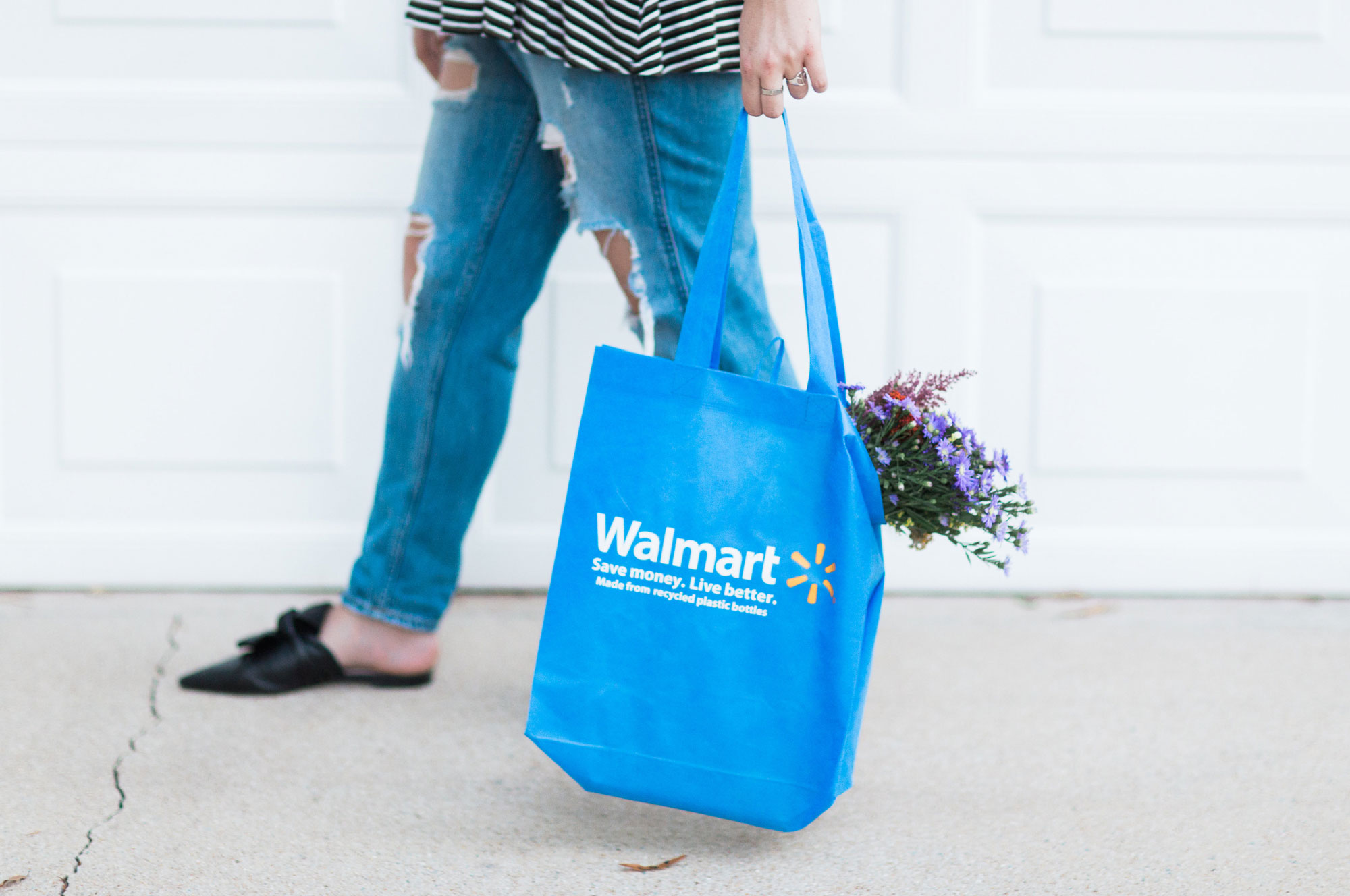 If you make your own OREO cookie balls this holiday season, be sure to let me know in the comments or tag me in your creations (@glitterinclexi) when you share to social media!
Photos for Glitter, Inc. // Photography by Annie Watts Photography
This post contains affiliate links, which means that if you click on one of the product links, I'll receive a small commission. Thank you so much for clicking through and helping to support this little blog business of mine! Read more about our site, privacy, and disclosure policies here.