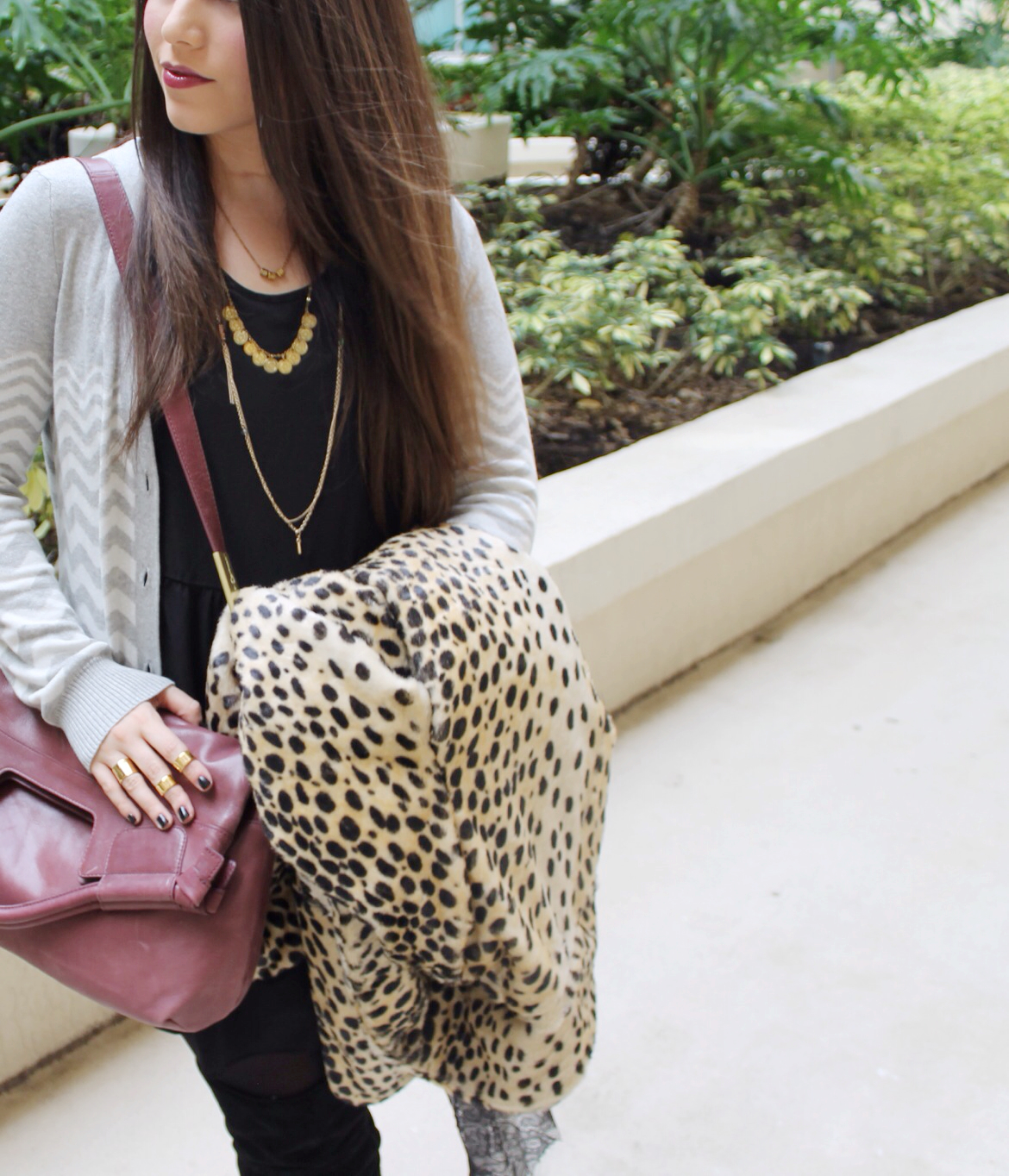 I love layering.  I mean, really really love it.  And I live in Miami … so obviously I'm dressed like the crazy lady at a crisp 77°.  But hey, at least it was 77° when I shot these photos, wearing a black dress, black tights, black suede over-the-knee boots, a cardigan (with elbow patches, I might add), a scarf, and a faux fur leopard coat.  But 77° IS Fall here in Miami, and today was actually a cold day.  So here you go, my take on layers … in the Fall … in Miami.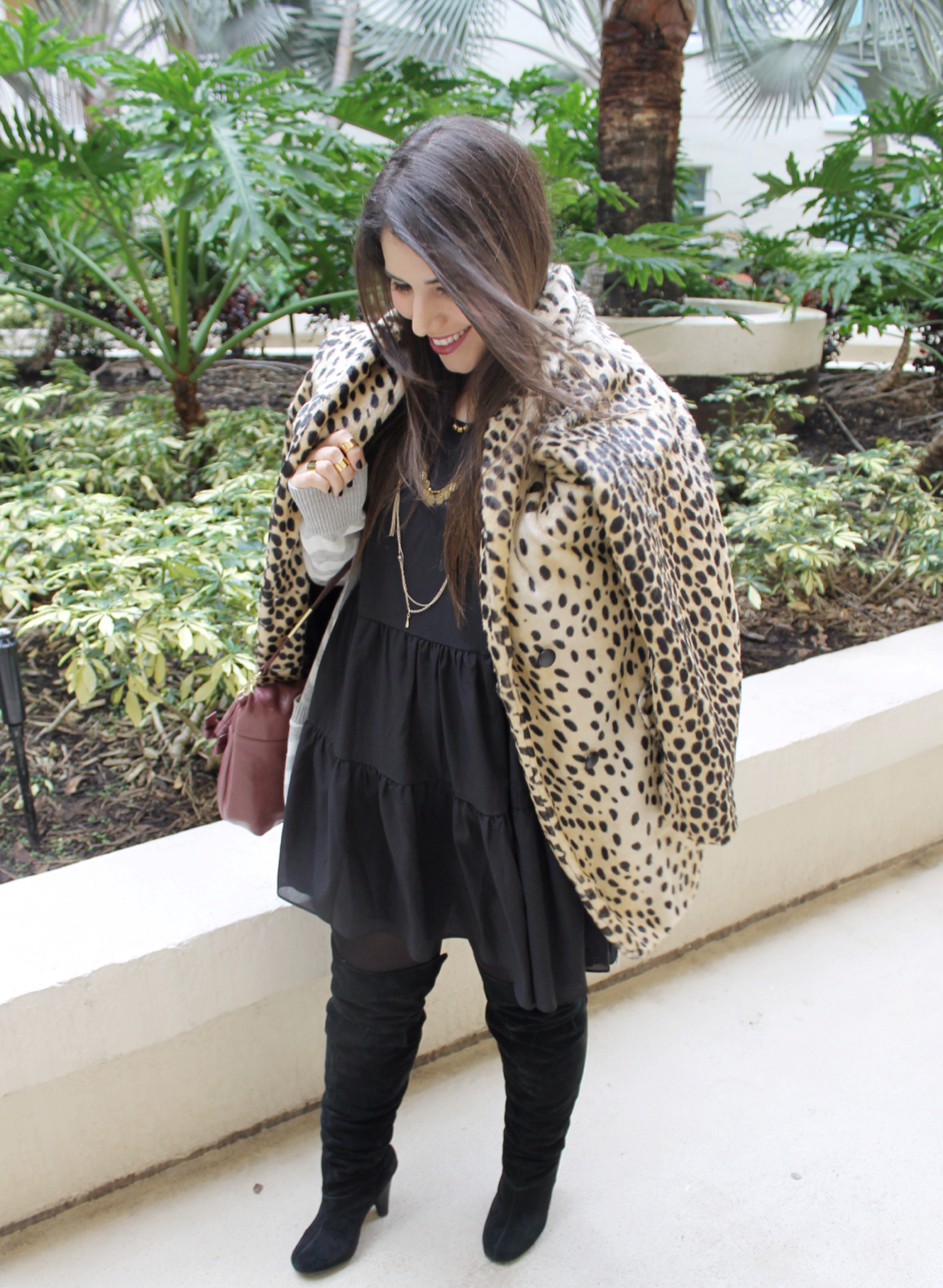 This was my last #Maxxinista shopping trip (for Fall), and I felt this bizarre shopping pressure to buy everything at T.J.Maxx … so I did. (Don't worry, I'll be back next week; I can't resist a good sale.) The biggest splurge so far: that gorgeous berry-colored designer bag with gold hardware. I've wanted that bag for ages. Chances are, if I ever did splurge on that bag, I would have gone with boring black (because I am horrendously uncreative when it comes to purses … I stick to staples). But the moment I spotted that ridiculously gorgeous wine/berry colored bag, I knew she had to be mine. The price tag read 50% off the retail price (and yes, I checked to be sure, and the very same bag is in department stores … ahem, now).  I went home with the bag, I pet the bag, I tried it on every which way, I thought about returning it, thinking "this is too much; I don't need another bag."  But you know what, I do.  I really really do.
Then there was the cardigan.  Chevron pattern, elbow patches, incredibly soft, and well, it's in cardigan form.  That one was easy.  I also re-wore an old T.J.Maxx favorite, that lace scarf.  In Miami, a thick knit scarf is rarely practical, but I love carrying a scarf with me, even a light one, especially because it's freezing inside every building here.  And last but not least, I finally went ahead and bought myself a new blow dryer.  I have been using the same $25 blow dryer for years.  During fashion week I actually relished in the hotel blow dryer … the one attached to the wall.  That's when I knew my at-home blow dryer had to go.  I upgraded, spotting a fancy brand blow dryer at T.J.Maxx (evidence in my shopping cart).  I even did a quick Google search and found out the blow dryer I had found (complete with leopard print, I might add), was actually a salon favorite, and I was getting it for 60% off the retail price.  Score.
Get the Look:  Chevron Cardigan with Arm Patches via T.J.Maxx // Black Dress // Over-the-Knee Boots // Gold Necklaces (here + here) // Designer Handbag via T.J.Maxx // Lace Scarf via T.J.Maxx // Hair:  Salon Quality Blow Dryer via T.J.Maxx // Gold Rings // Nail Polish: Essie in Licorice // Lips: Butter London Lippy Liquid Lipstick in La Moss


Expressing yourself through fashion, and knowing how to put together a great look—at great value, is what being a Maxxinista is all about. At T.J.Maxx you can score the unexpected to make your own personal style statement. Here's to rockin' your real deal.
Disclosure: Compensation was provided by T.J.Maxx via Glam Media. The opinions expressed herein are those of the author and are not indicative of the opinions or positions of T.J.Maxx.