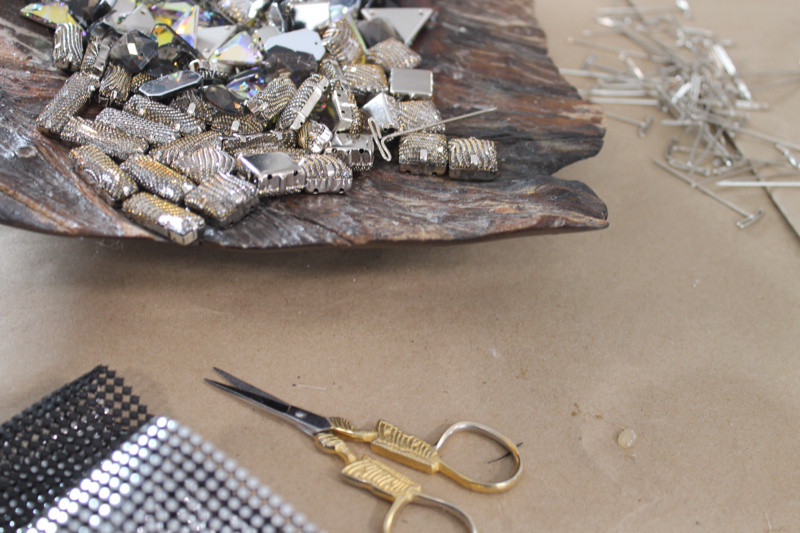 I've always loved creating my own Halloween costumes.  For starters, the latex and rayon costumes at typical Halloween costume shops are well, terrifying, and I've always loved getting crafty with a purpose.  Some years my handmade costume turns out better than others, and most years, my sister and I wind up throwing wings on and calling ourselves some version of "fairies" (gothic fairies, Katy Perry and Rhianna fairies, Royal Tenenbaum fairies, it's all good).  But this year, I have a pretty awesome blinged out mask to wear, so now all I need is the punk tulle skirt and I'm ready for Halloween … or the MET Gala.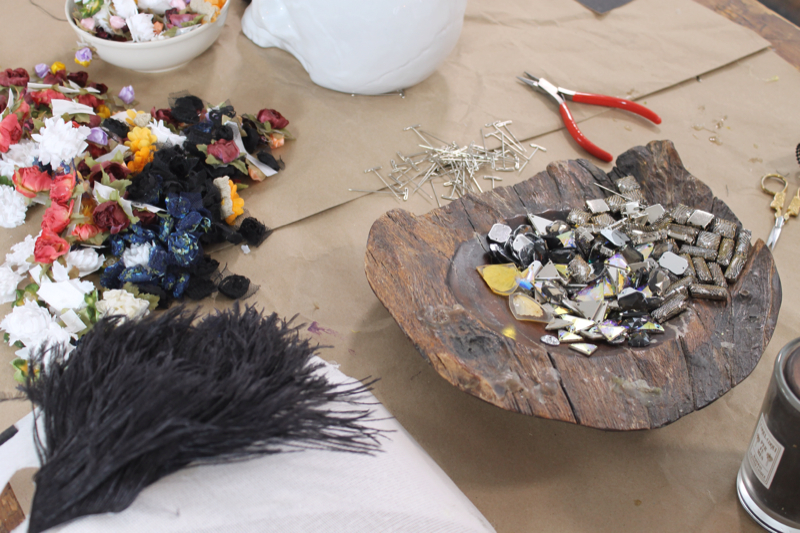 Back in early September, I spent a day with a few amazing and talented Glam producers, editors, and bloggers, and we created and filmed a little DIY Halloween Mask Girls Night In.  I had a blast breaking out the glue gun, flexing my DIY muscle, and bonding with great girls.
I also love the idea of throwing a little Girls Night In crafting party for pre-Halloween costume festivities.  Cover your dining room table with craft paper, light a few black candles, throw in a little wine and a few snacks, or pizza delivery, and you've got yourself a great little party, just before Halloween; plus everyone will leave with a Halloween costume ready-to-go.
What you'll need:
crystals, rhinestones, mesh-covered stones (what I used), fake flowers, leather, lace, feathers – or whatever else you plan to glue to your mask
mesh, to create your mask base
metallic mesh (optional)
push pins or fabric t-pins
sharp scissors
ribbon (cut a long string of wider ribbon and then cut in half; glue half of the ribbon to either side of your mask and allow them to dry; this way you have something holding the mask to your face)
A few tips for making your own DIY mask:
It helped to work on a styrofoam head form.  You can pick one up at any craft store or order online.
Cut your mask shape out of the mesh first.  Be sure to cut two holes for eyes out as well (trick: fold the mask at the point where you want the eyes and cut half ovals).
Use the t-pins to secure your mesh mask to the head form while you work on gluing to the mask.
If you're going for jewels, the mesh may not be heavy enough to support them, so we hot-glued strips of metal mesh over the white mesh (use the t-pins to keep everything in place) and then, using a pair of scissors, roughly cut out the shape of the mask.
Stock up on plenty of glue sticks (you'll need them) and keep your glue gun hot.
Don't be afraid to mess up.  Just glue something sparkly on top and it will look great!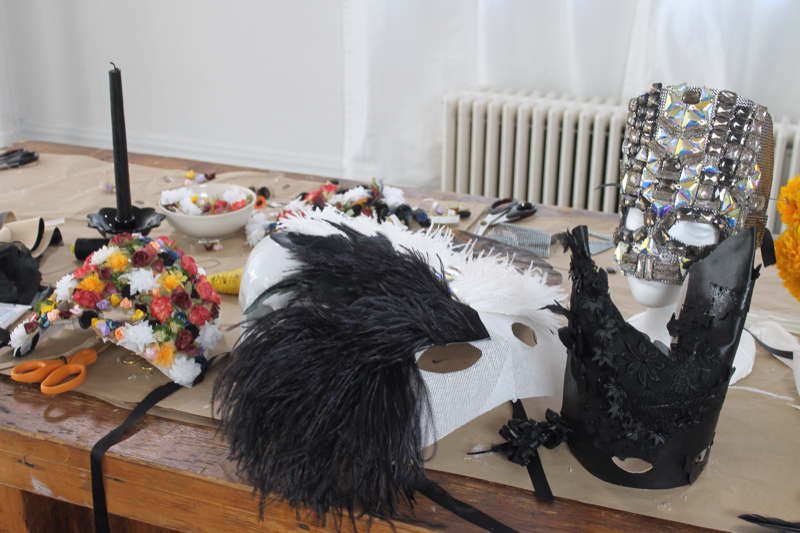 And here are all of the fantastic masks created by Channing, Rachael,  Erica, and myself; feathers, flowers, leather and lace, and crystals.
All Photos taken by me, Lexi of Glitter, Inc.