This post contains affiliate links, which means that if you click on one of the product links, I'll receive a small commission. Thank you so much for clicking through and helping to support this little blog business of mine! Read more about our site, privacy, and disclosure policies here.
Did you know that 90% of people love receiving a gift card as a gift, but only 30% of people feel good about giving one? Maybe present-shoppers worry a gift card is too impersonal or too simple, but I say, break out of the envelope and give a gift card in style. Plus, you'll be making your gift recipient oh so happy. I mean, who wouldn't want a gift card to Target? That's holiday gold in my book! And this season, I've teamed up with Target to celebrate the giving of GiftCards, so I set out to dress up the Target GiftCard® for holiday gift-giving.
I thought about a cute presentation for the Target GiftCard®, and something my gift recipient would use again and again. Got it – a coffee mug, confetti, and a reusable confetti streamer to hang in their own home. Lucky for me, I had plenty of craft and scrapbook supplies already in my (overflowing) craft closet – the Scrapbooking/craft aisle at Target gets me every time.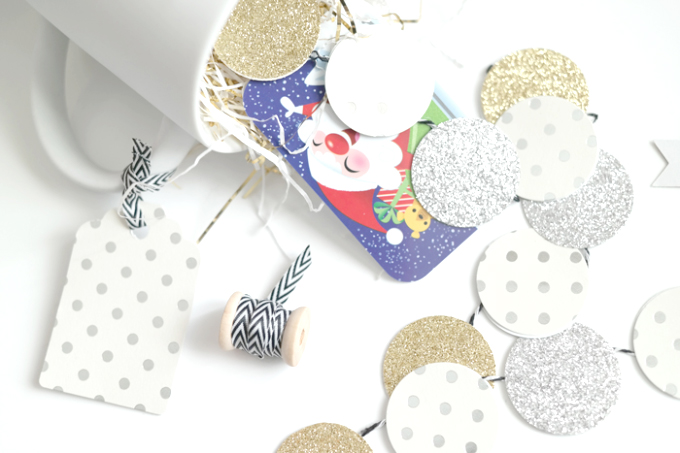 As for the mugs, I actually purchased several of these simple mugs last year after the holiday season at a major discount and had just been waiting for the perfect excuse to use them. A mug is a pretty universally loved gift, because we're all coffee and/or tea drinkers at heart.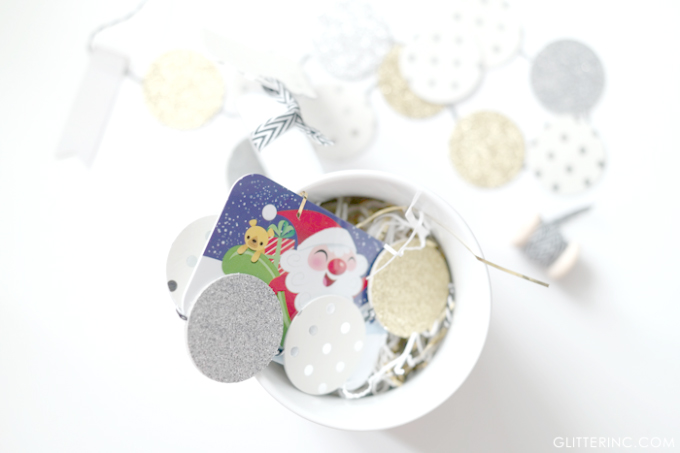 I filled the mug with some inexpensive confetti, my DIY confetti garland/streamer (DIY details below), and added a little paper tag to put the gift recipient's name. (I just used a scrapbook tag punch for that one plus a single hole punch at the top to string a short piece of ribbon through.)
By the way, that cute little dotted confetti garland you see is incredibly easy to make. (They're also the perfect present-topper or in this case, filler, because everyone loves a bit of confetti to hang over their desk or mantle, especially when it's made with love.)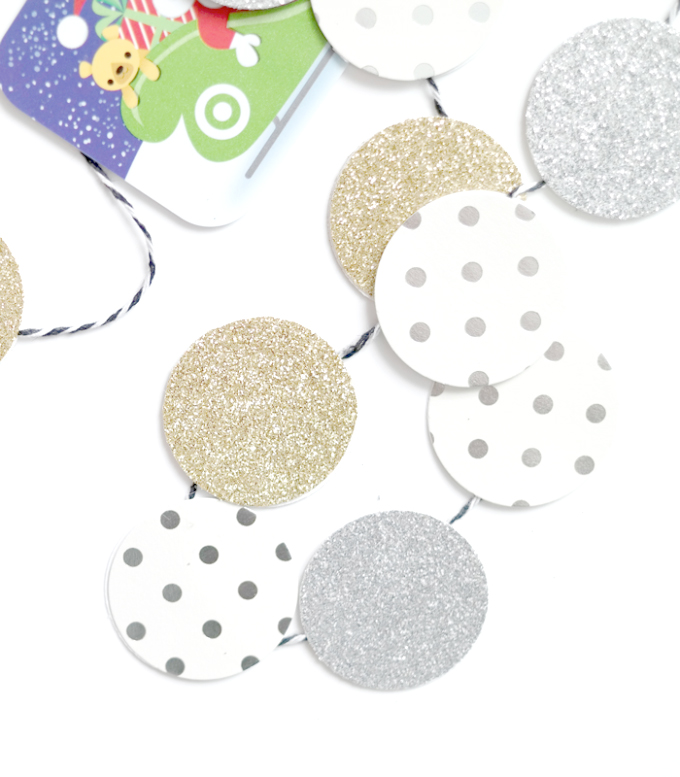 DIY CONFETTI GARLAND
WHAT YOU'LL NEED:
baker's twine or other ribbon or thread
scrapbook paper (I found gold and silver dotted paper and glitter paper, 'tis the season!)
circle scrapbook punch
double-sided tape or craft glue
DIRECTIONS:
Punch out an even number of circles, i.e., if you want a garland about twelve circles long, you'll need to cut out twenty-four circles to create both the front and back.
Line up half of your circles, evenly spaced apart (it doesn't have to be perfect.)
Place a piece of double sided tape or a dot of glue on the inside of each of those circles (the side without pattern should be facing up at you).
Lay your baker's twine across the paper circles, then one by one, place another piece of double-sided tape or a dot of glue on the inside of the additional circles and press them over each twine-topped circle. Do this for each circle, and match up until you have covered all of the open-faced circles. If you used glue, allow to dry completely before using.
Voilà! You've got yourself a confetti garland, and a simple and adorable way to package a Target GiftCard® for the holidays.
So buy your Target GiftCards® early for the upcoming holiday season, stock up on a few cute crafty accessories to dress them up, and give the gift everyone really wants – an excuse to go shopping!

We partnered with Target to bring you this slice of holiday cuteness as part of their #GiftCardCheer campaign.
Disclosure: Compensation was provided by Target via Mode Media. The opinions expressed herein are those of the author and are not indicative of the opinions or positions of Target.