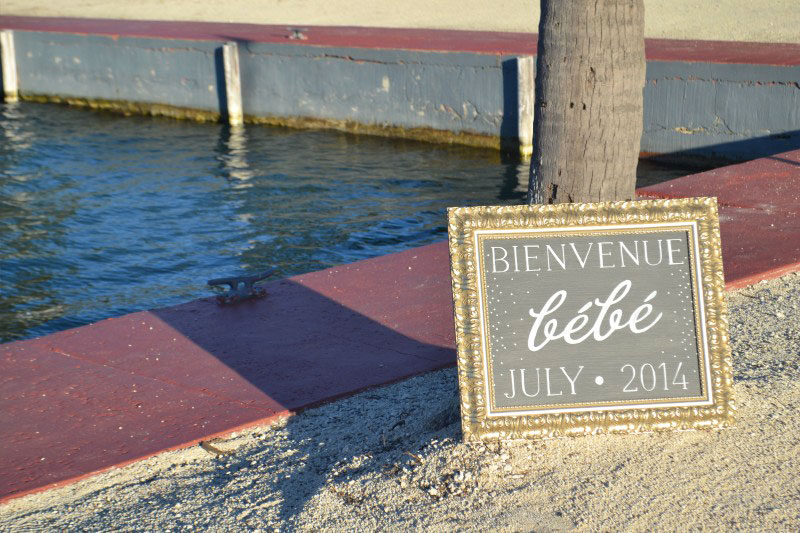 Hubby and I are pregnant with our very first baby!  Words cannot even describe how incredibly excited (and incredibly nervous) I am.  I've had this looming sense of guilt now for the past few weeks, because I've kept such a big secret from you all.  You have always been my sounding board – supportive and welcoming and awesome – and I'm sorry for keeping this from you.  Actually, I've kept the secret from nearly everyone I know, mostly because I was scared.  It hasn't been an easy road to get here.  Today we are just over four-and-a-half months pregnant, and I'm finally ready to shout it from the rooftops.  But it's been bumpy to say the least.  I thank goodness for my perfect hubby, family, and close friends, who understood and respected my need to keep things under wraps, who held my hand and told me it was going to be okay, because they knew it would be.  Without getting into too many details, this was not our first pregnancy.  We lost our first, and I'd never cried so much.  I struggled through cancer before that, and even now that we're finally (and miraculously) pregnant, I have to see a high risk pregnancy doctor every three weeks, along with our regular OB/GYN, which makes for an extra-packed schedule at all times.  But as my oh-so-patient OB/GYN pointed out, "Hey, at least you get to see your little one on an ultrasound constantly!"  And he's totally right.  That baby sure is a cutie. (Whew! That felt good to get out!)
I really always have stuck by the adage, "Life isn't about waiting for the storm to pass, it's about learning to dance in the rain."  So dance we shall.
And with that, a very funny new-mom-to-be pregnancy story:
At the beginning of the second trimester a few weeks ago, when we were set to see our high risk OB/GYN, I woke up that morning and put on a brand new pair of panties, ready for the fancy doctor's visit.  My little sister had bought me a bunch of pretty new panties from Victoria's Secret for the holidays, so I was pretty excited to wear a snazzy new pair for the visit.  Let me just say that we are panty lovers.  So I go to work for a few hours before the big appointment.  I have to pee; no surprise there.  And in the bathroom, on the morning of my first new doctor's visit, I realize that on the backside of my pretty new panties in big glitter letters, it screams, "Let's Party!"  I am mortified.  Who goes to a brand new high risk OB/GYN wearing party panties?  I'll tell you who … me.  And that, my friends, will set the tone for this pregnancy.  Try as I might to be a cute pregnant momma, wearing pretty new panties, and totally "getting it", I will always be the pregnant mom-to-be who wears the wrong panties, forgets where she puts … well … everything, and is generally spazzed but happy (very very happy.)
I have so many fun things planned for Glitter, Inc., and I hope you all don't mind that I may be sharing a few pregnancy and new mama stories along the way.  Don't worry too much, though, this site will always be home to shoe obsessions, recipes, and very pretty things.  Here's to 2014!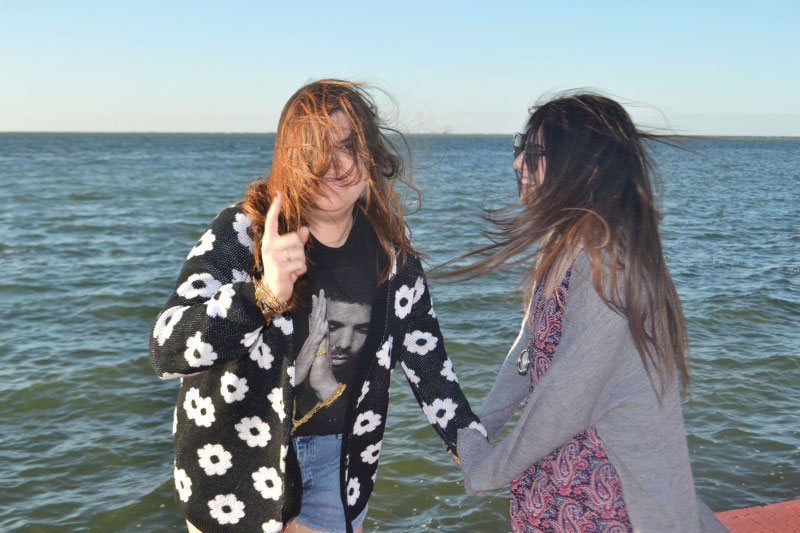 (By the way, just so you get an idea of how crazy windy it was on the beach over the weekend … here's my sister, Rowan – a.k.a., our fearless photographer – lecturing poor hubby on the importance of capturing a photo where our hair is NOT out of control.)
And last but not least, a huge thanks to Rowan, my photographer, and Manda at Beth + Borrow for designing the incredible hand-painted Bienvenue Bébé framed chalkboard (which will eventually make it's way into our sweet bébé's nursery … more on that later.)  Manda is incredible to work with and can design just about anything you dream up, including this sign for the little one, who I have already determined to be very French.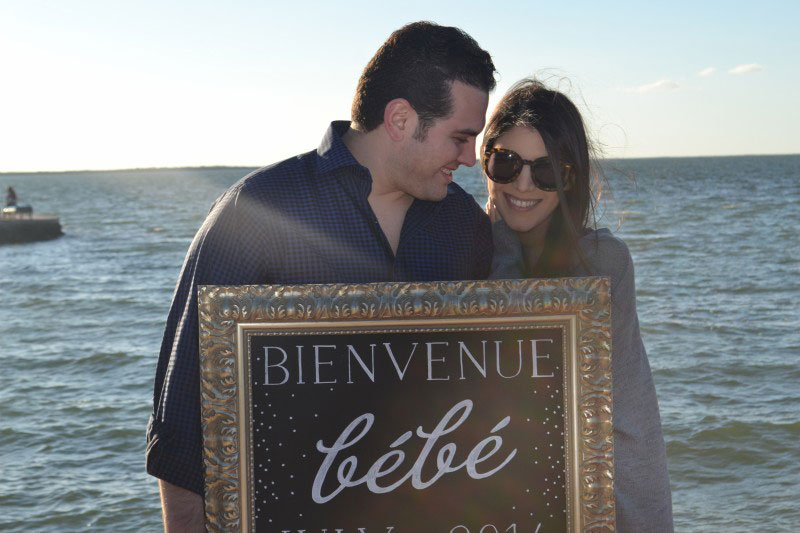 Photography: Rowan Holzberg // Hand-painted Announcement Chalkboard: Beth + Borrow // Zara Dress // Free People TGIF High-Low Cardigan // Stuart Weitzman 50/50 Over-the-knee boots //  Karen Walker Super Duper Strength Sunglasses // Luv AJ Monacle Necklace