A few months back, I teamed up with a few amazing and talented vendors to put together this Pantone-inspired wedding inspiration styled shoot using Pantone's colors of the year, Serenity and Rose Quartz. The shoot's theme: a paper-crafted wedding. With so many adventurous DIY brides trying out a few handmade details of their own for their big day, we loved the idea of sharing simple ways to DIY details of your wedding ahead of time while still knowing where and when to hire the pros so that you can enjoy the big day.
Behind-the-Scenes:
In the world of weddings and styled shoots, if you're trying to get something published in a magazine or on one of the many huge wedding blogs, you have to sit tight and NOT share anything from the shoot until it's featured. Try telling that to a group of unbelievably excited creatives! We've all been nearly bursting with excitement to share this shoot, and then we got the e-mail: we were being published on Ruffled Blog. I couldn't be more proud, and I'm so excited to share a few special behind-the-scenes details that made the shoot the stunning wedding inspiration that (I hope) it is. Be prepared; it's a long one with plenty of funny details that go into the making of a styled shoot!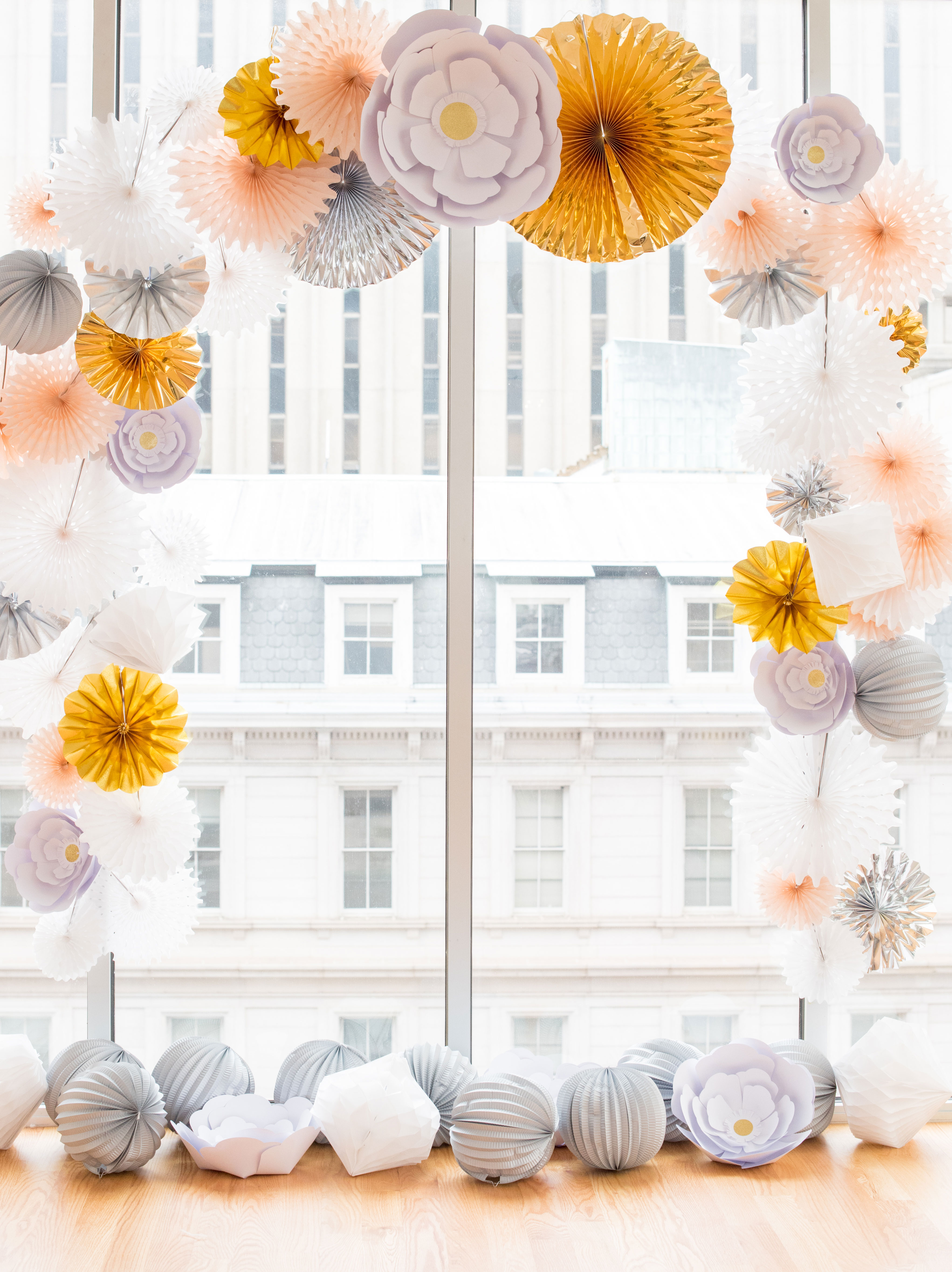 I was crazy for this paper backdrop idea. Using oversized 3D paper pinwheels, balls, and flowers and plenty of clear tape, we hung up this gorgeous paper archway as the ceremony backdrop (and a great place to take photos during the party.) We weaved in metallics – gold, silver, and bronze, to give the Pantone colors a bit more oomph and contrast.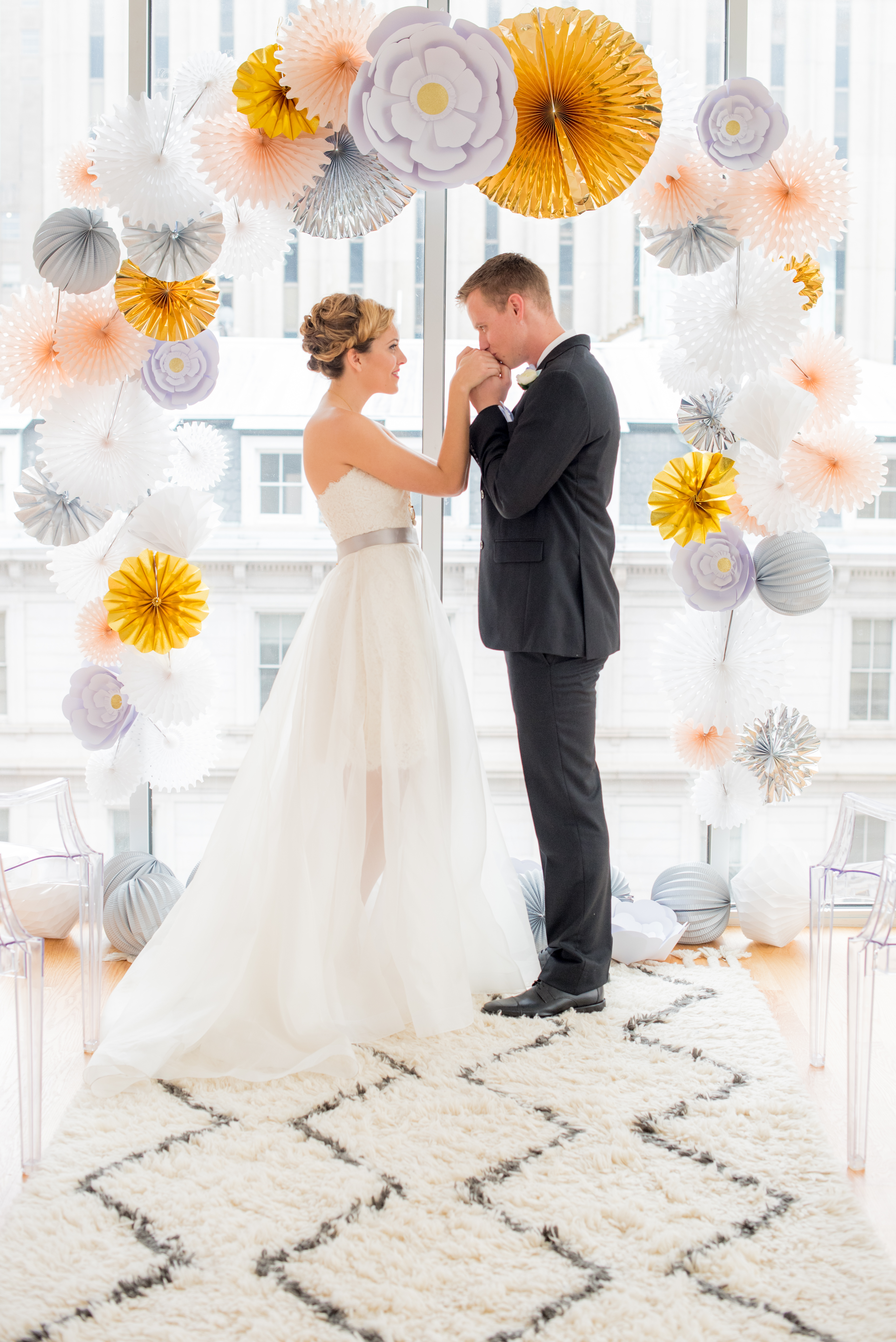 Notice anything familiar? Totally snuck in the clear acrylic chairs* we use for parties and my favorite souk rug straight from Scarlett's nursery.
*We get asked about these chairs ALL OF THE TIME. They're copies of the much-pricier ghost chairs. You can get them on Amazon!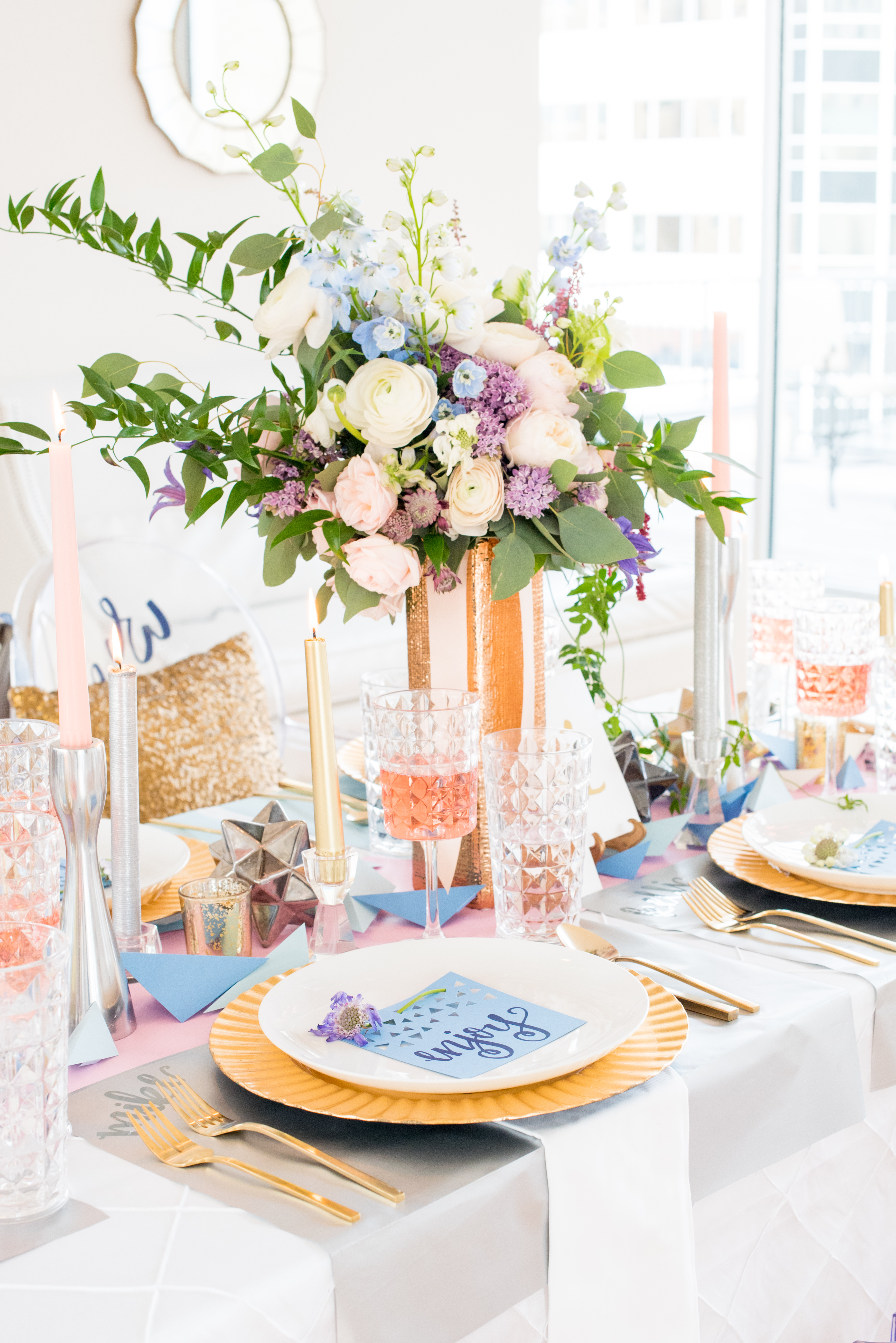 My jaw dropped when I saw the flowers that Eclectic Sage had brought to the shoot. And Mikkel of Mikkel Paige Photography captured everything in such a gorgeous light. I may never stop sharing these photos.
We decorated the tabletops with plenty of flowers, candlesticks and votives, my favorite gold flatware, geometric cups and glassware (These are THE best because they're plastic! Hey, you've gotta do what you've gotta do when living life with a toddler!), gold chargers (Total score from Big Lots! Remember our dining room tour with them?), beautiful paper details, and plenty of metallics mixed in with our pantone colors.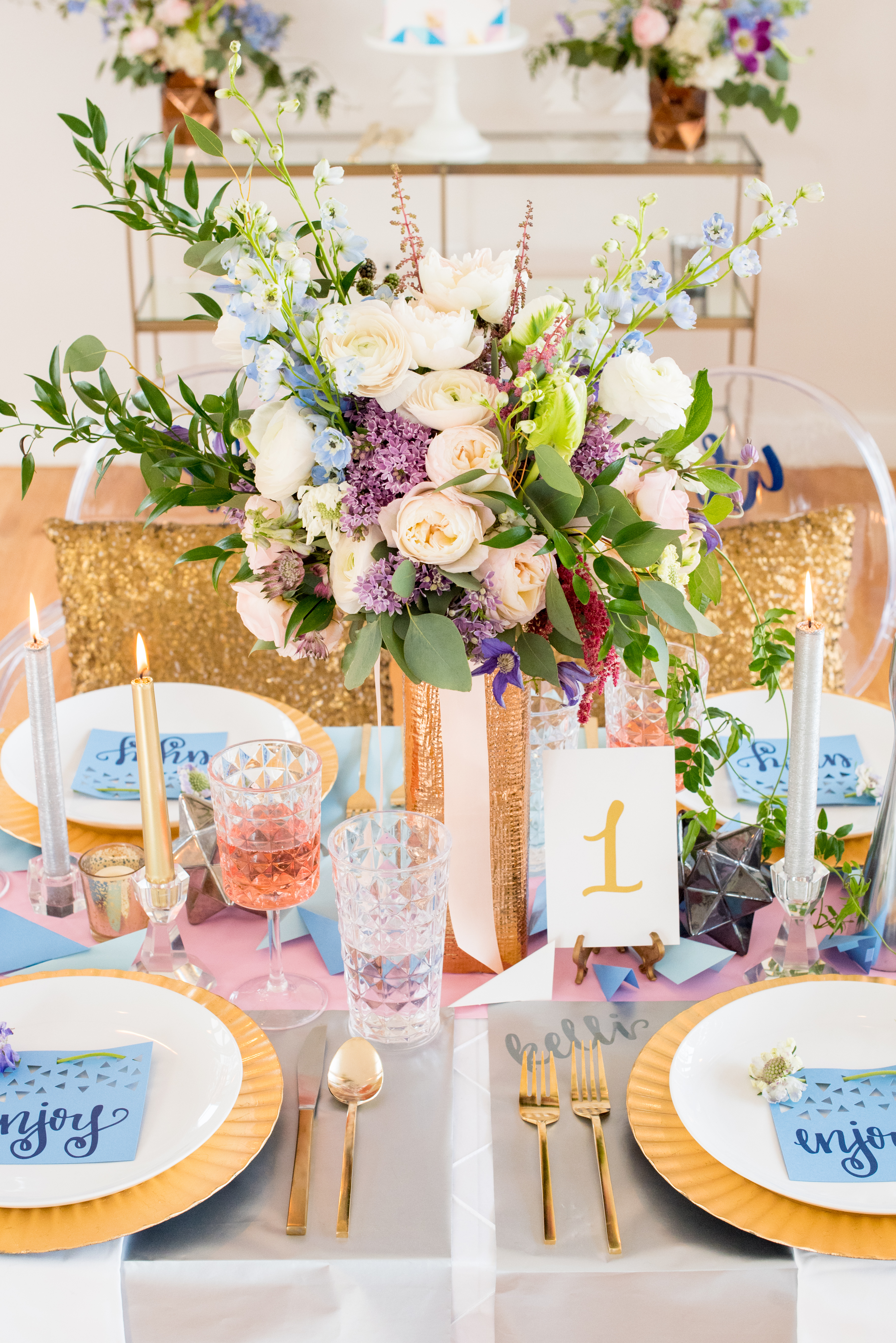 Gold sequin pillows, guys, You can never go wrong with sequins. You know, in moderation.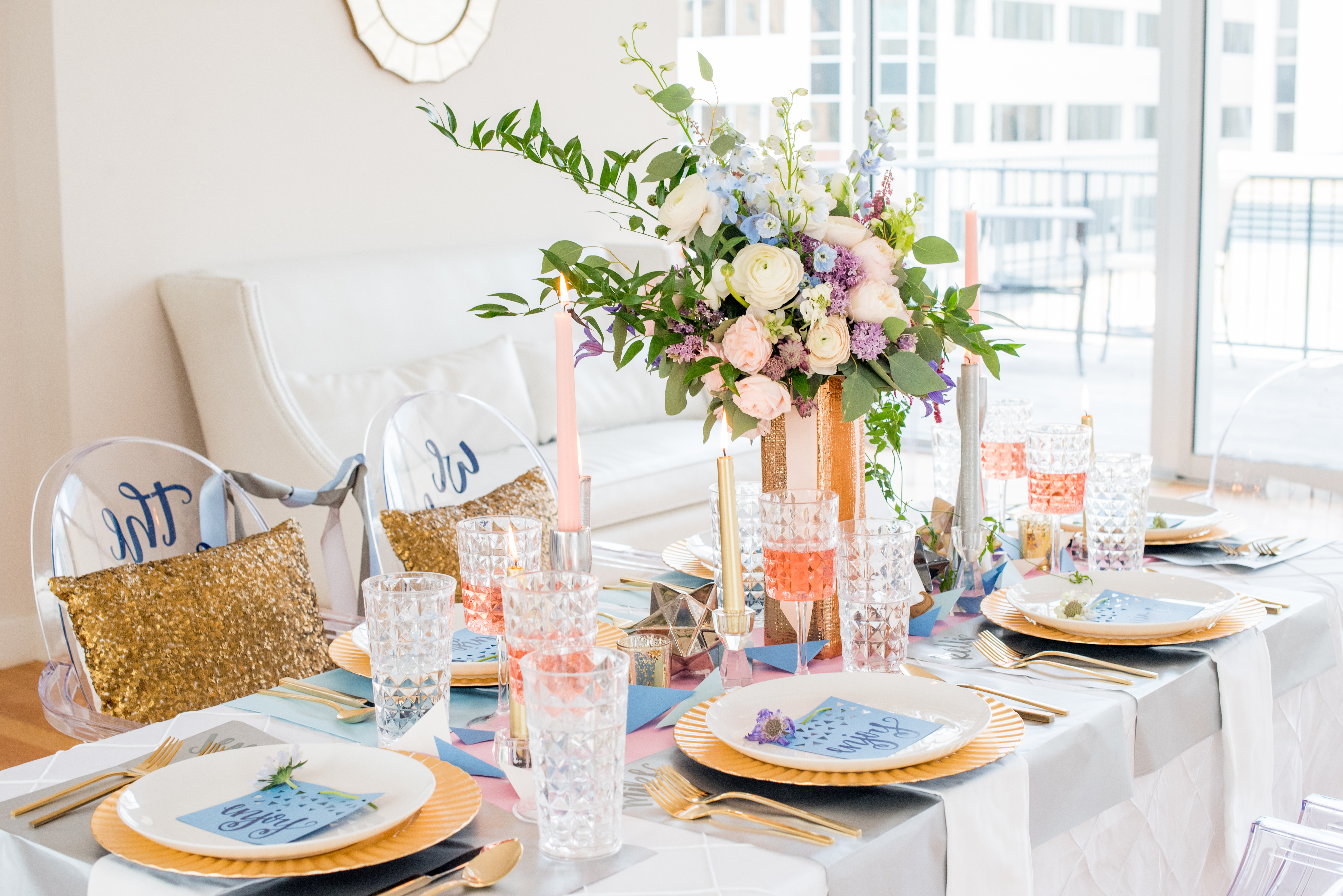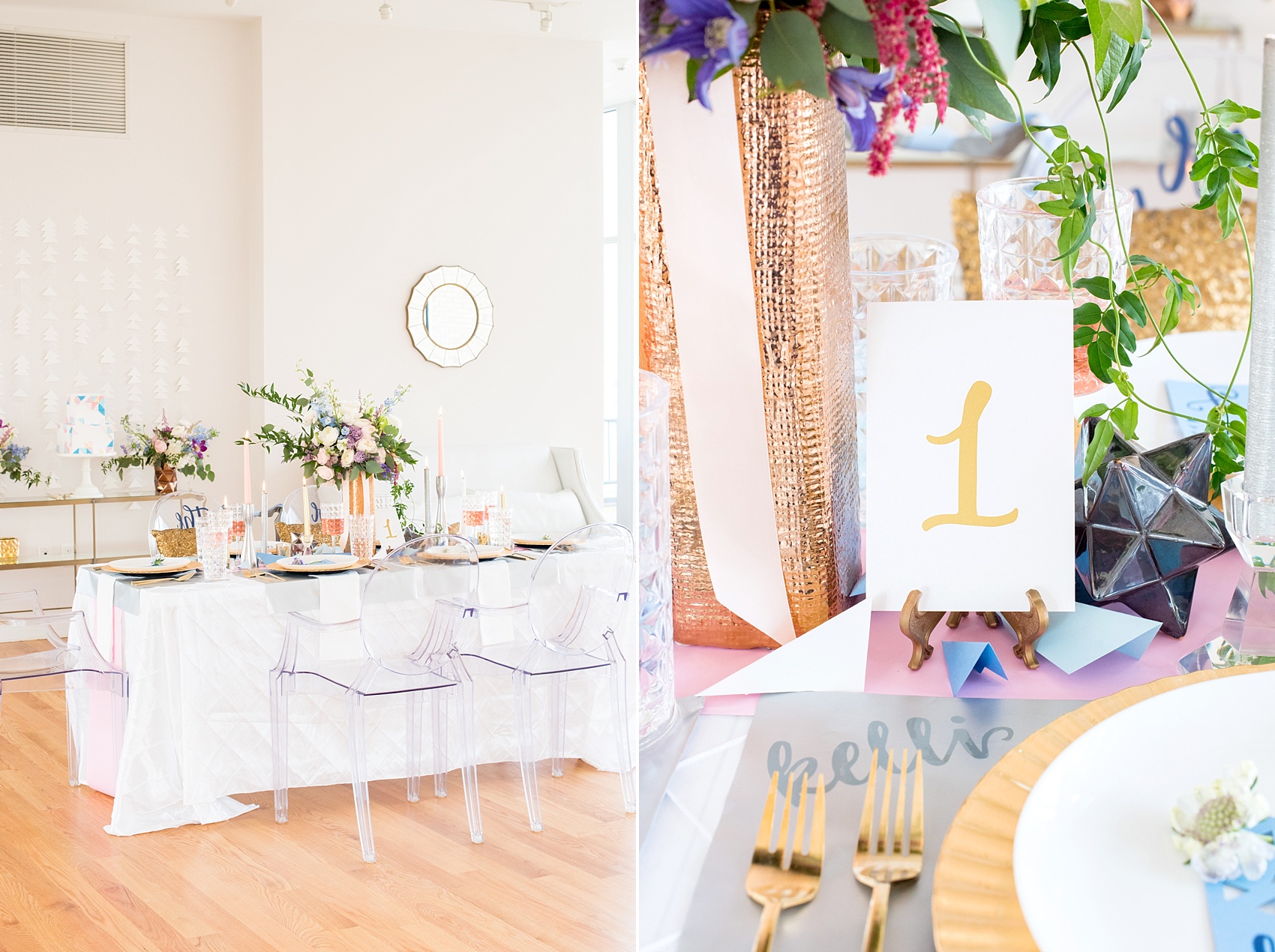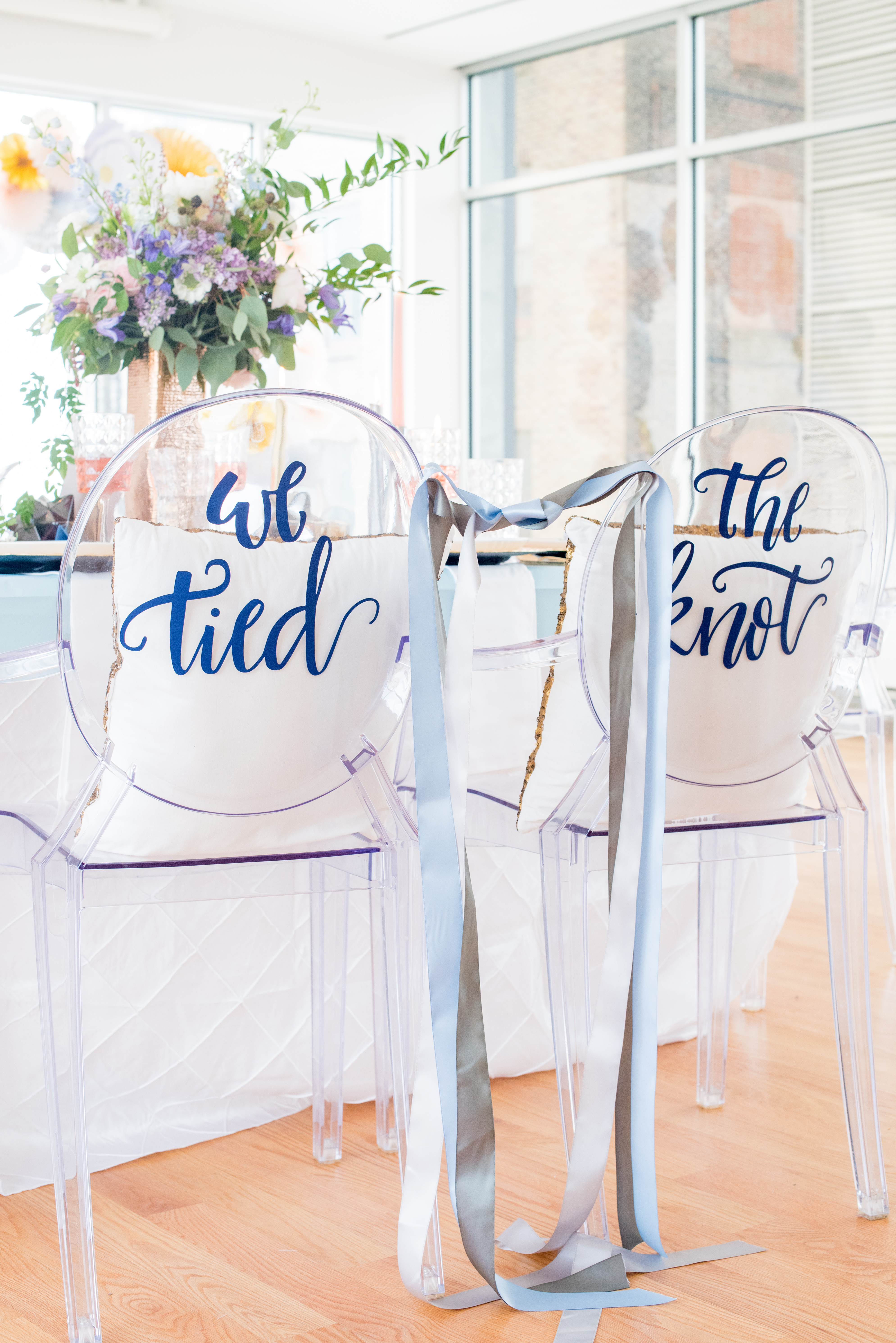 Sarah of Bella Joviality designed these awesome laser cut "we tied… the knot" decals to put on the bride and groom's chairs and then we used ribbon tied in a knot to connect their seats.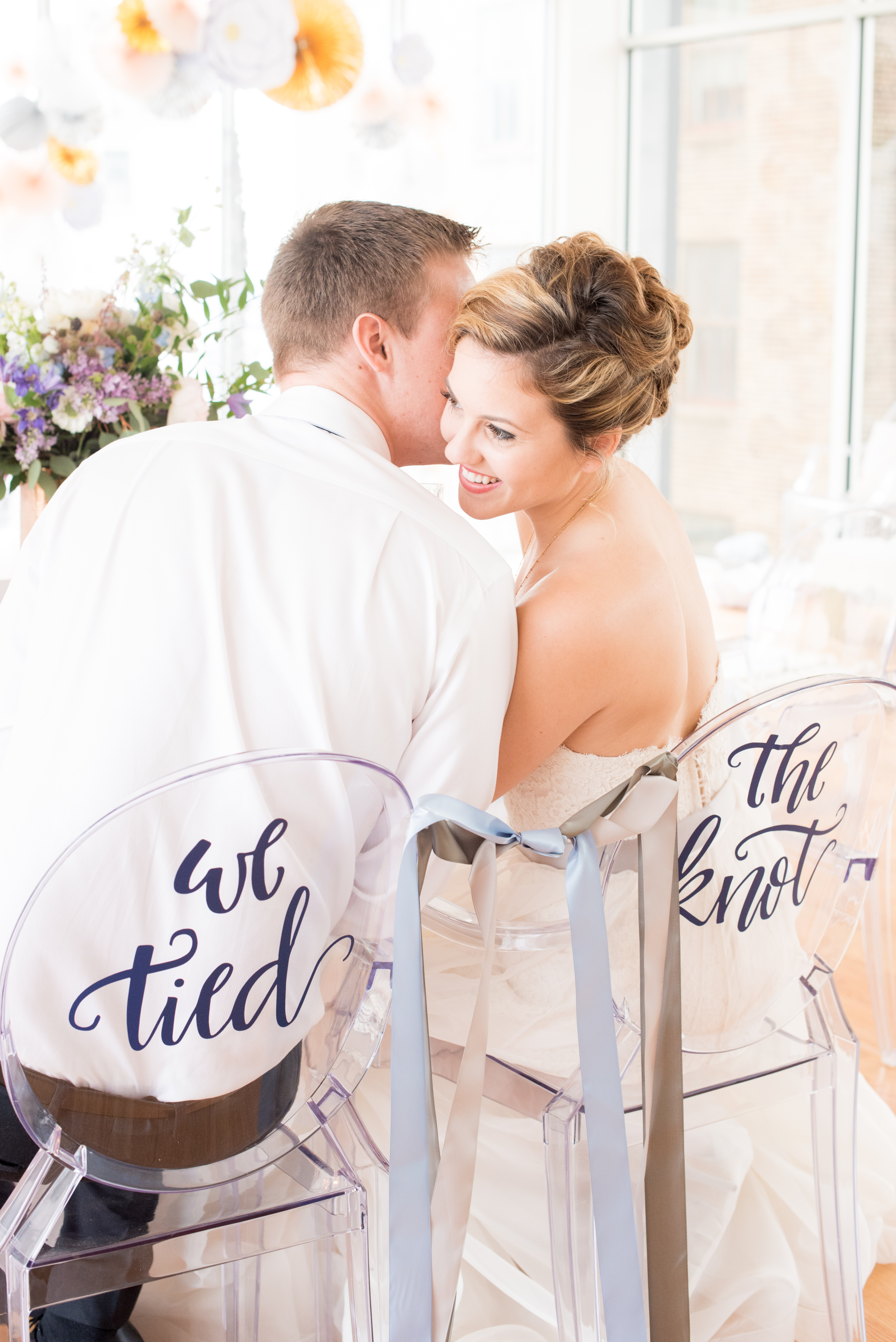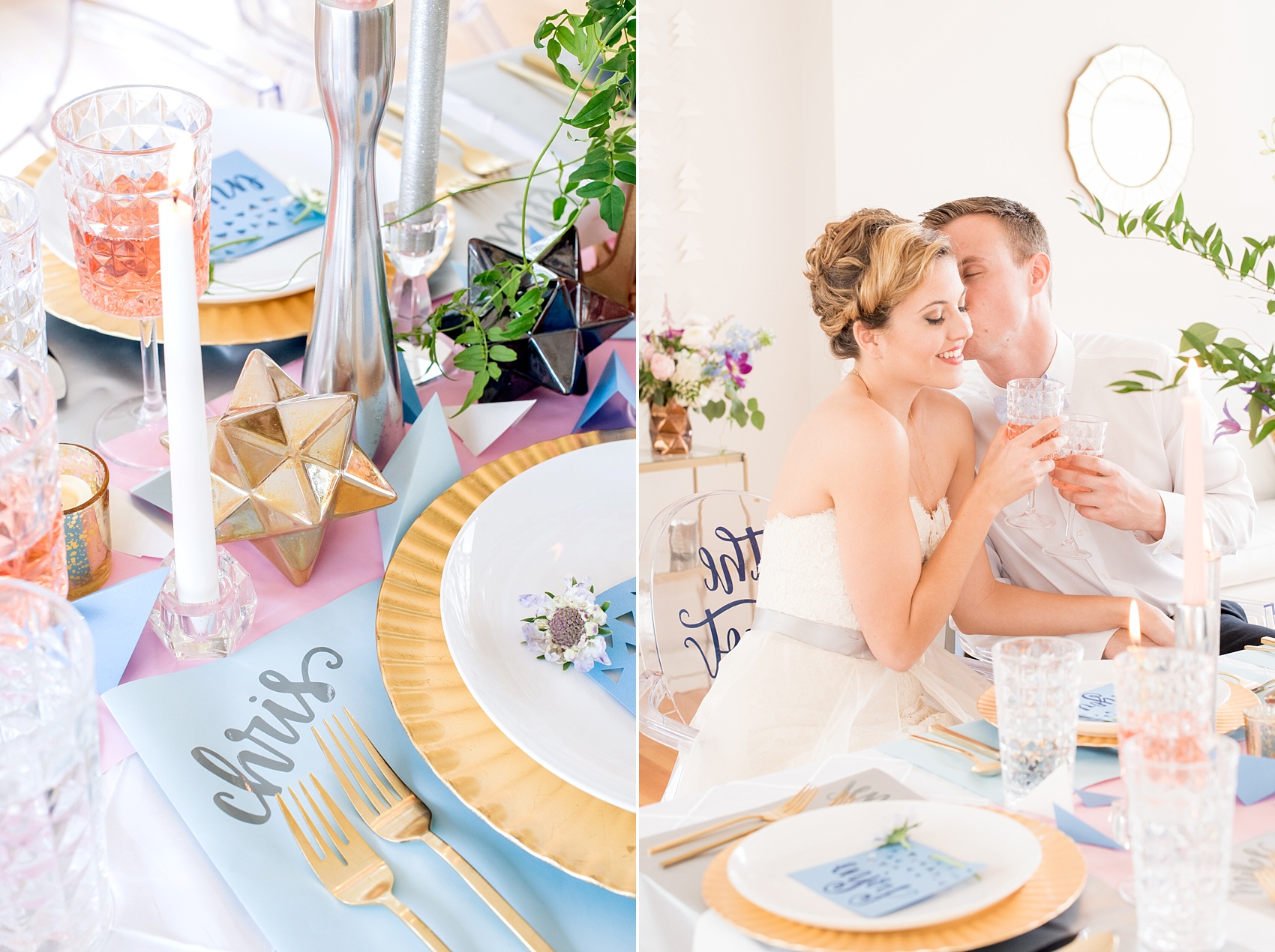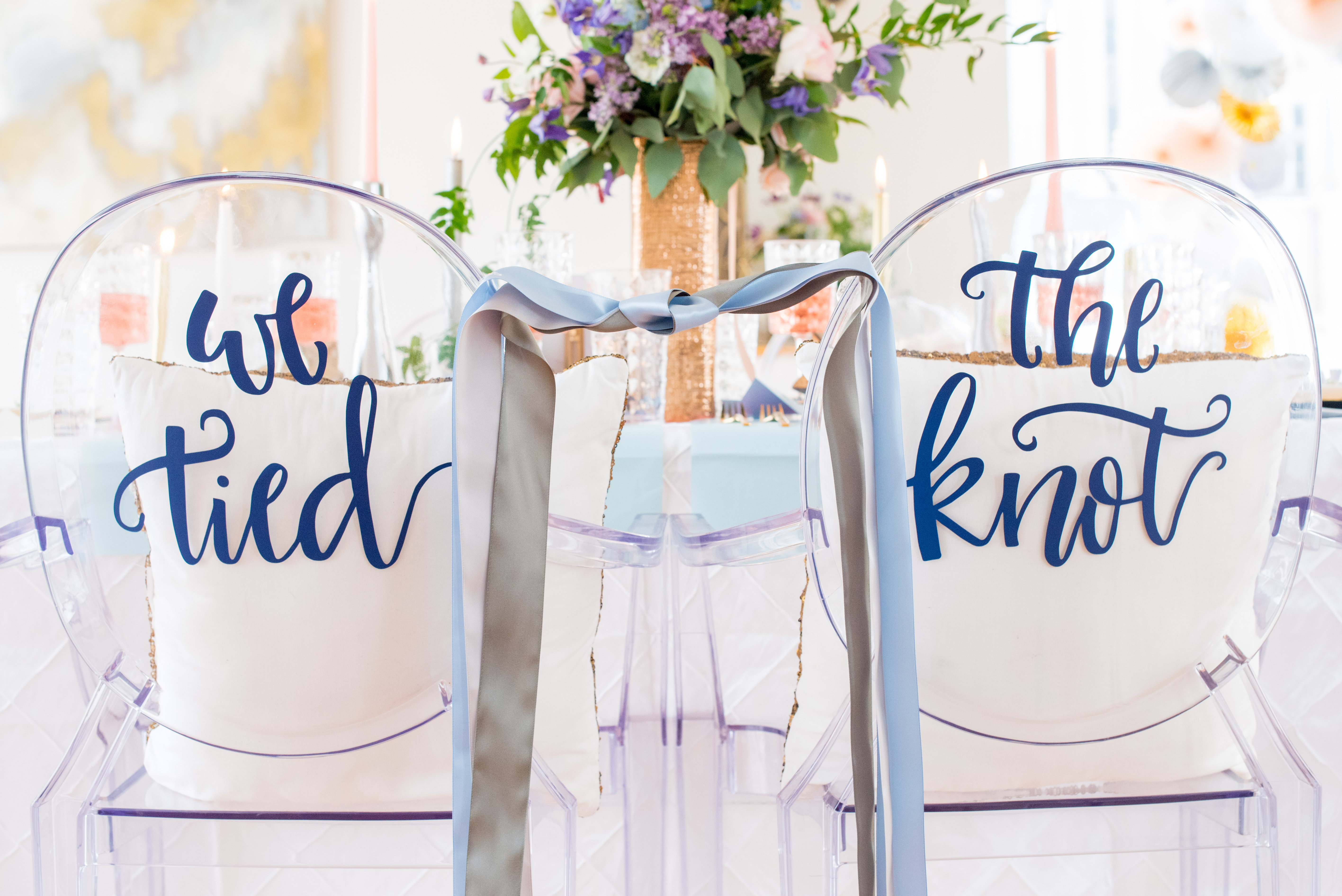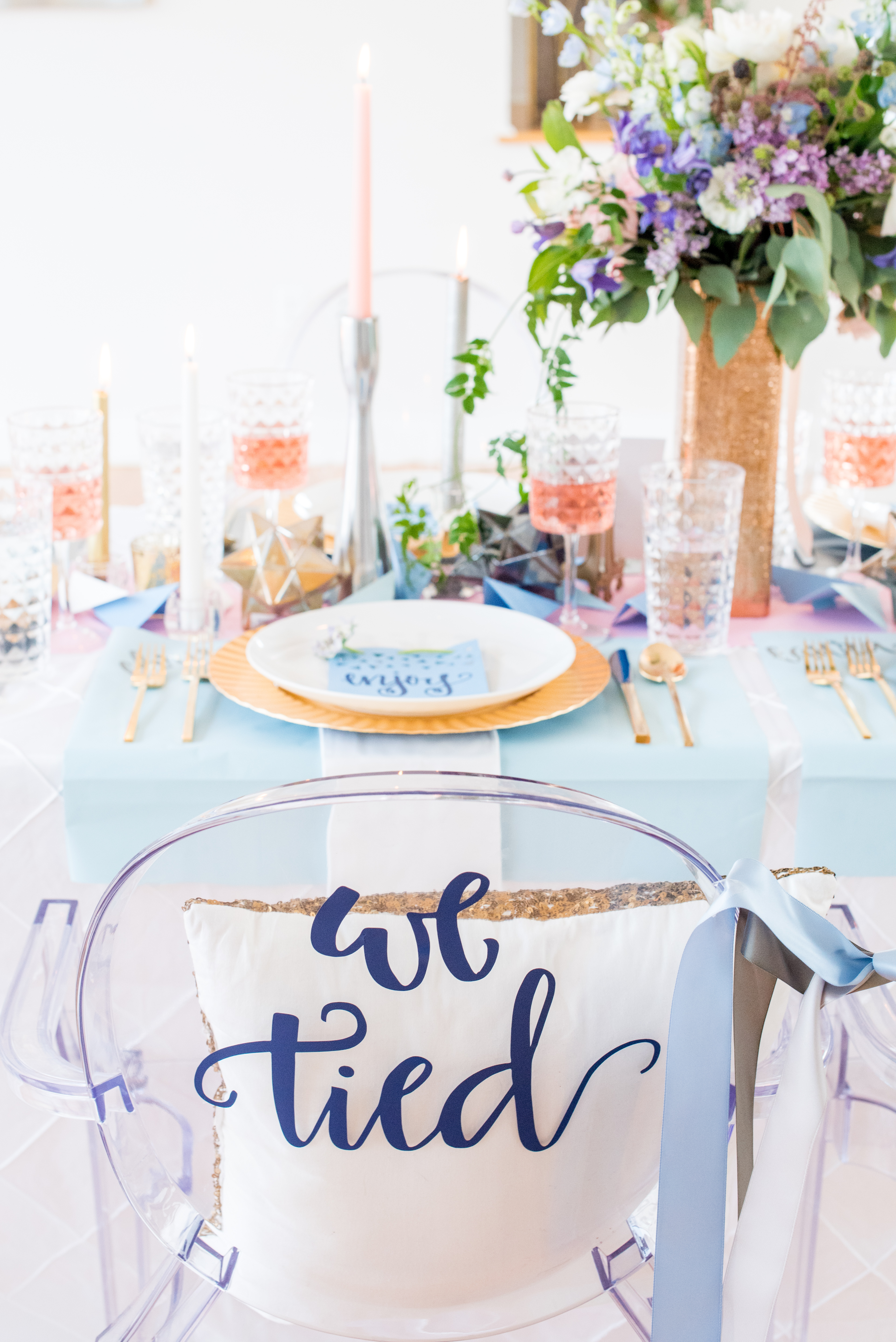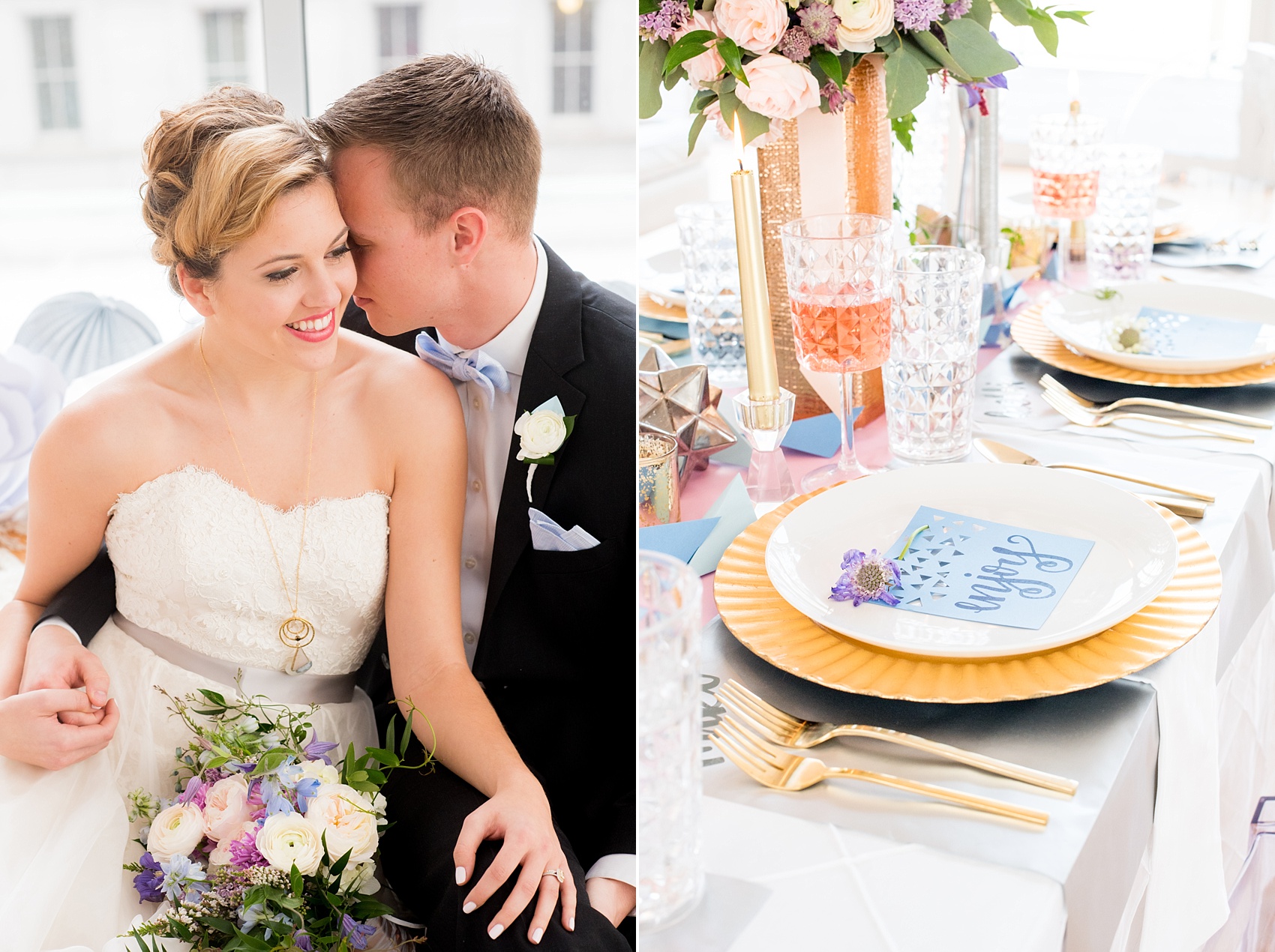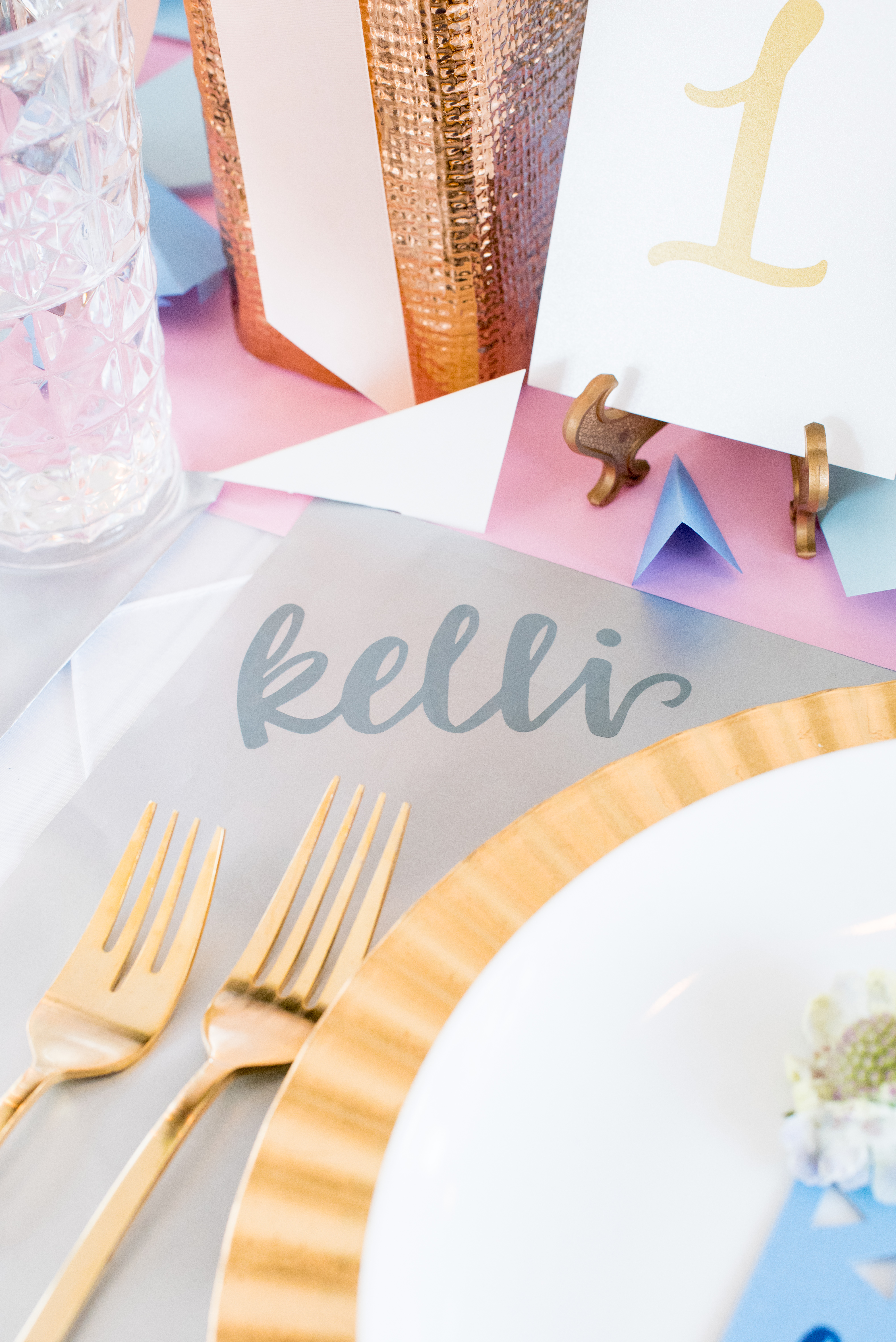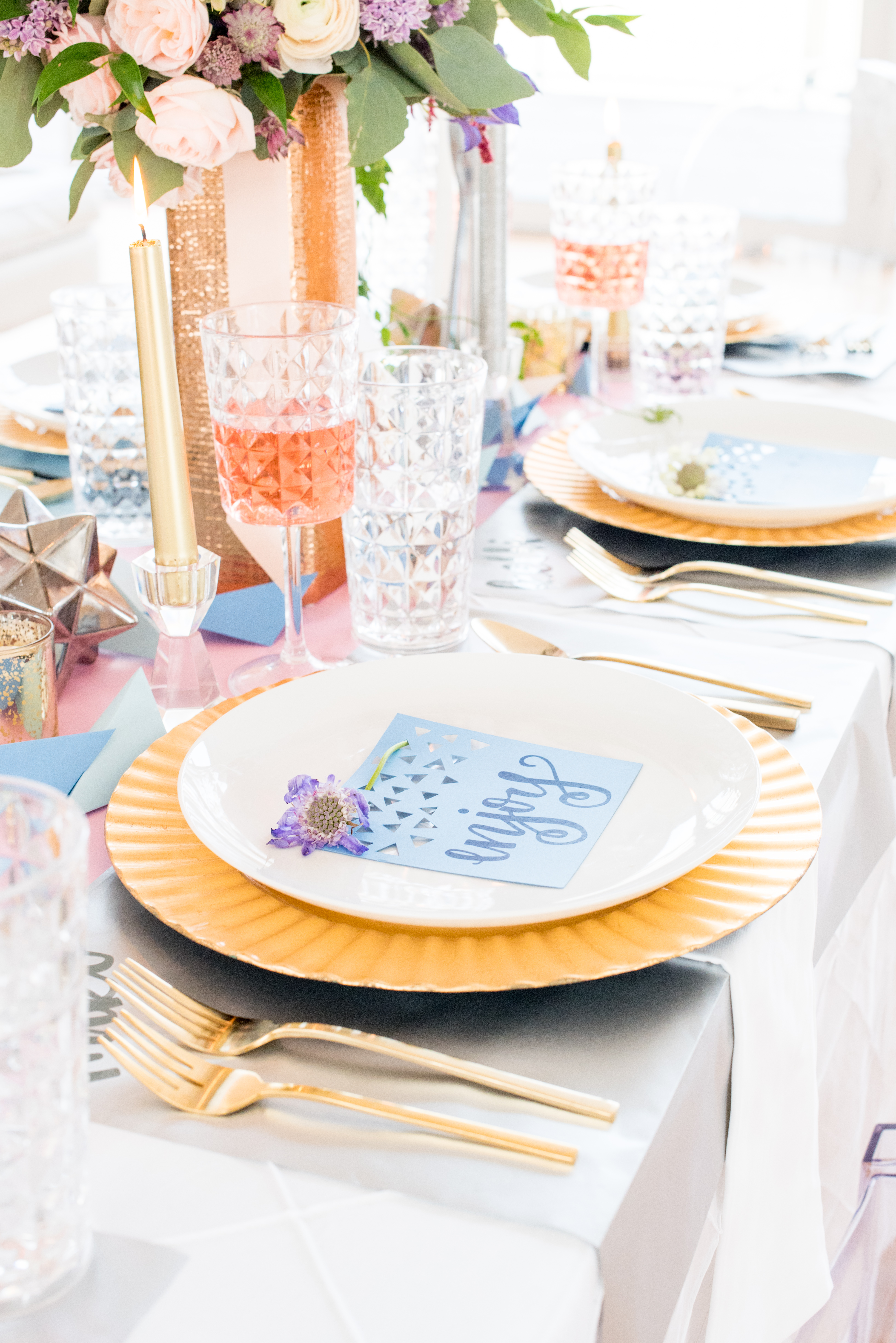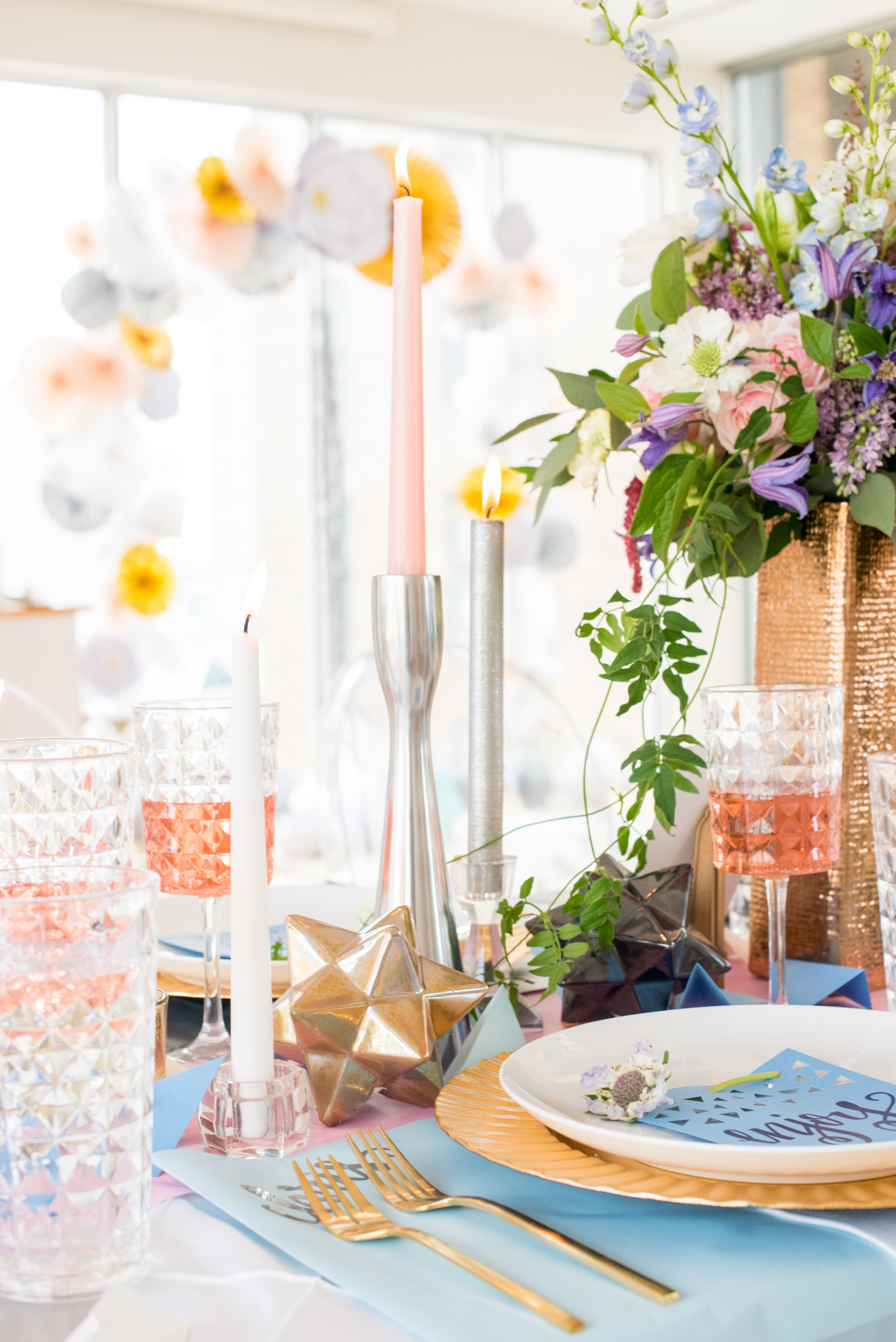 Details like laser cut names on paper placemats, the paper triangle backdrop behind the cake [You may remember seeing me putting together that beast on Snapchat → glitterinclexi (lots of fun behind-the-scenes there!)], even subtle paper details incorporated into the boutonniere and bouquet.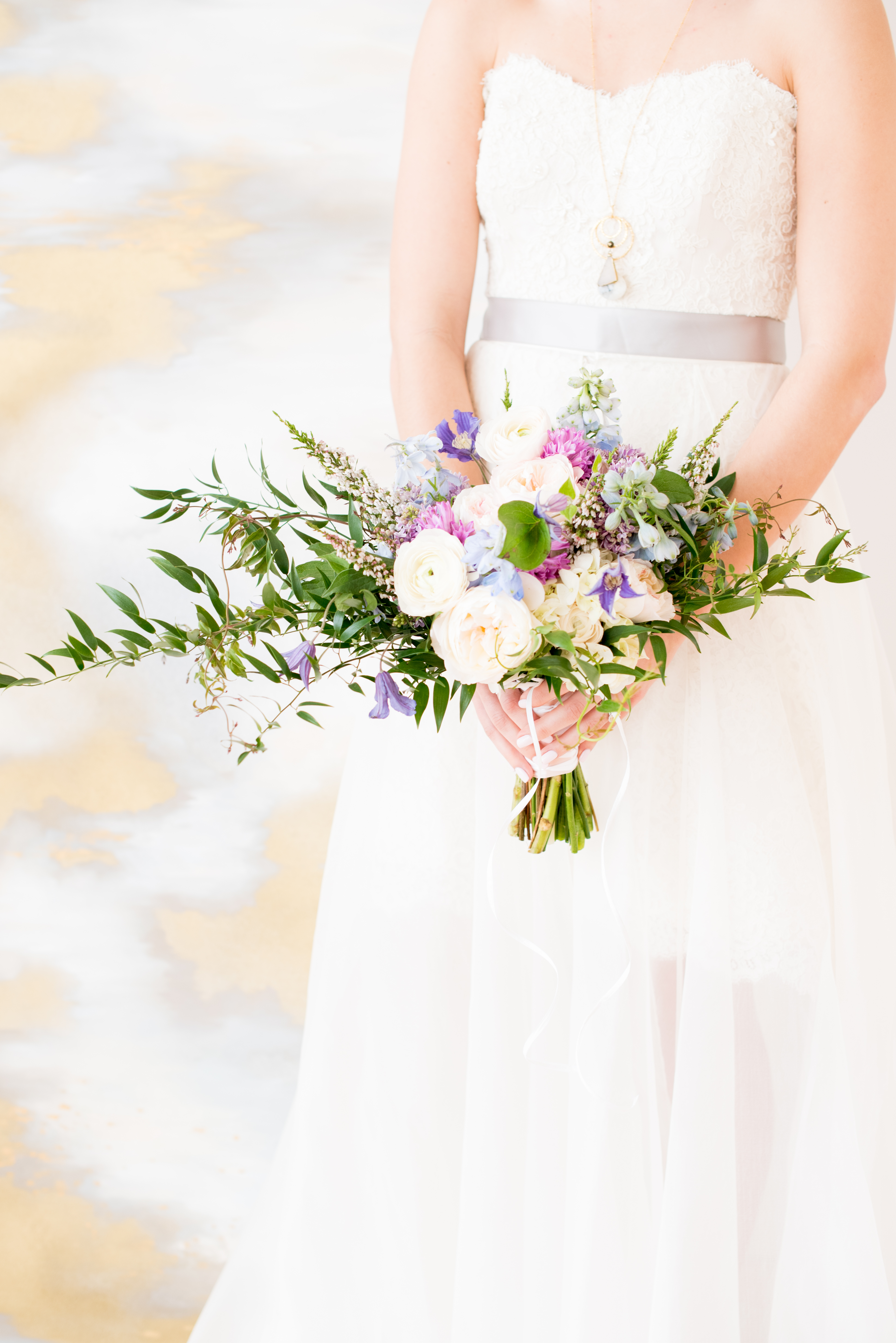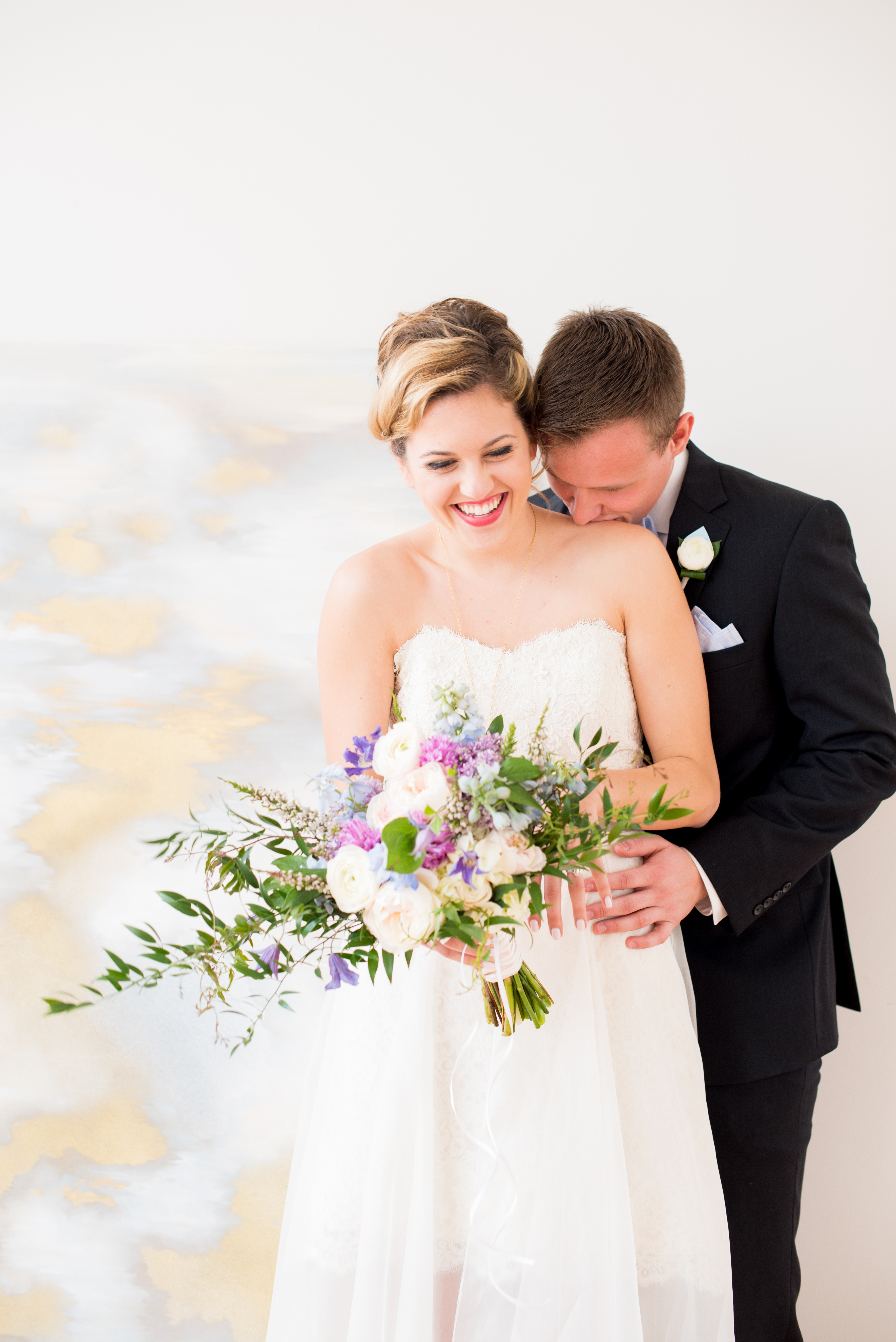 How cute were our models? This was a great practice run for them because they're getting married later this year!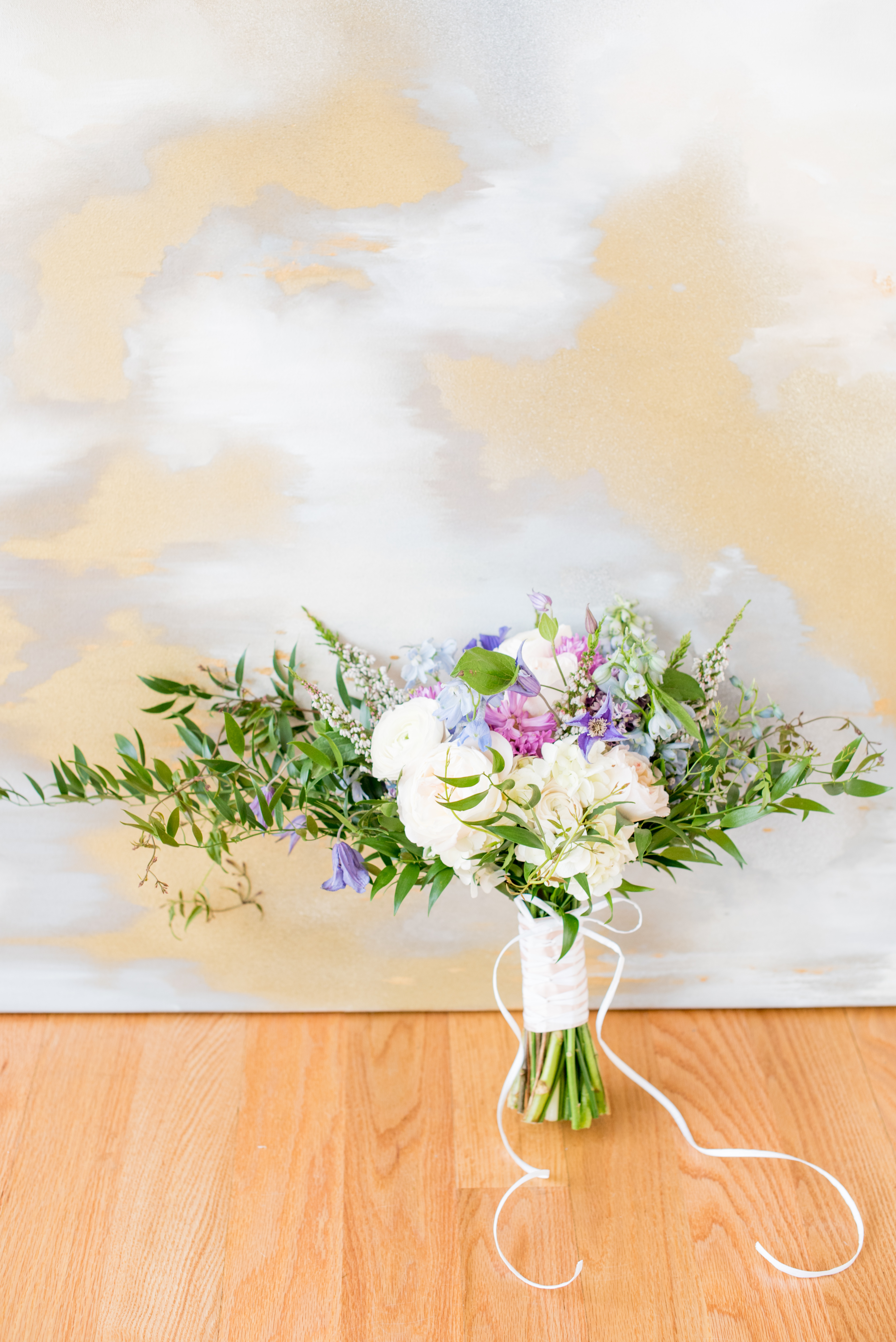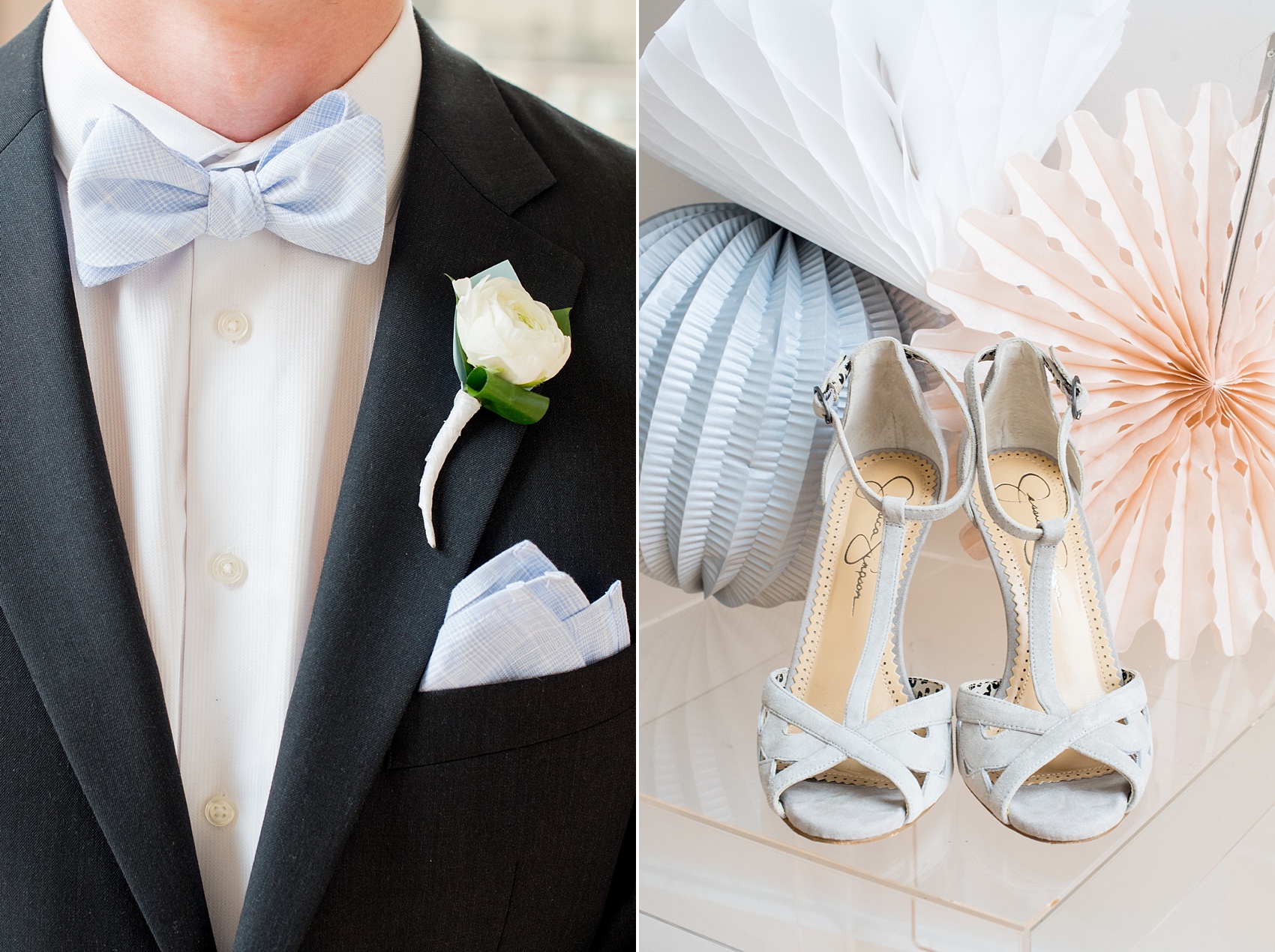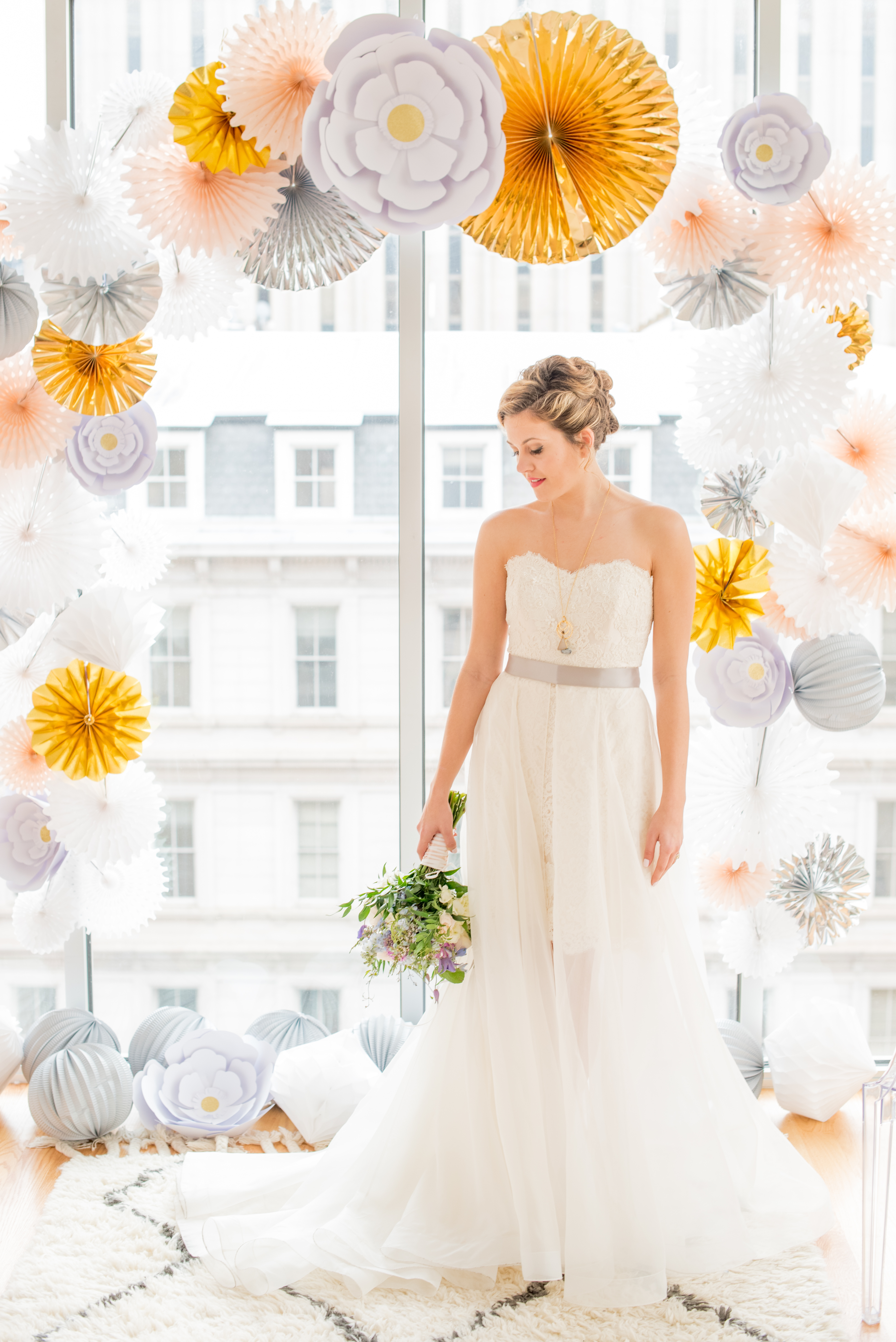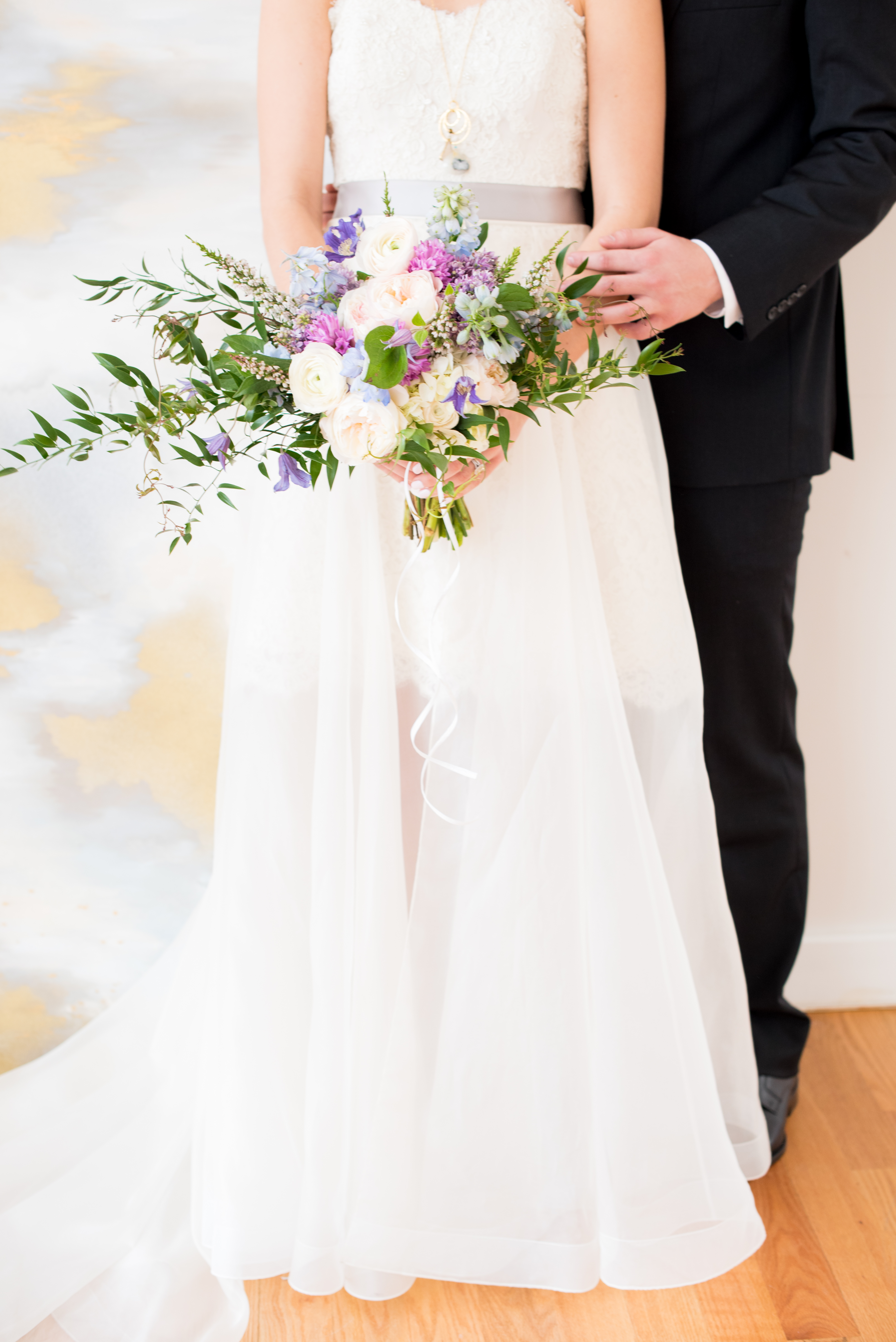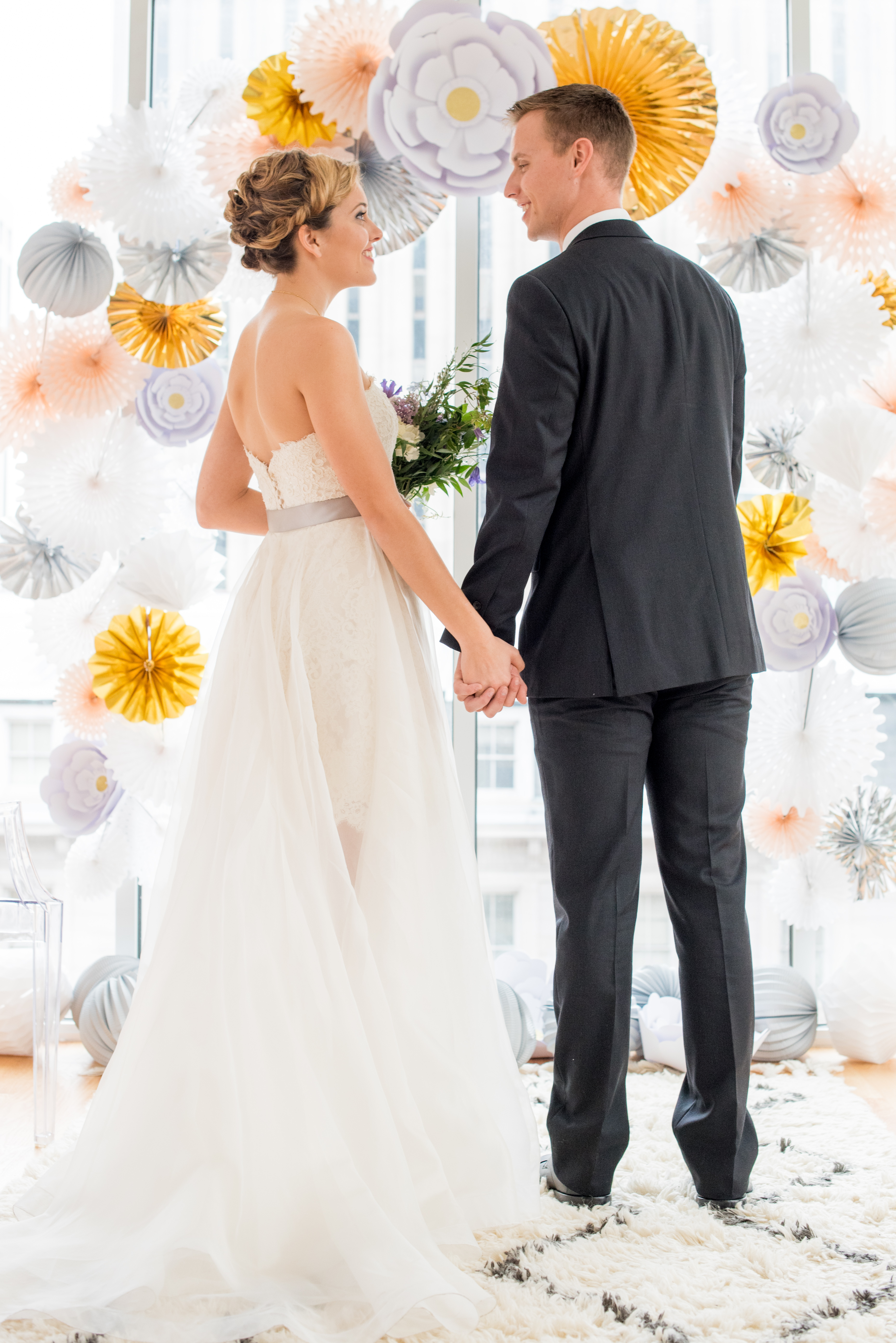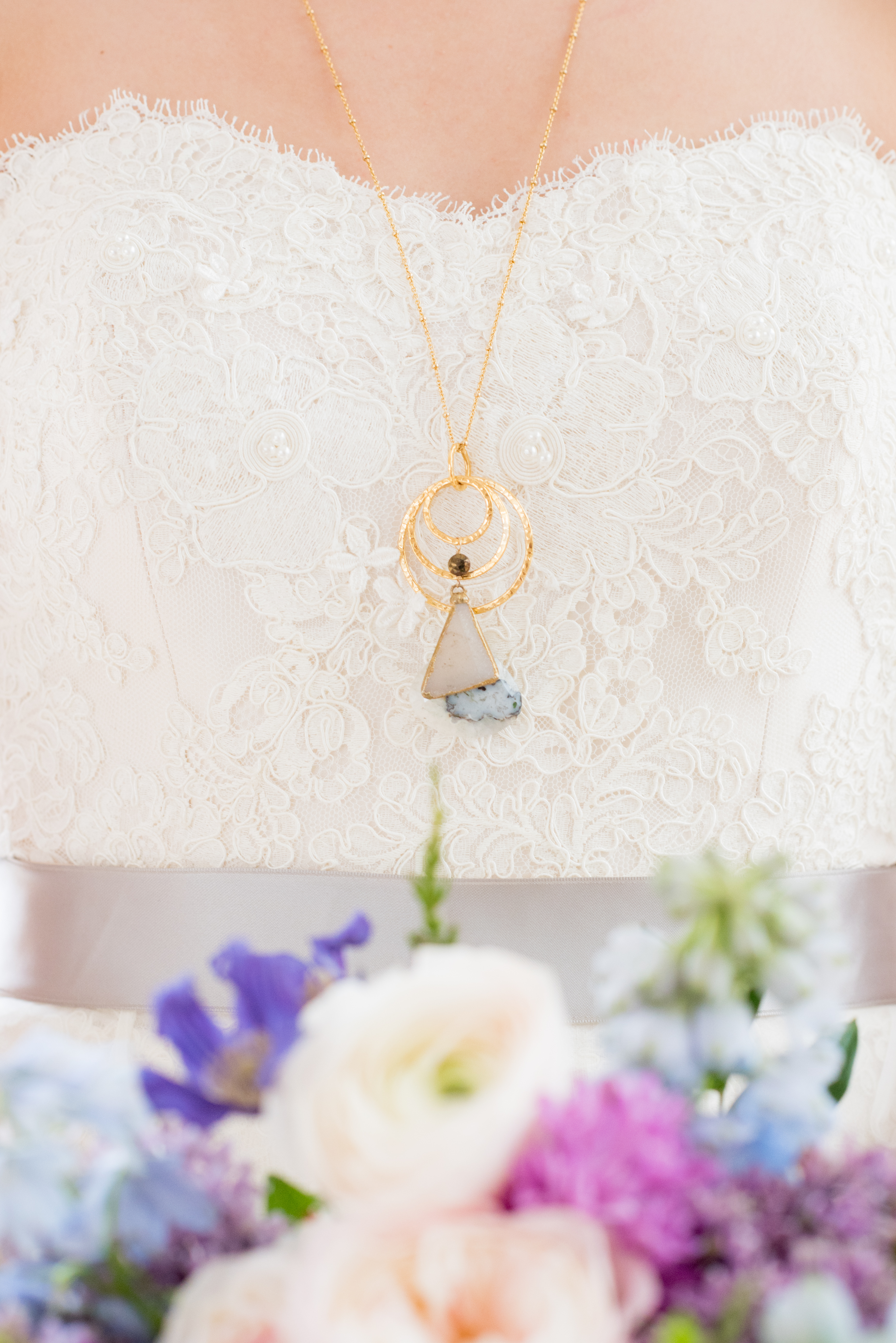 We wanted to add a pop of color to the bride's stunning tulle overlay dress (Yes! There's a lace mini dress under her flowing tulle skirt!); so we used one of the ribbons from our chairs to wrap around her waist and the bride wore a necklace my Aunt got me years ago in Israel. It really is so exciting when all of the little details come together so effortlessly. (Aaaand this is why my car is filled to the brim with accessories and decorative items on shoot days.)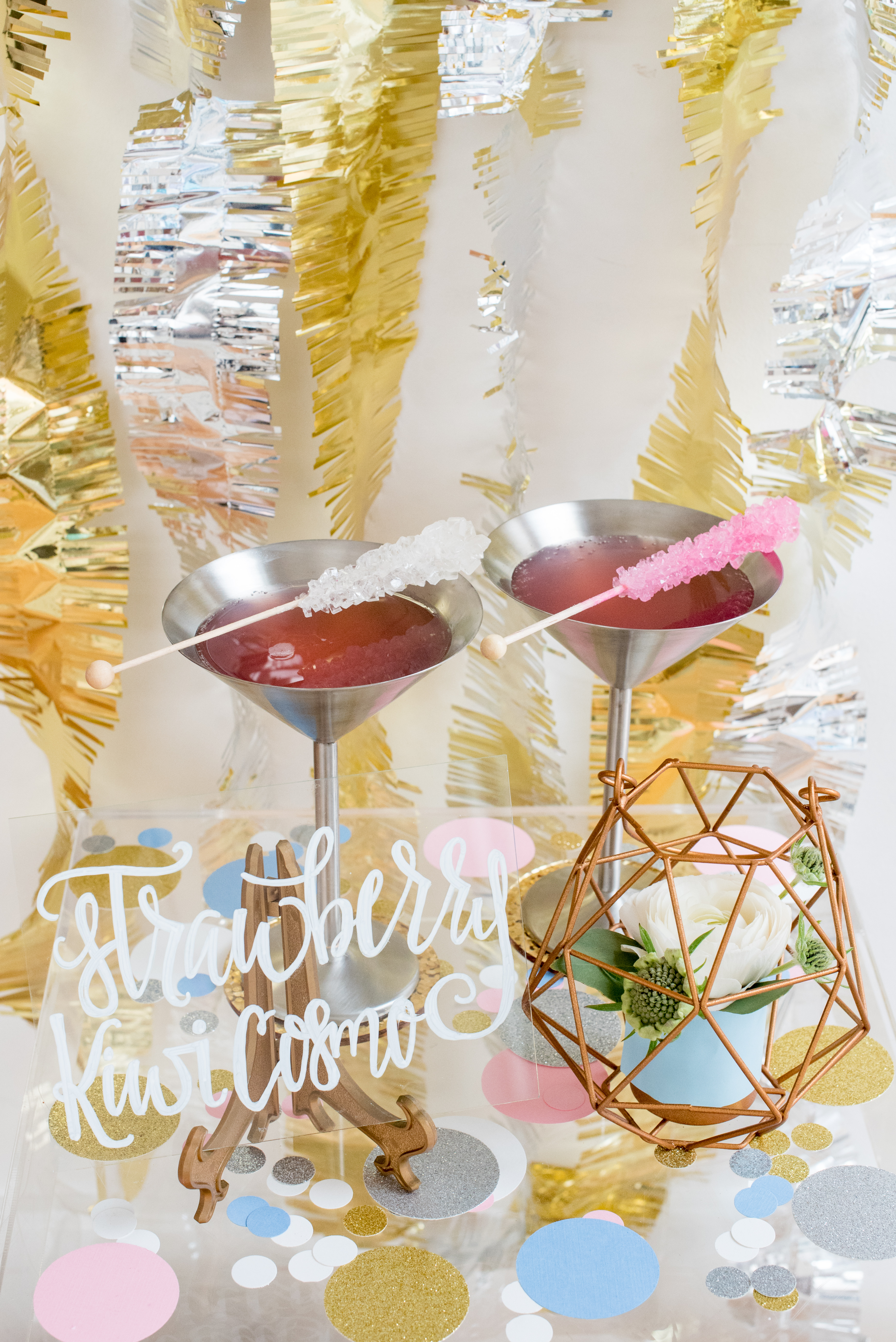 Details like a signature strawberry kiwi cocktail with rock candy stirrers and plenty of rosé wine were a yummy addition and fit right in with our color scheme.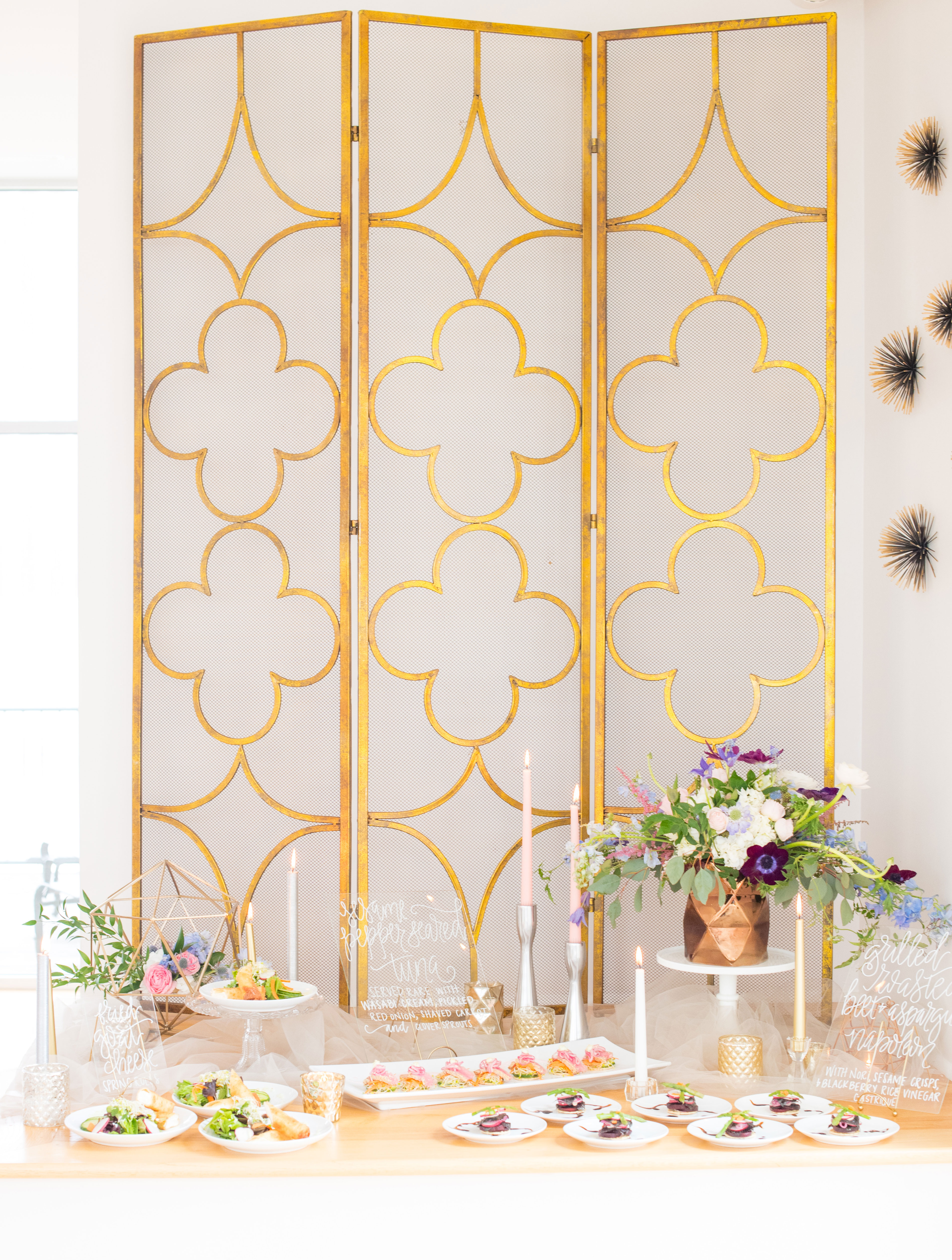 We even had the food catered by Belle's Catering (who are always amazing to work with!) When in need of a backdrop for your buffet station, casually pick up one of the venue's room dividers and put it on top of the counter. Perfect backdrop. The food was displayed with hand-lettering on glass panes and mercury glass votive holders and vases.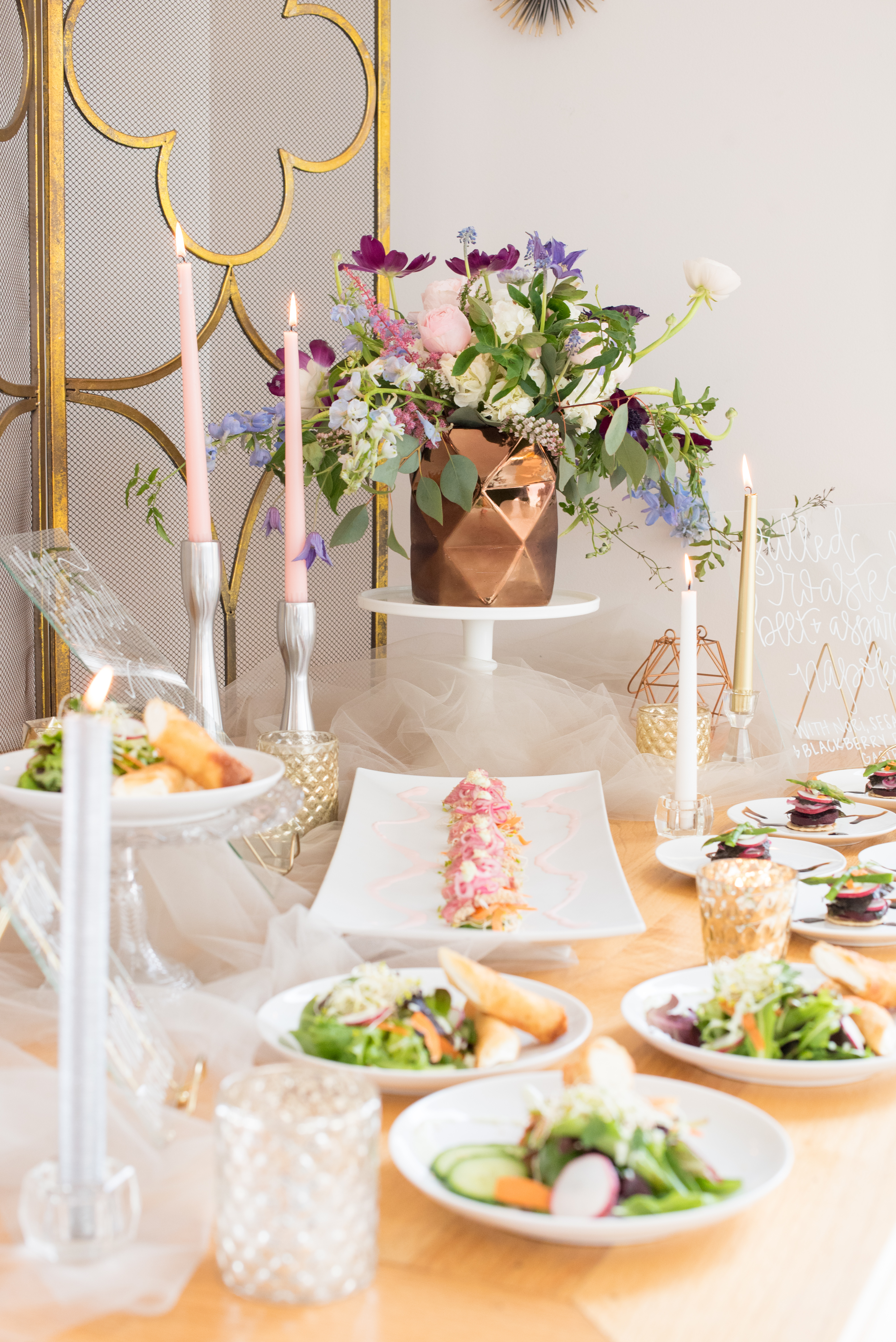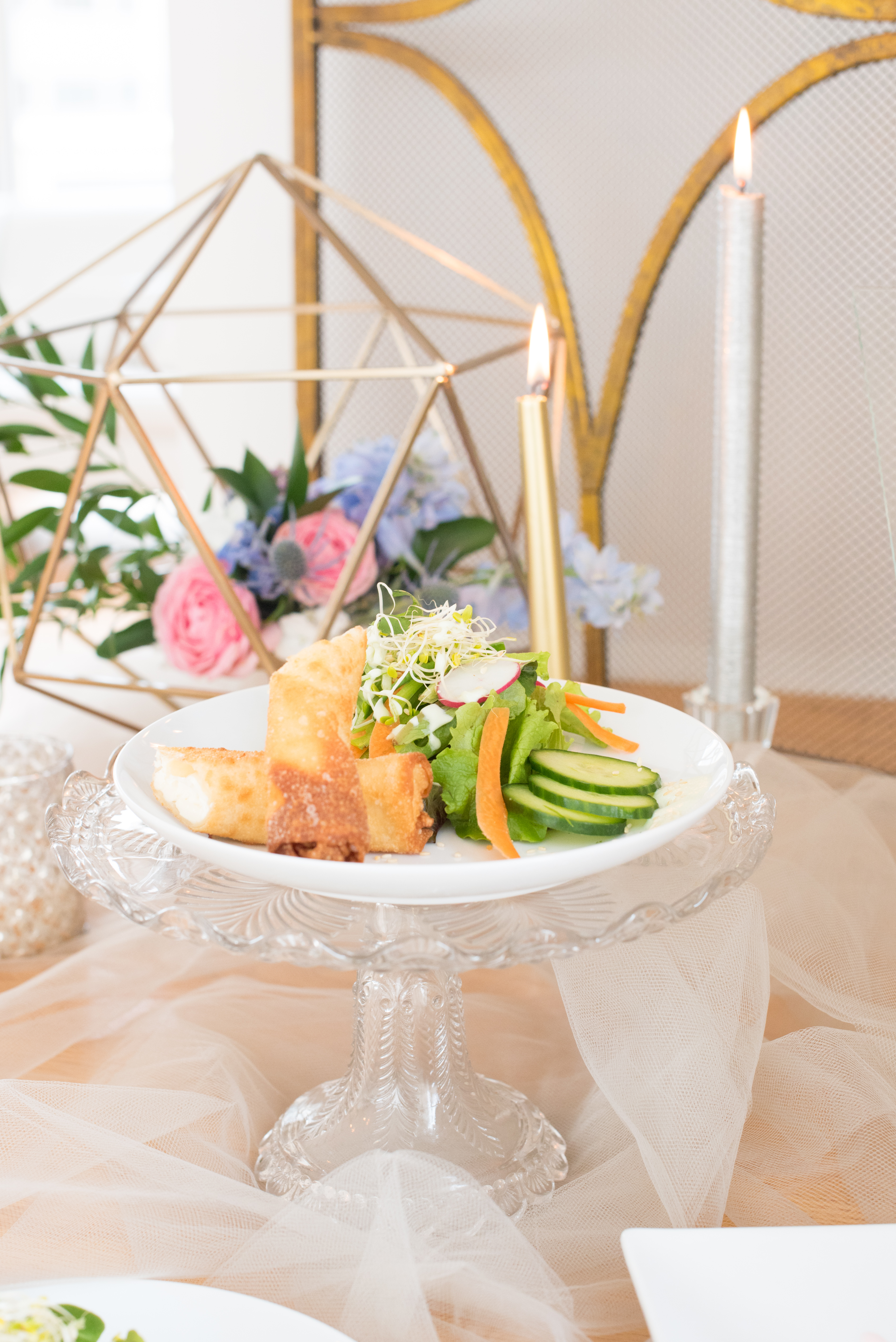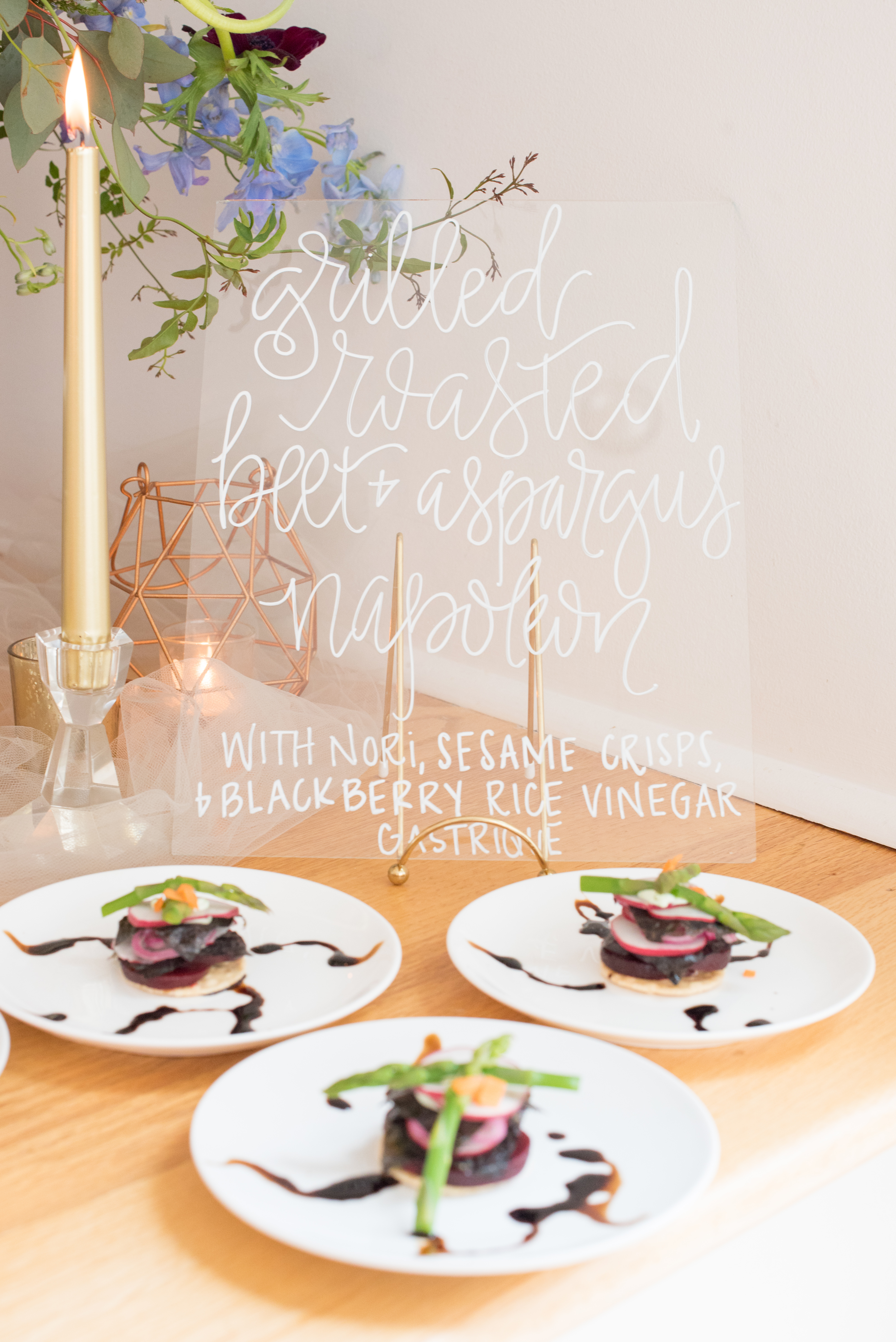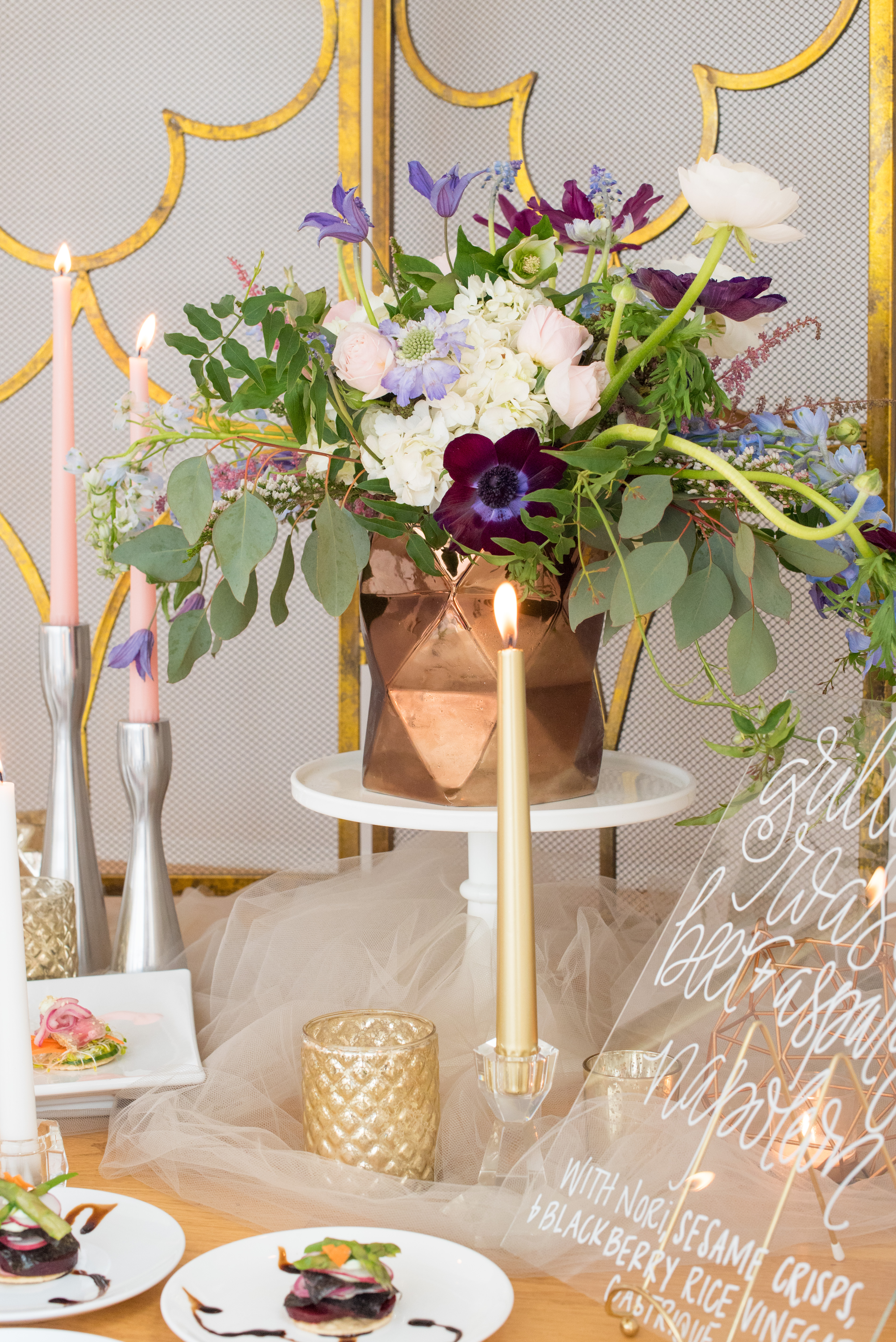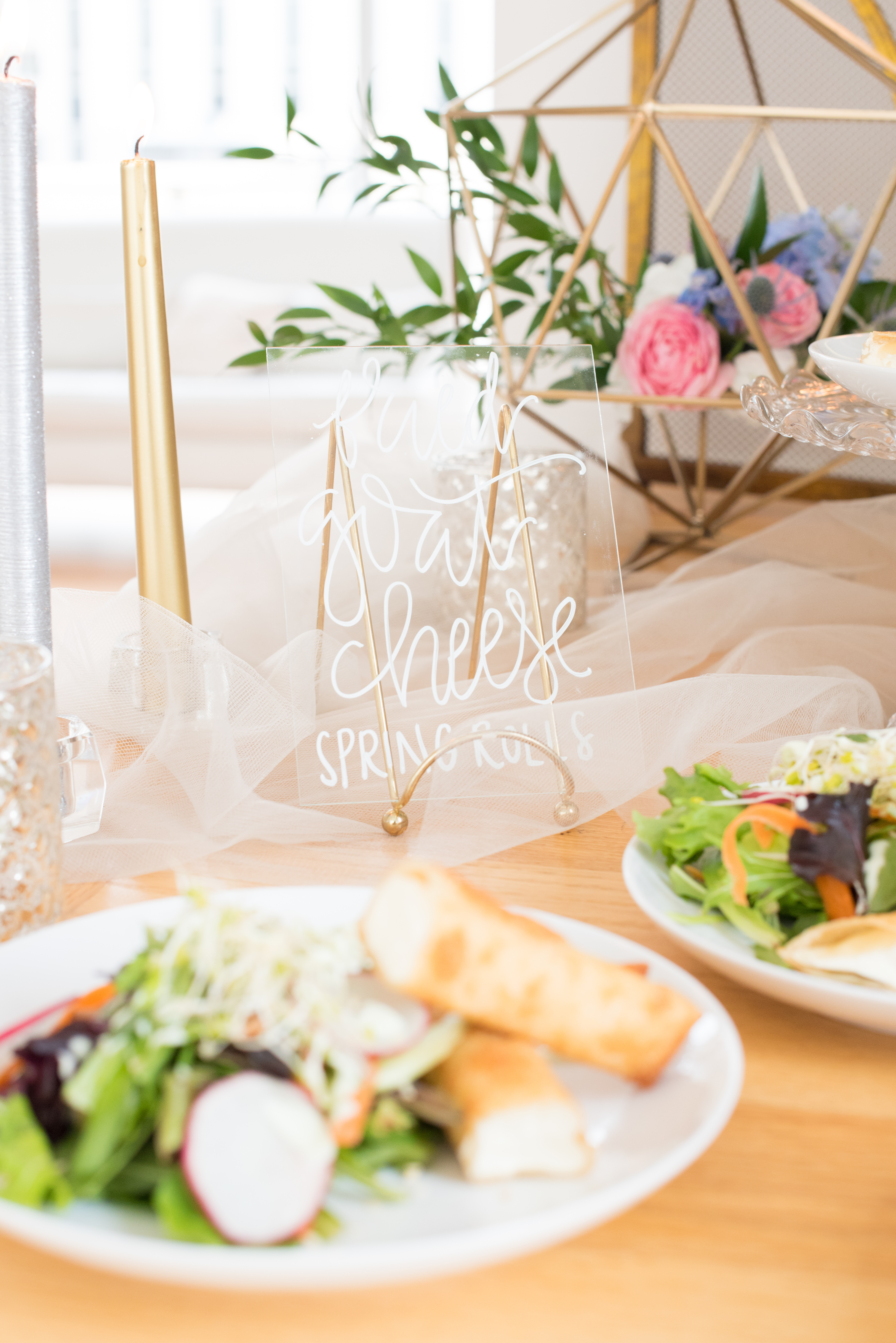 The caterers' attention to detail was just incredible.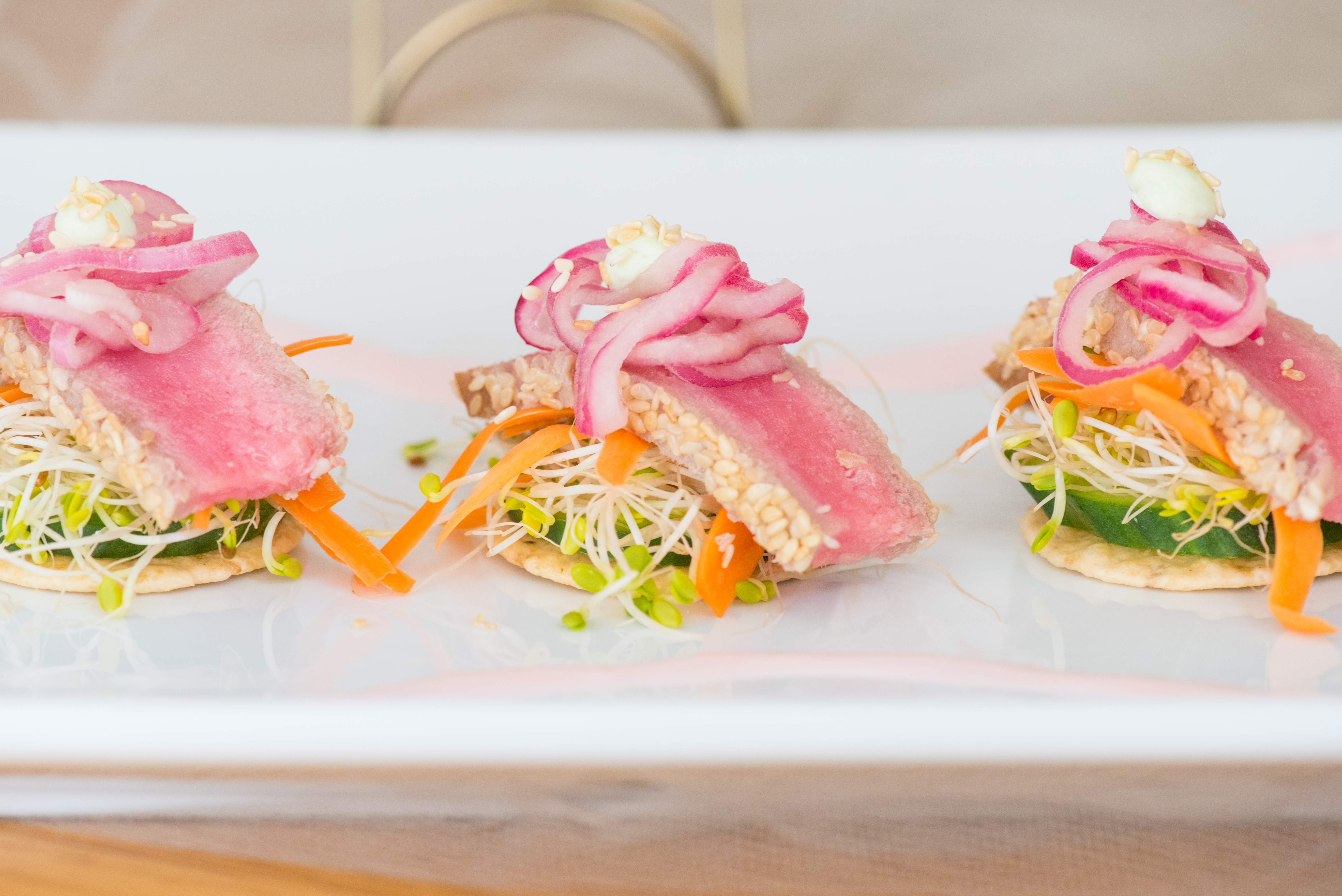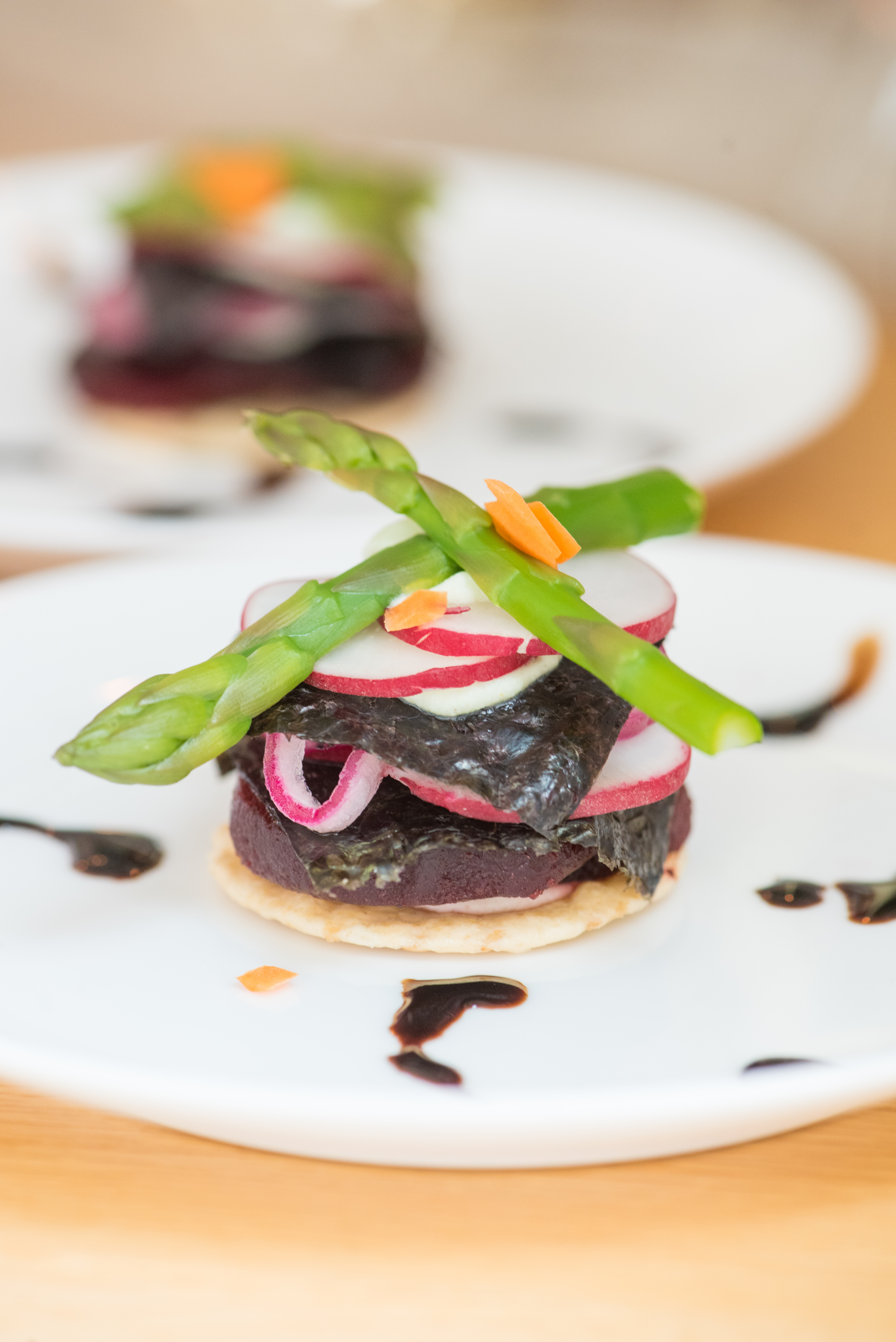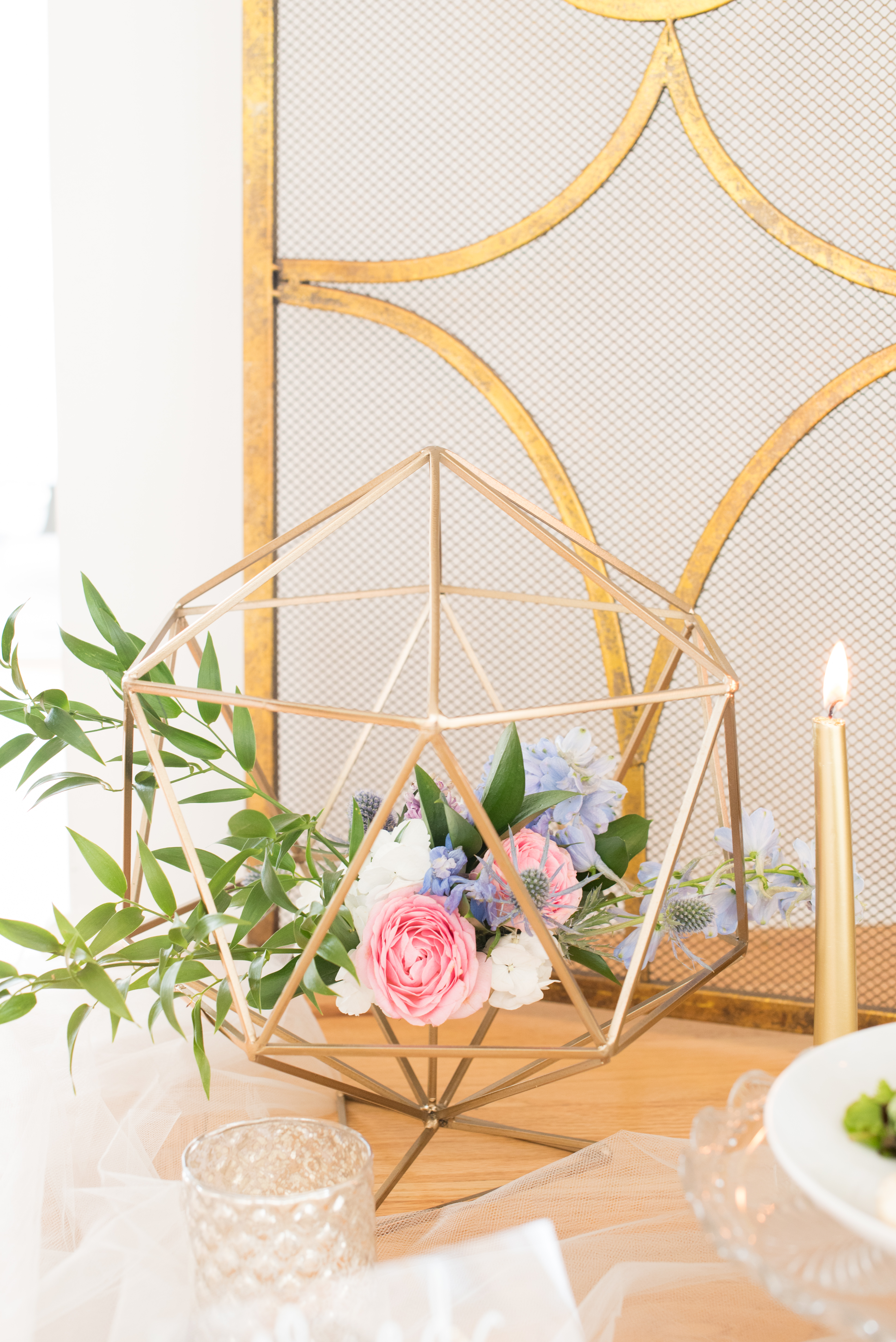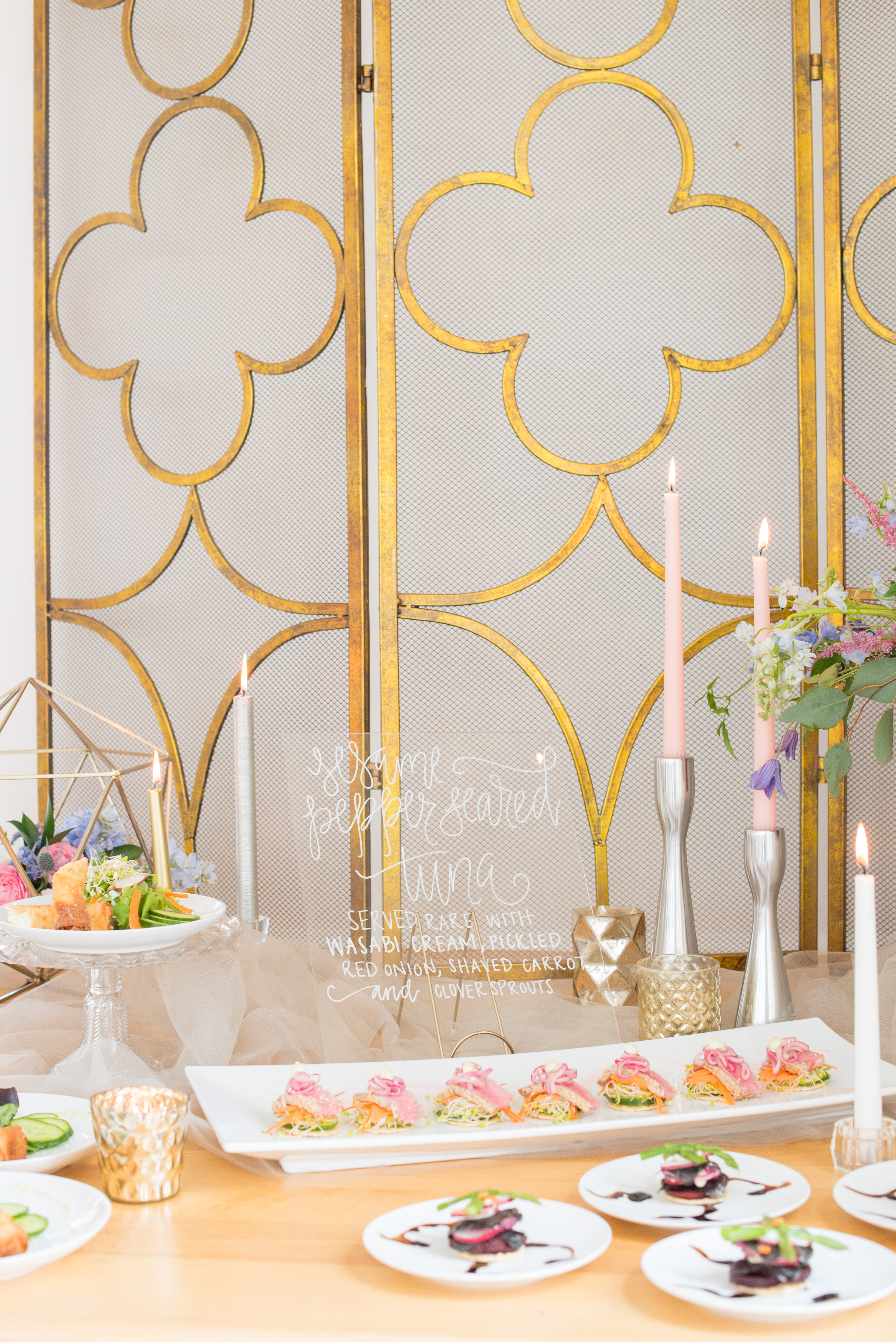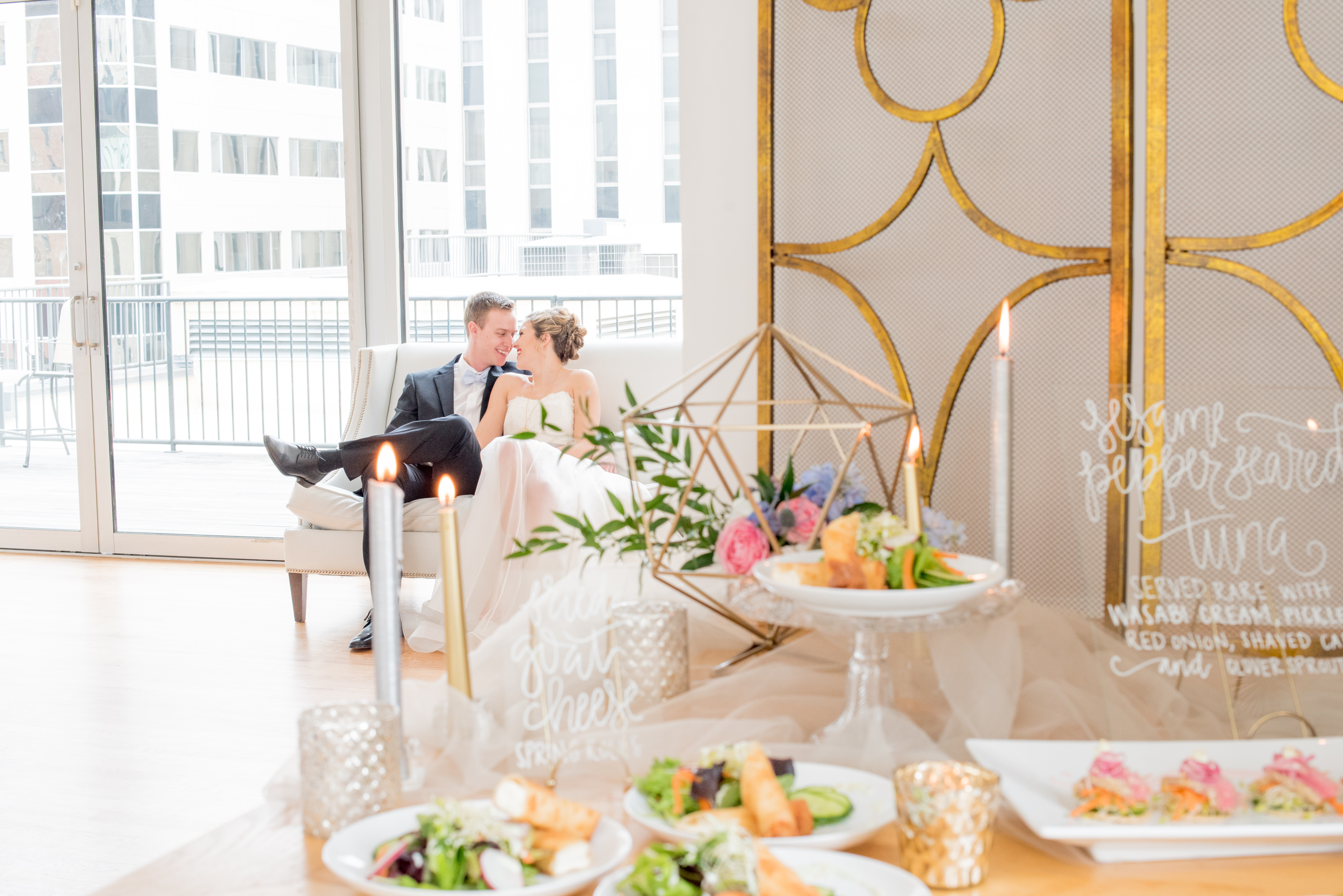 The dessert table was also tons of fun to put together. We used the white triangle paper backdrop, and a stunning geometric shape cake designed by Sugar Euphoria as the centerpiece.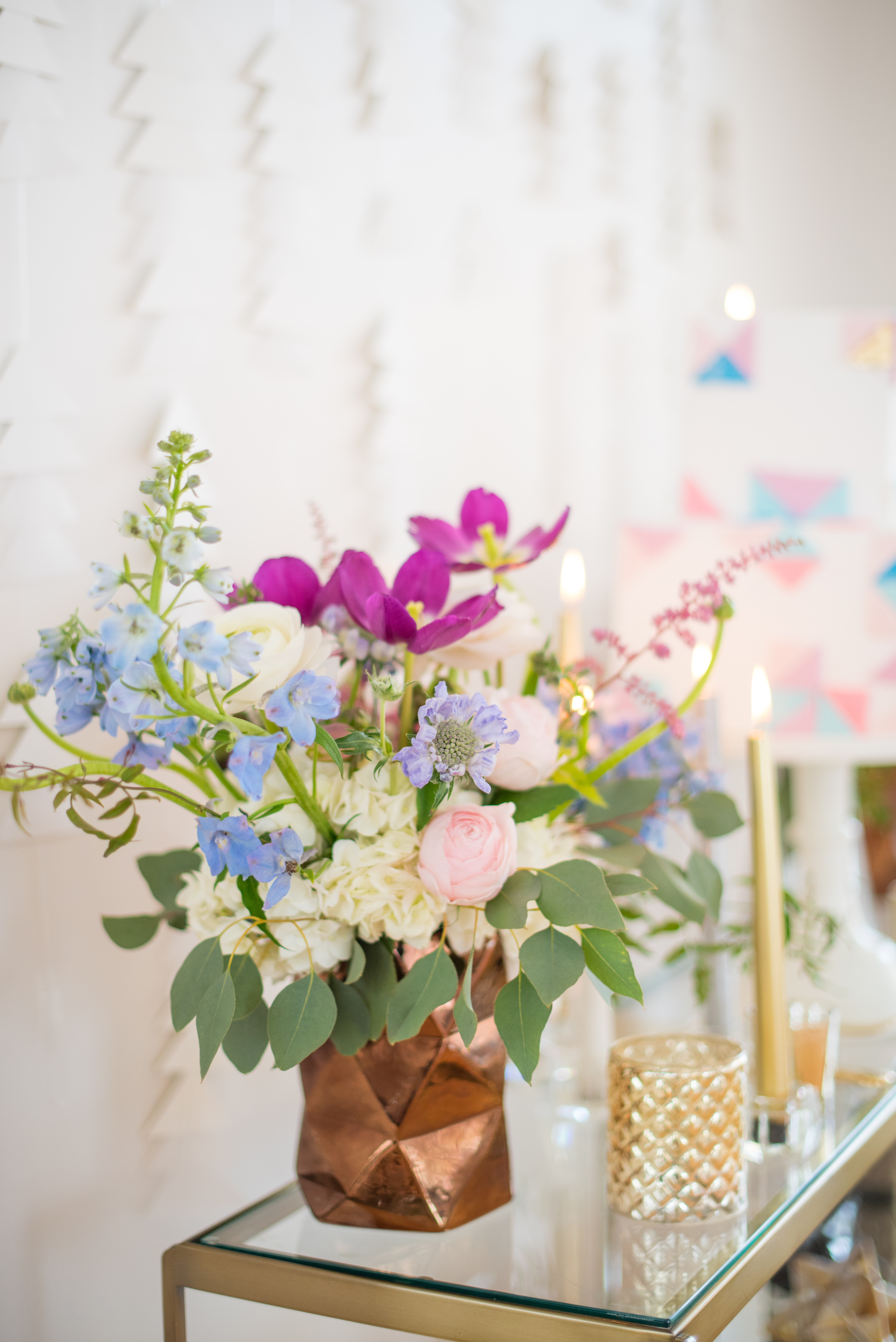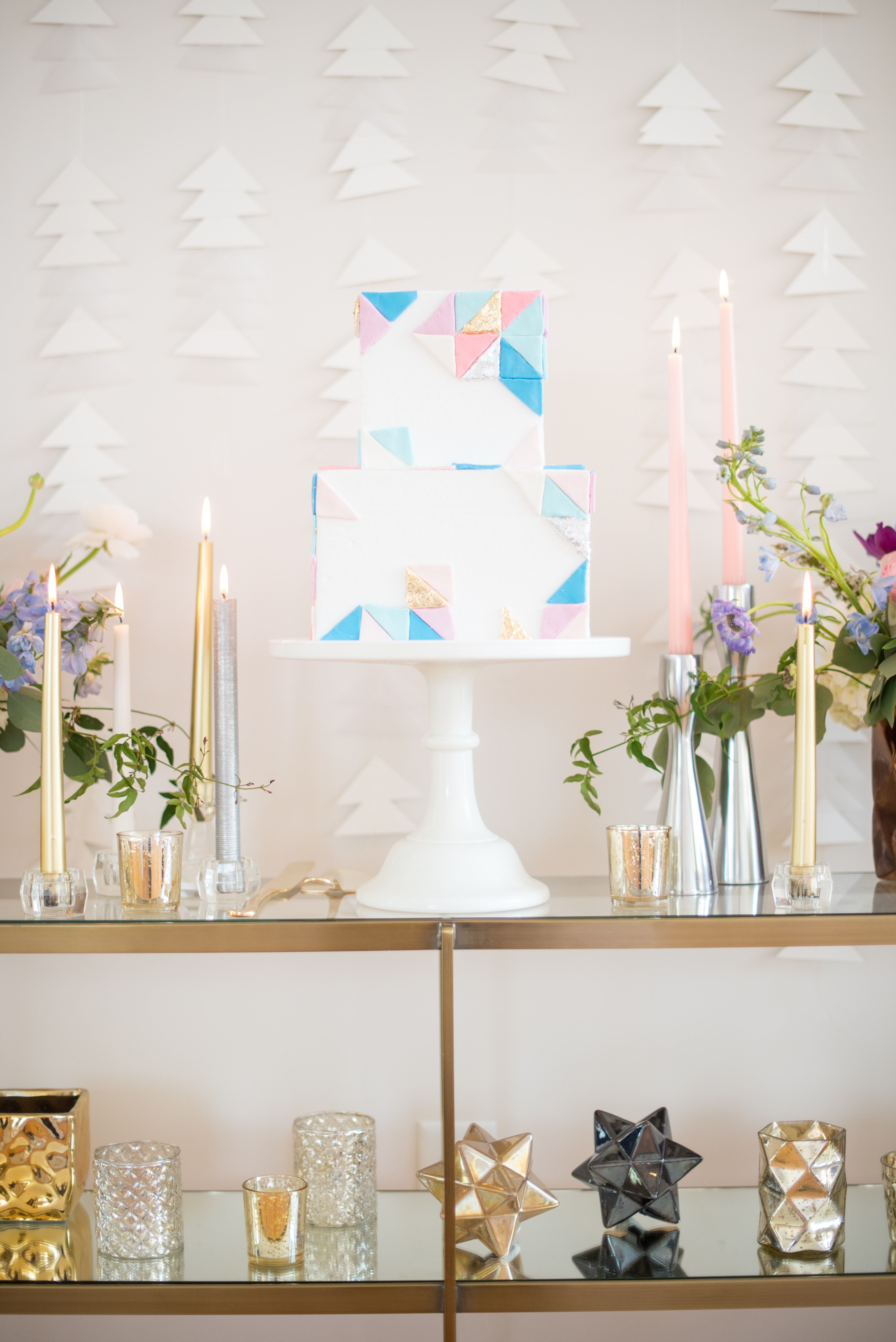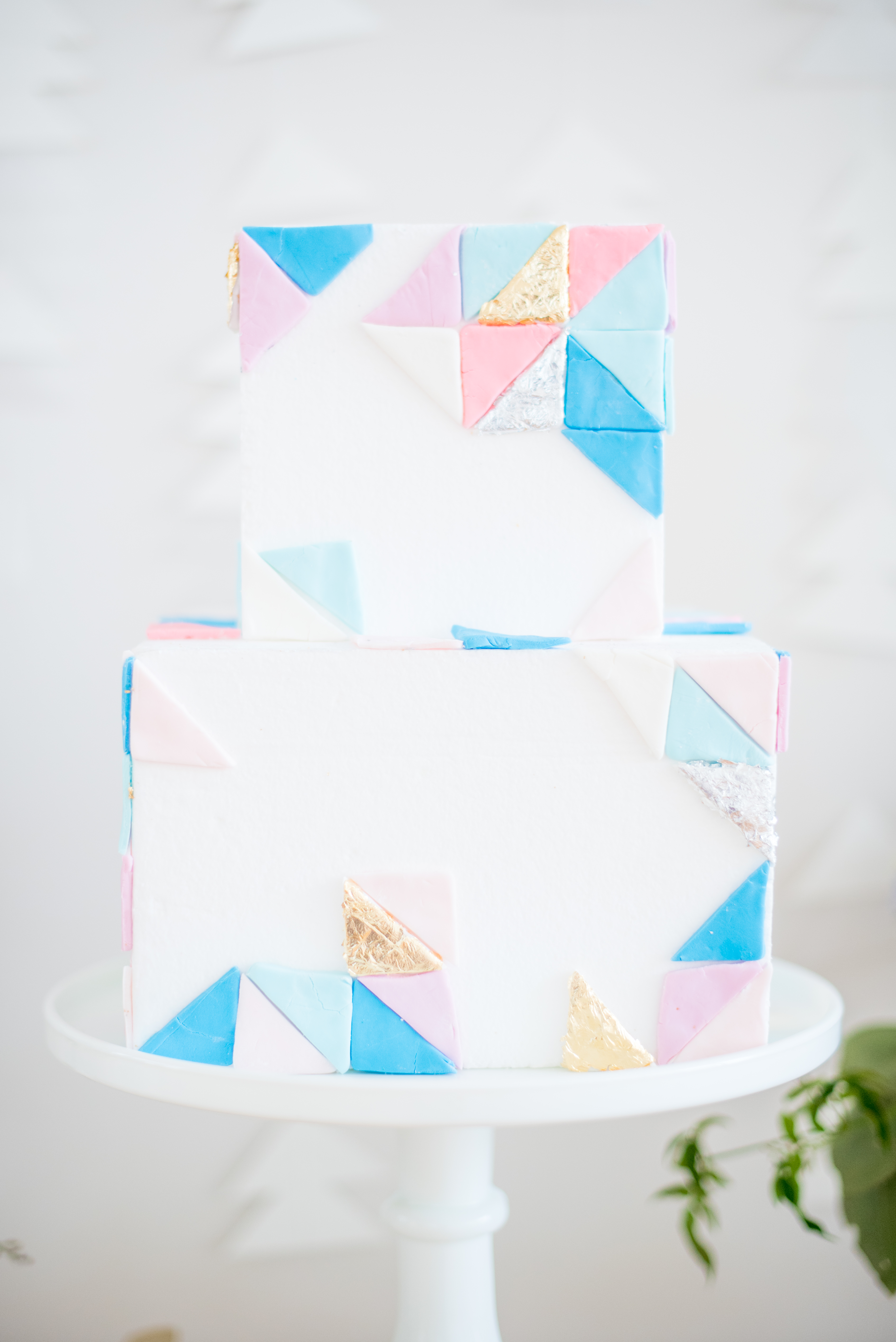 Rose petals mixed with paper confetti, anyone?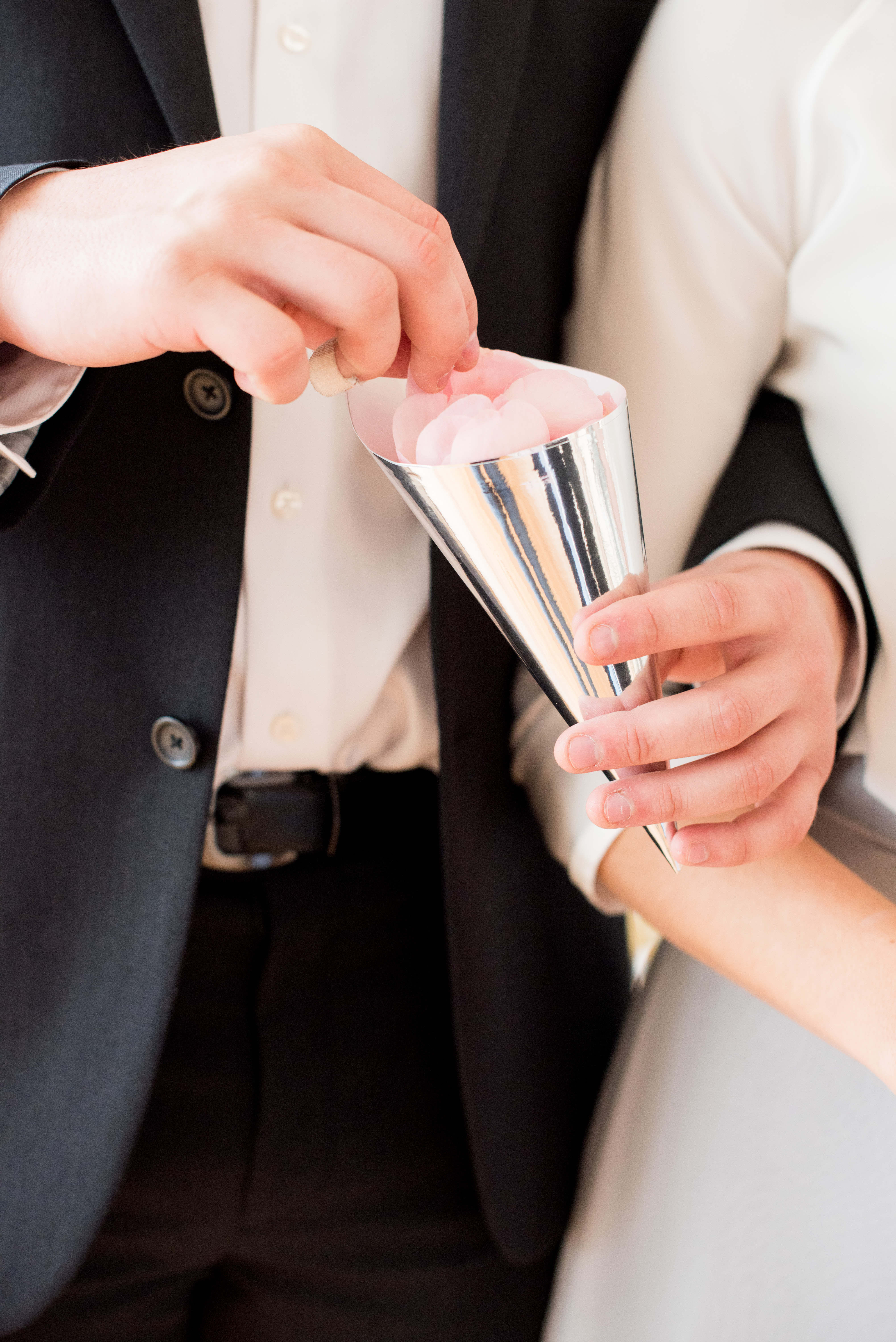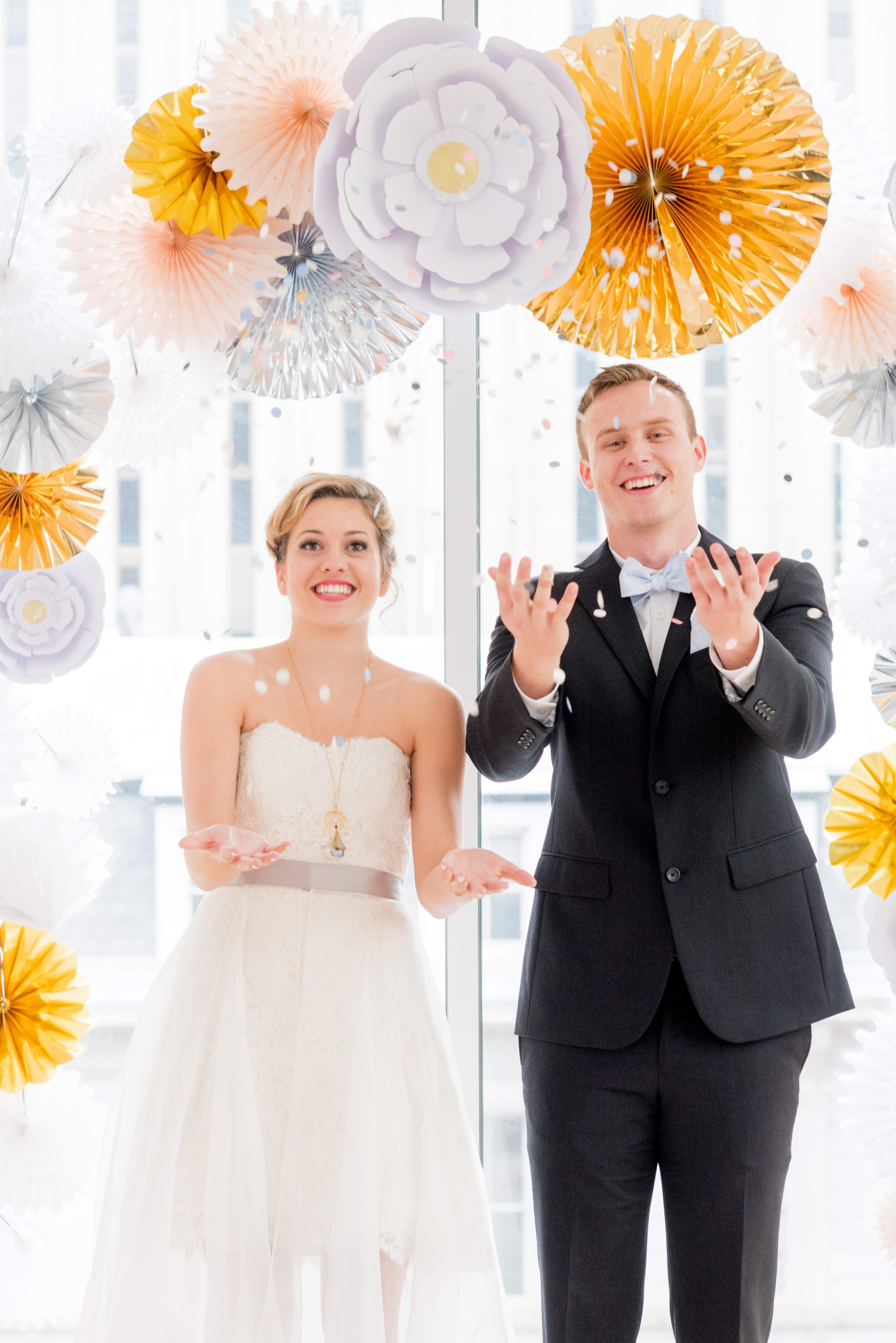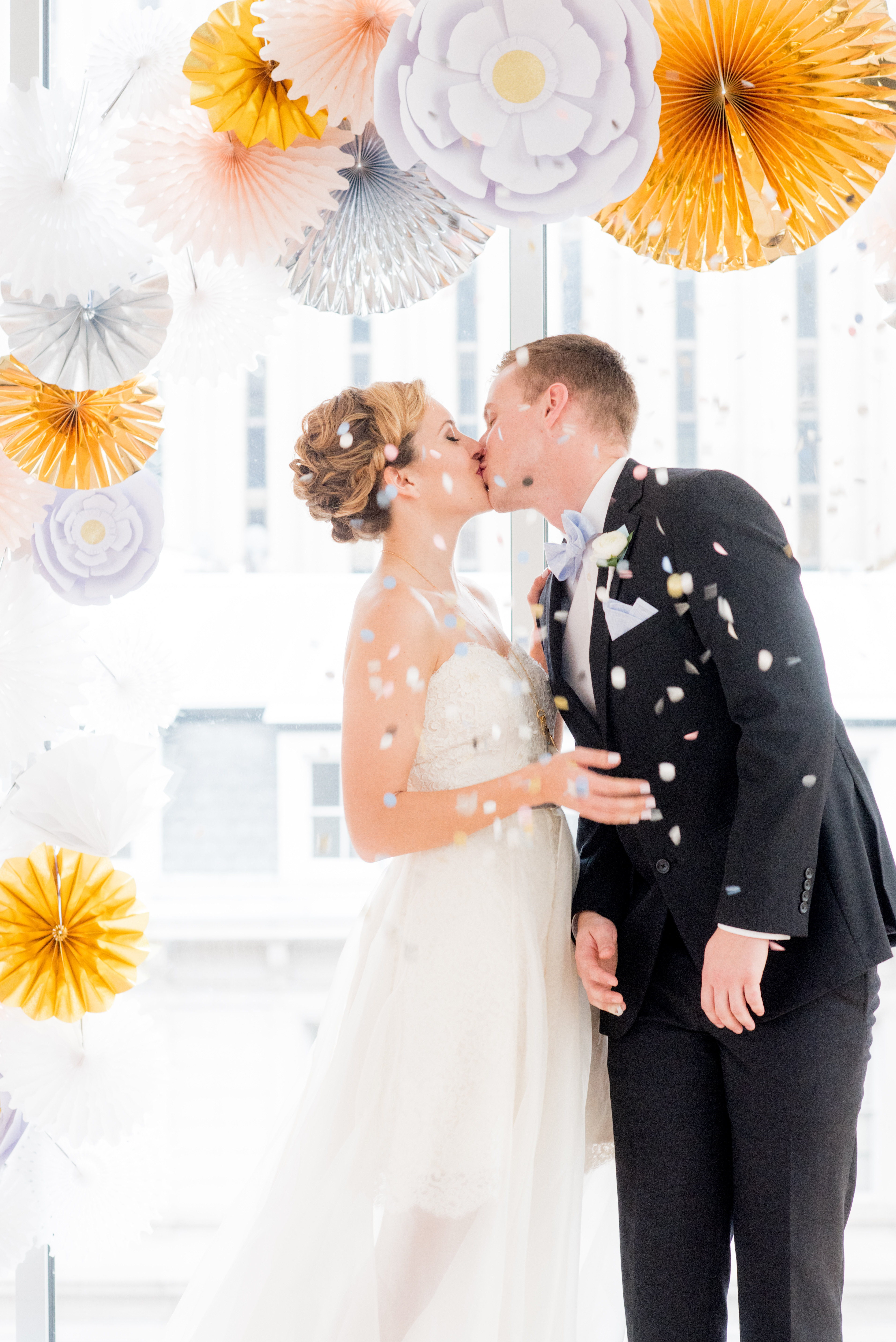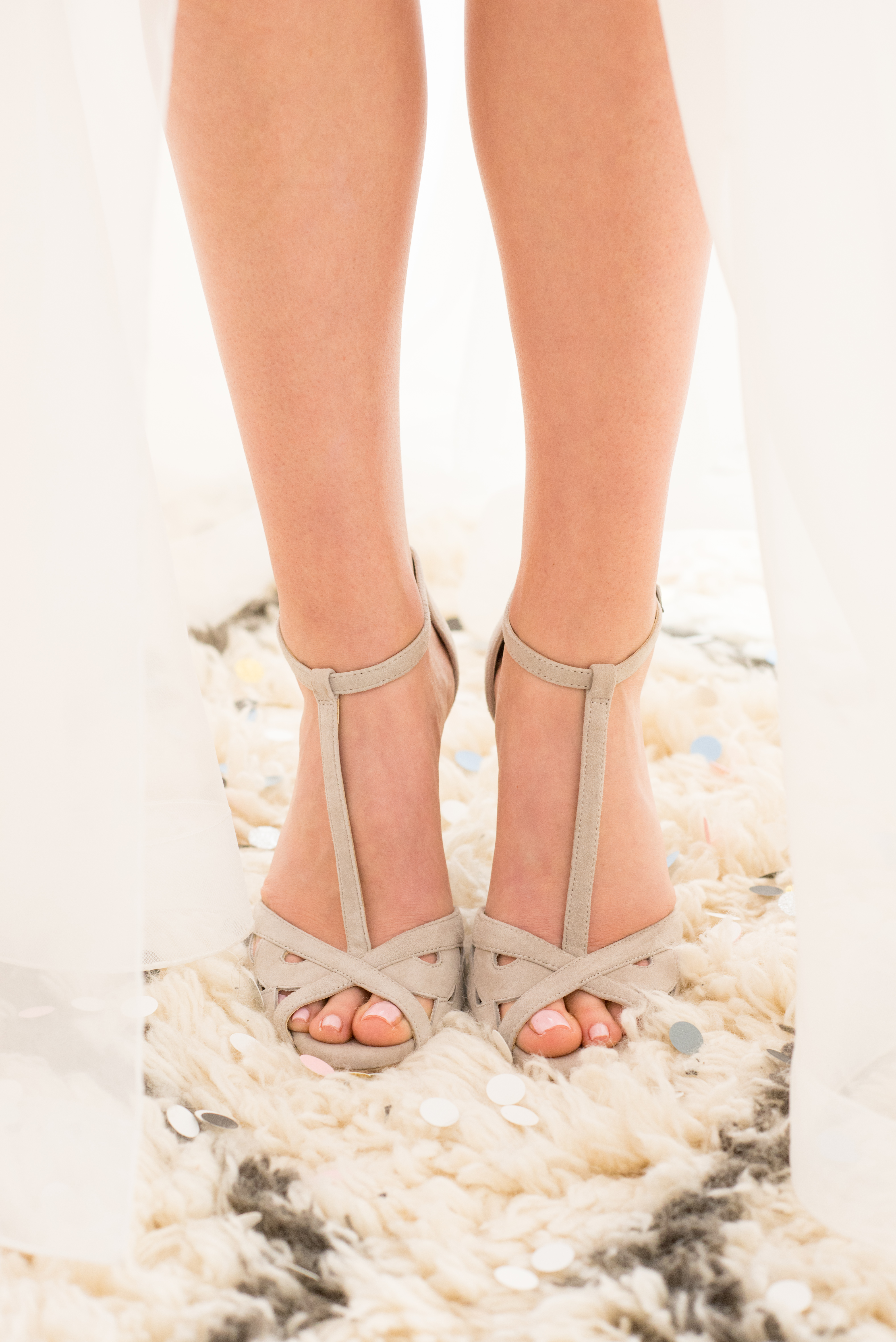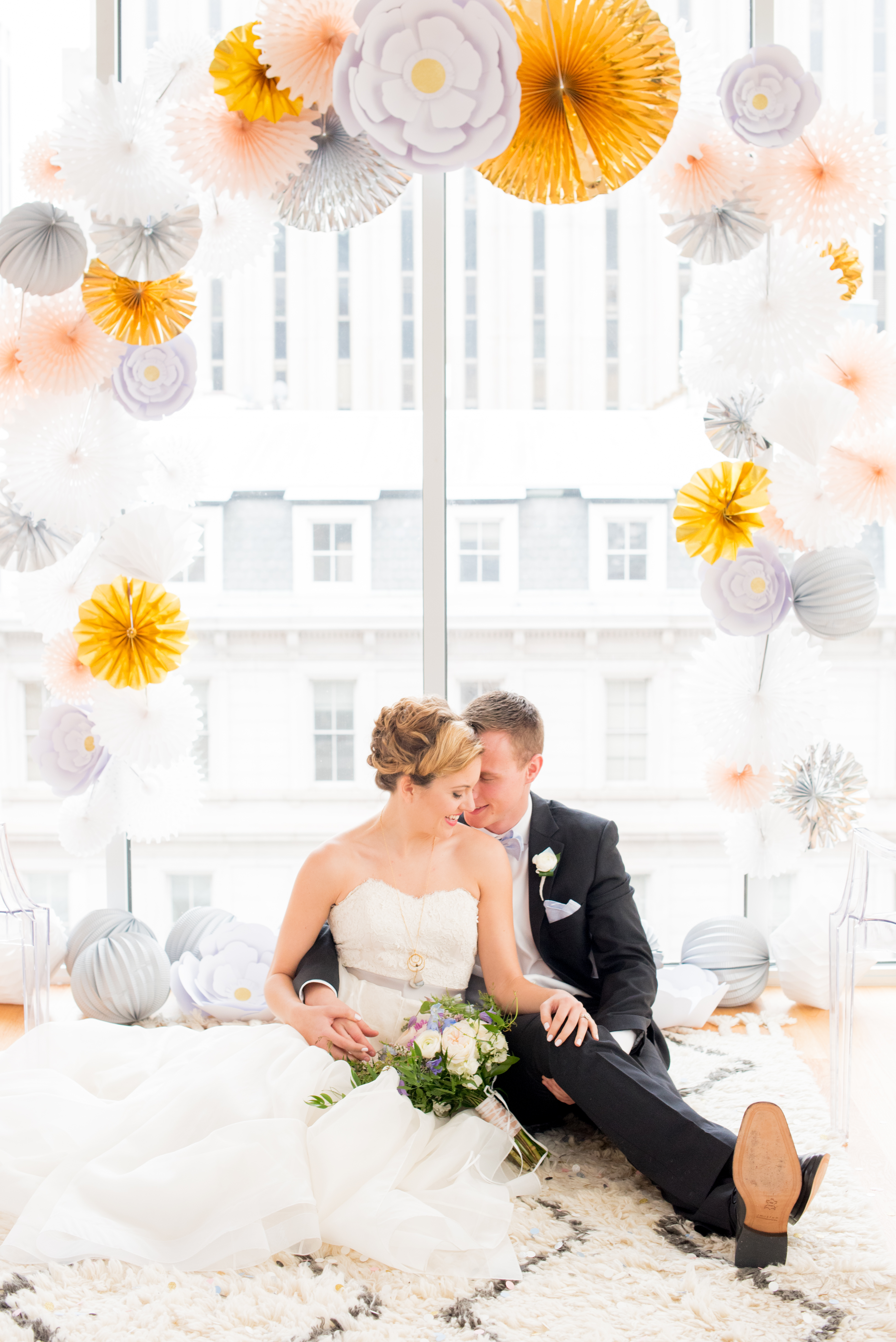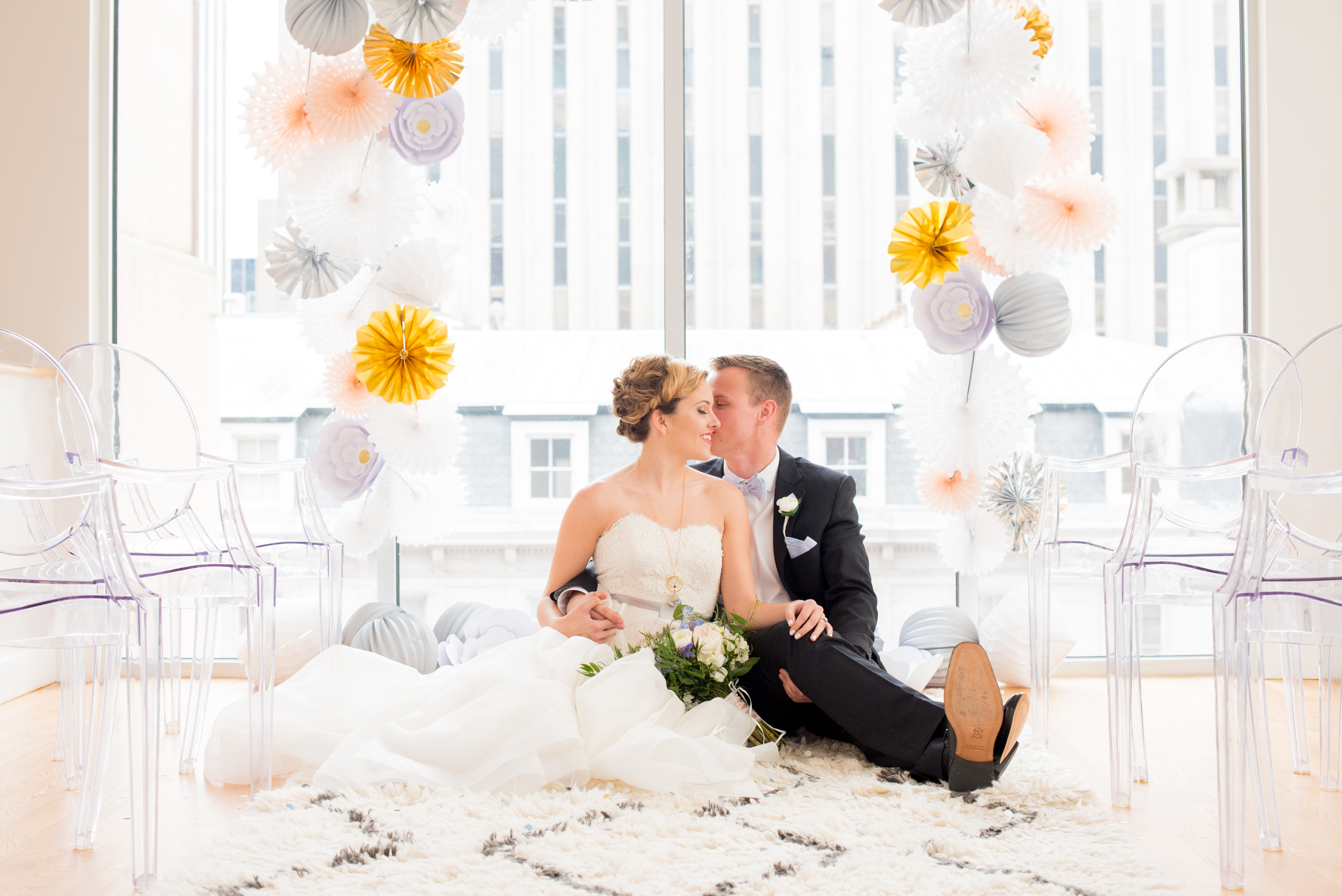 I loved that the couples' sweet sendoff included these adorable handmade "yay" flags and more confetti. The bride wore a top and skirt sewn and put together by Alterations by Kali just for the shoot!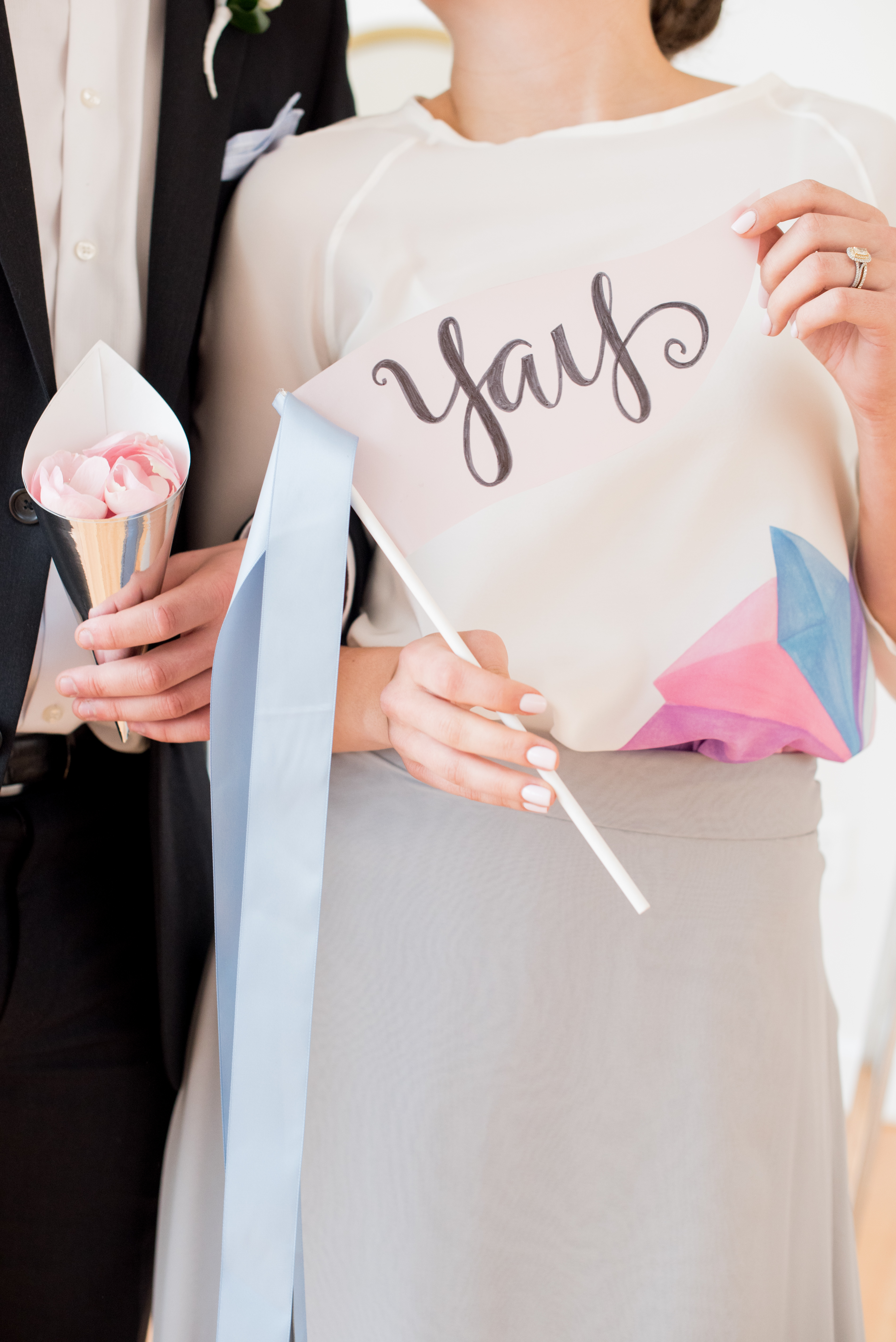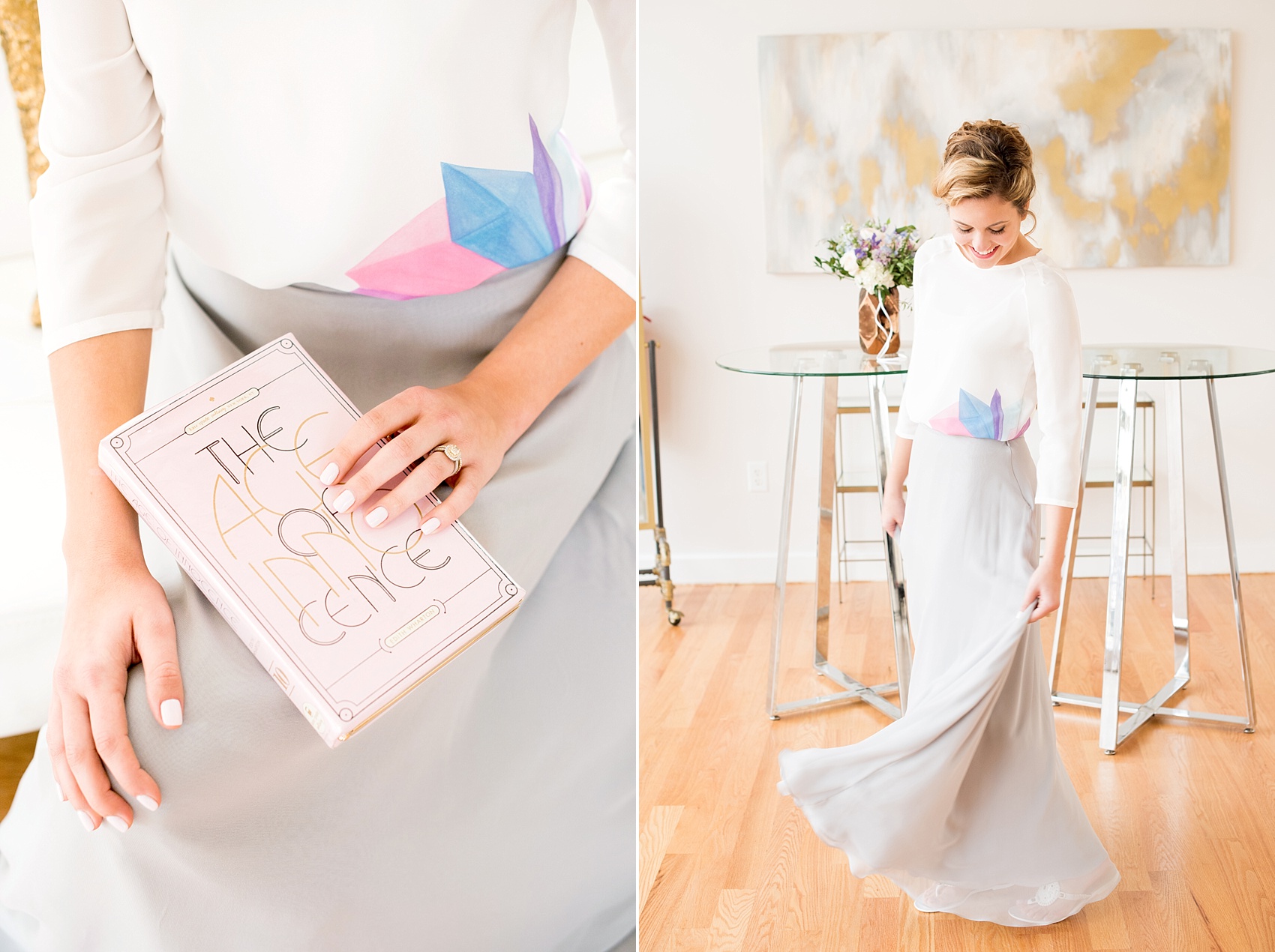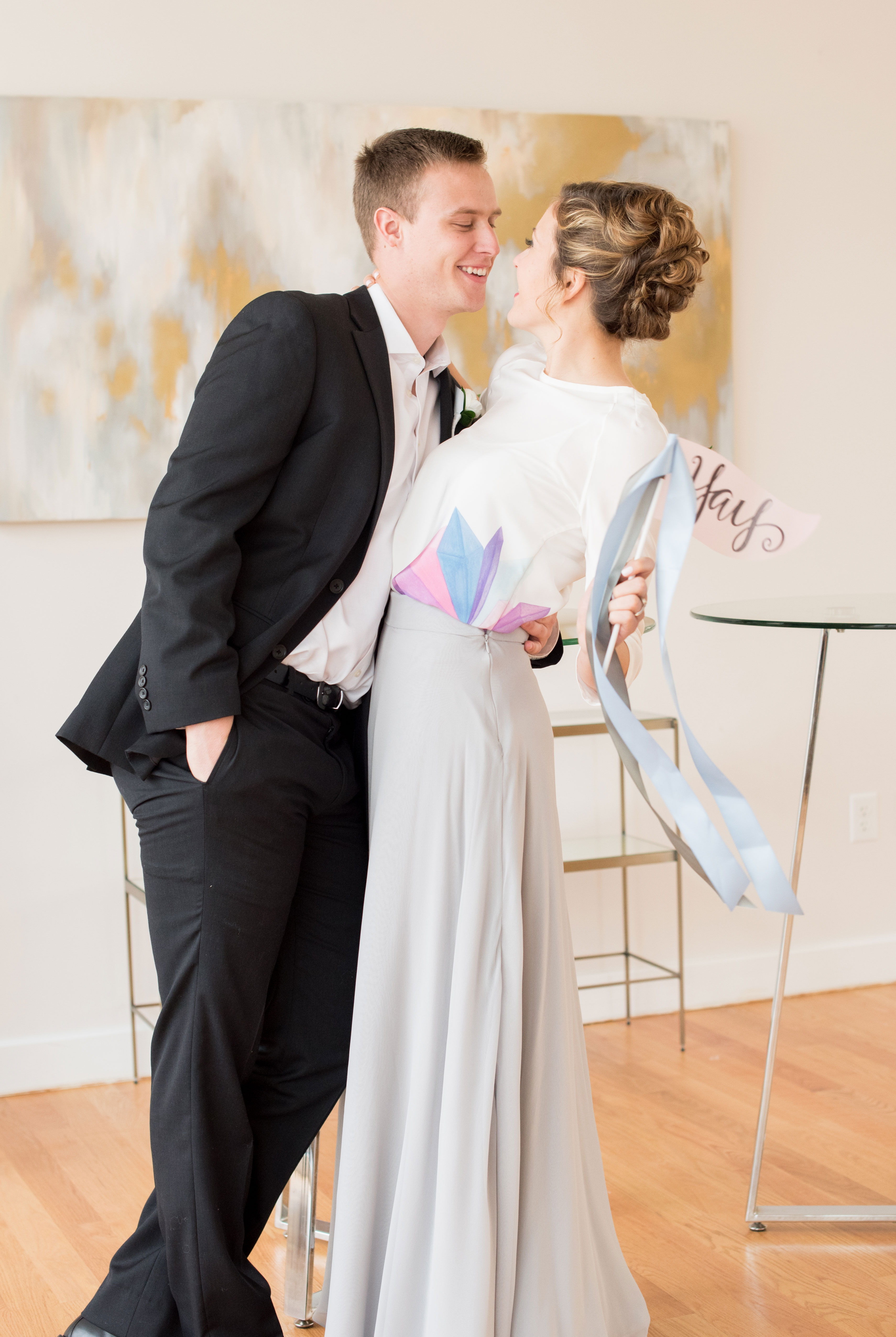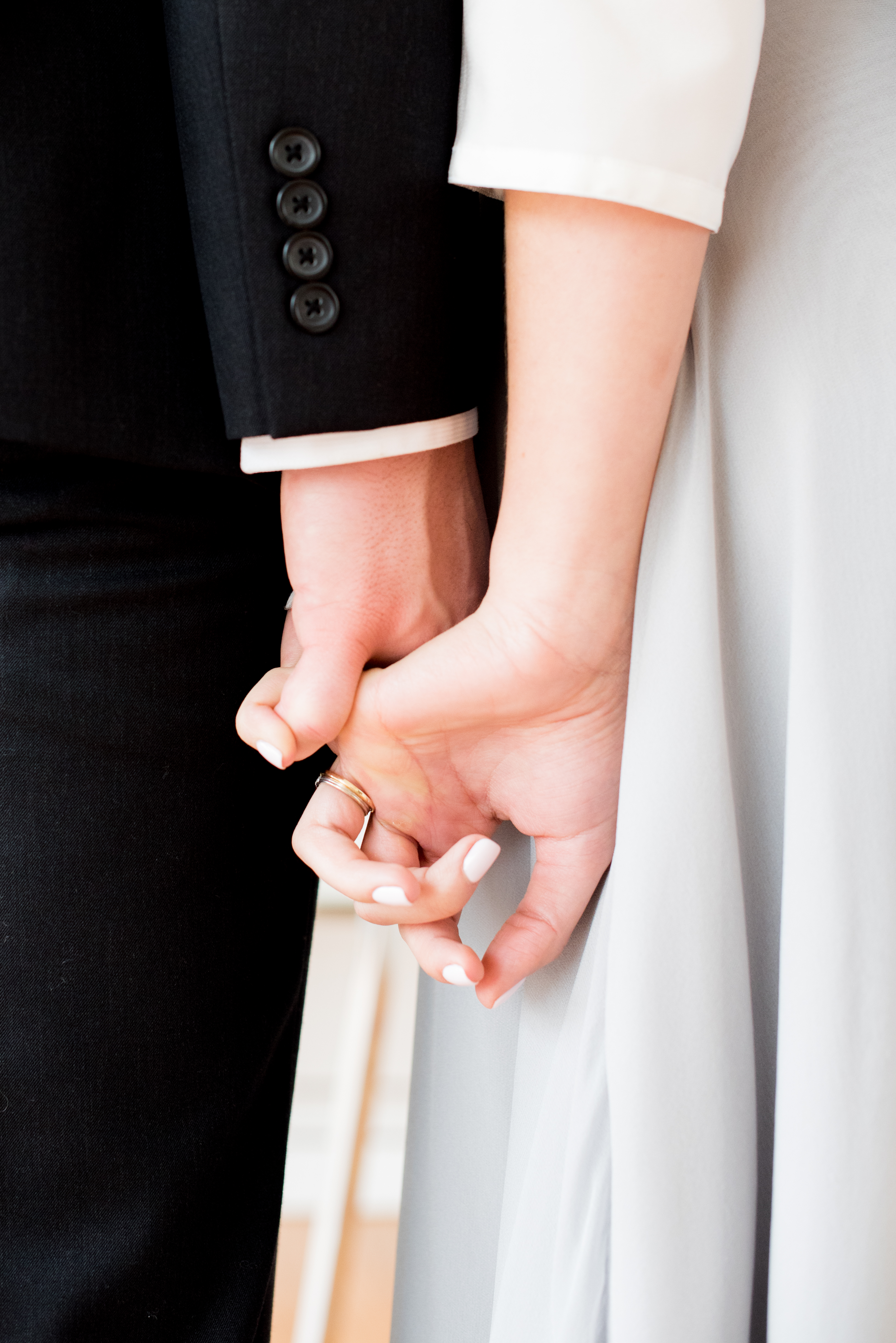 So there you have it. I hope you enjoyed a few styled shoot behind-the-scenes!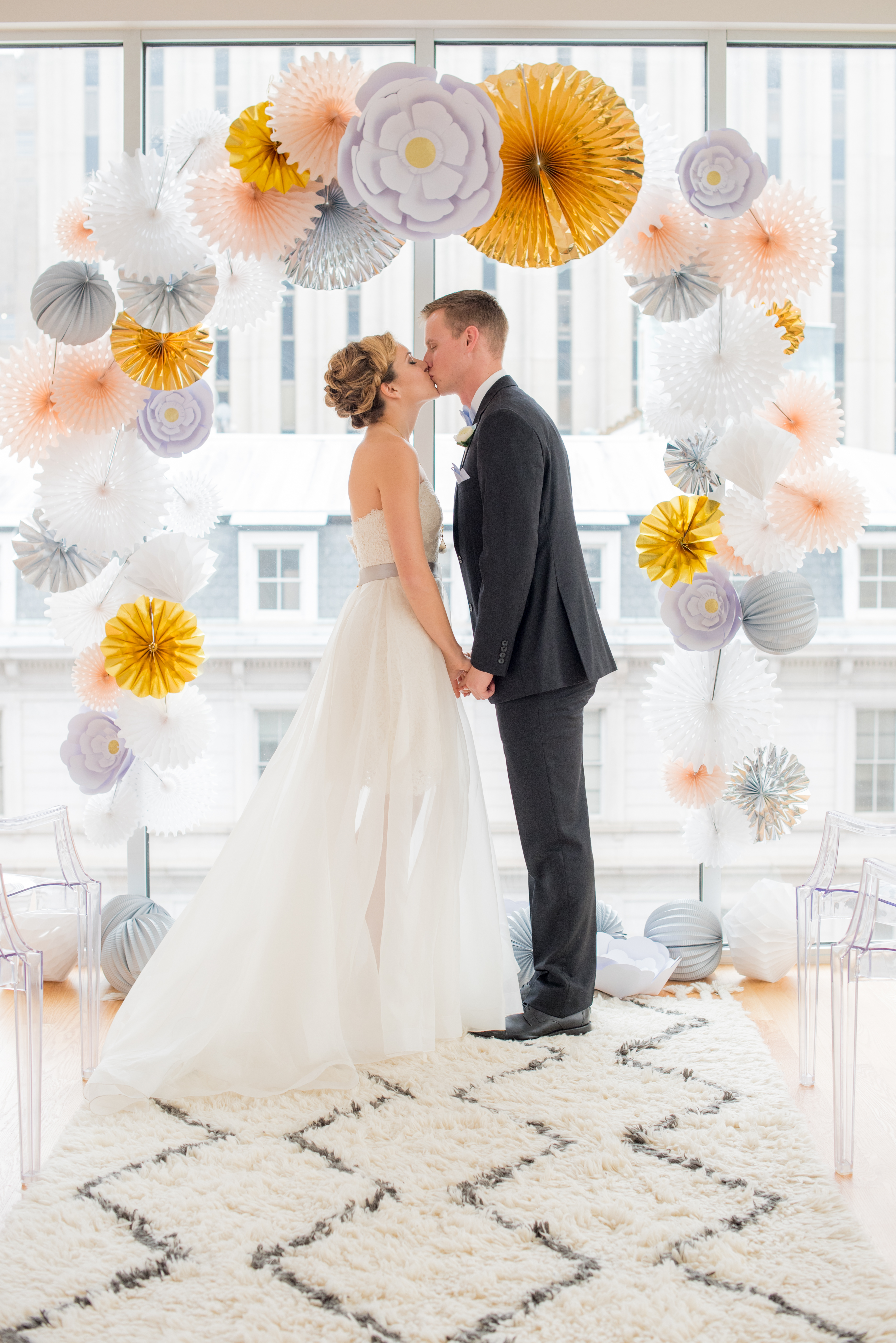 Hop over to Ruffled Blog to see the full feature!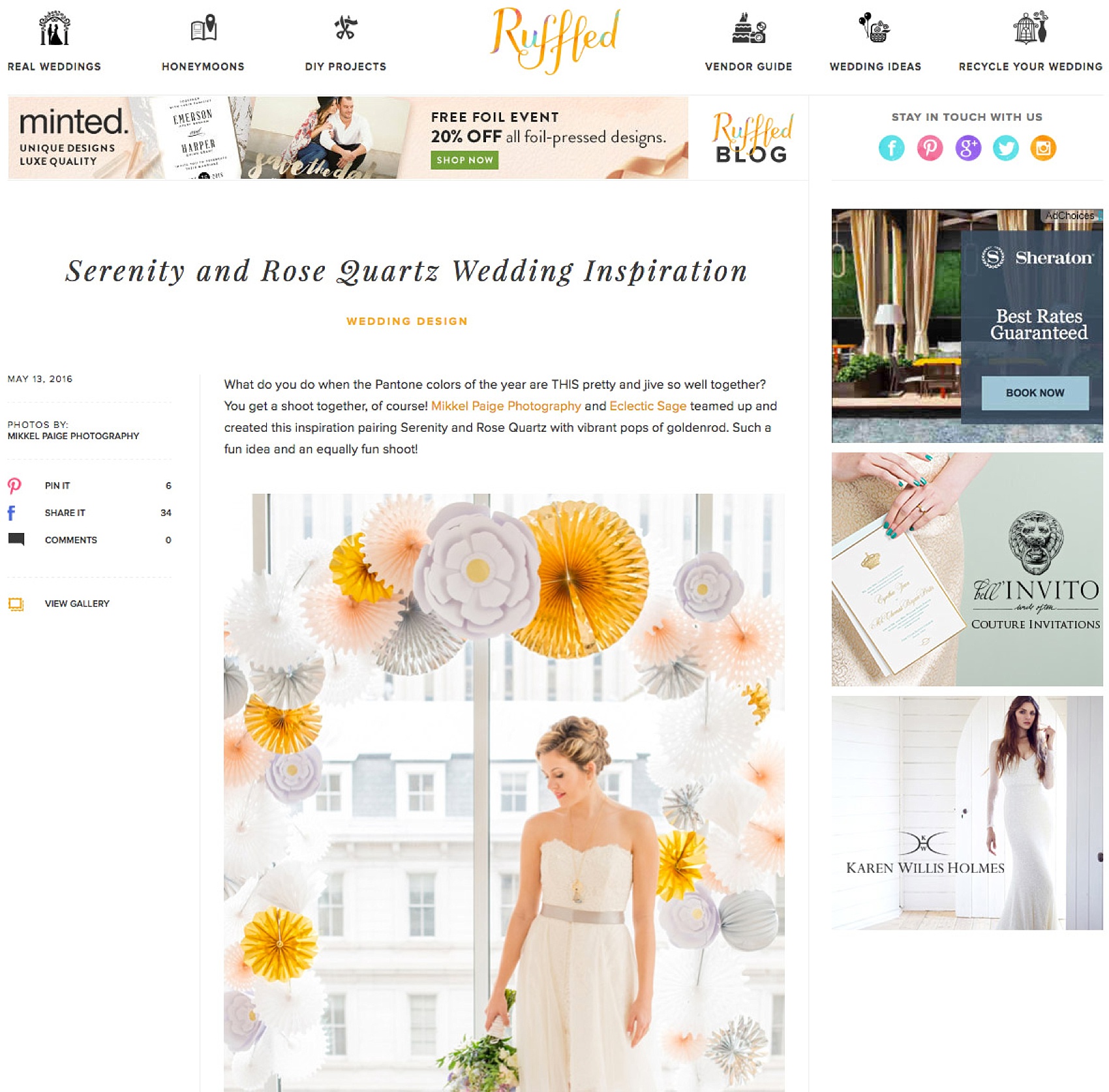 Photography: Mikkel Paige // Venue: The Glassbox // Styling: Glitter Inc. // Hand Lettering and Paper: Bella Joviality // Catering: Belle's Catering // Dress: Traditions by Anna // Flowers: Eclectic Sage // Cake: Sugar Euphoria // Groom's Bow Tie and Pocket Square: High Cotton // Hair and Makeup: Perfection by Patricia // Models: Christina and Cody
This post contains affiliate links, which means that if you click on one of the product links, I'll receive a small commission. Thank you so much for clicking through and helping to support this little blog business of mine! Read more about our site, privacy, and disclosure policies here.